Are you planning a trip to the mitten state? One of the greatest attributes that Michigan has is its beautiful landscape and amazing beaches. While you wouldn't know it if you visited in the winter and saw the frozen tundra that overtakes the state, Michigan has sunny and humid summers that lend themselves well to lazy days on the water.
But how do you know where to stay? Michigan has several fantastic beach towns with expansive resorts for taking in the sand and sun. In this guide, we outline five of the best Michigan beach resorts for families. Continue reading to learn more about the options available for your next vacation!
Grand Hotel – Mackinac Island
One of the unique features of Michigan is not only that there are two peninsulas but also that the state has an island that forbids cars and runs only on literal horsepower. On the island, you will see no vehicles but a large mass of horses. Workers and residents will use the large animals or bicycles for mail delivery, taxi service, luggage transport, among others.
The Grand Hotel is the most popular resort on the island, with waterfront access and views and its own private beach. The rooms are each uniquely personalized in subtle colors and oversized beds. As one of the only resorts with afternoon tea, the hotel provides it every afternoon in keeping with tradition.
Speaking of tradition, the Grand Hotel holds true to long-standing customs, which include dress code. At the Grand Hotel, they enforce casual yet strict clothing guidelines for your stay. During the day, guests are discouraged from wearing sweatpants and cut-off shorts. Women are asked to refrain from wearing midriff-baring tops. In the evenings, throughout the entire hotel, guests are invited to dress in slacks, suit jackets, skirts, and dresses when attending functions around the property.
When it comes to activities, the Grand Hotel is not in short supply. Some of the most popular amenities include:
Salon
Spa
Horseback Riding
Carriage Rides
Swimming
Chess
Croquet
Bocce Ball
Bean Bag Toss
Private Cabanas
Pool Bar
Tennis
Pickleball
Rooms book up quickly at the Grand Hotel, with many families returning as a long-standing tradition every year. Ferries run at all hours of the day, and the concierge service at the hotel will transport your luggage from the boat to the resort so you can start exploring as soon as you step foot on the island!
Shanty Creek – Bellaire
In the winter, Shanty Creek is a popular ski resort destination, with every snow-based activity available for families to take part in during their stay. However, the area is prime for summer activities as well. Not only can you explore the numerous nature trails by bike, four-wheeler, or hiking, but you can also take in a variety of outdoor recreational activities, including the following:
Pickleball
Volleyball
Kayaking
Stand Up Paddleboarding
Golfing
Fishing
Pontoon Boat Rental
Tubing
Swimming (Pool and Lake)
And, of course, Shanty Creek delivers when it comes to beaches. Michigan, in general, is known for its multitude of lakes, and the city of Bellaire is no different. Located just ten minutes from Torch Lake and surrounded by 14 others, there is no shortage of water for all to enjoy, and with that, a plethora of golden sand beaches for everyone's enjoyment.
While in the area, you can take the time to check out the rest of Antrim county and all that it has to offer. With many breweries, a winery, and even a cider-making mill, there are a variety of activities for everyone in the family to enjoy.
With 400 rooms at the resort, there are plenty of spaces for visitors at Shanty Creek. However, as one of Michigan's most popular vacation destinations, securing your spot in advance is crucial.
Bayshore Resort – Traverse City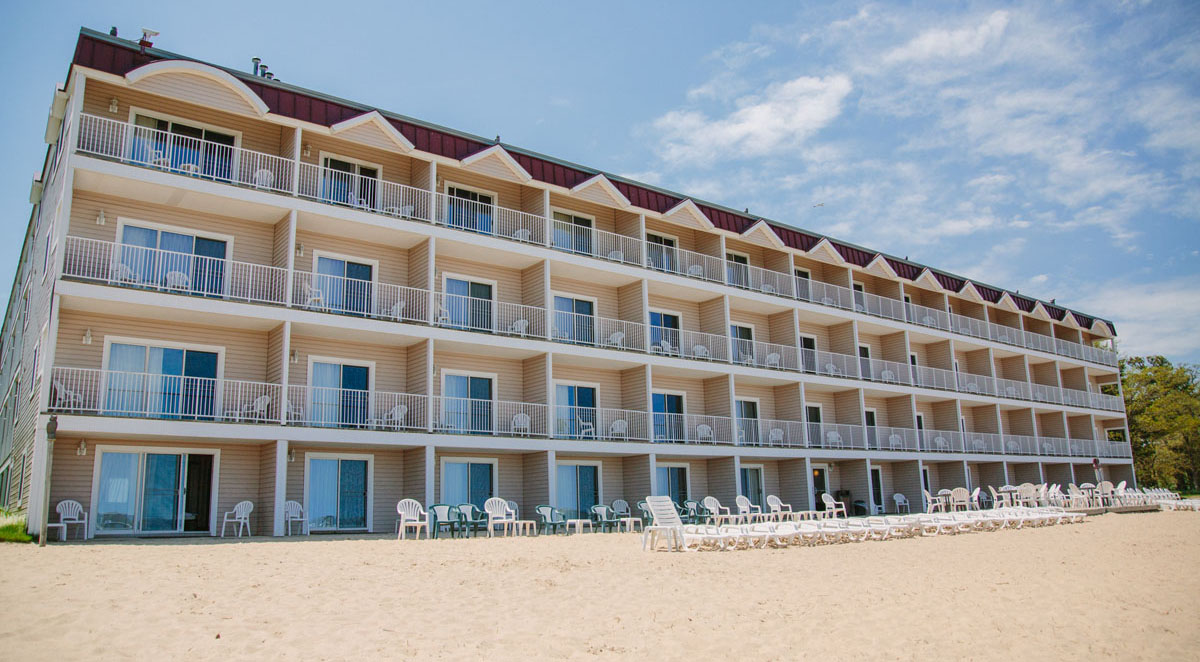 Known for its cherry crops and the corresponding cherry wine, Traverse City is a popular tourist destination in Michigan. Families flock to the area in the summer for beach and water activities. Not only will you see people out on the water enjoying jet skis and wave runners, but you'll see them on the sand engaging in beach volleyball or sunbathing.
Bayshore Resort is a popular Traverse City destination for families looking for excellent accommodation. Not only do they offer all of the great amenities listed above, but they also provide an indoor pool with a hot tub for guest enjoyment.
Located directly on the water and down the road from Clinch Park Beach, you can take in the Grand Traverse Bay right from your room. Coming in from Lake Michigan, one of the five great lakes within Michigan, the Grand Traverse Bay provides a secluded inlet for water activities and fun.
As a guest at Bayshore Resort, individuals and families can enjoy the following amenities:
Jet Ski Rental
Boat Rental
Fitness Room
Game Room
Airport Shuttle
Spa Suites
Beach Chairs
Private Beach Access
Indoor Pool
Hot Tub
Complimentary Breakfast
Casino Access
Close Proximity To Wineries And Breweries
Due to the slight reduction in temperature in the northern lower peninsula town, many Michiganders migrate to Traverse City for respite from the hot heat of the south. Therefore, Bayshore Resort can fill up quickly, and it is best to seek out availability before traveling to the area.
Sugar Beach Resort Hotel – Traverse City
Sticking within the Traverse City area, Sugar Beach Resort Hotel offers many of the same amenities as Bayshore Resort above. Still, it has a few unique features that make it an excellent fit for individuals and families alike. One of the ideal options is the availability of first-floor beach walk-out rooms. With this, you and your family have the ability to come and go to the resort's private beach as you desire.
With 99 guest rooms, including two private villas, Sugar Beach Resort Hotel has plenty of availability for visitors to the area. With over 15 nearby lakes and easy access to Grand Traverse Bay and Lake Michigan, there is unlimited amounts of fun to be had on the water. Some of the top activities include:
Jet Skiing
Boating
Fishing
Paddleboarding
Kayaking
Pontooning
Tubing
Parasailing
Stand-Up Paddleboarding
Traverse City has many cultural tourist attractions, including the Dennos Museum Center, the City Opera House, Great Lakes Children's Museum, Leelanau Peninsula Wine Trail and the Traverse City State Park. Additionally, there are many options for dining and several shopping areas that cater to a variety of interests.
Located near Bayshore Resort, both hotels have popularity in the summer months as visitors come from all over to enjoy the beautiful beaches and unique area attractions. Therefore, it is wise to book Sugar Beach Resort in advance to guarantee a room at this beautiful resort.
Boyne Highlands Resort – Harbor Springs
A top skiing destination in the winter, Boyne Highlands Resort is equally as popular in the summer. Between the beach with its beautiful warm sand and other unique features (such as their own zip line!) the hotel is a popular choice with locals and tourists alike.
Located in Harbor Springs, near Petoskey, Boyne Highlands Resort lies on the edge of Little Traverse Bay, which comes in from Lake Superior. The area offers several activities that speak to the interests of many, including:
Golf
Biking
Zip Lining
Segway Tours
Swimming
Tennis
Hiking
Horseback Riding
Bonfires
Biking
Chairlift Nature Rides
Outdoor Nature Yoga
The weather in the northern lower peninsula is sunny and warm during the summer months. However, the humidity is not as strong as in more southern areas. Therefore, the location is highly desired by those looking for reprieve from the summer heat. The beautiful beaches and water activities allow families and individuals to engage in fun outdoor activities while promoting quality family time.
Harbor Springs has plenty of options for entertainment outside of the resort, including Zoll Street Beach, Zorn Park Beach, Petoskey State Park, Thorne Swift Nature Preserve, Harbor Springs Area Historical Society, Andrew J. Blackbird Museum, and Little Traverse Wheelway. Additionally, the nearby city of Petoskey offers many local restaurants and unique boutique shopping.
Thinking about staying at Boyne Highlands Resort? Call ahead to see availability for your preferred dates, or check on their website to plan ahead.
In Summary
Michigan is a great tourist destination for the summer. With the five great lakes around the state, and many others inside, they offer unlimited potential for water activities and recreation. Additionally, the beautiful natural landscape that the state provides gives ample opportunity to check out wildlife and native elements.
The mitten state is a great tourist destination for individuals and families alike. With enough beaches to entertain all and enough sand to occupy every child, you could have an enjoyable vacation with those two features alone. However, Michiganders will be quick to point out all the other enjoyable features the state has to offer. Check out this list of five of the best Michigan beach resorts for families when planning your next vacation!
More about our TFVG Author
A seasoned traveller, Dad, and avid sports tourist, James foundered The Family Vacation Guide to share his expert vacation experiences- especially when it comes to being a travelling family man.
Featured in Travel articles such as Travel + Leisure, TripSavvy and SFGate, you know you're reading some of the best vacation tips online.