Breakfast is the favorite meal of the day for pretty much any American. And there's no happier breakfast dish than a big ol' stack of pancakes, hotcakes, flapjacks – whatever you want to call them!
Pancakes are a good mood food – so what better way to have them than in Sin City? Whether as fuel for a day of shopping or something to lessen that hangover, we've got you covered!
This blog post will share some of the best spots in Las Vegas to get your pancake fix. From classic buttermilk pancakes to creative flavor combinations, these restaurants have it all.
You're about to discover the fluffy, buttery, syrupy, golden goodness you can handle in Las Vegas, NV!
The Best Pancakes in Las Vegas
Hash House A Go Go
If you've a big appetite, you should head to Hash House a Go Go, where their pancakes are larger than life.
This bona fide breakfast institution combines California's farm-to-table approach with the farm-fresh comfort food of the Midwest. The result is big flavors and even bigger portions.
With locations on the Strip and in the suburbs, Hash House a Go Go serves up giant "flapjacks" in flavors like their signature sage fried chicken.
Their generous portions and unique flavors make it easy to see why they have become so popular in the city. Whether you're looking for a classic buttermilk pancake or something a little more adventurous, they have something for everyone.
Griddlecakes
Griddlecakes is a beloved pancake spot in Las Vegas that's been around since 1991. This breakfast and lunch spot serves a full menu of burgers, sandwiches, wraps, salads, and even skillets. But they're most well known for their breakfast dishes, including their giant, Instagram-worthy pancakes.
You have the choice to build your own pancake or choose from a menu of their signature creations. At Griddlecakes, you can enjoy anything from classic buttermilk pancakes to the more adventurous funfetti or red velvet pancakes.
Griddlecakes also offers a range of vegan and gluten-free options, making it an excellent choice for people with dietary restrictions.
Overall, Griddlecakes is a must-visit restaurant for anyone looking for a delicious and unique pancake experience. Whether you opt for one of the signature flavors or create your own masterpiece at the pancake bar, you're sure to leave satisfied.
Stacks & Yolks
Whether you're looking to try out a signature stack or build your preferred taste, Stacks & Yolks will meet your pancake needs.
This breakfast and brunch spot is known for its delicious and creative takes on classic breakfast dishes, including its famous stacks of pancakes and perfectly cooked eggs. Stacks & Yolks offers patrons a "build your own pancake" bar with 14 pancake batter flavors and over ten different toppings to choose from.
In addition to their fabulous selection of pancake options, you can also indulge in yummy breakfast options, from classic chicken and waffles to the forever-popular Fruity Pebbles French toast.
Or you could opt for their signature pancake stacks such as "The Elvis" (peanut butter pancakes with bacon and banana) and "The Smitty" (mint pancakes topped with chocolate chip and whipped cream).
Stacks & Yolks is a must-visit restaurant for anyone looking to indulge in some truly unforgettable pancakes with a location in North Las Vegas and another in the Southwest.
Babystacks Cafe
Since its doors opened in 2010, Babystacks Cafe has caused quite a stir with its delicious and creative pancakes. Located just off Las Vegas Blvd, this breakfast and brunch spot has become a popular destination for locals and tourists alike.
According to the grapevine, some of the most delectable pancakes come from Babystacks. No surprise considering their options, and they've got a variety of flavors that will have you flipping with excitement. Some signature pancakes include "Banana Cream Pie," "Orange Creamsicle," and "S'mores."
Babystacks Cafe also has a variety of breakfast and brunch options to boot! They've got both signature and classic eggs benedict, french toast, burgers, omelets, and breakfast burritos to satisfy all of your morning cravings.
So if you're looking to stack up on some seriously tasty pancakes, make your way to Babystacks Cafe in Las Vegas, NV. Trust us; you won't be disappointed!
Du-Par's Restaurant & Bakery
If you're in the mood for some seriously scrumptious pancakes, look no further than Du-Par's Restaurant & Bakery. Located at Suncoast in downtown Las Vegas, this beloved breakfast spot has been flipping out some of the most mouthwatering pancakes around for decades.
Du-Par's legendary buttermilk hotcakes are smeared with a choice of grade AA melted butter boysenberry or maple hot cake syrup. Another classic is their golden brown french toast, prepared with house-made brioche bread and served with grade AA maple syrup and powdered sugar.
Besides being a pancake icon, Du-Pari's is a well-recognized spot among Las Vegas restaurants. Serving up a wide variety of other amazing food, including omelets, corned beef hash, burgers, and salads.
As a Vegas staple for over 80 years, Du-Par's is a must-visit spot for anyone looking to satisfy their pancake cravings (or any other appetite, for that matter).
Truffles N Bacon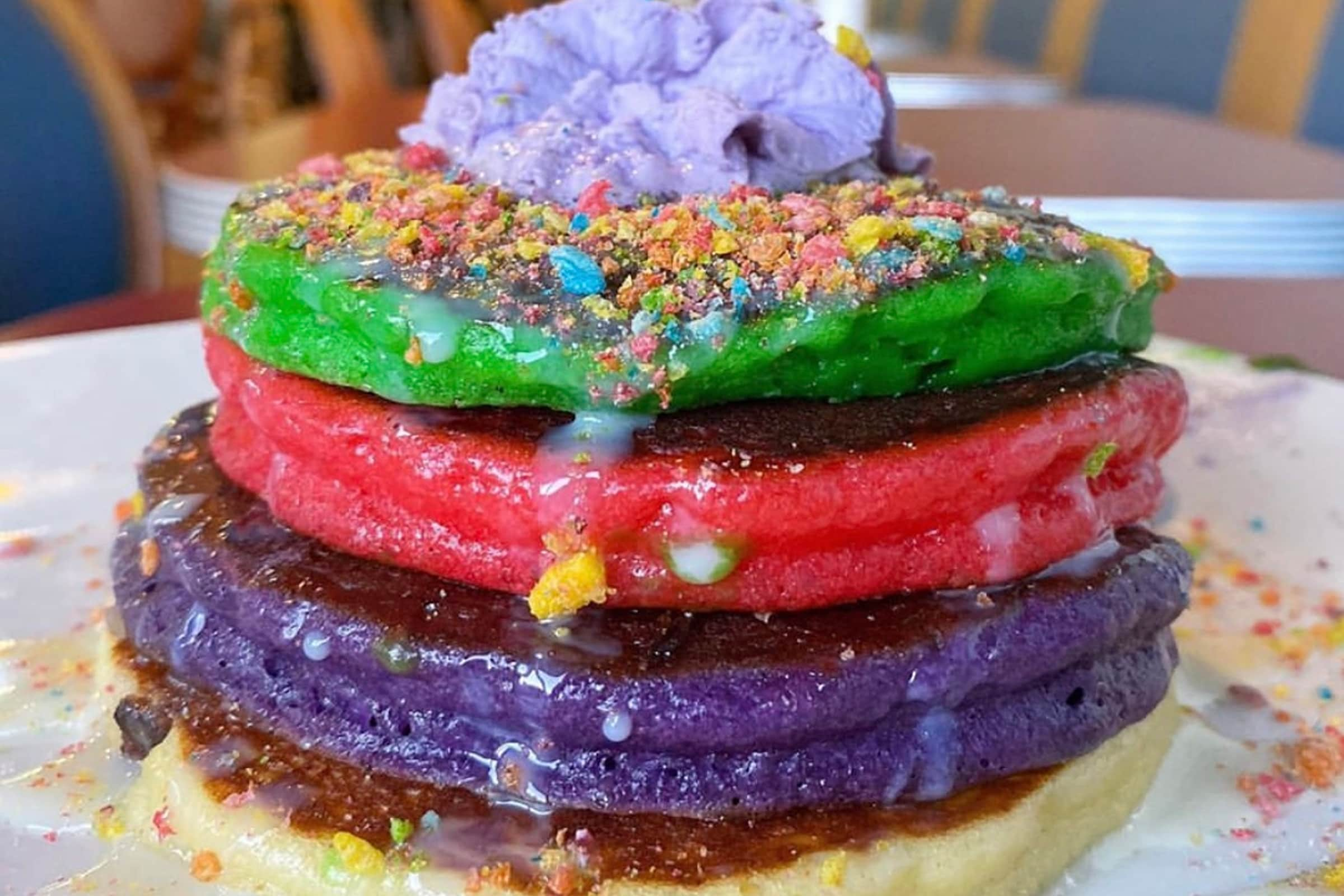 If you're on the hunt for a pancake spot that'll make you go hog wild, look no further than Truffles N Bacon in Las Vegas! This quirky little joint is a fan favorite among locals and tourists alike, and it's not hard to see why.
The menu is a bacon lover's dream come true – from savory bacon-wrapped shrimp to sweet bacon-topped pancakes. But the show's real star is the truffle butter – it's slathered on every pancake, adding a depth of flavor that'll make you swoon.
Truffles N Bacon stands out on this list for its beautiful (and equally tasty) pancakes, such as the Pandan or Ube pancake. Respectively, this bright green and purple pancake is layered with Ube cream cheese filling, Ube jam, coconut strings, and condensed milk drizzle.
What's more, this foodie joint also has mochi pancakes served with the most delectable toppings and glazes. So, whether you're a bacon lover or just looking for a tasty breakfast spot, this Las Vegas gem is sure to satisfy.
Sunny Side Up
Get ready to flip your taste buds upside down at Sunny Side Up in Las Vegas! This pancake spot has gained a cult following for its delicious, fluffy stacks of heaven.
This breakfast and lunch joint goes all out with its options. You can choose between pancakes, french toast, or a waffle for various flavors, including Caramel Apple, White Chocolate and Caramel Pretzel, Banana and Raspberry Curd, and so much more.
But it's not just about the pancakes at Sunny Side Up – they've also got a menu filled with other breakfast favorites. You can have stuffed french toast, a breakfast burrito, a smoked salmon bagel, or eggs benedict.
Head over and see why Sunny Side Up is the place to be for breakfast in Las Vegas, NV!
The Bagel Cafe
A fan of pancakes is likely to be a fan of bagels too – and the Bagel Cafe has both! This charming eatery serves up a wide range of timeless breakfast classics, including flavorful bagels with an array of spreads, omelets, french toast, and eggs benedict.
Of course, you're here for the pancakes! This food joint keeps it simple with two delicious options. For those who like the classics, you've got buttermilk pancakes served alone or with homemade fruit sauce. For something truly unique, you can go for the potato pancakes with sour cream and apple sauce.
It's not just the food that makes The Bagel Cafe a great spot to visit. The friendly staff and cozy atmosphere make it the perfect place to start your day. Whether you're a local or just passing through, this quirky cafe is a must-try!
Frequently Asked Questions
What makes a pancake spot the best in Las Vegas, NV?
A few key factors contribute to a pancake spot being the best in Las Vegas. First is the quality and taste of pancakes, including the variety of flavors and toppings available. Next is the establishment's overall atmosphere, service, and value for money.
Are there any vegan or gluten-free pancake options available at these spots?
Yes, many pancake spots in Las Vegas offer vegan and gluten-free options for those with dietary restrictions. This can include plant-based pancake mixes and a variety of toppings and syrups that are suitable for these diets.
What is the average cost for a stack of pancakes in Las Vegas?
The price of a stack of pancakes will depend on where in Las Vegas you go. More high-end eateries can range from $12 to $16 and come stacked with yummy toppings. This also depends on whether you opt for a signature stack or classic buttermilk.
More about our TFVG Author
A seasoned traveller, Dad, and avid sports tourist, James foundered The Family Vacation Guide to share his expert vacation experiences- especially when it comes to being a travelling family man.
Featured in Travel articles such as Travel + Leisure, TripSavvy and SFGate, you know you're reading some of the best vacation tips online.