Charlotte is a city with many attractions for you and your family to enjoy. Take a trip to Uptown, which is ironically the downtown area, and you'll be overwhelmed by the array of public parks available to relax, go on a picnic, and go sightseeing.
You can spend the day enjoying various activities, such as visiting North Carolina's biggest mall for some family shopping or spending family time fishing on a lakeside beach. What's more, there's even a hall that honors all NASCAR greats, which can turn into an evening of fun for everyone traveling with you.
There are numerous beautiful accommodations for the whole family that give you a taste of luxury while remaining practical and comfortable. Check out the best luxury hotels in Charlotte, North Carolina. 
Luxury Hotels in Charlotte, North Carolina
At times, it is okay and even necessary that we treat ourselves. When you think about the hustle and bustle that you're made to deal with daily, it's perfectly fine to spend a pretty penny on a few days or even a week of pampering and relaxation.
North Carolina is home to some of the most exquisite five-star properties, which feature panoramic views and quality on-site restaurants. These lavish hotels come replete with spacious private terraces and in-room massage services. You will have a rewarding time at one of these family-oriented, luxury hotels.
Continue reading to gain insight into some of the best hotels in Charlotte, NC, which are renowned for family fun and memorable experiences.
The staff at Ivey's Boutique Hotel prides itself on accommodating guests by providing impeccable service with some of the finest amenities. Nestled in the center of Uptown Charlotte, Ivey's is in a central location that gives traveling families access to some of the best eateries and cultural venues.
You can have an evening at the Mint Museum of Craft Design and enjoy all their family-friendly activities, head to a sports event, or take a stroll in the park. Staying at the Ivey's Boutique Hotel allows families to experience the best of what Charlotte has to offer.
This exquisite boutique hotel features access to free Wi-Fi and a continental breakfast that guests can find in the Library Lounge. What's more, there's an on-site bar where you can grab a light appetizer with a refreshing and delicious cocktail.
The breakfast spread includes freshly ground coffee, fresh pastries sourced locally, and free national and local newspapers.
The rooms are luxurious, and they feature a minibar, a 55-inch flat-screen TV, and beautiful white marble throughout the space. Moreover, floating tubs are available in select rooms. Extra amenities include quality Italian linens and a single-serve coffee machine.
One of the best luxury hotels in Charlotte, the Ritz-Carlton is an elegant and sophisticated hotel endowed with quiet grandeur. The Ritz boasts on-site restaurants, spacious guest rooms, stunning skyline views, and a spa and wellness center. It's possible never to leave the hotel and feel like you have everything you and your family need at your fingertips.
At the Ritz-Carlton, you're in the heart of downtown, and each lavish room comes with a 55″ or 65″ flat-screen TV. What's more, the children are sure to lock the indoor pool, and there's something for you as well—an indoor spa!
The interior of the rooms is stylishly sophisticated and refined. Each room is furnished with a work desk and coffee/tea maker. The convenient room service is available all day, seven days a week.
Apart from the penthouse spa and the indoor swimming pool, a wellness center features relaxation areas, a pink Himalayan salt lounge, a whirlpool, five treatment rooms, and even a gym.
The on-site restaurants at the Ritz-Carlton, such as the Lobby Lounge or the K Lounge, offer light meals and drinks for families that need to grab and go, but if it is more of an occasion to sit and dine, then BLT Steak offers exquisite steakhouse dining for the whole family to enjoy.
The Ballantyne Hotel is within a beautiful and calm community in Charlotte. It is close to the South Park Mall, which has several boutiques and high-end shopping venues.
Additionally, the U.S. National Whitewater Center is less than a half-hour away. It allows families to enjoy an outdoor experience by organizing a kayaking and rafting adventure for the day.
The hotel has resort-style pools, a full-service spa, an extraordinary restaurant serving afternoon tea, a salon, and an indoor pool. Families can also take advantage of the walking trails nearby or just hit the fitness center for a little cardio and strength training.
The rooms at the Ballantyne are superb, offering a work desk, a flat-screen TV, a minibar, and full-length mirrors in the bedrooms. The large windows and ten-foot ceilings, along with the marble floors in the bathroom, are elegant.
The staff also provides slippers and a bathrobe to improve the experience. The plush bedding is perfect for the whole family to settle in and enjoy a peaceful and comfortable night of sleep after a day of spending quality time together.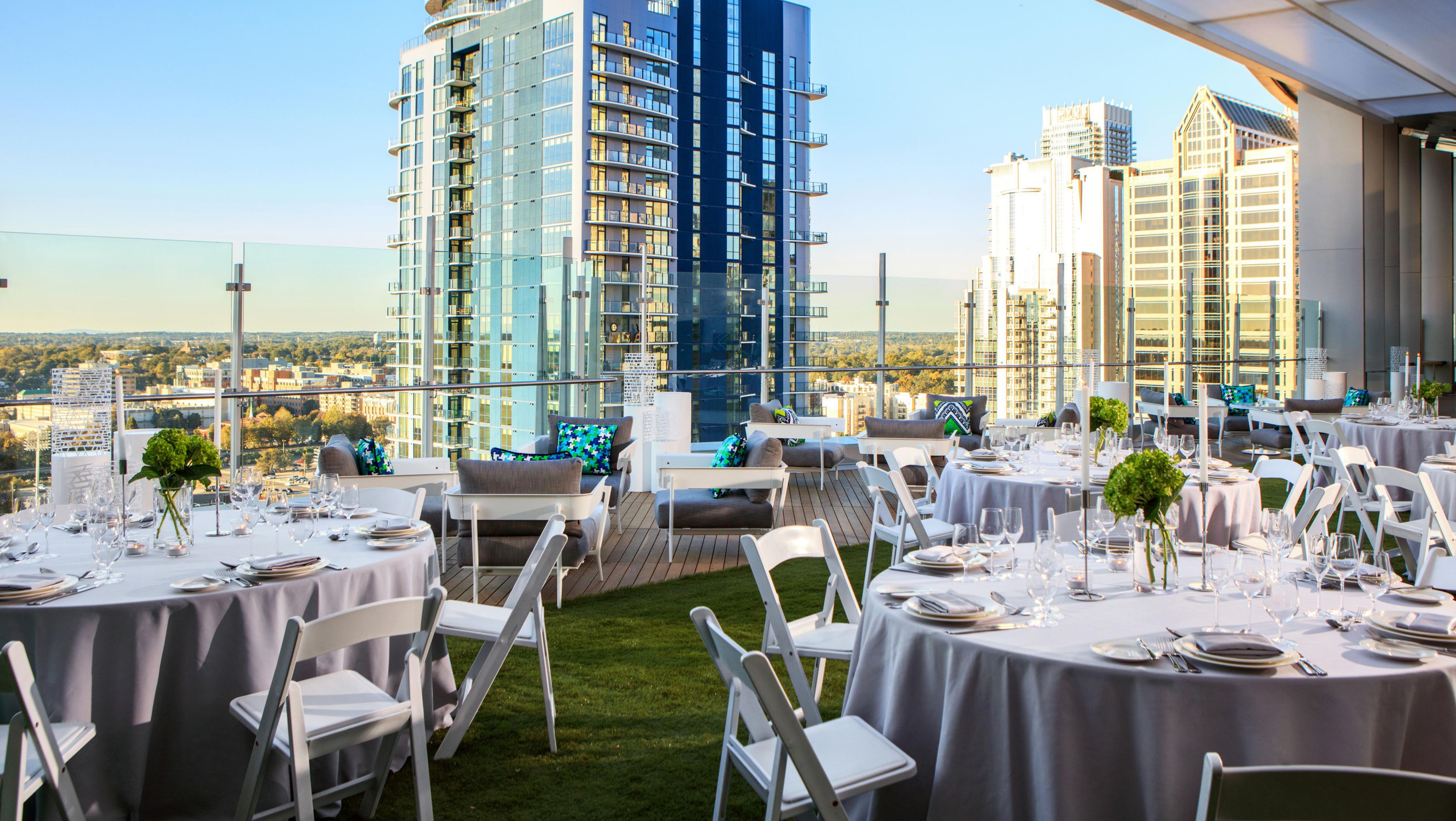 Take a trip to Uptown Charlotte and enjoy the luxuries of Kimpton hotel, starting with the hospitality and personalized service from the 24-hour front desk. This hotel offers a full-service spa, outdoor yoga classes, and a fitness center with plenty of equipment.
Grab snacks and cocktails at the chic rooftop bar, Merchant & Trade, an excellent social setting for adults. It sits right above Romare Bearden Park, where children love to get out and play in the open space. You can also go on a family shopping trip at one of the many VC Cplazas, just eight minutes away.
Check out a show at the Blumenthal Performing Arts Center, a few minutes from the hotel, with amazing plays and dance performances each week. The Mint Museum is also nearby, the perfect educational opportunity to learn more about craft design.
The suites and standard rooms at the hotel are decked out with luxurious touches. This hotel focuses on the little details, from the pillow-top mattress to the marble bathroom and top-notch room service. They offer Atelier Bloem bathroom amenities, flat-screen TVs with cable channels for all ages, and you get a gorgeous view of the park from your room.
The Charlotte Marriott City Center is in downtown Charlotte, an excellent location close to many area attractions. Marriott is a brand known for upscale accommodations and outstanding customer service. There is also parking available in this prime location for a small fee.
The hotel provides help at the front desk for recommendations on what to do nearby. One of the most popular activities for families is the Nature and Discovery Museum, just seven minutes away on foot.
They have a 24-hour fitness center available for your convenience when you want to maintain your health and wellness regimen away from home.
After a day of fun with the family, visit Stoke Charlotte, a full-service restaurant that serves lunch and dinner, specializing in American cuisine. Take advantage of the on-site coffee shop that hosts local events such as food exhibits and some live music shows.
The rooms have air conditioning, and the decor is modern and refreshing. They come with flat-screen TVs, cable channels, a mini-fridge, and a coffee maker, as standard amenities in the bathroom. With the purchase of some rooms, you get access to the premier M Club Lounge.
The Dunhill Hotel is in a historical setting, but it features modern and luxurious amenities in Uptown Charlotte. Suppose you and the family want to get away from the hustle and bustle in the city. In that case, the Dunhill is an excellent location that offers tranquility and a home away from home with sophisticated accommodations.
This hospitable establishment is a short distance from museums, art galleries, shopping, and other enjoyable local attractions for guests of all ages. Deemed a boutique hotel, Dunhill is a premier venue for family gatherings such as weddings and family reunions.
The Dunhill has 60 beautiful guest rooms with lavish bedding, marble bathrooms, exquisite bath amenities, turndown service that includes their signature chocolates, and more. There are also flat-screen televisions, a state-of-the-art kitchen with a Keurig coffee maker, free wireless internet, iPod docking stations, which teenagers greatly appreciate, and other modern amenities.
This hotel's European furnishings and unique architecture, which has been in business since 1929, further add to the charm that has drawn families there for nearly a century.
The facility offers free passes to the fitness center nearby, and families can get up every morning and enjoy a delicious breakfast, dinner, and weekend brunch. Local parks are within walking distance of the hotel, where children can roam freely, and parents can enjoy a cup of coffee while they play.
Near the University of North Carolina campus, the Hilton Charlotte University Place is the perfect stay for those visiting college students who need a place to relax. There are numerous popular attractions in the area, and the lakefront hotel has spacious rooms for small to large families with upscale amenities. 
Thanks to the complimentary shuttle that travels within five miles of the hotel, it's easy to get out and explore the area. Guests can also find many shops that university students frequent just a short walk away from the property.
The 24-hour fitness center features top-notch equipment, which allows families with children to have flexibility if adults would like to get a good training session once everyone has gone to bed.
There is also an outdoor swimming pool that's fun for everyone and a patio with seating and fire pits throughout. The Edgewater Bar and Grille is a superb restaurant with delicious cuisine and something to satisfy every family member.
The rooms range from standard to executive suites, and they come with plush bedding, a microwave and mini-fridge, free wireless internet, a gorgeous view of the lake, whirlpools in select rooms, soft bathrobes, and more.
The Carolina Raptor Center is a popular venue near the hotel with educational exhibits that feature flight shows and other interactive activities. There are also outdoor trails for the family to explore together.
Staying at the Sonesta Charlotte Executive Park promises luxury and comfort. They have an outdoor and an indoor pool for your convenience, and there's free wireless internet everywhere on the property. There's also an outdoor deck with a fire pit and a fitness center at your disposal.
The kids will love the Carowinds Amusement and Water Park, only a ten-minute drive from the hotel. Additionally, the Bechtler Museum of Modern Art, the National White Water Center, the Nascar Hall of Fame, and the Billy Graham Library, are within 15 minutes.
Enjoy the large flat-screen TVs in the room that come with cable and kid's channels, granite countertops, a backlit mirror, free toiletries, and more.
There are separate seating areas in some suites for everyone to gather together and watch movies, play games, and do other fun activities. You'll also find a large working desk for when it's time to get work done and an iPod docking station for music lovers.
The Food For Thought Restaurant & Bar is available to guests throughout the day, with a delightful New American menu that includes local favorites, such as blue crab cakes and catches of the day.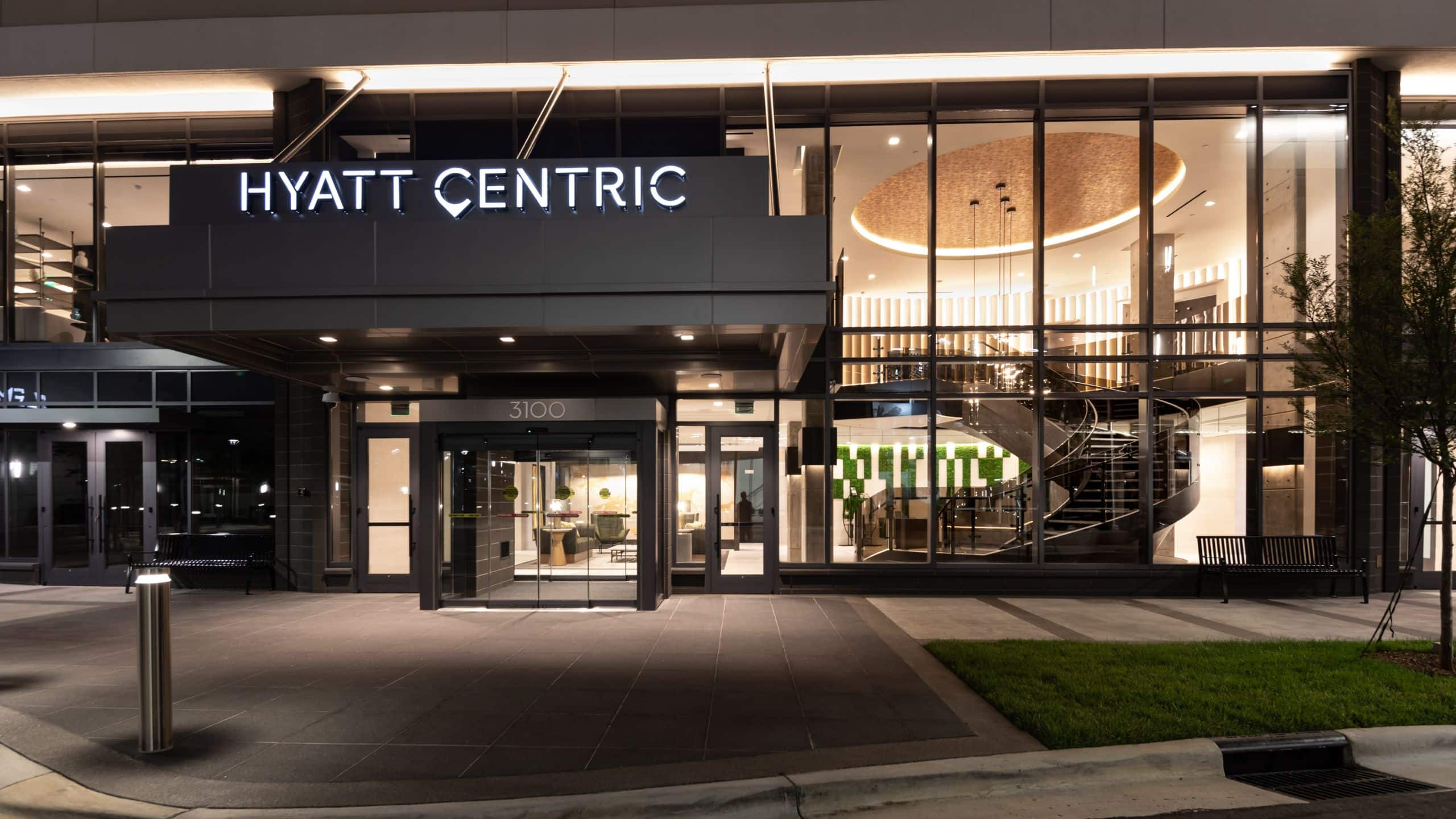 The Hyatt Centric Charlotte South Park is in the SouthPark district, where you can find the mall, which has dozens of upscale shops to choose from. With its 98 acres, a lake, and ample space for toddlers and dogs to play, Freedom Park is just ten minutes away from the hotel. It's a wonderful place to plan a picnic, play outdoor games, or relax and soak in the sun.
The Hyatt Centric has family rooms, room service, 24-hour, free wireless internet, an on-site restaurant, etc. While having access to downtown Charlotte, you're also tucked into a quiet and relaxing area.
Kick back and get away from city life to create countless memories with family in a plush setting. They also offer multiple packages, including an American or à la carte breakfast. The full gym and bar available on the premises are additional opportunities to steal away and enjoy what the facility offers.
The rooms at the Hyatt Centric include a flat-screen TV, comfy bed linens, towels, complimentary bathroom amenities, air conditioning, a wardrobe, and a safety deposit box. Depending on which rooms you select, you'll have kitchen amenities as well.
Located close to Charlotte Douglas International Airport, you don't have to travel far too far to get to the Embassy Suites Charlotte. They provide all the comforts of your home and numerous complimentary services and amenities to make your stay as enjoyable as possible.
Situated just south of the city center, the Embassy Suites is a non-smoking facility that offers a free airport shuttle service. There's also free wireless internet, a free breakfast made-to-order every day, and a fully-equipped fitness center.
The Embassy Suites is close to the Charlotte Convention Center, the Spectrum Center, and the Bank of America Stadium. Room amenities include microwaves and mini-fridges, as well as soft and clean bedding with flat-screen TVs and cable channels.
Feel free to ask the friendly staff for recommendations on parks and other kid-friendly activities in the area. You'll love staying at the Embassy Suites with your family and the countless options to spend time together on vacation.
Final Thoughts
Charlotte, North Carolina, is a beautiful city with many activities to participate in for younger and older visitors alike. The luxury hotels on this list are specially designed to provide comfort, upscale amenities, and family-friendly accommodations while you're away from home. With multiple attractions near the hotels that make for great memories, there's never a dull moment in the bustling city of Charlotte!
More about our TFVG Author
A seasoned traveller, Dad, and avid sports tourist, James foundered The Family Vacation Guide to share his expert vacation experiences- especially when it comes to being a travelling family man.
Featured in Travel articles such as Travel + Leisure, TripSavvy and SFGate, you know you're reading some of the best vacation tips online.