If you can count on one thing in Pennsylvania, the weather is not always ideal for good splashing, watery fun all year round.
It's hot and humid in the summer, and so cold in the winter that a waterpark probably isn't your first thought when you think of holidaying in the state!
But have you thought of an indoor water park as an option before? 
Compared to outdoor water parks, indoor versions keep the same temperature inside every day. They can keep the wind, and the snow out, and are always comfortable at 84 degrees all year around.
It's the perfect holiday for water-mad families who want a way to splash about, no matter what the weather says!
We've put together a list of 6 waterparks in Pennsylvania that will be perfect for your family to indulge in for all-year water fun!
Aquatopia at Camelback Lodge
Aquatopia is the number one indoor water park in Pennsylvania!
They have thirteen different water slides, including mat slides, tube slides, body slides, and bowl slides- and they even have kiddy slides for their youngest guests!
They have everything you could want in an indoor water park, including a Texlon roof that the sun can shine through while you go on crazy water rides.
Other options to fill your day include slow tube rides, wild mat rides, indulging in a cozy cabana, grabbing something from a poolside shop, or eating at one of the many restaurants.
If indoor water park fun is what you are looking for, then check out Aquatopia at Camelback lodge- it's as relaxing as it is adventurous!
Hershey's Water Works at Hershey Lodge
Hershey's Waterworks at Hershey's Lodge is 30,000 square feet of splashing good indoor waterpark fun only for overnight guests.
Slide on their Twizzlers Twists waterslides and enjoy the Reeses Water Walk. The zero-entry pool is there for the little ones, as is the lighthouse tipping bucket, a great sandcastle spray zone, and some basketball hoops for aquatic slam dunks!
Within the Hershey Lodge complex, there are other family activities such as indoor and outdoor swimming pools, sports and recreation complexes, and even miniature golf.
Never too crowded and always open, the Hershey's Water Works indoor water park is a sweet treat for the whole family!
Great Wolf Lodge Pocono Mountains
The indoor waterpark at Great Wolf Lodge Pocono Mountains offers some of the best splash-crazy fun you will ever have!
Check out their Water Fort Tree House with interactive water toys and child-activated splash features.
When they finally get to the top, they can use the totem tower slides to get back to the base and then do it all again!
This structure will give your kids hours of fun and splash, especially when the bell rings… They'll soon learn the big bucket is getting ready to tip and soak anyone that remains below!
Even after your kids have finished exploring the Water Fort Tree House, there is still so much more to explore- especially for the bigger kids.
Check out the Slap Tail Pond Wave Pool, Crooked Creek Tube Ride, River Canyon Run, Alberta Falls, and the Totem Towers. The Whooping Hollow is made for toddlers, so there really is something for the whole family!
h20ooohh at Split Rock Resort
This family-friendly water park at Split Rock has over 53,000 square feet of water attractions for everyone to enjoy a splashing good time in any season.
Your family will love the three four-story slides, wave pool, play structures, and the on-site activity pool – not to mention the flow rider and snack shack!
With a gift shop, indoor and outdoor pools, and recreation center as well, you'll quickly find you'll need more than one day to do it all.
Splash Lagoon
Inside Splash Lagoon, it's always 84 degrees!
It's an indoor waterpark that is part paradise and all fun whether you are 5, 15, or 50. There's a water activity to suit every age, and is sure to keep the whole family happy.
In 2018, Splash Lagoon was rated the 4th best water park in the USA.
This doesn't come as a surprise, seeing as it has seven thrilling water slides, three hot tubs, Monkey Shines Island, children's area, the Tiki Treehouse arcade, and a wave pool.
Recent upgrades have brought even more new and exciting features to the park with the tree house bigger and better than ever with multiple levels of colorful spray, mini dumping buckets, and a giant tipping coconut.
Check out the new Froggy's splash pad ropes course and the zero-entry pool for the tiny ones while you're there.
The newest slides, the Typhoon Twister and the Riptide Racers, are something that the bigger kids are going to love too. Book your tickets today so you don't miss out!
Kalahari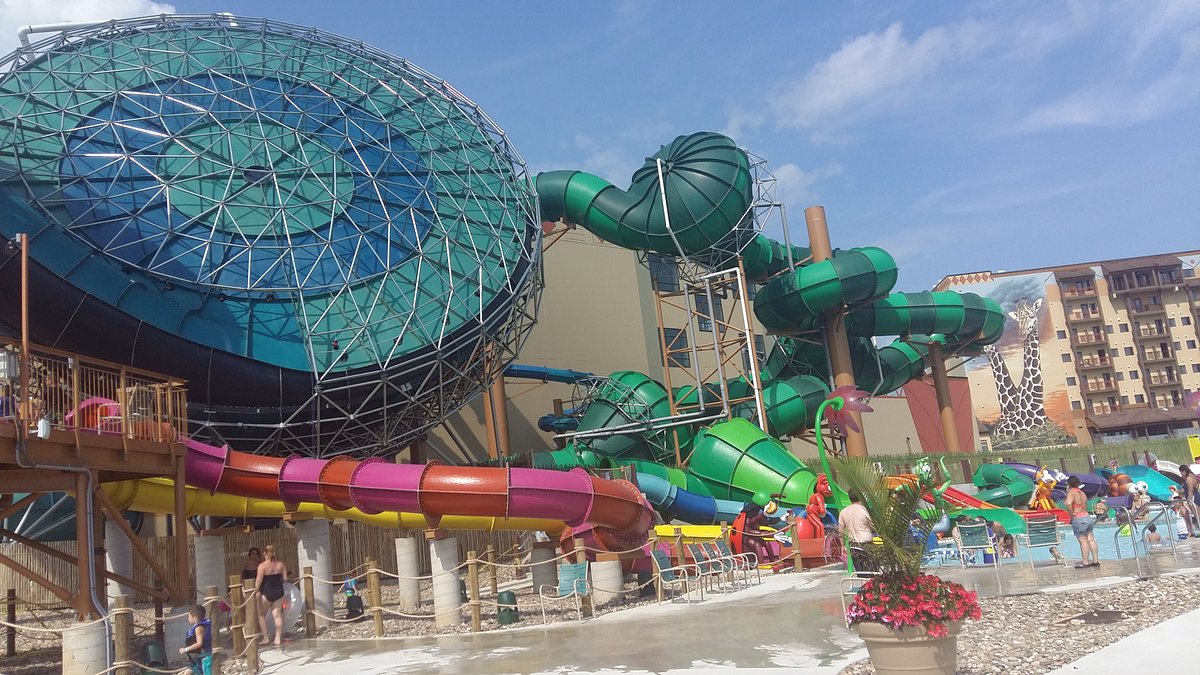 One of the biggest indoor water parks you are ever going to visit, Kalahari has it all.
Inside this ginormous 220,000 square foot waterpark, there is so much wild and wet fun that you'll likely need a season pass to tick everything off the list!
It's family-friendly, so you'll be able to do the Anaconda family raft ride together and then try the Barrelling Baboon and Race of the Cheetah slides.
Then, hang out in Coral Cove with the little ones to catch your breath.
For the not-so-little (and not-so-faint-of-heart), ride together on Elephant's trunk 270-foot tandem slide and scream inside the Kenyan Korkscrew tandem tube slide. It's a real family day out!
If that's not the right speed, maybe the Flow Rider surfing pool or the Lazy Rider Tube Ride is what you're looking for.
And don't worry adults: Swim-up bars and hot tubs are available for you to relax in to enjoy a moment of peace.
Kalahari is certainly an indoor waterpark not to be missed if you are in the area!
---
Don't let the vagaries of the weather in Pennsylvania put you off having fun at a water park when you're on holiday.
Hopefully, this list of the best indoor water parks in Pennsylvania has helped make your decision a little bit easier (or maybe not).
Book a stay at a resort with an indoor water park, or include one on your holiday itinerary for some splashing good fun on your next trip away!
More about our TFVG Author
A seasoned traveller, Dad, and avid sports tourist, James foundered The Family Vacation Guide to share his expert vacation experiences- especially when it comes to being a travelling family man.
Featured in Travel articles such as Travel + Leisure, TripSavvy and SFGate, you know you're reading some of the best vacation tips online.