Skiing is a fantastic sport. It gets you outdoors and enjoying some of the most beautiful views in the world during the coldest days of the year, and it is an excellent exercise for your whole body. Best of all, it's something the entire family can do together and enjoy, no matter what your age and level.
But deciding where to go can also be a challenge since skiing isn't cheap, and options are abundant. Use this handy guide of the 17 best ski resorts in New York State to find your next ski vacation destination. 
The Best Ski Resorts in the State of New York
From the Catskills to the Niagara Falls and Buffalo region, let's take a look at the best ski areas for families in the Empire State.
Whiteface Mountain is one of the most famous ski resorts in the entire country, let alone the state of New York. That is because it was home to two Olympic games, the first in 1922 and the second in 1980. It has the greatest verticals east of the Rocky Mountains.
The long verticals mean you'll spend maximum time skiing and less time on the lifts or waiting in line with the highest skiable elevation in the east. You'll get the absolute most out of your day and your ticket. There are a whopping 90 trails with over 22 miles of skiing; the longest trail, the Wilmington, is over two miles.
Best of all, Whiteface is ideal for spending an extended getaway. You're minutes away from the town of Lake Placid, with dozens of restaurants, pubs, entertainment venues, and lodging. You can easily spend a weekend or longer.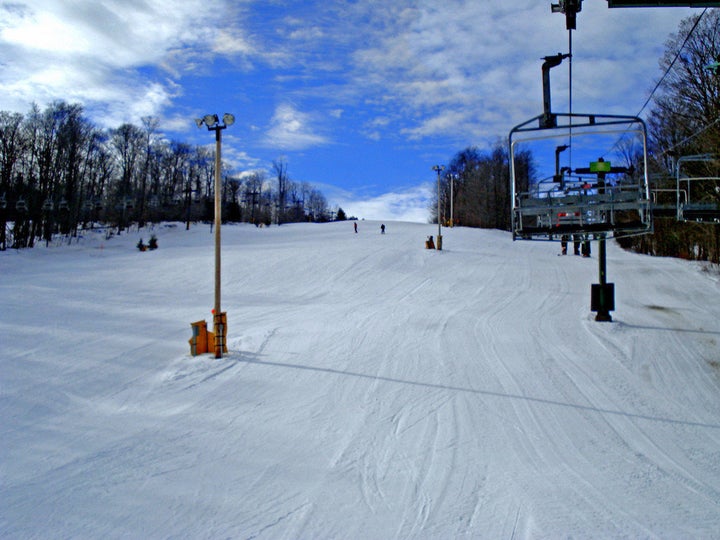 Located only about half an hour from Buffalo, Kissing Bridge has dozens of trails for all levels of skiers up to double black diamond. They also have multiple lifts, so lines are minimal even at peak times on weekends.
They offer ski lessons for all levels of skiers, as well as a racing program and an instructor training program for people looking to move further in the ski world. They have a ski shop that both sells and rents equipment, including trades and used equipment. They sell day passes, weekend passes, and season lift tickets as well, so whether you're a regular skier or just dabbling, there's something for you.
Kissing Bridge also offers an Offroad Overland Adventure program for moto-bikes, ATVs, and other vehicles during the off-season. It's a great way to enjoy this beautiful area and terrain during the spring, fall, and summer.
Kissing Bridge does not offer lodging, but they have several places where you can buy food and drink on-site. Warm-up in the lodge while enjoying a hearty meal, cold beer, or hot chocolate.
Thunder Ridge is one of the most popular ski areas in the state, due in part to its convenient location 60 miles north of New York City and accessible using Metro North. Thunder Ridge runs a shuttle from the Patterson station, which is free to lift pass holders. They also have a ski shop on site with great sales that also rents equipment.
Thunder Ridge boasts 22 trails with difficulty levels from beginner to black diamond, accessible on three chairlifts and four magic carpets. They have a ski school, racing program and offer lessons to skiers of many levels.
Their main lodge is a relaxing place to hang out in between runs, and there are many restaurants nearby to grab a bite to eat throughout your day. Thunder Ridge offers day and night skiing, so if you want to get the most out of your trip or prefer the extra thrill of night skiing, then Thunder Ridge is perfect.
Located in the heart of the Capital Region, Maple Ski Ridge has been in operation since 1963. It's a favorite ski spot for people in the area who don't want to drive an hour or more to climb into the Adirondack Mountains. If you live in the area and want some weekday skiing, this might be your place.
They offer private and group lessons and daily rentals, season rentals, daily passes, and season passes. It is a small ski area with eight trails, two of which are easy, three medium, and three difficult. That way, there's something for everyone. They also have two chairlifts and a tow, so the lines tend to be relatively short.
Seven of the trails are open at night, and seven can make their own snow, which is nice in the lower elevations (the vertical peak is 270 feet). At Maple Ski Ridge, the whole family can enjoy local skiing throughout the entire season.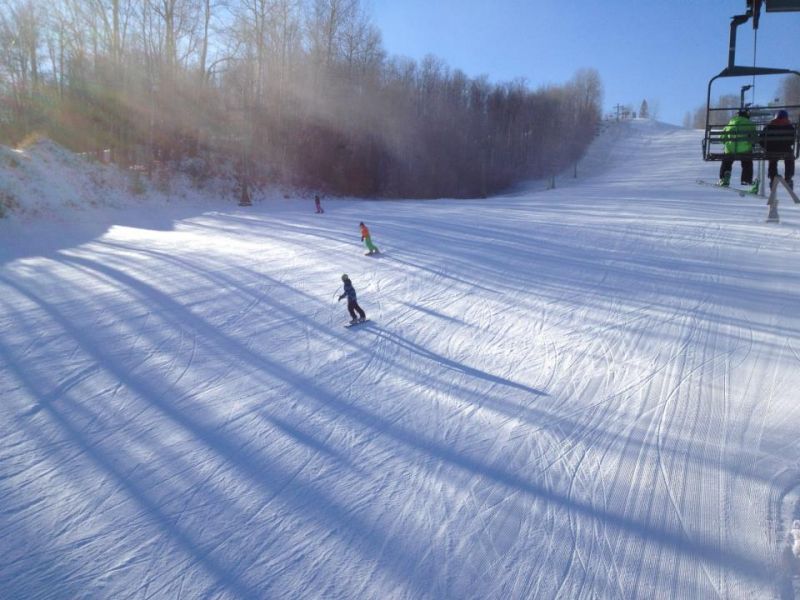 Titus Mountain is relatively large and centrally located. It's an easy drive from Plattsburgh, Northern Vermont, Lake Placid, Montreal, and southern Quebec.
They offer three separate terrain parks and frequently host USASA (USA Ski Association) events, so you know their slopes are both challenging and well-kept.
Titus Mountain's highest ski summit is just over 2000 feet, making it one of the tallest in the country. They offer dozens of trails from beginner green circles to double black diamonds, all of which are accessible by several lifts. In addition, they have a "forever wild" ungroomed terrain area, glades on specific trails, freestyle terrain, and night skiing on Moon Valley Mountain.
Because Titus Mountain is so large, they also offer tubing and cross-country trails in addition to traditional downhill lessons, racing, and competitions.
To accommodate large crowds, they have several warming huts, two lodges offering food and drink, first aid stations, dedicated customer service representatives, and more. They even have lodging on site.
Oak Mountain in Speculator, which is in the heart of the Adirondack Mountains, has been a favorite ski destination for New Yorkers and people from far and wide since 1948. It's so idyllic that they even host weddings.
Oak Mountain boasts 22 trails accessible by four lifts that can carry 3,000 people every hour. The summit elevation is about 2,400 feet, and the longest trail is well over a mile long.
They offer "Tube Town," where those who prefer not to ski can still enjoy the great outdoors, as well as courses for beginners, intermediate, and advanced (black diamond) skiers.
They additionally offer "Play and Stay" packages since they have lodging nearby and are affiliated with several accommodations. You can bring your own equipment, buy it there, or rent it from Oak Mountain. They also have dining options on-site or nearby.
Since they offer night skiing, their lodge is a popular evening spot to grab a drink, and people watch, too.
Windham is in the heart of the Hudson Valley, south of Albany, and it is a true resort ski destination. They have plenty of options for lodging, including an inn, condos that can sleep the whole family, and complete vacation rental cabins that you can ski directly out of.
Windham has an incredible number of trails, from short and long green circles to double black diamonds. They have multiple lifts throughout the property that can ferry thousands of athletes every hour. They also offer season passes as well as single-day tickets, as well as night skiing.
As a resort destination, there are a variety of delicious dining options available, as well as hot tubs, bars, arcades, and game rooms, and other amenities to keep the whole family entertained while both on and off the slopes.
Finally, don't forget to stop by the state-of-the-art equipment shop where you can not only rent or buy everything you need but also have your own equipment inspected and tuned up.
Willard Mountain in Greenwich is located in the greater Saratoga area, which is a hugely popular resort town year-round.
If you're visiting Saratoga during the winter, head to Willard for some top-notch skiing. In addition to tubing and night skiing, Willard also has sixteen trails from green circle to black diamond, several lifts capable of transporting hundreds of visitors every hour, and more.
Willard's ski school is one of the most popular for Saratoga tykes, the Little Colonel Ski School, as well as a homey lodge, a dedicated tubing lodge, and a picnic area.
They offer season passes and daily lift tickets, as well as the "Thirst Aid Room," a restaurant and bar in the Main Lodge that is a favorite watering hole for locals and skiers alike.
If you live in the area, consider joining the Willard Mountain Race Team or the Willard Mountain Freestyle Team, which has produced award-winning champion skiers.
Gore Mountain is one of the most popular skiing destinations in the Adirondacks. It also has a unique terrain of trails.
There's a whole network of trails that skiers are ferried to by multiple lifts, sometimes layers of lifts. The trails are on four separate mountain peaks: Bear Mountain (2900 feet), Little Gore Mountain (1900 feet), Burnt Ridge Mountain (2735 feet), and Gore Mountain (3600 feet).
On these mountains are over 120 trails with 28 glades and eight freestyle areas, including a beginners' learning freestyle area, all accessed by 14 lifts, including the Northwoods Gondola. The longest run is almost 4.5 miles, and the mountains of the Gore ski area get over 150 inches of natural snow each season.
Gore offers ski lessons and a ski school, as well as shorter programs like 6-week "learn to ski" programs or season-long ski lessons for kids, and private lessons. Gore also hosts a whole calendar of activities and events throughout the season, so be sure to check their website frequently.
Ellicottville is located in western New York, directly south of Buffalo near the Pennsylvania valley. Holiday Valley is located just outside the McCarty Hill State Forest and is one of the most popular ski areas in this part of the state.
Holiday Valley has many trails and lifts ranging from beginner green circles to double black diamonds. It would take several days of skiing to cover all of their dozens of courses.
They also offer night skiing and lessons for all abilities and levels. There are also several base areas, so you don't see the crowds that you would in other base areas.
Holiday Valley is a true resort area. They have a spa (Ellicottville Oasis Spa at Tamarack Lodge), GeoCaching, several dining options, and summer activities such as road and mountain biking, pools, lake access, golf, Sky High Adventure Park, and much more.
Winter season ticket holders may receive discounts or special access during the summer programs to get the most out of their tickets.
Founded in 1958, Greek Peak is central New York's largest ski resort located in the Finger Lakes region. It has over 50 trails with eight lifts, a terrain park, and a beginner's hill. Their ski shop sells and rents all the equipment you need and offers assessments, fittings, and tune-ups.
Similar to Holiday Valley, Greek Peak is a four-season resort with offerings throughout the year. One of the things that makes it an incredibly family-friendly ski resort is the on-site indoor waterpark, a great way to take a break from the slopes.
In addition, there is also a spa, multiple bars, and restaurants with a range of cuisine, an outdoor adventure center, and events and activities year-round.
Greek Peak also has lodging for its guests, including luxury accommodations and places to stay where you can ski directly out of your stay. They offer lessons for all skill levels and season passes, and other types of lift passes for visitors.
Located in the heart of the Finger Lakes region, like Greek Peak, Bristol Mountain is open year-round.
They have an aerial adventure course for the warmer months and Roseland Waterpark, Roseland Wake Park on the lake, and multiple dining options. Plus, the nearby village is home to wineries, shops, and much more.
During the winter, Bristol Mountain is a skier's paradise. There are more than 35 trails that are accessible on five lifts. The highest summit elevation is 2200 feet, and the longest run is about two miles. The 1200 foot vertical rise is the longest and highest anywhere between the Adirondacks and the Rockies.
They're capable of making 24-60 inches of base snow on 100% of their trails. They also offer night skiing, with 96% of their trails lit.
They have an on-site ski shop that sells or rents equipment. They'll also tune your gear and make sure you're skiing safely on the best equipment.
Hunter Mountain is arguably the Hudson Valley's most popular ski resort. They have 67 trails on more than 300 skiable acres.
Sixteen lifts ferry skiers and boarders, reducing wait times at this bustling destination. Their base elevation is 1600 feet, and the summit elevation sits at an impressive 3200 feet.
In addition to the trails, Hunter has four glade areas and four freestyle areas, so you can practice no matter what your preferred ski method may be. They host NASTAR, the National Standard Race, in which skiers can register for weekly times and try to qualify or beat their own times.
Hunter Mountain offers a range of activities during the winter and throughout the year, including an aerial adventure park. They also provide rentals and sales on equipment, lessons for beginners to advanced skiers, and much more.
You can stay and dine right at Hunter or at any of the many nearby restaurants, resorts, or hotels.
Located in Ulster County, Plattekill is in the gorgeous Catskill Mountains. Plattekill Mountain is unique because it is privately and family-owned. They have 38 total trails for all levels, from green circles through double black diamonds. There are four lifts, so lines are not typically very long at all.
Plattekill Mountain's longest trail is two miles, making it an endurance challenge for experienced skiers. The mountain's base elevation is 2400 feet, and the summit is 3500 feet, making the total vertical elevation 1100 feet of skiing.
Their average snowfall is 175 inches, and they have a 75% snowmaking capacity. While that means that not all trails may be available very early or late in the season, it also means that you'll be skiing first and foremost on fresh, natural snow, which is always preferable.
In addition to the trails, Plattekill allows advanced skiers and boarders to utilize the woods at their own risk. While they're hazardous and not open past 3 PM, it's a serious challenge to experienced skiers looking for an authentic experience.
Plattekill Mountain offers season passes as well as day lift passes. They also host weddings, so you know that the lodge and facilities are incredibly gorgeous.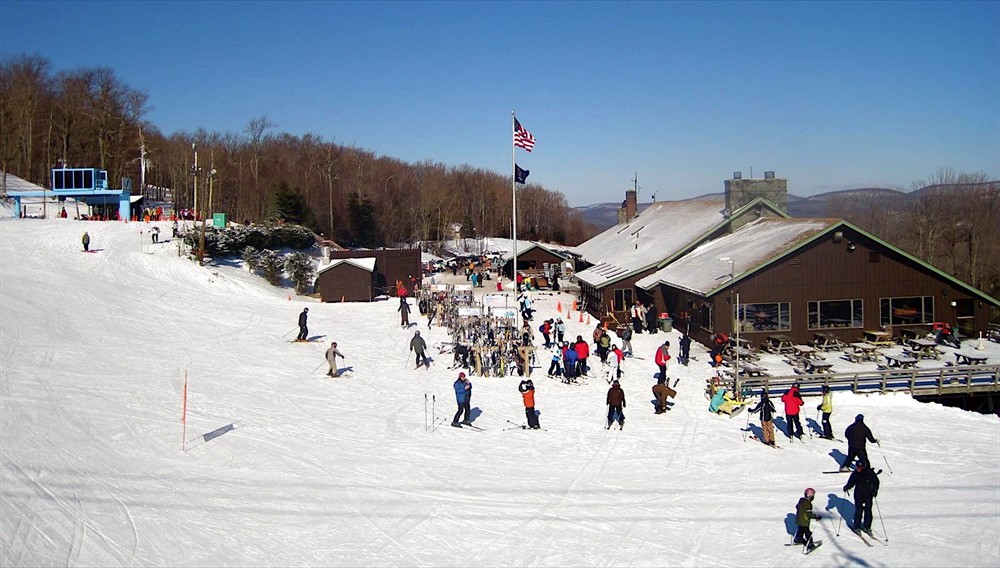 Like Plattekill Mountain, Belleayre is also located in the Catskills in Ulster County. Its relatively close proximity to New York City and Northern New Jersey and the entire Hudson River Valley makes it a popular winter ski destination.
Belleayre is huge. There are 50 trails accessible by eight lifts, including a state-of-the-art high-speed gondola. There are more than 170 skiable acres, 10 kilometers of cross country skiing trails, snow tubing, and four lodges.
Belleayre offers private and group lessons for all ages and abilities. They also have glades, parks, and steeps. They host events year-round, including a popular Oktoberfest celebration in the fall.
During the off-season, they also offer disc golf and Belleayre Beach swimming in local open waters. There are many area restaurants and lodging options available as well.
Tully, New York, is located almost directly south of Syracuse in the heart of the Finger Lakes. Song and Labrador are two separate mountains but are accessible by a single lift ticket or season ticket.
Song Mountain has more than 20 trails, including green circles, blue squares, and black diamonds. They're accessible by five lifts. There's a highly rated locally-run restaurant at the base of Song as well.
Labrador Mountain also has more than 20 trails on three different peaks (north, south, and central). They're accessible by four efficient lifts, and waits tend to be short at both Labrador and Song Mountains. More than 15 of Labrador's trails are lit, meaning that it's a fantastic destination for night skiing.
Their ski school offers lessons for all levels and ages, as well as snowboarding lessons. They also have racing available on the Song Ski Team and the Labrador Ski Team and recreational racing if you're just looking to have some fun.
The town of Tully is home to many restaurants and options for lodging. Since it is in the Finger Lakes region, there are several nearby wineries and tasting rooms if you hope to make a mini-vacation out of your ski adventure.
Enjoy Family Time on the Mountain
The most important thing about where you ski is that you and your family have the time and opportunity to spend it together and have fun.
Wherever you go, use this handy guide to find the best ski destination for you and then get the most out of it.
More about our TFVG Author
A seasoned traveller, Dad, and avid sports tourist, James foundered The Family Vacation Guide to share his expert vacation experiences- especially when it comes to being a travelling family man.
Featured in Travel articles such as Travel + Leisure, TripSavvy and SFGate, you know you're reading some of the best vacation tips online.