Michigan is known for being the only state in America that borders four of the five Great Lakes. On top of that, Michigan features the highest vertical drop in the Midwest, making it the most sought-after ski destination.
The state makes an ideal winter tourist destination thanks to its over 40 ski spots, about 1000 runs, and 50 terrain parks.
Skiing facilities are not the only thing that sets Michigan apart as an ideal destination state: convenience and cost allow you to enjoy top-rated skiing spots as a whole family.
So, pack your skis and get the kids ready for an idealistic visit to one of the following Michigan ski resorts. These top eight best family ski resorts are sure to make your winter unforgettable.
Located in Michigan Upper Peninsula, Big Powderhorn Mountain Resort is a popular spot. It boasts 17 feet of natural snowfall cover annually, and the ski area extends over 250 acres of terrain.
Seventy percent of Powderhorn Mountain runs are groomed for beginner and intermediate skiers and snowboarders. The terrain is further split up for varying skill levels to accommodate all visitors regardless of their experience.
Several lodging options are available at Big Powderhorn Mountain Resort, from ski-in and out chalets and condos. Most tourists prefer lodging at Ironwood, as there are more activities like enjoying time at a brewery with a beautiful outdoor patio.
You can also bring your ice fishing gear to the largest inland lake in the Upper Peninsula, Lake Gogebic. In addition, the resort provides access to waterfalls, a snowmobile, snowshoeing, kids programs, and ski and snowboard lessons.
Several stops give breathtaking views of Big Powderhorn terrain. You can even heighten the outdoor fun with an epic road trip with your family as you drive through Ottawa National Forest.
The location is picturesque: it is a perfect outdoor space at the border of Michigan and Wisconsin. Plus, the atmosphere of the mountain is relaxed, an ideal winter getaway spot for family fun away from overcrowded resorts.
Located close to the mighty Lake Michigan, Crystal Mountain's special terrain features are favorites among midwest skiers. The mountain has an elevation summit of 1132 feet and a base elevation of 757 feet, with a vertical drop of 375 feet.
The spot has 102 acres of skiing terrain with 58 runs featuring beginner, intermediate and advanced runs. The runs cover 79.3 miles, while the longest run is 0.3 miles. There are eight lifts and 58 acres of night skiing terrain.
Skiers get top-notch glading on the beautiful trails through the woods, steeps, and various terrain parks. The well-planned terrain provides adequate space for cross-country and downhill skiing.
If you love to stay up late, sign up for night skiing to bond with your family under the lights. Depending on your family's preference, the resort can organize a bonfire experience as part of the night package.
NASTAR (National Standard Race) at Crystal Mountain offers skiers of all ages a competitive opportunity to test their expertise and show off their skills.
Several lodging options include cozy or extravagant hotel rooms, townhomes, condos, suites, and resort residences with spectacular mountain backdrops.
Private and group on-demand lessons are available for skiers of all ages and experience levels.
Other winter activities available at the resort include snowshoeing, ice skating, fat tire bike rides, and horse-drawn surrey rides.
If you have zero experience skiing, the resort offers lessons and a free ride clinic. Whether it is
skiing, biking in the snow, or tubing, high performance. Equipment is available to buy or rent.
The Homestead ski resort on Bay Mountain is a great skiing spot in Michigan. It receives an average annual snowfall of 12 feet. The vertical rise of the skiing area is 375 feet, and the base elevation is 500 feet. The terrain is extensive, with challenging and thrilling ascents and descents if you are a long skier.
The resort has 16 skiable acres,15 trails, and five lifts: two triple chair lifts, two surface lifts, and one double chair lift, all enough to accommodate visitors at any given time.
The destination is a perfect getaway for families with varying skiing skills since it's also beginner-friendly. Its features include night skiing, cross-country skiing, snowboarding, and snowshoe trails. The natural trails are perfectly groomed and allow you to interact with beautiful nature.
There are tons of lodging packages and accommodation options for your family at The Homestead. Lodges such as the Sleeping Bear Dunes are also available around the resort.
You can also sign up for a ski-racing program to compare your expertise with other skiers if you feel competitive. Opportunities to ice skate on a frozen pond for visitors who love to glide on ice are available. Programs for kids and ski and snowboard lessons are available.
All the facilities at The Homestead are professionally maintained for safety. Ice-skating and skiing equipment are available for rent.
Boyne Highlands Northern Michigan resort is ideal for skiers looking for a luxurious experience. Boyne Highland boasts about 500 vertical feet, 60 trails, over 415 skiable acres, and 15 lifts. The trails are broken down to accommodate skiers with different skill levels. In addition, some of the terrains are fitted with super pipes to enhance the experience of snowboarders.
The skiing conditions at Boyne Highlands are family-friendly, making it an ideal spot in Michigan to spend your winter vacation.
Room options range from well-maintained condos, home rentals to appointed upscale hotel rooms.
Boyne highlands offers much more than just skiing and snowboarding. All winter sports you can think of – ranging from dog sledding and snow tubing to ice skating – are available.
There are several activities like the Sno-Go Hot Cocoa Hustle for a fun relay race and competitive family time. The Enchanted Trail adventure at Boyne Highlands is a breathtaking and relaxing two-mile walk along a beautiful winter trail that ends up in a bonfire and hot drinks.
Sno-Go Bikes are a must-try with your family for an adventurous and scenic morning. The bike is designed to withstand all snow conditions and give you the best of Boyne Highlands views and experience.
You can enjoy elegance and pampering at the resort with outstanding catering services graced with delicious foods and quality drinks.
The moonlit dinner experience adorned by a bonfire and beautiful tunes from a guitarist is unforgettable and the perfect way to wind down an active skiing day.
There are training programs for beginners ensuring your whole family enjoys their stay at the resort. In addition, equipment rentals for all activities are available to all visitors.
In the Boyne Falls, Boyne Mountain resort offers a great skiing spot with a vertical elevation of 500 feet and 1120 feet top elevation. The base elevation is about 620 feet, with an annual average snowfall of 11 feet.
The terrain has 60 runs, with the longest run being 1 mile. There are 415 acres of skiable and 200 acres of night skiing terrain. In addition, there are 35 kilometers of cross-country trails and 3.5 kilometers of snowshoeing trails.
There are 12 lifts with high-speed sixes, triple chairs, quad chairs, double chairs, and surface lifts.
The sound of skis scraping the snow crystals gives a gratifying cross-country skiing experience. The trails are groomed for all experience levels, making them ideal for enjoying the pine forest views with your family in the gentle trails.
The list of activities is endless. For example, you can go on Sno-Go bike riding in the wild terrain for a thrilling experience.
Boyne Mountain has a smooth surface with a beautiful backdrop for ice skating. The ice skating rink is expansive and well maintained. There are also hockey skates.
Depending on your skiing skills, there are various trails, from beginner to expert runs.
Fat tire snow biking is another activity to enjoy with your family. If you love cycling, set yourself up for an electric bike experience in the snow and through the beautiful road trail system.
Snowshoeing at the 4 kilometers trails gives a fulfilling and beautiful experience. Or, try snow tubing for the ultimate snow fun. If you have not tried the activity, Boyne Mountain is the place with the perfect opportunity to participate with your family. Enjoy the mountain's fresh snow air while having fun on the snow tube down the hill.
The swimming experience at this resort is out of this world. There is a heated pool that gives you a perfect break from the snow. There are also supervised small tubs for kids where they can get their feet wet.
Get an adrenaline rush at the mountain through a zipline adventure. Boyne Mountain ziplines fly above 50 feet at about 25 miles per hour over 780 feet in length. The zipline starts at the mountain top through to the Boyne slopes. There are spectacular views of the trees and the terrain. Your family doesn't need to have any skills to enjoy a ziplining adventure.
There are tons of extras like bonfires, night sleigh rides, storytime, and movies. Several dining options like Everett's and Beach House Restaurant are available. The lodging options include chalets, condos, villas, and suites.
There are rentals for snowboarding and skiing equipment. The bike rental rates are affordable, going for as low as $20 per hour.
Boyne Mountain has a wide array of affordable and fun outdoor snow activities that leave you yearning for more.
Treetops ski area has a vertical drop of 225 feet and a base elevation of 1120 feet. The average annual snowfall of the area is 14 feet. The terrain is 80 acres with 23 trails, two parks, and five lifts: 3 triple chairs and two surface lifts.
Winter vacations at Treetops Resort are the most spectacular, with activities like skiing and extreme tubing. Thanks to the wide range of activities available at the resort, families can take their pick of what they want to do.
Downhill skiing is unique at the Treetops, unlike in other skiing resorts in Michigan. Whether you are an expert or beginner, the downhill runs are groomed for all experience levels.
Cross-country skiing is available, and the trails are ideal for all skill levels ranging from beginner to expert. In addition, the trails pass through the Jones Masterpiece golf course, where you can have a glimpse of wildlife as you glide in the woods.
Lodging options include chalets, suites, cottages, and condos.
You can bring your dogs for a thrilling bonding time at the Treetops dog sled adventure. The experience starts at the resort's snow trails, through Treetops' beautiful hills.
The resort also has 24 runs which you can choose from, with varying terrains suitable for snowboarders of all skill levels.
If you want to do something different, heighten the winter spirit by going on a fairy tale sleigh ride with your family at the Treetops. Then, get a wilderness experience as you pass through the forest on the sleigh.
Take a break from the sleigh rides and skiing with a relaxed tube ride. Treetops Resort has among the best winter tubing areas in Michigan for family fun. Coordination and skills are not necessary for this activity.
Tubing runs are over 400 feet in length with a vertical drop of 80 feet. The runs can go up to 55 minutes, and the activity is recommended for kids too.
Activities like the scavenger hunt are offered to keep the kids engaged and excited about the getaway. Kids can explore the resorts looking for Treetops rubber bracelets in different outlets and adorn themselves with them. The resort may have a reward for your family if your young one finds all the bracelets.
Enjoy a perfect winter day at Treetops fat tire biking over the resort's snow-covered trails.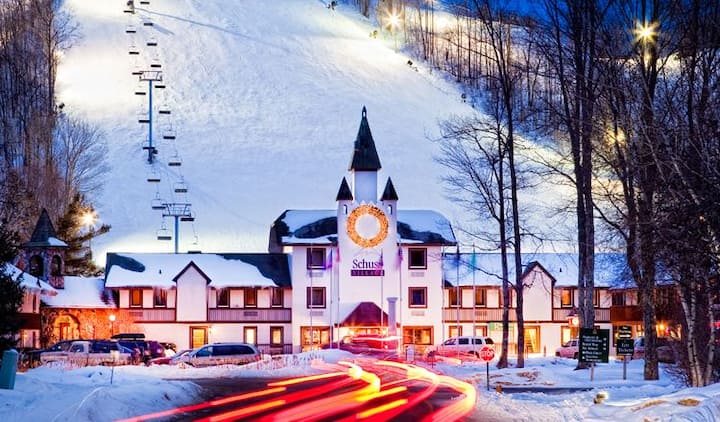 Schuss Mountain at Shanty Creek summit elevation of 1125 feet with a vertical rise of 450 feet. The average annual snowfall is 14 feet. The resort offers 400 skiable acres with 53 trails and four lifts.
Schuss Mountain has fantastic ski terrain and delivers a wide range of gentle and long to steep runs. In addition, the 28 kilometers of cross-country trails at the resort give a spectacular skiing area for both downhill and cross-country skiing.
Enthusiastic Nordic skiers can set themselves up for point-to-point racing and an adventure around Schuss Mountain.
Numerous ski holiday lodging options are available, from ski-in and out, rental homes and condos. Lodges like the Cedar River Village Slopeside Condo give you the perfect place to wind down your day with spectacular views of the mountain slopes.
Downhill and cross-country skiing are among the many activities waiting for you at Schuss Mountain in Shanty Creek. There are plenty of ways you can play in the snow with your family ranging from snow tubing, dog sledding to snowshoeing.
Dogsledding is available for visitors of all ages. Enjoy a ride through the mountain's golf course and the spectacular view of Schuss Mountain. The sledding trail is located in Schuss Village and can extend close to thirty minutes. They have become popular, and it is best if you book in advance.
The Alpine Tubing Park at Schuss Mountain is a must-visit. Enjoy a fantastic ride through the well-maintained carpet to the top and slide down the Shanty Creek's Summit all over again.
Ski equipment rentals are available. You can also get ski lessons at the main Schuss Mountain Ski Center.
Whether it is a weekend getaway, family reunion, or a romantic vacation, Pine Mountain Resort is ideal for a perfect winter.
The vertical drop of the ski area is 500 feet with a 1650 feet summit and 1150 feet base.
The resort has 35 runs, with the longest run being 0.5 miles. It features over 220 acres of skiable terrain and 80 acres of night skiing.
The resort has four lifts: two double chairs, one triple chair, and a single surface lift.
The accommodation options available at the resort include lodges, ski in and out chalets, and condos. In addition, the resort recently did renovations to the hotel rooms for better sleeping arrangements and upscale mountain-style décor.
The most popular winter activities include cross country skiing and snowmobiling. There are numerous cross-country skiing trails in the Ironwood Mountain area, giving you spectacular views of Fumee Lake. In addition, the vertical range is adequate to provide you with perfect views of the surrounding landscapes.
The skiing paths and trails range from beginner and intermediate to expert level difficulty. Plus, the resort has the best jumping hills attracting top ski jumpers worldwide.
There are opportunities to interact with numerous snowmobilers as you enjoy your ride through the beautiful and natural mountain landscape and make new friends.
Rental for high-performance equipment is available to make skiing safer and easier. Lessons to enhance your skiing skills and your winter sports experience are also available.
More about our TFVG Author
A seasoned traveller, Dad, and avid sports tourist, James foundered The Family Vacation Guide to share his expert vacation experiences- especially when it comes to being a travelling family man.
Featured in Travel articles such as Travel + Leisure, TripSavvy and SFGate, you know you're reading some of the best vacation tips online.