Whether you're a beginner skier or love the thrill of flying down expert-level trails, ski resorts offer fun and lively experiences for everyone. With so much variety and unique opportunities, hitting the slopes is the perfect way to spend quality time with your family.
If you're looking to take a family getaway this winter, there are so many ski resorts in the east designed to accommodate families and keep parents and children of all ages happy and entertained. Visiting a family-friendly mountain resort is a great opportunity to relax, get some fresh air, and experience a vacation that your kids will never forget.
Here are 16 of the best ski resorts on the East Coast for families that are looking to explore ski slopes and have an exciting outdoor adventure.
Stoweflake Mountain Resort & Spa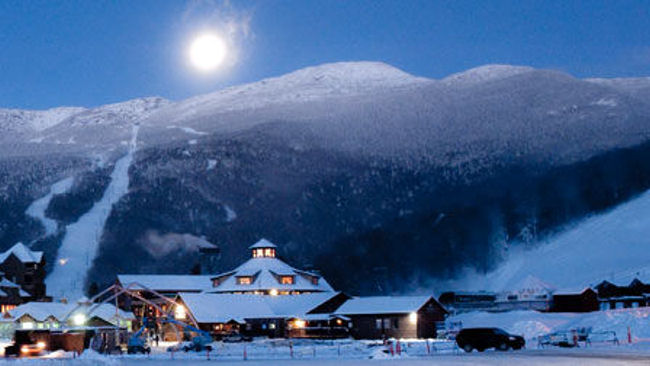 Located in Stowe, Vermont, Stoweflake Mountain Resort & Spa is a fantastic place to ski, relax, and enjoy the picturesque mountain village with the whole family. 
The resort is just a short, free trolley ride away from Stowe Mountain, which offers a range of cross-country and downhill ski trails for beginners to advanced skiers, as well as private ski lessons for kids of all ages. You can also find 5 kilometers of groomed cross-country skiing and snowshoe trails on the grounds of the resort.
Once you're done hitting the slopes, you can find so many family-friendly activities to enjoy around Stoweflake Mountain Resort & Spa. There's a pool and jacuzzi, an on-site golf course, and two different dining venues. In the winter, families can take part in sleigh rides, dog sled tours, or ice skating on the resort's ice skating pond.
Families will also never run out of activities in the surrounding town of Stowe, with numerous shops, restaurants, breweries, and family-friendly attractions and tours.
Guests can choose from 120 accommodation options, including large guest rooms, spacious and comfortable suites, or private townhomes, all of which offer ample room for families to relax and have their own space.
One of the biggest draws is the 50,000 square foot world-renowned spa with a huge menu of tranquil and luxurious treatments. If you're looking for a relaxing ski trip for the whole family, Stoweflake is one of the best options out there.
Camelback Mountain Resort
This historic ski resort, located in the heart of the Poconos in Tannersville, Pennsylvania, has everything you'll need for an exciting family adventure, making it one of the best ski resorts on the East Coast for families.
Camelback Mountain Resort is the #1 ski spot in Pennsylvania, with 39 ski trails, 42 snowboard trails, and over 160 acres of slopes. The numerous trails provide plenty of options for skiers of all levels and skills, and beginners can participate in either half-day or full-day ski lessons. Kids will also love all the other outdoor adventures available, including the mountain coaster, UTV tour, and ziplining.
Along with all the outdoor activities, there's just as much for families to do inside of the lodge. After a day of skiing or tubing, families can enjoy an arcade, laser tag, indoor rock climbing, an escape room, and challenging ropes courses. And when you stay at Camelback Resort overnight, access to the Aquatopia indoor water park is included with your stay.
With 453 guest suites, Camelback Mountain Resort has plenty of space to accommodate your whole family. There are also over 17 mountainside dining and drink options just a short distance from the resort, so even the pickiest eaters are guaranteed to be satisfied with their stay.
Liberty Mountain Resort
Another popular Pennsylvania Ski Resort, Liberty Mountain Resort is a picturesque, family-friendly retreat in the heart of the Blue Ridge Mountains in Fairfield, PA.
Liberty Mountain has 16 ski trails, ranging from beginner to expert. And with multi-week junior ski and snowboard development programs and a range of individual and group lessons, this resort is perfect for any families with children that are new to skiing and want to learn some basic skills before tackling the slopes.
The resort has plenty of other activities to enjoy once you're done skiing for the day. Kids will love snow tubing at Boulder Ridge or taking part in the Boulder Ridge Challenge course during warmer seasons. The resort also has a golf course, salon and day spa, indoor pool, and on-site restaurant.
There are even more activities to enjoy just outside of the resort grounds – shopping centers, state parks, and historic Gettysburg attractions are all within a few miles of the Liberty Mountain Resort.
The site has 114 comfortable, family-friendly accommodation options to choose from when you book your family's stay at Liberty Mountain.
Okemo Mountain Resort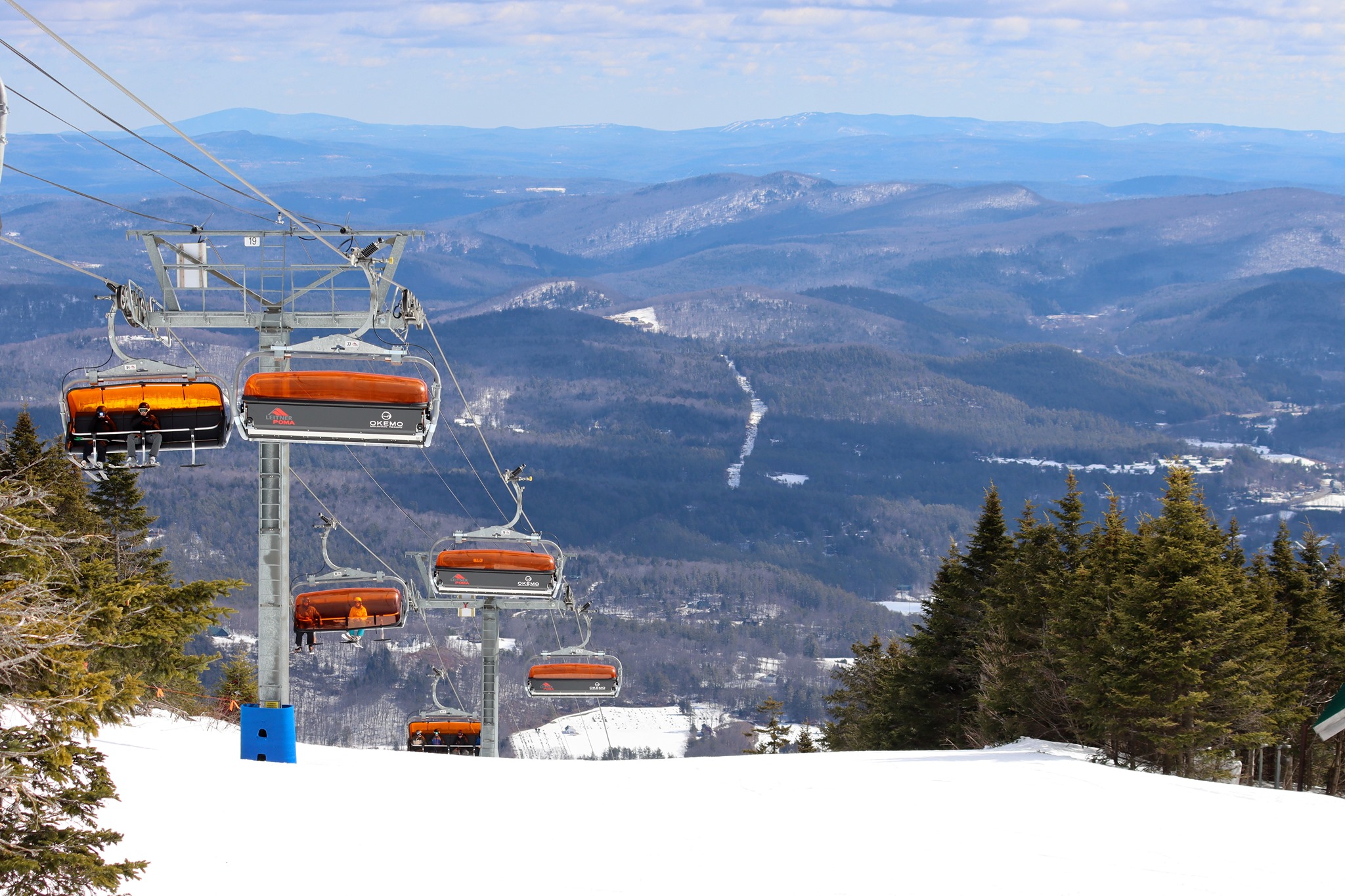 With 121 ski trails across all skill levels and the highest vertical drop in Southern Maine at 2,200 feet, it's no surprise that Okemo Mountain Resort in Ludlow, Vermont is one of the most popular and highly-rated resorts on the East Coast.
Okemo Mountain Resort boasts the best snowmaking efficiency in Vermont and offers well-groomed terrain that's ideal for skiers and snowboarders of all abilities. It's also home to the East Coast's longest superpipe, as well as multiple innovative terrain parks for snowboarders of all ages to build their skills.
For families enjoying a ski resort getaway, there are several ski and snowboarding lessons for every family member. Kids can participate in group ski or snowboard lessons, or families can partake in a private, customized lesson from a world-class instructor. From learning to tackle extreme slopes or enjoying the gentle groomed terrain, this mountain offers something for everyone.
The resort provides an exceptional experience for families, with even more amenities to enjoy on-site. Whether you're shopping, relaxing at the spa, skating at the ice house, or taking in the scenic view from the mountain coaster, you'll never get bored during your family vacation.
There are also two pools – including a children's pool complete with a water slide – and 11 different nearby dining options to explore.
Snowshoe Mountain Resort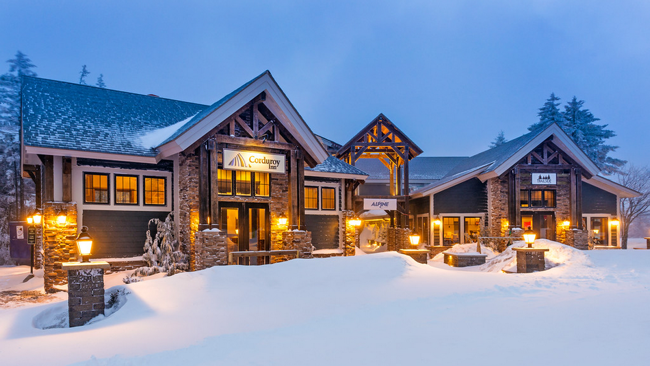 At nearly 5,000 feet above sea level, Snowshoe Mountain Resort in Snowshoe, West Virginia is perfect for outdoor enthusiasts and adventure lovers of any age. 
Snowshoe Mountain has three distinct ski areas – Snowshoe Basin, Silver Creek, and Western Territory – with a combined 56 trails. Along with downhill ski trails, Snowshoe Mountain resort offers a tube park, snowmobile tours, mountaineer terrain parks, and groomed cross country skiing and snowshoeing trails.
Families can take advantage of the huge variety of ski and snowboarding lessons, including a Mommy and Me class, Kids World Ski and Snowboard Group Lessons, and Intro to Snow group lessons.
Snowshoe Mountain is a great choice for families with really little kids, as they also offer a pre-ski school for the resort's youngest visitors. Kids ages 2-4 can take part in this daycare program and spend the day playing in the snow and enjoying toys and crafts while you explore the mountain.
Off of the ski slopes, guests can enjoy several slope side and village dining options, a full resort spa, heated indoor and outdoor swimming pools with water slides, and a relaxing hot tub with stunning mountain views. And with 11,000 acres of hiking paths, bike trails, and more, your family will never get tired of exploring this mountain village.
Whiteface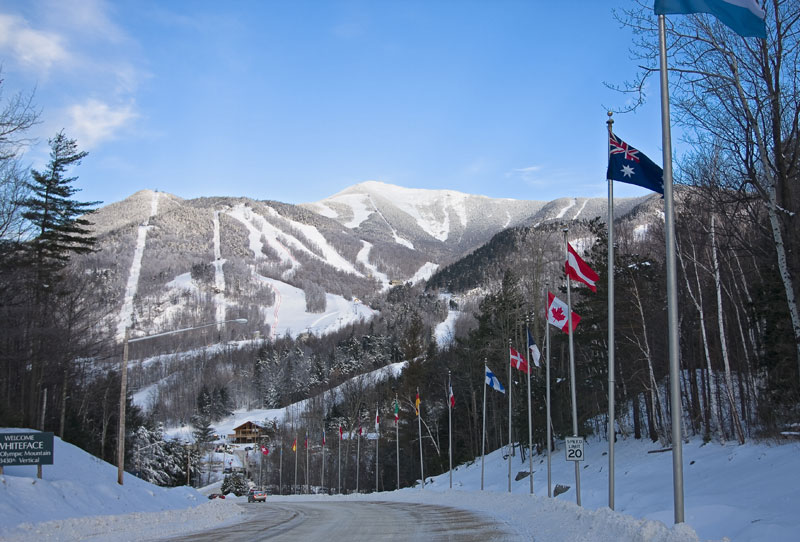 Whiteface mountain, Located in Wilmington, NY near Lake Placid, is known for having the greatest vertical drop east of the Rockies. With a total of 90 ski and snowboarding trails, Whiteface has something to offer everyone, making it a great experience for the entire family.
For expert skiers, Whiteface has 35 acres of off-piste double-black diamond wilderness skiing terrain known as the slides. You can also find terrain parks for intermediate and lower-level skiers, as well as 53 acres of glades.
The season-long children's programs through the Bear Den Learning Center are a major draw for families visiting the resort with young children. Kids ages 7-14 can learn skiing basics through the Cloudsplitter Club, while kids from ages 4-6 can spend time in the snow improving their balance through the Powder Pup and Future Medalists programs.
You'll have your pick from a range of luxurious and family-friendly lodging options with plenty of activities, amenities, and nearby dining options. Along with skiing and snowboarding, families can enjoy gondola rides, snowmobiling, walking paths, and so much more.
Tremblant
Located in the Laurentian Mountains in Quebec Canada, this resort will transport you to a picturesque European-style village full of fun family activities and outdoor trails to explore.
Tremblant has a total of 102 ski trails, with 22 easy trails for beginning skiers. The mountain's diverse terrain makes it perfect for guests of any skill level and ability. And for anyone just getting started with winter sports, the resort offers personalized individual and group lessons through Tremblant Snow School.
After a day of downhill or cross country skiing, you and your family can enjoy everything else the scenic destination has to offer. You can try fat biking, enjoy a dog sled ride or alpine tour, or check out the vast snowshoe trail system.
The resort has mountainside, golf course side, or pedestrian village accommodation options, so you can choose between numerous spacious rooms to find what best meets your family's needs.
Wherever you choose to stay in this resort, you'll be close to the pedestrian village, where you can find everything you need to keep your family entertained. The village offers shopping, dining options, and water parks, playgrounds, and other entertainment that's perfect for any family vacation.
Sugar Mountain Resort
If you head down south along the East Coast, you'll find Sugar Mountain Resort in Sugar Mountain, North Carolina. Sugar Mountain has 22 trails across 125 acres of skiable terrain, with trails ranging in difficulty from beginner to double black diamond.
While there are plenty of trails for all skills and ages, Sugar Mountain Resort offers group and individual snowsports school for kids ages 8-13. You can also use their drop-off child-care center, which is available for the resort's youngest guests,
Along with skiing and snowboarding, families can enjoy the other outdoor winter activities throughout Sugar Mountain Resort, including tubing, snowshoeing, and ice skating. While out on the trails and slopes, make sure to keep an eye out for Sugar Bear, the Sugar Mountain Resort mascot, who can often be found roaming around the property and ski area.
For some much-needed relaxation after a long day, you can check out the dining, shopping, and spa in the bordering town of Banner Elk.
Smugglers' Notch Resort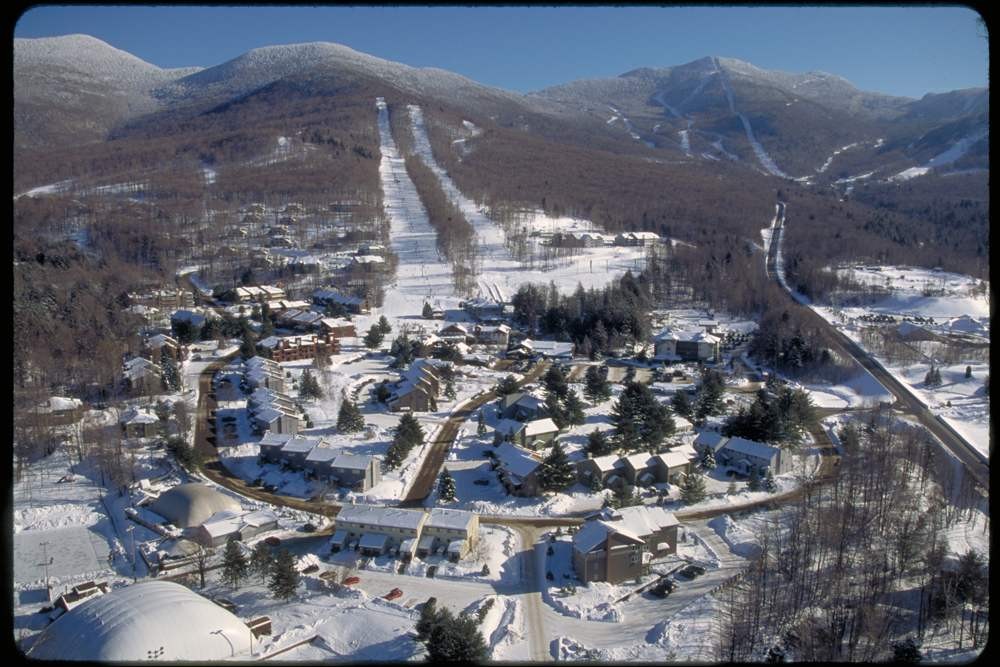 Designed to create a perfect family vacation experience, Smugglers' Notch Resort in Jeffersonville, Vermont is consistently ranked as one of the most family-oriented resorts in the east. And with perfectly groomed and safe terrain and plenty of gentle learning trails, it's easy to see why.
Smugglers' Notch Resort is made up of three interconnected mountains with a total of 78 diverse trails for all abilities. Located across 1,000 acres of terrain, resort visitors can access a large number of trails, glades, steep slopes, and terrain parks. Families can also take part in winter walks, ice skating, snowshoeing, and tubing.
This resort offers a variety of options for families traveling with kids. Treasures Child Care Center provides care for children too young to ski, offering you some flexibility as you explore the resort. Little Rascals on the Snow offers a basic introduction to snowsports for 2.5-3-year-olds, and older children can take private or group lessons tailored to their skill level.
Once you head back inside for the night, the family-friendly activities continue. You can visit the FunZone Family Entertainment Center to play a variety of table games and sports, scale the climbing wall, or visit the arts and crafts station. There are also daily activities such as bonfires and sing-alongs for even more quality time with your family.
The resort offers family-style condominium homes and easy access to several dining and shopping options throughout the area.
Omni Mount Washington Resort
With 464 skiable acres and 97 trails and glades for all skill levels, Omni Mount Washington Resort in Bretton Woods, New Hampshire is a great destination for a winter family getaway.
Along with excellent nordic and alpine skiing trails, Bretton Woods has a freestyle terrain park for any beginner or intermediate skiers and riders. They also offer private snowboard and skiing lessons for riders and skiers ages seven and up.
While the variety of skiing trails is a major benefit, what really draws families to this resort is all the activities and exciting events that occur off the slopes. You can play golf or tennis, fly through the treetops on a zipline tour, enjoy the scenic mountainside views on a horse-drawn sleigh ride, or relax at the spa or around a firepit. The daily kid-specific programming also allows parents to explore the area knowing their kid is safe, happy, and in good hands.
With heated indoor and outdoor pools, a hot tub, unique boutiques, and on-site and nearby dining options, this resort will keep everyone in the family entertained on your next vacation.
Stratton Mountain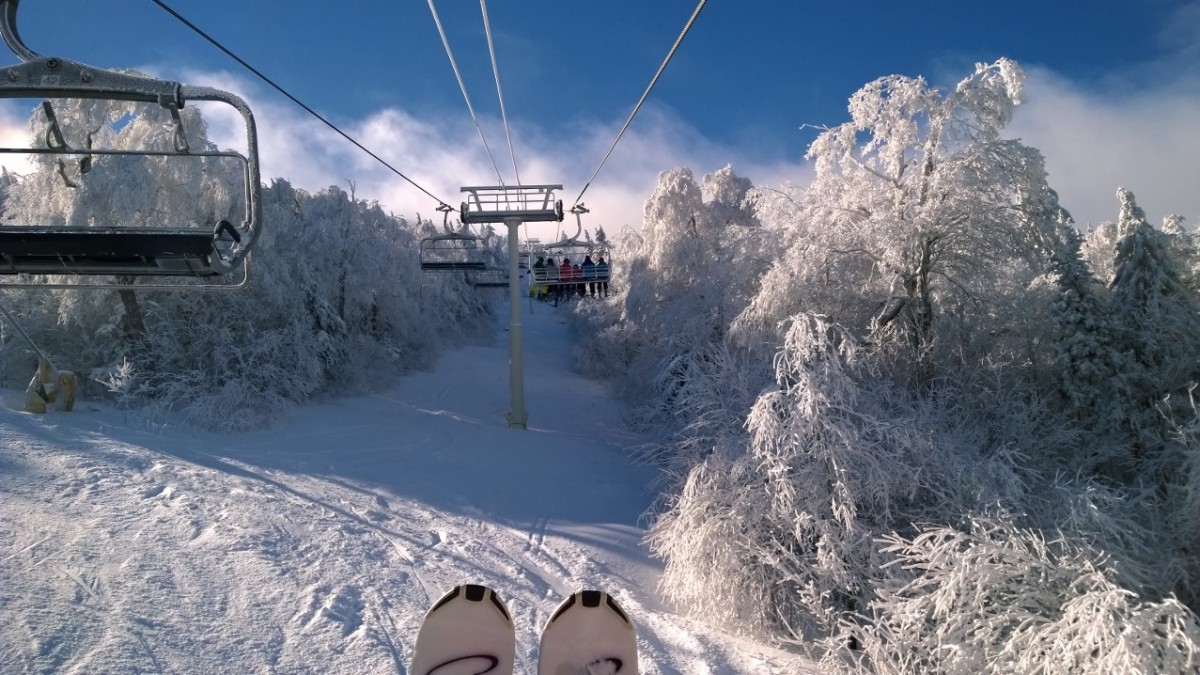 For anyone traveling with young beginner skiers, Stratton Mountain Resort in Stratton Mountain, Vermont is a great place for them to learn the ropes. 40% of this mountain's 99 ski trails are for novice skiers, so families will have plenty of trails to explore regardless of skill level.
The resort offers both daily and seasonal snowsports programs for kids, as well as specialty workshops and camps designed to build a strong foundation at an early age.
Other winter activities at Stratton Mountain include snowshoeing, fat biking, tubing, and ice skating. You can also sign up for a family-friendly guided snowmobile tour for an exhilarating outdoor adventure. The resort itself offers plenty of amenities, including a tennis center, fitness center, and golf course.
Stratton Village sits at the resort's base and provides an exciting, European-style mountainside experience. Make sure to stop by this alpine village to explore all the shopping and mouth-watering dining options, or just stroll through the village and enjoy the unique and beautiful setting.
Jay Peak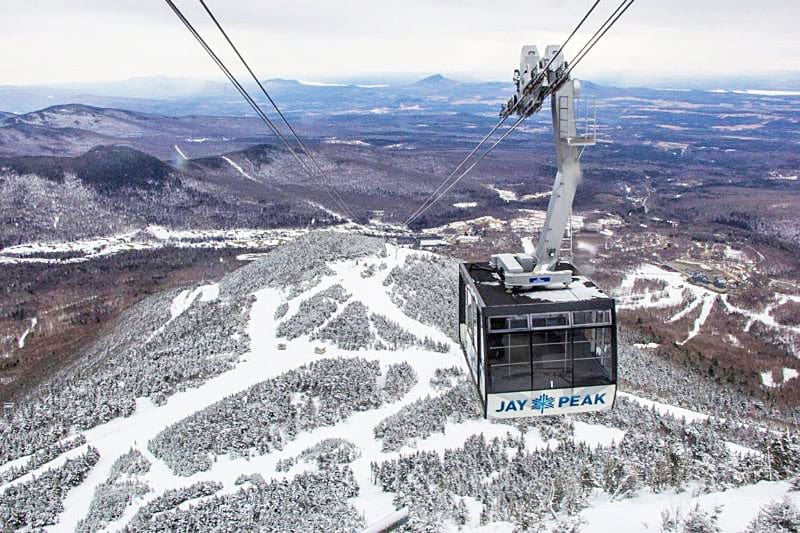 If you're looking for a more off-the-beaten-path ski resort option for your next family vacation, you'll love Jay Peak Resort.
This resort, located in the remote, scenic town of Jay, Vermont, advertises some of the best skiing trails and the most natural snow out of any other resort on the East Coast. They have 81 trails divided between novice, intermediate, and advanced, so it's simple for everyone to find a path that suits their abilities.
There are three terrain parks for all abilities, allowing beginners to learn new skills and gradually transition to more challenging slopes. The unique glade system also includes beginner to ultra-expert tree runs for even more trail exploration.
Jay Peak's Ski & Ride School offers private lessons for guests of all ages, while 7-12-year-olds can take part in the Freeski, Race, & Ride Team or the Chickadees Girls Camp.
Jay Peak offers so much more than just skiing and snowboarding. Families can ride fat bikes, snowshoe, surf on double barrels, play golf or disc golf, listen to live music, or lounge around at the heated outdoor pool or indoor water park. Parents looking for some extra relaxation can sign their kids up for the resort's daycare center and visit the Taiga Spa to choose from a wide menu of different spa treatments.
Mad River Glen
For a unique and old-fashioned skiing experience, Mad River Glen in Fayston, Vermont is a top choice. Located on General Stark Mountain, this co-op-owned ski resort is one of the last resorts where the trail system follows the natural contour of the mountain to one base area.
This is one of the more challenging ski terrains in the area, with an expert 2,037-foot vertical trail along the mountain's natural shape. Despite the difficult terrain, however, there are plenty of beginner and intermediate trails that are ideal for families and visitors of all skill levels. Mad River Glen does prohibit snowboarding, so guests are limited to downhill and uphill skiing.
Kids of any age can participate in daily classes and seasonal programming, including both group and private lessons. Children up to six years old can also attend Mad River Glen's daycare facility.
Mad River Glen Resort offers a variety of comfortable family-friendly accommodations, with multiple nearby shops and local restaurants to enjoy after a long day of skiing.
Holiday Valley
Holiday Valley is a modern ski resort located in the small, charming village of Ellicottville, New York. While they offer a huge range of year-round outdoor activities, Holiday Valley is known for its diverse terrain for skiers and snowboarders.
The mountain has 60 trails, including a variety of beginner, intermediate, advanced, and expert paths. Skiers and snowboarders can enjoy this terrain both during the day or when the sun goes down.
Rated the #2 best ski resorts for kids in the east in 2015, Holiday Valley has several kid-specific activities designed to introduce them to snowsports and keep them entertained during the day.
The Cubs and Mountain adventures programs provide terrific ski and snowboard instruction for kids from 4-11 years old. The convenient daycare center can be found in the main base lodge, and the "secret" kids fort provides kids with mazes, slides, and more to explore with their new friends.
During the winter months, families can also enjoy a mountain coaster, terrain parks, nordic skiing, tubing, and unique and exciting winter events such as a winter carnival. To relax and unwind, be sure to check out the resort spa and all of the slopeside dining options.
Wachusett Mountain Ski Area
Wachusett Mountain Ski Area, located in Princeton Massachusetts, has 27 ski trails of all difficulties available for both day and night skiing. Spread across 110 skiable acres with a vertical drop of 1,000 feet, this mountain is an ideal family-friendly vacation spot for kids of all ages.
Kids 4-8 years old can learn to ski in a kid-friendly environment with Wachusett Mountain's Polar Kids programming. There are also group lessons and beginner packages available for older kids, as well as private lessons with highly-trained instructors for skiers and snowboarders of any age.
Wachusett boasts incredible on-mountain food services, and with plenty of options, it's easy to find meals and snacks that fit everyone's taste. Winter months are also full of events and festivals, such as a food truck festival and racing kick-off party, that will keep the whole family entertained during your stay.
With 110 acres of skiable terrain and a high-quality snowsports school, Hidden Valley Resort in Hidden Valley, Pennsylvania is an ideal environment for families and kids that are just learning to ski. The mountain offers 26 different trails, from easy to expert, and two freestyle terrain parks.
Families can choose between traditional private lessons, a personalized family-style class, or group lessons separated by skill levels. The first-class Rippers Program is designed with a focus on helping kids, tweens, and young teens develop skills and build the confidence they need to take on the mountain's ski trails.
Resort visitors can also speed down chutes on snow tubes, explore the area's vast biking and hiking trails, visit the Hidden Valley Golf Club, or stop by one of the many unique attractions in the area. And when you get hungry after a day of outdoor adventures, you can choose between three delicious dining options with breathtaking mountain views.
With trails, lessons, and activities designed to accommodate family members of any age, this resort is guaranteed to create lasting family memories.
More about our TFVG Author
A seasoned traveller, Dad, and avid sports tourist, James foundered The Family Vacation Guide to share his expert vacation experiences- especially when it comes to being a travelling family man.
Featured in Travel articles such as Travel + Leisure, TripSavvy and SFGate, you know you're reading some of the best vacation tips online.