Whether you're there for a weekend getaway or in town visiting family, San Antonio is an exciting area packed with fun things to do for the whole family.
With its year-round mild and balmy weather, San Antonio is a great place to get a little sand and sun even into the winter months. What's more, the city offers some amazing beaches that are family-friendly and full of memories waiting to be made.
If you're looking for the best beaches near San Antonio for families, then look no further. However, here are the 14 that you have to check out the next time you're in the area.
Still looking for accommodation in the area? Our guide to the best family hotels in San Antonio should be a useful read to help plan your trip.
Surfside Beach
Around three and a half hours outside of San Antonio, Surfside Beach has grown in popularity over the recent years. It continues to be a clean, friendly oceanside village with a beautiful waterfront and a fun family atmosphere.
Right outside of Galveston, the village of Surfside Beach has plenty of attractions to make a day by the water even more fun for the whole family. Filled with restaurants, water sports, and equipment rental shops, the town caters to beachgoing visitors.
There's a small fee to park near the beach, but it's just as easy to take the pedestrian-only route and enjoy the long shoreline with shallow water access that's safe for even small children.
Mustang Island State Park
Just south of Port Aransas, this state park sits on the Gulf of Mexico and boasts five beautiful miles of coastline for visitors to enjoy. While enjoying the water is a must on every visitor's to-do list, there are plenty of other ways to enjoy nature that the whole family will love.
Stay at a beach campsite, paddle parts of all of the twenty-mile paddling and fishing trail, or check out one of the Ranger programs about coastal bird watching, beachcombing, and more.
Mustang Island State Park is a great way to introduce your kids to new ways to appreciate nature while enjoying the beach from this natural barrier island.
The state park is also a short distance away from Corpus Christi and lots of other family-friendly activities and nature attractions, like the Texas State Aquarium, the Aransas National Wildlife Refuge, and for history lovers, the USS Lexington.
Guadalupe River State Park Beach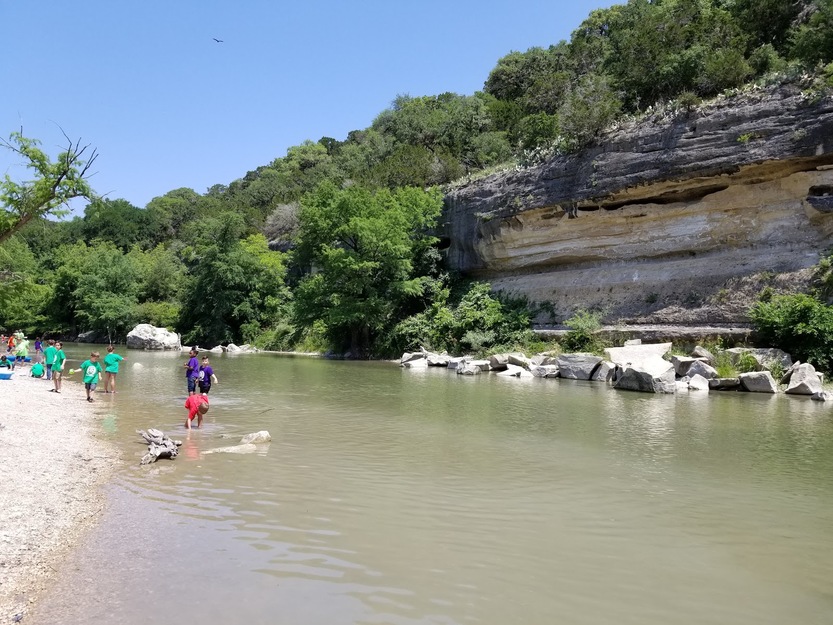 Located a stone's throw from Austin and San Antonio, Guadalupe River State Park offers a different take on beach going that will excite and thrill families of all ages.
Within the borders of this park is one of Texas's Canyon Lake Beaches, which stretches out over four miles along the Guadalupe riverfront. Instead of sand, there's a pebble beach along the dedicated swimming area and lots of space for water sports, picnicking, and overall enjoyment.
You can even rent gear for fishing on-site or opt to kayak, canoe, or paddle down the river to take in the sights. Within the state park itself, visitors can camp and enjoy activities like horseback riding, hiking, biking, and more.
The state park is in a prime location close to several other well-known beaches and hotels, so even if you don't want to camp, you can stay a few nights and make the most of the beautiful atmosphere along the river.
Comal Park Beach
Another one of the beautiful Canyon Lake Beaches, Comal Park Beach, is on the south shore of Canyon Lake and offers a beautifully maintained, scenic swimming area that rivals an oceanfront experience.
Take advantage of the pebble beach, the wide-open spaces, and the warm sun. Although the lakefront is wide, parents can rest easily because of the roped-off and designated safe swimming area.
Beyond that, it's one of the cleanest lakefronts the state has to offer and is well-loved by visitors and locals alike.
However, unlike other Canyon Lake Beaches, Comal Park Beach is pretty exposed and offers no shade, so make sure to bring your umbrellas and sunscreen. Also, closing times and open seasons can differ, so make sure to call before you plan your trip.
Matagorda Bay
Eighty miles northeast of Corpus Christi lies the quaint little town of Matagorda Bay, which boasts a beautiful Gulf of Mexico coastline that attracts families year after year. Matagorda Bay is a great, friendly area perfect for seaside lounging and enjoying a leisurely day at the shore.
If you're looking for a lesser-known spot that won't be as crowded, then try the beaches on this beautiful stretch of bay. The views and beachcombing are impeccable, as the area is where the Colorado River meets the Gulf of Mexico.
The clean, roomy nature of this area makes it easy to let your kids enjoy themselves while still keeping an eye on them. Be advised, though, that this area can experience rip tides and rough waters at certain times of the year because of the convergence of the river and the bay.
The water is crystal clear to the south end of the beach, and the beach is drivable with a permit.
Galveston Island
Local or not, most people know Galveston as one of the best beach spots in Texas. This barrier island on the Gulf Coast is a great place to take the family on a trip, as it's full of fun things to do both at the water and around town.
Enjoy a water coaster, visit the historic Pleasure Pier theme park, or check out the Moody Gardens amusement park and aquarium. Galveston Island State Park is another family-friendly spot with plenty of trails for hiking, kayaking, fishing, birdwatching, and overall exploring.
When it comes to the beach, Galveston Island has 32 miles of them, many with restroom and shower amenities as well as boardwalks, rentable beach houses, playgrounds, restaurants, and more.
Although Galveston's water isn't historically clear, the often brown-tinted color has to do with sediment and is clean and safe for swimming for the whole family.
North Beach Corpus Christi
For families with kids that love history, North Beach Corpus Christi is the perfect destination to satisfy their curiosity and enjoy the beautiful surroundings.
After visiting the anchored USS Lexington, a World War II aircraft carrier turned museum, check out the Texas State Aquarium and hit the 1.5-mile beachfront. While the area is popular with tourists, the environment is still family-friendly and fun.
Although the waves are usually pretty calm and tame in this area, it hosts jellyfish from time to time. Some locals say that people prefer this bay for swimming, but the beaches are still a great place to enjoy the sand, have some downtime, and explore the Beachwalk.
There are also plenty of fishing jetties, and when you get hungry, there are also multiple restaurants in the area.
North Padre Island
The Padre Islands, south of Mustang Island and part of the chain of barrier islands along Texas's coast, are full of beautiful and sometimes remote ocean fronts that are great for exploring on foot, horseback, or sometimes even four-wheel-drive vehicles.
North Padre Island is known for the Padre Island National Seashore, which has walk-on beaches that cater to families for whole-day enjoyment. In addition, there are restrooms and showers, places to buy food, and a visitor's center.
One of the perks of North Padre Island is that it's located close to shopping attractions and urban centers, so you can enjoy the beach and get some shopping in all on the same day.
South Padre Island
Although they're along the same barrier island chain, South Padre Island is separated from its northern counterpart by about 200 miles and offers a differing experience that is equally as great for families of all kinds.
If you want a more remote and nature-oriented experience, then South Padre Island is for you. Very family-friendly and less touristy, this area has more remote beaches that sport some of the cleanest, calmest, and even warmest waters in the gulf.
South Padre Island is pedestrian-oriented, so come prepared to walk. As a bonus, this area is teeming with sea turtles at certain times of the year and is home to rescue organizations that organize hatchling releases and turtle hospital visits.
Port Aransas
Located near Mustang Island State Park, Port Aransas is proximal to lots of great family-friendly attractions and boasts lots of its own, too. It's considered the fishing capital of Texas, hosting tournaments for all demographics, even kids, during the summer.
Along its 18 miles of beautiful sandy beaches overlooking the Gulf of Mexico, visitors to Port Aransas enjoy water sports like surfing and boogie boarding, as well as windsurfing and kayaking.
The area also has multiple nature preserves, so you can enjoy a dolphin-watching tour or learn about sea turtles. Beyond that, the area is also known for its arts and culture scene and has both elevated and casual dining options to appeal to everyone.
San Jose Island
Privately owned and originally a ranch, this island is located a ferry ride away from Port Aransas. It is open to respectful visitors and is an excellent stop if you're staying in the area.
Its pristine and not-so-crowded beaches offer some of the best beachcombing in the gulf. Visitors can find sand dollars, starfish, and more along the sands. Saltwater fishing is also extremely popular, as is appreciating the more remote natural surroundings and wildlife.
This area is also known for its bird watching, which offers a front-row seat to observe many beautiful and exciting coastal species.
Jamaica Beach
This small city on Galveston Island has a beautiful beach that's considered safe and great for families. You'll find beautiful sand that's great for making sandcastles and calm water that's perfect for letting kids play.
Beach access is public and free, although there are no lifeguards posted. With a small population of around 1000, Jamaica Beach is a quaint and calm area that offers a nice, quiet, relaxing alternative to some more extensive, more frequented beaches in the Galveston area.
There are still places to rent if you're looking to stay overnight as well as several nice restaurants in the area so you can stay put and enjoy the scenic views for as long as possible.
Overlook Park Beach
Another beautiful beach in the Canyon Lake area, Overlook Park Beach, has all the amenities, like restrooms, picnic tables, parking, and even pet-friendly status. What's more, alcohol isn't welcome in the area, making this a great family-friendly beach.
Entrance to the park is free, and the lake is well-loved for swimming and boating. The entrance down to the water is a little steep, so be advised to take care of small children. The park area also offers lots of opportunities to explore. The .6-mile hiking loop is the perfect length for kids.
Pack your boat, grill, cooler, and anything else you need for a beach cookout and enjoy the whole day on the water. Although it's a bit rocky, the water is calm, clean, and clear.
Canyon Park Beach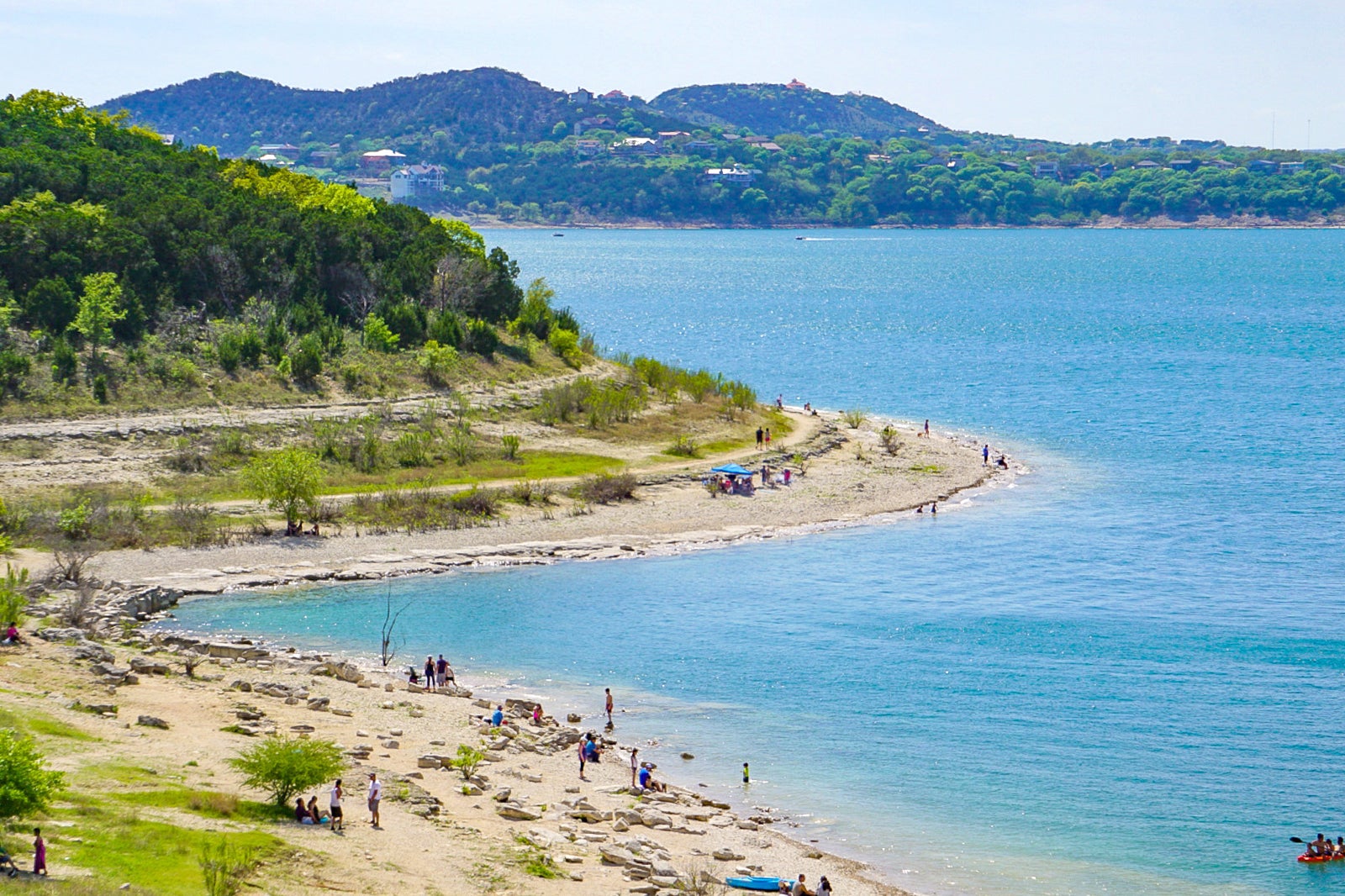 This 485-acre park overlooks much of the beautiful Canyon Lake and offers access to lots of great swimming, exploring, and relaxing areas. There are both gravel and sand beaches on site and picnic areas, and a boat ramp.
The multiple beaches within the park area offer different amenities, like a volleyball court, grill area, restrooms, and more. There are also several pavilions for use in the interior of the park and along the oceanside.
Within the park are also trails for exploring, such as the Madrone Trail. Make sure to check to see if the park is full or if its operating hours or season is over before planning your trip.
Final Thoughts
There are few things more fun for the entire family than a day at the beach. The areas near San Antonio, Texas, offer miles and miles of beautiful coastlines perfect for swimming and watersports, and other fun, educational, and relaxing attractions.
Pick one from this list, or see if you can hit several within your visit! They're all great for visiting and making memories that your whole family will enjoy for years to come.
More about our TFVG Author
A seasoned traveller, Dad, and avid sports tourist, James foundered The Family Vacation Guide to share his expert vacation experiences- especially when it comes to being a travelling family man.
Featured in Travel articles such as Travel + Leisure, TripSavvy and SFGate, you know you're reading some of the best vacation tips online.