While snow may not be a frequent visitor in Texas, it isn't a total stranger either. Although there may not be much or any in every area of the state, you will see snow from time to time in different locations and cities, especially in the Northern and Western regions, where the average snowfall is around 0.1 inches.
Whether you are preparing for a vacation to the area for a few weeks or considering a big move to the Lone Star State, knowing what the weather is like will help you plan a more enjoyable trip. 
Does it Snow in Texas?
Texas has a reputation as a particularly dry and hot state, given that most of its geographical area lies in a subtropical humid climate. Although summers can be brutal, historical climate records show that Texas has experienced chilly weather below freezing.
However, the amount of snow you will see in the state of Texas isn't anything worth purchasing a sled and snow boots for. Depending on the location, you might not see any snow at all. While in other areas you might get lucky enough to see one day and 10 inches. (Although that will not last very long).
So the answer is yes, it does snow in Texas, and if you enjoy the flurries without the shoveling, Texas is an excellent place to be.
A Little History Regarding Snow in Texas
So, Texas doesn't receive a lot of snow at all. Most of us already know this, and it isn't that big of a surprise. However, they have had some fascinating records and events throughout history.
In December of 1929, a snowstorm hit the Northern portion of Texas, and the usually warm and sunny cities were dipping below freezing temperatures, causing 24 hours of unexpected snowfall throughout the area.
Hillsboro, Texas, received the brunt and experienced an unheard-of 26 inches of snowfall in a single day.
In 1985, a snowstorm in San Antonio, Texas, left the city covered in snow accumulating to 12-inches+ in some parts. While this may not be an issue in other states, the entire area was ordered to shelter in place until the snow and ice melted.
In 1960, Houston, Texas got a taste of winter weather with 4.4 inches of snow touching down on the city. It was the second-worst storm Houston had ever seen, with the first being in 1895 when 20 inches of snow ruined Valentine's day for many.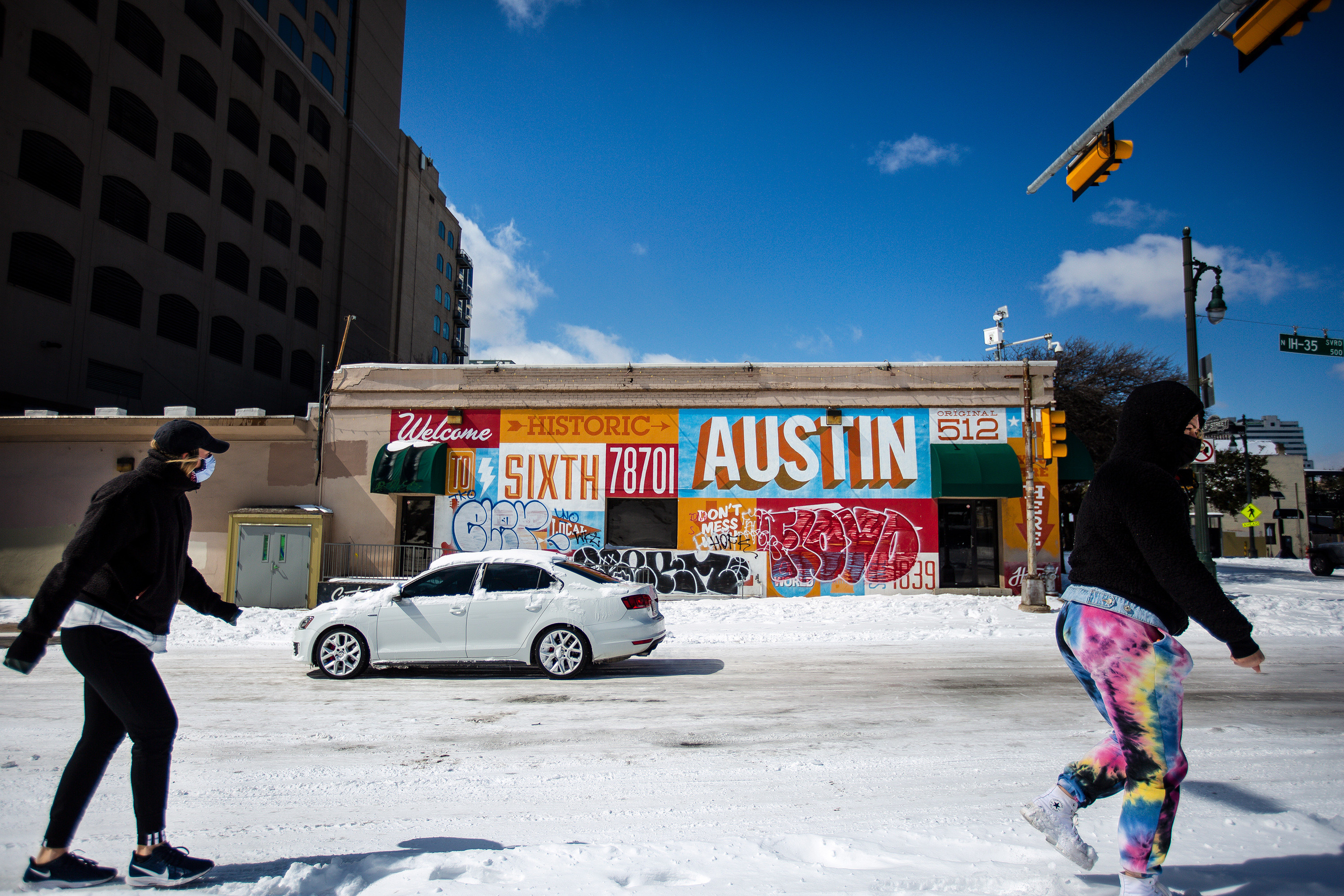 What Part of Texas Does it Snow In?
The weather is very unpredictable no matter where you live or travel, so there is a chance of snow anywhere in the state. However, if you are looking for a city to spend time in with a good chance of seeing snowfall in the winter months, you should consider places like Amarillo, Lubbock, and El Paso.
Amarillo, Texas
Amerarill, Texas, is the largest city in the state's panhandle and borders the state of Louisiana. Temperatures drop to their lowest in January, averaging around 51°F (and the hottest in July, averaging 92°F).
Amarillo gets about 15 inches of snowfall per year. While that is a good deal of snow compared to other states in the US, that isn't going to give you too much time for snowball fights or sledding. However, if you travel up into the higher elevations, you will find resorts that utilize the cold white fluffy stuff as it comes, with ski resorts and snowy trails.
Lubbock, Texas
Lubbock, Texas, is located in the northwestern part of the state and is known as the driest state in Texas. While it may not get a whole lot in the way of rainfall, it gets just enough to make it the 3rd highest city for snowfall each year.
This city receives about 7 inches of snow every year, which isn't enough for skiing but may delight those looking for some minor snowfall. You may see a couple of flurries if the weather is right and the timing is spot on.
El Paso, Texas
El Paso, Texas, is located in the far Western part of the state at the intersection of Texas, New Mexico, and Chihuahua, MX. While El Paso doesn't see the most snow in the state, it sees more than many other cities, with around four inches per year.
The average yearly temps in this city fluctuate between 59°F and 98°F, with the low dipping down to 32°F-67°F.
Chances are good there won't be a heavy snowfall anytime soon, but if you are lucky enough to be in the area when it happens, the natural sights can be astonishing.
Least Likely to Snow
Now, if you are trying to steer clear of any cold temps and are not fond of snowfall at all, here are a couple of great options for you. These cities rarely encounter any cold precipitation at all.
Houston, Texas
Houston, Texas, is located in the South/South West of the country and is the fourth largest city in the nation. The average temperature in the city ranges from 64°F and 94°F throughout the entire year, rarely dipping below 60°F in the daytime.
With these types of temps, there is very little chance to see snowfall. According to Eric Braate, Meteorologist for the Channel 2 news station in Houston, fewer than 25 snowfalls have been noted in the last two decades in the city, with only four of them having accumulated enough to be considered a "trace."
Corpus Cristi, Texas
Corpus Cristi, Texas, is located on the Gulf of Mexico and is home to 320,000 people. The average temperature for Corpus Cristi ranges between 67°F and 95°F from January to December each year.
With the lack of cold temps and right moistures, you will rarely see snow falling in this city. Corpus Cristi has only seen snowfall a handful of times over the last 72 years. To be exact, there have been six measurable snowfalls; that is one every 12+ years.
What Time of Year Does Texas Usually See Snow?
While some areas of Texas experience snowfall throughout the year, your best chance of seeing this is during the winter months.
Most cities will record snowfall anywhere between December and February, similar to most other states in North America. Sadly, if you are dreaming of a white Christmas, you will need to keep dreaming, as that doesn't seem to be something that ever happens in this state.
Does Texas Normally Get Snow?
Yes, during the winter months, Texas will get snow, just not nearly as much as places like NY and Massachusetts; while the average amount of snow isn't high, the areas that get that weather will get it sometime on time.
Places to Visit During the Winter in Texas
Although you will not have tons of snowy fun in Texas, that doesn't mean you can't enjoy the winter months. There are plenty of places to visit during the holidays or even cooler days while visiting this state.
Parks and Campgrounds
Take a day trip to the parks and campgrounds in the area you are staying in. In El Paso, some great places to spend the daylight hours include the Guadalupe Mountains, National Park, or Franklin Mountain State Park.
While you may or may not see snow in these higher elevations, you will still have the opportunity to enjoy nature and experience a great time in the mountains.
Go Ice Skating or Skiing
Although you may not be able to ice skate or ski in Texas with the help of mother nature, there are many ways you can still enjoy outdoor activities with artificial snow and ice through the world of advanced modern technology.
Many places offer indoor ice skating, such as the Houston Galleria Mall or Ice Rink At The Woodlands in Humboldt, Texas. During the holidays, both locations will have Christmas trees and Santa to make your spirits bright.
You will also find an abundance of ski resorts in the mountain locations like the Grand Alps in Addison, TX, or Jack Frost in Polk, Texas.
Amusement Parks
You heard us right; Amusement parks can make a great way to enjoy the winter months in Texas. Christmas Wonderland is located in College Station, TX, and is a great place to spend the holidays celebrating with traditional Texas food and activities for the family.
La Marque, TX, offers a great experience during the cold months with their Magical Winter Lights Houston. Here you can enjoy a lantern festival and a Christmas light show offering rides, activities, and delicious food.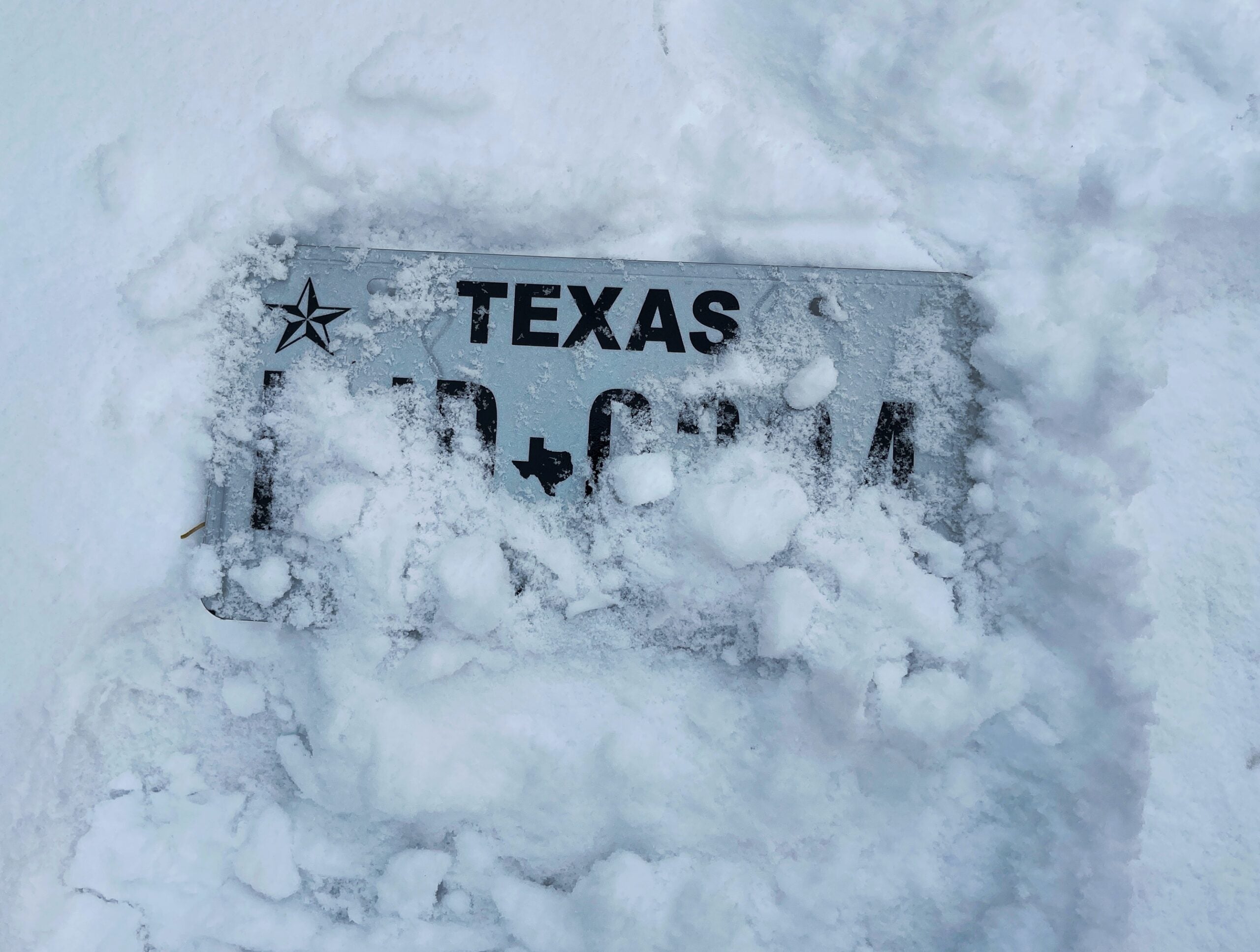 Does it Snow in Texas? Summing Things Up
The simple answer is yes, it does snow in Texas. However, it doesn't snow much or often. Most of the time, you will be experiencing sunny warm days when you are visiting the loan state that closest borders the Mexico line and the Gulf.
While you may not have the opportunity to play in the snow during the coldest months of the year when visiting Texas, you will still be able to enjoy the season, holidays, and the new year with many great adventures and amazing sights to see.
More about our TFVG Author
A seasoned traveller, Dad, and avid sports tourist, James foundered The Family Vacation Guide to share his expert vacation experiences- especially when it comes to being a travelling family man.
Featured in Travel articles such as Travel + Leisure, TripSavvy and SFGate, you know you're reading some of the best vacation tips online.