Travelling with your baby will give you unforgettable memories and help you to build an even stronger bond with them. Not sure where to start? A family road trip might be the answer.
While it may feel nerve-wracking at first, a long drive with your child can be rewarding and rejuvenating. Getting away from the city and monotony of everyday life might be just what you and your baby need. Plus, a road trip is an easy place to start as you get to have control over everything from planning where and how often you stop to packing as much as you want without worrying about weight restrictions.
Below is a list of ten top tips for enjoying a road trip with a baby or toddler.
Carefully Plan Your Itinerary
The truth is that nothing ever goes as planned with kids, but that doesn't mean you skip planning your itinerary entirely. In fact, the key to a good road trip with a baby or toddler is to plan ahead of time.
Begin planning a few days before your trip and make a list of everything you'll need. Plan your stops, account for any delays, and research the route you'll be travelling. If you'll be on the road for more than ten hours, look into a few lodgings that can provide an immediate stay in the case of an emergency.
Always expect to arrive at least a couple of hours later than anticipated. If your location has stringent closing times or you're attending a ceremony, leave a couple of hours earlier than usual to account for any unforeseen delays. Because hen with babies, there are plenty of those!
Finally, try to be flexible and manage your expectations, especially if it's your first time. The more you let loose, the more space you create for exciting moments and genuine, happy memories with your little one.
Take Extra Supplies
Whether you're nursing or using formula, pack nearly twice as much as your baby normally needs. Every child is unique; some drink and eat more when in a moving car, while others tend to lose their appetite. If it's your first-time road tripping with your newborn or toddler, bring plenty of supplies to be safe.
The foods you will require on a road trip are entirely dependent on how old your child is. Newborns are relatively simple to pack for because all they need is milk, while toddlers are more complicated. Pack toddler-friendly snacks like nuts, biscuits, crackers, and easy-to-eat foods like cereal or oatmeal for when hunger pangs hit. It's a good idea to introduce your child to new foods ahead of time so you know if they like them or not, and if they are able to digest them well.
If you're anxious about being able to breastfeed your infant or toddler on the go, practice a few times while running errands or taking a short drive around the city. This will boost your confidence as well as your baby's comfort.
It's a good idea to pump milk at home and bring it with you in an icebox if your baby is comfortable with the bottle, as bottle-feeding is the more convenient option when on the go. Make sure you have a rough estimate on how long your breastmilk will last in these conditions to ensure it stays viable during your trip. Note that this will mainly depend on the weather and how frequently your baby feeds. It's best to carry a couple of bottles of milk with you and be prepared to nurse your child if they require more.
Pick the Right Car Seat
There is no such thing as a one-size-fits-all approach with children. This is especially true while selecting a car seat for your kid. Sometimes, even the best-rated car seats may not be the perfect fit for your precious cargo.
When planning a road trip with a newborn or toddler, make sure your child is comfortable in their car seat. If you're buying one for the first time, go to a store rather than buying one online. Examine how your child fits in the seat and pay close attention for any signs of discomfort. Don't forget to ask the salesperson all your questions before making your purchase, including queries about the dimensions and the installation process to ensure that it fits your vehicle.
Planning on travelling by car rental? Talk to the rental company about the car seat they provide and consider whether your child will be comfortable in it. If you are unsure, simply request that the company remove the seat and replace it with your own.
Don't leave your baby in your car seat for more than an hour or two, no matter how comfy they look. Allowing children enough time away from their car seat helps them sit quietly later on. If you have a toddler, it's important to make sure they can stretch their legs and run around during breaks at rest stops.
This last point cannot be stressed enough, and that is to practice, practice, practice. Before embarking on a long journey with your kid, get them used to sitting in their car seat for long periods of time. Both driving around the city and allowing them to get used to it at home work well.
Pack a Travel Bag with Accessible Essentials
Making a list of essentials to carry is paramount when planning a road trip with a baby. Some parents prefer digitized packing lists, while others like handwritten checklists, so figure out what works best for you and get started.
Extra diapers, diaper cream, and clothes are all no-brainers. But when it comes to clothes, you might want to consider packing pants over shorts to reduce friction with the car seat and protect your baby's skin. You can also carry the blanket they sleep with every night to make them feel more at home.
We can all agree that crying babies don't bode well for a road trip. If you've got a teething baby on your hands, keep a teether and some teething biscuits in your travel bag. And whatever you do, don't forget their pacifier!
While it's essential to pack extra formula, milk, and solid foods, it also means more messes. Carry at least four to five bibs for milk spit-ups or food spills. Similarly, you can have enough wipes and disposable bags so stock up on those. It makes sense to carry two separate disposable bags; one "throw" bag and one "wash" bag, to ensure you don't accidentally toss out that pretty silicon bib you just bought.
Think again if you're planning on leaving your first aid box behind. Toddlers and babies are clumsy and can injure themselves in just about any situation, whether it be outdoors or in a car. Plus, they are also more susceptible to catching a cold when travelling. Pack a first-aid kit containing basic medicines, bandages, and a thermometer that you've already used on your child just to be safe.
Last but not least, attach a car window sunshade to your baby's window to protect them from the harsh sun.
Plan Plenty of Stops
When you're on the road with a little one, it's essential to plan stops every hour or two. These help to accommodate feeding and pooping patterns if you have a baby, or release pent-up energy if you've got a toddler.
Knowing all the supermarkets, gas stations, and restaurants/cafes along the route you're traversing is helpful. If you have an infant who is just learning to walk or a hyperactive toddler, look for playgrounds or in-restaurant play areas on your way to your destination. They'll give your kid some time out of their car seat, and you some time to rest and fuel up. The more energy your child burns off during these breaks, the higher the chance of them sleeping in the car, which will allow you to cover as many miles as possible during that time.
Most supermarkets and gas stations have a restroom with a baby changing station. These are really useful for nursing or dealing with diaper blowouts. Supermarkets are also great stops for buying products on your list that you may have forgotten at home.
Even if you have hourly stops planned, try to keep driving as long as your baby is sleeping, only stopping when necessary. And don't forget to bring snacks to munch on during these pitstops. PB&J sandwiches, chips, granola bars, and canned foods are all excellent options for adults.
Expect Unexpected Delays
One of the hardest parts of being a parent is how unpredictable our days can be. One minute you're relieved that everything is going well, and the next you're convinced that things have never been more chaotic.
Delays that you didn't anticipate are expected during a long drive with a baby. Prepare yourself as this can be hard if you're someone who likes to run on schedule. Most importantly, don't beat yourself up for not foreseeing the setback. Choose to be compassionate with yourself, even if the delay is due to you and not your baby. This will allow you to enjoy the drive with your child rather than being frustrated throughout the ride.
Unexpected delays might occur for several reasons. Maybe your baby is fussy because of a milk spit-up, a full diaper or diaper rash, a traffic jam, or something else entirely. The best way to deal with these situations is just to make peace with the delays, especially if you're travelling alone with your child.
Bring a physical copy of your baby's identification along with your own in case you encounter any checkpoints where this is required. This is probably the one kind of delay we can prevent from happening.
Choose an Early Morning Departure Time
The secret to any successful road trip is to start before dawn. Change your baby's diaper without completely waking them up, then gently place them in the car seat and let them continue to sleep. Take a white noise machine with you to drown out the traffic noises the best you can. You'll get a few hours of uninterrupted driving this way!
Most parents find 4 a.m. to be an ideal departure time in order to get at least two hours before their child wakes up. Covering a significant portion of the trip during this period can help reduce the frustration that would otherwise come with all the stops later on. Remember to get plenty of rest the night before if you're planning to start this early.
Leaving early in the morning is also helpful because most babies and toddlers are lively and cheerful as soon as they wake up. It's considerably easier to feed and entertain children at this hour, giving you an extra hour or two to cover the trip while enjoying your time with them.
Lastly, consider the pleasant weather and low traffic to be the icing on the cake when departing early.
Pack Toys & Other Things to Keep Baby Entertained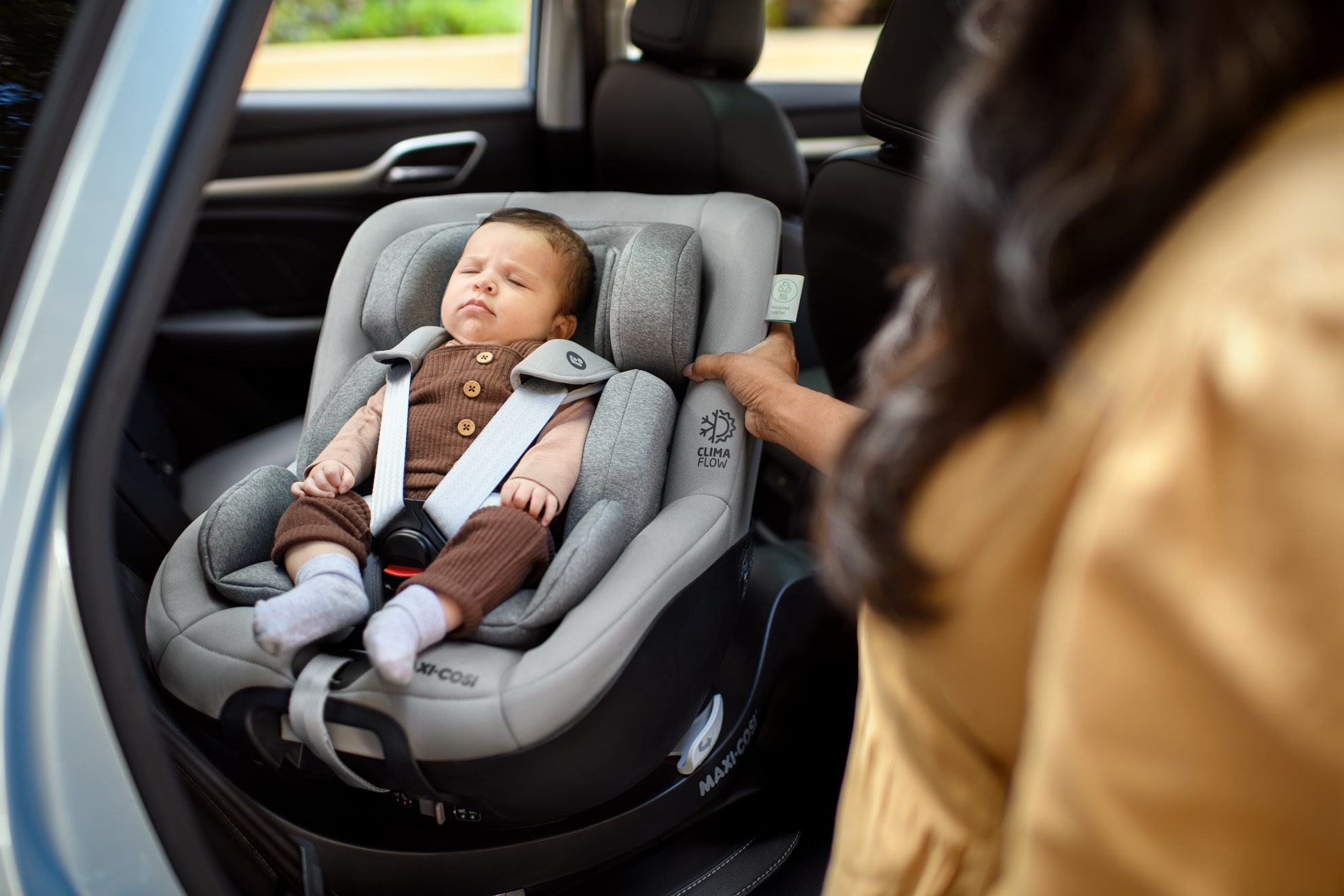 Bored babies and toddlers are quick to become irritated, and this is only made worse when they are strapped down in one place for hours on end. That's why it's advisable to carry along a variety of items to keep your infant entertained during the journey.
Rattles and squeaky toys are useful if your infant is at the age where they're grabbing onto objects. Black and white objects and sensory flashcards are also great for engaging your child's brain, no matter their age.
Entertaining a toddler, on the other hand, is both easier and more difficult at the same time. Toddlers have shorter attention spans and are way more mobile than infants. Trying to contain all that energy in one seat can prove to be quite the challenge for parents, but carrying some toys can definitely help.
In order for toys to capture your toddler's attention during a road trip, they need to be new to them and not the same ones they use every day. Buying new toys and supplies like colouring or ink-free scribbling pads, a puzzle, simple stacking cups, and magnetic toys can help big-time in keeping them occupied. Kids who love books might appreciate a stack of interactive storybooks. Just make sure you don't show them all the toys and books at once, and instead pull them out one by one, whenever you need to.
If you don't want to spend money on new toys, you will be amazed at how small kitchen boxes and unbreakable utensils can work wonders. And there's always their favourite lovey for those times when they just need some comfort.
Making a playlist of your child's favourite songs is another excellent idea. Play it on your car's audio system and sing along to enjoy the journey with them. Let loose just a little bit and allow your kid a little time with their tablet to keep themselves (and you) sane. Enjoying a road trip with a baby or a toddler is so much easier when you are easy on them and yourself!
Practice How to Change a Diaper in the Car
While gas stations, supermarkets, and restaurants can be relied on to have restrooms and facilities for changing your baby's diaper, there is no guarantee that these options will always be clean. Emergencies may arise, leaving you with no choice but to change them in the car.
Practice changing your baby in the car a few times in different spots to find the most comfortable one for you and your baby. A portable changing station can make things a lot easier and prevent inadvertent blowouts from dirtying your car. While having one is preferable, it is not mandatory. A large cloth laid on the seat will do the trick.
One tip to keep in mind when changing a diaper in the car is to keep everything you will need within arm's reach. This guarantees that you complete the task quickly without having to look for a million things, as time is of the essence here. Remember to keep one hand on your infant at all times to prevent them from rolling over and injuring themselves.
Sit an Adult in the Back of the Car with Baby if Possible
When travelling with a baby, it is better if one adult sits in the back seat with the baby. This allows you to give them snacks and check their diaper without having to stop, preventing tantrums. Plus, just having you by their side can make the experience less overwhelming and more pleasurable for your baby.
A car seat mirror can be useful if travelling alone with your infant. Another option is to consider hiring a nanny to make the trip with you. Having an extra pair of hands can turn out to be helpful, even if it seems like an over-the-top splurge at first.
Final Thoughts on enjoying a road trip with a baby or toddler
Whether you have a newborn or a naughty toddler, we guarantee these tips will help make your family road trip more enjoyable. Figure out what works best for your baby and remember to take it easy! You're sure to have a smooth and fun road trip that is filled with everlasting memories.
Check out these other fantastic travel guides about vacationing with a baby or toddler!: