How well do you think you know the Midwest in terms of recreation? Probably not much, thanks to the scanty hype heaped on this wonderland.
Family-friendly fun doesn't always have to come from far and wide across the nation, say from Florida or California to qualify as adorable. You can equally derive plenty of it right at home in the Midwest if you know the right places to look.
The truth is, amusement park fun never gets old whether you are a thrill rider or simply a reserved reveller. Midwest amusement parks are no different.
So, before jumping on a plane to the West, Southwest, or Northeast, take some time to explore what else the Midwest has to offer beyond vast lakes, towering mountains, sweeping plains, captivating falls, and fertile fields
This guide collates some of the best amusement parks in the Midwest that would be a great starting point as you explore more diverse ways to derive fun.
What's more, they all present you and your loved ones with an unbelievably inexpensive way to fancy being a native or visitor of the Midwest.
1. Cedar Point in Sandusky, OH
Immerse yourself into some century-old fun in this massive amusement park in the northwestern part of Ohio. If you are a dynamic thrill-seeker looking for an all-inclusive package, this park offers plenty including:
Water parks
Live events
Thrill rides
Roller coasters
Delectable cuisines
Apart from its rich history, Cedar Point also boasts an expansive landmass (over 360 acres) neatly sitting by the shores of Lake Erie to afford you a breezy beachside flair. Featuring more than 60 rides that are built with family-friendliness in mind, a wholesome experience becomes a sure thing here.
Crowning the vast park is one of the tallest roller coasters worldwide (Top Thrill Dragster) hence the acclaimed title "Roller Coaster Capital of the World." From the towering Ferris wheel, Lake Erie stunningly comes into view to spruce up your floating experience. What's more, the idyllic proximity of Hotel Breakers allows you to prolong the endearing fun into the next day.
2. Arnolds Park, Iowa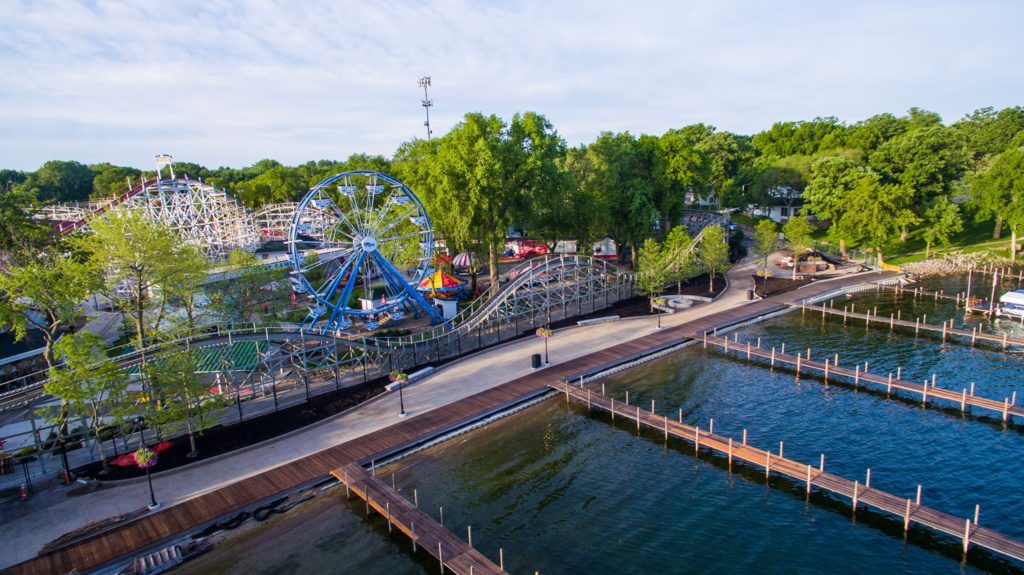 The Arnolds amusement park instantly ushers you into a rustic thrill thanks to all the ancient elements accentuating the park. The park takes you back in time with charming stories about Wesley Arnold in the on-site museum and also ensures you get a taste of ancient thrill rides.
A gigantic thrill ride, The Legend, cements the rustic statement with its wooden structure. The rides are family-friendly and, to augment the thrill, racetrack rides are at your disposal.
The breathtaking park is nestled in Lake Okoboji to delight you with an endless nostalgic breeze as you savour the dramatic display of elegance. Good old steamboating adds a layer of delightful options to diversify your park experience.
Taking a spin on the Ferris wheel elevates your vantage point to take in jaw-dropping views of the lake scenery. Supplement this with another spin at night for a whole different spectacle.
3. Michigan's Adventure in Muskegon, MI
One of the largest in Michigan, this is both an amusement park and a water park hence promising fun for adventure seekers. The expansive park boasts a 250-acre coverage dotted with over 60 rides, tons of attractions, and multiple water slides.
You have up to 7 roller coasters (The Shivering Timbers and Thunderhawk) at your disposal to set on your adrenaline rush the instant you set foot in the park. What's more, the wooden flair of the coasters effortlessly delights with a rustic sense.
Kids get to sample different thrill-inspired attractions at Camp Snoopy before culminating their pleasure in Funnel of Fear where unending laughter and screams are the order of the day. If the thrill gets overwhelming, plenty of Swan Boats are on standby for some relaxation.
Under the scorch of the sun, Wild Water Adventure delivers a host of slides, splash pads, and wave pools for a cooling experience.
4. Valleyfair in Shakopee, MN
Minneapolis comes with exotic fun thanks to this vast, fun-filled park. The family-friendly park cleverly combines rustic elements with modern elegance to yield a family thrill second to none. A wooden roller coaster interplays nicely with its modern counterparts to afford you an elaborate selection of fun.
With over 70 rides and kids' attractions, thrilling fun becomes the order of the day. Where a roller coaster does a shoddy job, a swing instantly steps in to clear the deficit.
If a towering thrill is your thing, the Power Tower gladly ushers you into an unforgettable experience. The tower thrusts you into the sky and down, letting you go in a mad rush.
Non-riders can enjoy the thrill that comes with the water park. The Soak City presents you with relaxation options to quench the fire of the thrilling rush. You can observe the attractive allure of the Splash Station or glue your eyes on the splendour of Breakers Plunge without feeling the heat yourself.
5. Six Flags Great America in Gurnee, IL
Looking for state-of-the-art rides? Six Flags Great America has plenty of those. Only a few minutes from Chicago, the park makes an excellent stopover and an exceptional station for a thrill-seeking family.
Boasting a multitude of rides, attractions, and an expansive water park, setting foot here promises wholesome delight. Whether you start at AQUAMAN Splashdown or Big Easy Balloons, the excitement is never-ending.
If the thrill is not enough, the towering Columbia Carousel awaits with more exotic charm. At 100 feet above the ground, the carousel offers breathtaking park views and a fluent depiction of America's ancient history because of the oil paintings accenting it.
Moreover, the endless light trails outlining this gem add flavour to the visual appeal. Holding more than 100 riders, your entire family can take a ride without sacrificing a cute family photo.
6. Nickelodeon Universe in Bloomington, MN
The Nickelodeon Universe amusement park distinguishes itself with its clever placement inside a mall. Set inside Bloomington's Mall of America, the park eliminates any worries you may have concerning the weather as you plan your visit.
Whether you are simply seeking a thrill ride or a family ride, there is always something for everyone in the awe-inspiring indoor amusement park. The striking park elements are Nickelodeon-inspired including entertainment and attractions to wow children.
You can start your children at Adventure Bay to instantly awaken their playful spirit or at the Shredder's Mutant Masher to set them spinning and swinging.
For thrilling adult experiences, the Teenage Mutant Ninja Turtles Shell Shock will do the trick. Once secured in your shell, you immediately transform into a ninja turtle. Amidst the lightning speeds, you get to put up an action-packed show by flipping and twisting while airborne.
When not thrilling, shopping and movie theatres await throughout the mall.
7. Silver Dollar City in Branson, MO
With antique styling, this theme park goes beyond the thrill mark. It culminates your daylong thrill with many fanciful options to maximize enjoyment. The principal highlight of the park is the perfect blend of vintage undertones with modern glamour to instantly activate your adventurous spirit.
Boasting more than 40 thrill rides and attractions, live events, concerts, shops, restaurants, and craftsman exhibitions; you can confidently rule boredom from your vocabulary here. Seasonally, the park showcases a lively display of interest-arousing events and festivals backed by a vast sea of encircling lights.
After enjoying a thrilling run with the several coasters, you can head out to White Water for a watery thrill before winding up the day with a delectable dinner as you catch a live performance.
While at it, the Showboat Branson Belle affords you a soothing cruise nestled in a comforting evening breeze. At the end of a thrill-filled day, a campground awaits you to add to your pleasure.
8. Kings Island in Mason, OH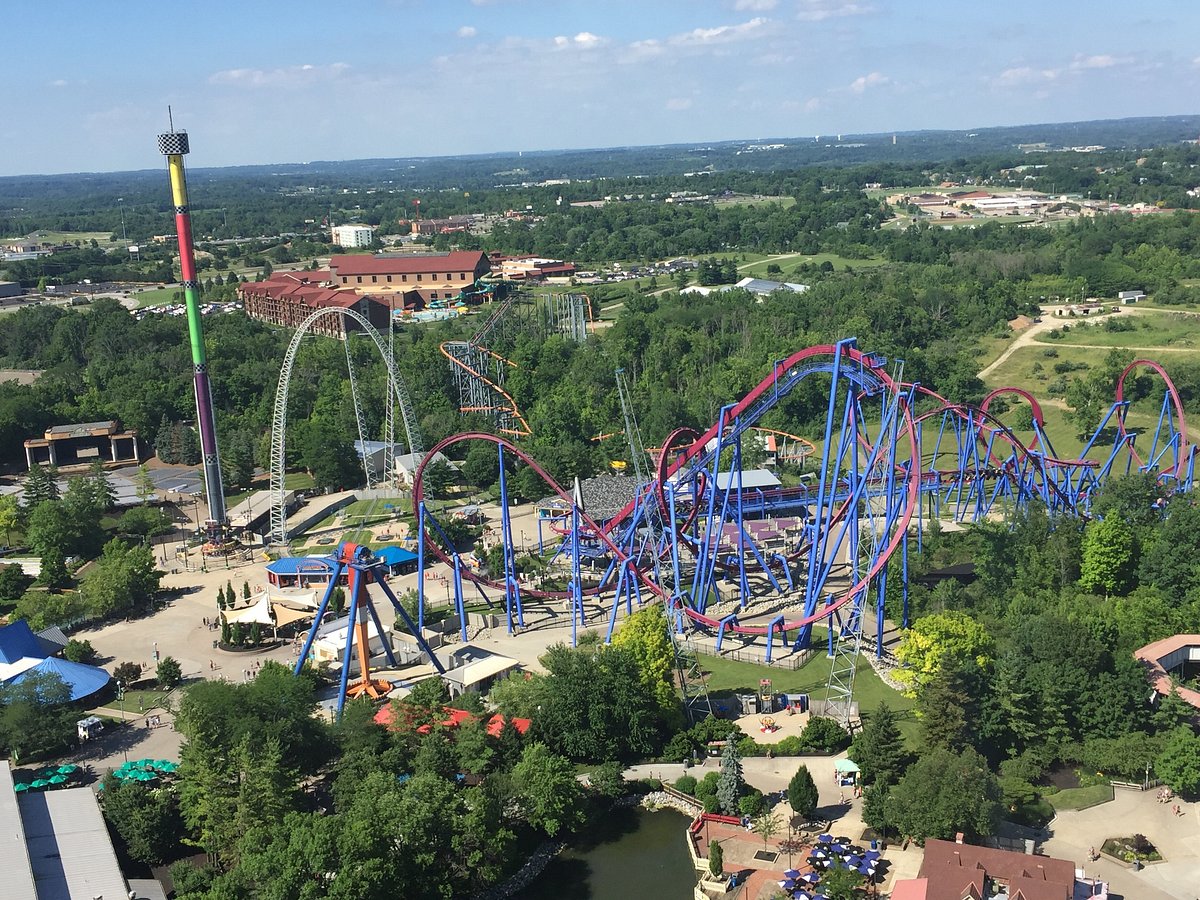 As the name states, the minute you set foot here, you get a full immersion into a kingly treat. Within the 364-acre landmass, that also incorporates a water park, there is endless pleasure to savour. From enchanting rides, live performances, and spirited events, to mouth-watering cuisines, the park's magic just keeps on giving.
The key highlights stem from the multitude of rides, roller coasters, and an expansive water park. Among the roller coasters are the Beast, one of the largest wooden roller coasters worldwide, and the Banshee, a massive inverted roller coaster.
The family-friendly park has been welcoming thrill-seekers since 1972 and the thrill never gets old. Family rides are plentiful to charm all your loved ones. The Beast, Orion, and Diamondback roller coasters promise immense thrills for adults. Kids can be occupied in their specific rides in Planet Snoopy dotted with all sorts of attractions.
After a thrilling experience, unwind at Kings Island Camp Cedar as you revisit the day's memories alongside family and friends.
9. Bay Beach in Green Bay, WI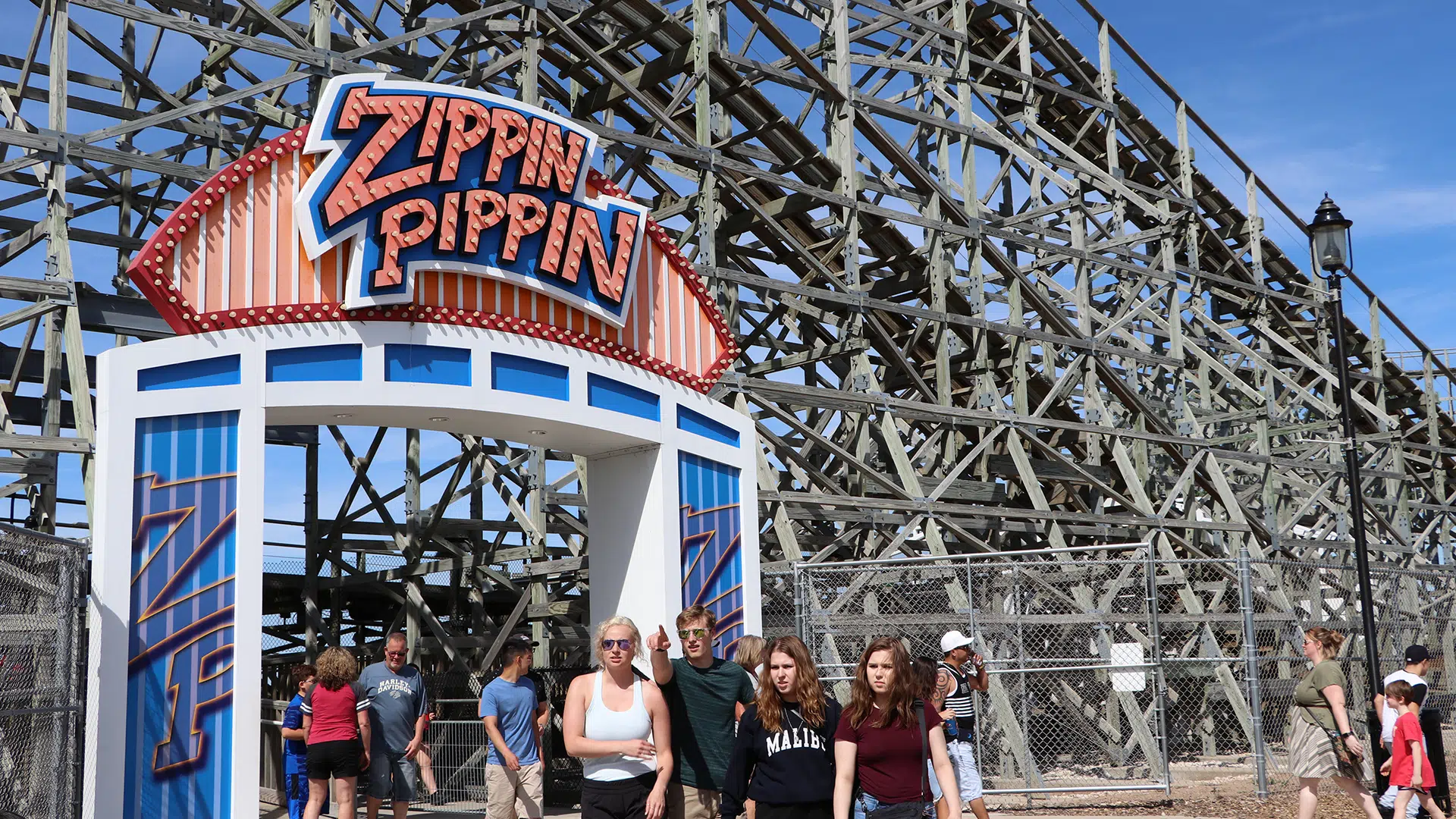 One of the most pocket-friendly amusement parks in the Midwest, Bay Beach only started as a privately-owned beach resort. To date, the park has remained a family-friendly destination for thrill-seekers.
From as little as just 25 cents, you get full access to a majority of the rides in the park. That said, the roller coaster might demand a little more, which is well worth it.
The Zippin Pippin tops the list of the 19 rides defining this charm-filled park. Others include the Scat, Sea Dragon, and Yo-Yo.
The adults can take an exhilarating ride in the Big Wheel, Bumper Cars, Ferris Wheel, and the Train while the kids derive maximum thrill from Granny Bugs, Boats, Race Cars, and Sky Fighters.
After a thrilling ride, satisfying your hunger pangs is faster with incredibly affordable bites. The dancehall sitting on Green Bay's shores can form a great companion when you need an indoor retreat.
10. Worlds of Fun and Oceans of Fun in Kansas City, MO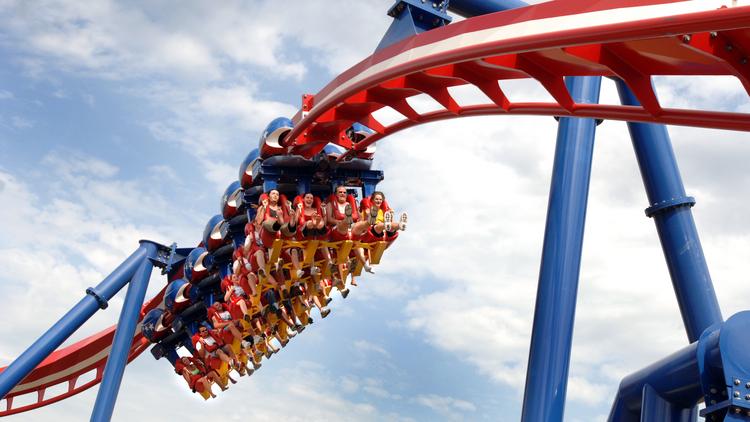 As the name suggests, this amusement park boasts an expansive stretch of land generously accented with all sorts of family-friendly fun. The park showcases several distinct sections spread out across hundreds of acres. It includes America, Africa, Asia, Europe, Planet Snoopy, and Scandinavia.
In each of these sections, expect endless adventure ranging from thrill rides, attractions, and coasters. Among them are MAMBA, Timberwolf, and Patriot which promise to extract your wildest screams the minute you strap in.
Beyond the thrills, Oceans of Fun sets in to imply endless oceanfront charm in the summer heat. This 60-acre water park comes with a mind-boggling water slide (the Riptide Raceway) and a graceful Splash Island to delight your kids with authentic pleasure. Take time to thrill your stomach as well besides a refreshing lazy river or captivating wave pool.
11. Holiday World and Splashin' Safari in Santa Claus, IN
From the sound of the name, the park spells an authentic holiday mood. True to its name, the first ambience that ushers you into the vast park is a laid-back, relaxed, and soothing atmosphere enough to take all of life's weight off your shoulders.
An interesting detail emerges as soon as you step into the Thunderbird roller coaster. You discover you are riding in America's sole successfully launched wing roller coaster. With such a mind-blowing revelation backed by speeds of up to 60mph, it doesn't take long to be immersed in the wildest thrill of your life.
Transitioning to the Cheetah Chase water coaster elevates your thrill with a slithery charm. The remarkable water slide takes you on a seamless water safari charmed by wild twists and turns all through.
Through that adrenaline-pumping slide, the coaster gives you a delightful opportunity to set up a friendly race against family and culminate your day in bliss. Other water coasters to charm your visits are the Wildebeest and Mammoth water coasters.
To conclude your day with refreshment, the park offers free unlimited soft drinks to all its thrill-seekers. You can grab your favourite flavour at any of the listed locations.
The Midwest is a family-friendly destination!
Yes, indeed. All you need to do is look beyond the obvious. Every Midwestern amusement park boasts an outstanding element and you would be spoilt for choice if you only applied broader lenses.
Hopefully, this guide will enlighten you and help you expand your bucket list of new exciting places to visit.
Check out these other articles about vacationing in the midwest: