Amusement parks and roller coasters are some of the most exciting days in a kid's life. A day in Cedar Point or at Six Flags can be the highlight of summer, and you don't want to miss out during the cold months.
Thankfully, roller coaster tycoons all over the country have thought about that and provided a solution: indoor amusement parks. There aren't many, but some of the best are in the United States. One or two might be within driving distance, so your kiddos can still have the thrills of their lives in winter!
The Best Indoor Amusements for All Weather
The best indoor amusement parks are open all year round, letting you and your family enjoy rollercoasters and waterparks even when the weather is not ideal.
These parks also offer a variety of activities so that kids of all ages can enjoy them. From toddlers to teens, these attractions are sure to please.
Nickelodeon Universe, Minneapolis, Minnesota
Minneapolis is home to the largest indoor amusement park in America, Nickelodeon Universe. Housed in the center of the Mall of America (also the largest mall in America), Nickelodeon Universe has arcade games, laser tag, and of course, roller coasters for all ages. There are 27 rides in total, which is pretty impressive for an amusement park in a mall!
One of the beauties of the Nickelodeon Universe is that you will be able to please the whole family. Have a teenager who's just not into amusement parks? Send them on a shopping spree to any of the 520 stores or let them watch a movie at the IMAX theater. There's also an aquarium, a science museum, and tons of food in the mall.
For the Nickelodeon Universe, there are two pricing options. You can buy single-ride tickets for anywhere from $4 to $70 (depending on the ride, of course) or you can buy an all-day wristband for $35 ($50 for two days). For the price, it's an amazing deal on one of the best indoor amusement parks in the United States and an all-around great experience.
Nickelodeon Universe was so popular that in 2019, a new location opened in East Rutherford, New Jersey. Less than an hour's drive away from New York City, this Nickelodeon Universe made up for not having a huge mall attached by adding a waterpark, indoor skiing, and an adventure area.
Circus Circus Adventuredome in Las Vegas, Nevada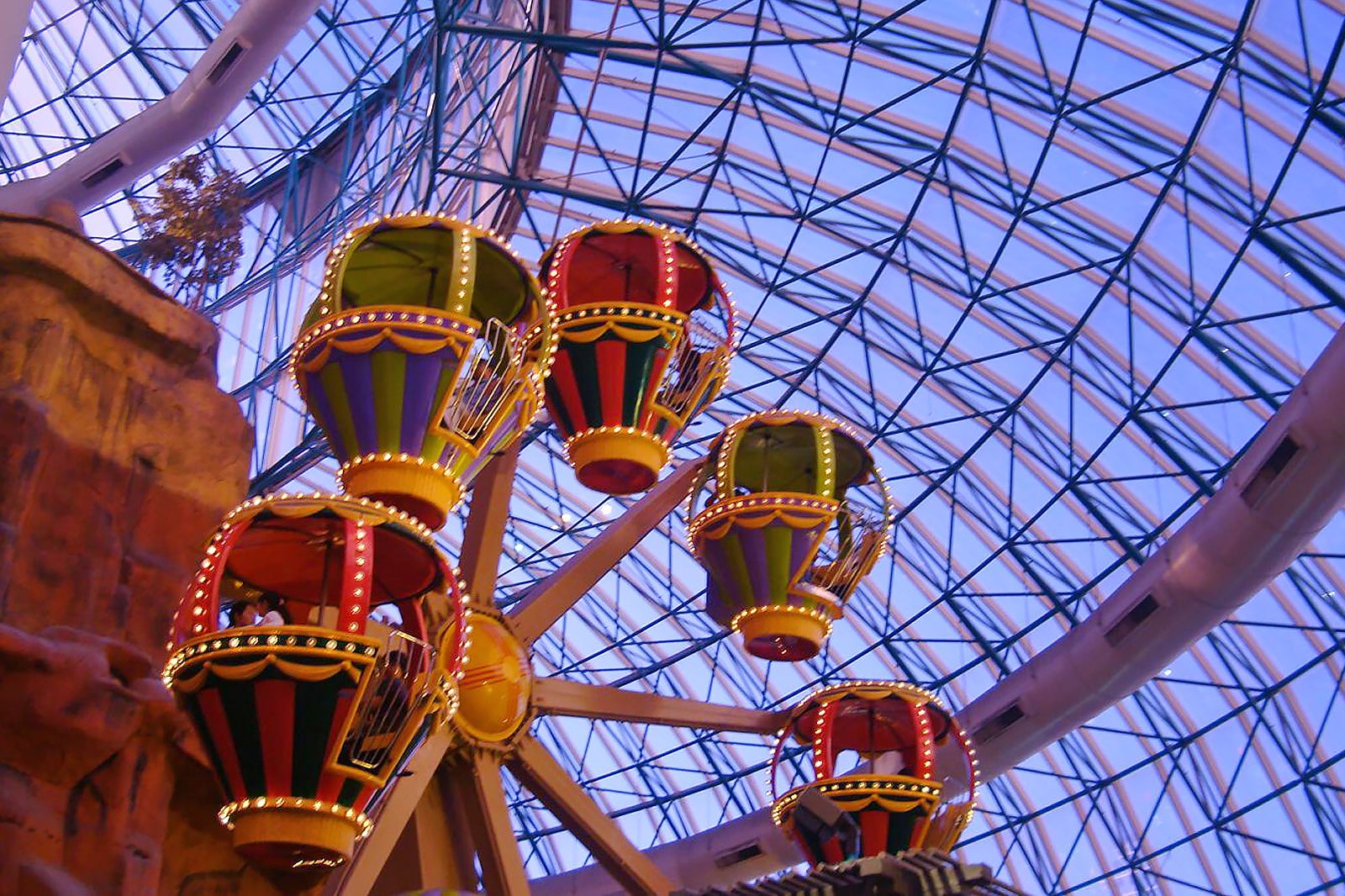 The Circus Circus Adventuredome in Las Vegas, Nevada, is five acres of indoor amusement park fun. It's completely family-friendly (this is Vegas, after all), and the rides are open to anyone over 33" tall. If you're staying at the Circus Circus, you can get a discount on tickets. However, the resort is expensive.
The Adventuredome is open all day and into the night, with neon light shows and circus performances to wow the kids before bedtime. During the day, there are rides, arcades, a carousel, a laser maze challenge, and bumper cars. The roller coasters here are no joke – two separate full-size coasters sit inside the dome!
If you're in Las Vegas, the Adventuredome is one of the best places to spend a day. The parents can rest and enjoy themselves while the kids run around, ride the rides, and play arcade games. It's entirely indoors, so it's safe for your kids (although your little ones won't be able to ride many of the bigger coasters).
The Adventuredome tickets cost $20 for kids under 48" tall and $40 for adults or teenagers. It's a great place to let the kids have some fun on Las Vegas Boulevard!
Spooky Nook Sports Center in Lancaster, Pennsylvania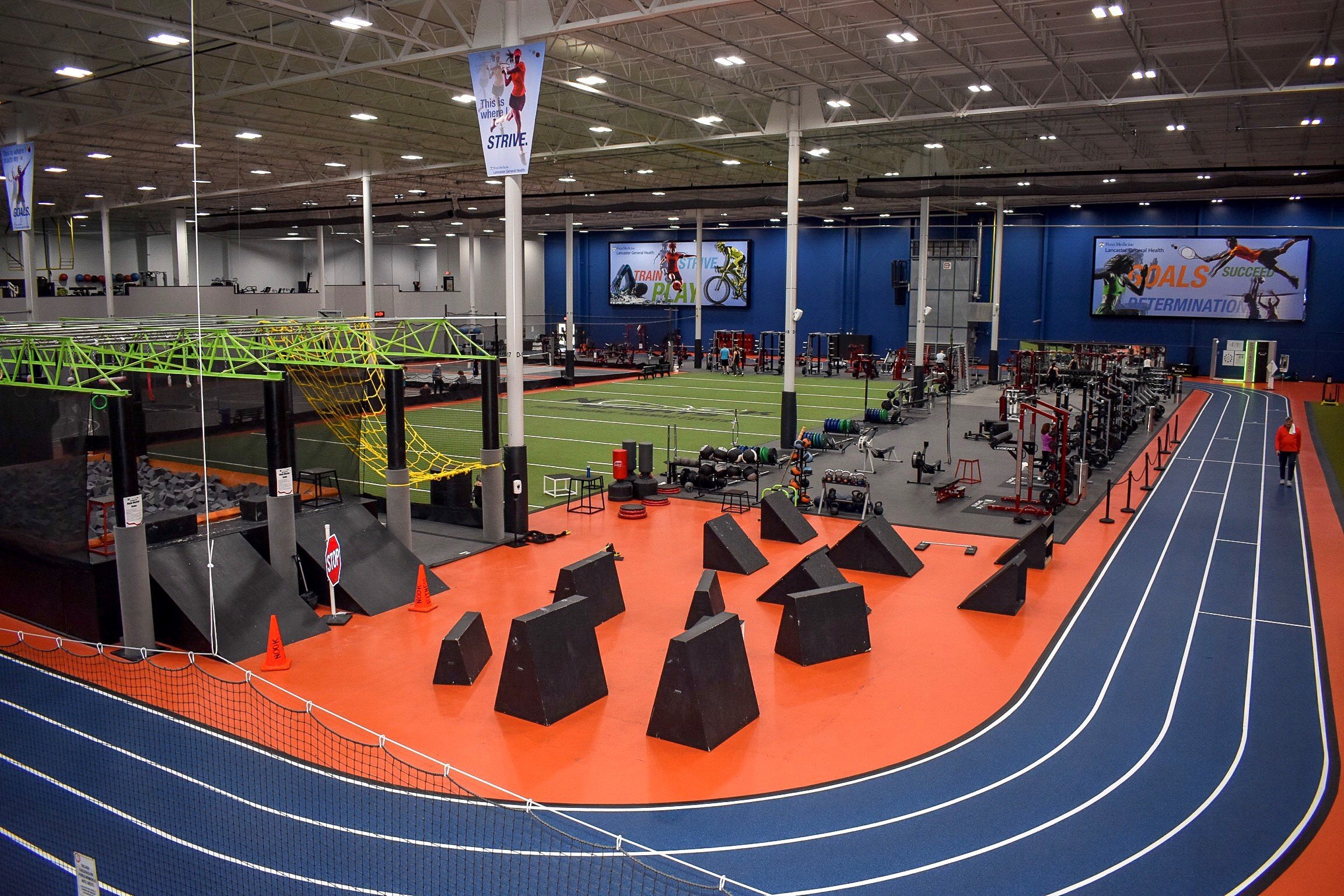 If you're less into roller coasters and more into sporting adventures, check out the Spooky Nook sports center in Lancaster, Pennsylvania. Nestled in the heart of Amish country, this complex is the largest sports arena and complex in the United States.
However, it's not just for training athletes or hosting tournaments. Spooky Nook is open to the public for rock climbing, ropes courses, courts of every nature, and a huge sprawling arcade. The entire system is paid as you go, so you and your family can decide what you want to do as you go instead of planning the whole day out.
The climbing walls are amazing and cost $15 an hour per person. You can choose to boulder or to clip in and climb regularly, although bouldering might cost more (the walls are more exclusive). Either way, this amusement park isn't your average roller-coaster day, but it's a delight nonetheless.
Scene 75 Entertainment Center, Ohio
Scene 75 is an entertainment center chain with locations across Ohio. The big upside of this park is that there's no admission fee (or parking price!). You can just enter the park and decide what you want to do.
The benefit of pay-as-you-go entertainment is that you don't feel like you have to be there all day to make it worth your while. If you've been before and just want to ride the Tsunami roller coaster, you can ride it as much as you want without having to pay for anything else. However, pay as you go can add up if you aren't careful!
With ten full-sized attractions, 150 arcade games, a full bar, and constantly rotating food trucks, Scene 75 has something for the whole family. There are locations in Cleveland, Dayton, Columbus, and Cincinnati, as well as a satellite location near Chicago. Try it out next time you're in Ohio for a full day of fun!
Funplex in Houston, Texas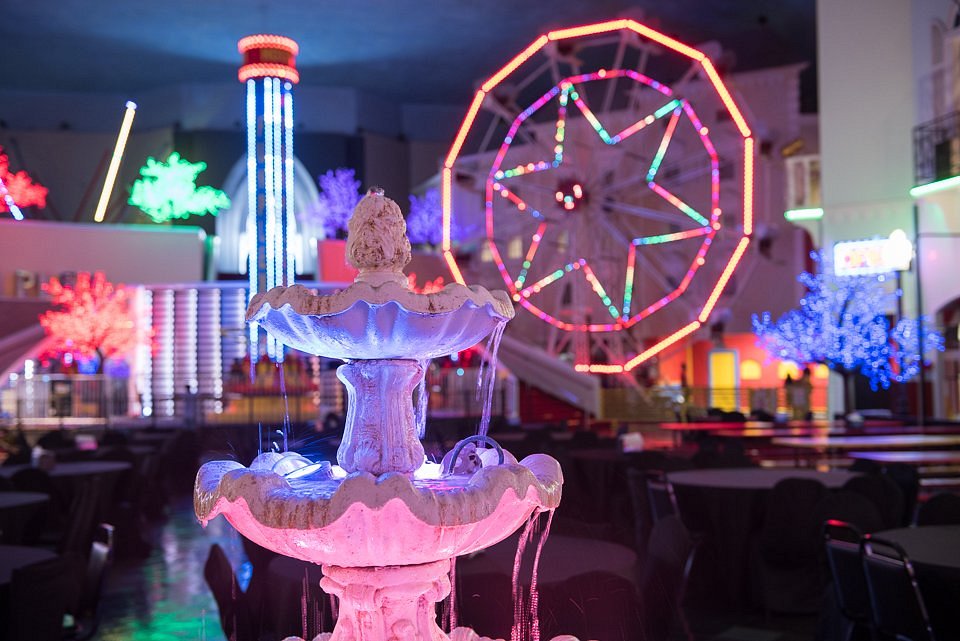 When it comes to fun, everything's bigger in Texas! This Funplex has over 200 attractions and activities for kids of all ages. You can ride the ladybug teacup rides with your littles or watch your older kids on the VR roller coaster (it might seem strange, but it rides just like a real rollercoaster).
The Funplex also has a laser tag arena, laser maze, and a two-story indoor playground. You can bowl as a family, ride go-karts, or play in the arcade if you need a break from the physical exhilaration. A day in the Funplex is sure to wear your kids out and give them the time of their lives.
The Houston Funplex is open 5 PM through 10 PM during the week and all day on the weekends. The prices vary per day, but weekly specials include an all-day ride pass ($20 for riders under 48" and $25 for riders over 48") and all-access arcade passes ($20 Monday through Thursday, $25 on the weekends).
These prices can't be beaten, especially if you have kids with separate interests. Split up and take one kid to the amusement park while the other plays arcade games. At the end of the day, you all can meet and go bowling or laser tagging as a family with some of the Houston Funplex food. It's a great day for some Texas fun!
Vacationing in Texas and searching for more family fun? We've created a list of the best amusement parks in Texas that will serve a great day out for your whole family.
I-X Indoor Amusement Park in Cleveland, Ohio
Another Ohio indoor amusement park, the I-X park has a more traditional amusement park vibe. Although it was semi-permanently closed in 2020 because of the pandemic, it recently reopened under new management. However, the same 20 acres of fun and thrills are available for a max of $25!
I-X Amusement Park is in the International Exposition Center in Cleveland. It's near the Cleveland Botanical Gardens, ice skating rink, and shopping centers in downtown Cleveland. The entry price ranges from $0 to $25, depending on your group and discount, and you can enjoy all of the fun for a fraction of the price of other parks.
If you live near Cleveland and haven't given I-X a try, you really should take a day and bring your kids. You can watch them ride the rides, play the arcade games, and go laser tagging all while you enjoy a beer and a snack at the food court. Check the website for current hours and prices, as the transition to new management is still underway.
Tom Foolerys Adventure Park in Wisconsin Dells, Wisconsin
Wisconsin Dells, Wisconsin is famous for its waterparks. There are dozens of them throughout Wisconsin, with many concentrated in or near the Dells. It's a great place to visit in summer, with beautiful weather and the nature of the Dells to see. In winter, the city has created a wonderland of adventure parks and waterparks.
If you're only looking for amusement parks, look no further than Tom Foolerys Adventure Park, part of the Kalahari water park and hotel complex. With a Ferris wheel, ropes course, rides, and an arcade, this park has it all. There are Kalahari resorts all over the country, but Wisconsin Dells has the only indoor amusement park attached.
Kalahari is primarily a resort and water park, so most of the thrilling rides are water-based. However, if you stay at the resort your family gets a discount on the water park and theme park tickets. For an outside visitor, a ticket is $19.99 for guests under 42" and $44.99 for those over 42". Resort guests pay $16.99 and $39.99, respectively.
Also in Wisconsin Dells, the Mount Olympus indoor waterpark has a small amusement park. It's not as large as Tom Foolery, but it's worth a visit if you're in the area and have done all the games and fun that Kalahari can offer. Mount Olympus admission is free if you're staying at the resort, but the park is only open during the cold months (when the water park is closed).
iPlay America in Freehold, New Jersey
iPlay America is about half an hour from the ocean, but the boardwalk-themed amusement park hosts beach vibes all year round. You can visit in the heart of winter and still feel the freedom of Atlantic City and the Jersey Shore at iPlay America.
iPlay America has fewer high thrill roller coasters and more traditional arcade and carnival games, such as skeeball, air hockey, and go-karts. However, you can find thrills on the obstacle gym, ropes course, or playing laser tag. The bumper cars and go-karts also offer high(ish) speed chases.
This theme park is great for kids of all ages and has an all-day wristband available for $35 each. You can also pay by the ride, but you'll only get two or three rides in before you've reached $35. It's much more worth your time and money to get the wristband. Stop by for some fun!
Great Wolf Lodge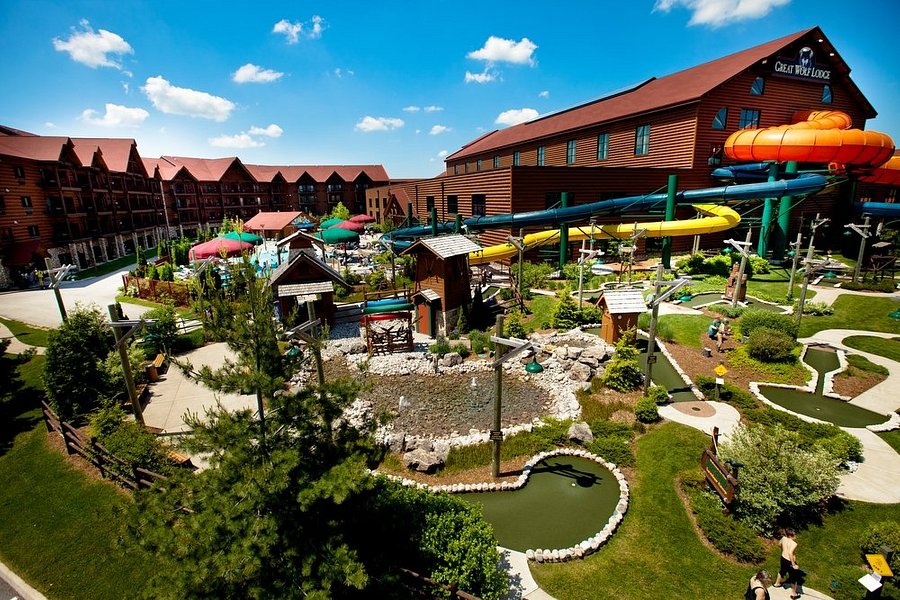 If you are looking for a closer adventure and don't live near any of these, find a Great Wolf Lodge location. While they're mainly an indoor waterpark and hotel chain, Great Wolf Lodge offers great deals on fun times for all the kids. For those who want the experience of an all-inclusive resort stay for less money, the Lodge might be just the thing.
The Great Wolf Lodge has 18 locations all over America, as opposed to the four different Kalahari resorts. While the largest Great Wolf Lodge is in Anaheim, California, any of their locations has a great indoor water park that guests can attend for free, an arcade, and on-land events and activities.
Although it's probably the smallest indoor amusement park on this list, the Great Wolf Lodge is easily the most accessible. Unless you happen to live near one of the other parks we've talked about, it may be difficult to even imagine being able to pack up your family to make the trek. The Lodge is cheaper and has numerous locations across America, including in North Carolina, Colorado, Illinois, and Michigan.
The Great Wolf Lodge has plenty of locations and plenty of thrills. Whether you like water parks or not, you'll be able to find something to do and rides to enjoy at one of these locations. Full-day passes are $60 if you're not a guest.
Final Thoughts
Any of these indoor theme parks are open year-round and ready to give you an adrenaline rush even when the outdoor adventures are unavailable. With the Great Wolf Lodge, Nickelodeon Universe, and The Adventuredome, you and your family are sure to find a way to stay excited and burn off energy during the winter months.
Are you a thrill-seeker? Our ultimate guide to six flags locations in the US should come in useful when planning your next family trip.
More about our TFVG Author
A seasoned traveller, Dad, and avid sports tourist, James foundered The Family Vacation Guide to share his expert vacation experiences- especially when it comes to being a travelling family man.
Featured in Travel articles such as Travel + Leisure, TripSavvy and SFGate, you know you're reading some of the best vacation tips online.