The holidays are fast-approaching, and having a list of activities to keep kids busy is a critical survival tactic for any parent. A trip to the zoo is one great activity to add to the list, and the Midwest is the best place to start.
The area is home to the most zoos in the country and is famed for its natural resources. What's more, the zoos aren't just animal exhibits; they have conservation programs for saving endangered animal species.
Here's a list of the best zoos in the Midwest worth exploring.
Lincoln Park Zoo
The park sits along Lake Michigan's shores at the heart of Chicago, Illinois. It boasts up to 200 unique species from around the world: giraffes, chimpanzees, rhinos, gorillas, and polar bears. There are smaller animals, too, including penguins, zebras, monkeys, frogs, and native animal species.
Lincoln Park Zoo also has extensive kids' programs allowing kids to participate in half-day, full-day, and multi-day zoo camps. And if your kids are not big on camping, they can go for nature walks around the zoo. The zoo provides daily activities to keep your kids busy.
They can go for seal training, monkey cognition and care, polar bear training, among other activities. During the training, animal keepers explain how they take care of animals through target training and enrichment programs.
Saint Louis Zoo
With more than 12,000 animals, Saint Louis Zoo is the holy grail of all zoos in the Midwest. It's also one of the only free zoos in the country, but visitors must pay for parking in on-site lots. The life-size animal sculptures at the entrance usher you to the vast six sections making up the zoo.
The first is the Lakeside Crossing area hosting sea lions and other sea animals, followed by the Wild, which has a penguin exhibit and animals like the red panda. The zoo also showcases a variety of cats, including tigers and mountain lions, in the Red Rocks area.
Your little ones will also love exploring the dinosaur attraction displaying massive dinosaur replicas, life-size triceratops, and a staged fossil dig site. A week-long family trip winds down with a Family Fun Friday Night which offers extended hours of animal exhibits, live entertainment, food, and drinks.
John Ball Zoo
If looking for a shorter two or three-hour zoo trip, head to John Ball Zoo in Grand Rapids. The Michigan-based zoo is home to African chimpanzees, Chilean flamingos, and other unique animal species.
Upon arrival, head to the wooded Wild Way Trail leading you to Red's Hobby Farm, an interactive children's zoo where kids get to pet and brush animals. You might see parrots, wallabies, and howler monkeys along the way.
Next, head to the Budgie Aviary for another hands-on experience with the animals where kids feed birds. Be sure to keep an eye on other animals like tigers, wolves, and bears. Besides feeding and seeing animals, the zoo has play areas for kids, a ropes course, and a zip line for more fun.
Cincinnati Zoo and Botanical Gardens
Cincinnati Zoo has won various accolades, primarily due to its conservation efforts. It was first named the 'Greenest Zoo in America' in 2010 after setting up large solar panels on parking spaces and LEED-certified buildings.
Later, it was named the world's sexiest zoo after breeding endangered species successfully. Cincinnati Zoo was the first to breed California Sumatran rhinos and sea lions. The Nile hippo is an excellent example of the zoo's breeding efforts, and she continues to attract visitors worldwide, albeit her old age.
Cincinnati Zoo features up to 20 animal habitats; among them are the Rhino Reserve, Lemur Lookout, and the petting zoo. The zoo also hosts special events every month and kid-friendly camps and classes. If visiting as a family, it's best to book a family day program where you spend the day learning about animals.
Kids also get to learn about different plant species at the botanical garden. Here, they'll find plant exhibits showcasing native plants, various growing techniques, pollinators, as well as endangered plant species. Note that the admission cost at the zoo varies by day.
Indianapolis Zoo
Indianapolis Zoo is located a few miles from Lucas Oil Stadium, adding to the many family-friendly attractions in Indianapolis. It boasts a variety of animal exhibits, and the Orangutan Center stands out.
The center is home to orangutans rescued from unfortunate predicaments. The state-of-art facility is equipped with 80-foot canopied towers to mimic forest-like habitats. You're likely to find orangutans swinging 80 feet over your head.
Besides Orangutan Center, the zoo provides experiential offerings kids will never forget. They can touch dog sharks, swim with dolphins, bathe an elephant, feed giraffes and flamingoes, and meet a sloth.
Indianapolis Zoo is also keen to fulfill its educational and conservation mission. It has set up Animal Chats to help kids learn about lions, lemurs, cheetahs, and other zoo animals. It also offers an animal conservation award of up to $250,000 for successful animal conservationists globally.
Brookfield Zoo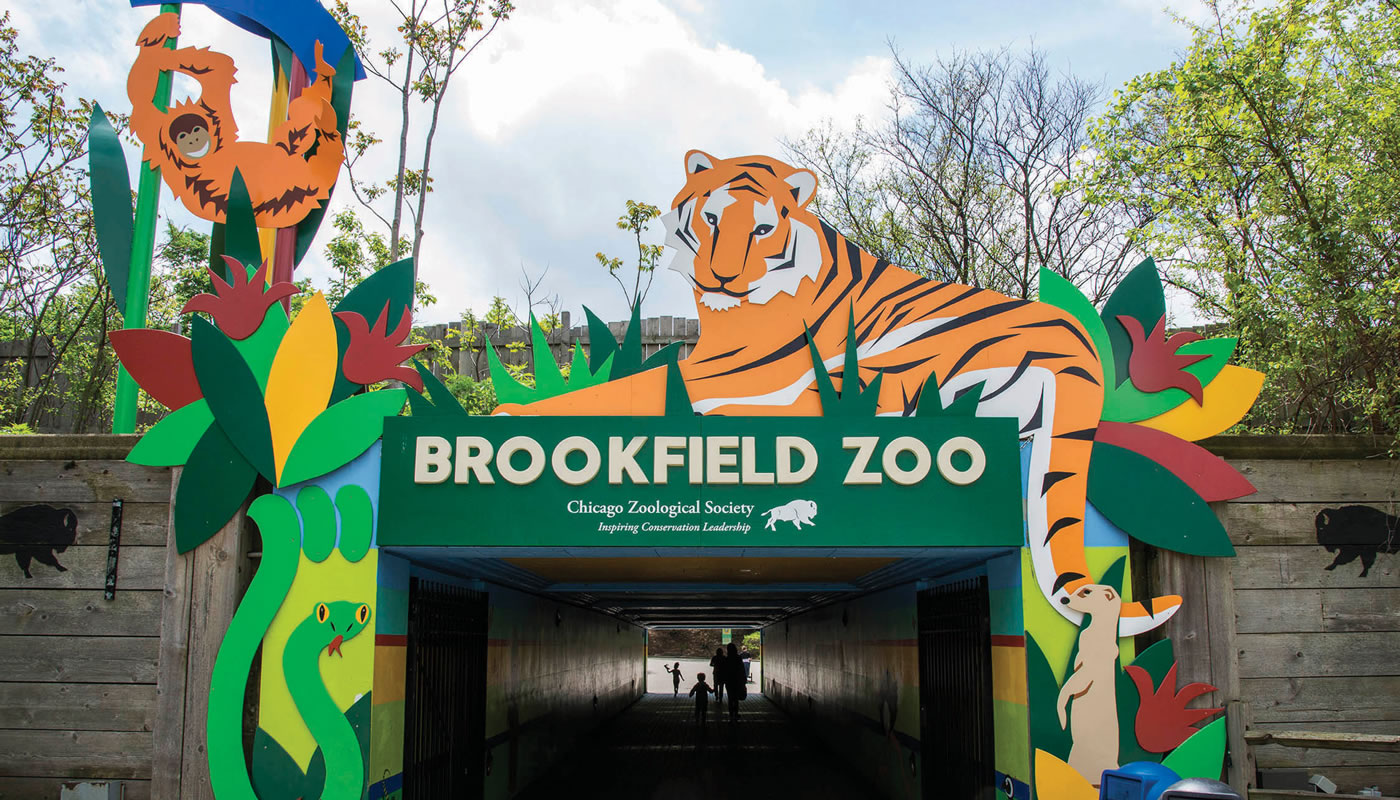 Located in Brookfield's suburbs, the zoo is home to many animal species, including the North American wolf and penguins. Cumulatively, it's home to more than 2,000 animals, including bears, rhinos, big cats, penguins, giraffes, and more.
The animals are caged in 20 exhibits, with some designated to African animals from the savannah areas. Kids can hand-feed the giraffes, visit dolphin exhibits, participate in motor safaris and ride on the large hand-carved carousel (each activity attracts an extra cost, but members may enjoy special discounts).
Brookfield Zoo also holds a special Boo in the Zoo event during Halloween. Kids less than 11 years are entitled to discounted ticket prices, and parents can rent strollers to make it easy to carry their little ones.
Como Park Zoo
This Minnesota-based zoo is the only free zoo in this county. It's set up on a vast 450-acre piece of land with sections for the zoo, a golf course, amusement park, lakeside trails, and Marjorie McNeely Conservatory.
Como Park Zoo is also a conservation area for more than 40 endangered species in the American Zoological Association's Species Survival Program. The area is designed to mimic the animal's natural habitat. The zoo is also home to more than 50,000 plant species.
Henry Doorly Zoo in Omaha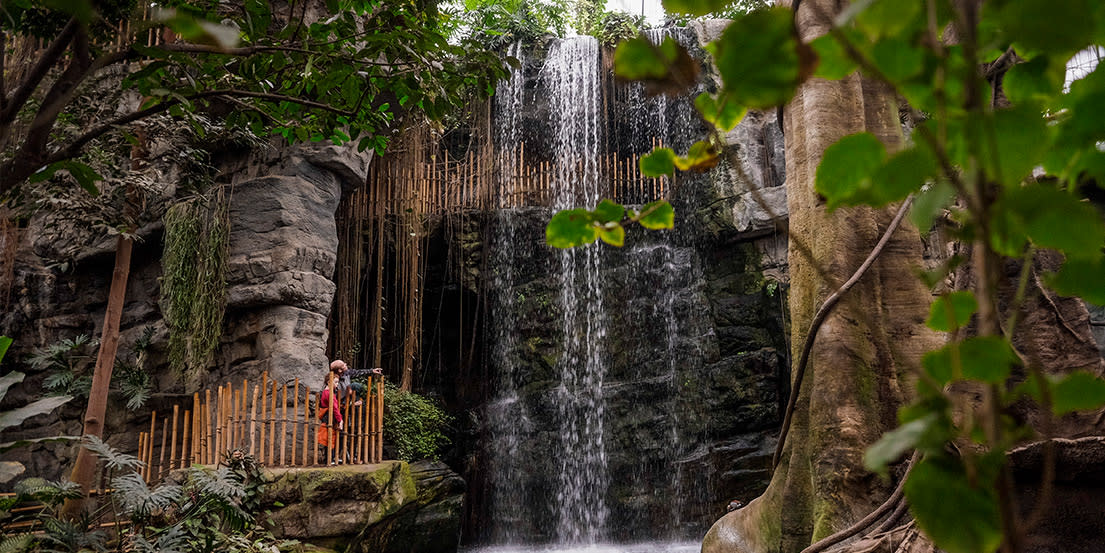 The zoo takes you on a trip to the African Grasslands, Asian highlands, and North America's rainforest without leaving the country. Set upon a vast 160-acre piece of land, Henry Doorly Zoo has the largest exhibits for African animals.
The African Grasslands take up to a third of the zoo's space, showcasing the big five animals, including giraffes, lions, and cheetahs. Five acres of this section are dedicated to six elephants allowing them to play, roam, and work freely.
The Asian Highlands is home to animals like the sloth bear, red panda, and takin. You'll also find other beautiful exhibits like the Scott Aquarium, Gorilla Valley, and Meadowlark Theater. Kids will also love seeing the sea lion demonstration, visiting the Butterfly and Insect Pavilion, and spotting bats in the Kingdom of the Night.
With so much to explore, you'd need a day or two to see everything. Luckily, Henry Doorly Zoo offers single and two-day tickets, and kids under 11 years get discounts.
Columbus Zoo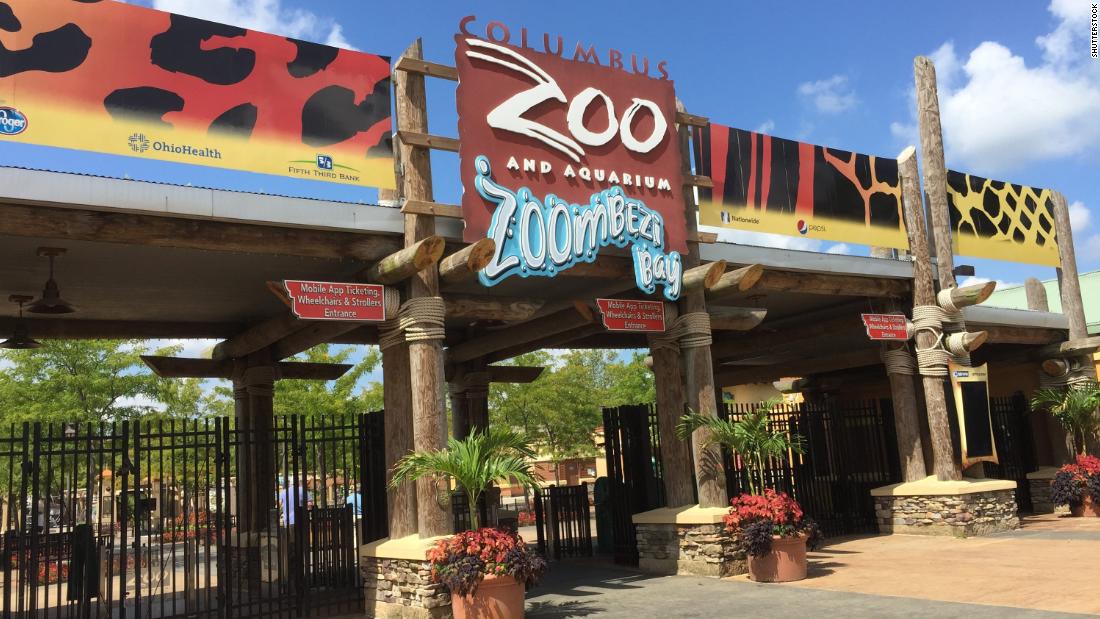 Columbus Zoo is remembered for hosting Jack Hanna, a world traveler who served the zoo from 1978 to 1992. The zoo is home to more than 7,000 animals enclosed in eight sections, each providing a unique experience.
The Polar Frontier exhibit displays the arctic fox and polar bears, and the Congo Expedition exhibit is dedicated to leopards and gorillas.
Other exhibits mimic Australian, Asian, and North American habitats allowing you to experience different parts of the world without flying. Be sure to check out other special encounters like elephant baths, up-close visits with cheetahs, walking with wallabies, sea lion tours, to mention a few.
Columbus Zoo also provides a VIP experience. With a VIP pass, visitors have exclusive access to the zoo and enjoy a range of benefits, including priority seating during demonstrations unlimited rides on a pony, train, and carousel. Food and beverages are also served at a 25% discount.
Cleveland Metroparks Zoo
The zoo features indoor and outdoor facilities for visitors to explore and is home to more than 3,000 animals. The majority are primates, but you'll also find other baby animals like otter pups, Merah the baby orangutan, baby rhino, and a giraffe calf.
The exhibits are open year-round, and admission is affordable. Cleveland Metroparks Zoo offers a total experience ticket which provides various privileges for families.
National Tiger Sanctuary
If your family is big on discovering cat animals, head to the National Tiger Sanctuary. The Missouri-based zoo is located in the county's northern region and is known for rescuing cats from all walks of life. The zoo focuses on rehabilitating animals by training and providing a natural habitat to thrive.
Visitors can choose one of the five experiences to explore the zoo. You can go for a basic tour, a tram tour to see more cats, or a more detailed one to see the cats getting fed.
Sedgwick County Zoo
This zoo is a great place to learn about elephants. It's home to seven elephants and six of them rescued from Africa. Sedgwick County Zoo also has a Downing Gorilla Forest, a replica of Central Africa's Forest habitat. Part of the forest is home to lowland gorillas which you'll see playing and lounging. The rest of the zoo has nine animal exhibits showcasing more than 3,000 animals.
Great Plains Zoo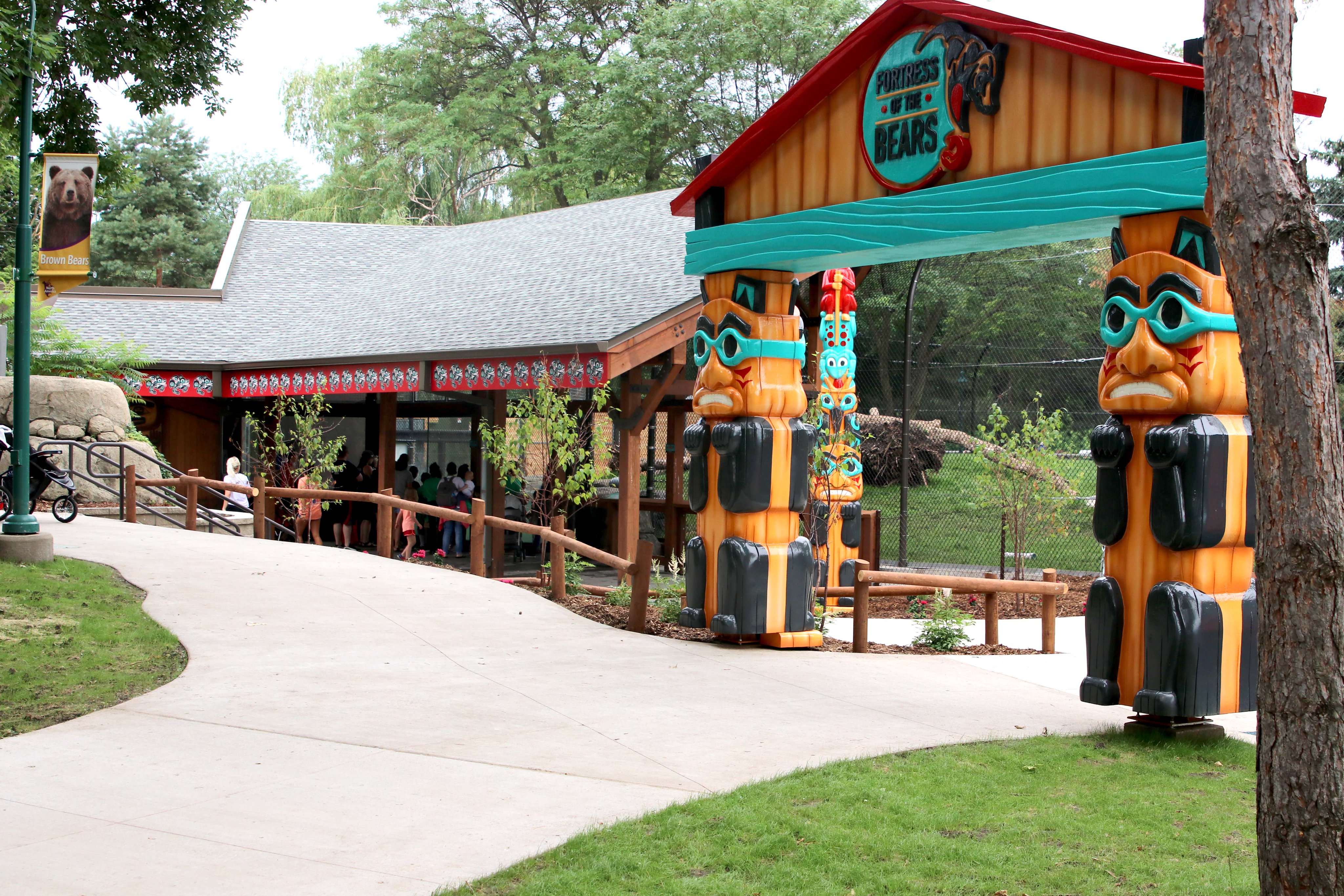 Here, you'll find unique animal species you haven't seen in other places. The Great Plains Zoo houses critically endangered animals like red wolves and black rhinoceros. Research shows there are 5,600 black rhinos globally, but the number is increasing through conservation efforts. The red wolf is another animal that was near extinction a while ago.
However, tremendous conservation efforts have increased the number to 200 red wolves. The zoo also hosts 1,000 other animals, including brown and black bears, snow leopards, gibbons, Humboldt penguins, and zebras. You will also find the Delbridge Museum of Natural History here. The museum provides a natural habitat for taxidermied animals.
New Zoo and Adventure Park
Located 10 miles away from Green Bay, Wisconsin, the zoo is a great place to bring kids during the holidays or weekends. Although it's a small zoo (on a 43-acre piece of land), it's home to 90 animal species. New Zoo added an adventure park in 2014, providing more activities for visitors to indulge in. You can go zip-lining, climb walls, or participate in rope challenges.
Detroit Zoo
This is an excellent place for families with older children and teenagers. It sits on a vast 125–acre piece of land and is home to more than 2,400 animals. Detroit Zoo is one of the long-standing zoos in America, having been established in 1928.
It has 12 habitats, and the most popular is the Polk Penguin Conservation Center. The aquatic area is 25-feet deep with 326,000 gallons of water to provide a comfortable habitat for the penguins and other aquatic animals.
The zoo also has a carousel, a playground, a 4D theater, Tauber Family Railroad, and scientific displays. Its layout is pretty easy to navigate, albeit having numerous sections. Visitors can bring their food and drinks or dine at Wild Burger, which offers full meal options.
Kansas City Zoo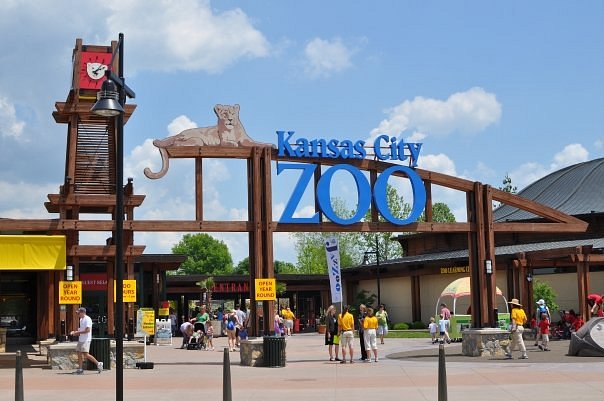 This 200-acre zoo is home to more than 1,300 animals. The largest section is the African exhibit which showcases animals like crocodiles, hippos, lowland gorillas, and cheetahs. Kansas City Zoo also has an Australian exhibit with aviary, kangaroos, and dingoes.
Besides the animal exhibits, there's a standout section that is home to the beautiful North American river otter.
Final Thoughts
There's so much to explore in the Midwest. Each zoo has unique animal species allowing you to discover and explore various habitats found worldwide without leaving the country. Whether you're planning a vacation in Minnesota or a road trip to Kansas City, there are plenty of zoos families will enjoy visiting.
Other fantastic zoos to consider
If you're hoping to find more fantastic zoos that the whole family will enjoy, take a look at our roundup of zoos in other locations!
More about our TFVG Author
A seasoned traveller, Dad, and avid sports tourist, James foundered The Family Vacation Guide to share his expert vacation experiences- especially when it comes to being a travelling family man.
Featured in Travel articles such as Travel + Leisure, TripSavvy and SFGate, you know you're reading some of the best vacation tips online.