Visiting an indoor water park is a great way to spend time with your family. Not only are they a ton of fun, but they are also versatile, allowing you to visit any time of the year. 
In Wisconsin, this is tremendously important since the winters can be harsh and unpredictable. If you are planning a family trip to Wisconsin or you're just looking for a fun day, you'll be happy to know there are plenty of indoor water parks to choose from. Check out these 14 incredible indoor water parks in Wisconsin and start packing your swim trunks.
The Great Wolf Lodge Indoor Waterpark is a spectacular trip for the entire family. This hotel and water park are located in Baraboo, a bustling city in Wisconsin filled with plenty of entertainment, dining, and shopping.
The indoor water park offers over fifteen separate attractions, so each thrill-seeker and mellow vacationer will find what they need. Take a ride down a 200-foot water slide or find your zen in the lazy river. If you're there while the weather is nice, you can also switch lanes to the outdoor pool.
When not enjoying the pools, you can also take advantage of the facility's other amenities. Several dining options are on-site, so you never have to leave the water park. You can also head to the fitness center for a quick workout if you need to catch up on your routine.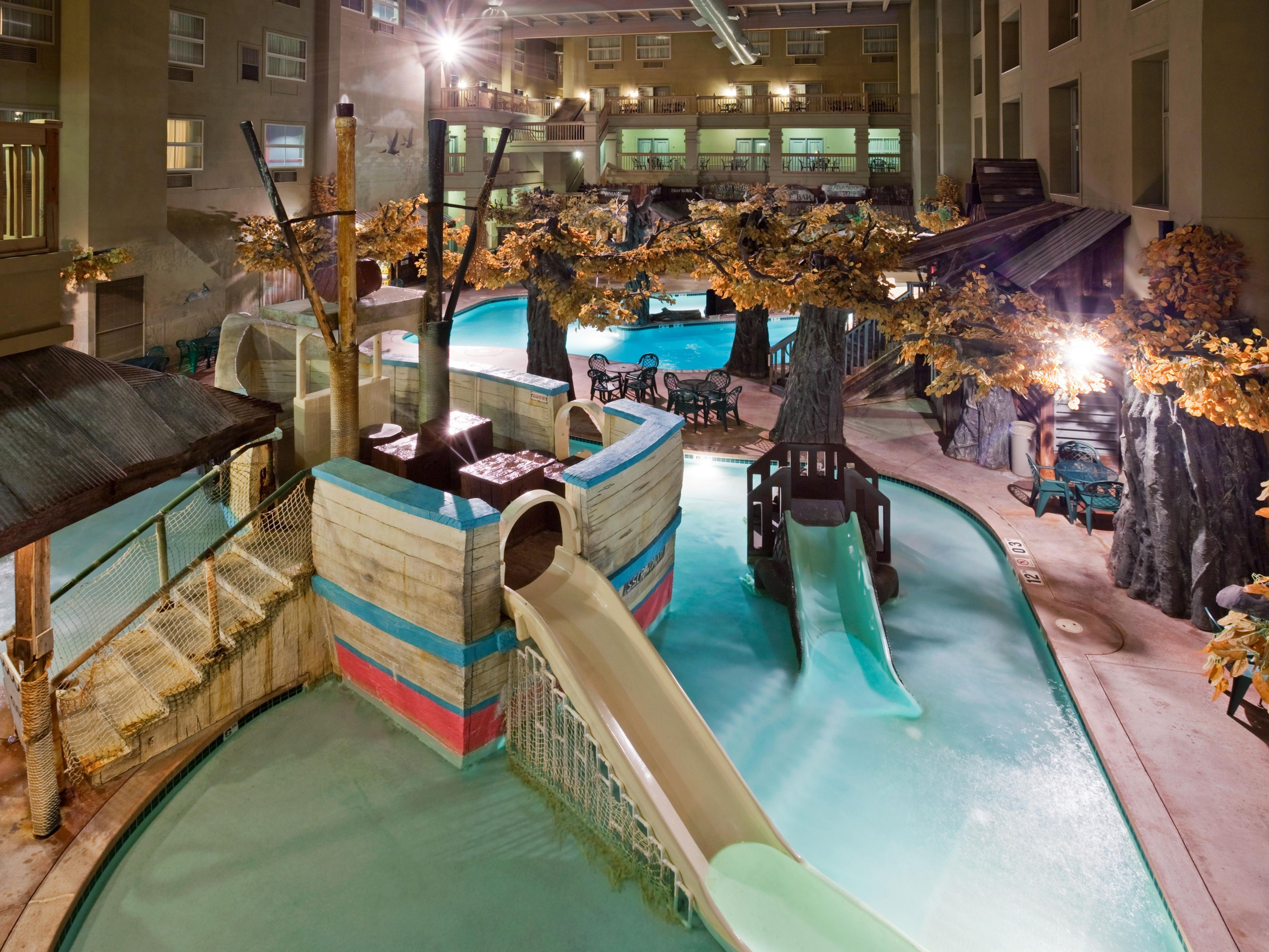 Crawdaddy Cove Indoor Water Park is an incredible attraction located in the Holiday Inn Hotel in Madison, Wisconsin. This bayou-themed water adventure is the perfect place to spend a day with your family. Or, you can consider booking your child's birthday party here and give them a day to remember.
When you're not splashing the day away, you can enjoy the gorgeous city of Madison, which is conveniently tucked between Lake Mendota and Lake Monona. It's also the capital city of this beautiful state, so there's no shortage of history or activities that will captivate your family.
If you decide to stay at the hotel, you will be treated to high-end rooms and amenities, including a full restaurant and lounge. Or, stop by the convenience store at your leisure to pick up some necessities. Getting a room might be worth it if you're interested in checking out any of the excellent packages.
Baraboo, Wisconsin, is home to the Kalahari Indoor Water Park. This facility is part of the Kalahari Resorts and is so much more than a waterpark. You and your family will never be bored in this extensive home of entertainment. You can twist and turn your way down the Elephant's Trunk or test your bodyboarding skills at the Flowrider.
When you're ready to hit the town, Baraboo won't let you down. You'll be within walking distance of excellent attractions, dining, and shopping. Plus, you will be near the highway, making it easy to travel in and out of town.
If you choose to stay at the resort, you will have access to a huge selection of fun activities outside the pool. Challenge your family to an enticing round of mini golf. Or, send your kids on their way while you spend some time in the spa. You can even host events like your wedding day right in the convention center.
The Springs Water Park is a world of adventure awaiting you in the vibrant town of Pewaukee, Wisconsin. A trip to the Ingleside Hotel is all it takes to enjoy this magnificent water park and all the other amenities they offer. If you choose to stay in the hotel, you can get special prices and access to quality services.
You'll find excellent opportunities to shop, eat, and play golf in the surrounding area. Or set up a picnic at Lakefront Park and just admire the view. This is definitely one of the best places to stay with your family.
If you prefer not to leave the hotel, you certainly don't have to. There are on-site dining options and special amenities like the fitness center. If your kids are tired of swimming, climbing, and sliding, they are always welcome to enjoy the arcade. Ask the staff about special packages if you plan to stay at the hotel.

The Wilderness Resort Water Parks are in Wisconsin Dells, a delightful southern Wisconsin city. This incredible attraction includes eight indoor and outdoor waterparks. You can swim in the largest indoor wave pool in the United States or spend the day with your little ones in the lagoon.
If you plan to hang out in the area, you'll be pleased to find that there is a wide selection of entertainment for the entire family. Take a hike at any of the incredible nearby state parks or catch a film at the movie theater for an afternoon show.
Back at the water park, you can stop by one of the eateries for dinner and a sweet treat for dessert. Don't forget to indulge in some R & R yourself at the swim-up bar. Your kids will have no trouble occupying themselves at any of the massive arcades, escape rooms, or laser tag.
In Sheboygan, Wisconsin, you'll find the exciting Breaker Bay Water Park. Located in the gorgeous Blue Harbor Resort, this indoor water park is perfect for guests of all ages. Hotel occupants get priority access, but it is definitely worth a stay if you are in search of a weekend filled with fun.
Not to mention, Sheboygan is the perfect area to visit with your family. It's a gorgeous city nestled right on the shore of Lake Michigan. There are plenty of activities and attractions to enjoy during your stay.
Many of these indoor water parks in Wisconsin offer experiences in a surf simulator or exhilarating rides down tube slides. Take a dip in the lazy river if you're on the hunt for relaxation rather than thrills. No matter what you're after during your stay, this location can supply it. You can even rent a private cabana for a quick and luxurious pitstop throughout the hours of fun.
The Mt Olympus Water and Theme Park Resort is a fantastic getaway for your family. Located in the charming Wisconsin Dells, everyone in your party will be satisfied with a trip to this incredible resort. Not only is there an indoor water park, but there are also several other features, games, and accommodations waiting for you.
Of course, Wisconsin Dells is the perfect place to spend an afternoon, even if you venture out of this Greek-themed location. Whether you prefer to spend time outdoors on Lake Delton or grab a quick bite to eat, this is the ideal place for it.
During your visit, don't forget to check out the indoor theme park as well. After exploring Medusa's Shipwreck, you can challenge your family and friends to a game of bumper cars.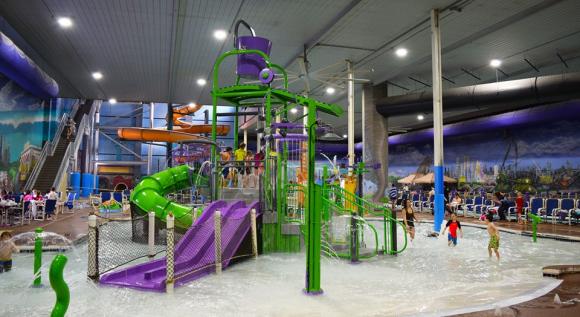 The beautiful waterfront city of Eau Claire, Wisconsin, is home to the Chaos Water Park. This wonderful attraction is brought to you by the Metropolis Resort. Slides, obstacles, and a lazy river await you in this unique family experience. Children and adults of all ages will find something to love about this facility.
When you're not splashing and playing, there is a place to explore throughout the city of Eau Claire. Spend some time outdoors at one of the many parks available or visit a museum and expand your knowledge of this incredible state.
Back at the resort, you can try any number of activities. This includes zip lining, mini golf, and indoor or outdoor go-karts. Don't forget to book a room to access the best packages and price deals.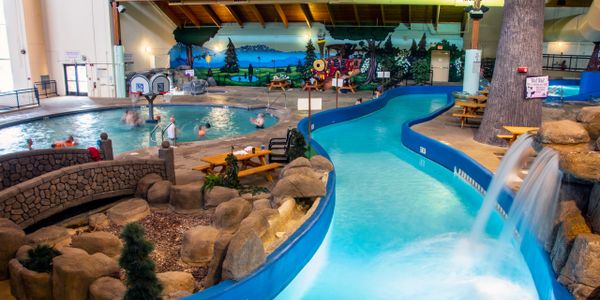 The Three Bears Resort in Warrens, Wisconsin, is more than just a great place to stay. This hotel features a 60,000-square-foot water park. It's the perfect way to relax and let your little ones burn off some energy during your vacation.
When you aren't floating down the lazy river, you might be exploring the incredible area of Warrens. Many people enjoy visiting during the world's largest cranberry festival, but this town is worth a visit just for the opportunity to catch some peace and quiet.
Back at the resort, don't forget to check out the many additional amenities available, including an arcade and laser maze. At the end of the day, grab dinner at one of five excellent eateries offered on-site. Or, send your kids while you take advantage of the facility's fantastic gym.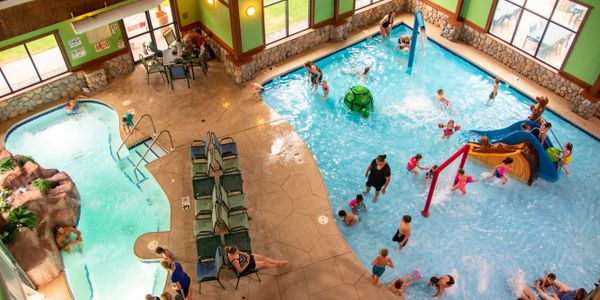 Minocqua, Wisconsin, is a gorgeous waterfront town and home to The Waters of Minocqua. Your family will love staying at this charming hotel or simply spending an afternoon soaking in any one of the indoor pools.
Minocqua is the ideal destination for anyone seeking a charming, peaceful atmosphere. This area prides itself on its many natural attractions in opportunities to play outside. However, that doesn't mean a little indoor water time isn't welcome in the colder months.
Back at the hotel, not only can you engage in slipping, sliding, and splashing, but you can also grab a bite at the pub and lounge. Or, hit the gym at the fitness center. Don't forget to stop by the gift shop before you leave so that you can grab a souvenir of your time spent at this fantastic resort.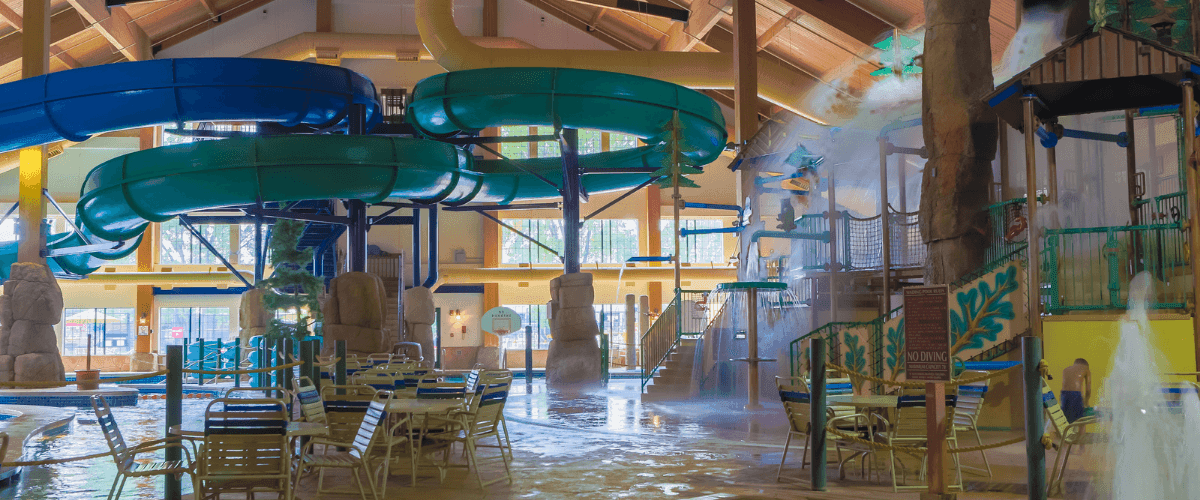 The Tundra Lodge Resort & Conference Center is home to Green Bay's largest indoor water park. Your family will be thrilled to spend the afternoon twisting and turning around hundreds of feet on the water slides or drifting along the lazy river.
Don't forget to check out the area of Green Bay while you are there. Not only is there loads of interesting history to uncover, but you can also see the home of the Green Bay Packers up close. Football enthusiasts will get a kick out of touring this iconic city.
Back at the lodge, you can enjoy several dining options. Don't forget to stop by each morning for a complimentary breakfast or take advantage of the hotel's extraordinary room service. There truly is something for everyone to enjoy at this location.
The Radisson Hotels are well known for their high-end amenities and excellent lodging experiences. Fortunately, the Country Inn and Suites in Prairie du Chien are no different. Here you will find the Bear Foot Bay Indoor Water Park, and it's certainly the cherry on top of this experience. Kids will love the opportunity to splash and play.
The city of Prairie du Chien nestles up to Marias Lake along the Iowa border. Plenty of activities and entertainment nearby keep your family going all day long. Whether you prefer a wild adventure or a quiet stroll through the park, this city has it all.
Back at the hotel, you can grab a bite at the restaurant and bar. Or, take a little time for yourself in the fitness center. If all that wasn't enough to tempt you, the gorgeous scenic views from the patio might just do the trick.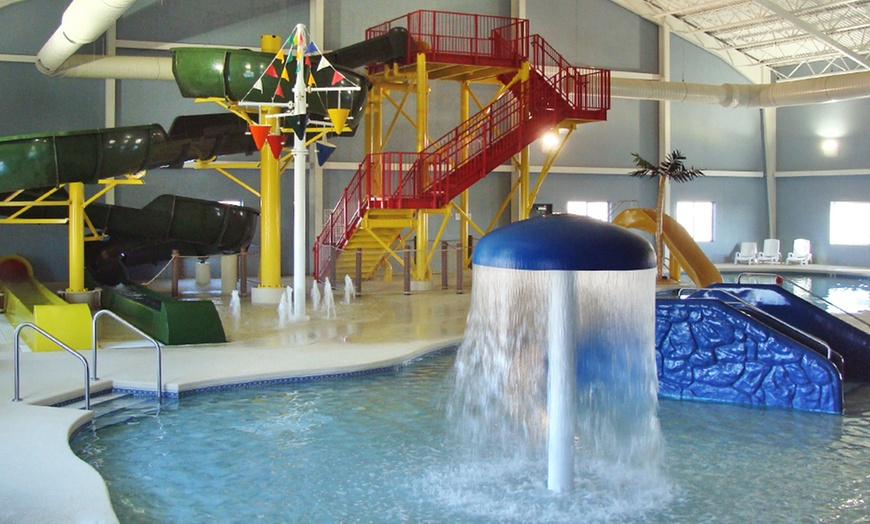 In the charming village of Barneveld, Wisconsin, you will find Deer Valley Lodge. This peaceful retreat is the perfect escape for any family seeking peace and restoration. Your family will have a blast playing water basketball or racing down the slides.
While you are in the area, you won't want to miss the chance to check out the many natural parks and trails. There will be plenty of opportunities for some incredible photos and interaction with the community. While you will be a little out of the way, it's not hard to reach busier destinations if you want to explore a little.
Before you leave, don't forget to check out the hotel's restaurant, the Rusty Nail Saloon. Or, challenge your family to a round of golf on the incredible Deer Valley Golf Course. You will find 18 challenging holes on 270 acres of gorgeous terrain.
The Chula Vista Resort is famous for its indoor water park, but there is so much more to enjoy. Located in the ever-popular Wisconsin dells, you and your family can take a vivid journey through the Rainbow Rapids or explore Mt. Montezuma's Mayan Temple. But watch out! You might just get hit with 500 gallons of water on the deck.
As always, the Wisconsin Dells is a great place to visit. Golfing, hiking, and entertainment abound. If you want to venture out of this extravagant city, there is easy access to several highways which can take you where you need to go.
Of course, you won't have to leave the resort to enjoy your vacation. On-site dining options and a gift shop mean you will never have to leave your room if you don't want to. Don't forget to ask about the packages they offer so that you can get the most for your money.
Top Tips For Enjoying Indoor Water Parks
Traveling in Wisconsin isn't tough, and it's a great choice for traveling with a family. This state has plenty of opportunities for fun and relaxation, but before you head out, here are some helpful travel tips:
Call ahead if you don't plan to stay at the resort or hotel where your preferred indoor water park resides. Guests will usually receive priority access, and not all hotels will let you in if they're at capacity. Often, it is worth it to book a room.
Keep in mind that some indoor water parks are seasonal. Finding an outdoor water park might be easier if you are traveling during the summer.
Don't forget to ask about deals and packages during your stay. Many resorts and hotels will offer guests access to the water park free of charge, but you may also get a good discount on other amenities.
Try visiting on a weekday. A great way to avoid crowds is by visiting on a weekday when fewer people are around. You can also travel during the off-season, which is easy at an indoor water park.
Take indoor and outdoor supplies. Many indoor water parks are located in resorts and hotels that offer outdoor activities. Take a bottle of sunscreen and a jacket in case you want to switch things up.
If you're on a budget, consider bringing your own snacks and opt out of any extras. Your kids likely won't notice as long as there's a swimming pool.
Final Thoughts
The indoor water parks in Wisconsin are the perfect way to explore your inner child. They're also great for letting actual children burn off some of that perpetual energy. You won't have trouble finding a perfect destination that suits your family in Wisconsin.
If you've experienced all of Wisconsin's water-related fun, consider heading south to check out Illinois's waterpark scene or catch some thrills at one of Chicago's best amusement parks!
More about our TFVG Author
A seasoned traveller, Dad, and avid sports tourist, James foundered The Family Vacation Guide to share his expert vacation experiences- especially when it comes to being a travelling family man.
Featured in Travel articles such as Travel + Leisure, TripSavvy and SFGate, you know you're reading some of the best vacation tips online.