Spring break is coming up and with it the need to get out of the cold and go somewhere warm and sunny.
With the promise of warm sands and bright blue waters of the Caribbean, St. Lucia and Aruba are both strong contenders.
However, when comparing Aruba vs. St. Lucia, which of these two islands is better for families with kids? 
We'll take a look below, but why not take a moment to also check out our guides to the best all-inclusive resorts in Aruba for families and the best St. Lucia all-inclusive family resorts?
Aruba vs. St. Lucia 
Aruba is a small island far south in the Caribbean with a population of a little over 100,000. The island receives about two million tourists every year and is famous for some of the best beaches in the entire world.
St. Lucia is an entirely different island, with lush rainforests and mountain views. The island has only 350,000 tourists a year and a population of 183,000. St. Lucia is a gorgeous island with a strong cultural heritage and lovely weather.
Both of these islands make great vacation destinations and it's difficult to decide which is better for families with kids. We will analyze the islands in several categories, and let you make the final decision.
Weather
One of the most important aspects of planning a vacation is finding out the weather cycles. Aruba and St. Lucia are both near the equator, so they don't have a winter season. However, the rainy season is concurrent with the hurricane season, which runs from June 1st to November 30th.
However, hurricane season doesn't necessarily mean there will be hurricanes. Rather, it means that there will be a higher chance of rain on your trip, with possible tropical storms. Most people prefer to travel outside of the rainy season, to preserve the iconic good weather of the southern seas.
Aruba is not in the hurricane belt at all, so it is one of the safest islands to travel to in the Caribbean, in or out of hurricane season. St. Lucia technically falls within the hurricane zone but is on the furthest southern edge. The odds for hurricanes are very low in either place but slightly higher in St. Lucia.
From December to June, however, both islands enjoy beautiful sunny weather, with averages in the 70s and 80s most days. The perpetual balminess of the islands is part of what makes them such a desired travel destination.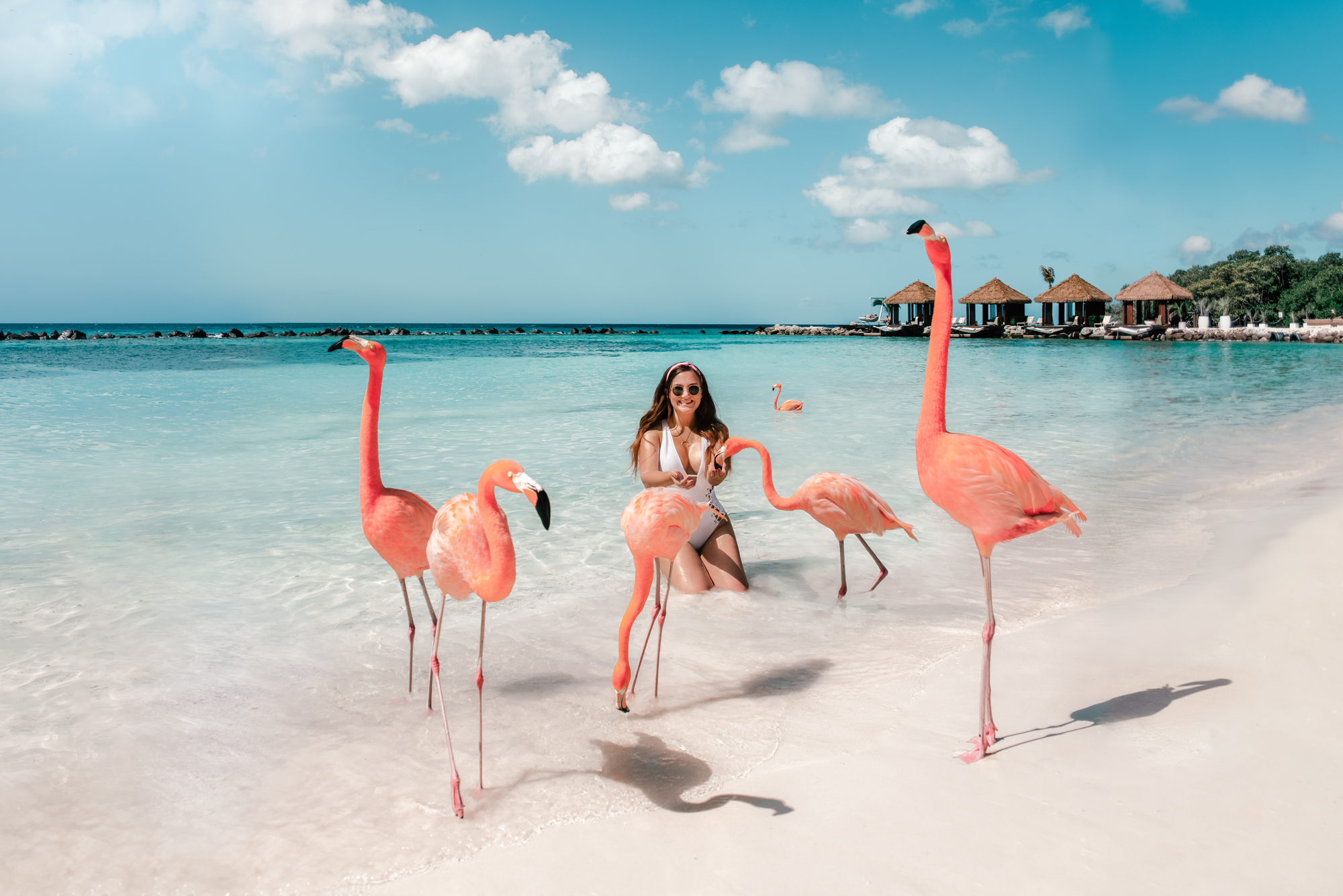 Geography
Aruba is a small, flat island in the Caribbean. It is mostly arid, with cacti and deserts. However, this dryness lends itself to the most popular beaches in the Caribbean. The sparkling sands and clear turquoise waters have garnered fame worldwide.
St. Lucia has varied geography. Because the island rests on a dormant volcano, the surrounding wildlife is incredibly lush and gorgeous. Twin mountains, the Pitons, grace the southern side of the island. In addition to hiking and exploring the mountains, the rainforest offers opportunities for wildlife and tours.
The rainforests and mountains come with two major downsides. The first is that it is harder to get around the island of St. Lucia by car than other, flatter Caribbean islands. If you're looking for an easy-to-navigate trip, the rainforest and mountains complicate that. The second issue is that St. Lucia's verdant climate attracts more bugs and mosquitoes than Aruba.
Of course, both islands boast beaches all along the coast, with white sands and crisp blue oceans. St. Lucia has a wider variety of terrains, however, which can be exciting for an outdoorsy family. Mountains, rainforests, and the dormant volcano lead to a great and varied natural adventure.
Cost
If you are planning a Caribbean vacation, you are probably thinking a lot about the cost of the trip. Any island vacation will be expensive, but you can save money by choosing an island with cheaper airfare, food, and lodging.
When comparing Aruba vs. St. Lucia, St. Lucia is a little less expensive than Aruba. The airfare is generally cheaper (depending on what airline you use) and the hotels can be much less costly. Of course, you can spend thousands of dollars a night on luxury resorts if you want. But if you're trying to save money, you can find cheaper hotels and restaurants in St. Lucia.
Because Aruba is the most popular island in the Caribbean, it's going to be a bit more expensive. However, there are ways to save money if you are trying to. There are budget-friendly options on both islands–it is simply easier to find them in the larger cities and less touristy areas of St. Lucia. 
Kid-Friendly Activities
If you're bringing your kids to an island, it's vital to know what they will be able to do. There's the beach of course, but sometimes you need more than that after a few days of sunbathing (or sunburning if you're not careful with sunscreen).
Both islands have a lot of really fun activities for kids of all ages. St. Lucia boasts a variety of attractions, both on the beach and in the rainforest. Here are some of the highlights, including a water park and the biggest zip line in the Caribbean:
Splash Island Water Park (on the beach!)
Helmet Diving Tours—underwater tours without the hassle of a scuba license (ages 8+)
Riding Stables—horseback tours of the island
Diamond Botanical Gardens
Hot springs on the volcano–hiking and exploring options
Pigeon Island National Landmark—beach and historical activities
Castries Aerial Tram Tours—a great way to see the jungle from above!
Various boat charters and tours (for up-close wildlife)
Morne Coubaril—a historical plantation and adventure park
Tet Paul Trail—a short hiking trail for all ages
Treetop Adventures—ziplines for big kids and mini zip lines for toddlers
Aruba also has quite a few activities for children and parents to enjoy. The island is known for its wildlife preservation efforts and has several different farms and sanctuaries where children can see (and sometimes pet) various animals. Here are some of the best things to do with kids in Aruba:
Splash Park Aruba–a floating splash and water park
Aruba Butterfly Farm
Aruba Ostrich Farm
Atlantis Submarine Rides
Philip's Animal Garden–feed wildlife
Aruba Donkey Sanctuary
Arikok National Park
Semi-Submarine Tours–a submarine that doesn't submerge, so visitors can stay on deck during the tour
For kid-friendly activities, it depends on what your family is looking for. Aruba offers many wildlife and nature-themed activities in addition to the beach. However, St. Lucia has several options for an action-packed vacation, sailing above the treetops and splashing at the water park.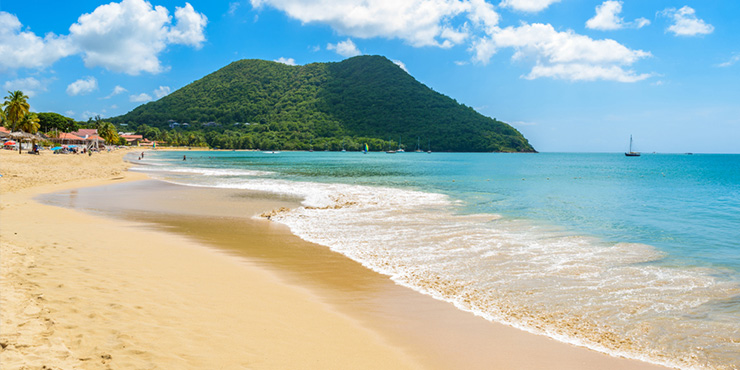 Kid-Friendly Beaches
Of course, we didn't include beaches on our activities list. It's an easy assumption that at least part of your time on the island will be spent by the ocean, either sunbathing or splashing in the water. It's essential to know which island has better kid-friendly beaches and water activities, especially if you have younger children.
Here are some of the most popular family-friendly beaches on St. Lucia, with shallow waters, no steep drop-offs, and good accessibility:
Sandy Beach
Pigeon Island National Landmark
Reduit Beach (water park and ocean obstacle course on this beach)
Anse Chastanet Beach (black sands)
Sugar Beach
Here is a list of the best family-friendly beaches in Aruba that don't get too choppy and windy during the day:
Baby Beach
Surfside Beach (has the floating splash park)
Mangel Halto (great for snorkeling with older kids)
Arashi Beach
Eagle Beach
Aruba is famous for its soft, sandy beaches that stretch for miles. Almost any of them are great for kids, starting shallow and slowly dipping down into the ocean. When it comes to the quality of beaches, it is difficult to beat the famed sands of Aruba. However, St. Lucia's beaches might not be as crowded on a summer day!
Free Attractions
If you are trying to do either of these islands on a budget, you must find some free activities for your children. Unfortunately, most of the kid-friendly attractions we listed earlier aren't free (although some are very inexpensive).
Of course, the beaches are almost all free to park and swim at. Unless it's a national park, historical point, or privately owned beach, you will be able to swim in the ocean at no cost to yourselves. Water activities, such as renting scuba gear or paddleboards, are not too expensive.
Here are some of the free activities in St. Lucia:
Rodney Bay—a free Marina and shopping center
Castries Market—full of local craftsmanship and food
Jalousie Beach—free beach with coves and options for water activities
Errand Falls—hike to a waterfall
Rudy John Beach Park—beach with playground and activities
Here are some of the best free things to do with kids in Aruba:
Balashi gold smelter ruins–historical ruins
Oranjestad trolley–free rides around the city!
Mount Hooiberg–the volcanic remains in the middle of the island
California Sand Dunes–great for hiking, climbing, and running down!
City shopping centers and local parks
While there are great free things to do on both islands, the majority of the adventures do cost some money. Unless you want to hike, visit the museums or historical sites, or hang out at the beach, you'll probably have to spend some cash on both islands. 
Time of Year
When you visit a place is almost as important as where you are going. We've discussed the weather and the dangers of hurricane season in the Caribbean, which lasts from June to November. However, even without the risk of a hurricane, you don't want to go on an island vacation during the rainy season.
For both islands, the best time to visit, according to the weather, is late March to early June. The sun is almost always out and the weather is perfect. It's directly before the rainy season, so you won't experience much rain or wind at all. The oceans will be mostly smooth and crystal clear.
Aruba gets less rain than St. Lucia does, because of its dry climate. It's further south and rarely has more than a few inches of rain a year. However, Aruba does get very hot near the end of summer and can be extremely windy.
The best season to go to Aruba and St. Lucia usually falls around spring break in the northern hemisphere. It is convenient for families with kids in school, but it does mean that both islands will be crowded. However, they are crowded throughout "season" (December through June), so never expect an empty beach! 
Cruise Lines
You might be considering a cruise vacation, which could save you money in the long run (depending on the cruise line). Cruises come with meals, transportation, and lodging, and with the right deals can be cheaper than finding all of that on-island. 
Many cruises travel to several destinations on the same trip. If you can't decide between St. Lucia and Aruba, this might be perfect for you. If you want to spend any amount of time on the island, however, a cruise might not be the best option.
These cruise lines visit St. Lucia:
Holland America
Carnival
Celebrity Cruises
Disney Cruises
Princess Cruises
Norwegian
Royal Caribbean
Here are a few of the cruise options for Aruba:
Norwegian
Princess
Carnival
Celebrity Cruises
Costa Cruise Line
Windstar
Holland America
Cruise ships are great options for kids who need to stay busy. Often, they include kids' arcades, water slides, pools, and shows. The entire trip can be fun on a cruise, not just the island. However, taking a cruise vacation isn't flexible on dates and can be difficult to pay for completely. 
Food and Culture
Of course, both of these islands have delicious restaurants specializing in seafood and the tastes of the Caribbean. If you are looking for a wide variety of tastes and availability (or chicken nuggets for a screaming three-year-old), you will be able to find it on either island.
When it comes to culture and nightlife, however, the islands are very different. With kids, you probably won't experience a lot of the same nightlife that you might have before you brought your family. However, you can still experience the culture of the islands.
St. Lucia has several family-friendly cultural parks and events. The "Gros Island Jump Up" is the weekly street party. Every Friday night, locals and tourists gather to chat, dance, and eat delicious street food.
The island also has many historical sites available to tour. From Pigeon Island State Park to the Diamond Falls Botanical Gardens, you and your family will be able to enjoy nature while learning about the incredible history of the island.
Aruba is a more Americanized island because of all the tourism, but also has quite a few historical attractions. The history of the island is fascinating and you can tour the ruins of Bushiribana and Balashi, the island's gold mines. Most of Aruba's nightlife consists of casinos and bars that open after dark, which isn't great for kids.
Recap: St. Lucia vs. Aruba
In reality, it's nearly impossible to compare Aruba vs. St. Lucia. After going through each of these categories, you might have expected a clear answer on which island is better. However, they are so different that it becomes a matter of personal opinion instead of statistical fact.
St. Lucia is a gorgeous island with rainforests, mountains, coves, and beaches. It offers adventures like hiking, exploring, zip-lining, and scuba diving. The island is culturally and historically rich. However, St. Lucia's geography makes it harder to get around by car. It also has a heavier population of bugs and is closer to the hurricane belt.
Aruba, on the other hand, is easy to find your way around, mostly flat, and dry. This means no rainforests, but deserts, cacti, and animal sanctuaries. Aruba has some of the most beautiful beaches in the world but is more Westernized due to tourism. It will be difficult to find an authentic cultural experience in Aruba.
After reading this recap, you should travel to the island that appeals more to you. If you want to explore the wilderness, lie on the beach, and climb a volcano, St. Lucia is your new vacation spot. However, if you're more into creature comforts, sand and sun, and ease of travel, Aruba might be for you.
Which Island Should I Take My Kids To?
For families with young kids, we recommend Aruba. Unless you have extremely adventurous children (and are great at staying calm), you probably won't utilize the extra amenities and attractions available on St. Lucia. Aruba is a little more expensive but will be a perfect beach vacation with shallow blue waters and sunny skies.
If your kids are a little older and ready to have some adventures, St. Lucia would be a great spot to take your family. You can send the older kids to the zipline or the water park and take the young ones to the beach or the baby zip line. The whole family will love the air trolley above the rainforest, and you won't run out of things to do on your trip!
Final Thoughts
Aruba and St. Lucia are both beautiful islands with a lot to offer in the way of vacations. Choosing between Aruba vs. St. Lucia ultimately comes down to you: do you want a relaxing beach vacation with no worries, or an exciting adventurous trip (with a fair share of beach relaxing). Either island would make an amazing spring break trip for you and your family.
More about our TFVG Author
A seasoned traveller, Dad, and avid sports tourist, James foundered The Family Vacation Guide to share his expert vacation experiences- especially when it comes to being a travelling family man.
Featured in Travel articles such as Travel + Leisure, TripSavvy and SFGate, you know you're reading some of the best vacation tips online.