If you're looking for the perfect Jamaican family getaway, then the idyllic port town of Ocho Rios is the place to be for families of all shapes, sizes, and needs.
The jewel in the crown of Jamaica's pristine northern coastline, its sun-drenched beaches, spectacular tropical gardens, and, yes, huge, all-action water park means that this Jamaican gem has something for everyone. Moreover, with a wealth of luxurious, all-inclusive resorts in Ocho Rios and the surrounding area, there's scarcely a better place to recharge and make memories.
…that said, if you'd like to learn more about what Jamaica or the wider Caribbean can offer your family, why not peruse our guides to the best Jamaican all-inclusive family resorts, to visiting the Caribbean with kids or to the best Montego Bay all-inclusive family resorts?
For now, though, if Ocho Rios, Jamaica is the apple of your eye, then here are 12 of the Best All-Inclusive Family Resorts to look out for in and around the port town.
The Moon Palace Jamaica may sound like an oasis of lunar tranquillity but don't be fooled; this 4-star all-inclusive resort is slap bang in the middle of Main Street, Ocho Rios, and is abuzz with fun, food, and frenetic energy.
Boasting a mammoth 700 luxury, airconditioned apartments, many complete with 24-hour room service and luscious views of the turquoise ocean, you could be forgiven for never stepping outside of your door. However, do so, and the rewards are endless.
Moon Palace's four world-leading restaurants serve some of the finest cuisines Jamaica has to offer, and there are four serene swimming pools to match. Combined with the host of water-based activities and a teen-dedicated lounge available to keep the kids busy, it's high time you paid a visit to the Moon Palace Jamaica.
Have little ones? Never fear – at the Moon Palace, an indoor playroom will keep them entertained while you take advantage of the resort's fitness center or bars.
Despite being one of the more affordable resorts in Ocho Rios, White Sands At Sandcastles is the perfect destination for families looking for that extra dose of home comfort. Similarly, while it mightn't boast the extravagance that some of our other Ocho Rios all-inclusive family resorts do, this mid-range marvel's biggest draw is its proximity to the sightseeing trail.
A favorite of solo travelers, too, if you and your family plan to explore the world beyond your hotel bounds, White Sands provides a comfortable base from which to launch your Jamaican adventure.
On that theme, during your stay, we recommend taking advantage of the resort's bike rental service – a fantastic way to explore the port town's surrounding, scintillating vistas.
Throw in free wifi, car parking, and access to a bar and private beach, and this rough diamond might just add a sheen to your time in Ocho Rios.
Opened towards the end of 2019, this five-star, all-inclusive resort provides an untouched option for families looking to bask in the lap of luxury.
If you're after a room with a view, the Ocean Coral Spring has got you covered as you'll choose between spectacular views of the stunning Caribbean sea or the town's breathtaking mountain range.
Turning our attention to the resort itself and the beauty is more than skin deep. The Ocean Coral's modern apartment suites, expansive swimming pools, fitness center, and day spa provide a stunning backdrop to your Caribbean getaway.
Throw in a bowling alley, a host of high-class dining options, and even a resident babysitting service (led by certified nannies), and the Ocean Coral Spring's got the kids covered.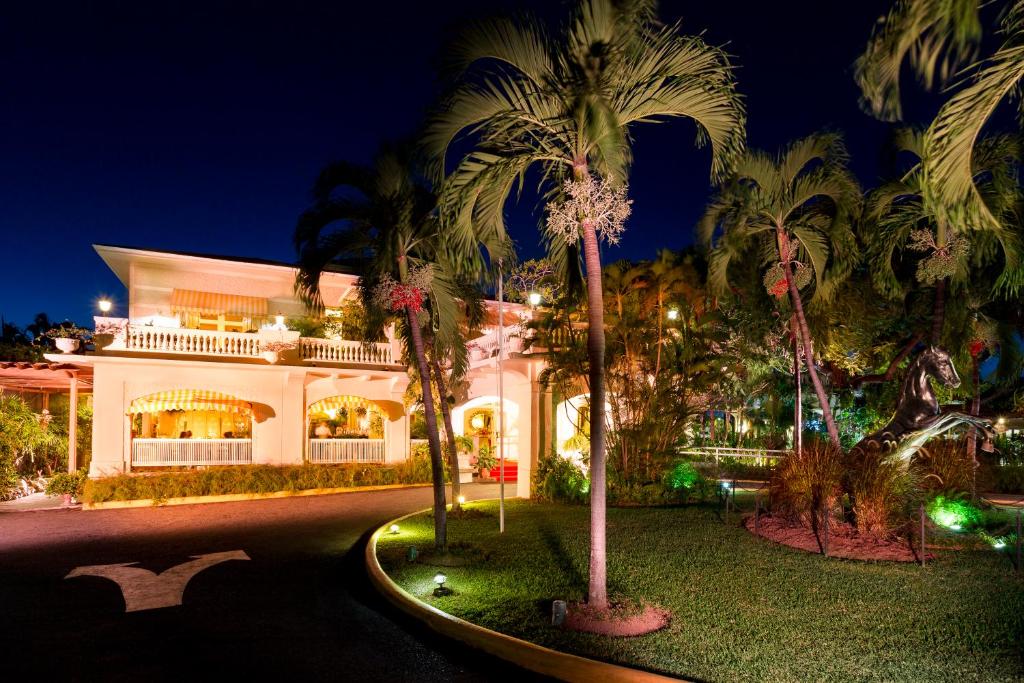 33 miles from Ocho Rios, on Jamaica's southeast coast, lies our next all-inclusive resort, the Terra Nova All Suite Hotel. Nestled in the heart of the island's buzzing capital, the Terra Nova is Kingston's only AAA Diamond-rated hotel.
An iconic destination for the well-to-do, the 4-star Terra Nova has everything an active family could want and more. In particular, highlights include an award-winning bar and restaurants, fantastic gym facilities, and even a nightclub for the older kids.
That said, while the Terra Nova might generate its own nightlife, it's an ideal destination for families seeking a quieter, more sophisticated retreat too. In particular, the neighboring Blue Mountains National Park offers a spectacular taste of Jamaica's natural beauty.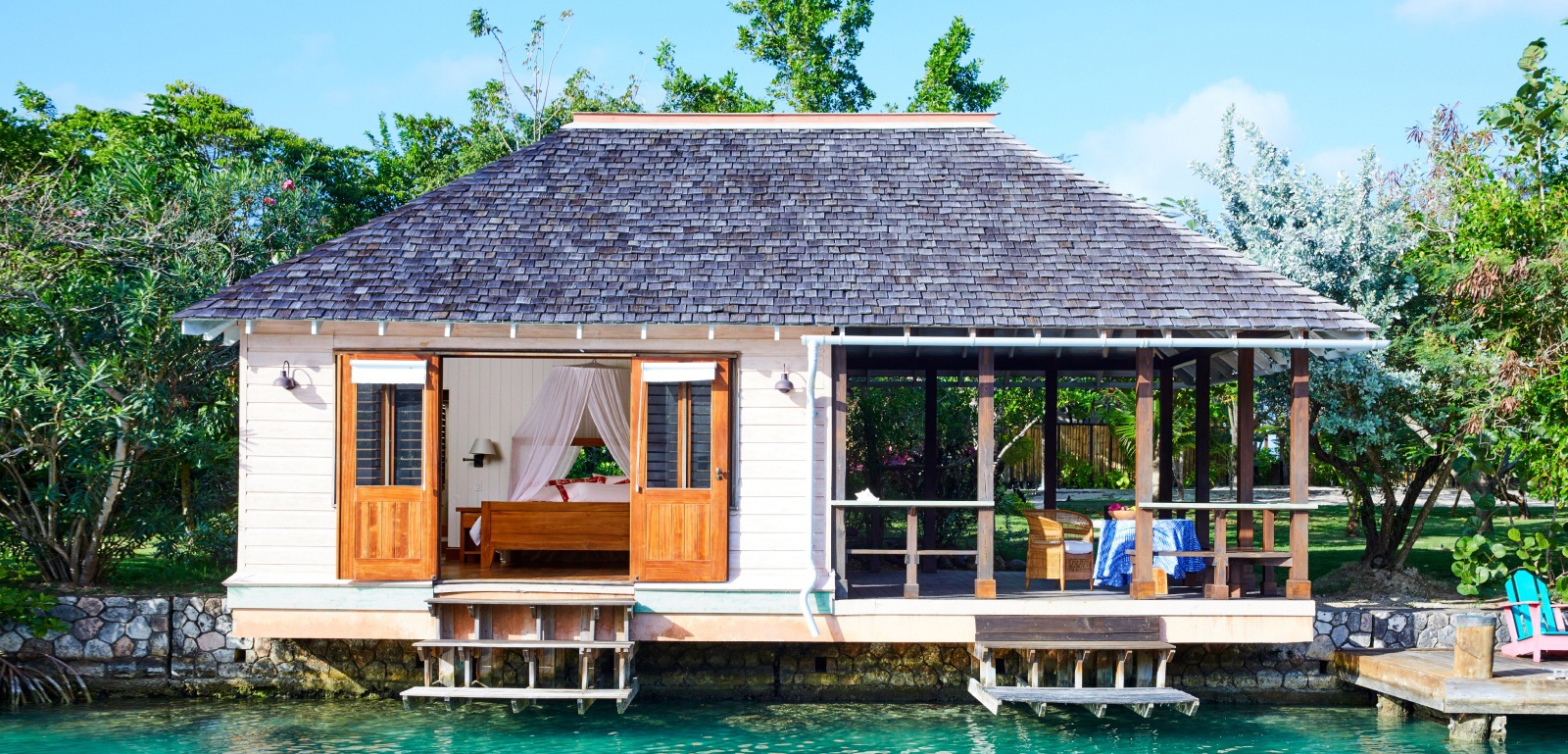 Just 10 miles outside of Ocho Rios is the Goldeneye.
Named for one of Ian Fleming's WWII missions, the sensational 52-acre Goldeneye resort boasts 49 beach huts, cottages, and villas (including Fleming Villa, a villa of the author's own design).
This expansive resort holds a multitude of jaw-dropping environments for you and your family to explore and enjoy, from serene private beaches to a gorgeous lagoon. In fact, one could be forgiven for thinking the resort might have been designed for your eyes only.
Dotted amidst the gorgeous setting, your 4.5-star accommodation will provide free wifi, breakfast, access to a pool, a host of kid-friendly activities, and even babysitting services. So, even weary parents have the chance to relax and soak up the sun.
Finally, rooms come complete all the home comforts and amenities you'd expect, including a flat-screen TV, refrigerator, and even an ocean view. Safe to say, then, that if you're looking to take the family away from it all, nobody does it better than Goldeneye.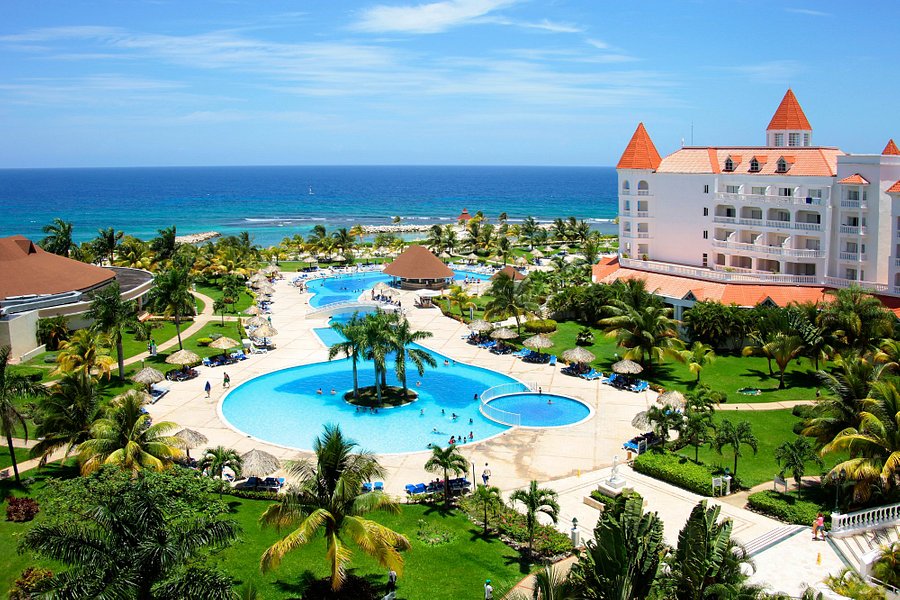 Within a short drive (16.6 miles) of Ocho Rios stands our sixth all-inclusive resort, the Bahia Principe Grand Jamaica. This 5-star, northeastern jewel provides access to safe beaches and superb ocean views right from its luxurious suites and family rooms.
However, if revelers are keen to take advantage of the all-inclusive features the Bahia has to offer, they can choose between a multitude of on-site activities, from an afternoon lazing on the resort's sun terrace or strolling through its beautiful gardens.
Meanwhile, on-site beach volleyball, tennis, and football facilities are sure to keep the kids entertained until you all decide to cool off in Bahia's water activity center or settle down for a meal in one of the resort's five delicious restaurants.
At just over 15 miles from Ocho Rios, the Franklyn D. Resort and Spa is a gorgeous 3-star, all-inclusive family resort based in Runaway Bay.
A particularly perfect spot for families with small children, the Franklyn D. offers a variety of clean, spacious bedroom suites combined with separate living and kitchenette areas, meaning you can choose the perfect accommodation to suit your needs.
Yet more impressive is the variety of water-based activities that Franklyn has to offer, across its four swimming pools, with kids, tweens, and teens all catered for in its daily program. That said, if you're feeling more adventurous, you can head out into Runaway Bay for organized snorkeling, paddle boarding, scuba diving, and glass-bottom boat rides for those keen to swap chlorine for saltwater.
Finally, four restaurants will keep you and the kids well-fed during your stay, and with complimentary breakfast available every morning, you're sure to start and end each day with full stomachs and wide smiles.
A lovely 40km drive from Ocho Rios is the Royalton Waters Montego Bay Resort. An elegant, 5-star escape for all the family, the Royalton Blue ticks all the boxes as the perfect all-inclusive resort.
To escape the heat of the day, residents can cool off in the resort's enormous outdoor pools and lazy river or take a dip in the resort's very own stretch of pristine Jamaican beach.
On dry land, the Royalton boasts a superb on-site spa designed to help parents relax while the children socialize and play in the resort's kids club and clubhouse or attend a show at the open-air theatre.
As for accommodation, each of the Royalton's 228 rooms comes complete with a rain shower, free wifi, balcony/terrace, en-suite jacuzzi, and much, much more. This all-inclusive resort is certainly geared towards the whole family.
A similarly spectacular 60km drive away from Ocho Rios is the Royalton White Sands Montego Bay Resort. This 4.5-star hotel is just a 35-minute journey, via car, from Montego airport, so you and your family needn't wait to start enjoying your holiday in paradise.
Gleaming white beaches greet residents every morning thanks to the spectacular ocean views offered by the Royal White Sand's rooms and suites. Speaking of which, the White Sand's rooms are the last word in luxury, with rain showers, mini-bars, a private balcony/terrace, and 24-hour concierge service included in all packages.
Step outside of your suite, and you can enjoy reservation-free dining and drinks and a whole host of superb activities just waiting to keep kids big and small relaxed and entertained, respectively.
So, whether you enjoy scuba diving, land sports, or settling down for a beach-side breakfast, the Royalton White Sands is a top pick for a perfect, all-inclusive family vacation.
Much like the beaches they border, Ocho Rios' all-inclusive family resorts are like gold dust and, situated on the paradisical port town's Main Street, the Jamaica Inn is no different.
With 52 beautiful suites scattered across eight pristine acres, each with access to a 700ft private beach, families who stay at Jamaica Inn can expect to enjoy their very own slice of 5-star Caribbean heaven. Plus, at Jamaica Inn, even the family pet can enjoy the view!
However, as the winner of the 2021 Traveller's Choice Best of the Best Award, the Jamaica Inn has more than just its elysian location to offer. The turquoise ocean is a prime spot for avid snorkelers, but lounging by the pool is just as easy, thanks to the Inn's beautiful private swimming pool.
As for those who seek a more active Jamaican break, taking the kids to the court for a game of tennis or out on a horseback ride can provide the perfect aperitif to an evening meal at one of the Inn's luxury restaurants.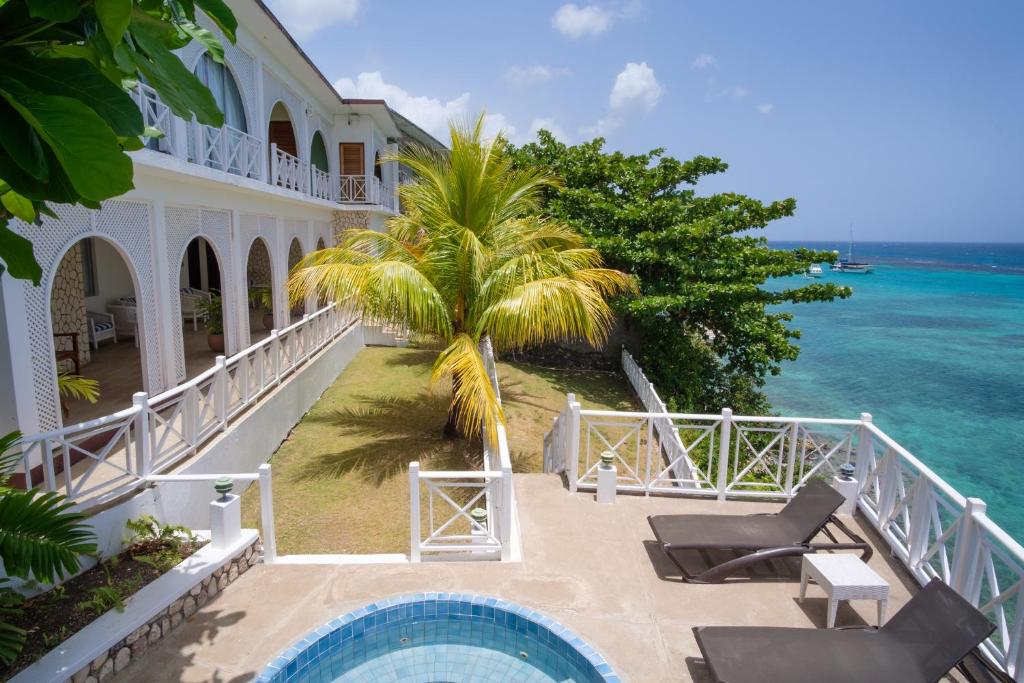 Another of our fantastic Ocho Rios, all-inclusive family resorts is the Hibiscus Lodge Hotel. Located on the port town's buzzing Main Street, the Hibiscus is a 3-star hidden gem ready to surprise holidaymakers with its range of high-class accommodation, service, and facilities.
Sold as a "home away from home," the Hibiscus Lodge is designed to make your family's stay as comfortable as possible, and, as such, it has amassed a loyal base of returning clientele. With a variety of ocean-view rooms and suites to choose from (each with its own sun terrace, free wifi, and modern bathroom facilities), there's little more a busy family could ask for.
From swimming pools to access to the ocean for water sports, the Hibiscus provides a fantastic range of activities for kids and families to enjoy… once they've taken advantage of the complimentary, daily breakfast, of course.
Finally, for those who like to venture inland, popular local landmarks, such as the Konoko Falls, are just a short walk away from this intimate resort.
Just 9.3km from the center of Ocho Rios is the Chisanns Beach Resort. A collection of all-inclusive, beachfront apartments, the Chrisanns is another resort that provides that rarified feeling of blissful isolation.
Private pools and beaches add to the feeling of family escape while 24 hours, on-site security ensures that you can truly let your worries go during your stay. Additionally, each apartment is a privately owned property and comes with a fully furnished kitchen. With that in mind, while the resort's official rating clocks in at a modest 2-stars, customer reviews reveal its ability to provide a 4-star family break.
Yes, the Chrisanns Beach resort is, perhaps, the most basic of the best all-inclusive resorts we've selected for our list. However, its ability to provide the independent escapism that many of us covet is what secures its place on our list of the best all-inclusive resorts in Jamaica.
In Summary
To conclude our exploration of the best all-inclusive beach resorts in and around Ocho Rios, ultimately, the decision comes down to your taste, need, and budget.
For those seeking that extra level of luxury, the Ocean Coral Spring is a fantastic place from which to launch a family-friendly, Jamaican adventure. Meanwhile, those who seek a little familial solitude will revel in the bespoke beauty of the Goldeneye.
However, whatever you choose, rest assured that each destination we've listed will provide a fantastic Jamaican getaway for families of all ages and activity levels.
More about our TFVG Author
A seasoned traveller, Dad, and avid sports tourist, James foundered The Family Vacation Guide to share his expert vacation experiences- especially when it comes to being a travelling family man.
Featured in Travel articles such as Travel + Leisure, TripSavvy and SFGate, you know you're reading some of the best vacation tips online.