Though there are countless all-inclusive resorts across the world, choosing a location that suits the needs of every member of the family may be more challenging than you expect.
Perhaps you have already encountered this dilemma as you explore options to keep your kids and teenagers entertained. If your youngsters prefer more vacation activities than a simple beach chair and a boogie board, these all-inclusive options below provide so many options and activities that your kids will adore.
With the calm, clear waters of the Caribbean and the incredible perks of an all-inclusive stay, it is a great option for families with kids young and old.
Parents can always be confident that their children are safe in the tranquil waters. Kids can look forward to new events that are supervised, popular, and fun.
Top All-Inclusive Resorts for Teenagers in the Caribbean
These 10 all-inclusive resorts in the Caribbean make the best options for teens because of the varied experiences they provide. Your social butterflies will find new friends at the teen hangout spots and your daredevils will rave about the water sports, local excursions, and guided lessons in cooking, dance, and equestrian centers.
Of course, all of these resorts provide incredible beaches and pools for your kids to enjoy, but with so many passions and interests, they will find endless other ways to have fun at these resorts as well.
Keep reading to find out which resort will provide your kids with the memories, new hobbies, and cultural experiences that will last a lifetime.
Coconut Bay Beach Resort & Spa – St. Lucia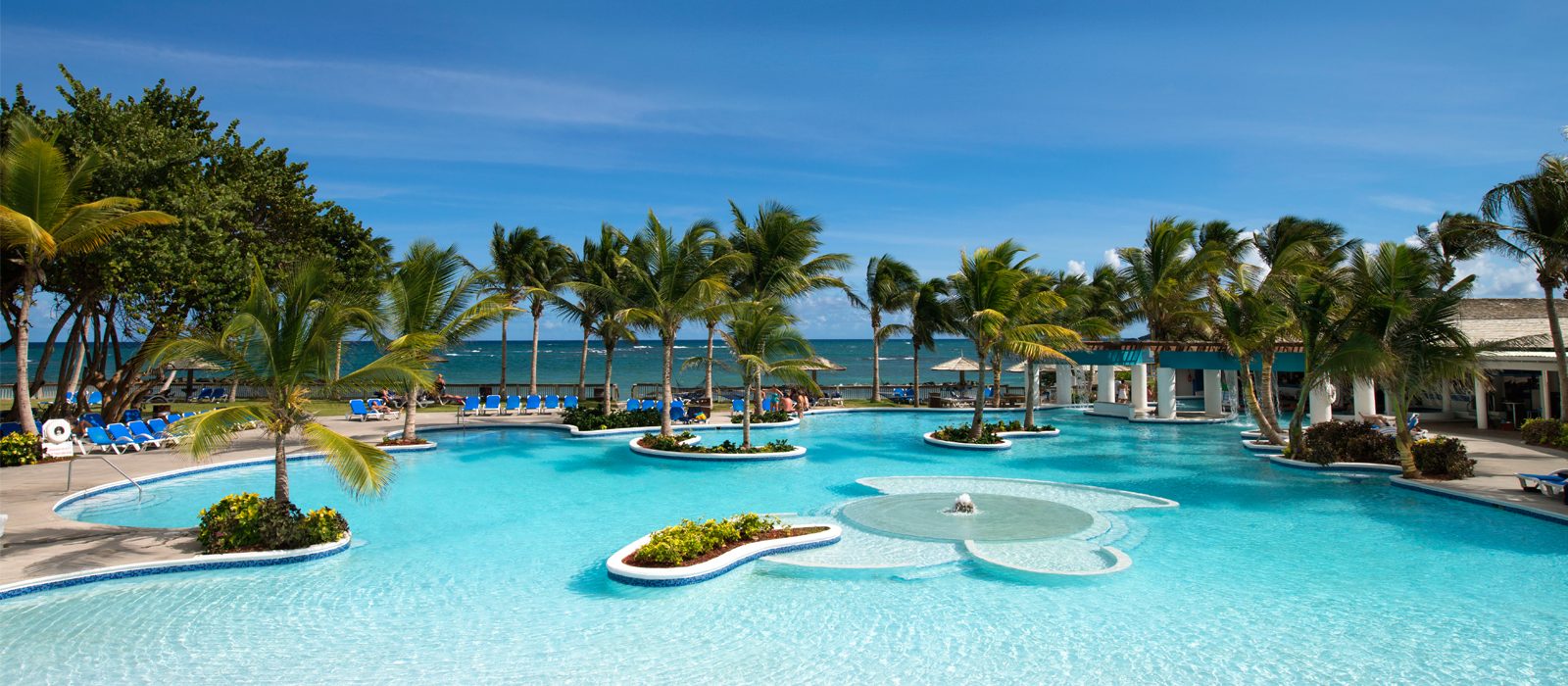 The award-winning Coconut Bay Beach Resort & Spa in St. Lucia makes it easy for families to create their perfect getaway, one exciting day at a time. Every guest receives the same all-inclusive benefits to allow constant programs for endless family fun.
With a total of seven incredible water attractions, no views or pastimes will ever get old while you're here. The family can lay back along the mile-long beach or visit one of the five main pools across the resort. Of course, the kids will likely choose to tackle the many waterpark activities including a lazy river and two water slides.
During your stay, you can savor unlimited meals and sip on unlimited drinks at the 9 available restaurants and 7 bars. Here, you can try exotic cuisines or return to classic favorites. Either put on your best attire for a night at one of the a la carte options or stop by a buffet after the pool. Whatever you're craving, it's sure to be a delightful meal.
Coconut Bay's list of recreational activities has all of your vacation favorites plus many unique options that kids and teens won't be able to resist. From pool and beach volleyball to group tie-dye and dance lessons, there are many ways to make memories here. The most active family members will love to play paintball in the new facility or try kitesurfing on the waves.
Why not also check out our guide to the best family resorts in St. Lucia for more inspiration?
Barceló Bávaro Palace – Punta Cana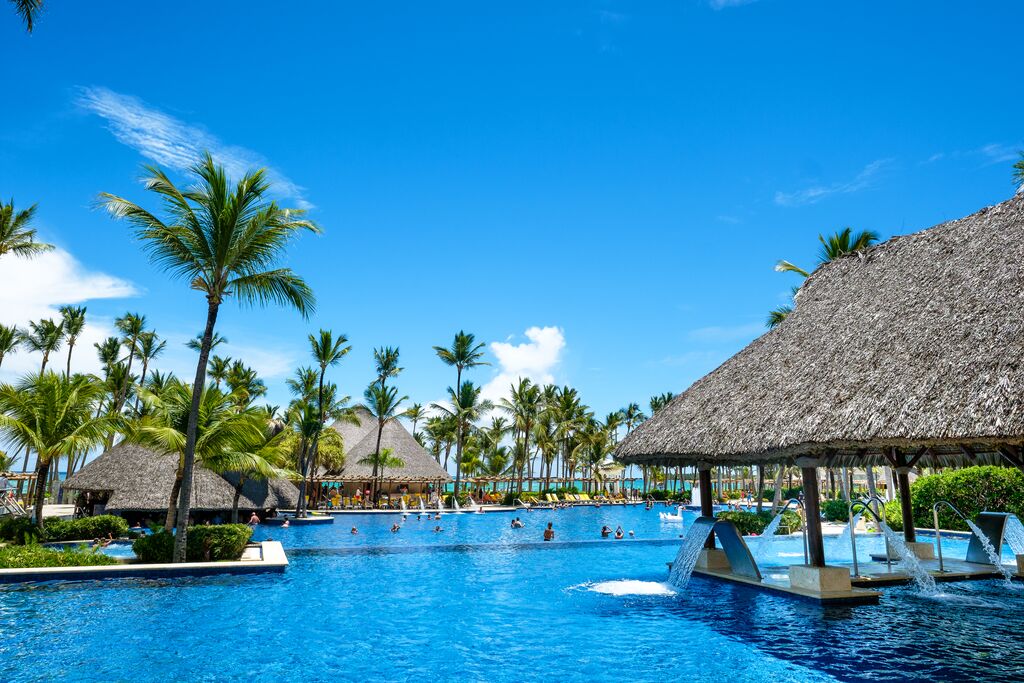 Located at the brink of one of the top 10 most beautiful beaches in the world, you can truly feel like royalty at the Barceló Bávaro Palace. This Punta Cana luxury hotel provides all the amenities you need, plus everything you never knew you needed! Beaches, fine dining, recreation, and fun are just the beginning of your family's adventure in this all-inclusive resort.
When you aren't soaking in the serenity of the beach, you dip your toe in one of the four available pools, including a semi-Olympic pool where you can perfect your strokes or practice water aerobics. Of course, the active kids will head straight for the water park which includes water slides, a wave pool, waterfalls, and castles.
You will never tire of the food at the Barceló Bávaro Palace with 11 restaurants included with your stay. From buffers to formal dinners, there are themes to match whatever cuisine you want to try next.
For the active teenagers in your family, you can take a swing on the 18-hole golf course, splash around in water polo, master your spike in beach volleyball, or take a plunge with scuba gear. In the evenings, kids can even mingle at the teen nightclub after a day of kayaking, windsurfing, or sailing.
Why not also check out our guide to the best all-inclusive resorts for families in Punta Cana and the best hotels for families with kids in Punta Cana for more inspiration?
Meliá Caribe Tropical – Punta Cana
For another sublime retreat in Punta Cana, consider the all-inclusive paradise of Meliá Caribe Tropical. Located on the Bávaro beach with tropical scenery and a soft Caribbean breeze, this resort offers everything the whole family needs to have their dream vacation.
Anytime you want to cool off and relax from the warm sun, you can choose from the many different leisurely locations. You can find shade along the sand, hop into one of the 9 pools, or visit the YHI spa for a relaxing massage.
Your all-inclusive vacation is a great opportunity to try dishes from exotic places. The 12 available restaurants at Meliá Caribe Tropical make it easy for you to always try something new. With international cuisines inspired by Spain, Italy, Japan, and Vietnam, just to name a few. There are casual buffet options as well as fine dining to suit every occasion.
Your kids and teenagers will love the recreational activities like the rock climbing wall, Mini Olympics, and other scheduled Kids Zone activities. If your children love to try new things, they can take a salsa class or take part in a mamajuana workshop. Of course, water sports, volleyball, cycling, and tennis will engage the whole family in relaxing fun.
Half Moon – Jamaica
You will feel like you have found a secret oasis at the Half Moon all-inclusive resort in Jamaica. With style and class marking every veranda and vista, you will come to savor the true meaning of luxury at this retreat.
The dining options at the Half Moon resort value heritage, freshness, and flavor. Here, you can try the most authentic Jamaican food, Italian cuisine, seafood, and more at the 3 main restaurants. You can also visit the many bars and cafes located throughout the resort.
This venue gives guests access to more than 2 miles of oceanfront space, a total of 3 private beaches. Take your pick between a white-sand beach, a swim-friendly beach, and an activity-centered beach. On top of that, there are three main pools, featuring a swim-up bar, a saltwater option, and an Olympic-sized pool.
Your kids will always stay entertained with a wide variety of watersports such as water-skiing, wakeboarding, scuba and snorkeling, kayaking, paddleboarding, and more. The advanced Equestrian Center also offers your whole family unforgettable activities like pony rides, beginner horse riding lessons, and even a horseback swimming adventure!
Why not also check out our guide to the best all-inclusive resorts in Jamaica for families for more inspiration?
Franklyn D. Resort & Spa – Jamaica
The family-centric mission of Franklyn D. Resort & Spa ensures that this vacation in Jamaica will be one that you will not soon forget, until you go back, of course. With all the luxuries you desire in the all-inclusive package, plus additional perks for kids and teens like nannies and teen areas, this location finds every way to eliminate all your stress for a fun-filled stay.
You can always count on a good meal with four main restaurants plus a kids' buffet. Parents can take advantage of the inclusive nanny while they enjoy dinner and drinks at The Pier, FDR's adults-only restaurant. The whole family can experience the colorful traditions of Jamaican dishes at the Overproof Restaurant.
In addition to the private kids' beach, you can kick back and relax under an umbrella or a palm tree along the 1 mile of white sand beach located next to the resort. Inside your resort, there are 4 pools where you can sunbathe or cool off. The 100-foot water slide called Big Blue will also provide exhilaration and fun with every turn.
The teenagers in your group will find a variety of activities to match their interests. For those that want to take it easy, there are video games, pool tables, and computers. For the active bunch, there are water sports, beach games, and nightly karaoke. All the younger guests can make new friends at the teen disco nights and other planned activities.
Beaches – Turks and Caicos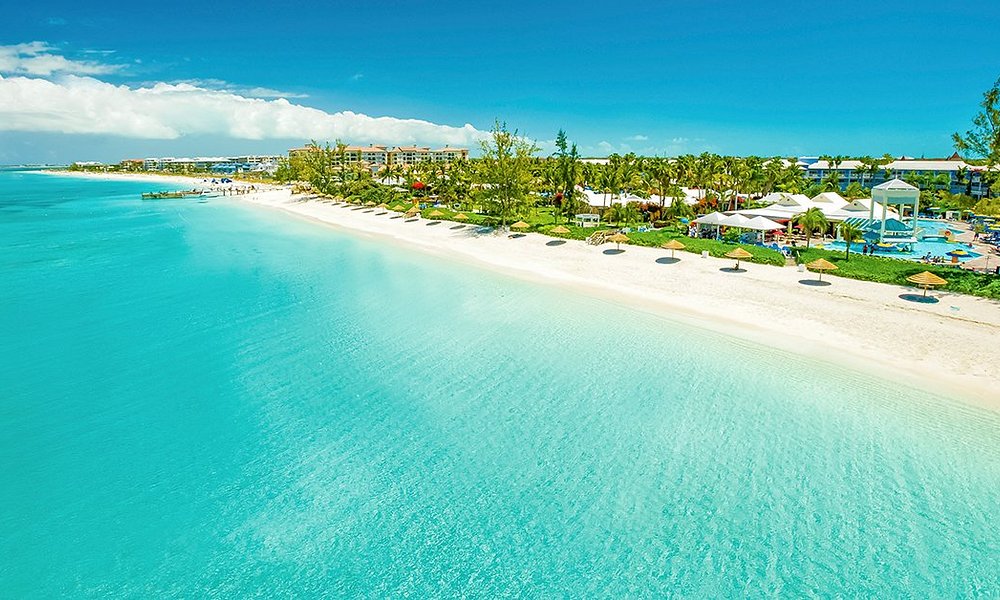 The multiple award-winning Beaches Turks and Caicos resort offers you the perfect all-inclusive vacation for parents, kids, and everyone in between. Families can even choose from four themed villages to create the ideal atmosphere.
In addition to the expansive beach, you and your family can choose from 10 freshwater pools around the resort. There are 4 whirlpools and a complete waterpark for all of your swimming adventures.
This resort gives a new meaning to all-inclusive with a shocking 21 restaurants and 15 bars. You can take a gourmet tour of the world with every meal, with options ranging from casual and swim-up bars to sophisticated and classy.
This resort offers almost as many attractions for younger family members as you can imagine. Your kids can try out new activities like water slides, food trucks, surf simulators, tubing, aqua trikes, and glass-bottom boats, just to name a few. Plus, teens have access to the teen club every night during their stay to make new friends and enjoy fruity drinks.
Why not also check out our guide to the best all-inclusive resorts in Turks and Caicos for more inspiration?
Spice Island Beach Resort – Grenada
Your stay at Spice Island Beach Resort can be the epitome of peace and serenity for guests of all ages. The all-inclusive package means that you will never need to make difficult decisions about your schedule or priorities. This haven makes every day simple with your needs put first.
You will have access to the beautiful Grand Anse Beach with clear blue water, lush greenery, and a calming Caribbean breeze. You can bike along the white sand and cool off in the waves in this resort.
The expertise and passion of your chefs at Oliver's restaurant will be seen in every dish. You can choose from many exotic and familiar options in this classy location. The more casual offerings can be found at the Sea And Surf bar which overlooks the beautiful Grenada coast.
The activities offered at Spice Island allow for a perfect blend of relaxation and fun with water sports, land sports, and spa spaces. Whether you and your children prefer to take to the sea in a kayak or dive beneath the surface with your scuba gear, you can do it all at this resort. Yoga enthusiasts and beginners will love the yoga retreat. You can take part in beach sessions led by certified instructors that open up your body and mind to greater serenity and calm.
Windjammer Landing Villa Beach Resort – St. Lucia
The prime location and service at Windjammer Landing create a unique and memorable atmosphere with once-in-a-lifetime experiences. The all-inclusive dining and abundant adventures to try create a welcoming and exciting family environment.
Located on the beautiful St. Lucia coast, this property overlooks the clear blue waters with palm trees and tropical flowers dotting the landscape. In addition to enjoying the delights of Labrelotte Bay, you will have all-inclusive access to 6 pools, jacuzzis, and spa services.
Guests may choose from 5 premium restaurant options with unlimited meals from these inventive menus. You can look forward to weekly Caribbean buffets, fancy nights at the steakhouse, and Italian dinners by the beach.
If you have adventurous children that want to learn water sports like wakeboarding or water-skiing, the trained professionals at Windjammer Landing will gladly give lessons to your teens. The whole family can be awestruck at the only drive-in volcano in the world or tour the historic pirate's Pigeon Island. Windjammer's Jammin' Tours also provides deep-sea fishing, gondola tours, and a rainforest zip line that your kids of all ages will be sure to love.
Hard Rock Hotel & Casino – Punta Cana
For the ultimate recreational haven, visit Hard Rock Hotel & Casino in Punta Cana. When you combine this ideal Caribbean location with the thrilling all-inclusive resources of the Hard Rock fame, you get the best vacation ever.
When you're not checking out one of the resort's many unique activities, you can enjoy the relaxation of oceanside living or poolside comfort. There is poolside service available, so you can always fill up on another tropical drink or dessert while you unwind.
Your all-inclusive stay will allow you to try exceptional dishes from 9 different restaurants across a variety of cuisines. There is 24/7 room service available, so you never need to worry about your cravings.
Your teenagers will never get bored with all of the daily activities at this resort. Indoor recreation like laser tag, arcades, bowling, escape rooms, or VR games all provide your children with cutting-edge technology to have an unforgettable vacation.
Your active family members can try out the wave simulator, water aerobics, or aquatic activities. Finally, no one will want to miss the exclusive Music Lab where you can perform as a band with the help of a personal Rock Specialist coach.
Dreams Las Mareas Resort – Costa Rica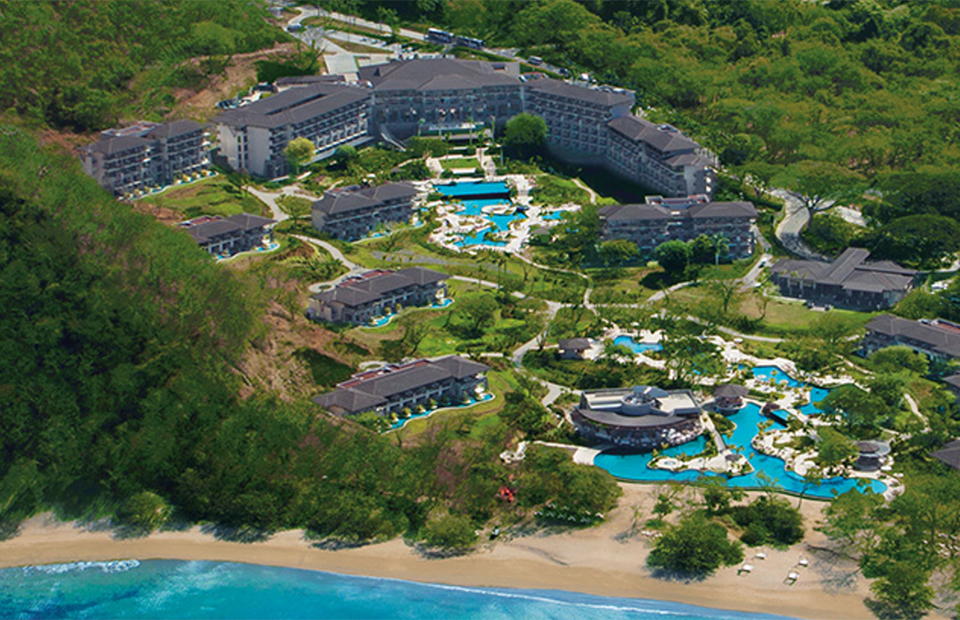 The idyllic location of Dreams Las Mareas Costa Rica invites you to spend the days exactly how you desire with the all-inclusive benefits offered here. With the backing of a Hyatt affiliation and many rewards to speak of, you can trust that this resort will help you and your children make the most of your stay.
Guests can enjoy the peaceful ocean hobbies at the local Playa El Jobo with snorkeling, scuba diving, and even fishing available off the coast. There are also 3 pools to choose from. Kids and teens will love the Upper pool's water slide and the complimentary poolside wait service.
You can indulge in the tastes of the local traditions with 5 a la carte restaurants. Casual diners can also enjoy the buffet, grill, and cafe within the resort. You never have to worry about limits with these delicious menus and handcrafted drinks since these services, plus the 8 total bars, are all part of the inclusive experience.
When your kids and teens decide to chase more adventures after lounging at the pool or beach, there are many safe and simple activities they can choose from. Between bike tours, water sports, horseback riding, beach parties, and cooking classes, there will be something to suit even the pickiest family members.
Why not also check out our guide to Costa Rica's best all-inclusive family resorts for more inspiration?
Are You Ready to Visit These All-Inclusive Caribbean Resorts for Teenagers?
We hope that these all-inclusive resorts have helped you envision the perfect vacation for the whole family. When the kids are inspired each day as well as the parents, you know that you have found the ideal vacation spot.
From water parks to arcades, teen clubs to dance classes, these resorts offer even more fun than any other ordinary trip. Come to one of these places and see what makes these extraordinary beaches and fantastic excursions so amazing.
With these all-inclusive options, your whole family can let go of all your worries and focus only on having fun, teens included!
A seasoned traveller, Dad, and avid sports tourist, James foundered The Family Vacation Guide to share his expert vacation experiences- especially when it comes to being a travelling family man.
Featured in Travel articles such as Travel + Leisure, TripSavvy and SFGate, you know you're reading some of the best vacation tips online.