The Dominican Republic resort town of Punta Cana is a favorite spot for family vacations—and a good reason. The Punta Cana International Airport ensures easy access, getting you quickly to the coastline of turquoise waters and white sand beaches.
Come to Punta Cana on a family getaway, and you'll be able to enjoy a wide variety of activities on land and sea. The only question? Where to stay. This guide has you covered.
Read on for some of the best all-inclusive resorts in Punta Cana for families.
Why not also check out our guide to the best all-inclusive resorts in the Dominican Republic for families?
17 of Punta Cana's Best Family-Friendly All-Inclusive Resorts
An all-inclusive resort is a smart choice for any family trip. With everything on-site, you won't have to worry about organizing food or activities. Plus, these resorts cater to all ages, providing entertainment for kids and adults. Here are our favorite all-inclusive for families in Punta Cana.
1. Nickelodeon Hotels & Resorts Punta Cana
Nickelodeon Hotels & Resorts Punta Cana offers something for everyone. The Gourmet Village offers yummy bites, and kids will love the Character Breakfast, where they can meet their favorite characters. Chatting with SpongeBob over cereal is an experience they won't forget.
There is also the themed qua Nick® water park, Club Nick hangout just for little ones, an immersive theater experience, and—of course—plenty of slime. Meanwhile, adults can relax on the golden Caribbean beach.
The expansive property is home to 208 suites and one pineapple villa. There are ten restaurants and three bars to choose from. In addition to the nearby ocean, you'll have four pools to swim in. Top it all off with impeccable service and five-star hospitality, and you're sure to enjoy your stay.
2. Club Med Punta Cana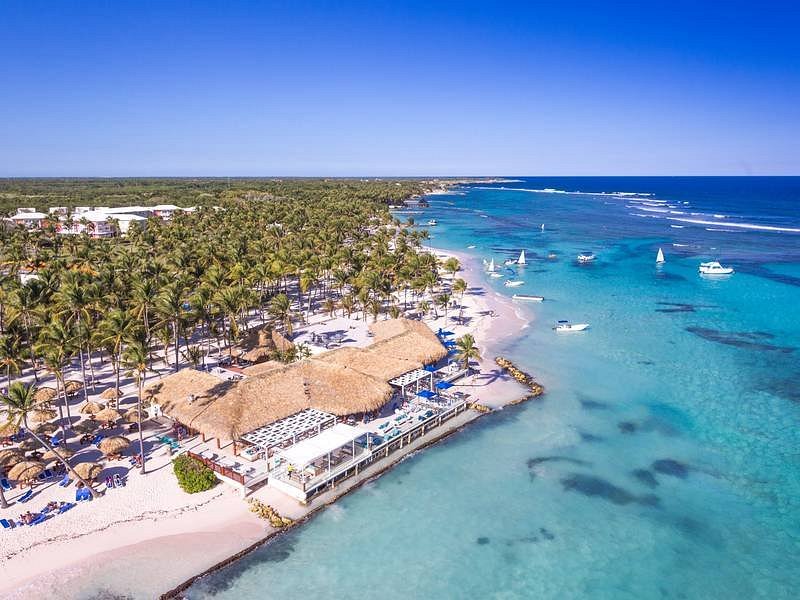 Club Med Punta Cana offers a tropical getaway that balances action-packed adventure with relaxing vibes. Kids will love the many pools and play areas, as well as the Circus School by Club Med, featuring world-famous acrobatic performances.
Meanwhile, parents will love the Zen Oasis. This adults-exclusive area is where you can go to unwind while the kids are playing. Of course, you'll also find a wide variety of restaurants to enjoy. Hispaniolo features local cuisine, while Samana offers international fare.
Club Med pays attention to every detail, and it shows. The pools feature in-pool lounge chairs, allowing for maximum relaxation, for example. The family-friendly spot also provides child care for kids starting at four months, allowing parents to unplug truly.
3. Radisson Blu Resort & Residence, Punta Cana 
Radisson is known for reliable comfort, and the Radisson Blu Resort & Residence Punta Cana doesn't disappoint. This massive property offers six restaurants, a piano lounge, and a lagoon-style pool. The Kids' Club keeps little ones entertained while parents relax in the spa.
You'll find plenty of activities on-site, including dance lessons, beach volleyball, cooking lessons, evening shows, and more. If you feel like leaving the property, the hotel is also conveniently located near Punta Cana's Coconut Coast, providing easy access to beaches and nightlife.
There are many fantastic attractions nearby. Check out the DowntownMall Punta Cana for shopping, or head to the Manati Park theme park for adrenaline thrills. The neighborhood fishing village of Cabeza de Toro is worth a visit. Finally, visit Dolphin Explorer to swim with dolphins.
4. Occidental Punta Cana (Previously Known as the Occidental Caribe)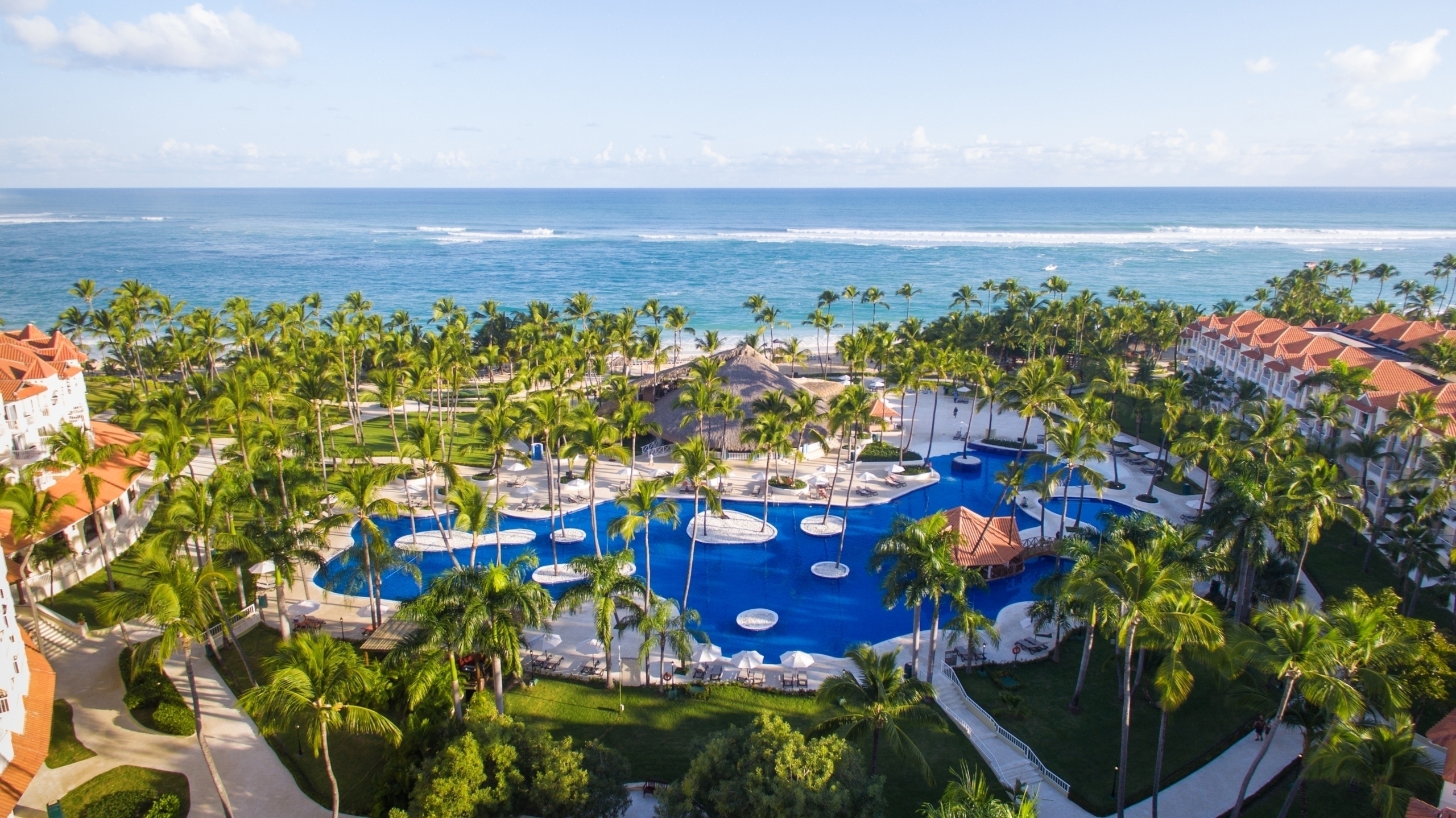 The Occidental Punta Cana is designed to help you recharge your batteries. Enjoy 11 restaurants with a diversity of cuisines and 10 bars on-site, along with VIP-style service. Two of the restaurants are buffet-style, while others offer fine dining.
The resort is located right by the water, with 300 meters of fine white sand beach. Water activities include water polo, windsurfing, and diving. At night, you'll have access to various activities, from live music to shows. The Mangu Nightclub is also on site.
To take care of their littlest gets, the resort also offers a mini-club. For kids aged 4 to 12, the club is open from 9:00 a.m. to 11:00 p.m. Parents can drop their children here and then head to the health and wellness facilities for some pampering. Massages and spa treatments are available.
5. Dreams Palm Beach Punta Cana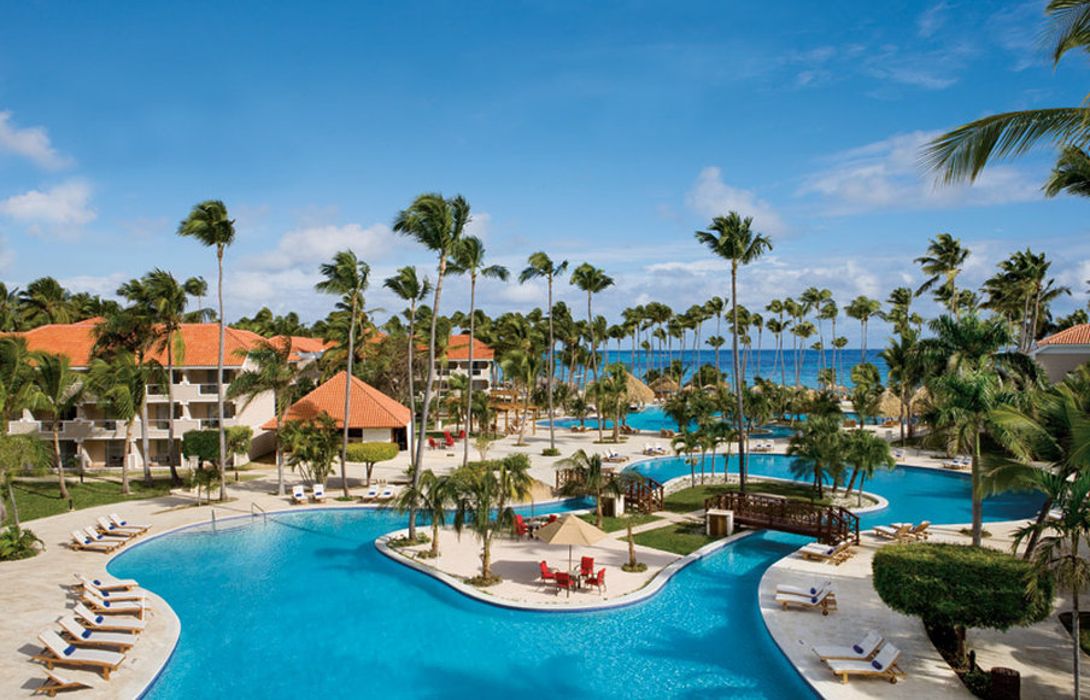 Set on the east coast of the Dominican Republic, Dreams Palm Beach Punta Cana is the ideal location for a sun-soaked getaway. The family-friendly resort features gorgeous beaches right by the water. You can go windsurfing, kayaking, snorkeling, and swimming right there.
There are also four pools, including one specifically for kids. Land activities include tennis, beach football, volleyball, bocce ball, and more. There are multiple kids clubs for young people of different ages, one for kids aged 3 to 12 and another for teens.
Meanwhile, mom and dad can relax at the spa or break a sweat at the fitness center. In the evening, the entire family can enjoy entertainment, including live musical performances, big-screen movies on the beach, and themed party nights.
6. Hard Rock Hotel & Casino Punta Cana
The Hard Rock Hotel & Casino Punta Cana upholds this hip hotel chain's brand, offering a rock-and-roll-worthy all-inclusive experience. When you arrive, you get your very own Rock Royalty® Personal Assistant who is on call to take care of you.
True to the theme, you can get unique equipment ordered to your room, like a Fender guitar or a record player to listen to vinyl. When it comes to food, you're in for a treat. Try Zen for Asian cuisine, Toro for steak, or Ciao for authentic Italian. These are just a few of the tasty options.
Adults can enjoy gaming at the casino, which features more than 500 games, from slots to video poker. Meanwhile, kids can stay entertained at the Hard Rock Roxity Kids Club™, where little ones can take part in activities like crafts, snorkeling, and pool parties.
7. The Reserve at Paradisus Palma Real
If you want a taste of heaven, head to The Reserve at Paradisus Palma Real. This resort makes the most of the Dominican Republic's natural beauty. You'll discover beautiful tropical gardens, fantastic beaches, and lovely pools. Swim-up suites are available.
That said, the dream-like surroundings still offer plenty of entertainment. Adults can enjoy yoga, tennis, beach volleyball, dance classes, and more. The Red Lounge has a resident DJ for the evenings. Golfers will enjoy complimentary green fees at the nearby country club.
What about the kids? There is a Kids Zone just for little ones. It features a unique splash pool and playground as well as a mini buffet to keep small stomachs satiated. Teens can enjoy activities like boogie boarding and windsurfing on the water.
8. Lopesan Costa Bavaro Resort, Spa & Casino
Lopesan Costa Bavaro Resort, Spa & Casino takes all-inclusive to the next level. Your dining options include two buffet-style restaurants plus different eateries for Mediterranean, Asian, Mexican, American, and Italian cuisine. There is also a steakhouse on site.
The resort area covers more than 100,000 square meters and features loads of green space, seven swimming pools, and a double-level infinity pool. There is also a kids' pool for the little ones. Adults can retreat to an adults-only area to unwind if desired.
When you're ready for some activity, there's plenty of options. The sports facilities offer bowling, golf, ping pong, and volleyball, among others. There is also a teenage sports program and an activity program for little kids. Water activities include kayaking to swimming.
9. BlueBay Grand Punta Cana Luxury Resort
BlueBay Grand Punta Cana Luxury Resort is a luxury all-inclusive located in Punta Cana's Cabeza de Toro district. It's set just 650 meters from Dolphin Explorer, where you can swim with dolphins. If you want to go further afield, check out the freshwater lagoons 15 kilometers away.
Of course, there's also plenty to see and do on the property. You'll have beachfront access and be able to rest and recharge in the lush gardens. The entertainment staff provides activities to wow you, including evening shows when the sun goes down.
There's also a kids club where parents can be sure their little ones are being cared for. For an additional charge, you can book a babysitting service. On-site dining includes restaurants, bars, and snack bars. Special dietary menus are available on request.
10. Grand Bavaro Princess All Suites Resort Spa & Casino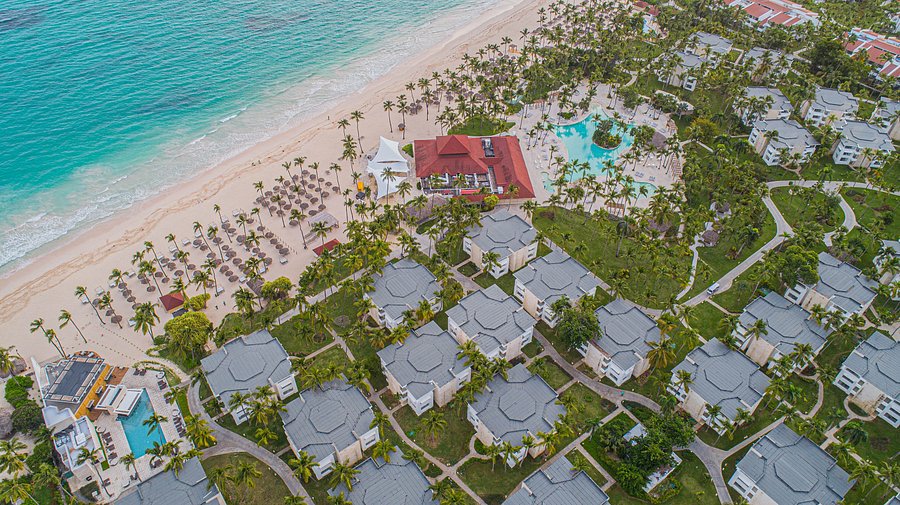 The Grand Bavaro Princess All Suites Resort Spa & Casino was recently refurbished, making this luxury resort even more appealing than before. The five-star property is directly on the famous Bavaro Beach, featuring stunning scenery with clear waters and white sand.
There are more than 1290 rooms available, including Family Club Suites, which are perfect if you're a big group. Despite its size, the resort is dedicated to respecting native animals and vegetation and takes an ecologically friendly approach.
Hungry? You won't be here. There are ten themed restaurants in total—plus a coffee shop, bars, snack bars, and even a food truck area. You'll also have access to a complete entertainment program, including volleyball, water sports, pilates, and more. For little ones, there is a Miniclub.
11. Royalton Bavaro Resort & Spa
The Royalton Bavaro Resort & Spa is such a beautiful spot that it's often booked for weddings—so that should give you an idea of the stunning scenery that awaits you! In addition to beautiful surroundings, you'll find world-class cuisine at restaurants with chef-curated menus.
The resort has two distinct sections, one featuring a family-friend experience and the other offering a more elite VIP service. You and your family will have access to multiple pools, a lazy river, and a wave machine.
Teenagers have their very own hangout club when they want to get away from parents and siblings alike. Adults can access the spa and fitness facilities, enjoying perks like massages, facials, and other luxe treatments. You're sure to leave feeling your best.
12. Iberostar Dominicana
Iberostar Domenica will make you feel like you're in paradise. It's situated right by the UNESCO-recognized Bávaro Beach. In addition to white sand and blue water, you'll find verdant tropical gardens. This accommodation caters, especially to families.
The Star Camp has a dedicated kids playground and splash pool. Meanwhile, adults can relax with the aliveness program, which includes access to the fitness facilities and spa area. When you stay here, you'll also have easy access to the nearby 18-hole golf course.
Finally, when your family is ready to eat, you'll have a wide variety of options. The resort has six restaurants, each with a different theme, as well as two buffets and seven bars. Even if your little ones are picky eaters, they're bound to find a cuisine they like with this selection.
13. Majestic Elegance Punta Cana
Majestic Elegance Punta Cana is another property set nearby the paradise-like Bavaro beach, providing a great mix of beautiful nature and VIP comfort. The five-star hotel features sports facilities, golf courses, a spa area, and great entertainment—including Caribbean rhythm shows.
Nearby, you'll find several natural parks. Check out the partially deserted islands of Catalina or Saona for a change of pace. If you're interested in a cultural excursion, the resort can help organize trips to Santo Domingo or Altos de Chavon in La Romana.
The 24-hour all-inclusive resort also offers endless dining options. Enjoy beachfront seafood at See and Sea, sushi at 9 Doors, Argentinian-style steak at El Asadito, or Italian at Il Bottaccio. After dinner, adults can check out the Cocos Disco for dancing and drinks.
14. Majestic Mirage Punta Cana
Majestic Mirage Punta Cana delivers luxurious service in a family-friendly package. Every suite gets its own 24/7 room service and butler service, providing easy access to top-tier food and drinks. You also have the option to book VIP rooms for an extra exceptional five-star experience.
The Family Club is open to all ages, while the Mirage Club is for those 18 and over. The entire family can enjoy entertainment with live music in the evenings, bringing everyone together. You'll find swimming pools, a beach, and sports facilities—plus a spa when you're ready to relax.
The vast range of restaurants includes Kabuki for Japanese cuisine, Don Jaume Steakhouse for Argentinian steaks, La Rinascita for Italian, and Marketplace for international cuisine. If you want a coffee, head to Cafe Espanol. Go to Draft Sports Bar to play billiards and drink beers.
15. Grand Palladium Punta Cana Resort & Spa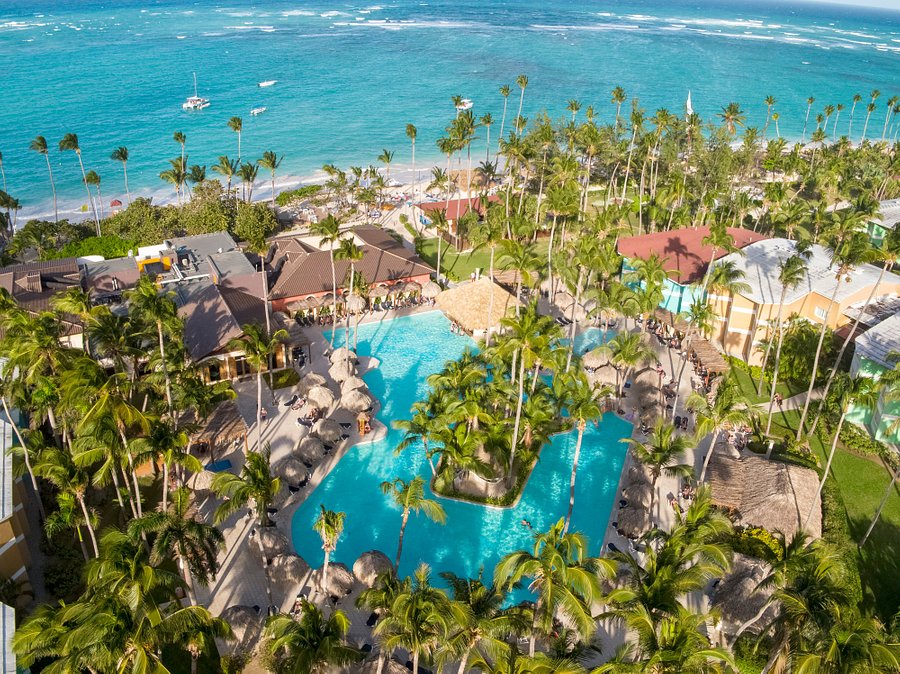 Grand Palladium Punta Cana Resort & Spa is centrally located in Punta Cana, directly by Bavaro Beach. You'll find yourself surrounded by gorgeous vegetation, aquamarine waters, and white beaches. If you prefer a freshwater swim, there are many pools to choose from.
Kid-friendly amenities include a mini club and a baby club. There is also a Junio Club for teenagers. For the adults, there's the Zentropa Spa and Wellness Center—the perfect spot for pampering.
If you're looking for entertainment, head to the nearby Sports Center, water park, or Merengue Theater. When you're ready for a bite, you'll have eight a la carte restaurants to choose from, plus five show-cooking restaurants and 25 bars.
16. Hotel Riu Palace Bavaro
Hotel Riu Palace Bavaro is set on the serene Arena Gorda beach. This exceptional hotel offers 600 rooms and 12 villas. Every room offers 24-hour room service, giving you easy access to food and drinks at any time. Every room has a balcony or terrace.
There is plenty to do here, with multiple swimming pools, a beach, and a spa. Kids can enjoy RiuLand Kids' Club, which offers an entertainment program to keep little ones amused. When you stay here, you also get free admission to Splash Water World.
You can try an authentic American breakfast in the morning and select from an array of cuisines at night, including Italian, Japanese, and Asian fusion. There are also cooking station shows to keep you entertained. Finally, there are six bars serving drinks and ice cream all day long.
17. Grand Sirenis Punta Cana Resort
After a period of renovation and refurbishment, Grand Sirenis Punta Cana Resort reopened its doors in late 2018. The resort is still lovely and new, offering an elegant design and top-quality amenities. Situated amidst coconut groves, it has two adult pools and two pools for kids.
The facilities offer opportunities for beach volleyball, windsurfing, kayaking, snorkeling, and diving. When you stay at this hotel, you also get access to the Sirenis Aquagames Water Park. It's an excellent opportunity to share some adrenaline-pumping fun with the family.
After a busy day at the water park, your crew is sure to be ravenous. The good news is that you have seven themed restaurants to choose from. Cuisines include tex-mex, Asian, and Italian, among others. There is also a disco and bar for adults to enjoy.
The Final Word on the Best All-Inclusive Resorts in Punta Cana for Families
When you're going on a family vacation, an all-inclusive resort makes things a lot easier. You'll have your food, activities, and entertainment all in one spot. Children and grownups alike will be taken care of, ensuring a stress-free vacation.
As this list makes clear, Punta Cana offers no shortage of family-friendly all-inclusive resorts. These properties offer the essential amenities you'd expect from an all-in accommodation, along with the beautiful Dominican Republic backdrop of blue water and white sand. Enjoy!
More about our TFVG Author
A seasoned traveller, Dad, and avid sports tourist, James foundered The Family Vacation Guide to share his expert vacation experiences- especially when it comes to being a travelling family man.
Featured in Travel articles such as Travel + Leisure, TripSavvy and SFGate, you know you're reading some of the best vacation tips online.