Puerto Rico is a gorgeous Caribbean island that is relatively easy to get to coming from the United States, mainly because you don't need a passport! Beyond its ease and accessibility, you'll get access to the bright, inviting, golden sandy beaches that the island is well known for.
Perhaps due to its popularity, many fabulous beach resorts in Puerto Rico have helped hundreds of visitors have the most memorable vacations. However, some people may find it challenging to choose which beach resort they want to stay in because the only similarity across the board is that they are on or close to the beach!
Other than that, there are many differences between Puerto Rican Beach Resorts in terms of style or resort, style of beach, costs, activities, surrounding areas, etc.
Scroll through our list of the 15 best beach resorts in Puerto Rico to help make your decision about where you'll stay on your next vacation!
Why not also check out our guide to the best all-inclusive family resorts in Puerto Rico?
Isla Verde Area
Isla Verde is a popular, bustling area near the airport that many travelers resort to not only due to proximity and convenience but also due to the turquoise water, golden sand, and tall palm trees. This is certainly one of the best parts of Puerto Rico to book a vacation to!
1. Fairmont El San Juan Hotel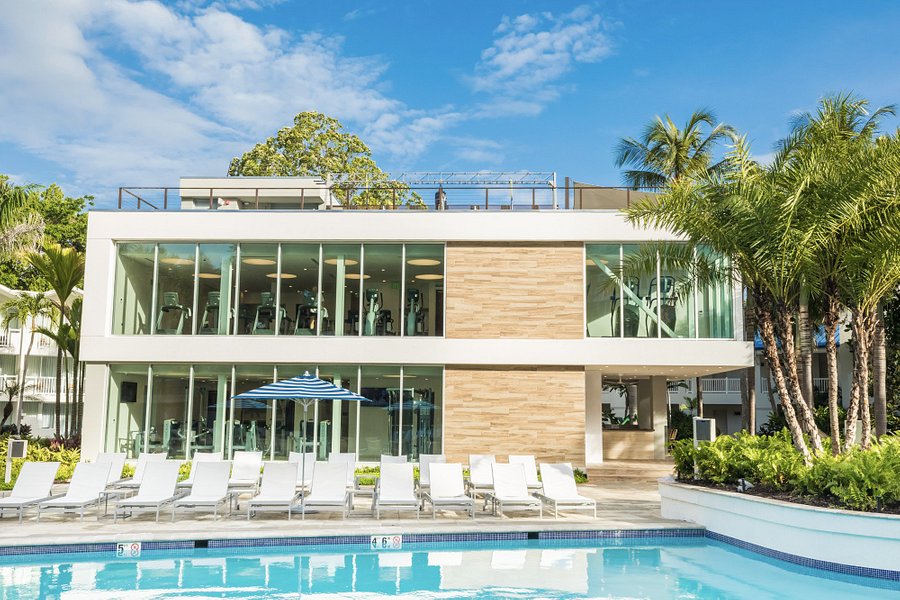 The Fairmont El San Juan Hotel is directly located on Isla Verde Beach and is great for vacationers looking for a convenient, safe, and ultra-fun stay.
There are nine outstanding restaurants to choose from at this beach resort, as well as a full-service spa and a fitness center that's three stories high.
And although it's convenient and close to their airport, it's still a relatively quiet and serene option for people who simply want to relax on their days off.
2. San Juan Water Beach Club Hotel
The San Juan Water Beach Club Hotel is also right on Isla Verde beach and displays a modern, tropical design.
There are chairs and umbrellas reserved explicitly for guests, so you don't have to worry about not getting a relaxing spot on the beach.
If you'd like a different view, you can go to their rooftop area for a drink and some nice 360-scenery.
3. Courtyard by Marriott Isla Verde Beach Resort
If you're looking for a supremely attractive beach area lined with palm trees, check out the Courtyard by Marriott Isla Verde Beach Resort.
This highly-rated, four-star hotel gives you prime spots to relax on a beach, even in a lovely hammock.
The Courtyard also has gorgeous, renovated rooms with minifridges to keep your drinks chilled and microwaves to heat your leftovers. And with five incredible restaurants to choose from, you might very well have plenty of leftovers from wanting to try all the foods this resort has to offer.
4. Royal Sonesta San Juan Puerto Rico Resort
The Royal Sonesta San Juan Puerto Rico Resort is an artistic, renovated, high-quality resort where you can get a room with either a pool, ocean, or city view—so there's something for everybody.
There's also something for everybody when it comes to dining, as there are four different restaurant options and four different bar options to choose from. Plus, there's a fitness center and spa offering a variety of deluxe treatments.
This is also a great resort if you love to dance! It's known to play excellent dancing music and salsa tunes by the poolside. There's even a designated dancing area for anyone who really wants to boogie!
San Juan Area
The San Juan area is the small section north of Candido and the capital of Puerto Rico. People like to stay here if they want to enjoy the beaches but also are interested in learning about the history, as the area hosts the Old San Juan neighborhood.
5. Caribe Hilton
The Caribe Hilton is close to Old San Juan and offers many of the amenities that you would expect from a Hilton-brand beach resort, including private beach access, six different dining options and bars, a large outdoor pool, and a glorious spa.
On top of the amenities, you may get lucky and have a whirlpool tub in your suite.
All of this would be great enough, but this beach it sits on is fantastic for snorkeling. You can take a 15-minute walk and snorkel right from the beach. This is a very fun activity to do, especially with a family or a friend group!
Speaking of families, they love to come to the Caribe Hilton because this resort has a designated children's club as well, offering an opportunity for the children to have a blast while the parents have their private time.
Dorado Area
Dorada is a town on the northern coast of Puerto Rico and is known for its exceptionally luxurious hotels and premium golf courses.
6. Dorado Beach, A Ritz Carlton Reserve
The Dorado Beach: A Ritz Carlton Reserve resort is the crown jewel of the Dorado area, spanning 1400 acres and offering not only private beach access but the luxurious five-star service one expects from a Ritz Carlton hotel.
Every amenity is of the highest standard, including a large fitness center, elegant rooms, multiple exquisite dining options, Spa Botánico, and two sizable swimming pools. You'll even immediately receive a butler upon check-in.
Additionally, as is the theme in the area, the Ritz has options when it comes to golfing as well. If you love to golf while on vacation, then you'll love the three golf courses that this resort provides access to.
Finally, your kids will have a wonderful time at this resort because in addition to the standard pools, the resort also has a water park! Once they want to dry off, they can head to the on-site kids club for more fun and entertainment.
If you are coming with a family or a large group, you may consider booking the 8,000 square foot villa called Su Casa Villa for five full bedrooms and optimal space.
Condado Area
Condado is a tourist-friendly, pedestrian-friendly area that some say is the "Miami Beach" of Puerto Rico with its chic, hip, and youthful ambiance. Many hotels in this area will offer gorgeous ocean views, relaxing spas and hot tubs, and sprawling swimming pools.
7. Condado Ocean Club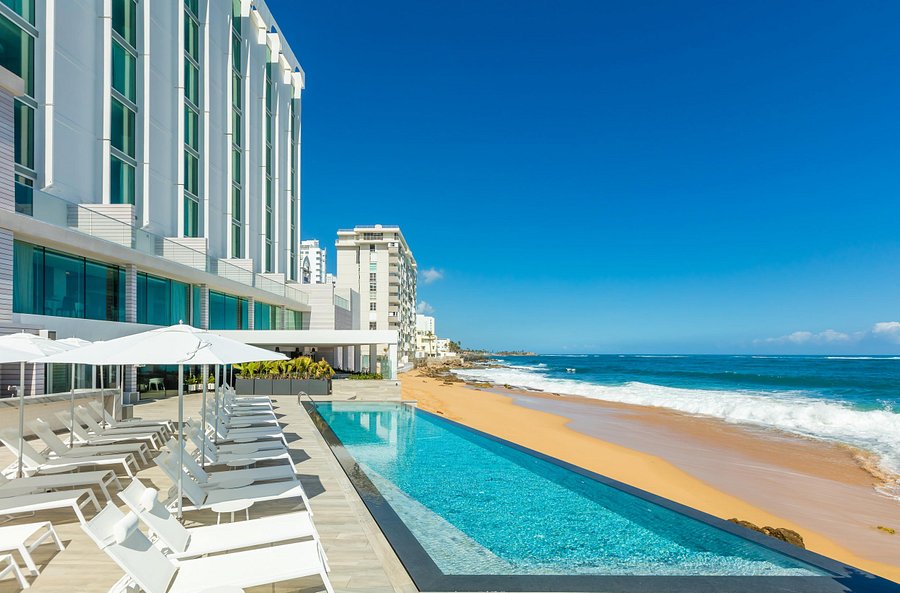 Condado Ocean Club is a trendy hotel with a large infinity pool directly on the beach.
Its design is as hip and modern as the surrounding locale, with floor-to-ceiling windows and inviting decor.
It doesn't have as many dining options as some of the resorts on this list. Still, there is a delicious Mediterranean restaurant that faces the sea, which is certainly enough for many vacationers, especially if they plan on exploring the town as well.
This hotel is for adults only, so if you have a family with young kids, then this is not an option for you. Otherwise, we highly recommend checking out this vibrant, boutique hotel.
If you love the sound of this resort and feel like it's a place you might want to come back to over and over again, you should consider becoming a Condado Ocean Club member for perks and discounts.
8. Condado Vanderbilt Hotel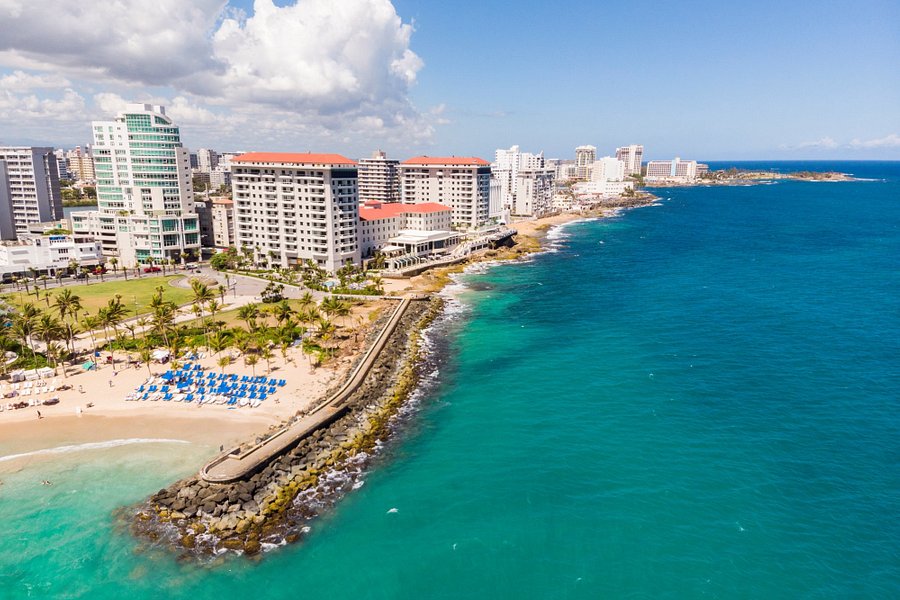 The Condado Vanderbilt Hotel is for vacationers who want it all—and then some.
This five-star hotel offers 24-hour butler service, high-end amenities, a sea-facing bistro, four gorgeous pools, and a luxurious spa. In other words, it provides everything you need for a fabulous retreat.
If that wasn't enough, they tend to provide a complimentary glass of champagne upon arrival to set your vacation off right.
9. La Concha Renaissance San Juan Resort
If you're not as excited about the standard hotel look, you may be more excited about this retro-styled resort—La Concha Renaissance San Juan Resort.
This resort appeals to many people, but especially the young-hearted, social, hip, and well-dressed crowd. This is perhaps due to the floor-to-ceiling windows and bright, fun decor that set an exciting and energizing tone.
If you really care about how your bathroom looks and its amenities, this might be a good hotel for you as well. The bathrooms have immersive rain showers and luxury toiletries, so you don't have to worry about bringing extra bathroom baggage with you.
The dining options at La Concha are as hip and up-to-date with new tastes like everything else, serving dishes such as sushi and tapas.
This resort also offers three amazing outdoor swimming pools, one of which is adult-only.
Finally, this hotel is pet-friendly, so you can bring your furry friend along if you wish!
Rio Grande Area
Rio Grande is known for its pristine beaches, high-end golf courses, and beautiful scenery. It's also known for the El Yunque National Park, a gorgeous tropical rainforest with various birds, unique trees, waterfalls, and hiking trails. It's a perfect area for anyone planning a more adventurous vacation.
10. St. Regis Bahia Beach Resort 
The St. Regis Bahia Beach Resort is where you'll want to stay if you are ready to spend a pretty penny to get everything your heart desires.
For starters, you'll have relatively close access to both El Yunque National Park and Espíritu Santo River State Preserve so that you can get the best of both worlds—beach and rainforests.
Additionally, you'll get a five-star, luxury experience including butler service, a calming view no matter which room you book (of either the oceans or the serene gardens), multiple swimming pools, and access to two private bird sanctuaries.
On top of all of that, this resort also offers a gym, but it's not your typical hotel fitness center. This gym provides rejuvenating and restoring classes such as yoga, pilates, and even meditation sessions.
Finally, your lightly colored room will be connected to the other buildings with boardwalks surrounded by trees and gardens, so you will be in for an immersive, natural experience no matter where you walk.
11. Wyndham Grand Rio Mar Golf & Beach Resort
The Wyndham Grand Rio Mar Golf & Beach Resort is also near the El Yunque National Park. It is not a five-star hotel like St. Regis, but you'll get a lot of bang for your buck if you decide to stay at this location.
You will not need to leave the resort to eat if you'd prefer not to, with an outstanding ten different restaurants on-site.
Additionally, there are two swimming pools, golf courses, a driving range, and a casino, so it's challenging to run out of things to do at this Wyndham hotel.
This is one of the best beach resorts in Puerto Rico for families because the suites are large, and most have either beach views or a balcony.
Finally, if you are a tennis lover, you will fall in love with this resort. There are 13 tennis courts available, which makes it the Caribbean's most prominent tennis center!
Isabela Area
Isabela is on the northwest coast of Puerto Rico and is known as the Garden of the Northwest. There, you'll get fishing beaches, beautiful flora and fauna, and great views of the Atlantic Ocean. These resorts are all perfect spots for relaxing and enjoying nature.
12. Royal Luxury Golf Course and Resort
The Royal Luxury Resort is secluded and private, with only 20 rooms. The rooms are actually considered "casitas," or little houses, so they're more spacious than your standard hotel room.
People come to the Royal Luxury Resort for romantic, calming, and natural vibes. There's an on-site organic farm that the resort uses for its restaurant meals, as well as a swimming pool that's filled with saltwater.
Finally, as its name implies, this resort houses an exceptional, royal-worthy 18-hole golf course, so you can play golf all vacation long if you'd like!
If you're looking for a luxurious, exclusive beachfront stay, this could be an excellent option for you.
Isla Vieques Area
Isla Vieques is a Spanish-influenced Virgin Island near Puerto Rico's mainland, roughly seven miles from the east coast. Here, you can find undeveloped beach coves and lounge in a true tropical paradise.
13. Hacienda Tamarindo
If you're looking for views, views, and more views, you've landed in the right place!
While many of the resorts on this list are located directly on the beach, some vacationers prefer to look down onto the beach instead, and Hacienda Tamarindo gives you that opportunity.
This resort is located on a hilltop and presents guests with excellent views of the ocean as well as a field filled with beautiful roaming horses!
But don't worry—although you won't be right on the beach, you'll still have plenty of access to not just one but several beaches within walking distance.
And for families are bigger groups, instead of getting multiple rooms, you can request a suite or a detached private villa.
If you're looking for a genuinely relaxing vacation, go ahead and order a private massage.
14. Malecon House
The Malecon House offers a luxurious and exclusive atmosphere at a more reasonable price than some of the five-star resorts on this list.
Part of the reason it feels luxurious is due to its exclusivity, with just 13 rooms available, four in which have balconies.
Additionally, relaxing gardens surround the poolside, and the staff is so warm and friendly that you'll be excited to leave a great review.
However, even with high-quality amenities, you'll still get a laid-back, vacation-loving vibe overall.
And best of all, Malecon House offers a convenient, complimentary breakfast to help guests start each day off with a smile.
Cana Gorda Beach Area
Cana Gorda is at the southwest corner of Puerto Rico and is more remote and quiet compared to the other areas featured on this list. It's great for vacationers looking to relax and enjoy themselves in one place.
That said, if you decide to stay here and wish to explore beyond this area, you will have a better time if you rent a vehicle for your trip.
15. Copamarina Beach Resort & Spa
Staying at the Copamarina Beach Resort and Spa will grant you easy access to a white sand beach that you can enjoy all vacation long.
You'll also have easy access to popular excursions here, such as a trip to the Guanica Dry Forest, a 9,878-acre nature reserve where you can spot a wide variety of birds and other wildlife.
There are plenty of fun, engaging activities to partake in, such as snorkeling, paddleboarding, and kayaking. However, if you simply want to take it easy, you can get a nice cocktail and enjoy the sunset.
Finally, if you do indeed want to relax and don't care to explore outside of the resort, you'll be happy to hear that all-inclusive packages are available for your stay.
Conclusion
Puerto Rico is truly a wonderful place to visit for vacation, especially if you like to golf, relax on beautiful beaches, visit rejuvenating spas, and explore tropical rainforests.
And now, you have plenty of accommodation options. Just book one of these best beach resorts in Puerto Rico, and you'll be in for a wonderful time!
More about our TFVG Author
A seasoned traveller, Dad, and avid sports tourist, James foundered The Family Vacation Guide to share his expert vacation experiences- especially when it comes to being a travelling family man.
Featured in Travel articles such as Travel + Leisure, TripSavvy and SFGate, you know you're reading some of the best vacation tips online.