Barbados is one of the most gorgeous, colorful, and pristine islands in the Caribbean. The island's culture is mixed with American and West Indian influences, but its diverse cuisine sets it apart from other Caribbean destinations.
In addition to being a key vacation spot for Americans, Barbados has become a popular destination for families with children who are looking for that perfect family getaway.
Lovers of watersports and sunbathing should visit the island's numerous beaches, which have been ranked as some of the best in the Caribbean. Barbados' main beach, Half Moon Bay Beach, is a good choice for families, with its calm waters and a large stretch of sand.
For more active vacationers, consider riding horseback and hanging out at Lighthouse Beach, which overlooks St. Lawrence Gap Bay and provides beautiful views of the area's mountains and cliffs.
Check out more of our guides to the best Barbados all-inclusive family resorts, the best Caribbean resorts with villas for families, and barbados or bahamas which is better for Families with kids.
Best Beaches for a Vacation
Barbados is a beautiful island with many beaches to choose from. Some of the best beaches in Barbados for families are:
Smitons Bay
Located on the northwestern portion of the island, Smitons Bay is close to Half Moon Fort and is the perfect spot for a lazy day at the beach. There are many trees to provide shade while your family enjoys the warm waters of the ocean.
Inshore reefs make Smitons Bay an excellent place to try your hand at snorkeling. There are not many large-scale hotels in the area, making this beach quieter than other tourist spots. You may see a catamaran or fishing boat sail lazily by while sunbathing here.
The southern end of Smitons Bay is home to the famous Fish Pot restaurant where couples and families can enjoy fresh seafood.
Pros of Smitons Bay
The water is calm, and the reef makes it shallow, perfect for families.
The sand is soft and clean.
The beach provides a tranquil and less busy atmosphere.
There is some street parking available.
Cons of Smitons Bay
There are no beach amenities available.
You will have to bring all your necessities if you want to spend the day.
Alleynes Bay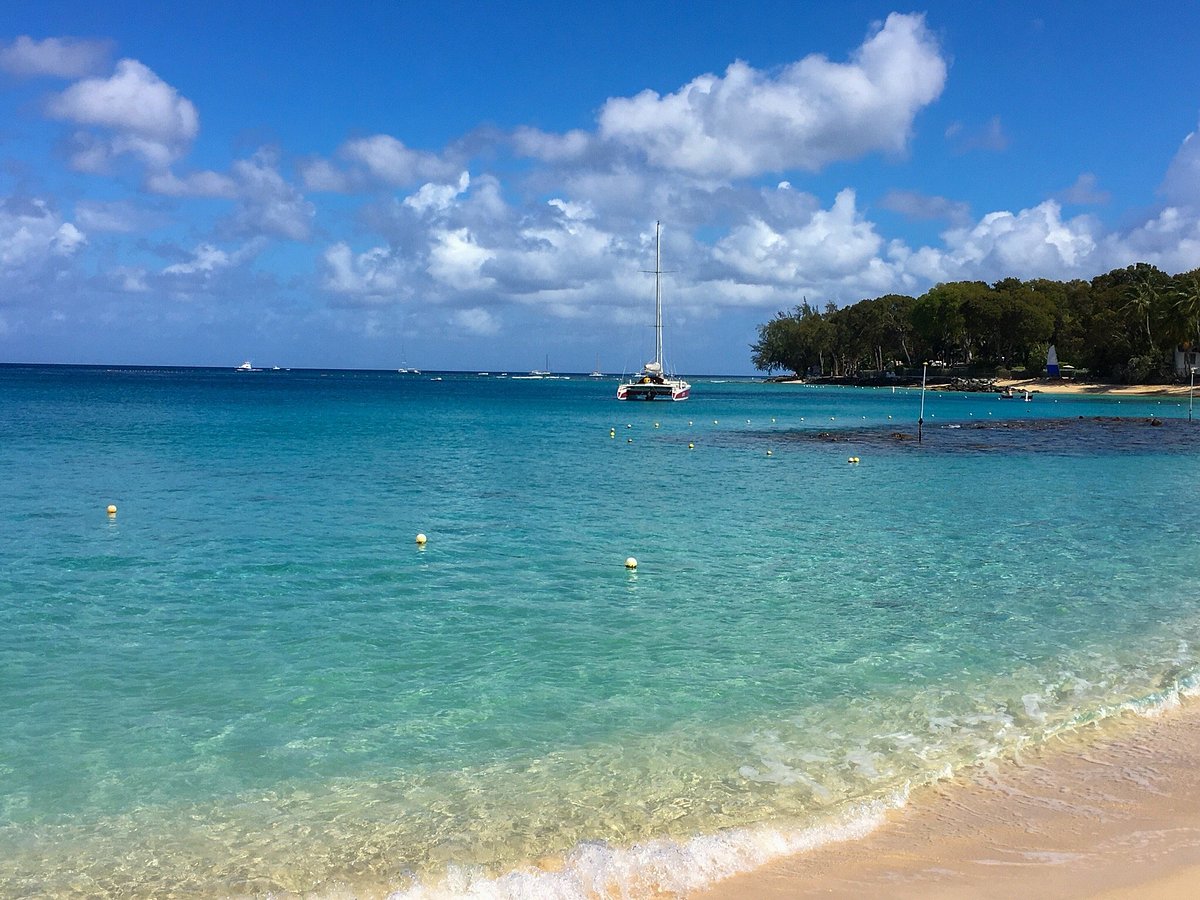 If you want the perfect beach to spend with your family that is not full of tourists, Alleynes Bay is the spot. This quiet beach on the west coast is a terrific place to sunbathe, swim, or snorkel with the family.
Pros of Alleynes Bay
It has ample early morning shade for cooler walks out of the sun
Amazing views of the surrounding area.
There is a walking path from the Colony Club or access from Highway 1.
The beach is excellent for swimming or snorkeling with calm waters and soft sand.
It has a lifeguard on duty.
There is a beach bar for grabbing a snack or drink.
A quieter beach than other busy, popular areas.
Cons of Alleynes Bay
There are no beach facilities.
You will need to pack a picnic and supplies if you plan on staying for a long time.
Some beach areas can be rocky.
Dover Beach
This beach sits on the south coast in the middle of the St. Lawrence Gap. It is a popular spot for many families due to its expansive beach area and minimal currents. The white powder sand is clean and perfect for young ones to play in while you enjoy the breathtaking views.
Visitors have access to watersports activities such as jet-skiing, boogie boarding, windsurfing, and even Hobie Cat Sailing.
On any given day at this beautiful beach, you may catch a cricket game across the road at the Dover Playing Field for additional entertainment.
Pros of Dover Beach
This beach has some of the best water sports activities available on the island.
Vendors present on-site sell snacks and souvenirs.
The sand is soft, clean, and easy to walk in.
The water is active but does not have strong currents.
There is a lifeguard on duty.
It is a popular spot for turtle watching.
There is free parking for visitors.
It includes a small boardwalk to take you to numerous amenities, including food, drinks, souvenirs, and a playground for the kids.
There are on-site toilets.
Cons of Dover Beach
The further you go out, the more prominent the waves can be, making swimming challenging for young children.
It can have seaweed build-up depending on the time of year and section of the beach.
It is not a large beach when compared to other spots in Barbados.
Bathsheba Beach
This beautiful beach is located in Bathsheba and is one of the most scenic beaches on the island. It has calm, blue waters and plenty of space for families to enjoy vacationing.
Bathsheba Beach is an excellent place to lay out or go swimming if you are looking for a quiet day at the beach.
The beach is also home to several activities for visitors, including horseback riding, watersports, and snorkeling.
Pros of Bathsheba Beach
It is close to Watersports Beach so that visitors can enjoy it before or after their excursions.
It has public toilets located on-site that are accessible to visitors.
The sand is easy to walk in, with soft sand and calm waters.
Visitors will find vendors selling snacks, beverages, and souvenirs on the beach.
Cons of Bathsheba Beach
The bathrooms are not always functional. This may be inconvenient for some people.
The beach is not covered in the shade, so many visitors will have to stand and sunbathe on the beach.
There are no changing rooms or showers available at this location, so visitors must bring their towels to change clothes.
Pebbles Beach
This beautiful beach sits within a UNESCO World Heritage Site on the south-western coast. Just south of Browne's Beach, you will find Pebbles Beach, a popular spot for locals and tourists alike. In addition, it is only a five-minute drive from Bridgetown, the capital city.
The waters here are calm enough to try paddleboarding or kayaking and are perfect for young children to play. You may even see sailboats throughout the day just to the north.
One unique feature of this beach is how close it is to Garrison Stables. Around 6:00 am, the grooms bring racehorses to the beach to bathe each morning.
Pros of Pebbles Beach
This beautiful beach has clear blue waters with a sandy bottom.
Visitors can enjoy swimming, snorkeling, and paddleboarding at this location.
The area has plenty of chairs and umbrella rentals available
There is a lifeguard on duty.
Beach facilities are on-site.
The vendors at Pebbles Beach sell snacks, drinks, and souvenirs.
Cons of Pebbles Beach
A popular beach on Sundays and can be extremely crowded on the weekends.
There are major hotels close by, which can take away from the scenic view.
Visitors need to be mindful of the turtle nests, hatchlings, and eggs to not disturb them.
Six Men's Bay
Six Men's Bay is a beautiful fishing village spot on the northwest coast of Barbados and has numerous things to offer families visiting the island. Surfing and scuba diving are popular pastimes at this beach. However, you can still just relax and enjoy this less busy beach than southern locations.
Watch the anglers bring in their daily catch or browse the local fish market for the freshest seafood in Barbados. There are no large hotels in the area, giving visitors a more authentic and local experience.
Pros of Six Men's Bay
This beautiful beach offers a more laid-back atmosphere for families.
There are public toilets, showers, and restrooms for visitors to use.
Scuba divers can enjoy a local tour of a shipwreck in the area.
Six Men's Bay is less commercialized than other Barbados beaches.
Cons of Six Men's Bay
The beach is fine for swimming as long as you stay close to shore.
Surfing spots can become crowded during certain times of the year.
Weston Beach
Weston Beach lies along the west coast of Barbados, which many often refer to as the Platinum Coast. Its clean, warm waters that gently touch the soft, white sands make this location one of the more popular places for families to explore while visiting the island.
Its calm waters and ample beach space with shade from palm trees make Weston Beach a terrific place to spend the day. In addition, those who want to engage in snorkeling to see tropical fish can do so on the southern side of Weston Beach within its inshore reefs.
Pros of Weston Beach
Visitors can enjoy swimming, snorkeling, and relaxing at this quieter location.
The area is not populated with large hotels, providing a less busy beach.
You can reach Weston Beach by public transportation on the main west coast bus route.
This beautiful beach has clear blue water with a sandy bottom.
It is an excellent spot for photography or posing for photos during sunrise or sunset.
Cons of Weston Beach
There is no lifeguard on duty.
There is limited parking.
You will not find beach amenities.
It is a short walk to reach any nearby food vendors or markets.
St. Lawrence Bay
This popular beach sits on the south coast of Barbados, and many also call it the Little Bay. It is at the beginning of the St. Lawrence Gap, with exceptionally low tides that are perfect for children to play in safely. Explore the treasures along the coastline by picking seashells with your family.
A reef that boards the St. Lawrence Bay is perfect for visitors to try snorkeling and explore rock formations, exotic plants, and numerous tropical fish. It is not uncommon to see turtles here, making it a breathtaking place to sightsee with your kids.
Pros of St. Lawrence Bay
Visitors can enjoy swimming, snorkeling, and other water sports at this location.
This beautiful beach has clear blue water with a sandy bottom.
Various restaurants line the beach, making it a great place to relax, for photography, or a romantic meal while in Barbados.
Cons of St. Lawrence Bay
There are no beach amenities on site.
The winds can pick up, which is excellent for watersports but not always ideal for relaxing on the beach.
Reeds Bay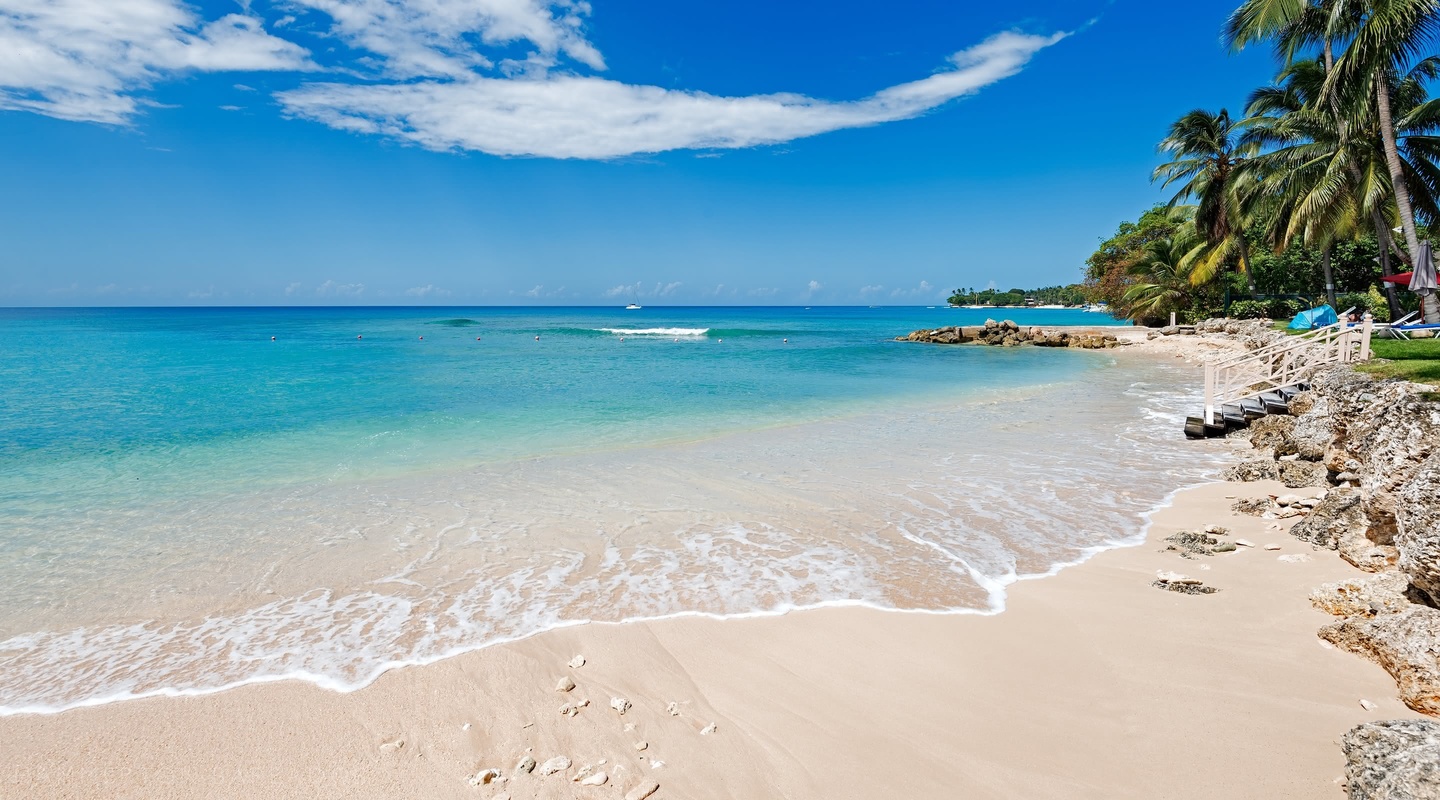 This beautiful beach sits on the west coast, north of Alleynes Bay. If you want a tranquil, postcard-perfect beach for a family picnic, Reeds Bay is the spot for you. This spot is a public beach but is not overrun with tourists and does not get as busy as other popular areas around Barbados.
Reeds Bay is a familiar spot for anglers to try and catch their dinner. In addition, catamarans will often stop here with tourists to snorkel and explore the area.
Pros of Reeds Bay
Visitors can enjoy swimming and snorkeling at this location.
It is easily accessible with public transportation on the main route.
Large trees line the shores at Reeds Bay, providing ample shade for visitors.
This beautiful beach has crystal clear turquoise-blue water with a soft sandy beach.
There are watersports opportunities in the area.
Cons of Reeds Bay
There is limited space for parking.
Swimmers have to be mindful of fishing boats, catamarans, and jetskis in the area.
There are no beach amenities available.
Browne's Beach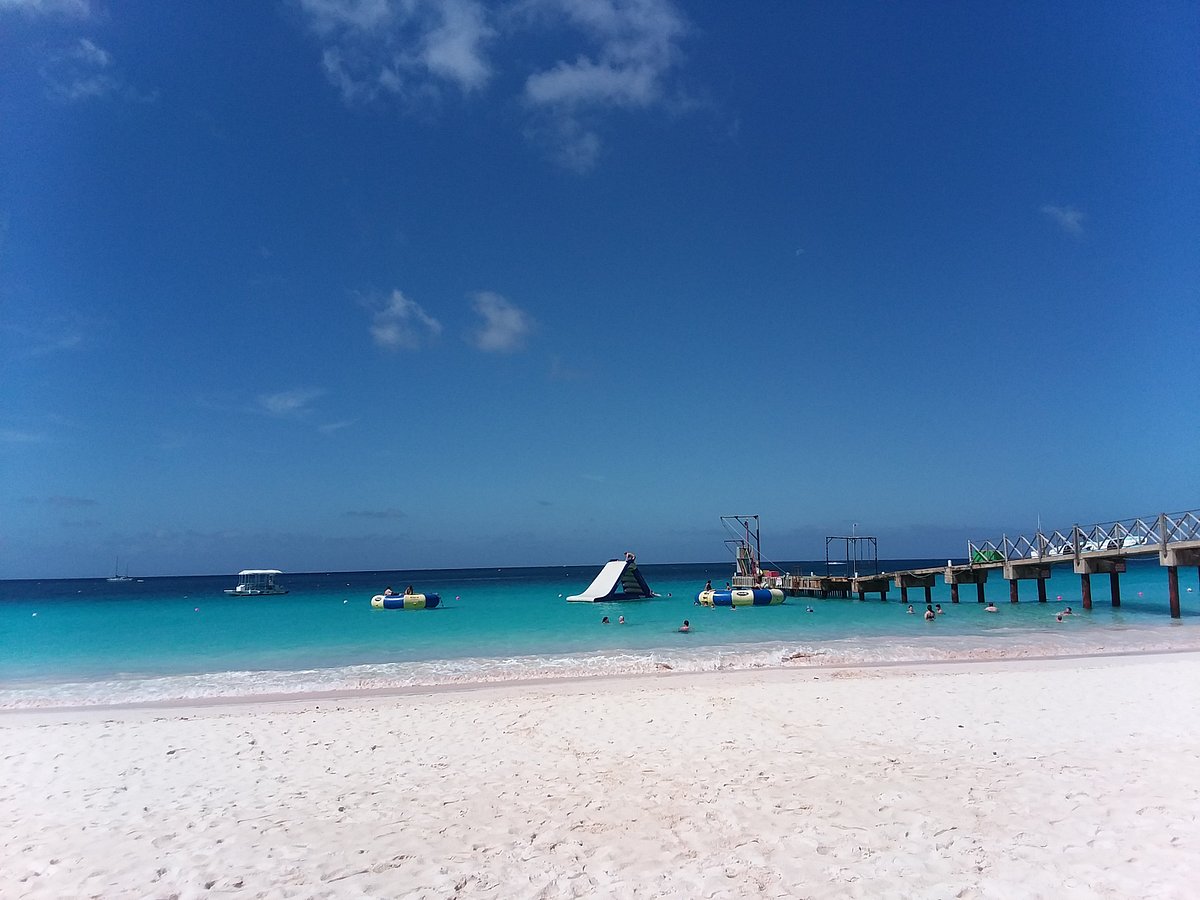 Browne's Beach is one of the most extensive beaches in Barbados, offering pristine clear waters and delicate creamy white sand. It sits north of Needham's, overlooking Carlisle Bay, where visitors can scuba dive and explore shipwrecks in the area.
The water is calm and warm, perfect for little ones to play on the beach. In addition, it is only a short walk from the city, making Browne's Beach a terrific place to relax and get away for a break.
Pros of Browne's Beach
Visitors can enjoy swimming, snorkeling, and turtle watching at this location.
The area has plenty of vendors to grab a bite to eat and drink.
Many beach clubs offer day passes to take advantage of chair and umbrella rentals.
There are beach amenities on site.
A lifeguard is on duty.
Cons of Browne's Beach
It can become crowded on the weekends or holidays.
Several beach clubs line the shore, making it bustling full of activity.
Common Features in the Beaches
Some of the standard features of the beaches in Barbados include clear blue water with sandy bottoms, beach vendors selling snacks, drinks, and souvenirs, plenty of shade and areas to the layout if you are tired of being in the sun.
What's more, there are beach showers and changing rooms for visitors who would like to change clothing, and public restrooms that are accessible to all visitors.
What To Know Before You Visit
It is a good idea for visitors to be aware of certain factors before they visit Barbados. These things include weather conditions, transportation options, safety, and other important information regarding activities.
The weather in Barbados is mild, with average temperatures, and has no extreme highs or lows. Hurricane season in Barbados runs from June 1st through November 30th, so visitors should make sure to check the hurricane schedule before they travel to the island so they can plan their vacations accordingly.
Visitors can take a bus or taxi from Bridgetown to access most of the beaches on the island.
The safety of any place depends on many factors, including the time of day, location, and the precautions visitors take before they arrive. Visitors should stay aware of their surroundings and avoid isolated areas after dark.
Most vendors at the beaches are friendly and helpful, but if visitors feel that others in the area are acting suspiciously or not as friendly as they should be, then it is best to avoid those people.
Visitors should also try to avoid the wild dogs and monkeys that are often seen on the island so they are not bitten.
Lastly, it is a good idea for visitors to wear sunscreen while on the beach because they will be spending more time in the sun than they would if they were visiting other parts of Barbados.
Finding the Best Beach for Your Needs
Each location has its unique features and characteristics, so visitors need to research when looking for the perfect beach to visit on their trip. It is also essential to consider the water temperature, weather conditions, and wildlife when visiting the beaches in Barbados.
Visitors should be careful when selecting a location because some beaches have hazards that they may not be prepared for if they are not informed beforehand. Some beaches have dangers such as solid riptides and jellyfish, so visitors must carefully consider their personal swimming abilities and comfortable swimming at each location.
This way, visitors can avoid dangerous waters without worrying about being reprimanded for swimming in restricted areas.
Conclusion
Whether you are a family looking for a nice, peaceful place to spend some quality time together or an individual who wants to relax and enjoy the beauty of Barbados, any of these locations will provide visitors with the opportunity to do so.
These beaches offer many different activities for people of all ages and levels of swimming ability so everyone can find something that they like.
More about our TFVG Author
A seasoned traveller, Dad, and avid sports tourist, James foundered The Family Vacation Guide to share his expert vacation experiences- especially when it comes to being a travelling family man.
Featured in Travel articles such as Travel + Leisure, TripSavvy and SFGate, you know you're reading some of the best vacation tips online.