Are you planning a trip to St. Lucia with your family but don't know where to start when it comes to beaches to visit?
St. Lucia is a top-rated destination, renowned for its gorgeous beaches, clean sand, and crystal-clear water. Despite its small size, there are many different beaches to explore, so it's easy to get overwhelmed.
Here are eleven of the best beaches in St. Lucia, perfect for your family to enjoy. And if you're looking for suggestions on where to stay, check out our guide to the best St. Lucia all-inclusive family resorts.
Pigeon Island National Landmark
Pigeon Island National Landmark is not only one of the most beautiful places in St. Lucia, but it is also a significant historical landmark.
Pigeon Island is a 44-acre national reserve that boasts two beautiful beaches and a living museum. This renowned spot in St. Lucia is an excellent place for you and your kids to learn more about the history of St. Lucia and enjoy its natural beauty.
The beaches provide visitors with lots of activities. When your day at the beach is over, you can visit the Pigeon Island Museum and Interpretive Centre or climb to the top of the historic Fort Rodney for gorgeous views of the Caribbean. On a nice, clear, sunny day, you might even be able to see Martinique island next door.
Vigie Beach
Vigie Beach is an excellent beach for peace and quiet, despite being located next to a few tourist resorts. It is primarily a local beach, making it a great place to escape.
Located near the airport on St. Lucia, Vigie Beach is still very peaceful and laid-back. Just sit back under the shade of a palm tree on the yellow sand beach and relax with your family.
The sea here is very calm and warm, making it a great place to swim. Even though it is near the airport, you will barely hear the airplanes coming to land!
Despite being a bit more excluded, Vigie Beach does have a few amenities like simple food and drink snack shacks, ice cream vendors, a restaurant on the beach, and deck chairs for rent. It is excellent for families looking for a more relaxing day in the sun!
Reduit Beach
Reduit Beach is one of the most popular beaches in St. Lucia. It is an excellent place for families as it has many amenities. Reduit is well-known and well-loved as a family-friendly beach, with many places to rent snorkeling equipment, windsurf, water ski, or jet ski.
The golden sand makes a stunning location, perfect for a beach day. Reduit is ideal for kids of all swimming abilities with its warm, calm water. In addition, Reduit Beach is home to a water sports obstacle course located right in the ocean!
In August 2015, the first Caribbean's first open-water sports park, Splash Island, opened on Reduit Beach. Splash Island boasts many obstacle-course-style water features, including a trampoline, climbing wall, monkey bars, swing, slide, and hurdles.
There are also a fair amount of eateries, snack shacks, and restaurants nearby. Perfect for the post-hunger of a beach day or to grab a drink to sip on the beach!
Because Reduit Beach is so popular, we recommend heading there early.
Sandy Beach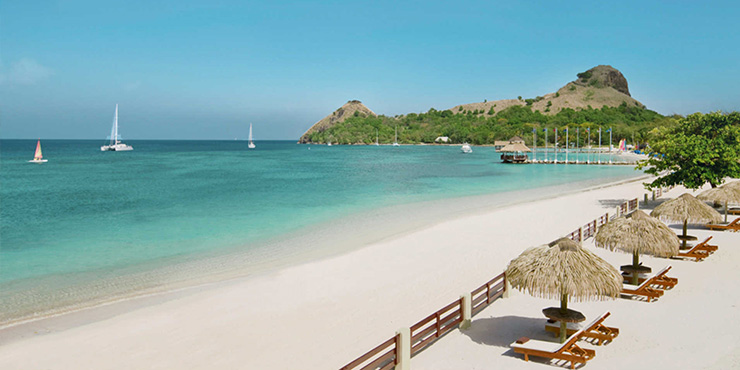 Sandy Beach is another beautiful beach on St. Lucia that is extremely quiet. This long stretch of beach is an excellent place for a morning stroll to escape from the kids.
Sandy Beach is fantastic for both swimming and snorkeling on calm days. There is some seagrass near the shore, but the crystal clear waters return once you swim further out. On windier days, you might be able to sit and watch all the surfers try their luck at the waves!
In terms of family fun, there are sea kayaking and kite surfing activities available. There are also sunbeds, beach chairs, and umbrellas available to rent on this long beach as well.
This beach is quiet and very safe. It is a lovely spot to escape from the crowds and high prices on Sugar Beach and Anse Chastanet.
Jalousie (Sugar Beach)
Jalousie, also known as Sugar Beach, is located between the Pitons, a famous pair of mountains, and a well-known landmark in St. Lucia.
Sugar Beach offers gorgeous views of the crystal clear ocean and these iconic mountains, which frame the view of the ocean from the beach.
Sugar Beach is considered one of the top beaches in the Caribbean. Its powdery white sand beaches are a paradise unlike any other. The water is crystal clear and popular to paddleboard, kayak, or jet ski.
Sugar Beach is the best for amazing views of the twin peaks. It is also a favorite spot for snorkeling and scuba diving. There is a rich underwater world right at your fingertips, thanks to a considerable drop that occurs at the base of the mountains.
If your kids love swimming and exploring the underwater views, this is the perfect beach for your family!
Grand Anse Beach
Grand Anse Beach is located outside of the popular tourist spots on St. Lucia. It is considered the best place for turtle spotting, particularly endangered leatherback turtles.
This beach is an excellent place for your nature lovers to snorkel, explore, and see these gentle giants in the wild!
If you plan on visiting Grand Anse Beach for the turtles, the best time to go is during nesting season, March to August. Just be sure to respect the turtles and give them their space!
Grand Anse is also a bit more secluded, remote, and wild than other beaches on St. Lucia, making it a picture-perfect, quiet getaway. What this beach lacks in terms of amenities, it more than makes up for in natural beauty and wildlife.
Cas en Bas Beach
Cas en Bas Beach is considered a local hangout spot, perfect for getting away from touristy crowds. It is secluded and remote, with a beach well protected by a reef.
The best part of Cas en Bas Beach is that it is the home of Marjorie's, an excellent restaurant known for its supreme local dishes. The food is authentic and known to taste delicious! If you and your family want a real taste of St. Lucia, you must visit Marjorie's!
Cas en Bas beach is also home to many activities. There are plenty of paths along the coast to explore. In addition to Margorie's, Cas en Bas is an excellent spot for fishing, kite surfing, and even horseback riding along the beach.
Both wild and domestic horses explore the beach, making a fun experience for any animal lover!
Anse Chastanet Beach
Anse Chastanet Beach is known for its black sand, reminding us of St. Lucia's volcanic history. It feels very quaint and secluded as lush forests surround it. It boasts a tranquil atmosphere, with palm trees swaying in the wind and birds singing in the background.
Most of St. Lucia's coral reefs surround this beach. Anse Chastanet is perfect for bird watching and fantastic snorkeling and diving right off the shore for your little explorers!
There are many places to rent snorkel equipment, including a scuba center at the south end of the beach. It is also the perfect spot to go on a guided boat snorkel trip.
However, the prices for food, rental items, and activities in this area can be a bit high since it is such a popular tourist destination.
Anse de Sables
Anse de Sables is another picturesque beach in St. Lucia with a mile of shimmering white sand. It is the perfect place for wading in the water with little kids or going on a run on the beach with your teenagers.
Many beach activities are available on Anse de Sables, including kiteboarding and windsurfing. Because this beach is located on the Atlantic Coast, the wind is strong. These strong winds make it one of the most popular beaches on St. Lucia for these two activities.
If you need a break from the beach for a bit, there are quite a few national parks located near Anse de Sables, perfect for your little explorers!
One of the closest ones is Maria Island Nature Reserve, a tropical paradise full of rich flora and fauna, including the native whiptail lizard. With a variety of hiking trails to explore this reserve, you'll have plenty to explore.
Marigot Bay

Marigot Bay is a bustling port village known for its stunning views. This picturesque bay, full of boats and yachts, has been used for background shots in many films.
It is a beautiful place to take the kids and spend a quiet morning or afternoon, strolling through the restaurants and shops on the streets nearby.
This sheltered cove is also called the "Jewel of St. Lucia" and is perfect for boaters of all types. It's a lovely spot to relax, hang out with your family, and watch the boats sail by.
If you can do it, it's even better to view the bay by boat. Try taking your family out on one of many chartered boat tours!
In addition to the charming town, there are also many small beaches within Marigot Bay to explore and enjoy.
La Toc Beach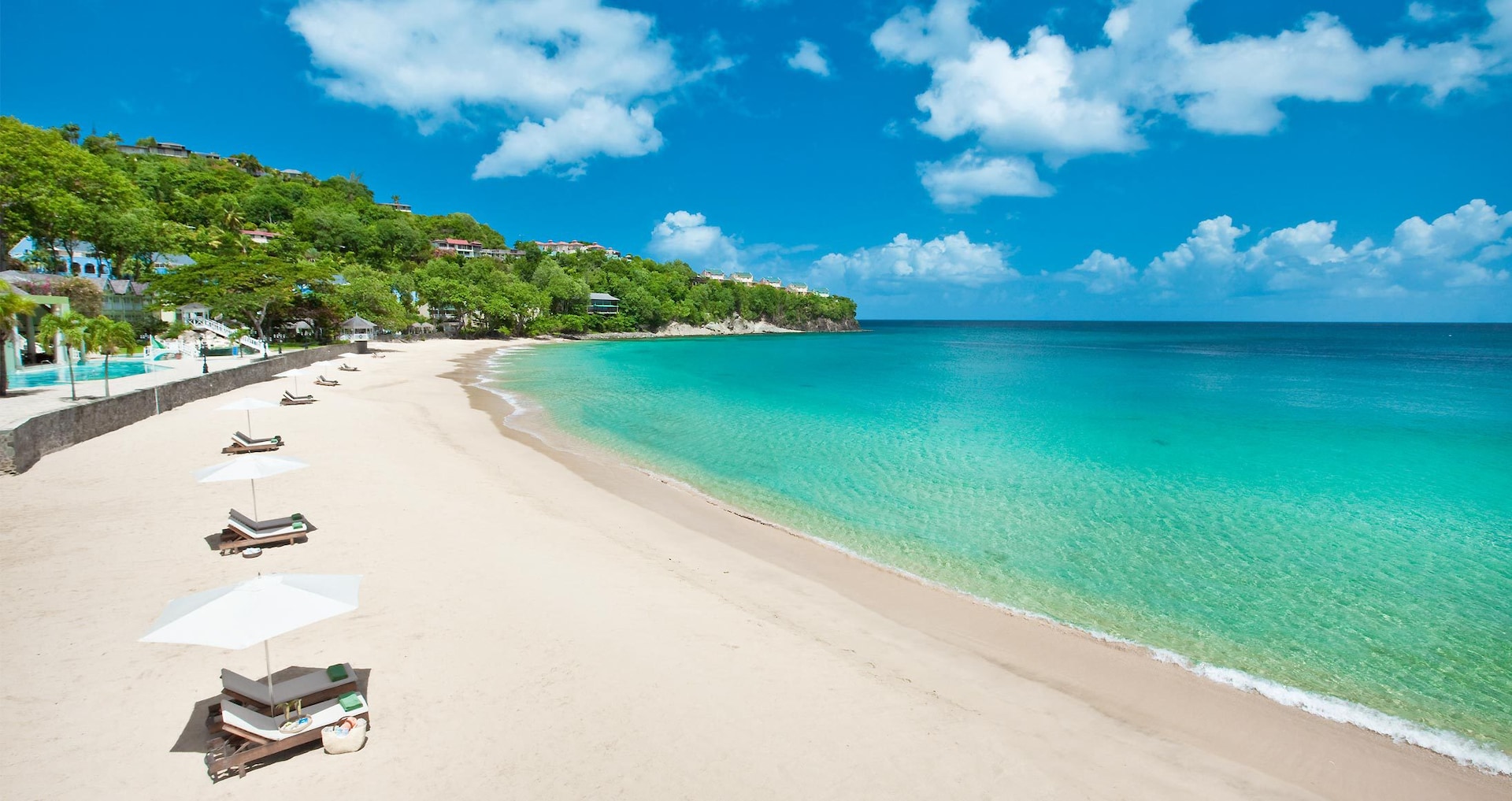 Despite being located in the capital of St. Lucia, La Toc Beach is one of the more tranquil and secluded beaches on the island. This beach is the perfect spot for a quiet getaway or to get away from the crowds.
La Toc Beach is accessed mainly by Sandals Resort guests but is open to the public. Because of this, it is kept very clean. This beach can have rough waves early in the day, but it usually clears up and is safe for swimming by mid-morning.
This beach is best if you and your family are really into watersports. It is an ideal spot for water sports like surfing, as the surf can be rough.
If you have young kids or kids who aren't strong swimmers, you should probably look into a different beach with calmer waters. Or plan to stay and play on the beach!
In addition, there are also kayaks, sailboats, catamarans, and paddleboarding equipment to rent and try out.
The beach itself is small but still very remarkable. There is plenty of room to sunbathe and rent sunbeds. It is a bit rocky in some places, but the water and sand are warm. It really is paradise!
More about our TFVG Author
A seasoned traveller, Dad, and avid sports tourist, James foundered The Family Vacation Guide to share his expert vacation experiences- especially when it comes to being a travelling family man.
Featured in Travel articles such as Travel + Leisure, TripSavvy and SFGate, you know you're reading some of the best vacation tips online.