Punta Cana's English translation means 'silver point.' A subtle hint at the bright white sandy beaches that adorn the hems of this expansive island.
There are about 4.5 million tourists who visit Punta Cana every year. Most of these people come here to enjoy the pristine beaches and experience the rich culture of the people living in the nearby Dominican and Haiti republics.
But, in addition to the beaches, there's so much more that this paradise has to offer. When traveling as a family, you want to go on a packed vacation full of adventure. Going by numerous online reviews, there's no doubt that Punta Cana has no shortage of fun things to do and places to visit.
Are you curious about what else this Caribbean jungle has in store for you? Here's a comprehensive countdown of the 14 best things to do in Punta Cana with Kids.
1. Indigenous Eyes Ecological Reserve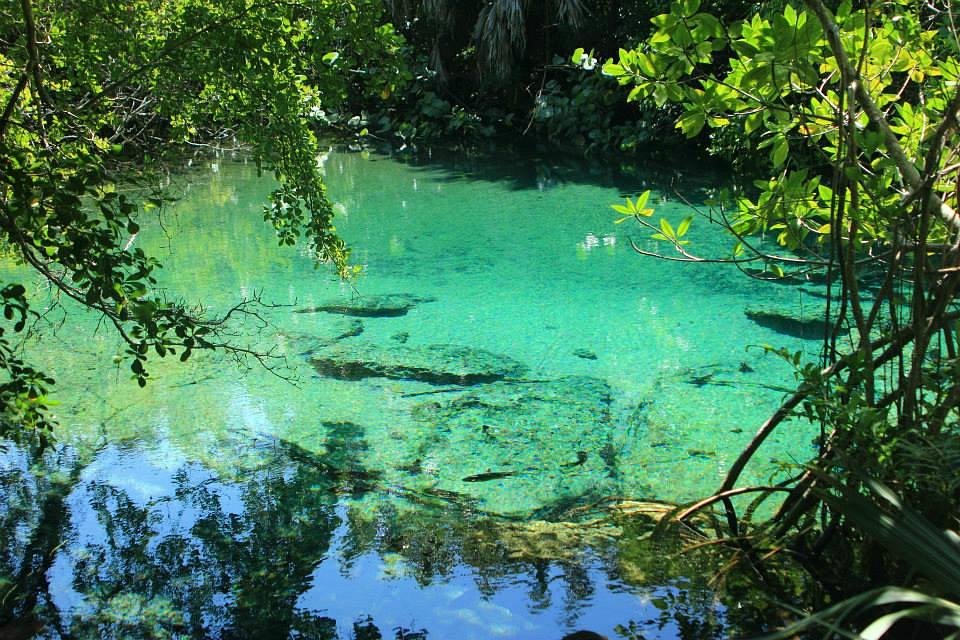 Indigenous Eyes Ecological Reserve showcases the dense enchanting forest land spanning 1,500 acres. This forest reserve boasts hiking trails where kids can blow off some steam. Other attractions include a petting zoo, iguana habitat, fruit gardens, and 12 freshwater lagoons.
Kids can swim in the crisp, clear waters of the lagoons. Older kids and adults who are more daring can climb up the wooden deck and take a long dive into the cool waters.
The lush greenery is a welcome contrast to the pale streets in the city with barely a tree in sight. All the fresh air is calming, nature is epic, and the natural sounds are perfect for a good night lullaby.
2. Hoyo Azul and Scape Park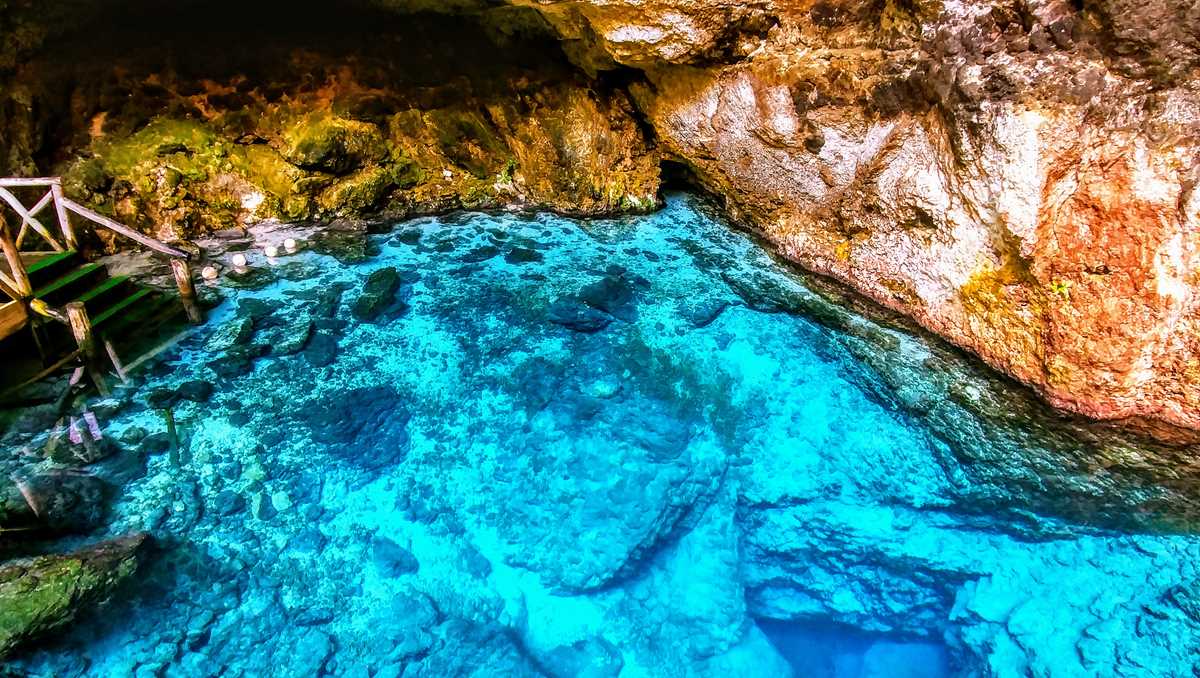 Hoyo Azul and Scape Park, Cap Cana, is a 247-acre tropical space with the most beautiful birds, butterflies, and wildlife collection.
The park has hidden pools, and secret caves tourists love to venture into. Kids can go zip lining through the trees, giving them a bird's eye view of the beautiful surroundings. Visitors can access Scape park any day of the week. The full-day admission tickets give you access to eight different attractions.
There are stunning beaches where tourists love swimming, snorkeling, and relaxing. This location is ideal for kids aged two and twelve years.
If you want to explore as much of Punta Cana as you can without going over budget, Scape Park is one of the few places you can visit and explore numerous eco-adventures affordably.
3. Dolphin Island Park
Kids love dolphins, and dolphins love kids. Why not schedule a trip to see the dolphins when planning to visit Punta Cana? The best place to have a full experience is Dolphin Island Park.
The dolphin Island Park is a water park setting where kids can get close to the dolphins. You can touch, pet, and even swim with the dolphins. There are scheduled live performances when dolphins dance and perform acrobatic stunts. Other animals visitors can see here include Manta rays and sharks.
Visitors can choose three package options on their visit to the Dolphin Island Park. They include The Dolphin Family Experience, The Royal Swim Dolphin Experience, and The Action Dolphin Experience.
Pick the Dolphin Family Experience package where kids of all ages can pet and swim with the dolphins in the water. In addition, this package is custom made with additional activities like jet boat riding and snorkeling with the Manta rays and sharks.
4. RIU Splash Water Park
The RIU Splash Water Park is a fun place where kids of any age are promised to have the best time of their lives. Punta Cana is a warm Caribbean island where kids can play in the water for as long as they like without the risk of catching colds or developing respiratory issues.
This water park is kid-friendly and has a long list of fun activities your older kids can do. Fan favorites include the Kamikaze, a tall slide that leads into the pool, and the Body Vortex, an enclosed slide that spirals and shoots one high up and into the pool.
Younger kids below three feet tall can try the splash pads, smaller slides, shallow pools, and numerous other fun water park activities perfect for their size. Teenagers, adults, and the elderly also frequent the RIU Splash Water Park for fun.
If you are guests at the Hotel RIU Palace Cana, you and your family can enjoy any activity at the RIU water Park for free for as long as you want throughout your entire stay.
5. Monkeyland Plantation Safari Tour
The beaches are gorgeous. But too much of it soon turns monotonous. An excellent alternative and a breath of fresh air for any family looking to adventure seek together is the Monkeyland Plantation Safari Tour.
This safari tour showcases a different part of Punta Cana that not many get to see. On your way to the Monkeyland plantation, you will see stunning views of the mountainous landscape and vast cacao, vanilla, cinnamon, and coffee plantations. Upon arrival, you are welcomed by excited monkeys that climb and crawl all over the visitors, curious about who they are.
Monkeyland Plantation is a sanctuary with botanical gardens that make perfect homes for monkeys and their families. There are over 20 squirrel monkeys that have been raised here. The monkeys have been trained to feel comfortable around humans.
Besides bonding with the monkeys, kids also learn about the farmers and the organic farming methods they use to grow coffee. If you like, you can sample hot chocolate and coffee too. The guides are happy to show you flowers and plants native to this part of the island, while the farmers will willingly mingle with visitors and try to sell you some of their organic farm produce.
6. Bavaro Beach
This list of things to do in Punta Cana with kids would not be complete without mentioning one of the most attractive beaches in Punta Cana and across the Caribbean. Bavaro beach is one of the most stunning beaches you and your family will ever encounter. Also known as Playa Bavaro, this beach is a popular tourist destination whose turquoise waters and fine white sand stand out.
Kids and adults can have fun here. Kids can swim in the calm seawater and build as many sandcastles as they want by the shore.
Older kids and adults can enjoy other activities on Bavaro beach like boating, surfing, Kiteboarding, scuba diving, parasailing, kayaking, windsurfing, and more.
An activity that stands out for most visitors here is a boat tour that ventures deep into the sea. The boat has a glass bottom to view the vibrant marine life.
7. Manati Park
Have you ever seen a sea lion up close? If not, visit Manati Park to see dolphins and sea lions, plus enjoy other fun activities at this one-of-a-kind amusement park. The sea lions and dolphins put up spectacular acrobatic shows, after which your kids can get close to pet them. The animals here love making friends with humans.
Manati Park is an excellent choice for families visiting Punta Cana because your kids will get to learn a lot about sea animals and marine life while enjoying themselves at the same time.
Top interesting things you will learn include the Taino people's culture and way of life. A Taino show lets you in on the people's rituals and practices. You and your kids can watch animal shows featuring performances by cockatoos, iguanas, and parrots, among others.
8. Macao Beach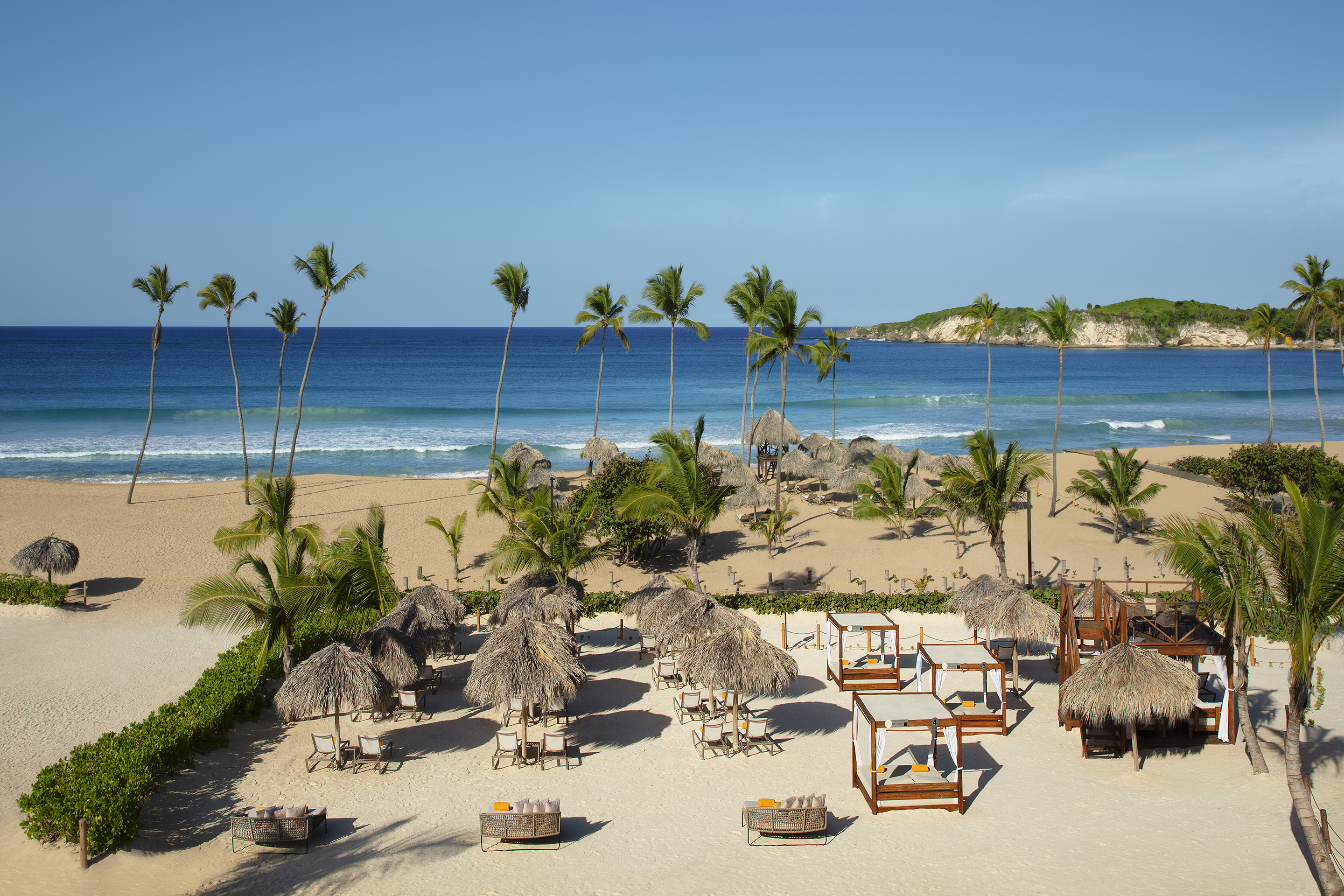 It's one of the most scenic beaches in Punta Cana. The sunrises and sunsets here are sure to bring you goosebumps. The locals call this place Playa de Macao, a long coastline that hasn't been tampered with by the influx of people who visit or modernization, which can dilute the area's natural beauty.
Macao Beach is the perfect retreat for a family looking to spend some private time on the beach. It's not as crowded as other beaches in the area. Here, the kids can enjoy fun activities like making sand sculptures, swimming, buggy excursions, surfing, horseback riding, and paddle surfing.
You or your kids can learn how to surf at the surf school on site. There are professionals here who will let you rent their equipment and take delight in teaching you how to ride the waves.
When you are done with the intense workout session while surfing on the beach, you're welcome to lounge and tan on the beach chairs available while watching fishers sell seafood like lobsters and crabs.
9. Choco Museo
If your kids love chocolate, you must visit Choco Museo. Choco Museo is a chocolate museum and factory in Punta Cana where kids can participate in tours, workshops, and numerous enjoyable activities.
If you want to keep your spending low, you'll be ecstatic to know that entry into Choco Museo is free. The workshops charge a small fee which is not much compared to the level of fun and enjoyment in store.
On your visit here, you can attend the Bean to Bar workshop and learn how to make chocolate from the bean stage to the packaging stage. Participants are offered all the ingredients they need to craft their chocolates.
Choco Museo is ideal for adults and kids aged five years and above.
10. Juanillo Beach
The crystal blue waters of the sea, glistening white sand, the sound of the waves, and the bohemian vibe in Juanillo Beach is just what you need to calm and refresh your mind.
Adorned by tall palm trees and the most beautiful people, Juanillo Beach is a paradise away from home where you can unwind and immerse yourself in the rich culture.
Kids can make towering sandcastles on the beach, collect shells and play with their toys under your watchful guard. Older kids can spend time resting and tanning on the beach while participating in other activities like windsurfing and volleyball.
It would be best if you purposed to schedule your visit to Juanillo Beach when the locals plan cultural events and bazaars. The day-long activities are a true spectacle that allows you to see and learn about the people living here.
11. Sirenis Aquagames
Nothing beats feeling cool waters on your skin on a hot summer day in Punta Cana. And what better way to spend your day than a visit to the Sirenis Aquagames? Sirenis Aquagames is a gigantic water park ideal for people of all ages.
If you are a guest at the Grand Sirenis Punta Cana Resort, entry into Sirenis Aquagames is free. People residing in other hotels can still access the water park but at a small fee.
Your little ones can enjoy swimming in multiple shallow pools and playing with water under the rain palm tree. The pirates of the Caribbean-themed kid's area is full of animal figures, water cannons, ten slides, and four splash barrels.
Older kids can take a dip in the normal-sized swimming pools, go down open water slides, 10-meter aqua tubes, the acquaracer, and try the free fall whirlpool.
When the stomach starts to rumble, you can tame the noises by ordering kid-friendly meals like a burger and pizza at the restaurant on site.
12. Outback Safari Adventure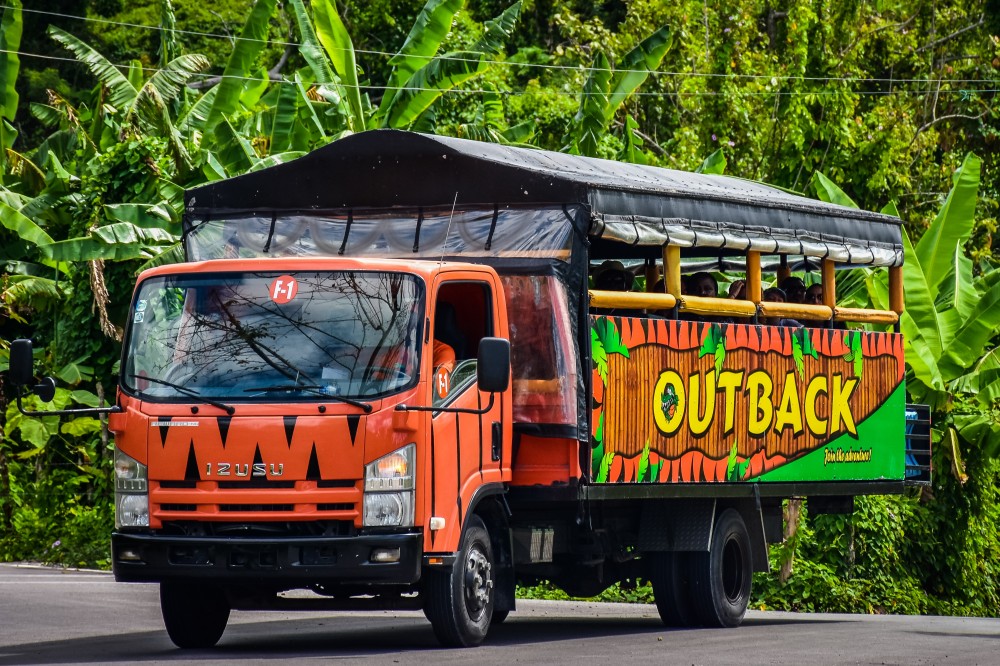 There is nothing better than a day-long road trip aboard a huge truck with comfortable seats and large open-air windows that let you absorb every detail about Punta Cana. An Outback Safari Adventure is an excellent chance for you and your family to experience this tropical island at close range.
The whole family can make several stopovers at different popular attractions like the countryside homes. These homes represent the real family setting of the residents of Punta Cana, giving you a peek into their lifestyle.
Your kids can learn how to make coffee and chocolate from the locals as they venture on foot through the gardens.
Another family-friendly visit on the Outback Safari Adventure is the Anamuya river expedition. The kids and the rest of the family can take a dip in the river and collect many pictures and memories to carry back home.
13. Blue Mall Punta Cana
It's rare to see a mall on such a distinct, well-preserved island where you wouldn't expect any sign of modernization. But Voila! There's the iconic Blue Mall Canta Puna, where you can quench your craving to go shopping and try numerous eateries and entertainment centers.
A trip to the mall is ideal for your kids, especially when they've spent several days cooped up at the beach, in a hotel, or on some tropical plantation in Punta Cana. Here, your kids can find products from both local and international brands. Whether you all need to replenish your supplies or get some new and appropriate outfits, the Blue Mall Canta Puna is a one-stop shop for anything you need.
If your kids seem bored, get their spirits up by taking them to the mall's cinemas, kids' play areas, or the virtual reality arcade for plenty of entertainment. The Blue Mall is a safe place for tourists but always ensure an adult accompanies them to avoid losing track of your kids.
14. RAD Park
Did you know that RAD stands for Real Action Daily? The second you enter RAD Park, you'll instantly realize why the place is ever packed with visitors. Tourists visiting Punta Cana with their kids prefer to go to RAD Park to enjoy various fun activities on the water.
Kids of all ages can find one, two, or more engaging and highly enjoyable activities to do at the park. Toddlers can splash and swim in the shallow waters of the elegant infinity pool.
There are specific activities tailor-made for smaller and older kids here, including stand-up paddleboarding, Knee Boarding, Water skiing, and volleyball. Fan favorites for adults and teenagers include riding the high-speed doughnut pulled by a speed boat, diving from a six-meter tower, and traversing the inflatable obstacle course.
Enjoyable things to do in Punta Cana with toddlers are swimming in the shallow area of RAD Park's infinity pool and letting them run and splash around in the fountain area.
RAD Park is a perfect option for adults and kids. However, the activities here are better suited for ten and above kids.
Best Things to do in Punta Cana With Kids: Final Say
The jungle canopies, sandy beaches, rugged countryside, and welcoming people are all the reasons you need to convince you to visit Punta Cana on your upcoming vacation.
Traveling with kids is no easy feat. You have to choose kid-friendly destinations, and you also have to plan ahead and only go to places where the kids won't be left out of the action. It can be quite hectic, especially if your kids are super picky. However, in Punta Cana, you'll be lost for choice due to the long list of fun activities lined up for the young adventurers.
If you have set your sights on Punta Cana, above are 14 of the best things to do with kids. Punta Cana is a Caribbean paradise full of interesting quests with so much that's yet to be unraveled. Trust this guide to point you toward a wholesome holiday experience with your loved ones.
More about our TFVG Author
A seasoned traveller, Dad, and avid sports tourist, James foundered The Family Vacation Guide to share his expert vacation experiences- especially when it comes to being a travelling family man.
Featured in Travel articles such as Travel + Leisure, TripSavvy and SFGate, you know you're reading some of the best vacation tips online.