The Dominican Republic is the perfect destination if you're in the mood for a Caribbean getaway. While costs are creeping up on the island for tourists and locals, the Dominican Republic is still cheaper than the other Caribbean destinations. You can find reasonable package deals that include food, flight, and accommodation that suit your budget.
If you're planning a family vacation to the Dominican Republic, we'll help you plan ahead and come up with actual prices in the Dominican Republic. Planning ahead helps you find the best deals for airfare and accommodation. Also, note that package deals usually carry lower rates when booked in advance.
Best Resorts in the Dominican Republic
Whether you like secluded spots for a relaxing experience while the kids play or prefer some sporty adventures such as golfing and hiking, the island has everything you need.
With over a hundred all-inclusive options, you can spend weeks figuring out where to stay and what to do, depending on your budget. Fortunately, we've researched some of the best resorts in the Dominican Republic worth considering.
Why not check out our guide to the best all-inclusive family resorts in the Dominican Republic for more inspiration?
Tortuga Bay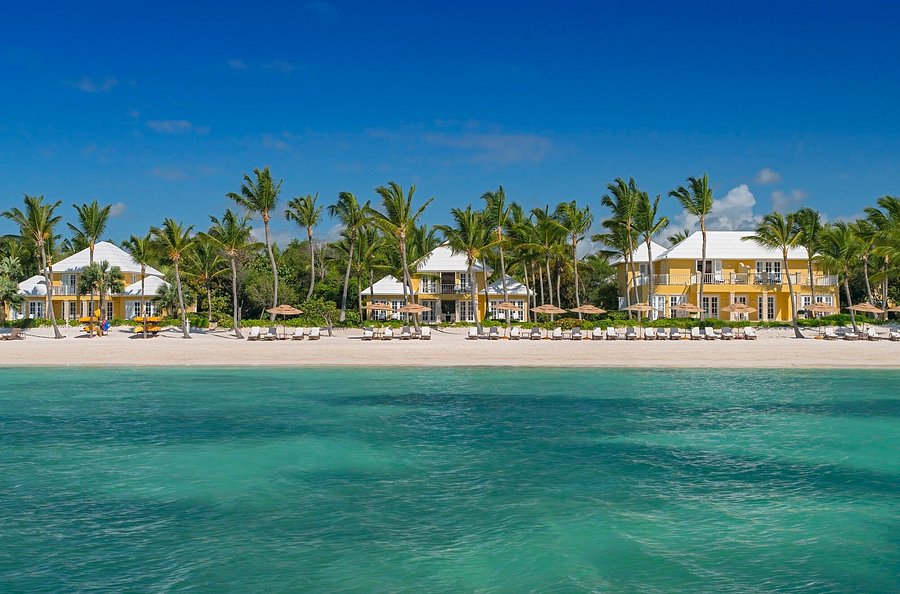 Tortuga Bay is an isolated strip located on Santa Cruz Island. Tourists flock to the area not only because of its pristine beaches but also to witness the Galápagos' marine turtles.
If you go to Tortuga Bay between January and February, you might be lucky enough to catch sight of these beautiful creatures laying their eggs. Then, between April and May, these eggs hatch and make their way to the sea.
Turtle-lover or not, you'd still be in awe of this close encounter. You can also get intimate with other beachcombers like Sally Lightfoot crabs and the iguanas.
Most visitors find Tortuga Bay the highlight of their trip to the Dominican Republic. However, it would help if you were still prepared because getting there from Puerto Ayora can feel like a trek, especially during summer.
Additionally, Playa Brava, the beach closest to the entrance, has strong currents, making it unfit for swimming. Continue walking to the other beach at Playa Mansa if you want to spend a day swimming.
Where to Stay:
Tortuga Bay Hotel at Puntacana Resort & Club is one of the best places to stay at Tortuga Bay. It's the Dominican Republic's only AAA Five Diamond Awarded property. It features commendable service and luxurious villas designed by Oscar de la Renta, a world-renowned interior designer.
The hotel is found in a private enclave within Puntacana Resort & Club, with 13 villas featuring world-class luxury, security, boutique intimacy, VIP treatment, and five-star service. All suites and villas are positioned along pristine beaches that are within reach.
Highlights:
Privacy in an exclusive gated property
Postcard-worthy beaches
Pool with a drink service in a lush garden
Luxurious amenities, such as design suites, hot tubs, and balconies with magnificent views
Personalized butler service with dedicated cell phone
Restaurants with alfresco seating
24-hour room service
Massage spa and salon treatments
VIP treatment
Cruiser bikes and golf cart for every suite
La Cana Golf Course
Boutique selling Oscar de la Renta's items
Price: from $1,100 per night
Paradisus Palma Real Resort
Paradisus Palma Real Resort is one of Punta Cana's four Paradisus resorts. This 554-room resort is a luxurious yet affordable resort giving you that authentic and romantic Caribbean vibes along pristine beaches.
This resort feels bigger than the other three due to its palatial lobby heading to a wide-spaced courtyard, pool, and beach area.
The resort features international buffets and restaurants that are all well-reviewed, with one a la carte restaurant from a Michelin-starred chef. The hotel also offers 24-hour room service and bars serving both liquor and non-alcoholic drinks.
The classically designed suites have free mini-bars, whirlpool tubs, showers, and beautifully furnished outdoor spaces.
If you want to relax, they also feature a spa with a thermal circuit while the kids are enjoying themselves at the kids' club. They also host some fitness activities and evening shows.
The hotel also offers a personalized butler service for a more luxurious VIP experience. This feature gives you access to a posh lounge.
Highlights
Privacy in an all-inclusive property along pristine beaches in Punta Cana
Classically designed suites with mini-bars, whirlpool tubs, and exclusive outdoor spaces
24-hour room service
A la carte restaurants with alfresco dining
Open-air spa with thermal circuit
Entertainment, kids' club, and evening shows
Fitness activities such as basketball, yoga, and tennis
Golf course
Free Wi-Fi
Price: from $394 per night
Secrets Royal Beach, Punta Cana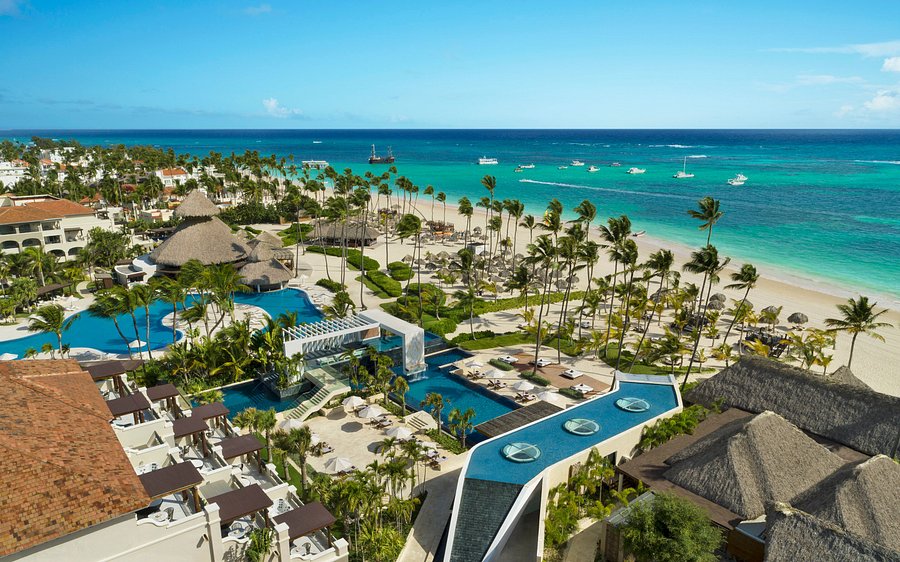 Since its renovation, Secrets Royal Beach has had a fresh look amidst lush vegetation, beautiful palm trees, and perfectly manicured gardens on a pristine white beach. This vibrant resort features a seaside escape for relaxation for the whole family.
It also provides the highest level of privacy, security, and service to its guests, making it one of the best destinations in the Dominican Republic.
The resort has 464 luxury hotel suites, a king-sized bed, a fully-furnished balcony, a marble bathroom, a complimentary mini-bar, and many more.
Highlights
Unlimited access to gourmet dining options (no reservations required)
Unlimited drinks (beer, wine, soft drinks, and natural juices)
24-hour room service
Free mini-bar
Daily maid service
Entertainment, bars, theme parties, and endless daytime activities
Prices: Start at $352 per night
Casa de Campo, La Romana
Casa de Campo is a 7,000-acre resort on the Caribbean shores with a full-size 16th century replica of a Mediterranean-style village and amphitheater. The resort has luxurious rooms, each with mahogany furnishings, a private terrace, a large walk-in closet, and a black marble vanity.
The resort opened approximately 50 years ago, making it the first resort in the Dominican Republic. It's been a favorite destination for tourists and celebrities looking for a luxurious experience in a gated property with an exclusive setting.
Casa de Campo is also known for being the world's best golf resort. Here, you can find the top-notch course in the Caribbean, the Teeth of the Dog course.
The resort also features world-class activities, international restaurants, a shooting course, shopping centers, and three private pristine beaches.
Highlights
Free Wi-Fi
Free parking
Fitness gym and workout room
Pristine beaches
Infinity pool
Poolside bar
Golf course
Aerobics
Tennis court
Horseback riding
Charging station for electric vehicle
Aerobics
Bar or lounge
Price: from $550 per night
Sublime Samana, Las Terrenas
Samana Peninsula features pristine fine-sand beaches and a dramatic lush on the northern part of the Dominican Republic.
If you want more secluded feels, you can go to Sublime Samana Luxury Resort, an unspoiled paradise in the peninsula. This modern and luxurious resort is a member of Small Luxury Hotels of the World.
The resort has a total area of seven acres surrounding the canal of pools with an approximate length of 500 feet. The hotel rooms have a contemporary setting that complements nature. Each hotel suite has a living room, bedroom, kitchen with Viking appliances, and a private balcony with magnificent views of the canals of pools lining the lush gardens.
The villas also have larger rooms, indoor space, exclusive outdoor living space, a Jacuzzi, a rooftop terrace, a state-of-the-art kitchen, and a private plunge pool.
Highlights
Free Wi-Fi
Beachfront
Swimming Pools
Entertainment and kids' play equipment
Board games and puzzles
Yoga classes
Fitness center
Massage and spa
Jacuzzi
Aerobics
Classes about local culture
Watersports
Hiking
Windsurfing
Tennis Court
Fishing
Price: from $550 per night
Best Things to Do in the Dominican Republic
The Dominican Republic draws too many tourists because of its luxurious accommodations, postcard-perfect spots, and established tourism infrastructure. Immerse yourself in the beauty of the Dominican Republic and check out this list of things to do on the island:
Hike Through the Rainforest to the Cueva de la Virgen
If you're up for some adventure, you can go for a half-day through and hike through the rainforest to reach the Cueva de la Virgen in Barahona.
The southern part of the Dominican Republic features a beautiful combination of crystal clear rivers, pristine beaches, and tropical forests. This canyon cave in Barahona is very stunning, making it a favorite destination of tourists.
Cueva de la Virgen is the Spanish term for Cave of the Virgin. The trail was recently established crossing the beautiful rainforest below the Bahoruco mountain range. The rainforest has refreshing streams and rich flora and fauna, making the hiking experience more memorable. This 30-minute trail finishes at Garganta del Diablo's rocky canyon, also known as the Devil's Gorge. This canyon is home to the Cueva de la Virgen, surrounded by natural pools and beautiful emerald-colored waterfalls.
It's perfect for the whole family because it's a kid-friendly trip, although it may include short climbs and stream crossings.
But don't worry, your kids will surely enjoy them. Plus, they're safe. Once you arrive at Cueva de la Virgen, you can enjoy the calm waters and swim. Just don't forget to bring extra clothes for the family.
Price: From 23 USD per person
Hoyo Azul & Scape Park Camp Cana
Don't forget to visit the most thrilling landscape at Punta Cana, the Hoyo Azul and Scape Park. The park has eight natural attractions in its 247-acre area. Bring your kids and listen to the colorful singing birds, see Taino pictograms, and swim in their hidden pools.
After some sightseeing, you can go for an adventure and go deep into the caves and cenotes, zipline from tree to tree, or ride through the tropical jungle while soaking up magnificent views of the forests.
Price: from $129 per person
Sunset Horseback Riding Tour from Punta Cana
Don't miss out on this beautiful ranch outside Punta Cana. Bring the whole family to meet their resident horses and other animals. They also offer two-hour horseback riding through the countryside and the beach. Of course, this includes riding gear for safety.
A professional guide leads the ride, so you can relax and enjoy the beautiful sunset with your family. It's perfect for couples and families looking for some time with nature. They also offer hotel pick-up and drop-off, so you no longer need to worry about getting there.
Price: from $77 per person
Santo Domingo City Tour
Santo Domingo is the capital of the Dominican Republic. Visit the place if you want to indulge in historical culture and structures. In fact, this is the oldest European establishment in the Dominican Republic and is also known as the largest Caribbean city.
There are lots of fun activities in Santo Domingo. The city tour includes visiting the Los Tres Ojos, The Three Eyes Cave and the Saint Mary Cathedral, and the Columbus Beacon, which is the house built by Columbus.
Las Damas Street, or the Calle Las Damas, should also be on the checklist. It's known as the New World's oldest street to experience the Dominican market. Here you can find infinite bargains and barters while indulging in the mixture of the old and the new with an atmosphere of the embedded history.
Price: $66 per person
Monkeyland and Plantation Safari Tour from Punta Cana
If you're looking for a place that your kids indeed love, then the Monkeyland and Plantation Safari is the perfect destination. The trip to Monkeyland includes going deep through the jungle while observing squirrel monkeys in their natural habitat.
The half-day ride of a safari truck also includes visiting the monkey sanctuary, botanical gardens, coffee and cacao plantations, and stunning mountain view spots.
When visiting the plantations, you can learn about the various organic farming methods and try their local coffee and chocolate drinks. Plus, you get the chance to feed the monkeys that are comfortable living around people.
You also get to know some native plants and colorful flowers in the botanical gardens. The tour is undoubtedly a fun-filled activity with much learning.
Price: from $79 per person
Helicopter Tour from Punta Cana with Hotel Pick-up
The helicopter tour from Punta Cana is probably the most exciting part of the vacation to the Dominican Republic. If you're not afraid of heights, you can get the chance to have a bird's-eye view of the most popular destinations in the Dominican Republic.
During the tour, you soar over the pristine southeastern beaches and where the Caribbean Sea meets the Atlantic Ocean. The experience varies from a 10 to 40-minute ride, depending on your choice.
The tour can include viewing the top spots, such as Bavaro Lagoon, Bavaro Beach, and Macao Beach. From afar, you can admire the beautiful beaches of the Dominican Republic.
They also offer three departure times: early and late morning and afternoon. So, you can fly over the coastline while witnessing the beautiful sunrise or the breathtaking sunset.
Price: from $89 per person
Largest Handmade Cigar Factory in the World
You can also find in the Dominican Republic the largest handmade cigar factory worldwide. When you visit, you also learn the process of how they turn tobacco leaves into their final products.
You can also find the most skilled craftsmen producing world-class cigars. Additionally, you also learn the history within the Dominican Republic on top of the cigar-making process.
Price: from $30 per person
Is Food Expensive in the Dominican Republic?
As an overview, you will find that prices for food and drinks are reasonable in the Dominican Republic. For example, a fast-food meal normally costs around $6.50 at Mcdonald's. For coffee enthusiasts, a cappuccino usually costs $1.60, and an espresso costs about $1.10.
Additionally, food selections in supermarkets are cheaper than in the U.S. In the Dominican Republic, for example, you need to pay for:
Bottle of milk (1 L) for $1.02
Bottle of beer from a well-known brand for $3.02
Yellow cheese (1 kg) for $6.85
Sausage (1 kg) for $8.47
Bottle of wine (mid-range) for $8.58
Transportation Cost in the Dominican Republic
Like in any other area, a taxi ride in the Dominican Republic is significantly pricier than public transportation. Usually, travelers spend around $5 per person on daily commutes in the Dominican Republic.
Moving between towns and cities in the Dominican Republic can cost approximately $13. Usually, these fares vary by mode of transportation, length of the route, and the travel date.
How Much Money Do I Need for a Week-long Vacation in the Dominican Republic?
The cheapest time to visit the Dominican Republic is still during the off-peak season. The high season is from November to January, while August is the cheapest month to go there.
If you're planning to bring your family on a week-long vacation in the Dominican Republic, here's the cost of your stay per person:
Cheap stay – 23,000 DOP ($398)
Budget stay – 27,000 DOP ($468)
Comfortable stay – 56,000 DOP ($970)
Luxurious stay – 145,000 DOP ($2,513)
What Are You Waiting For? Book that Trip
Whether you're looking for a budget or luxurious getaway, the beautiful Dominican Republic has a lot to offer, from its extensive range of resorts to various fun-filled activities.
Now that you already know how much it costs to go to the Dominican Republic on a family vacation, it's time to get your notebook and start planning that dream getaway. All that's left to figure out is which among these spots you should visit.
More about our TFVG Author
A seasoned traveller, Dad, and avid sports tourist, James foundered The Family Vacation Guide to share his expert vacation experiences- especially when it comes to being a travelling family man.
Featured in Travel articles such as Travel + Leisure, TripSavvy and SFGate, you know you're reading some of the best vacation tips online.