If you're planning a family vacation to Pensacola, Florida, you'll need to seek out the finest tourist destinations to immerse yourself in the city's atmosphere. You can explore several gorgeous beaches and excellent family-friendly hotels throughout the area. 
After a long day of exploring the city, you and your family deserve to unwind and enjoy the city's finest seafood and other local delicacies.
Check out our list of the best Pensacola restaurants for families with kids if you're having trouble narrowing down where to eat during your stay.
Why not also check out our guides to Pensacola Beach vs Destin and the best hotels near Pensacola Airport?
600 E Gregory St, Pensacola, FL 32502
McGuire's Irish Pub is one of the finest Pensacola restaurants near the Old East Hill and Oak Point neighborhoods. It's a great place to unwind and sample authentic Irish ale brewed in copper kettles in a cozy and casual setting. They also have live music every night.
They serve mouth-watering steak, seafood, chops, and pasta and offer a wide selection of house martinis. Kids can order mac & cheese, a corndog, mozzarella cheese sticks, pizza, fish and chips, or chicken strips and have it with a drink served in a souvenir cup. Don't forget to try their root beer float for dessert.
701 Scenic Hwy, Pensacola, FL 32503
If you're looking for a Pensacola restaurant with a retro atmosphere, consider treating your family to dinner at Scene 90 Cafe, overlooking Pensacola Bay. They offer a wide selection of breakfast, lunch, and dinner entrees you can have indoors or on their enclosed patio.
After starting with their potato skins or fried crab claws, consider sampling their gulf grouper, shrimp jambalaya, Philly cheesesteak, or scenic cheeseburger with hush puppies, red beans and rice, or fried okra on the side.
If you stop by for breakfast, then the Cajun omelet or the biscuits and gravy are well worth sampling. Don't forget to browse through their tempting dessert menu if you have room for something sweet.
8183 W Fairfield Dr, Pensacola, FL 32506
Can't find authentic Mexican fare near the Elysian Fields neighborhood? Cazadores Mexican Restaurant is your best option for a lively night out at any time of the week. It's a cozy and casual place to unwind after a trip to the Pensacola Museum of Art.
Their menu offers a wide selection of zesty tacos, burritos, fajitas, enchiladas, seafood, and other specialty dishes you and your family can enjoy. We recommend sampling their Carne Asada, Shrimp Chimichanga, or Taco Salad. If your kid's extra hungry, let them try Cazadores' quesadilla, tamale, or fried shrimp.
Don't miss out on their churros, flan, or fried ice cream if you have room for dessert.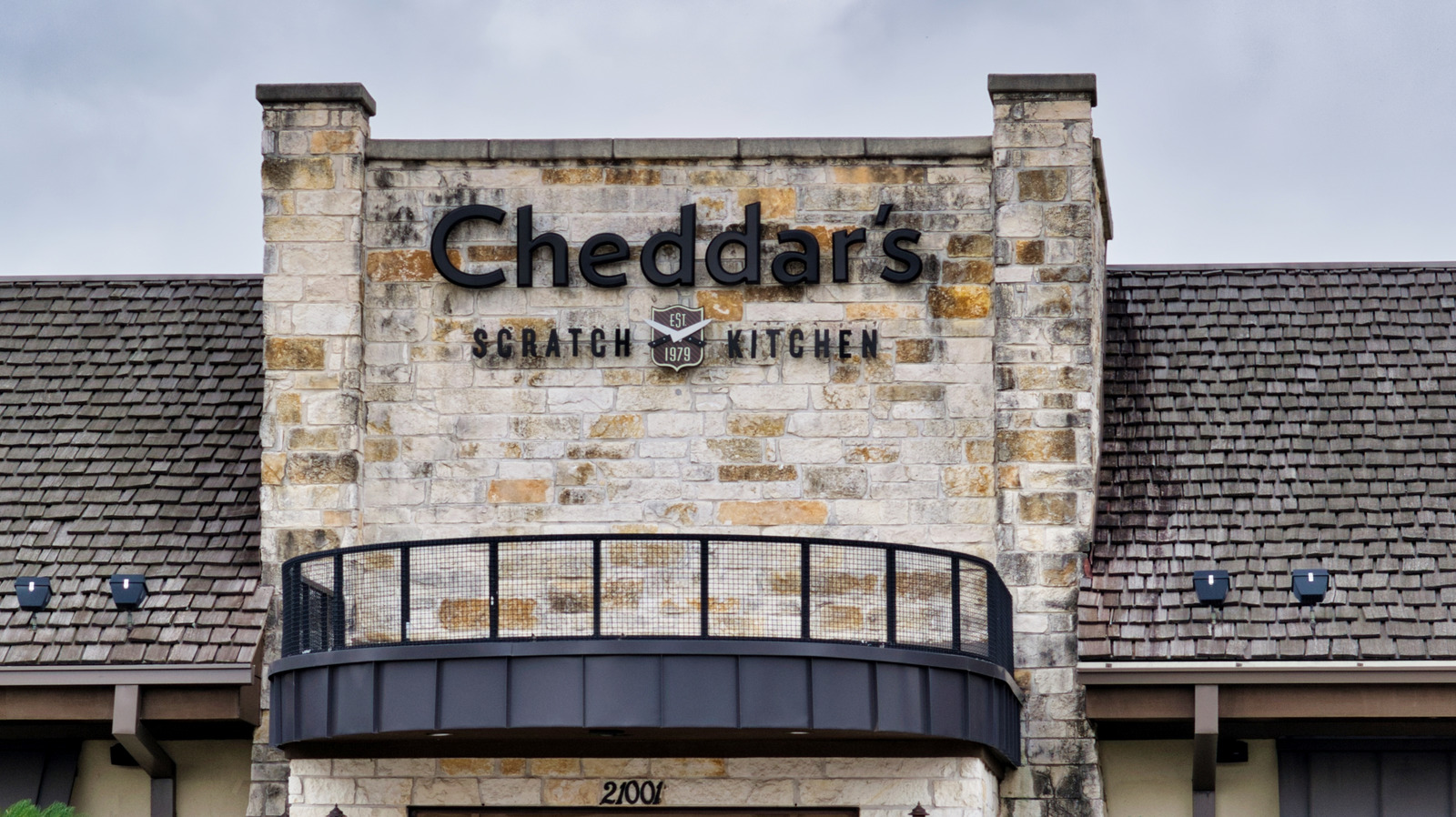 7173 N Davis Hwy, Pensacola, FL 32504
You can find Cheddar's Scratch Kitchen near the University Town Plaza shopping mall. This family-friendly chain restaurant serves quality American comfort fare made from scratch to ensure bold flavors in every bite.
Cheddar's offers plenty of shareable appetizers, such as cheese fries and honey-butter croissants. Parents can have a refreshing cocktail with a homemade chicken pot pie, country-fried steak, or steak and rib combo. There is also a wide selection of gluten-free entrees and sides for anyone with specific dietary needs.
If you're bringing your kids, they'll get to order Cheddar's coconut shrimp or chicken tenders.
1000 S Pace Blvd, Pensacola, FL 32502
If you're craving seafood near the city's Downtown, The Oar House is one of the best Pensacola restaurants you don't want to miss out on during your stay. Located near Bayou Chico, this casual, tropical dining destination offers charming views of nearby marinas, live entertainment, and refreshing cocktails at their tiki bar.
You can choose from a wide selection of seafood and Southern-style entrees to indulge in with your family. Our go-to dinner options are their grilled Mahi-Mahi, crab cakes, Cajun BBQ shrimp, and blackened grouper sandwich. They always taste delicious, especially with a side of cheese grits. The Oar House offers a kid's menu for children ages ten or under.
6205 N 9th Ave, Pensacola, FL 32504
Nestled within the College Park neighborhood, George's Bistro + Bar is one of the coziest yet chic eateries you can take your family after a busy day. Their culinary team uses fresh, local ingredients to create their signature "South-meets-South" cuisine, an enticing blend of Southern France and Southern American flavors. They also have outdoor seating on a spacious patio.
Their seared scallops, grilled lamb chops, shrimp and grits, and filet mignon are some of their most popular menu options. Be sure to pair any of these dishes with one of their international wines. If you treat your family to brunch on the weekend, try their savory bread pudding Benedict or very berry French toast.
721 E Gregory St, Pensacola, FL 32502
Suppose you're interested in treating your kids to brunch. In that case, consider visiting Another Broken Egg Cafe, located east of the Seville Historic District near Pensacola Bay. This casual restaurant serves Southern-inspired entrees that can help you start your morning or afternoon right.
We recommend trying their Mardis Gras omelet, chicken and waffles, cinnamon roll French toast, or Sonoma club sandwich. For the adults, don't forget to pair it with a refreshing Irish coffee or apple pie mimosa.
Kids ages ten and younger can have French toast, scrambled eggs, waffles, or chocolate or plain pancakes. They also offer gluten-free and vegetarian-friendly brunch options.
7001 N Davis Hwy, Pensacola, FL 32504
Bubba's 33 is a casual, family-friendly restaurant located near the Stonegate and Copperfield neighborhoods. They offer scratch-made pizza and burgers that taste great with their ice-cold beverages. The restaurant also has several TV screens where you can watch local sports games alongside your family.
After starting with their traditional or boneless wings, you can move on to ordering their Buffalo chicken pizza, blackened bleu burger, chicken parmesan sandwich, or signature ribeye. They also offer special deals for burgers on Mondays and pizza on Tuesdays.
Kids 12 and under will love ordering their cheeseburger, hot dog, or chicken tenders. You can also get free refills if you order their bottomless flavored lemonades.
5906 N Davis Hwy, Pensacola, FL 32503
Another excellent restaurant in the area for a lovely family dinner night is Miller's Ale House, a casual sports bar near Carpenter Creek. You can enjoy their entrees with hefty portions on their outdoor patio, a spacious booth, or near their bar. They have free Wi-Fi and several TV screens showcasing local sports.
Parents get to choose from a wide selection of craft cocktails or sample over 35 taps of beer at Miller Ale House's bar. Some of the restaurant's most popular dishes are zingers mac and cheese, Cajun chicken pasta, and slow-roasted prime rib French dip.
Don't miss out on their key lime pie or Pull 'N' Pop donuts for dessert.
100 Loblolly Ln, Pensacola, FL 32526
If you're looking for a Pensacola restaurant that immerses you in a nostalgic atmosphere, take your family to Wayne's Family Diner. Here, you'll get plenty of classic American comfort fare in a 1950's-inspired setting. It's a great option for families looking for a quick bite and they offer their meals to-go if you don't have time to stay.
You can choose from a wide selection of sandwiches, fried seafood baskets, or classic entrees, like country fried steak or spaghetti. They also offer plenty of tasty sides to complete your meal, including cheese grits, baby carrots, and cottage cheese.
If you're craving something sweet after lunch or dinner, consider having a banana split sundae, root beer float, pecan pie, or hand-dipped malt for dessert.
3425 N 12th Ave, Pensacola, FL 32503
You can find Cactus Flower Cafe within walking distance from HK Matthews Park. It has a fantastic, relaxed atmosphere and offers California-style Mexican food. They incorporate fresh ingredients in their made-from-scratch meals to give families more varied (and healthier) dining options.
Besides classics like tacos, burritos, and quesadillas, you can take advantage of several of their daily specials, like hand-made tamales on Tuesdays and pork tenderloin medallions on Thursdays. They taste great when paired with sweet tea or a hand-crafted margarita.
Their Cheesy Chimi Dog is one of their tastiest kid's menu items, stuffed with plenty of cheese and flash-fried to golden perfection.
5559 N Davis Hwy A, Pensacola, FL 32503
Don't know where to find the most delicious New-York style pizza on the Florida panhandle? Then, consider stopping by for dinner at Sky's Pizza Pie, near the Crestview neighborhood. It has a casual atmosphere perfect for unwinding after an exciting day. They also offer delivery if you prefer having pizza at home.
Sky's has plenty of white and red specialty pies to sample. Consider ordering their margherita, chicken cordon bleu, Sky Popper, or Meat Amore pies. They have several tasty salads, wings, garlic knots, strombolis, and calzones if you're interested in something else.
Feel free to indulge in their tiramisu or New York cheesecake if you want dessert.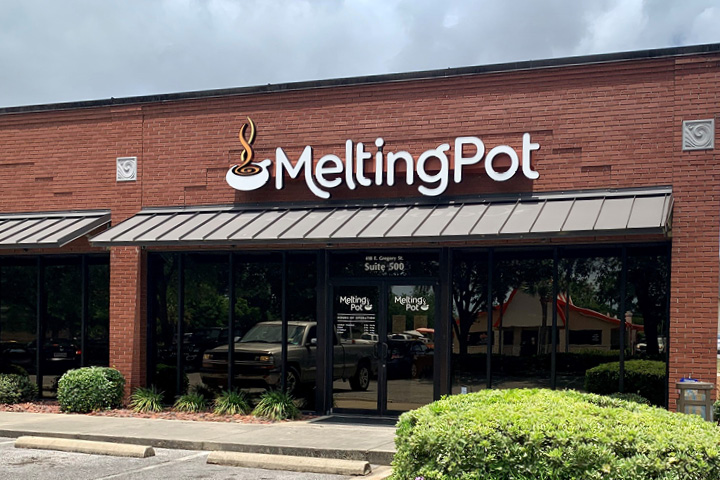 418 E Gregory St Ste 500, Pensacola, FL 32502
If you're having trouble finding Pensacola restaurants for families with kids offering a more interactive experience, book your next reservation at The Melting Pot of Pensacola, minutes from the Grand Hotel. It's a great option if you and your family are in the mood for quality fondue.
Favorite cheese fondue dinner options include their Land & Sea and Steak Lovers dinner, but you can customize your order with three proteins or veggies of your choice. Kids can choose between chicken, shrimp, pork medallions, salmon, and teriyaki steak. They also offer a vegan-friendly menu.
After dinner, don't miss out on their S'mores or Yin & Yang chocolate fondue for an unforgettable dessert.
5025 N 12th Ave, Pensacola, FL 32504
Bonefish Grill offers an amazing casual and intimate dining experience for any family craving quality Pensacola seafood. They have a lively bar with creative cocktails and plenty of candlelit tables and booths to experience the tastiest dishes within the heart of the city. In addition, Bonefish provides free Wi-Fi and private dining services.
Although their specialty is seafood, they offer a few steakhouse favorites. Their chicken and shrimp or sirloin and lobster combos deliver a sensational surf and turf dinner with a refreshing Coral Reef punch.
If you're looking for something healthy for your kids, their menu offers fish strips, popcorn shrimp, and grilled chicken.
610 E Wright St, Pensacola, FL 32501
One of the best Pensacola restaurants offering organic vegan dishes is End Of The Line Cafe, minutes away from Pensacola MESS Hall and the Pensacola Grand Hotel. It has a cozy, airy courtyard and a rustic bar perfect for having the freshest flavors in town. Their culinary team prepares their food with ethically sourced ingredients to ensure healthier options for any guest.
End Of The Line Cafe also has free Wi-Fi and hosts vegan cooking classes every month for anyone interested in a healthier lifestyle.
Most of the sandwiches on End Of The Line's menu have housemade vegan cheese. The most delicious option on their kid's menu has to be their Jammie Sammie, a grilled cream cheese and jam sandwich.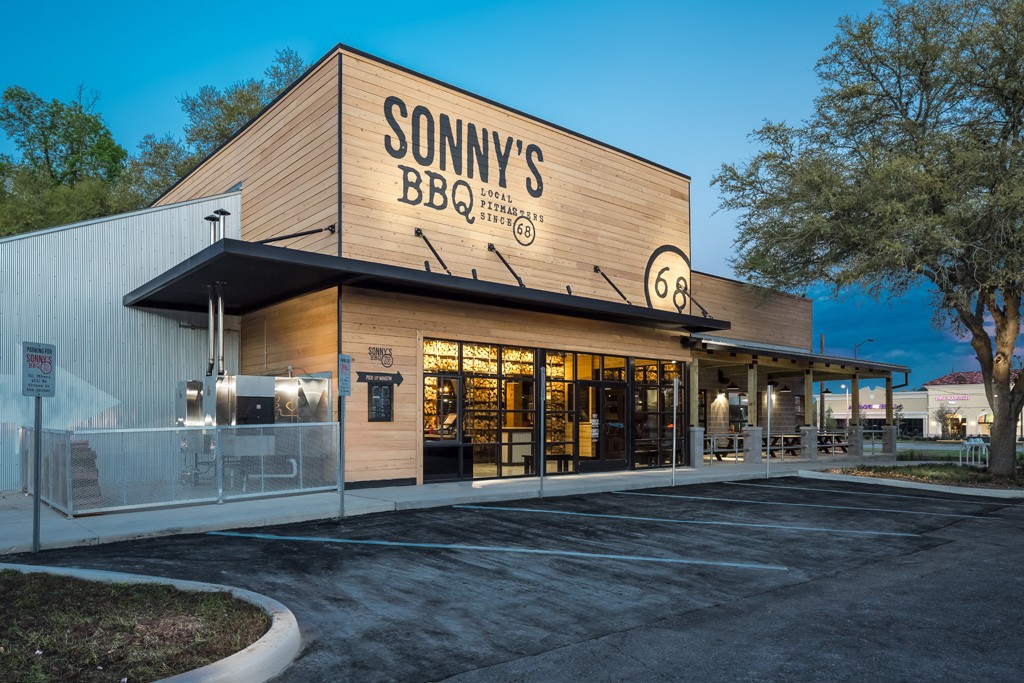 6702 N 9th Ave, Pensacola, FL 32504
Sonny's BBQ is a popular dining destination in The Oaks neighborhood. For over 50 years, they've served delicious smoked BBQ meats for countless families. They slow-cook their signature dishes over oak to enhance their bold flavors and tender textures.
Don't miss out on their St. Louis ribs, pulled chicken, beef brisket, or sliced pork with crinkle-cut or baked beans. Their kid's menu has smaller portions of their signature dishes, such as ribs or a pulled pork sandwich.
If you don't have time to stay, you can order a customizable family bundle with your preferred meats and sides.
601 E Gregory St, Pensacola, FL 32502
Across the street from Residence Inn by Marriott stands Fin & Fork, a casual yet chic seafood restaurant with a scenic waterfront view of Pensacola Bay. Their outdoor seating is a great place to take in Florida's warm sun and fresh air. Chef Matt Shipp prioritizes authentic Gulf flavors in each dish he prepares for seafood enthusiasts.
You can find something for everyone on their menu, from steak and seafood to housemade sushi and oysters. They also offer a three-course brunch with bottomless bubbles every Saturday and Sunday. In addition, kids get to have other tasty dishes like fried shrimp, fried PB&J, and chicken fingers.
4970 Bayou Blvd Ste. #300, Pensacola, FL 32503
Nestled within Cordova Mall, Tijuana Flats is your family's best option for quality Tex-Mex cuisine. Their over-the-counter service is ideal for anyone who's in a rush to get something to eat after hours of shopping or traversing the streets.
Their dining room has a colorful yet rustic ambiance, making it the perfect casual setting for a quick bite to eat.
Enjoy a hearty taco bowl, nachos,  or chimichanga packed with the freshest ingredients. They also offer take-home family meal kits for tacos, burritos, or wings. Be sure to pick up a bottle of their signature hot sauce to give your meal a spicy flavor kick.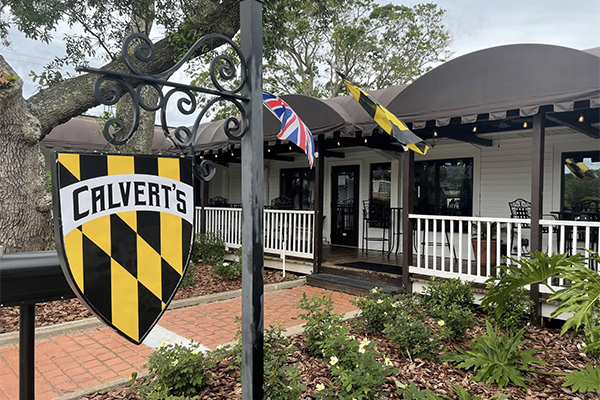 670 Scenic Hwy, Pensacola, FL 32503
You'll get to take in the spectacular view of Escambia Bay when you book a dinner reservation at Calvert's in the Heights. Their spacious, lush outdoor patio also offers a few games you and your kids can play as you sample quality European and American comfort food.
Parents can have refreshing cocktails and red or white wines at the bar. They taste great with bangers and mash or fish and chips. In addition, they offer brunch on Sundays and several lunch discounts on weekdays.
If you stop by for lunch, you can sample several small plates. Don't forget to ask your server about their featured flatbread of the day.
4880 N 9th Ave, Pensacola, FL 32503
From its traditional wood-paneled setting to its tranquil atmosphere, Sake Cafe Pensacola is one of the city's most highly-regarded Japanese restaurants.
Their authentic hibachi dinner is prepared by the expert team before your eyes. Their shrimp, scallop, and lobster meal offers a unique flavor blend. In addition, they have an extensive sushi menu if you prefer trying their nigiri, sashimi, or specialty rolls.
Parents can sample this restaurant's best sake, wine, tea, and mixed drinks at the bar. Anybody with a sweet tooth will adore their mango sherbet or mochi ice cream for dessert.
Conclusion
The best Pensacola restaurants for families with kids should offer a wide selection of dishes that anyone can enjoy and an immersive setting that keeps you coming back for more. You can find several dining destinations offering different atmospheres and themes, including ones with lovely views of the waterfront.
Although Pensacola has plenty of restaurants offering quality seafood, consider stopping by local eateries offering unique international flavors if you and your family are interested in trying something new.
We hope our list can help you pick your new favorite go-to restaurants whenever you visit the city.
More about our TFVG Author
A seasoned traveller, Dad, and avid sports tourist, James foundered The Family Vacation Guide to share his expert vacation experiences- especially when it comes to being a travelling family man.
Featured in Travel articles such as Travel + Leisure, TripSavvy and SFGate, you know you're reading some of the best vacation tips online.