Families looking for an exciting beach vacation will find that the Emerald Coast of Florida offers an unforgettable experience like no other. 
Along this dazzling coast are two popular and equally beautiful destinations: Destin and Pensacola Beach. Both have the seaside views, cuisine, and attractions to make any person consider packing up and relocating to this side of Florida.
With everything both cities offer, it can be hard to make a choice. So we gathered all the information and details about Destin and its next-door neighbor to help you pick the best one for you and your family. 
Both Beaches at a Glance
Destin is a touristy place, with larger crowds but still an all-out adventure with glittering waters, tons of attractions, a wide variety of food, and a friendly atmosphere that is a must for families looking to make the most of their trip.
Right off the northwestern edge of the Florida panhandle is a strip of land called Pensacola Beach, home to nature trails, white sugary sand, and emerald waters. It is a less crowded destination with a fair amount of restaurants and attractions at an affordable price. 
Overall Pricing
Bringing kids to the gorgeous West Coast of Florida can make budgeting all the more challenging, leaving you with the choice between Destin and Pensacola Beach.
Destin
With tons of things to do and see, you may want to know the average prices of everything. Here is a breakdown of the costs that go into spending a day or week on the beautiful coast of Destin.
For a family of four, you can expect to spend a minimum of $5,000 for a week's vacation.
Accommodation prices will vary depending on the extent of luxury you're looking for. These prices can range from a low $89 for AirBnBs to as high as $600 a night for the best kid-friendly resorts.
If your family plans to enjoy more than just the crystal clear waters and soft sand, then you'll want to budget for more exciting activities, like dolphin cruises or parasailing, which cost around $80 per person.
Pensacola Beach
This beach is known to be a bit less crowded, making it an ideal spot for families looking to kick back and enjoy the sun, sand, and waves.
Families can expect to spend around the same as a vacation in Destin, around $5,000 for a whole week.
And while there aren't as many places to dine as in Destin, the average a family might spend on food is a bit more affordable at $40 per person daily.
For families of four or five, hotel costs can vary from $79 to over $200 a night. If you're looking to get the full tropical experience, resorts located closer to the beach are a bit higher at $100 to $600 a night.
The best times to visit the Emerald Coast are in April or September when there are fewer tourists and lower prices.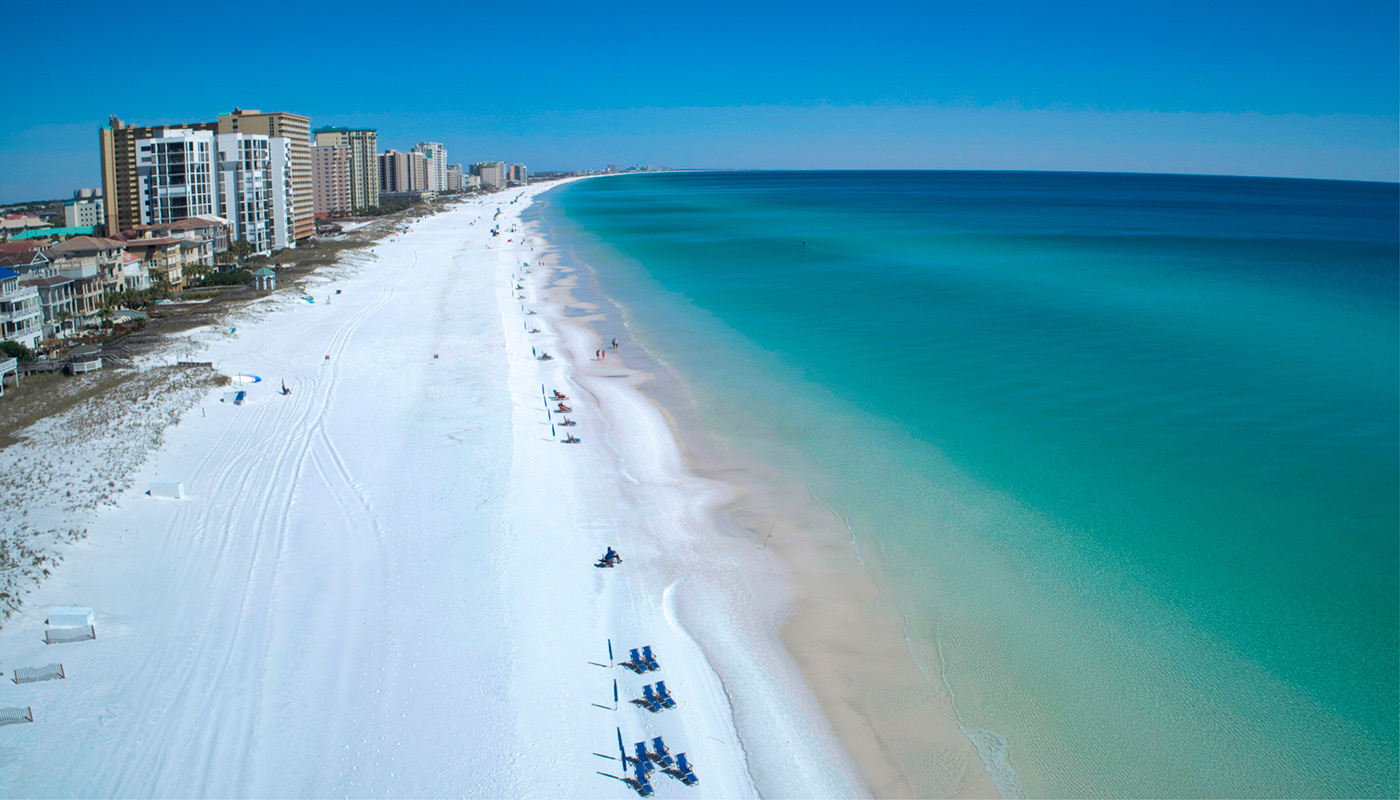 Beaches & Sightseeing
Whether you're on the east coast or west coast, there will always be stunning views of Florida's best sandy white beaches. In terms of beauty, both Destin and Pensacola Beach offer scenic drives and glittering waters perfect for wowing your kids.
Destin
Destin's beaches from Okaloosa Island to Henderson Beach bring spectacular displays of bright sunsets and emerald waters.
Similar to Pensacola Beach, the white sand contrasted with blue skies draws millions of tourists every year. The fishing pier and boardwalk offer the chance to venture farther out, granting families impressive views of the shoreline and the city beyond.
Destin is the place to be for families looking for those picture-perfect sunsets and golden-hour shots.
Pensacola Beach
With more natural landscapes, Pensacola offers an affordable alternative for families looking to relax in the sand or venture into natural parks.
Like Destin, Pensacola has a designated fishing pier and boardwalk where you and your family can stroll down out towards the emerald waters, giving you the perfect view of the shoreline.
Gulf Islands National Park offers more secluded scenery, allowing you and your family to enjoy breathtaking views of Pensacola's sunsets without the overbearing crowds.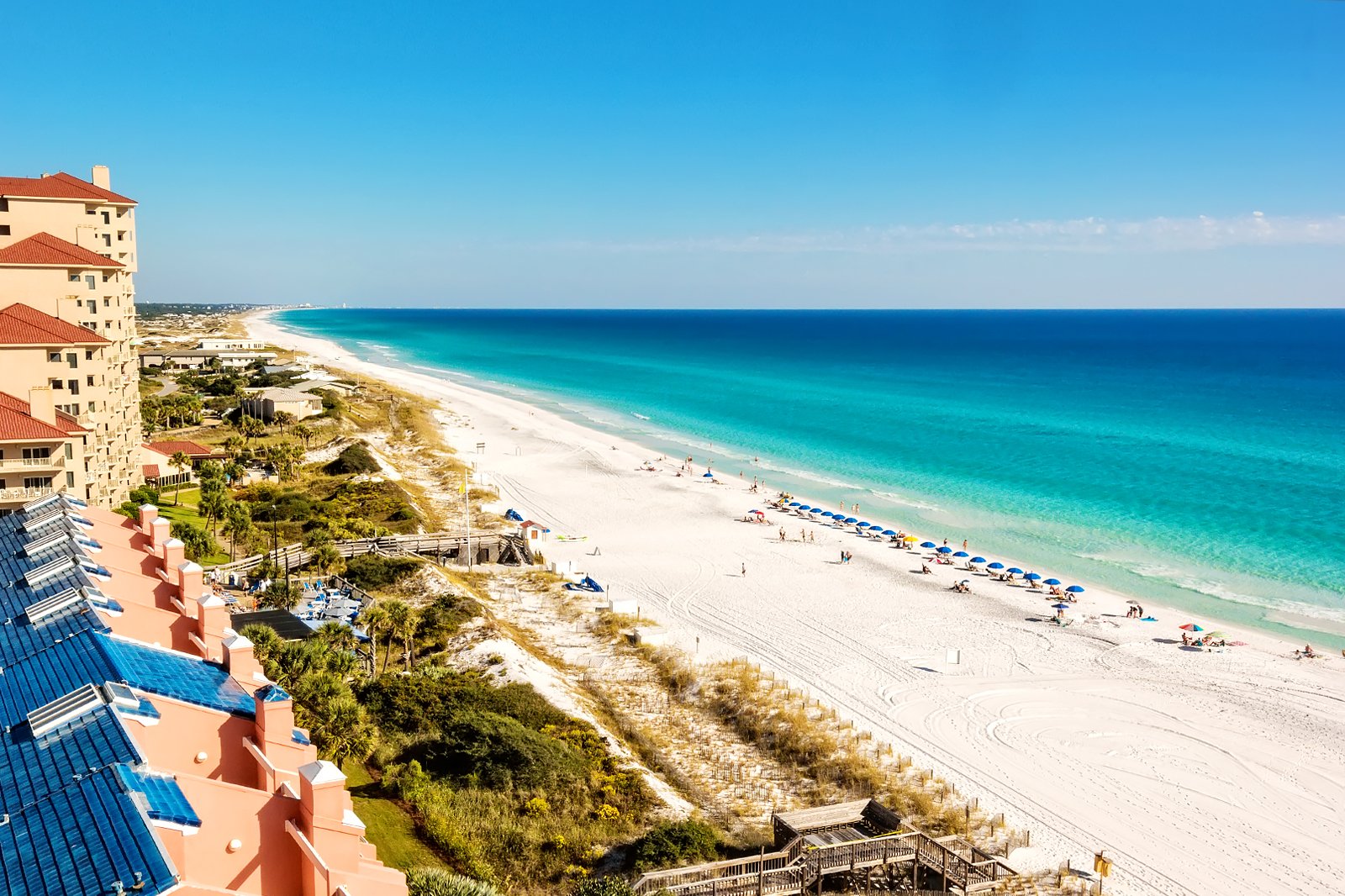 Privacy & Safety
The Emerald Coast offers scenic views, plenty of adventures, and mouth-watering food that every kid can enjoy. One of the great things about both Destin and Pensacola is their safety in terms of privacy and crowding.
Destin
It is no surprise that Destin's combination of sunny skies and sparkling waters attract visitors of every kind to its shores.
One quality that helps Destin stand out is its family-friendly atmosphere and safe waters. It is ranked second out of Florida's most family-friendly beaches and first overall for the best Florida beach.
The waves on the gulf coast are not as gnarly as the eastern side of Florida, giving kids a safe place to boogie board and splash around. You and your family may even spot dolphins, sea turtles, and fish out in the water, with rare sightings of sharks.
Make sure to get familiar with the flag conditions by visiting the city's website before heading to the beach each day.
Pensacola Beach
Being only about an hour down the shore, Pensacola is also another beach city that is relatively safe for visitors.
The waters along Pensacola's beaches are safe to enjoy, with rip currents and rougher waves only coming in before and after tropical storms, so check your weather app. It's also less crowded, so privacy is a luxury there!
The city itself has a higher crime rate than Destin, but both coastal cities have their fair share of pickpockets! If you lock your belongings away and use a bit of common sense, your family should not run into any problems and will be able to enjoy the relaxing getaway. 
Attractions
Looking to experience more than building sandcastles and swimming in the ocean? Both cities offer vacationers exhilarating activities for solo travelers and families.
Destin
While Pensacola Beach is located on a narrower piece of land, Destin hosts an abundance of attractions for adults and kids who crave adventure.
Families can experience life under and on the water through the Sea Blaster Dolphin, where you can cruise with dolphins or snorkel under the surface.
If your family needs a break from the saltwater, Destin offers an exciting alternative with Big Kahuna's Water and Adventure Park. The park is home to fun water slides, a lazy river, and play areas for kids, plus a sky coaster and mini-golf course if you want to stay dry.
The Gulfarium Marine Adventure Park is another gem of Destin where your family can see spectacular shows that feature dolphins, sea lions, otters, and penguins.
If you plan to go on the Sea Blaster Dolphin or any cruise, order your tickets ahead of time since most rides sell out quickly.
Pensacola Beach
The beaches along Pensacola offer similar adventures for families but are limited to the tiny slip of land that it sits on and the vast amount of naturally preserved areas.
Your family can venture down Pensacola Beach's coast to multiple nature preserves and trails like Little Sabine Preserve Park or Fort Pickens where you can explore the rich military history of the island.
If your family has older kids, Pensacola has parasailing, jet ski rentals, charter boats, and dolphin cruises that are sure to provide premium entertainment, while exploring everything the beach has to offer.
If you're looking to vacay far from the crowds while enjoying natural landscapes, then Pensacola Beach is the way to go. 
Dining Options
Foodies from all over flock to Florida's gulf coast to munch on the best seafood, or bask in the sun by seaside food shacks. Both Destin and Pensacola offer a variety of places to dine for the whole family.
Destin
The emerald city is nicknamed "The World's Luckiest Fishing Village" for a reason!
Destin is not shy when it comes to fine dining, excellent nightlife, and downright delicious meals, even if seafood isn't your family's favorite.
But for seafood-loving kids, the Baytown Wharf and the HarborWalk Marina offer both fun and excellent food options.
If your family isn't into seafood, no worries! Destin has fantastic fare from places like McGuire's Irish Pub or Buck's BBQ, where you won't spend a fortune.
Pensacola Beach
While Destin offers a huge selection of restaurants and food, Pensacola offers a few tasty spots of its own.
A few favorites that are easily affordable with kid-friendly atmospheres are Peg Leg Pete's, Flounder's Chowder House, or Crabs on the Beach where your family can eat great food with a great view.
Most restaurants on the Pensacola side of the Emerald Coast are more affordable than Destin's eateries. But the variety is mostly similar, from seafood to make you salivate to smokin' BBQ to fresh tacos. 
Start Planning
The good news is that you can't go wrong with either beach. Both the Destin area and Pensacola beach offer marvelous ocean views and entertaining activities that will keep any child from feeling bored.
The deciding factor depends on what you and your family prefer to do while you're vacationing, whether you have younger children who don't mind parasailing the coast or riding go-karts or older children who live for the thrills of snorkeling and swimming with dolphins.
While Destin may be the more favored of the two, you and your family are in for a true Floridian experience regardless of where you go!
More about our TFVG Author
A seasoned traveller, Dad, and avid sports tourist, James foundered The Family Vacation Guide to share his expert vacation experiences- especially when it comes to being a travelling family man.
Featured in Travel articles such as Travel + Leisure, TripSavvy and SFGate, you know you're reading some of the best vacation tips online.