Walt Disney World Resort in Orlando, Florida, has some of the best dining in the entire state. Over the past several years, Disney has worked diligently to curate its collection of restaurants. Across all four theme parks, it's numerous hotels, and Disney Springs, its shopping center, you can find diverse cuisines at various price points.
In this article, we'll review some of the best restaurants at Disney Springs, including quick-serve and table service. We're sure you'll find something to tickle the taste buds of everyone in your family.
Where & What is Disney Springs?
Disney Springs is a sprawling shopping, dining, and entertainment area on Disney property and run by the Disney Company, but is certainly not limited to Disney itself. Disney Springs is themed to resemble an old Florida waterfront town. It is free to get in, and anyone from the general public can visit; you do not need to have a reservation or be visiting Disney World theme parks.
Disney Springs is located closest to Epcot and is easily accessible off of Interstate-4. It has four distinct areas, the Landing, the Marketplace, Town Center, and West Side. FYI, Disney Springs used to be called Downtown Disney, and you may occasionally hear some people refer to it as such.
There is an enormous array of stores. Are you looking for an old-fashioned haberdashery (hat store)? Disney Springs has you covered. There's everything from high-end brand names, affordable popular fashions, and unique boutiques galore.
True to Disney's reputation, Disney Springs is a shopping center unlike any other, thanks to entertainment options. In addition to live music and a variety of performers, you can fly in a helium balloon, take a ride in an amphicar, or even go bowling.
Finally, the restaurants alone are worth repeat visits to Disney Springs. For the sake of simplicity, we've used Disney's price rating system:
$ = most entrees $14.99 and under
$$ = most entrees $15.00-$34.99
$$$ = most entrees over $35.00
Let's take a closer look at the best restaurants at Disney Springs.
The Best Quick Service Restaurants at Disney Springs
Quick-service restaurants are eateries that do not require reservations and do not have waiters for the tables. Instead, you wait in line and order at a counter, and then you either pick your food up or it is brought to a table you select.
Quick-service restaurants can be convenient and flexible options for families or adults with very different tastes and preferences. Let's take a look at our favorites around Disney Springs.
4 Rivers Cantina Barbacoa Food Truck
4 Rivers is a unique dining experience as it is a food truck. Most recently, it was located on the West Side, but since it's a truck, that can change. It's run by the same people who own 4 Rivers Smokehouse in Orlando, a local favorite. The price range is $.
This truck serves up a small menu of primarily savory items inspired by old Mexico's authentic flavors and cooking techniques. Barbacoa is a method of smoking meats like brisket and pulled pork, both features on the menu at the truck. Sample street tacos, a burrito bowl, or traditional Mulita.
AristoCrêpes
Located in the Marketplace area of Disney Springs, crepes are traditional French street food. The restaurant's name is a play on the beloved animated Disney classic, Aristocats, which takes place in France. The price range is $.
As you would expect, this counter-service restaurant located directly on the water serves up sweet treats. Some of their menu items include a Banana Chocolate-Hazelnut crepe and a Cookies and Cream Crepe. They also serve dessert-style bubble waffles; try the salted caramel or strawberry waffles. While crepes can be made with savory ingredients, this particular restaurant only offers sweet ones.
Finally, AristoCrepes serves the highly-sought Grand Marnier Orange Freeze made famous in Epcot's France pavilion; it was previously unavailable anywhere outside the pavilion.
B.B. Wolf's Sausage Co.
B.B. Wolf's is also located in the Marketplace area of Disney Springs and has a price range of $. The theme is a loose play on the story of the Three Little Pigs. B.B. stands for Big Bad Wolf, who serves up pork entrees.
All puns aside, this counter-service restaurant serves excellent artisan sausages and hot dogs with carefully curated toppings, such as the Hawaiian Island Dog, topped with grilled pineapple salsa, Spam, and teriyaki. Or try their traditional Bratwurst sausage served on a pretzel roll and topped with German mustard and sauerkraut.
Hot dogs and sausages are great quick-serve options for families since they're easy to eat on the go, no utensils required. All entrees come with chips, and they also sell a seasonal draft beer to wash it all down.
Blaze Fast-Fire'd Pizza
Like hot dogs and sausages, pizza is another excellent on-the-go food that doesn't require utensils. Blaze slings slices in the Town Center area of Disney Springs. The price range is $. They use only natural ingredients with no artificial colors, sweeteners, flavors, or preservatives. They can do a gluten-free crust on any of their offerings and boast that they cook all their pizzas in 180 seconds flat.
Blaze is a wonderful option for feeding families, as they offer signature pies such as the Art Lover with artichokes and red sauce, but they also do kid-friendly pizzas, or you can customize your own toppings. In addition, their menu features salads, dough knots, and a variety of desserts. Finally, they sell various draft and bottled beers and wines by the glass that pair perfectly.
Cookes of Dublin
Raglan Road Irish Pub and Restaurant is an old favorite from Disney Springs' Downtown Disney days, and Cookes of Dublin serves many of their favorite dishes out of a quick-service window in the Landing area. The price range is $, which is pretty consistent for quick-service food throughout the Disney Springs shopping center.
They've got lots of traditional Irish fare like Fish and Chips, as well as Irish-style burgers, chicken sandwiches, and more. Order up some unique sides, such as their Crushed Garden Peas. For health-conscious shoppers with a sweet tooth, try the gluten-free, dairy-free, and sugar-free brownie.
Some patrons are surprised that this window doesn't serve Irish beer or other libations, but drinkers can simply head inside to the bar and order a beverage to go.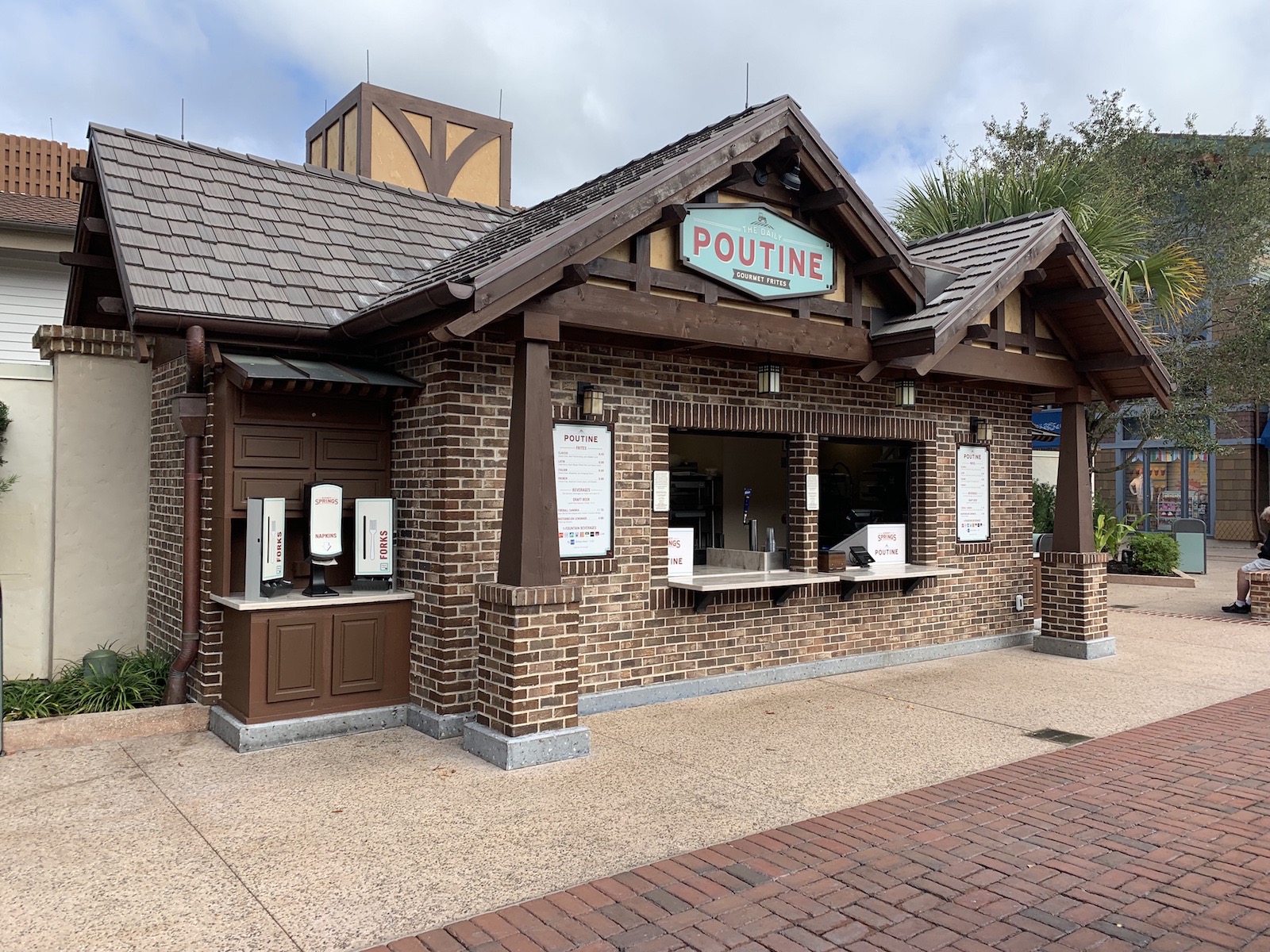 The Daily Poutine
One of the great things about Disney Springs is the sheer variety of quick-service options they offer, which allow you to try a wide variety of different foods and flavors. Poutine–a traditional Canadian dish–is one of them. You can find Poutine in Town Center and the price range is $.
The essential ingredients in traditional poutine are thick-cut French fries, gravy, and cheese curds, but they add all sorts of varieties of toppings. This restaurant uses poutine to take your taste buds on a world tour, with bowls featuring the quintessential flavors of Canada, Italy, Korea, and New Delhi, India. They sell a rotating selection of draft beer as well as a boozy Canadian Apple Slushy.
Earl of Sandwich
History tells us that the fourth Earl of Sandwich, John Montagu, devoured the first sandwich in 1762. This chain of gourmet sandwich restaurants has been a favorite of die-hard Disney fans since it opened in 2004.
Earl of Sandwich is located at the Marketplace. They serve signature hot sandwiches on their artisan bread, including the Earl's Club, 1762, and Hawaiian BBQ. They also offer a rotating selection of seasonal sandwiches, including the favorite holiday Thanksgiving sandwich. Within their $ price range, hungry shoppers can also choose from various wraps, soups, salads, snacks, desserts, and more.
Because Earl of Sandwich has such an expansive menu, it's ideal for families with varied tastes. Everyone can find something they'll enjoy. Finally, don't be deterred by the long line; it moves very fast!
Everglazed Donuts & Cold Brew
A playful pun on the famous Florida Everglades, Everglazed serves up gourmet donuts and potent cold brew to super-charge your day of shopping. This eatery is located on the West Side and has a price range of $.
Your kids and your inner child will delight in the decadent toppings on some of these Instagram-worthy donuts. They include breakfast cereals such as Fruity Pebbles and Cinnamon Toast Crunch, Oreo Surprise, Maple Double Bacon, and Nutella Boston Creme. They also serve classic donut flavors for the traditionalist in your group. They serve breakfast and regular sandwiches and french fries as well.
They take their coffee very seriously as well, offering a variety of brew methods. They have dozens of drinks that incorporate their different coffees, including favorite lattes and cappuccinos and adults-only spiked coffee beverages. They also sell cold beer and hard seltzers.
Erin McKenna's Bakery NYC
You might recognize Erin McKenna's Bakery NYC (located in The Landing area of Disney Springs) by the original name it opened under in Manhattan in 2005, BabyCakes. While the name has changed, what the shop is famous for has not, making unbelievably delicious vegan and gluten-free sweets. It has a $ price range.
With more and more people becoming adherents of these diets for their health or other reasons, it's lovely to know that they can get something equally tasty in Disney Springs. Better still, all of their baked items are without eggs, wheat, dairy, soy, gluten, and refined sugar.
Sample sweet staples like brownies and cookies in various flavors, or try delicate tea cakes, decadent cinnamon rolls, or even an ice cream sandwich with homemade cookies and vegan "nice" cream.
Morimoto Asia Street Food
We'll talk about all of the wonders of its sister sit-down restaurant below, but for now, suffice it to say that Morimoto Street Food opened in response to the wild popularity of the fine dining restaurant. They serve variations of some of the restaurant's most popular dishes, as well as unique items at a $ price range in the Landing.
Curated by legendary Iron Chef Masaharu Morimoto, the small menu features aromatic ramen bowls, thick baby ribs (one of the most popular items on the restaurant's menu), pork egg rolls, and Takoyaki, or an octopus fritter. All of these dishes are loving homages to traditional flavors of southeast Asia.
They also serve boba tea, a variety of Asian beers, and their signature Singapore Slush (which contains alcohol).
The Polite Pig
As you may have gathered from the name, the Polite Pig serves up pork barbecue favorites in heaping helpings. It's an outpost of a larger restaurant owned and operated by Florida culinary legends. At the $ price range, this eatery in Town Center serves classic BBQ dishes such as pulled pork, smoked brisket, and fried chicken.
They also offer a full menu which includes fun, shareable appetizers, classic sides, salads, desserts, and a kids' menu. Perhaps best of all, all of their drinks–including their wide array of signature cocktails–are served on tap. The libations are reason enough to belly-up to the bar or grab a table. They also feature a staggering selection of bourbon and rye, which they'll pair perfectly with your smoky, savory meat.
Sunshine Churros
Sunshine Churros is one of the few dining options at Disney Springs with two locations, one on the West Side and one in the Marketplace (don't worry, their menus are basically the same, so it doesn't matter which you visit). They are in the $ price range.
Of course, they carry classic churros with their buttery cinnamon and sugar flavors. They can also dip their traditional recipe in chocolate or Nutella and offer gourmet churon like strawberry and Oreo. They have a selection of non-alcoholic bottled beverages as well.
Churros have been a Disney fan favorite for decades, ever since Disney first served churros in Disneyland. No trip to Walt Disney World is complete without one!
Vivoli il Gelato
Located in the Landing area of Disney Springs, this gelato shop has a price point of $. While they're relatively new to Disney Springs, this family-run cafe was founded in 1930 in Florence, Italy. Today, they still use their classic recipes to make time-tested favorites, such as vanilla, orange, and pistachio.
Vivoli il Gelato also experiments with exciting and unusual flavors and rotates a few seasonally. In addition to gelato, they make another Italian favorite–sorbetto or sorbet–in various fruity flavors.
They also make delectable drinks, floats, shakes, and sundaes, as well as waffles, all sorts of baked goods, and much more. It's the perfect after-dinner sweet stop with something for everyone.
Wetzel's Pretzels
Even though you can enjoy something outside of Walt Disney World doesn't mean that there isn't a place for it on your magical vacation, and Wetzel's Pretzels proves it. While it's a national chain with outposts around the country, they've earned the popularity they enjoy. They have two locations in Disney Springs, one in the Marketplace and the other on the West Side (price range $).
Both kiosks serve Wetzel's classics, including Sinful Cinnamon, Baked Cheese Pretzel, Wetzel Dog, Cheesy Dog Bites, and a selection of Wetzel Pretzel Bitz. They also offer an array of dipping sauces, such as jalapeno cheese, sweet caramel, and cheddar cheese. Finally, pair a sweet, refreshing frozen lemonade or frozen granita with your salty pretzel.
The Best Table Service Restaurants at Disney Springs
In addition to all of the above quick-service eateries, Disney Springs is also home to more than 20 full-service sit-down restaurants. These range from fun and family-friendly to celebrity chefs and unique, high-end experiences. Let's take a look at some of the best table service restaurants at Disney Springs.
The Boathouse
Since it opened in 2015, The Boathouse has easily become one of the most popular and all-around top dining options in all of Walt Disney World (reservations are strongly encouraged). It's located in the Landing area directly on the water and has a price point of $$.
Their menu features fresh, expertly prepared seafood, including a superb raw bar and fine steaks and chops. It's eclectic, though, and features more pedestrian eats such as sandwiches, salads, and burgers.
The refined nautical decor of the restaurant sets the stage with deep woods, bright whites, and quintessentially maritime blues. You can also dine outside with views of the water and bustling shopping areas. Enjoy live music in the evenings, a flag ceremony throughout the day, or even AmphiCar tours. They have a full bar, wine list, and a special menu of whiskey and bourbon.
Chef Art Smith's Homecomin'
If you're a fan of Southern food, then you're going to love Chef Art Smith's Homecomin' in the Landing ($$ price range). Smith, Oprah Winfrey's former personal chef, lovingly designed the menu to showcase some of the South's favorite dishes, as well as incorporate new and exciting flavors.
Some of the best dishes include the fried catfish, braised short ribs, and deviled eggs. Of course, no southern menu would be complete without fried chicken, and Smith's is some of the best in the entire country.
In true Southern fashion, the restaurant also features several refreshing cocktails featuring moonshine (several of which are on tap), irresistible sides, and decadent desserts. Be sure to make a reservation far in advance; this place books up.
City Works Eatery & Pour House
If you're looking for something on the casual side, give City Works, a sports bar located on the West Side, a try. The menu features classic pub food like chili, burgers, and barbecue with a $$ price range. But it also has some surprises, including an Impossible Burger, Smoked Cheddar Mac 'N Cheese, and Kung Pao Cauliflower.
As any good sports bar should, they love their beer at this place. They have more than 90 rotating beers on tap from craft breweries around the country. The extensive beer menu is organized by type of beer, so you can easily find something you'll like.
City Works is very lively and, therefore, pretty family-friendly. Disney recommends making a reservation, though you'll likely be seated even if you don't have one, without too much of a wait.
The Edison
The opening of the Edison (located in the Landing, price range of $$) on New Year's Day in 2018 was met with intense curiosity and excitement, not only by Disney's guests, but people across central Florida as well. As soon as you step in the door, you'll see why.
The expansive space is lavishly decorated in 1920s style, and just being in the building is part of the experience. There are seven dining rooms, all decked out in a unique themed style.
At first glance, the menu seems out of place in this chic atmosphere. Upon closer inspection, you'll see that the over-the-top richness and decadence of the foods are meant to reflect the outrageous spending and indulgent lifestyles during the infamous decade.
What would a 1920s-themed restaurant be without signature cocktails? The drinks have modern touches that echo Prohibition classics. At night, the entire restaurant transforms into a lively dance club and lounge. Reservations are strongly recommended.
Frontera Cocina
Frontera Cocina is one of Disney Springs' many restaurants with celebrity chefs. This one is the brainchild of 7-time James Beard Award winner Rick Bayless. Bayless drew on the flavors and cuisine of contemporary Mexico to design the menu, which features classics like carne asada tacos and more unique items such as the Oaxacan Green Mole Grilled Snapper.
Located in Town Center, this restaurant has a price point of $$. Don't forget to check out the selection of craft margaritas and tequila and mezcal flights. We strongly recommend reservations if you want to eat here.
House of Blues Restaurant & Bar
House of Blues is recognized worldwide for its live music, and the Disney Springs location (located on the West Side) has some of its best. From local lone guitar players to headliners playing to a packed house, there's almost always something to listen to at House of Blues.
House of Blues has a few signature dishes that you can find in all of their restaurants, including New Orleans jambalaya, Memphis baby back ribs, and Delta fried chicken. They feature an array of items, particularly from the South, in addition to sandwiches, salads, and more. The price range for all of this is $$.
If you can snag a reservation for their Weekend Brunch, it's well worth it. Otherwise, Disney recommends reservations, but aside from the brunch, they often take walk-ins without a long wait.
Maria & Enzo's Ristorante
This Italian trattoria incorporates fresh ingredients to showcase some of Italy's most beloved dishes. The restaurant itself is bright and pleasant and harkens back to the heyday of air travel. It's set inside an old airport terminal located in The Landing, and has a price range of $$. We recommend reservations (they accept same-day reservations; many restaurants in Walt Disney World do not).
You can find an array of dishes on the menu like Lasagna Bolognese (lasagna with meat sauce), Pollo Alla Parmigiana (chicken Parmesan), and an entire section devoted to pasta dishes. They have an impressive wine list of well-known and rare Italian wines. Finish your meal with cannoli, gelato, or another classic Italian dessert.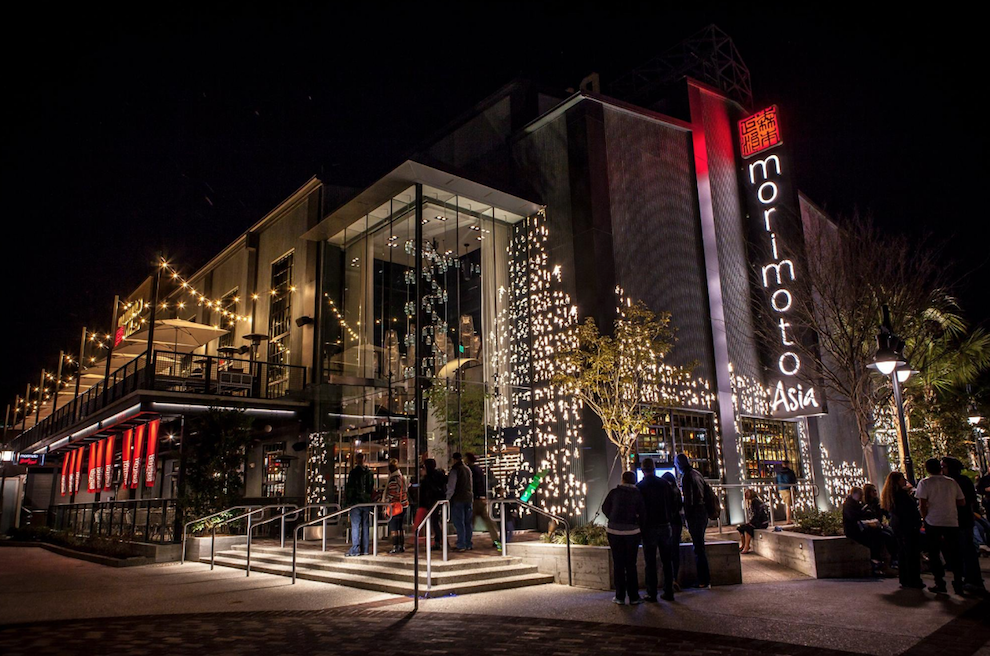 Morimoto Asia
We talked about Morimoto Asia Street Food above, but this table service restaurant is the real deal. One of the most popular restaurants in Disney Springs, reservations are strongly recommended for this restaurant in the Landing (price range $$).
Iron Chef Masaharu Morimoto is world-famous, and he designed this menu to reflect and seamlessly blend the best flavors of Chinese, Japanese, and Korean cuisine. The spare ribs are the most popular menu item, but other dishes such as Duck Ramen, Buri Bop, and Kung Pao Cauliflower are not to be missed.
The restaurant itself is lavishly and beautifully decorated. It features 20-foot chandeliers, Shanghai-style lounges, and an exhibition kitchen. The bright open space helps create a lively and modern atmosphere. Children are welcome, and there is a children's menu, but the restaurant is closer to fine dining than family-friendly.
Paddlefish
If you've ever visited Disney Springs in the past, then you've probably seen the steamboat parked in the waters. Inside that steamboat (used as a 19th-century replica and hosted scores of famous venues) is Paddlefish, a modern American seafood restaurant.
Located in the Landing area (with a price point of $$), there are three floors of dining rooms, balconies, bars, and lounges for the hungry and thirsty patrons. It's also home to Disney Springs' only roof deck bar, a fabulous place to watch the sunset over the water.
Menu items include traditional seafood dishes like New England Clam Chowder and Stuffed Cod, meaty options like the top-notch burger, and plenty of soups, salads, sandwiches, appetizers, and more. They also feature an innovative cocktail menu. Disney recommends reservations.
Paradiso 37, Taste of the Americas
This brightly decorated restaurant is located in the Landing, and it seeks to bring street food flavors of the Americas, especially Latin flavors, to Disney Springs. Their diverse menu contains sandwiches, salads, flatbreads, tacos, meats, fish, and much more.
Paradiso 37 has a lively atmosphere; passersby find themselves drawn to the boisterous (sometimes live) music, the fabulous terrace with breathtaking sunset views, and the illuminated tequila bar. After dinner service, the restaurant converts to a live music and dancing scene.
The menu draws from places as diverse as Napa Valley, Havana, Brazil, and Canada. They also have a specialty drink menu just as assorted as the food. The price range is $$, with a kids' menu, and Disney recommends reservations.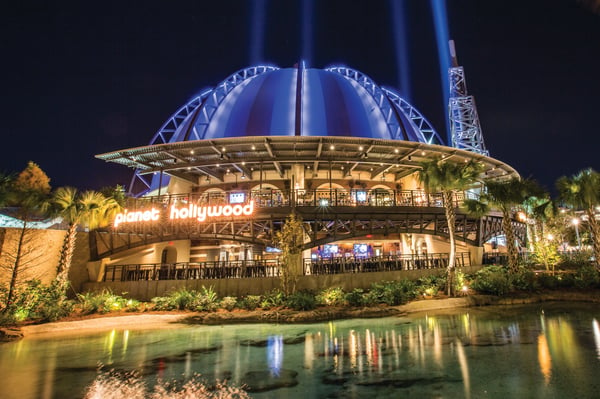 Planet Hollywood
Planet Hollywood has dotted the Disney Springs skyline for years since it was the much smaller Downtown Disney. It has maintained some signature vestiges of its glory days, but celebrity chef Guy Fieri recently updated the menu.
Located in Town Center and at a price range of $$, Planet Hollywood is great for movie buffs and families alike. The walls of this lively restaurant feature memorabilia and rare artifacts from famous and beloved old and new classic films.
The menu features shareable appetizers, salads, BBQ, salmon, and more. Guy Fieri's contributions include a Bacon Man 'N Cheese Burger, and Bird is the Word fried chicken sandwich. Disney recommends recommendations, but there usually seem to be openings for walk-ins, too.
Splitsville Dining Room
If you need to spend some time out of the heat and humidity with plenty for the kids to do, then Splitsville needs to be your next stop. They have dozens of luxury 10-pin bowling lanes, billiards, feather bowling, games, tons of televisions with sports and more, and live music and entertainment.
The dining room at Splitsville has a retro menu and decor designed to transport you back to the 1950s. They have a diverse menu featuring pizza, sushi, salads, burgers and sandwiches, and traditional American entrees. Their drink menu features ten frozen drinks and classic cocktails like the Mai Tai, the Bahama Mama, and a Bourbon Smash. Splitsville is located on the West Side, and its price range is $$.
It's important to note that dining and bowling reservations are made separately. You can do both online or through your Disney app on your smartphone.
STK Orlando
Disney categorizes STK Orlando, located in the Landing, in the $$ price range, but the reality is that many of the entrees cost much more than that. That being said, it's well worth it; STK Orlando is one of the nicest dining experiences in all of Walt Disney World.
The restaurant itself is beautiful, with two stories of dining space. It's sleek and modern, has a DJ in the main lobby and also has an indoor fire pit lounge. They have a reasonably traditional restaurant for a steakhouse, including salads, a raw bar, several fish, chicken, and pork dishes, and then a selection of choice cuts of steak and shareable sides.
Although the menu's structure is traditional, the flavors are everything but that. They also feature a wide array of craft cocktails and an impressive wine list. Stop in for late-night eats starting at $8 for small plates, or book the weekend brunch. Disney strongly recommends reservations.
T-REX
If you have dinosaur-loving kids (or if you're a big kid who loves dinos at heart!), then T-REX is a must-do for your family. Dining at T-REX is an immersive experience, beginning in the paleo zone, where kids can experience archaeology by digging for stones and bones alike.
Several unique dining rooms feature a prehistoric scene, including an ice cave and a giant wasp-infested forest. You'll experience explosions and meteor showers and come face-to-face with life-size animatronic dinosaurs, including the T-Rex itself.
The menu features family-friendly fare, including burgers, salads, meats and seafood, and pasta dishes at a $$ price range. There's an expansive kids' menu and an array of non-alcoholic and alcoholic drinks. Disney recommends reservations, which are an especially good idea if your kids have their hearts set on eating here.
Terralina Crafted Italian
Located on the water in the Landing area of Disney Springs, Terralina's cuisine was inspired by Italy's own Lakes District. Many of these Italian dishes are among the best known and well-loved in America, like Margherita Pizza, Chicken Marsala, Shrimp Scampi, and more.
Terralina is more casual and lower-priced ($$ price range) than some other Italian or Mediterranean dining options and has lots of kid-friendly options on the kids' or regular menu. As is expected of an Italian restaurant, there's an impressive wine list with multiple bottles and wines by the glass as well.
Disney recommends reservations, though they often accept walk-ins as well.
Wolfgang Puck Bar & Grill
Wolfgang Puck is the very definition of a celebrity chef, and he's had a presence in Disney Springs for several years. This restaurant features many of the dishes and cuisines that have made him so famous. They include items from the mesquite charcoal grill, pizzas and flatbreads, fish, pasta, salads, and much more.
Located in Town Center, the menu also has a beautiful selection of fine wines, several of which they stock specifically to pair with particular dishes. They also offer hand-crafted cocktails, a grab-and-go menu, and weekend brunch. It is in the $$ price range, and while reservations are recommended, walk-ins are sometimes available.
Which Disney Springs Restaurants Can You Use Your Disney Dining Plan At?
Walt Disney World offers a variety of dining plans to its resort guests. For a flat fee, guests with dining plans pre-pay for the food and drink they think they will eat. There are several different dining plans to suit lots of dining styles. Families can choose plans that emphasize lots of snacks and small meals or plans with sit-down meals every single day.
Disney makes its dining plans well worth it, so most restaurants in the resort accept dining plans. It might be easier to list the restaurants that don't take dining plans!
Of the quick-serve restaurants featured in this article, the following accept dining plans:
4 Rivers Cantina Barbacoa Food Truck
AristoCrepes
B.B. Wolf's Sausage Co.
Blaze Fast Fired Pizza
Cookes of Dublin
The Daily Poutine
Earl of Sandwich
Morimoto Asia Street Food
The Polite Pig
Of the sit-down, table service restaurants featured in this article, the following accept dining plans:
Chef Art Smith's Homecomin'
City Works Eatery and Pour House
The Edison
Frontera Cocina
House of Blues
Maria and Enzo's
Morimoto Asia
Paradiso 37
Planet Hollywood
Splitsville Dining Room
T-REX
Terralina Crafted Italian
Wolfgang Puck Bar and Grill
Keep in mind that there are still several quick-serve and table service restaurants beside the ones that we've discussed here in Disney Springs. Those are in addition to the dozens of eateries throughout Walt Disney World in the parks and resorts. Because the best restaurants at Disney Springs offer so many delicious dishes to try, the most challenging part will be choosing a restaurant.
More about our TFVG Author
A seasoned traveller, Dad, and avid sports tourist, James foundered The Family Vacation Guide to share his expert vacation experiences- especially when it comes to being a travelling family man.
Featured in Travel articles such as Travel + Leisure, TripSavvy and SFGate, you know you're reading some of the best vacation tips online.