Picture this: the day has finally come. You are heading into Star Wars: Galaxy's Edge, the immersive Disney experience that enthralls Star Wars novices and lifelong fanatics alike. As you pass under the shadow of the Millenium Falcon, you see a strange sight: tray after tray of opaque blue and green liquid. What is this?
You, dear reader, have just entered the world of Blue Milk and Green Milk.
Want to know the story behind these strange concoctions? Read on for everything you need to know about Blue and Green Milk at Disney World.
What are Blue and Green Milk?
Great question–obviously, it's easy enough to imagine a substance that's just "milk, but blue," but what exactly is this odd sapphire beverage?
Simple answer: Blue Milk and Green MIlk are trademark beverages of Galaxy's Edge that have become points of discussion–and contention–amongst Disney lovers.
The drinks are loosely based on beverages found in the Star Wars films. In A New Hope, the camera shows Luke Skywalker pouring and sipping on a drink that looks like a cross between Gatorade and regular cow's milk. In the in-universe, the drink comes from the Bantha, a massive domesticated animal used by the Sand People.
Green milk, in turn, appears in The Last Jedi, during a scene when Luke Skywalker drinks a bottle full of jade-colored stuff. The liquid comes from thala-sirens, an alien creature indigenous to Ahch-To.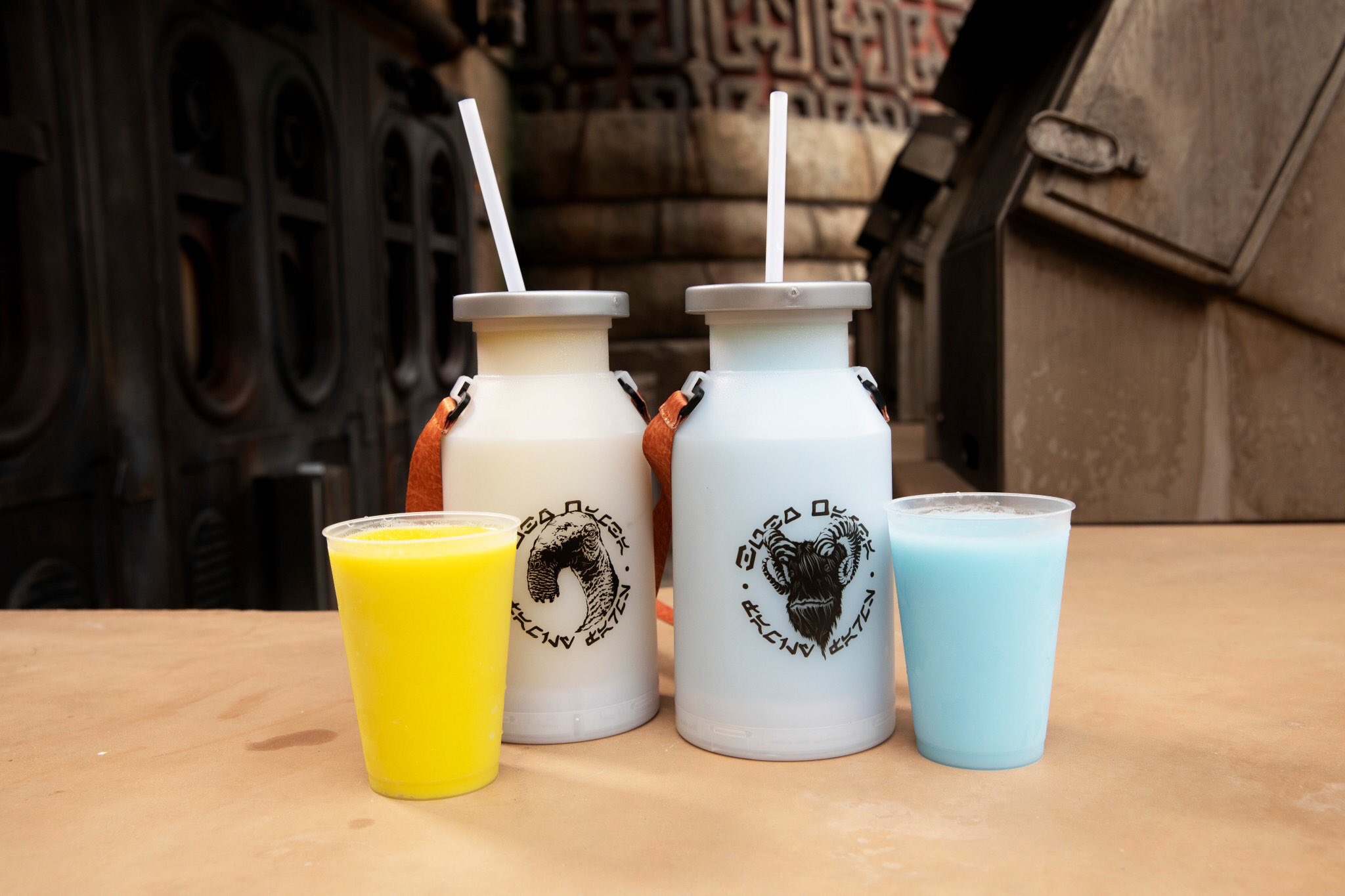 What are Blue and Green Milk in Disney World?
One of Walt Disney World's trademark features is that park staff seek to immerse guests in the universe of the park. This means that a drink is never just a drink–it is an opportunity to take guests into another world.
For that reason, it is only sensible that Disney's culinary experts latched onto the concept of the Blue and Green milks when they were developing the concept for Star Wars: Galaxy's Edge. Both beverages are plant-based milk that isn't as rich as their fictional counterparts–instead, they're meant to offer a cool, refreshing blast of flavor as you walk under the beating Florida sun.
Wondering what each of these drinks tastes like, though? Read on.
What is Blue Milk?
Despite its name, Disney's Blue Milk tastes more like a tropical smoothie than a glass of milk, which is probably a relief to most fans (we hope the Blue Milk die-hards out there aren't offended).
Disney's menu advertises Blue Milk as a "Plant-based blend of Coconut and Rice Milk with alluring fruity characteristics." Who doesn't love fruity characteristics?
All jokes aside, Blue Milk is a blended combination of rice milk powder with coconut milk, a naturally occurring, fatty, slightly sweet liquid that often doubles as milk in vegan recipes. The flavor additives in Blue Milk help the beverage taste like dragon fruit, pineapple, or even watermelon–plenty of sweetness to round out the milky base.
The adults-only option also helps clear up Blue Milk's flavor a bit. Blue Milk Cooler, which is also sold in Galaxy's Edge, is a mixture of standard Blue Milk with Bacardi Rum. Since rum tends to go best with drinks that are already a bit sweet, it would make sense for Blue Milk to fit with it.
What is Green Milk?
Green Milk is the controversial cousin to Blue Milk. Though we'll discuss popularity in a moment, it seems that Green Milk is less well-liked than Blue Milk, perhaps owing to its green-yellow color.
While Blue Milk has flavors more reminiscent of a rich banana smoothie, Green Milk is more like a citrus slushy. Disney describes it as being a "Plant-based blend of Coconut and Rice Milk with zippy citrus and tropical characteristics." So, it's made with the same base as Blue Milk, but it swaps out so-called "fruity characteristics" for "tropical characteristics," which is somehow more abstract.
Nonetheless, the flavor of Green Milk is quite distinct. It has hints of passionfruit, orange, grapefruit, and lime–making it taste a bit more like an orangeade or limeade than milk.
As with Blue Milk, the alcoholic version sheds some light on the drink's flavor. Disney's expert mixologists create Green Milk coolers by mixing them with Corazon Blanco Tequila. Since tequila is a drink that normally goes in cocktails like margaritas, you can imagine the flavor neighborhood that green milk lives in–it's sharper, tangier, and a bit edgier.
Still, no disrespect to anyone who goes in for Green MIlk. You only live once, right?
Is Blue Milk or Green Milk Better?
This is it. The battle of the titans. The Star Wars battle to end them all. It's not about prequels versus sequels, Anakin versus Obi-Wan, or Rey versus Kylo–it's about these two luminous kinds of milk.
Ultimately, as with anything, there's no definitive answer about whether Blue or Green Milk is better. If the popular outcry is any indication, most Disney fans seem to favor Blue Milk's fruity touch and sweet flavor profile over Green Milk's tangy touch to the palette.
Still, there's nothing wrong with people who prefer to abstain from both drinks. Since Blue Milk and Green Milk clock in at over $8 per glass (twice as much for the alcoholic versions), it can feel difficult to justify an entire container of a viscous otherworldly beverage.
That said, Disney does maintain high standards for its cuisine. Even if Blue and/or Green Milk don't quench your thirst exactly, they are still worth trying if you happen to be in a galaxy far, far away.
Frequently Asked Questions
Still curious about Disney World's Blue and Green milk? Read on.
Is Blue Milk at Disney dairy free?
Despite their names, neither Blue nor Green Milk contains any dairy products–they are completely vegan and plant-based.
While the exact formula for these interstellar milk has remained behind Disney's stringent lock-and-key policy, they have disclosed that the beverages are made from rice milk powder, coconut milk, and fruit flavorings.
Where can I find Blue and Green Milk at Disney?
Have a hankering for some Blue Milk before you head off to your next adventure? Maybe you want to kick back with some Green Milk? If so, you're in luck, because they're incredibly easy to acquire.
The best way to get Blue and Green Milk is to head to the Black Spire Outpost in Star Wars: Galaxy's Edge, which is located in Walt Disney World's Hollywood Studios. From there, hit up the Milk Stand, which serves both beverages.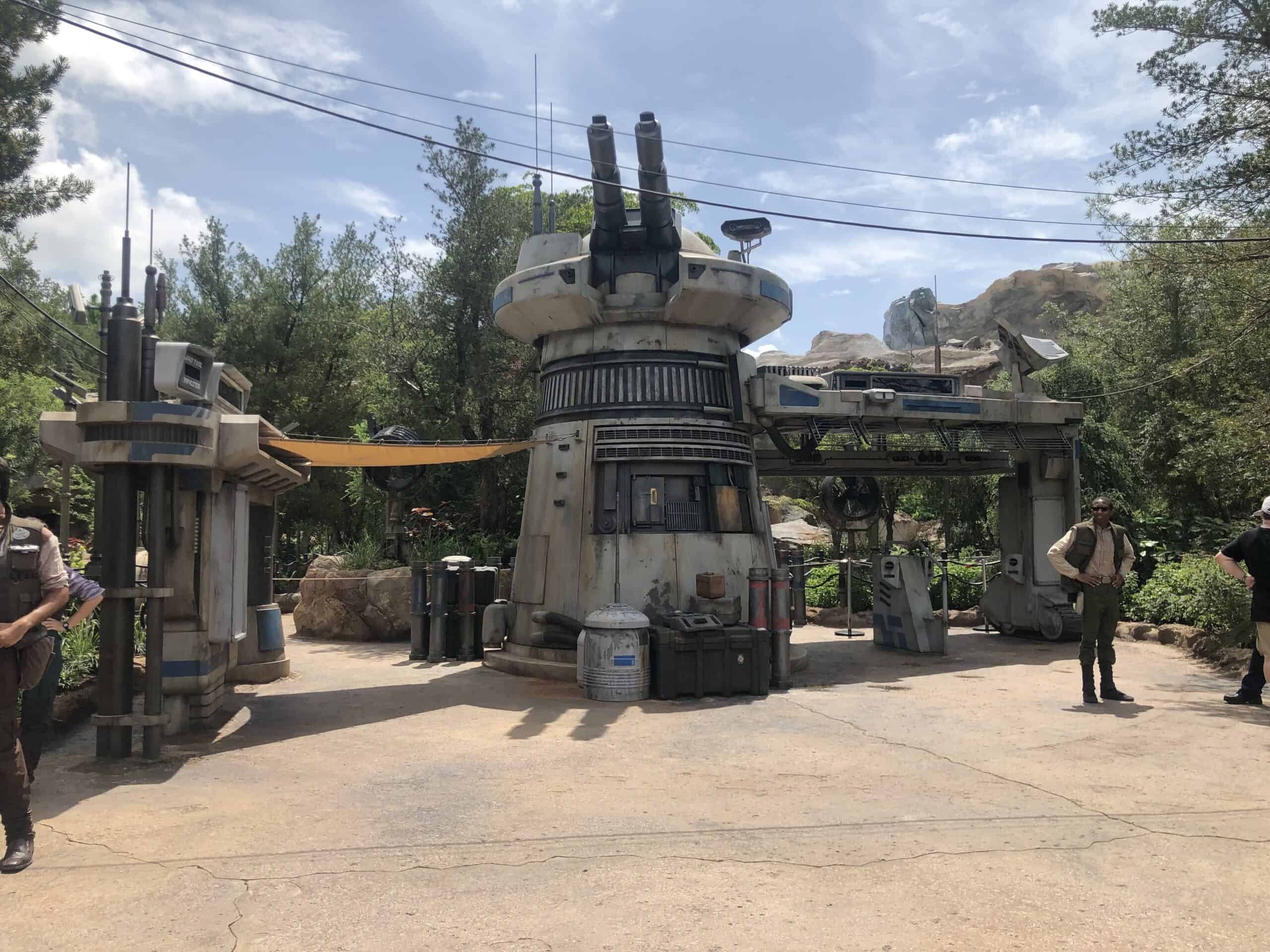 Are Blue and Green Milk served with alcohol?
Blue and Green Milk are not served with alcohol by default. However, alcoholic options for both beverages are available at the Black Spire Outpost's Milk Stand.
If you want the Blue Milk with a touch of alcohol, grab the Blue Milk Cooler, which contains Bacardi rum. If you prefer to party with some alcoholic Green Milk, the Green Milk Cooler has tequila.
Can you get food with Blue and Green Milk at Disney World?
Because the world is not perfect, it is difficult to get food with Blue or Green Milk during your adventures in Star Wars: Galaxy's Edge. The Milk Stand exclusively sells glasses of milk and their alcoholic counterparts.
That said, there is still hope in the world. You can carry the drink elsewhere, to locations like Oga's Cantina, Docking Bay 7, and Kat Sakas Kettle.
Final Thoughts
Whether you have dreamed of blue milk since you first watched Star Wars in 1977 or just heard about it when you read this headline, the drink encapsulates what makes Star Wars: Galaxy's Edge exciting. It's unexpected, interesting, and filled with the panache and spirit of Disney World.
So what are you waiting for? Get your glass today!
More about our TFVG Author
A seasoned traveller, Dad, and avid sports tourist, James foundered The Family Vacation Guide to share his expert vacation experiences- especially when it comes to being a travelling family man.
Featured in Travel articles such as Travel + Leisure, TripSavvy and SFGate, you know you're reading some of the best vacation tips online.