Oga's Cantina in Disney's Hollywood Studios has received a lot of positive buzz for its one-of-a-kind atmosphere and even more unique menu. In fact, it's one of the most popular eateries in all of Walt Disney World, located outside Orlando in central Florida.
Below, discover everything you need to know about Oga's Cantina, from its location to snagging a reservation to the hidden "Easter eggs" to hunt for while enjoying food and drink.
Where Is Oga's Cantina Located?
You can find Oga's Cantina in Disney's Hollywood Studios in central Florida. Along with the Magic Kingdom, EPCOT, and Disney's Animal Kingdom, it's one of four theme parks on the company's massive property. 
Disney divides each of the parks into lands or zones. Oga's is in Galaxy's Edge, the Star Wars-themed land. When you enter the main gates, head to the back of the park to the left. Once inside Galaxy's Edge, keep heading to the back. It's next to the Millenium Falcon.
Star Wars: Galaxy's Edge
There's a ton to say about Galaxy's Edge, but we want to save space to delve deeper into Oga's Cantina.
Basically, Disney designed this land as an addition to the Star Wars universe. It's supposed to be an outpost at the edge of the galaxy (Black Spire Outpost) where neither the Resistance nor the First Order has complete control.
There are many other top-rated attractions, including Star Wars: Rise of the Resistance and Millennium Falcon: Smuggler's Run. You can also build custom lightsabers and droids, among other things. It's worth devoting at least part of a day to exploring!
What Is the Theme of Oga's Cantina?
Oga's Cantina fits the overall theme of Galaxy's Edge. In other words, it helps tell the story of Black Spire Outpost.
Conceptually based on an original sketch of Jabba's Palace, you'll find Oga's Cantina down Smuggler's Alley. That should tell you everything you need to know about the clientele–renegades, rebels, and smugglers.
Oga's was founded by none other than Oga Garra and her retired pilot droid, who currently works at the bar as a DJ. Oga designed the menu and concocted the drink recipes for guests of all ages. Fuel up before your next space adventure at this notorious watering hole!
How To Get a Table at Oga's Cantina
The trickiest part of enjoying refreshments at Oga's is getting inside the door in the first place. If you think it sounds exciting, you're not alone.
Reservations
Always try to get a reservation for anywhere you want to eat. Disney Dining opens reservations 60 days ahead (be sure to account for months with more or less than 30 days), typically around 5:45 AM.
If you don't get a reservation (and you may not), keep trying. Remember that you'll need valid park admission on that day to visit. Keep checking in the weeks and especially days before your visit. Always refresh a few times in the 24 hours beforehand, as lots of people cancel then.
Walk-ins
Oga's also keeps tables available for walk-ins. If you're willing to wait, you will most likely get in. Here's the catch:
Hoping to get off your feet? Sorry. Most of the walk-ins are standing-only tables.
You may share your table with another party.
Someone in your party must remain by the entrance. The rest of your family can explore, but stay close; they won't hold the table for long.
Time Limits at Oga's
Even with a confirmed reservation, make the most of your time at your table at Oga's because it's limited. There's a 45-minute limit for all parties. This is because the restaurant is so popular.
Expect it to be strictly enforced, too. Unless there's a delay getting your food or drinks, you'll be brought your check and not served further rounds.
Planning Your Visit to Oga's Cantina
Now that you know how to get a table at Oga's Cantina, let's look at what to eat and drink.
What To Eat and Drink at Oga's Cantina
One thing that makes it a little bit simpler is that Oga's serves the same menu for breakfast, lunch, and dinner. Check out the items and prices below.
The concoctions and provisions at Oga's are so much fun! You can get drinks that sizzle, fizz, numb your tongue, and much more. Ask your server for more information before you order!
Concoctions and Provisions With Alcohol
| | |
| --- | --- |
| Item Name | Price |
| Fuzzy Tauntaun | $18 |
| Bloody Rancor | $20 |
| The Outer Rim | $19 |
| Bespin Fizz | $20 |
| Yub Nub | $17 |
| Jedi Mind Trick | $17 |
| T-16 Skyhopper | $18 |
| Dagobah Slug Slinger | $18 |
| Jet Juice | $17 |
| Provisions With Alcohol: | |
| Rodian Ration | $15.50 |
Concoctions and Provisions Without Alcohol
| | |
| --- | --- |
| Item Name | Price |
| Hyperdrive (Punch It!) | $6.50 |
| Blurrgfire | $7 |
| Black Spire Brew | $7 |
| Cliff Dweller | $35 |
| Jabba Juice | $7 |
| Carbon Freeze | $7.50 |
| Blue Bantha | $13 |
| Provisions Without Alcohol: | |
| Oga's Obsession | $7.50 |
Snacks
| | |
| --- | --- |
| Item Name | Price |
| Batuu Bits | $11 |
| Happabore Sampler | $21 |
Wines, Ciders, and Beers on Tap
| | |
| --- | --- |
| Item Name | Price |
| Wines on Tap: | |
| Goldschmidt Vineyards Imperial Guard (red) | $17 |
| Goldschmidt Vineyards Toniray (white) | $14 |
| Ciders on Tap: | |
| Spice Runner Hard Cider, Angry Orchard | $12.75 |
| Beers on Tap: | |
| Bad Motivator IPA, Sierra Nevada Brewing Co. | $13.75 |
| Gold Squadron Lager, Blue Point Brewing Co. | $13.75 |
| Trandoshan Ale – Dogfish Head | $13.50 |
| Gamorrean Ale – New Belgium Brewing Co. | $13.75 |
| Rancor Beer Flight Souvenir Board with Four Teeth | $85 |
Special Menus at Oga's Cantina
If you have special dietary requirements, don't fret. There are things to eat and enjoy for everyone at Oga's.
Gluten-free
The pita bread on the Happabore Sampler is not gluten-free, but everything else is. You can order it without the bread or with it on the side if others want to enjoy it.
Most mixed drinks (alcoholic and without) are also gluten-free, as long as they don't have beer in them. Blue Bantha drinks are not gluten-free, as they contain oats.
Vegetarian and Vegan
The Batuu Bits are vegetarian, but the other plate is obviously not. The T-16 Skyhopper contains dairy, and the Black Spire Brew contains honey, so they are not vegan. Otherwise, you're good to go.
Allergen Notes
Other than the dairy items listed above, Disney has only provided one additional allergy note. The cookie served with the Blue Bantha contains tree nuts—coconuts, to be exact.
Disney tends to be cautious when it comes to allergies and dietary requests. Speak with your server. They can find it for you if they don't know the answer.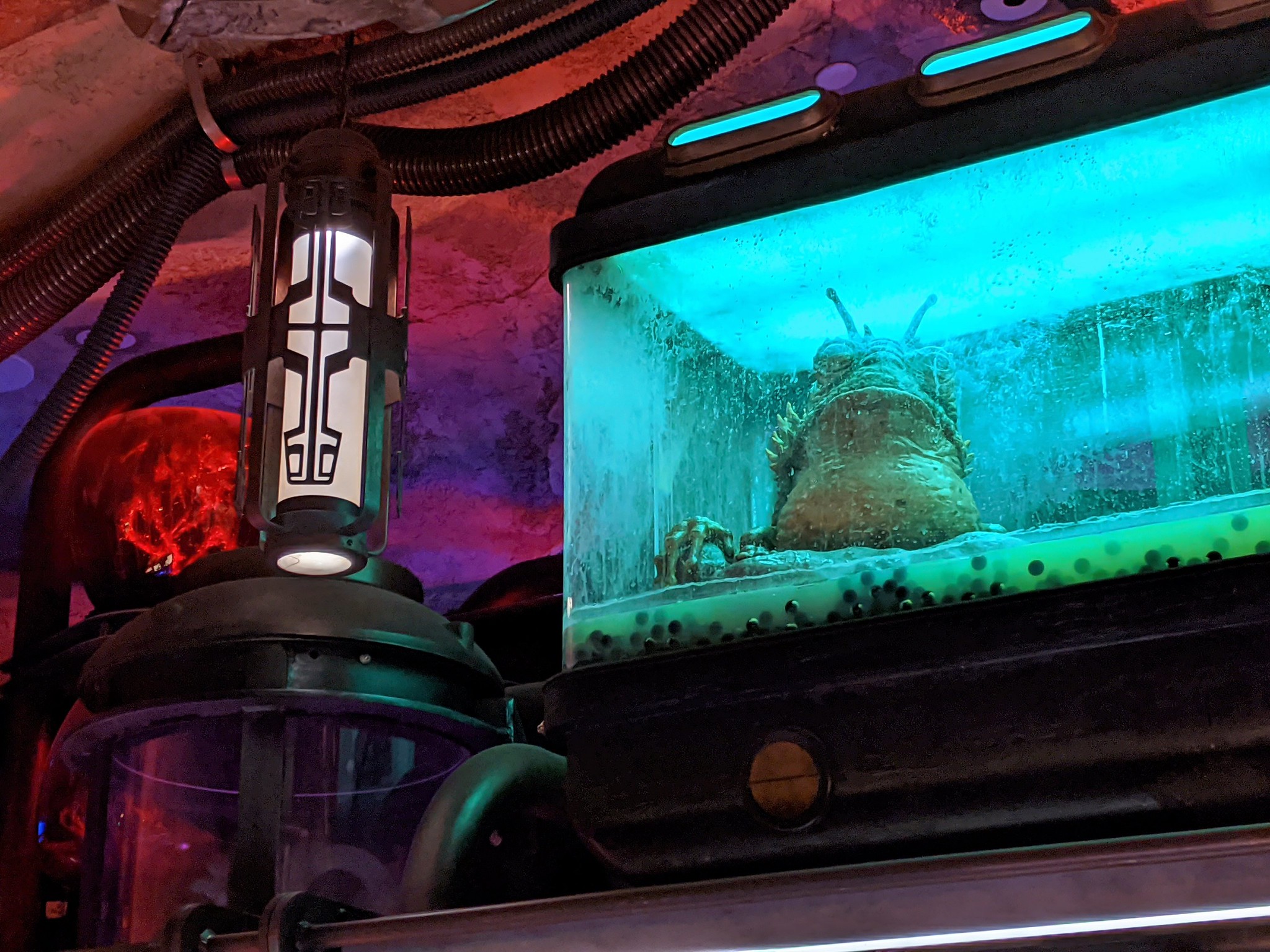 Oga's Cantina Easter Eggs and More
Some of the fun of dining or drinking at Oga's Cantina is the decor, for sure! It helps add to the ambiance of the restaurant and Galaxy's Edge as a whole.
First and most importantly, you may recognize the Droid working as a DJ, DJ-R3X. You might recognize him if you visited back when Hollywood Studios was still known as MGM and rode the Star Tours attraction. He's the StarSpeeder 3000 driver who took you on your crazy ride.
If you're lucky, you might experience a blackout caused by a failure in the hyperdrive. The crew gets it back on when this happens, and everyone cheers. Best of all, you'll get to hear the DJ spin a particular tune familiar to fans of A New Hope.
Or you might catch the traditional Batuu drinking ballad, "Una Duey Dee," which always inspires a rousing sing-along.
Either way, the entire playlist from DJ-RX3 is available and free to listen to on major streaming services. For die-hard Star Wars fans, almost every track contains some small connection to something else in the franchise.
Oga's Cantina FAQs
Let's answer some remaining questions about Oga's Cantina.
Is Oga's Cantina good for kids?
Oga's Cantina is a lot of fun for kids, especially if you get a reservation and sit at a table. It has a lively atmosphere, so they don't have to worry about keeping their voices down too much. They'll enjoy watching the Droid DJ and joining the cheers and chants when they occur.
Best of all, as you can see above, there's an extensive menu of fun, fizzing, magical drinks.
If you're visiting Oga's Cantina with kids, read our next FAQ! You don't want your visit ruined by finding out you can't get chicken fingers here.
Can you get a meal at Oga's Cantina?
No–Oga's Cantina only serves two shareable plates. It's enough food for an appetizer and will give you a solid base in your stomach if you choose to imbibe it. Still, plan to have a meal before or after your visit.
Is Oga's Cantina good for a large group?
Sure! Because many of the tables are standing, you can more easily crowd a large group around one table.
Travel to a Galaxy Far Away at Oga's Cantina
Once you step through the doors at Oga's Cantina in Black Spire Outpost, you'll feel like you're in a different galaxy. It's an essential part of the immersive experience of visiting Galaxy's Edge in Disney's Hollywood Studios. Make it part of your family's next vacation!
More about our TFVG Author
A seasoned traveller, Dad, and avid sports tourist, James foundered The Family Vacation Guide to share his expert vacation experiences- especially when it comes to being a travelling family man.
Featured in Travel articles such as Travel + Leisure, TripSavvy and SFGate, you know you're reading some of the best vacation tips online.