If you're heading to Orlando with the kids, you definitely want to take them on a side trip to a beautiful beach. While Florida has plenty of beaches, Orlando's location in Central Florida means you have to travel over an hour to enjoy a sandy ocean shore.
You have two great beach options in two opposite directions with two distinctly different offerings. So when deciding between Cocoa Beach vs. Clearwater Beach, you need to know how both beaches stack up before you can choose the best one for your kids.
This article breaks down what each beach has to offer. With these details, you can decide whether traveling east to the Atlantic Coast to play at Cocoa Beach or west to the Gulf Coast to enjoy Clearwater Beach will be the best fit for you and your kids. 
Why not also take a look at our guide that looks at which side of Florida has the best beaches as well as our guides to the best family hotels in Clearwater?
Cocoa Beach vs. Clearwater Beach: Setting
Cocoa Beach and Clearwater Beach each have distinct settings. Located on opposite sides of the state of Florida, each beach has a significantly different look and feel.
Cocoa Beach
Cocoa Beach, on the eastern Atlantic coast of Florida, can be found in Brevard County. This authentic beach town has a care-free vibe consistent with its surfing roots. The famous Ron Jon's Surf Shop can be found here as well as the East Coast Surfing Hall of Fame.
The area offers a small-town feel despite rising tourism, and nature lovers enjoy the wildlife attracted to the natural, tan sandy beaches. Cocoa Beach doesn't spoil its beachside scene for the sake of tourism dollars. With sustainability in mind, Cocoa Beach remains committed to upholding environmental integrity of its area so that the beaches retain their beauty and wildlife for future generations.
Clearwater Beach
Clearwater Beach can be found in the Tampa Bay area on the western side of Florida. Situated on the Gulf Coast, Clearwater features a much larger city than the town of Cocoa Beach. You won't get a beach town look and feel with Clearwater.
However, you can find a vibrant urban center and many extra beach excursions than on the Atlantic side. With Clearwater being voted the number one beach in America for several years, Clearwater tends to have a more touristy vibe than Cocoa Beach. You can also expect to find this popular beach crowded no matter when you visit.
Cocoa Beach vs. Clearwater Beach: Getting to the Beach
Hitting the beach makes an excellent side trip from the Orlando area, especially if you want to escape the parks and relax a bit. When comparing Cocoa Beach vs. Clearwater Beach, both make for an easy day trip from Orlando, but you do have some differences.
Travel Times
Keep this in mind when considering travel times to both beaches:
Cocoa Beach: If you head about 70 miles east of Orlando, you'll land at Cocoa Beach on the Atlantic side. You will need about an hour to get there, and the drive faces little to no traffic.
Clearwater Beach: A bit farther from Orlando, you will travel west just over 100 miles to get to Clearwater Beach. In addition to taking longer, you also have to account for the traffic you're likely to encounter. Generally, you need to plan for just under two hours to get to this beach.
Transportation Options
When you want to travel to either Cocoa Beach or Clearwater Beach, you can explore these options and their different advantages:
Driving your own car: By far the easiest way to Cocoa Beach, driving your car is a great option, especially since the trip can be done relatively quickly. You can drive to Clearwater in your own car, but you may have to fight traffic, tolls, and crowded parking. Plus, you may not want to drive two hours back to your hotel after a day at the beach.
Hiring a car: Regardless of your beach choice, hiring a car may be convenient, but this option costs the most.
Taking a shuttle bus: While you have the option of taking a shuttle bus to either beach, this option involves complicated schedules and transfers, making it neither practical nor convenient.
Taking an excursion tour: You can find several excursions that make day trips from Orlando to Clearwater Beach. To make life easier, an excursion has transportation and timing all planned, and you don't have to worry about driving yourself, parking, or paying tolls. You cannot find the same variety of tours Cocoa Beach as you do for Clearwater. This option helps you to make the most out of a trip to Clearwater Beach.
Cocoa Beach vs. Clearwater Beach: Sand and Surf
The differences between Cocoa Beach vs. Clearwater Beach become more obvious when you compare the sand and waves. 

Sand
Cocoa Beach has the typical tan sand you find on most beaches and especially along the eastern coastline of the United States. Because of the shell bits tossed about in the more turbulent Atlantic Ocean, the sand has a coarser feel than that of Clearwater Beach.
The sand at Cocoa Beach does have a special significance for wildlife. Turtles naturally nest in the sands at Cocoa Beach beginning in March, and residents do their best to help visitors share the beach with these native creatures.
At Clearwater Beach, you will find beautiful, white powdery sand adorning the beach. Because this beach borders the Gulf of Mexico, the less turbulent waters provide a beach with excellent shell-hunting, especially in the morning.
Surf
The difference between the surf of these two beaches originates from the bodies of water they border.
The more turbulent Atlantic Ocean gives Cocoa Beach:
More larger waves
Colder temperatures
Darker-looking water

The Gulf side with Clearwater Beach offers:
Calmer waters
Warmer temperatures
Clear, turquoise-looking water.
If you want surfing or more active water, then Cocoa Beach has more to offer, but if you're looking for calm water than you can see through like glass, then Clearwater makes the best option.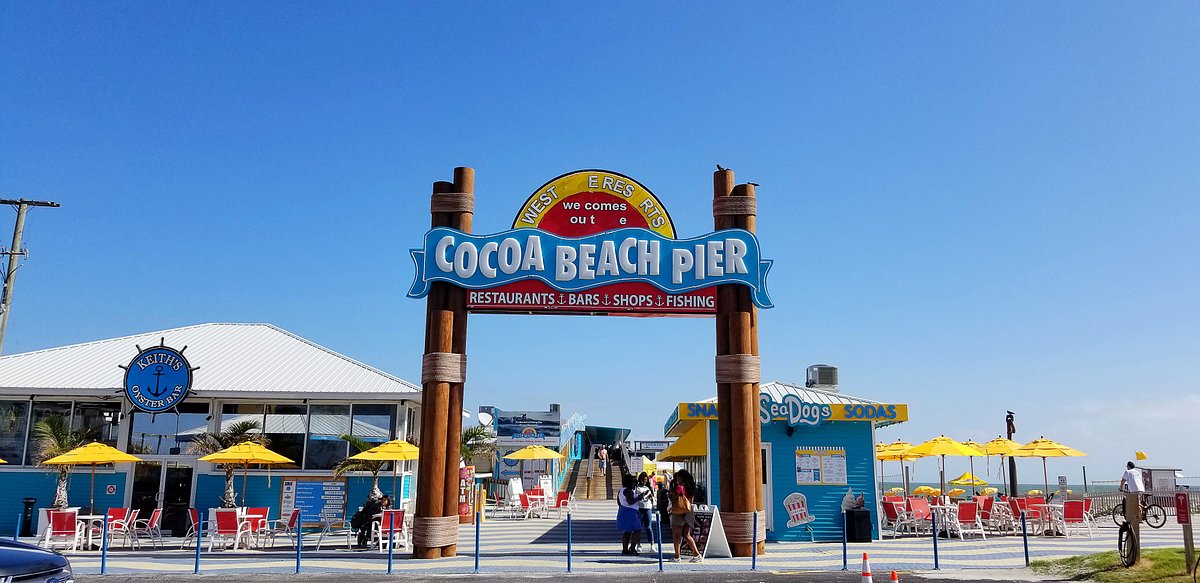 Cocoa Beach vs. Clearwater Beach: Family Atmosphere
Both Cocoa Beach and Clearwater Beach offer a family-friendly atmosphere, but each has their differences.
Located on Florida's Space Coast, Cocoa Beach offers front-row views of cruise ships traveling back and forth from Cape Canaveral, and if you time your visit just right, you might see something launched from Kennedy Space Center.
Because Cocoa Beach boasts a huge surf following, you can sign kids up for surf lessons or check out the famous Ron Jon's Surf Shop. You can find a pier to gaze at stingrays, walking paths, and even a small park nearby, making Cocoa Beach a great stop for all different types of families.
Clearwater offers much in the way of water activities. While you get calmer surf on this side of the state, you also get more in the way of watersports options, such as kayaking, parasailing, jet skiing and more.
Locals consider Clearwater a city beach. So while you may not have a small-town atmosphere, you can take advantage of the city features, such as a boardwalk, plenty of shopping and eating within walking distance of the beach, and more.
Clearwater provides a family-friendly stop with a different vibe and different amenities compared to Cocoa Beach. You can be just as active with your family at Clearwater. You just will find yourself doing different activities.
Cocoa Beach vs. Clearwater Beach: Things to Do
You can find plenty of things to do in both Cocoa Beach and Clearwater Beach. Which destination makes the best beach for you and your kids really depends on what types of activities you enjoy.
On the Beach
When it comes to Cocoa Beach, surfing reigns supreme. So if you want to surf, Cocoa Beach makes a perfect spot. If you want several water sports to choose from, Clearwater Beach offers more.
Both beaches have a pier area, but the Clearwater one has much more activities for children. Pier 60 at Clearwater Beach has a playground and nightly sunset festivals that the entire family can enjoy.
The Cocoa Beach pier offers a more laid-back atmosphere consistent with its beach town culture. You can watch fishermen and catch live entertainment at the pier in Cocoa Beach. Or you can gaze at stingrays swimming by and then grab a bite to eat at local restaurants while you catch the sunset.
Both beaches offer rentals so you can outfit your crew with chairs and umbrellas while you enjoy your time on the beach.
Around the Beach
When it comes to excursions outside of the beach, you can visit Kennedy Space Center or the Florida Surf Museum if you visit Cocoa Beach. At Clearwater, you can see where the famous dolphin, Winter, received care by stopping by the Clearwater Marine Aquarium.
Getting Close to Nature
When it comes to nature and eco-tours, Cocoa Beach offers the most options. Not only can you watch turtles nesting on the beach, but you can find thousands of acres of conservation land to explore. Cocoa Beach has an abundant amount of eco-tours suitable for all kinds of families.
Whether you simply want to walk a nature trail in conservation land or take a kayaking eco-tour, Cocoa Beach has plenty of ways to explore the natural ecosystem along the Atlantic coast.
On the Gulf side, Clearwater offers several options of dolphin-watching or dolphin-encounter tours as well as fishing charters and manta ray tours. However, Clearwater doesn't offer the same type of eco-tours you can find in Cocoa Beach. Clearwater has more touristy options than Cocoa Beach.
Cocoa Beach vs. Clearwater Beach: Downtown Areas
Cocoa Beach looks like a typical beach town, and the residents like it that way. You can check Downtown Cocoa Beach for Friday Fest dates and enjoy the small-town feel of a main street festival while you visit. Always family friendly, Cocoa Beach does its best to make families feel welcome.
Clearwater, a city much larger than Cocoa Beach, has a more vibrant urban feel. With art and culture and plenty of restaurants, this family-friendly city offers much to do away from the beachfront.
Cocoa Beach vs. Clearwater Beach: The Best for Kids
When it comes to selecting the best beach for you and your kids, you have to weigh all of the considerations to see which beach fits your family's style and needs best. Both beaches offer a great way to spend time with your kids, but consider the age and abilities of your children as well as their interests before you make your choice.
Here are some considerations to weight when choosing between Cocoa Beach vs. Clearwater Beach:
Cocoa Beach has a laid-back vibe with a surfer town feel. You can find plenty of surfing and natural habitat to explore and enjoy. Plus, you can rent some beach gear and relax on the beach all day.
Clearwater Beach brings a more touristy feel to a beach. With beautiful sand and water, you won't have the natural waves you can get on the Atlantic side, but you do have plenty of watersports you can rent and do.
If you want a spot where you let the kids play for a while in a well-equipped park for hours or trade on the beach for some urban appeal, then Clearwater makes the perfect spot. However, if your crew tends to be more relaxed and enjoy a flip-flop state of mind, Cocoa Beach offers a more casual feel that might meet your needs better.
Because Clearwater has calmer water, you may prefer it to the surfing Atlantic side of Cocoa Beach. However, if your children won't do much in the water and don't tend to get too deep, Cocoa Beach and its natural wonders may be the perfect spot for your family to hang out. Plus, you can avoid the crowded beach scene that accompanies Clearwater.
Of course, you may want a shorter trip from Orlando. If so, Cocoa Beach should be your destination, but if you don't mind the drive, you can head out a little farther to Clearwater Beach. Both locations have plenty of places to spend the night if you want to extend your stay.
Regardless of your choice, as long as you have kept your needs in mind, either beach can add a ton of fun to your Florida trip.
More about our TFVG Author
A seasoned traveller, Dad, and avid sports tourist, James foundered The Family Vacation Guide to share his expert vacation experiences- especially when it comes to being a travelling family man.
Featured in Travel articles such as Travel + Leisure, TripSavvy and SFGate, you know you're reading some of the best vacation tips online.