Disney's Polynesian Villas and Bungalows are a newer add-on to Disney's Polynesian Village Resort in Walt Disney World outside Orlando, Florida. The Polynesian is one of Disney World's original hotels, and the villas and bungalows bring it into the Disney Vacation Club family.
Below, discover all you need to know about the villas and bungalows at the Polynesian. We'll cover everything from the resort's location to the rooms, amenities, food, and more. That way, you'll know if this is the perfect place to stay for your family vacation!
All the Basics
Let's start with some of the essentials.
Disney's Polynesian Resort vs. Villas and Bungalows: What's the Difference?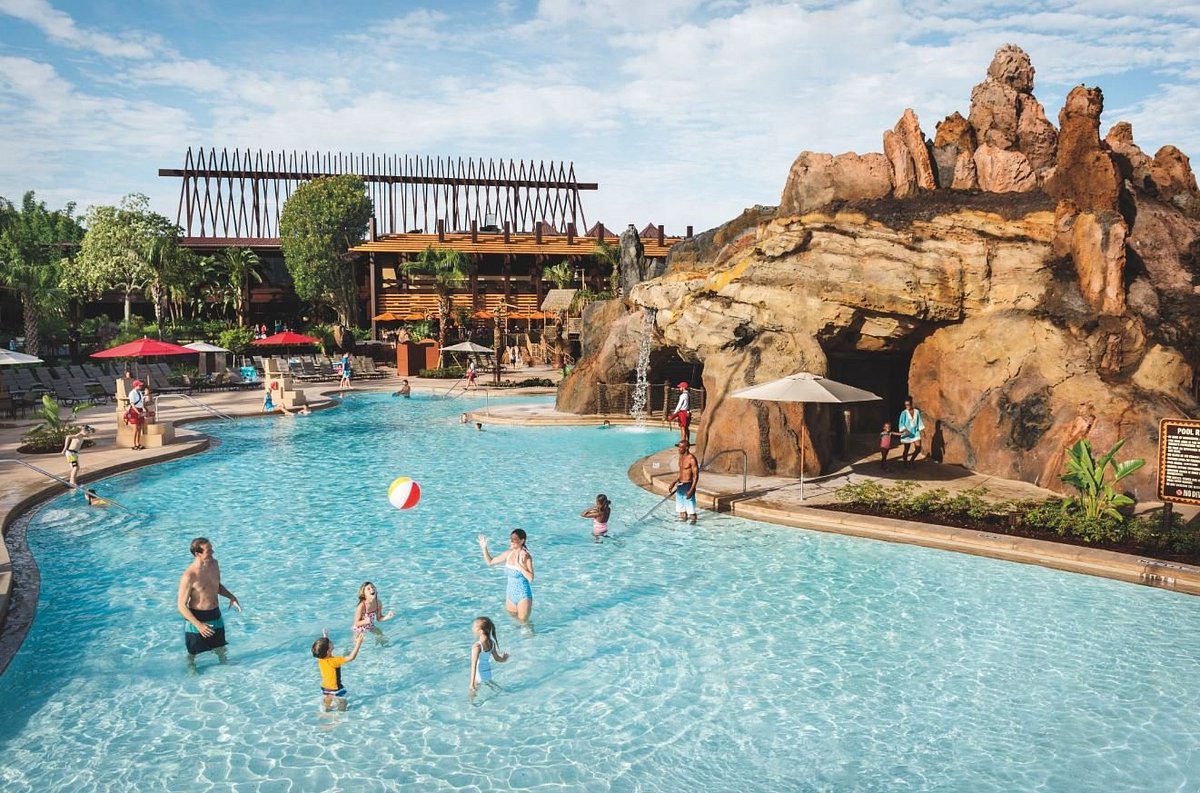 Disney's Polynesian opened in 1971. The theme is the South Pacific, and it has a distinct tiki vibe in its decor and atmosphere. It is a traditional hotel with mostly standard rooms that sleep up to five adults.
Disney added the villas and bungalows in 2015 as part of the Disney Vacation Club (DVC). The DVC is a timeshare-style vacation ownership program.
It started in the 1990s and exploded in popularity. Members can use their points to stay in DVC villas across Walt Disney World, but non-members can also visit using good, old-fashioned money.
The main difference between the two types of rooms is that DVC resorts offer in-room amenities like kitchens or kitchenettes, living rooms or common spaces, laundry machines, and more.
Where Is the Polynesian?
The Polynesian sits on the Seven Seas Lagoon, directly south and across from the Magic Kingdom. It's next door to the Grand Floridian. Because of its proximity to Disney's flagship theme park, this is a highly desirable location.
The Magic Kingdom and nearby resorts are in the northern section of Walt Disney World, closest to Orlando. The address for the Polynesian is 1600 Seven Seas Drive, Lake Buena Vista, Florida, 32826.
Transportation
One of the best reasons to stay at the Polynesian is the transportation around Walt Disney World. The Polynesian is one of only three monorail resorts that takes guests directly to the Magic Kingdom. Riding the Walt Disney World Monorail is an experience in itself!
Let's look at other ways to get around Walt Disney World from the Polynesian:
Magic Kingdom: Monorail and boat. You can also walk by going through the Grand Floridian.
EPCOT: Take the monorail to the Transportation and Ticket Center (TTC) and transfer to EPCOT, ride the bus, or take the Skyliner from the TTC.
Hollywood Studios: Monorail to TTC and then Skyliner or a bus.
Animal Kingdom: Bus
Disney Springs: Bus
How Much Does It Cost To Stay Here?
Walt Disney World isn't cheap, so you can imagine that prices for a DVC deluxe villa resort near the Magic Kingdom will be steep. Prices also vary widely depending on the type of accommodation.
Disney sets its prices based on demand, and there's an art to finding the best deals. Still, during the off-season, a deluxe studio (standard view) will likely cost more than $600 per night. The lowest nightly price on a bungalow in 2022 was about $3,100.
On the high end of things, during the holiday season in December (one of Disney's busiest), studios with standard views cost more than $1,000 per night, while bungalows top $5,500.
Accommodations at Disney's Polynesian Villas and Bungalows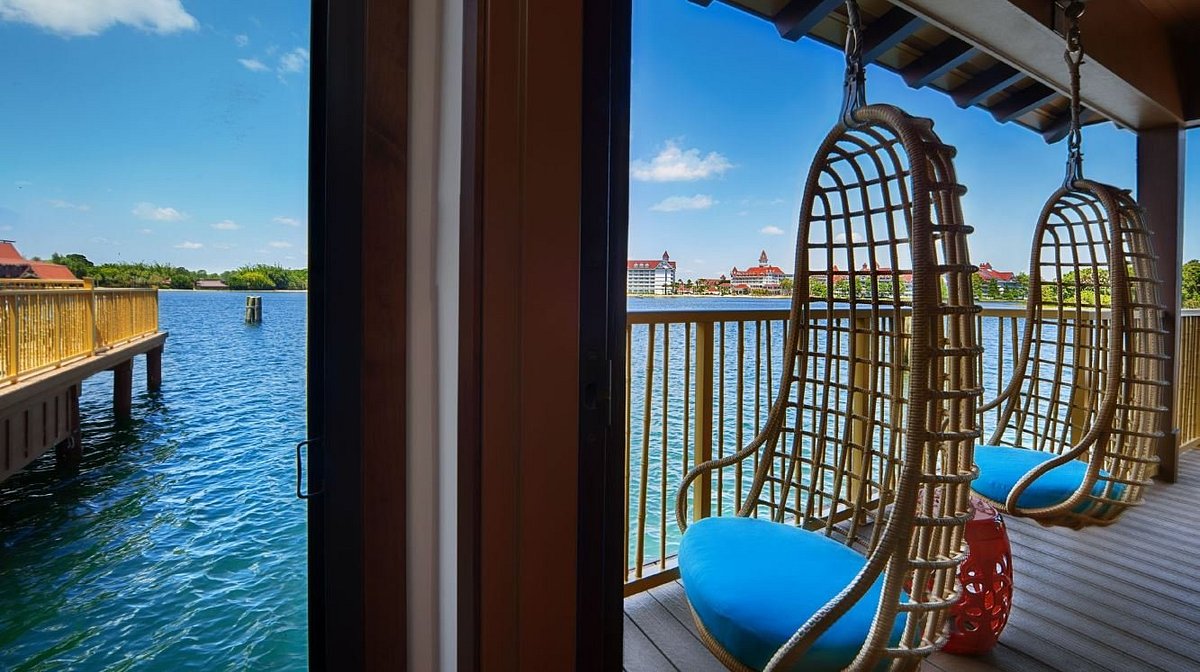 The accommodations at this resort have many fabulous amenities. One common question is, do the Polynesians have one- and two-bedroom villas? No, the Polynesian Villas and Bungalows only have studios, which is a marked difference from other DVC hotels.
Studio Villas
The DVC villas are very similar to standard hotel rooms. At the Polynesian, they are about the same size.
Studio villas comfortably sleep up to five adults. In each room, you'll find a queen bed, a queen pull-down bed, and a twin pull-down bed. The pull-downs mean that you can fold them up and have more living space during the day, which is often ideal for families.
Studio villas also have kitchenettes, which set them apart from standard rooms. There's a small amount of counter space, a coffee maker, microwave, mini refrigerator, sink, and some basic utensils.
Finally, the bathrooms are luxuriously appointed with high-end fixtures, ceramic tile, and spa towels. The bathroom is split, so one person can shower or use the toilet while another prepares for a day of fun at the sink.
The Bungalows
Disney die-hards were thrilled when the company announced the two-bedroom bungalows since there were no other accommodations like it anywhere in Walt Disney World. They have proven so popular that similar structures have been completed at the Wilderness Lodge.
Generally speaking, you can expect the best of the best from the bungalows. You probably assumed they'd be luxurious based on the price tag, but when Disney does something new, they pull out all the stops.
The bungalows sleep up to eight adults. There is one king bed in the primary bedroom and one queen bed in the second bedroom. The living room has a pull-down queen bed, and there are two pull-down twin beds.
There are two bathrooms that Disney's designers made convenient for groups getting ready. The en-suite has a separate water closet for the toilet, while the second bathroom separates the toilet and bathtub.
One of the best parts of the bungalows is undoubtedly the outdoor space. While most Disney deluxe resorts and villas have balconies, no other rooms have this amenity. On the partially covered porch, you'll find cushioned lounge chairs, a dining table, hammock chairs, and a splash pool.
All the bungalows sit directly on the Seven Seas Lagoon, so you'll enjoy peaceful water and green space views. You can also see the Magic Kingdom across the water, making your balcony the perfect place to see fireworks at night.
Amenities and Things To Do
First, let's address a frequently asked question: Can guests of Disney's Polynesian Villas and Bungalows use the same amenities as regular hotel guests at the Polynesian? Yes! Let's take a look at some of those.
Swimming Pools
Even if you stay in a bungalow and have your own splash pool, you'll still want to check out the Polynesian's two main pools.
You'll recognize the Lava Pool by its tall volcano, but there's a waterslide inside instead of molten rock. Lava Pool is lively, and Disney entertainment cast members host games, trivia, contests, and more. You and your little ones can even win fun prizes. The host changes the games based on the crowd.
You'll find the Oasis Pool around the corner, but as the name implies, it feels like it's worlds away. While not officially designated a quiet pool, the vibes here are more relaxed and leisurely. You can rent cabanas for the day at the Oasis Pool with shade, cushioned lounges, and a concierge who can bring food and drink from the nearby bar.
Pool and lifeguard hours vary depending on the season, but most Disney pools open early in the morning (by 9 AM) and stay open into the evening. One of the pools will most likely be open after dark.
Nighttime Fun
Swimming is not the only thing to do at night if you stay at the Polynesian Villas and Bungalows. At sunset, your whole family can participate in a traditional campfire with s'mores and storytelling.
Afterward, go to the Movies Under the Stars event on the Great Ceremonial Hall lawn. On select nights, you can lounge while viewing a Disney or Pixar classic. Both events are weather-permitting. Check with the front desk to learn more.
You can participate in campfires and outdoor movies at almost all Disney resorts, but the Polynesian has another unique activity. The Electrical Water Pageant glides the waters of the Seven Seas Lagoon and Bay Lake.
Your family can marvel at the spectacular lights, colors, and music of the parade from several vantage points. You can watch from there if you're staying in a bungalow or have a water-view room.
Sports and Water Activities
You can participate in several things at the Polynesian if you want to be active or outdoors. There's a fitness center and jogging trails with views of the Magic Kingdom, Disney Wedding Pavilion, and the Seven Seas Lagoon.
There's also a volleyball court, catch-and-release fishing excursions, boat rentals, daily hula lessons, and much more.
Shopping and More
The best place to shop in Walt Disney World is undoubtedly Disney Springs, but the Polynesian has two adorable shops located in the Great Ceremonial House.
You'll find BouTiki on the first floor. They sell souvenirs featuring famous Disney sights, characters, scenes, and so on. They also sell Polynesian Village merchandise that you can only purchase here.
Upstairs, Moana Mercantile sells snacks, drinks, and other essentials. If you forgot your toothbrush or want some wine for your room, this is the place. They also have kids' toys and costumes.
The Polynesian also has an arcade and offers mail, laundry, housekeeping, banking, concierge, and other services.
Dining and Drinking
There are plenty of places to slake your appetite and wet your whistle without ever leaving the Polynesian.
Barefoot Pool Bar
Tucked inside the base of the volcano at Lava Pool, you can sit at Barefoot Pool Bar or order food and drink to go to your pool chair. The menu isn't what you expect; there's sashimi alongside the cheeseburger.
Captain Cook's
Captain Cook's is the Polynesian cafeteria-style dining hall. It's open from early morning until night, and several stations serve a variety of food. There's something for everyone!
Kona Cafe
Kona Cafe offers casual table-service dining. It is open for breakfast, lunch, and dinner and is one of the best places to get Tonga Toast in the morning. Later, watch experts handroll fresh sushi at the sushi bar.
Kona Island
If you're in a hurry, check out Kona Island. They have coffee and breakfast items in the morning and sushi and desserts in the afternoon and evening. It's located right next to the monorail entrance, so grab something on your way.
Oasis Bar and Grill
Oasis Bar and Grill is similar to the Barefoot Pool Bar in atmosphere and dining style. They offer the same menu, so you'll have access to delicious food and drink no matter which pool you choose.
'Ohana
'Ohana is by far one of the most popular restaurants in Walt Disney World, and it's easy to see why. Your family can enjoy all-you-care-to-eat food at your table for breakfast or dinner.
Some favorite items at 'Ohana include the peel 'n eat shrimp, honey coriander chicken wings, and 'Ohana noodles.
It's difficult to get a reservation at 'Ohana. Check as soon as bookings open, and keep trying. It's worth it!
Pineapple Lanai
You don't have to be in the Magic Kingdom to enjoy a delicious Dole Whip anymore. Get one at the Pineapple Lanai, along with other tasty treats inspired by this quintessentially Polynesian fruit.
Tambu Lounge
The Tambu Lounge is a bar in the Great Ceremonial House next to 'Ohana. It's open for breakfast and most of the day. You can also get late-night drinks here.
Trader Sam's Grog Grotto
Trader Sam's Grog Grotto is one of the most popular bars in Walt Disney World. This enchanted space comes to life depending on which drink you order.
Reading the names and seeing the vessels are almost as fun as drinking them. They have several non-alcoholic options and snacks, so everyone is welcome.
Trader Sam's Tiki Terrace
Trader Sam's Tiki Terrace is an outdoor extension of the Grotto but with a vibe all its own. Enjoy live music and fresh Florida air while you enjoy many of the same foods and drinks.
Final Note
As is now clear, Disney's Polynesian Villas and Bungalows provide incredible accommodations. They're comfortable, luxuriously appointed, and offer the ultimate in terms of location.
That being said, Walt Disney World is home to many resorts, including the Riviera and Port Orleans. Explore all your options, think about what you read in this article, and make the best choice for your family.
More about our TFVG Author