While Disney has exciting rides at other parks, EPCOT isn't often considered the place to go. The park, however, does have several thrilling rides and fascinating exhibits. To put it simply, EPCOT has something for everyone.  
EPCOT, known initially as EPCOT Center, is a theme park at Walt Disney World Resort in Florida. It was named after Walt Disney's "Experimental Prototype Community Of Tomorrow" concept. EPCOT is a festival dedicated to honoring such universal values as social cohesion, cultural diversity, human progress, and innovative thought and technology.
Always keep in mind that this is only our humble list of recommendations. Your tastes may differ significantly from ours.
Let's cover some helpful facts related to the rides at EPCOT and evaluate the most fantastic rides at EPCOT.
Visiting EPCOT
As a whole, EPCOT is a straightforward but not too complex a theme park to explore. Lines are generally shorter here than in other parks, so you may not even require a fast lane upgrade like Lightning Lanes or Genie+. However, there are many entry points and beautiful rides. So, advance preparation is needed.
A large amount of development is also occurring in the area formerly known as Future World. Though this will make that section of the park less enjoyable overall, it shouldn't affect your day there much.
11 of the Best EPCOT Rides
At EPCOT, there are 11 different rides that guests may go on. There are a total of 21 attractions. However, only 11 include rides in which guests move about within a vehicle. The remainder of the attractions consists of performances or experiences that are participatory.
The following are the best EPCOT rides:
Guardians of the Galaxy: Cosmic Rewind
Spaceship Earth
Test Track
Soarin'
Remy's Ratatouille Adventure
Frozen Ever After
Living with the Land
Mission: Space
World Showcase
Gran Fiesta Tour
You should prioritize riding the first seven of these attractions, if possible.
Suppose you only have time for a few of them. In that case, we recommend that you see Guardians of the Galaxy, Frozen Ever After, Spaceship Earth, Soarin', Test Track, Living with the Land, and Remy's Ratatouille Adventure.
However, if you have the opportunity to see all eight, we highly recommend that you do. The Gran Fiesta Tour is equally enjoyable.
Guardians of the Galaxy: Cosmic Rewind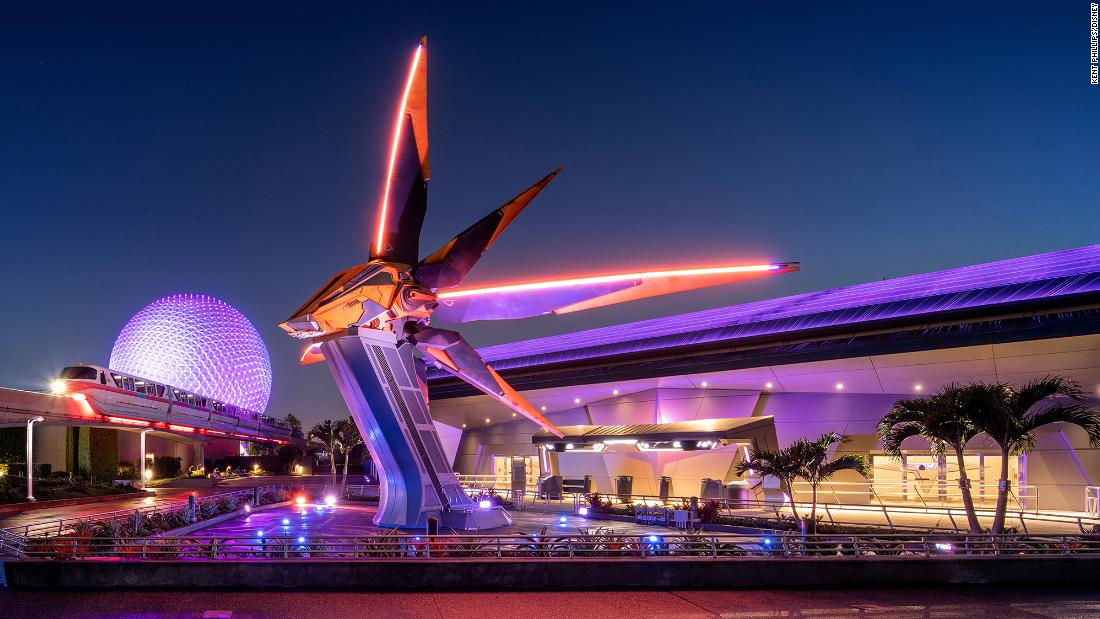 This brand-new roller coaster from Marvel will take the place of the older attraction known as the Universe of Energy pavilion, which has since been renamed the Wonders of Xandar pavilion.
In other words, this is a "storytelling coaster," or a roller coaster featuring show sequences that is enjoyable for riders of varying ages and degrees of fearlessness.
Some riders may experience motion sickness despite the roller coaster's smooth flow and cars moving in sync with the displays.
The queue and pre-shows of Guardians of the Galaxy: Cosmic Rewind bring complexity, a few wow-moment effects, humor and antics, and a gripping tale set-up, making the whole experience immensely enjoyable.
The same can be said for the roller coaster ride, which is both pleasant and long enough that it doesn't seem rushed. The Guardians of the Galaxy's personalities, comedy, and use of music contribute significantly to this effect; the roller coaster almost appears to "dance," for want of a better word.
Guardians of the Galaxy: Cosmic Rewind is, above all things, a delightful film. It's a must-see and a ton of fun for every Disney World visitor. Simply put, it's hilarious from beginning to end and manages to strike every single note it sets out to.
Spaceship Earth EPCOT Ride
Spaceship Earth, placed inside EPCOT's famous geodesic sphere, is widely considered among the park's most fantastic rides.
Guests go on a trip through the development of human communication throughout human history on this traditional dark ride that lasts for 15 minutes.
Spaceship Earth is a leisurely stroll through spectacular exhibition sceneries, each inhabited by scores of audio-animatronic characters.
Examples of scenarios are those from Ancient Egypt and Rome, the Renaissance and the Industrial Revolution, and the first landing on the moon.
It has undergone several renovations throughout its existence, most of which have been made to the narration of the attraction. Judy Dench now guides visitors through the most recent iteration of this experience.
Spaceship Earth is undoubtedly one of our top picks for rides at Disney World and is an experience that should not be missed.
We prefer riding it in the afternoon when you want a lengthy respite from the heat since wait times are often not more than twenty to thirty minutes.
Test Track
The most thrilling ride at EPCOT is Test Track, which is also the attraction in Disney World that travels the quickest. If you desire speed, you've come to the right place.
The ride is based on the idea that riders would first create a vehicle prototype and then have the opportunity to put that automobile through a series of challenging performance tests.
Test Track 2.0 is the name of the most recent iteration of the rollercoaster, which was remodeled and given a new layout in 2012.
The most recent version is akin to being on "The Grid" from TRON, but the older one took you around a vehicle production factory so you could observe how testing is carried out.
It is a fascinating and engaging experience to design your prototype automobile on a touch screen, but the most significant part is when you are put into a 6-person SIM Car to try it out.
The Ride-Handling Test, the Hill Climb Test, the Brake Test, and the Suspension Test are all designed to prepare you for the High-Speed Lap Test, in which you will travel at speeds more than 65 miles per hour through banked turns.
Even though the older version of Test Track's show sequences was more interactive, the ride is still one of the most well-liked attractions at EPCOT because of how much fun it is to ride.
If you want to avoid waiting a long time, you should try to visit it as your first or second ride of the day. You may also select the Single Rider option to avoid waiting in line, saving you a significant amount of time.
Soarin' Around the World
The finest ride at EPCOT is called "Soarin' Around the World," and it is recommended that all members of the family experience it at least once.
Guests get aboard a flying motion simulator and are allowed to experience what it is like to fly in a hang glider over a few of the world's most well-known landmarks.
You will be escorted to rows of seats upon entering the theater, and as the ride begins, those seats will rise into their proper positions.
As you go through the tour, your legs are suspended high above the ground, and you are staring at an IMAX digital projection screen that is 80 feet in diameter and surrounds you.
The Taj Mahal, the Great Wall of China, the Eiffel Tower, an African savanna populated with elephants, and the Pyramids of Egypt are some locations included in Soarin' Around the World attractions.
This attraction is remarkable in every way. You won't find a better ride than Soarin' because of its breathtaking graphics, stirring soundtrack, and lifelike aromas in each environment.
While the wait periods are fewer than those of Test Track or Frozen Ever After, it is still quite popular, so we suggest utilizing one of your initial Genie+ choices on it.
Remy's Ratatouille Adventure
This is one of the more recent additions to EPCOT, and it is an experience that fans of the original Pixar film will like.
The visitors on Remy's Ratatouille Adventure are shrunk down to the size of rats for the "ride of their lives" on a trackless dark ride called Remy's Ratatouille Adventure.
We are big fans of the trackless ride technology, which is becoming more popular among new attractions at Disney World. It is an exact copy of the ride located in Paris with no modifications to the ride itself.
In general, it's a lot of fun, and it's something that the entire family can take part in and appreciate. It covers the need for kid-friendly attractions in EPCOT, and early feedback from visitors indicates that it's been popular with them thus far.
Frozen Ever After
This boat ride at the Norway pavilion at World Showcase showcases characters from Frozen. It transports guests to Arendelle (a fictitious country shown in a real one in World Showcase).
It immerses tourists in many of the film's favorite scenes and musical selections. It's a lovely little attraction with some fantastic Audio-Animatronics figurines and some entertaining music to go along with them.
Wait times for Frozen Ever After consistently surpass an hour, making it one of the main spots at Walt Disney World. When the wait times for Test Track might be just as lengthy, we strongly suggest making Frozen Ever After one of your top priorities while visiting EPCOT.
Living With the Land
The Land pavilion has a boat ride called Living With the Land that moves at a leisurely pace. It is categorized as both a greenhouse tour and a dark ride simultaneously.
The purpose of the attraction is to encourage agriculture with a particular focus on emerging technologies that are mindful of the environment.
In this area, you will observe how horticulturists at Disney World employ cutting-edge growth methods (such as hydroponics and aquaponics) to make horticulture as productive as possible.
Their method of cross-breeding results in some spectacular products, such as enormous lemons and pumpkins shaped like Mickey Mouse, as well as crops produced with the assistance of fish and other marine animals.
The Living With the Land attraction is an eye-opening and educational experience in addition to being a relaxing and fun activity.
When you are logging tens of thousands of steps in the scorching heat of Florida, there is something to be said about a 15-minute boat trip during which all you have to do is marvel at some plants.
Since Living With the Land is not EPCOT's most popular attraction, the wait times are often relatively reasonable.
After you finish this ride, you should go to the Garden Grill Restaurant or Sunshine Seasons for lunch. Delicious meals made with seafood and fresh vegetables farmed on-site at Living With the Land will be available for your dining pleasure here.
Mission: Space
You should avoid Mission: Space EPCOT ride if you suffer from motion sickness, migraines, or claustrophobia. It's a simulator ride that takes riders through the experience of crashing on Mars.
There are two variations: the green one is less intense and does not spin, while the orange one is more intense and does spin. This could be the most unpopular of all the thrill rides that Disney offers, but if you have the stomach for it, the orange version is rather enjoyable.
The green version has recently been redesigned as an orbit of Earth, and although it is significantly better than it was previously, the whole experience is still below average.
The narrative in and of itself is not engaging enough to warrant sticking with the green version; the excitement is pretty much the only reason to come here.
It's a massive centrifuge that acts as a simulator for astronaut training in preparation for a potential mission to Mars.
Mission: Space replaced the long-dormant Horizons attraction, which demonstrated how technology may affect humankind's future and is part of a more significant trend at EPCOT to replace older, more sedate rides with quicker, more exhilarating experiences.
Even while Mission: Space lacks some of that ride's idealistic elan, it is undeniably more physically exhilarating and is still anchored on science and the prospect of further exploration.
Another variation does not use the centrifugal action and mainly consists of hitting the button on a faux console while viewing a video of the game being played.
World Showcase
Even though seeing a replica of China in Orlando is in no way comparable to traveling to the real country, the pavilions at this attraction have the allure and attention to detail of traditional museum dioramas that visitors are free to explore on foot.
Between films, eateries, shopping, and other entertainment, World Showcase provides a concise but unforgettable insight into all of these different cultures to motivate you to tour the world whenever you have the opportunity to do so again.
The sum of its parts creates an unforgettable impact. And several of the attractions inside the World Showcase, such as the boat trip to Mexico and the big films housed in France, Canada, and China, deserve to be included on this list.
Gran Fiesta Tour Starring The Three Caballeros
Over time, Disney has subtly inserted its properties' references into attractions they had previously been missing.
El Rio del Tiempo was the name of this dark boat ride that used to be located in the Mayan pyramid in the Mexico pavilion. It used to take guests on a tour of Mexican culture that alternated between peaceful and colorful settings.
In 2007, Disney included the Three Caballeros into the attraction as part of an upgrade. Panchito Pistoles and Jose Carioca travel around Mexico to find Donald Duck in this version.
Certain people could claim that the increased emphasis on cartoon birds detracts from the well-intentioned cultural focus of the ride and the broader World Showcase concept.
If a glimpse of Donald Duck is all it takes to convince a family to go on this breathtaking and joyous adventure, it will have been well worth it.
The quest for Donald Duck takes place on a boat voyage narrated by the Three Caballeros and set against the cultural landscape of Mexico.
It's one of just two rides at World Showcase, and it's the only one that often has no wait, so it's easy to see why this one made it into our list. The other reason is that it's just plain fun.
The Gran Fiesta Tour combines elements of culture with Disney characters to create an entertaining and exciting adventure appealing to a diverse range of visitors.
The Seas With Nemo and Friends
During The Seas With Nemo and Friends, you will be submerged in water and allowed to assist the ocean pals from the movie Finding Nemo in search for Nemo.
It is a pleasure to take in with both one's eyes and one's ears. The "chase" of the Angler Fish and the fish projections onto the walls of the aquarium are the highlights.
What You Need To Know Before Departure
Here are some of the things you need to consider before going to EPCOT:
Ticket Pricing
An inexperienced buyer may feel overwhelmed by the four different ticketing alternatives. We will go through each choice in great depth so that you may choose the one most suited to your needs.
Just ignore the price for a second and think about how long you'd want to spend at the theme park. If this is your first trip here, we urge you to take advantage of every last bit. The good news is that tickets become cheaper daily the longer you stay.
One Park Per Day Tickets
Select this option if your goal is to spend each day at only one of the theme parks and get the most out of the experience before continuing to the next one.
It grants daily entrance to a single park of your choice. The price begins at $109, but if you want to remain for longer, it may drop to as low as $61 each day.
Park Hopper Tickets
Do you want to spend your day exploring more than one park?
There are two different types of Disney tickets: the standard one grants entrance to only one park per day, while the park hopper ticket, which costs an additional $60 per day, grants access to all of Disney's theme parks as many times as you want.
This is the perfect choice for you if there is a particular attraction in any park you like and want to visit daily.
Park Hopper Plus Tickets
If extra money is available, you also have the option to pay an additional $80 a day to get Park Hopper Plus tickets, which allow you to enter the water park and the golf course a predetermined number of times throughout your stay.
Mid-Day Special Offers
With this ticket, you may save up to $20 each day; in exchange, you will only be permitted to enter the park at midday—thus, the moniker "mid-day" ticket. However, it does not matter since most of the exciting parts occur later in the day.
Tips To Save Time
The best solution is to download the official Disney World app.
Each visitor is allowed a maximum of three FastPass+ reservations per day, which may be used to book access to various attractions, rides, and character greets across the park.
The usage of FastPass+ does not incur any extra costs. Your purchase of a park entry ticket grants you access to it.
You may start making your selections for FastPass+ beginning at 7 AM Eastern Time, and you have up to one month before your intended visit to make your choices.
If you are staying at one of the Disney Resort Hotels, you can make your choices for FastPass+ beginning sixty days before your check-in date.
After completing the online registration and connecting your tickets, you will be able to choose from a selection of activities and times for the group you specified.
Check-in at the FastPass+ doors during the specified time at the theme park, where there will be very little to no wait.
Wrapping Up
There are well-known attractions at EPCOT and several that are less frequented and hence less obvious to visitors but should not be missed.
We strongly encourage you to try as much as possible if you have the time. You may visit fewer attractions at EPCOT than you anticipate since the park gives the impression that it has many "things to do," even though its actual attraction count is substantially lower than that of the Magic Kingdom.
Nevertheless, we hope we have helped you decide which rides are absolute must-sees for you.
More about our TFVG Author
A seasoned traveller, Dad, and avid sports tourist, James foundered The Family Vacation Guide to share his expert vacation experiences- especially when it comes to being a travelling family man.
Featured in Travel articles such as Travel + Leisure, TripSavvy and SFGate, you know you're reading some of the best vacation tips online.