If you're planning a trip to Orlando, Florida, best known for its warm climate and theme parks, you can't miss out on spending the day at Epcot, one of the most popular destinations at Disney World.
If you're looking for a place to stay that's close to the theme park, you can find several resorts in the area offering amazing lodging services.
We compiled a list of the best hotels near Epcot if you're having trouble deciding where to stay during your next family vacation.
Grand Beach by Diamond Resorts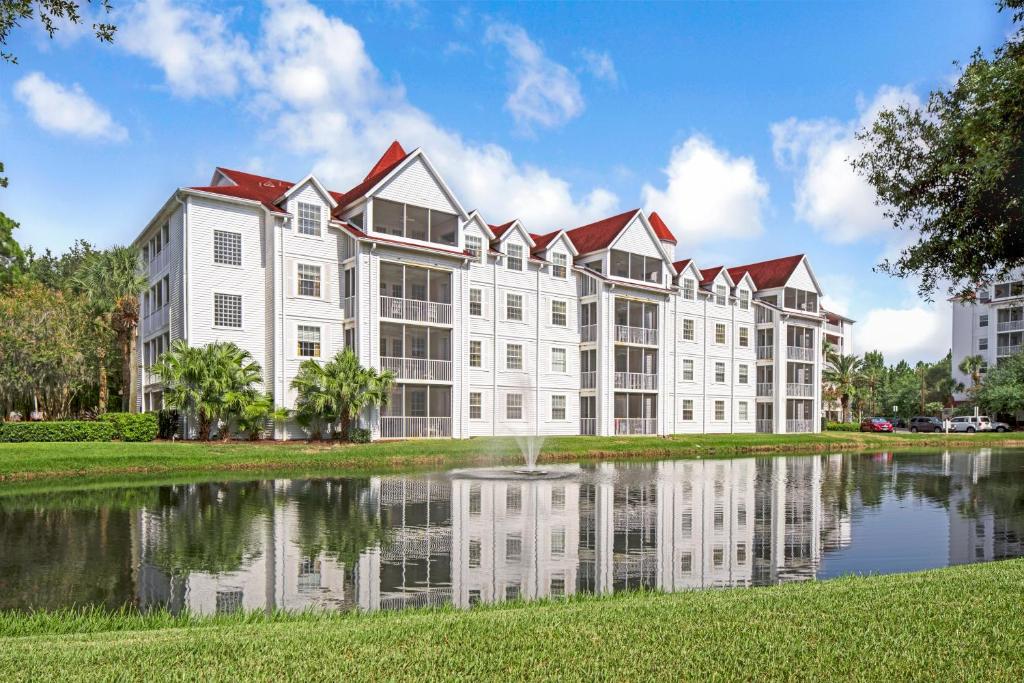 First up on our list of the best hotels near Epcot is Grand Beach by Diamond Resorts. It's about seven miles from Epcot and has a lovely waterfront view of Lake Bryan. This hotel has a lively, family-friendly atmosphere for any group spending time in Orlando.
Rooming accommodation-wise, this hotel offers plenty of three-room suites that can fit up to eight people. Each room has a king-sized bed, a few twin-sized beds, a sleeper sofa, a full bathroom with a walk-in shower, a full kitchen, and a patio.
This hotel offers several amenities you can enjoy when you're not spending the day at Epcot. You can exercise at their fitness center, relax at the heated outdoor pool, play volleyball or basketball on one of their courts, and visit the game room.
If you're looking for engaging lakeside activities, the hotel offers fishing, jet skiing, and canoeing at Lake Bryan.
Wyndham Grand Orlando Resort Bonnet Creek
Another one of the best hotels near Epcot is Wyndham Grand Orlando Resort Bonnet Creek. It stands overlooking a ten-acre lake and offers a relaxed atmosphere for anyone looking for an excellent place to stay.
Their suites have Mediterranean-style decor and spa-like bathing amenities, ideal for anyone interested in relaxing before or after spending a day at Epcot. Deluxe Suites have a king-sized bed with a sofa or two queen-sized beds with balcony views.
They also have rooms with lakeside views and twin-sized bunk beds for families with kids. Each rooming option has a coffee machine, flatscreen TV, and free Wi-Fi.
Unwind at the hotel's Blue Harmony Spa if you're interested in quality massage, skincare, body treatment, and nail services.
They have plenty of nearby restaurants for enjoying quality cuisine. For instance, Back Bay Pool Bar & Grill serves quality cocktails and sports bar fare with a nice view of the lake, while Tesoro Cove Family Fare offers guests a hot breakfast buffet daily.
Other amenities include a state-of-the-art fitness center, pool and hot tub access, shuffleboard, mini-golf, designated grilling areas, and shuttle services to the nearby Disney Parks.
Waldorf Astoria Orlando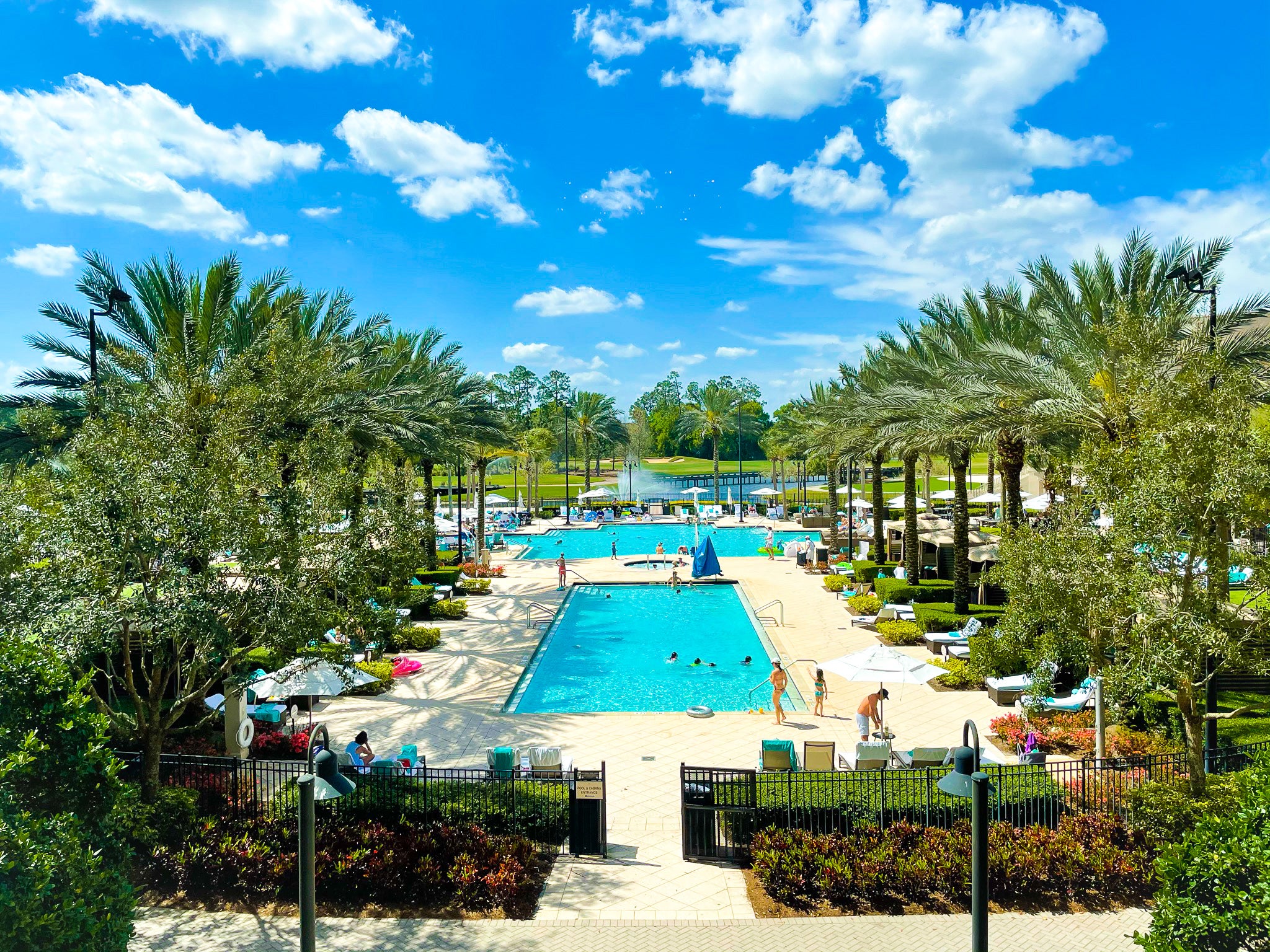 Located at 14200 Bonnet Creek Resort Lane, Waldorf Astoria Orlando is your best hotel option if you're looking for luxurious relaxation during your stay in Orlando. They offer free shuttle services to Disney's Epcot and Magic Kingdom parks.
They offer a wide selection of spacious rooms with warm decor and balcony views of Walt Disney World Resort or Waldorf Astoria's golf course. Depending on your reservation size, the rooms can hold between three to six guests.
Enjoy the hotel's greatest cuisine at one of their on-site dining destinations or request room service at any time of the day.
Their outdoor pools have excellent views of the hotel's waterfront and golf course. The pool area has several private cabanas with lounges, couches, and poolside service from Waldorf Astoria's pool bar and grill.
Their fitness room has several cardio and weight training machines to keep you in shape. They also offer exclusive summertime amenities, including movie nights by the pool on Fridays and Saturdays, poolside s'mores, and lawn games.
Disney's Riviera Resort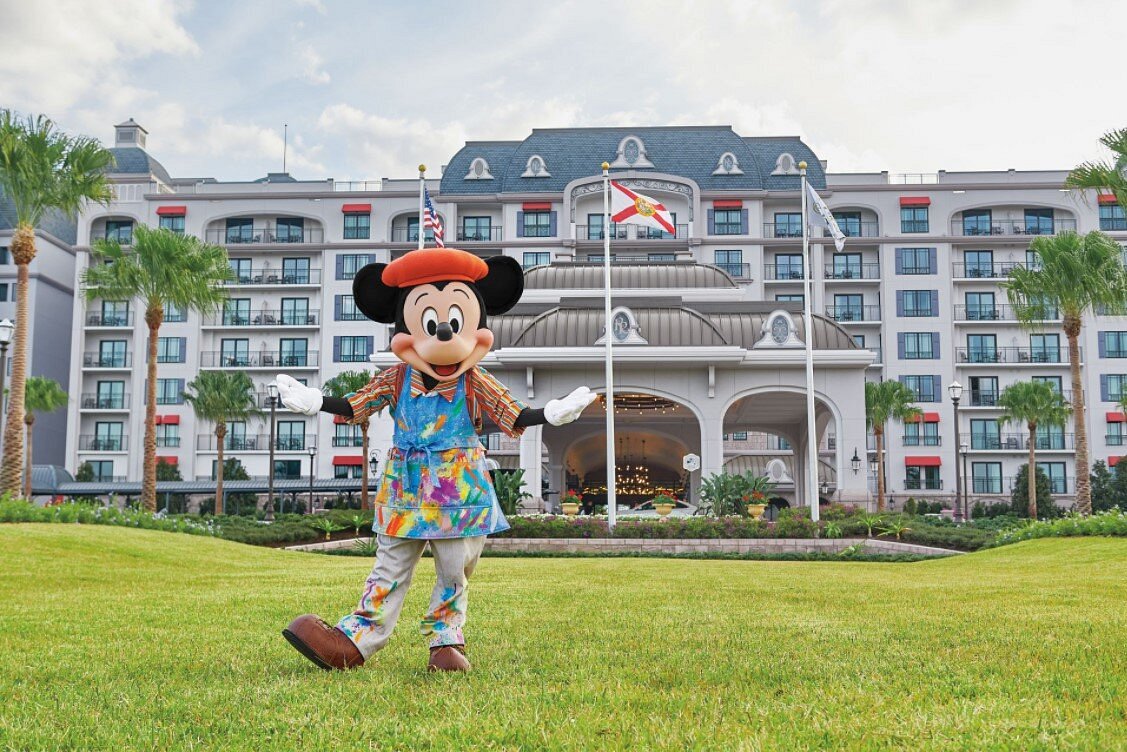 If you're looking for a hotel with an elegant aesthetic, Disney's Riviera Resort is your best option. It incorporates a European-style design that makes it as regal as a castle. In addition, it's about four miles south of Epcot, making it a go-to place if you're looking for a closer hotel option.
You can choose from a wide selection of one, two, and three-bedroom villas. They also offer rooming accommodations in their Tower Studio.
Each villa has a private porch or balcony, wireless Internet access, a bathroom with a bubble-jet tub and walk-in shower, and a fully-equipped kitchen, among other amenities.
Depending on your lodging preferences and room size, the villas can hold between five and 12 people.
If you're looking for a tranquil setting to immerse yourself in during your stay in Orlando, consider checking out the hotel's gardens, decorated with beautiful plants and fountains.
They serve tasty Italian and French-inspired breakfast and dinner dishes and offer rooftop views at Topolino's Terrace, their on-sight fine dining destination.
The resort has an expansive pool area with several features, including a kid-friendly splash pad and a winding water slide. Other recreational activities include waterfront campfires, outdoor movie nights, and visiting their fitness center.
Signia by Hilton Orlando Bonnet Creek
Signia by Hilton Orlando Bonnet Creek is close to Epcot, Animal Kingdom, Hollywood Studios, and the Magic Kingdom. In addition, the hotel offers 30-minute early entry and free shuttle services to all Disney World theme parks, making it an ideal option for anyone interested in visiting all parks during their stay in Orlando.
Signia has plenty of quality rooming options. Their Deluxe Disney View Guest Room has a scenic panoramic view of several Disney theme parks, Bonnet Creek Nature Preserve, and the hotel's pool. This room has one king-sized bed or two queen-sized beds.
Signia guests can access the nearby Waldorf Astoria's golf club and spa. Rejuvenate yourself with a relaxing Himalayan salt therapy session or hone your golf skills on their practice range and putting green.
There are plenty of on-site daily activities you and your family can participate in during your stay at the hotel, including scavenger hunts, lawn games, and dive-in movies. Their pool has a water slide and a lazy river, perfect for anyone who wants to stay cool on Orlando's hottest days.
Marriott's Sabal Palms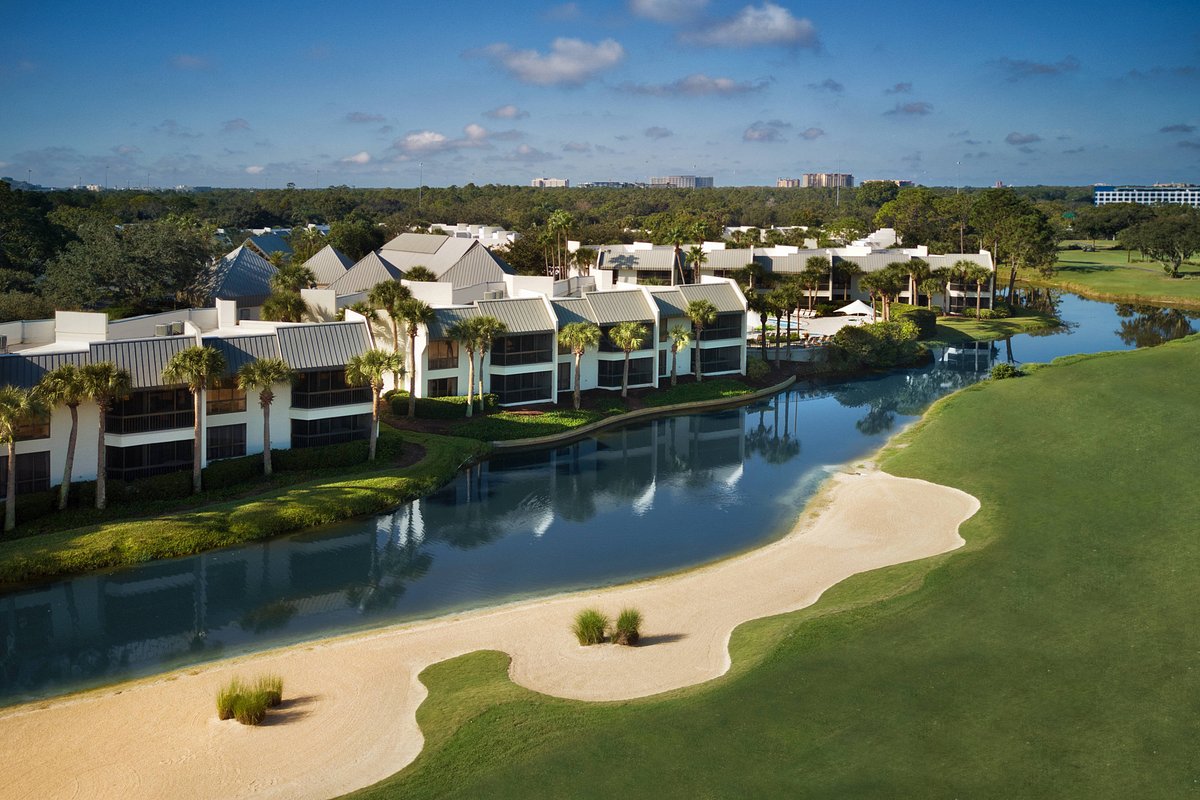 Located five miles from Epcot, Marriott's Sabal Palms is an upscale resort offering stylish, spacious villa suites. It's a great option for anyone looking for a quiet place to stay before going to Epcot.
Their villas incorporate a two-bedroom design, which can accommodate six guests at max. These rooms have two bathrooms, private balconies or patios, an LED TV, a washer and dryer set, and a fully-equipped kitchen. Sabal Palms also offers free Wi-Fi and parking.
They have a heated outdoor pool and a relaxing whirlpool available to guests daily. It's the perfect place to unwind after a long week of visiting Epcot's most popular attractions.
During their stay, guests can access Sabal Palms Club House, the hotel's complimentary fitness center. Tone your body with any of their treadmills, exercise bikes, elliptical machines, or free weights.
Holiday Inn Orlando – Disney Springs Area, An IHG Hotel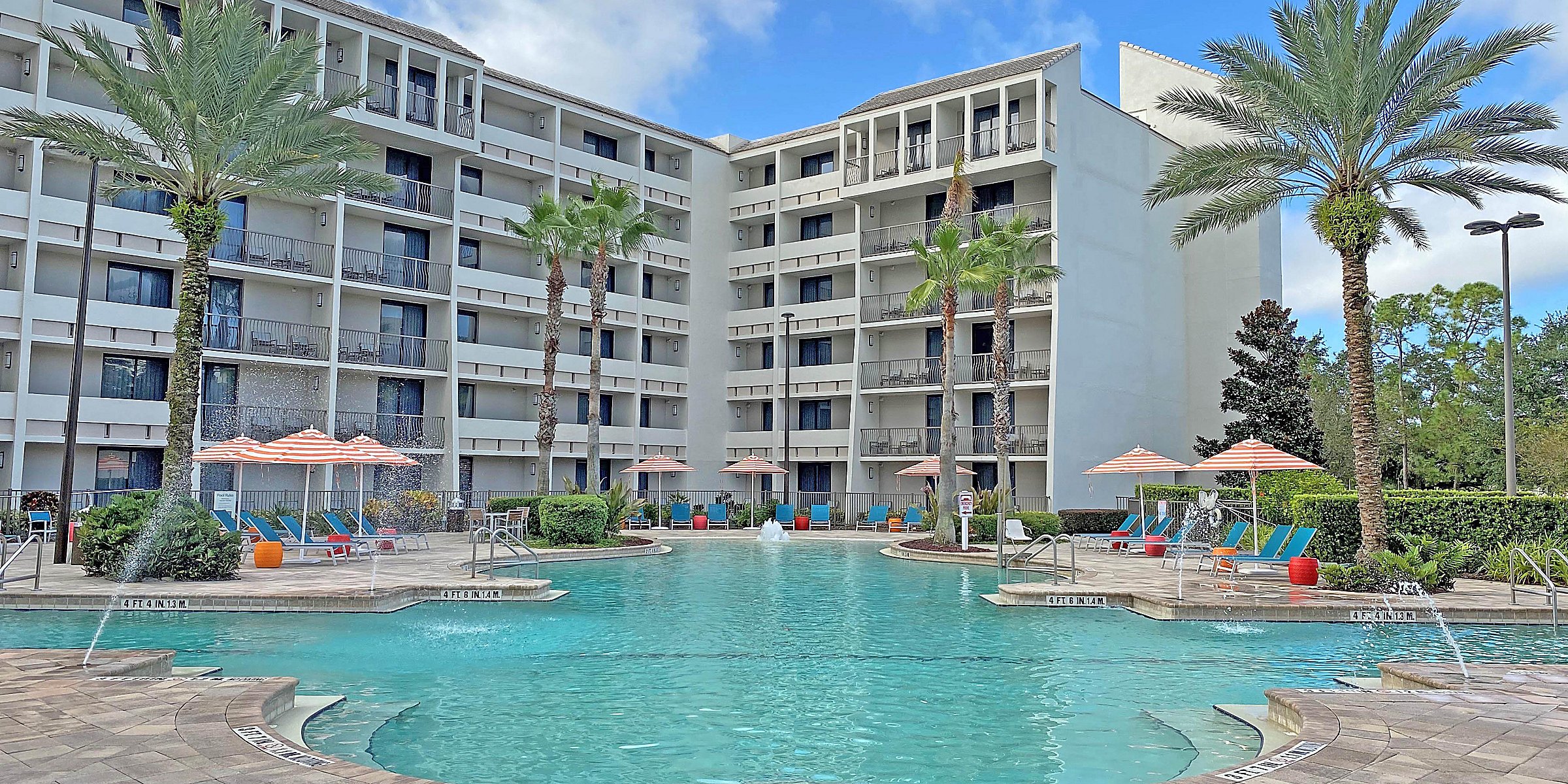 You can find Holiday Inn Orlando – Disney Springs Area, An IHG Hotel at 1805 Hotel Plaza Boulevard. It's a short drive from Epcot and offers plenty of rooms with scenic views of Disney Springs.
They have over 320 rooming options on 14 floors. Their smoke-free rooms have a warm, earthy atmosphere, contemporary decor, and bathrooms with beautiful granite countertops. It also has an adjustable heating and air-conditioning system, a mini fridge, microwave, high-speed Wi-Fi, and a flat-screen TV.
Kids 18 and under stay free with each adult-booked room, and kids 11 and under eat for free at the hotel's Palm Breezes Restaurant and Lounge.
Relax at their outdoor pool on a warm, sunny day or spend some time at the fitness center and burn some energy on their treadmill or elliptical machines.
Are you looking for something to do away from the hotel? If so, they offer hourly shuttle services to Epcot and the other nearby Disney theme parks.
Disney's Yacht Club Resort
Within walking distance from Epcot's entrance is Disney's Yacht Club Resort, an upscale, New England-style hotel with a lovely view of Crescent Lake. Transportation to Epcot and the other parks, like Hollywood Studios, includes bus services and an airborne gondola, saving guests extra time when traveling from park to park.
Most of their rooming options can fit between four and five people. You can choose a room with views of the lake, garden, pool, or parking area. All rooms have a mini refrigerator, coffee maker, ironing station, free Wi-Fi, and an in-room safe.
They have an expansive water recreation area with a lazy river, water slide, pools, a whirlpool spa, and a life-size shipwreck for your kids to explore. Other fun activities the hotel offers include tennis, volleyball, fishing, outdoor movie nights, and motorboat rentals.
Several quality restaurants at this resort serve tasty New England-style dishes, from mouth-watering steak and steak to breakfast buffets and ice cream sundaes.
Disney's Caribbean Beach Resort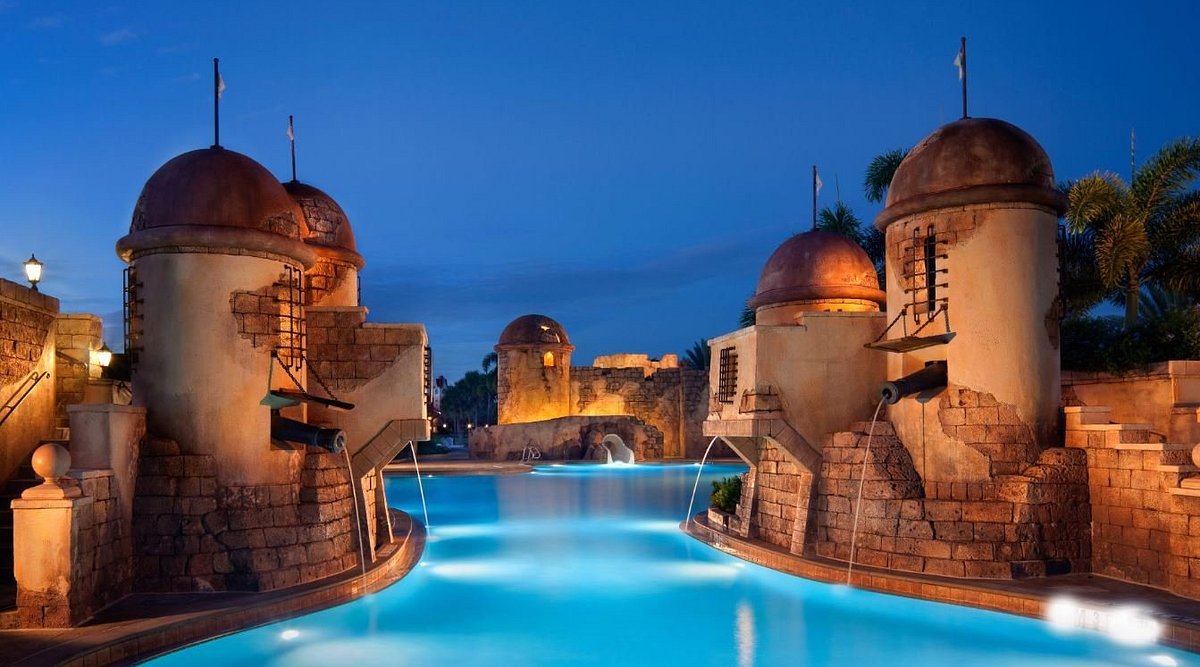 Another hotel nestled we recommend is Disney's Caribbean Beach Resort, located four miles from Epcot. This resort has a tropical feel, where guests can enjoy a colorful setting with a beach, palm trees, and hammocks.
Most of their rooming options can accommodate four adults per room. They offer beautiful balcony views of the resort's courtyard, woodlands, lake, or pools. Additionally, some of their rooms have themed decor, such as pirate ship mast beds in their Pirate Rooms.
Their sky gondola takes guests to Epcot and Hollywood Studios, giving them a birds-eye view of the beautiful Orlando skyline.
One interactive highlight you shouldn't miss out on during your stay is a Spanish citadel with two water slides and several water cannons. In addition, younger children can play on a model shipwreck with a barrel that periodically dumps water from above.
Stop by the resort's Old Port Royale for quality food, such as Caribbean-inspired small plates or specialty cocktails. If you're looking for a change of pace from the hotel's fitness room, take a jog on their extensive trail by Barefoot Bay.
WorldQuest Orlando Resort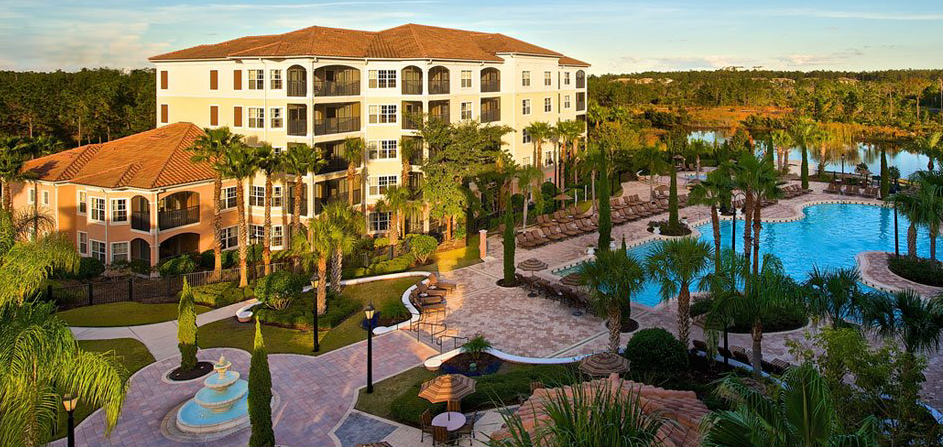 MLocated five minutes from Epcot, WorldQuest Orlando Resort incorporates the distinct Mediterranean aesthetic you can't find anywhere else in this part of Florida. You can find it at 8849 Worldquest Boulevard.
Guests can book a two or three-bedroom suite at this resort. All rooms have a king-sized bed, regardless of how many twin and queen-sized beds they have. They also have two or three bathrooms with a jetted tub, a stocked kitchen, complimentary Wi-Fi, a dishwasher, and patio or balcony. Some of these rooms have views of the pool.
After spending time at their heated outdoor pool, consider stopping by their tiki bar for a refreshing cocktail or smoothie. You can also order groceries before checking in to ensure your suite's refrigerator gets stocked.
Meliá Orlando Celebration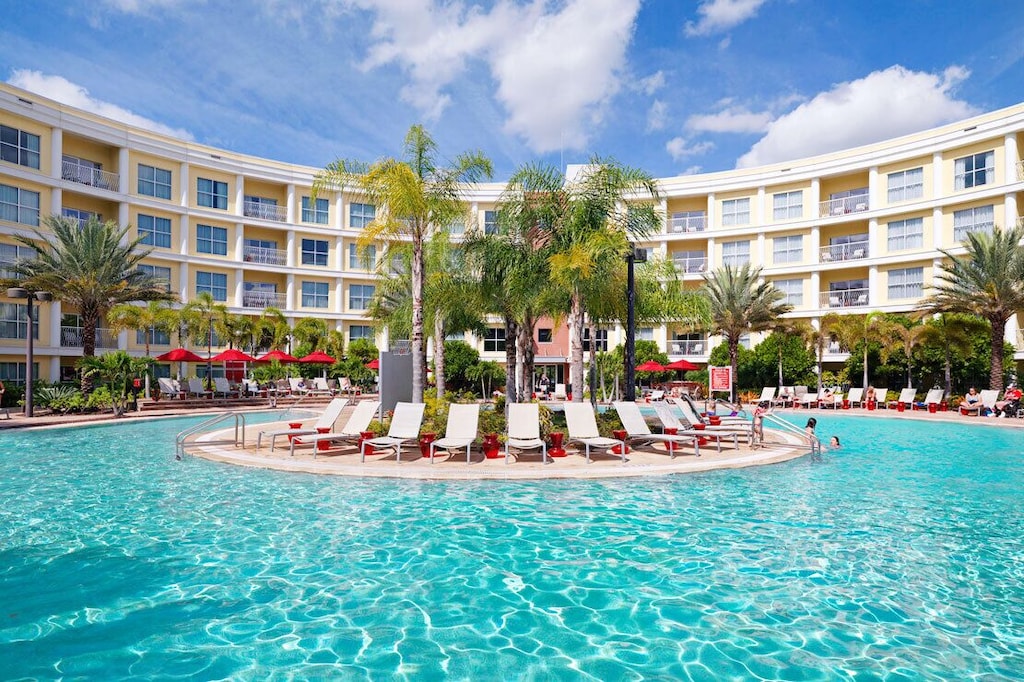 We consider Meliá Orlando Celebration one of the best hotels near Epcot because of its upscale atmosphere and beautiful 360-degree Vanishing Pool. It's about nine minutes south of Epcot.
Meliá Orlando Celebration has plenty of one and two-bedroom suites for guests to choose from during their stay. For example, One-Bedroom Corner Suite with Terrace has a king-sized bed, a balcony with views of the garden, a flat-screen TV, a full kitchen with a dining table, and a queen-sized bed in the living room.
Their 360-degree Vanishing Pool is open daily from 6 AM to 11 PM, making it the perfect spot for a late-night or early-morning swim. They also keep it heated during the winter months. They also have an on-site laundry facility to help you save a trip to the local laundromat.
Suppose you're looking for a place to stay in shape after a busy week of visiting Epcot and other popular amusement parks in the area. In that case, you can go to the AdventHealth Wellness Center Celebration and participate in weight training or group exercise sessions, like Zumba. The locker rooms have showers, a steam room, and a sauna.
Disney's Art of Animation Resort
If you're a fan of hotels with a unique theme, consider booking a reservation at Disney's Art of Animation Resort, located 3.5 miles from Epcot. Many of their rooms and amenities incorporate elements from several popular Disney movies. You can access the park through their on-site bus services or ride their Skyliner gondola.
Standard rooms have a Little Mermaid theme and one king-sized bed or two queen-sized beds, while their family suites have a Lion King, Cars, or Finding Nemo theme with one queen-sized bed, a double-sized sleeper sofa, and a double-sized table bed. In addition, these rooming options offer views of the courtyard or pool and have a kitchenette.
The hotel's lobby also has concept art from several animated Disney films decorated across its walls.
The Art of Animation Resort is home to Walt Disney World Resort's largest pool, Big Blue Pool. It has a colorful sea-themed look, inspired by Finding Nemo. Don't forget to stop by The Drop Off Pool Bar and enjoy a refreshing frozen cocktail while you unwind.
Copper Creek Villas & Cabins at Disney's Wilderness Lodge
Copper Creek Villas & Cabins at Disney's Wilderness Lodge showcases a tranquil, rustic yet elegant vibe for guests interested in getting in touch with a natural setting.
They offer standard rooms and suites, but if you're looking for something different, consider booking one of their Cabin rooms if you're on vacation with your family. It can hold up to eight people and has scenic views of Bay Lake that give the space a bit of a natural touch. Cabin amenities include two full bathrooms, a full kitchen area, dining area, and a porch with a hot tub.
The resort also has swimming pools, a fitness center, a jogging trail, an arcade, a hair and nail salon, tennis courts, and a gift shop. If you're looking for something special to do at night with your family, you can enjoy campfire s'mores by Geyser Point Bar and Grill or watch the colorful Electrical Water Pageant at Seven Seas Lagoon.
Disney's Port Orleans Resort – French Quarter
The final entry on our list of the best hotels near Epcot we recommend booking is Disney's Port Orleans Resort – French Quarter. The resort embodies a bold New Orleans and Mardis Gras theme with its bold colors, cobblestone streets, ornate iron balconies, and riverfront location by the Sassagoula River.
Most of their standard rooms have views of the garden, riverfront, or courtyard pool and have two queen-sized beds. These rooms can house up to four people and have a mini refrigerator, coffee machine, ironing station, and free Wi-Fi.
Their Doubloon Lagoon pool has a 51-foot serpent water slide, alligator decorations, and a Mardis-Gras-themed pool bar.
You can also enjoy live jazz and specialty cocktails at Scat Cat's Club, indulge in authentic Cajun and Creole food at their on-site restaurant, Sassagoula Floatworks and Food Factory, and take a ride in a horse-drawn carriage by the river.
Conclusion
As you can see, there are plenty of places you can stay during your Orlando vacation if you're interested in visiting Epcot. Many of this list's hotel options have spacious rooming accommodations, engaging on-site amenities, and great views of the nearby Disney parks.
No matter which one you book, you can expect quality services. Hopefully, our rundown of the best hotels near Epcot can narrow down your top options.
More about our TFVG Author
A seasoned traveller, Dad, and avid sports tourist, James foundered The Family Vacation Guide to share his expert vacation experiences- especially when it comes to being a travelling family man.
Featured in Travel articles such as Travel + Leisure, TripSavvy and SFGate, you know you're reading some of the best vacation tips online.