Beautiful Florida is more than just Mickey Mouse, and there are so many places to explore beyond Disney World. It's well-known for its spectacular beaches, fun theme parks, water parks, warm climate, and other things to do.
So, it's the best place to go to if you're craving for fun under the sun.
The Sunshine State has a plethora of beautiful destinations and fun-filled activities for the whole family. If you're planning for the next trip with the kids, check out this list of the best family vacations in Florida that aren't Disney.
17 of the Best Family Vacations in Florida That Aren't Disney
Any of these destinations would be ideal for the whole family.
The biggest challenge is picking which one is best for you and the kids. We are here to help you choose the best family vacations that aren't Disney.
Art Basel
Art Basel is a privately-owned international art fair hosting annual shows in three locations, including America's top honeymoon destination, Miami Beach. You can find contemporary works of art from over 4,000 artists and 240 galleries, including:
Photography
Paintings
Film
Digital arts
Sculptures
It's perfect for families with little kids because Art Basel offers programs for kids aged four and up supervised by Robi-Spiel-Aktionen professionals. Young Artists Studio also offers a paid program for kids aged seven and up for skills development, partnering with the Museum Tinguely.
You should plan a day or two when exploring the Art Basel with your kids. Be sure to find time to visit their best kid-friendly art exhibits, the golden sculpture at Faena Hotel, The Bass, the kindergarten and on-site playroom, and the Perez Art Museum (PAMM).
Exposing your kids to these unique experiences can spark curiosity and appreciation. At the same time, it helps strengthen the local artwork scene.
Fort Lauderdale
The Sunshine State is home to some of the best family resorts with special savings packages and all-inclusive rates. This variety makes it harder to select the best place for the whole family. However, if you want the best beach vacation, Fort Lauderdale, located on Florida's southeastern coast, has everything your family needs.
The resort offers an above-and-beyond kind of service that makes you want to stay and never leave. It's great for the little ones because the kids club provides a treasure hunt game that has been a favorite among children for years.
The kids are given a map with a mission to find all the things on the scavenger hunt. Once they find all the treasures, they receive an exciting surprise.
The beautiful beach is the perfect spot to relax while the little kids have a great time playing. You can even request for umbrella, chairs, and towels. Plus, they have an outdoor pool offering an incredible view of the ocean.
The Fort Lauderdale hotel also has an in-house restaurant, so you no longer need to look elsewhere. The restaurant offers everything from burgers, snacks, seafood to charcuterie.
The customer service is also superb because they accommodate special requests from guests with allergies. This service ensures that you won't find it hard to find something delicious to eat.
Overall, Fort Lauderdale gives you that relaxing family vacation that you won't forget.
Ginnie Springs
If it's your first time at Ginnie Springs, you're in for a real surprise. It's located in the heart of the Sunshine State on the banks of the Santa Fe River. Ginnie Springs has over 200 acres of magnificent woodland and the prettiest waters in the state. This paradise has all the adventures you need, from camping to swimming, snorkeling to kayaking, and even scuba diving.
The crystal clear water of Ginnie Springs attracts many tourists worldwide. The large area allows you to experience the place in so many ways. Plus, the springs are 72 degrees Fahrenheit all year-round, making you want to dip in and explore.
If you're going to stay away from the waters, you can go camping and set up your tent at the spring side. Make sure not to miss the world's most sought-after freshwater diving site because Ginnie Springs is truly a crowd favorite.
Crystal River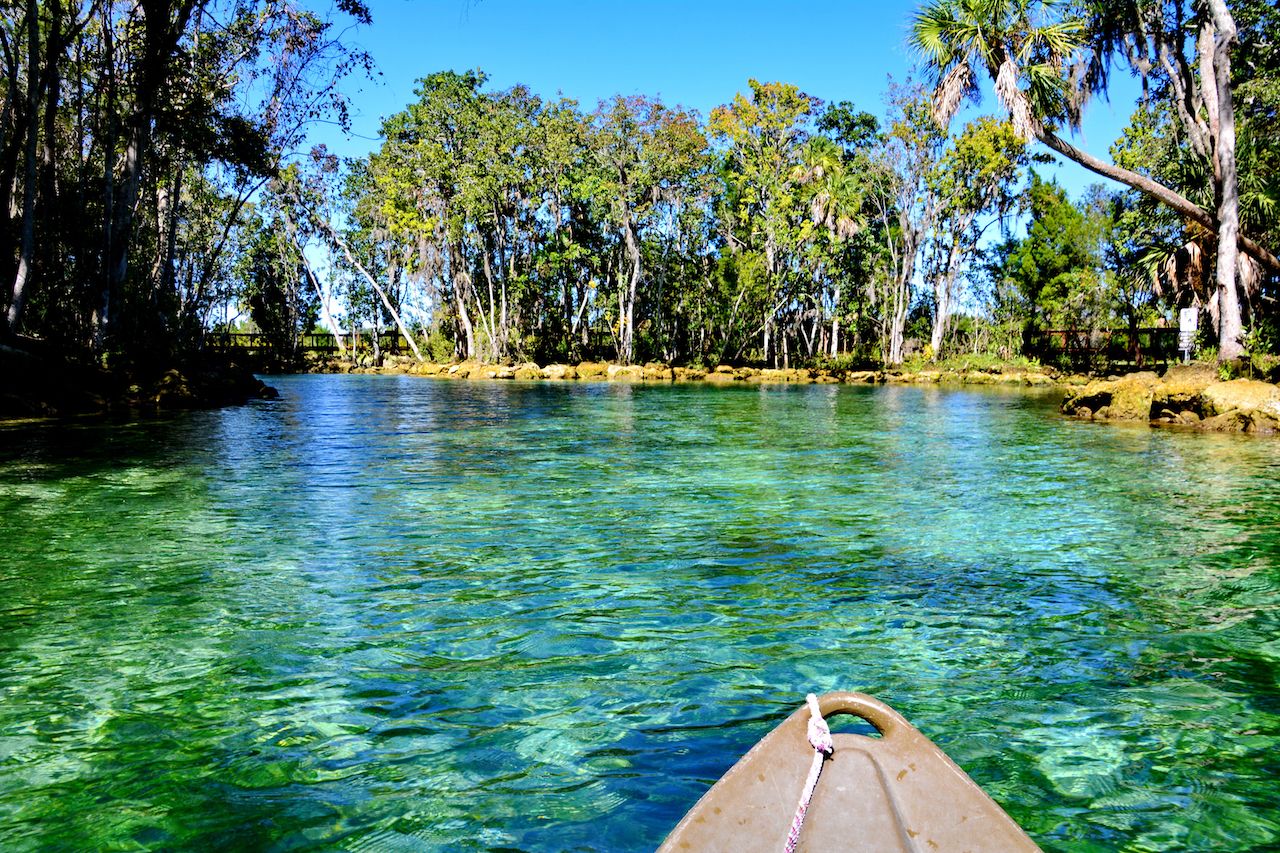 If you're up for some close encounter with Manatees, then Crystal River is one of the best family vacations in Florida that aren't Disney for you. This coastal city in the west is the world's Manatee Capital, sheltering hundreds of manatees year-round. Plus, you can go swimming with them.
Crystal River also shelters the only National Wildlife Refuge in the U.S, protecting marine animals in Florida. Their efforts are dedicated to conserving and protecting marine mammals.
In line with this, they set up idle or no-wake zones for boaters in the refuge areas to protect the animals from injuries from boat strikes, which are the leading cause of their deaths. Tourists are still allowed to swim with the animals in Kings Bay. However, there are some guidelines to observe to protect the gentle giants.
Some sanctuaries are restricted to provide the animals their safe zones during the winter and refrain from disturbing human activities.
Marco Island
If you haven't heard yet about the Ten Thousand Islands, it's a series of islands with more than 200 square miles of mangroves off the coast of southwestern Florida. The largest of the Ten Thousand Islands is Marco Island, which globally offers the most beautiful beaches.
Marco Island was voted the top island in the U.S in 2014 due to its tropical white sand beaches and slow-paced lifestyle. It's the perfect place if you want to relax and crave a peaceful vacation.
While the island gives you a quiet retreat, it has lots to offer its guests, such as outdoor activities and fine restaurants. If you want water adventures, you can go fishing, kayaking, boating, and other water sports. The beautiful white-sand beaches and spectacular sunset views attract tourists worldwide.
Uninhabited islets surround the island, and it's home to some rare bird species and endangered animals. If you also want to witness crocodiles and alligators, you can visit the Everglades National Park, a few minutes away from the island. Here, you can find exotic animals, manatees, and plant life unique only to the park.
Kissimmee
If you're on a tight budget, going to Orlando can get expensive, considering the admission price to the theme parks. Fortunately, Kissimmee offers plenty of options to budget travelers.
Whether you're looking for a hotel, resort, or villa, Kissimmee has a wide range of family-friendly selections with proximity to other top destinations in Orlando. It is:
13 miles away from Disney World
17 miles away from Universal Studios
15 miles away from Epcot
11 miles away from SeaWorld
This proximity makes Kissimmee the perfect location for visiting top destinations on your checklist.
Kissimmee is also home to the beautiful Shingle Creek Regional Park, perfect for nature lovers. It's one of the best places to visit in Kissimmee for free. You will be amazed by the abundance of wildlife and the picturesque environment of the urban oasis. It's even hailed as one of Americans Great Outdoors.
You can explore the 1,000 acres of conservation enclave by foot or boat and witness bird species, armadillos, turtles, and other animals in their natural habitat.
South Walton
If it's your first time at South Walton, you'll be amazed by its spectacular views and pristine white beaches along the Gulf Coast. South Walton also offers endless opportunities in its 16 distinct beach neighborhoods. Each has its style, charm, and traditions.
South Walton is known for its natural beauty, sugar-white sand beaches, and turquoise waters, making it a place to create long-lasting memories with the family. Ask anyone living in its sister communities, and they will tell you why South Walton is a premier beach vacation.
You can tour the 30A corridor via E-bike and reach the west end at Dune Allen Beach. The 19-mile bike path allows you to explore all the beach communities. The coastal lakes, forests, bayous, and dunes are also worth visiting.
If you want some water adventures, go snorkeling and explore:
Cobia Reef
Sea Turtle Reef
Seahorse Reef
Dolphin Reef
Port St. Lucie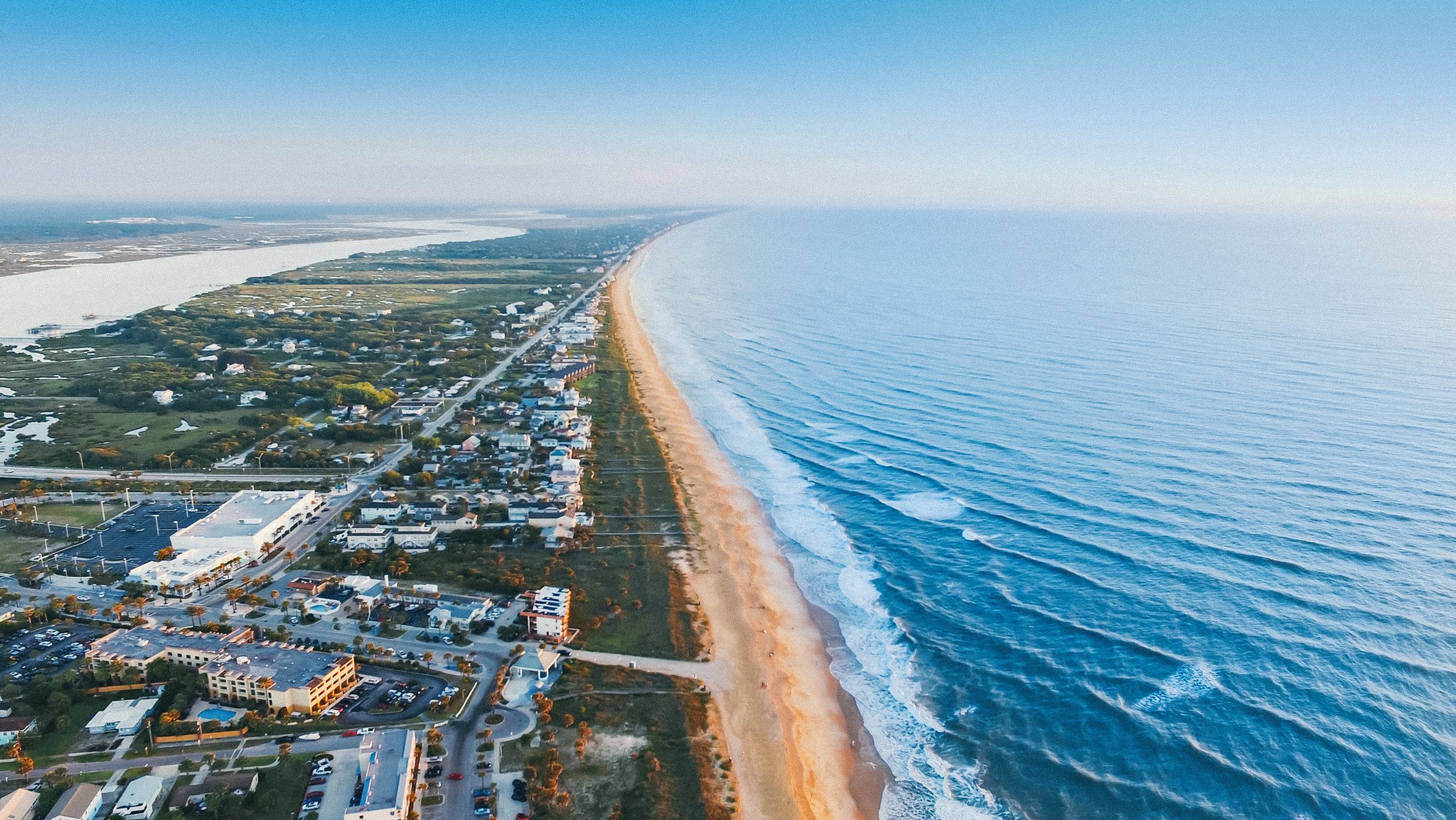 Port St. Lucie, located north of Palm Beach, is home to the Professional Golfers' Association of America (PGA) Village, featuring fun and friendly golf and resort-style amenities. It's one of the best places thus far to go golfing.
Port St. Lucio is also known for its environmental preserves, beautiful beaches, lush paddle rivers, shopping centers, and dining opportunities. Here at Port St. Lucie, there's something for everyone in the family to enjoy.
You can enjoy Florida's best destinations without the massive crowd, including the Hutchinson Island Beaches, St. Lucie Inlet Preserve, and Savannas Preserve. Go shopping at The Landing at Tradition and dine at one of the best restaurants in the city afterward.
St. Augustine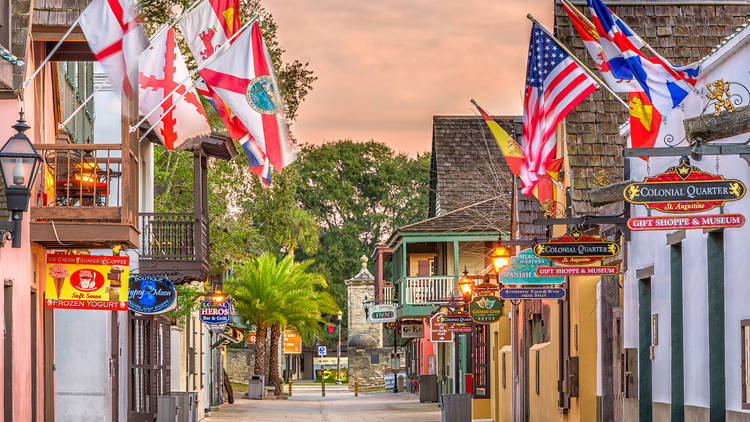 Located in northeastern Florida, St. Augustine is the oldest city in the U.S. It's well-known for its enormous appeal and European architecture. The town features centuries-old structures, hidden courtyards, horse-drawn carriages, and many more attractions.
So, if you're fond of history and culture, St. Augustine is definitely the place for you. In fact, the city has over 450 years of history to tell.
Its beautiful sceneries and rich history make St. Augustine distinctive from any other city. It also features top-rated accommodations, such as resorts, hotels, and villas. You can also go food tripping on its excellent restaurants offering a wide selection of food that reflects the city's cultural heritage.
Additionally, it has shopping centers, world-renowned art galleries, theaters, and a long stretch of beautiful beaches. Millions of tourists go to St. Augustine annually, making it a top tourist destination.
Palm Beach Gardens
Located on the east coast of Florida, Palm Beach Gardens is best known for the famed Professional Golfers' Association of America (PGA) and its high-end golf clubs. Each year, thousands of tourists worldwide visit the place wishing to witness some of the best golf players.
With over 400 acres of the coastal environment, you can also visit one of the most well-preserved state parks, John D. MacArthur Beach State Park. It features a two-mile stretch of beautiful beach where you can go swimming, snorkeling, and diving.
Compared to other attractions in the area, the park is less crowded, and sometimes, you can even have the place all to yourself.
Tourists also flock to the upscale shopping malls, including the open-air shopping mecca, Downtown Palm Beach Gardens. It's a lifestyle center featuring unique shops, boutiques, and restaurants.
You can also continue shopping until you drop at The Gardens Mall, a premium destination shopping center featuring over 150 specialty shops and restaurants set in exquisite décor.
Palm Beach Gardens has fine accommodations, such as resorts and hotels with convenient proximity to its beautiful beaches.
Sanibel and Captiva Islands
Located a few miles from Fort Myers on the shores of the Gulf of Mexico, the breathtakingly beautiful islands of Sanibel and Captiva feature world-renowned shelling, abundant wildlife, unique shopping, and world-class fine dining.
Compared to Sanibel, Captiva is quieter and a little less developed. Despite its smaller size, it has a lot to offer, such as a scenic view from the bridge at the heart of Captiva and great dining stops.
It also features a wide selection of excellent accommodations, such as the Outer Banks Home. This luxurious place offers five to six-bedroom bayfront homes with convenient proximity to the beaches. On top of these, you can have a heated pool and a private tennis court.
Sanibel Island has a lot more action than Captiva Island. It offers many shopping options and fine dining located on Periwinkle Way. The main street is famed for its bike path stretching over 25 miles that meanders through Sanibel and Captiva. It also has many bike rental facilities that allow you to trail on two wheels.
Don't miss out on some of Sanibel's best beaches, including the Lighthouse Park Beach, which the famous Sanibel Lighthouse marks.
You can also visit the J. N. Darling National Wildlife Refuge and witness its diverse bird species and the Bailey-Matthews Shell Museum featuring over 30 art exhibits of mollusks coming from different parts of the world.
Siesta Key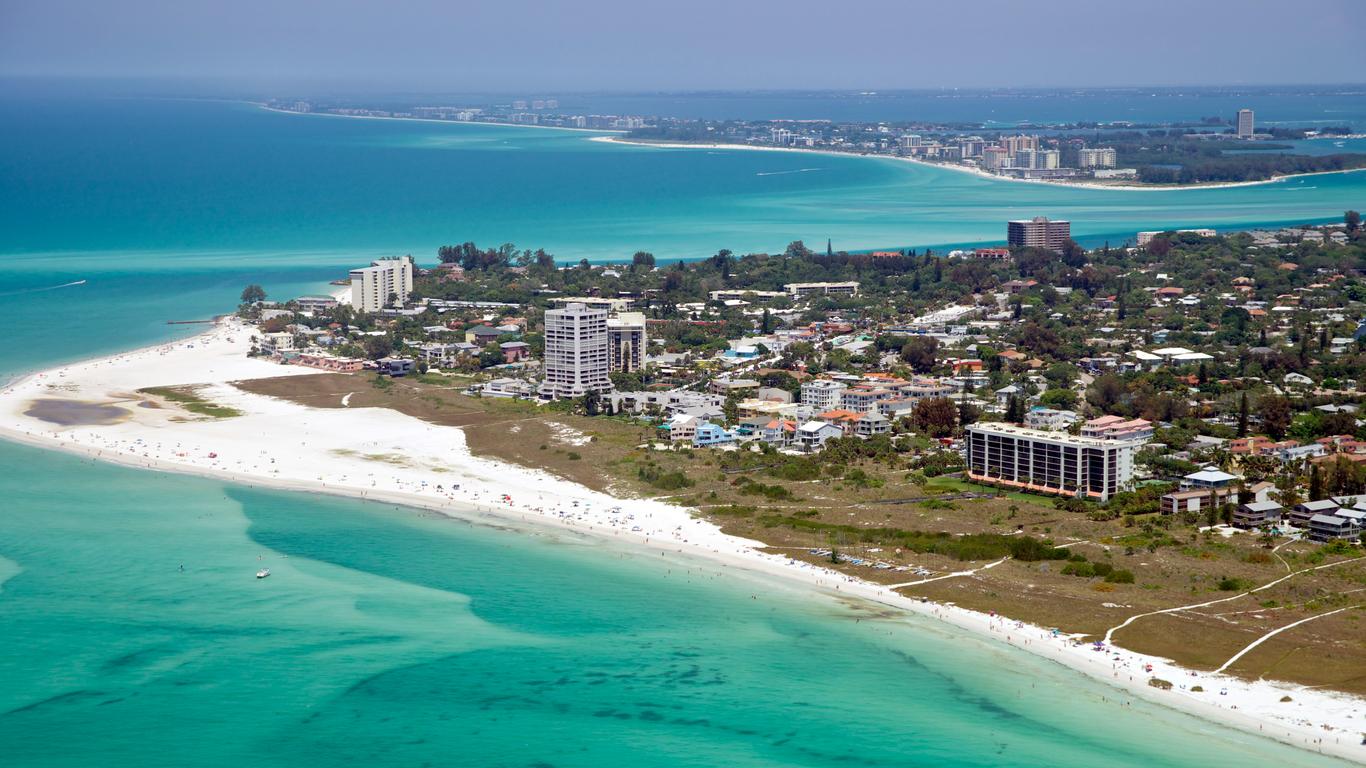 Siesta Key is one of the most sought-after island paradises in Florida. It's well-known for its magnificent quartz sand beaches with turquoise waters.
This eight-mile-long island features hotels and resorts, shopping centers, restaurants, and nightlife entertainment. The island is the perfect balance of a laid-back vibe for the whole family and an upscale one.
Siesta Key also features many historic attractions. The arts community actively participates in many artistic endeavors, including one of the most significant and longest-lasting art events in Sarasota, the Siesta Fiesta.
This free event includes:
Musical shows
Food
Raffle games offering local gifts and other treats to guests
Siesta Fiesta continues to grow as the younger generations support independent artists' mission and hand-crafted artworks.
So, if you're visiting Florida with your family, Siesta Key offers plenty of opportunities to learn about the island's artistic culture.
There aren't big hotels and restaurants in Siesta Key. Instead, you can find home rentals, inns near the beach, and many boutique hotels. It also features many ice cream parlors, pizza shops, and restaurants catering to family-friendly restaurants.
Duck Key
If you're looking for a carefree environment with outdoor adventures all year round, then this island community within Florida is the way to go.
Duck Key features magnificent ocean views, luxury accommodations, seafood-filled dining, and a plethora of activities for the entire family, including:
Swimming
Snorkeling
Diving
Paddleboarding
Boating
Fishing
It attracts thousands of tourists annually due to its perfect location, beautiful coastline, stunning beaches, and local attractions. Situated between two major Florida airports, Duck Key becomes the ideal destination for tourists craving a relaxing getaway and beach vacation, located between two major Florida airports.
One of the best resorts in the heart of Duck Key is Hawks Cay Resort. Tourists looking for authentic Caribbean vibes flock to the area. Its location is strategic along a marina with boat docking.
The resort features villas with four bedrooms, perfect for families and large groups. Each villa has extra space for relaxation, its own kitchen, and a private lounge. Other amenities include:
A kids' lounge
Gyms
Pools
A putting course
Lagoons
Jupiter
Jupiter has everything your family needs to relax and have fun, from its stunning beaches to various family activities. Bring the whole family to John D. MacArthur Beach State Park and go on a turtle hatchling walk or kayaking at Loxahatchee River.
If you want to witness some of the most spectacular views, you can climb over a hundred steps towards the Jupiter Lighthouse and get 360-degree coastal views from the top.
You can wander the trails at Busch Wildlife Sanctuary for nature lovers and encounter some wildlife such as pumas, bobcats, and bears in their natural habitats. Then, head straight to the Loggerhead Marinelife Center and visit the ogling sea turtles, colorful shells, and tropical fish.
Jupiter features many parks with bike and beach trails. Nearby Downtown Abacoa, you can find sidewalk dining, specialty shops, and other entertainment such as live concerts.
Anna Maria Island
The island is one of the barrier islands on Florida's Gulf Coast. Anna Maria Island is the perfect destination if you and your kids want a week-long relaxation on the beach. Its turquoise waters are great for swimming, kayaking, and paddleboarding. You can also book a 2.5-hour tour to catch some swimming bottlenose dolphins and manatees.
Anna Maria Island is where you can spend more time with nature. Visit the Perico Preserve, a hidden oasis that shelters wading birds, or go for a walk along the boardwalk trail. The historic Bridge Street at Bradenton Beach allows you to explore art galleries, stunning cottages, and unique shops.
The Bungalow Beach Resort is also a great place to stay. It features beautifully restored beach bungalows from the 1930s with a direct beachfront on Anna Maria Island.
Cocoa Beach
Cocoa Beach is one of the most beautiful beaches in Florida. It's also a few minutes away from the Kennedy Space Center, where your and your kids can go space exploration, complete with on-site astronauts and rockets.
This attraction is probably the best part of your Cocoa Beach trip. At the Kennedy Space Center, you can try their space ice cream and eat a meal with an astronaut. It's also the perfect time for kids to learn about their space mission and take a photo opp.
The beach also provides guests with surfing lessons, and tourists gather at the Cocoa Beach Pier to hang out and have a picnic. The place also has many restaurants, such as the Pelican Bar & Grill. Don't miss out on their best-selling Lobster Mac and Cheese.
The Inn at Cocoa Beach is a decent place to stay in. It features beachfront access and complimentary breakfast. Guests also gather at their primo rooftop to watch launching rockets.
Dry Tortugas
Located west of Key West, Dry Tortugas National Park is an isolated 100-square mile park with open waters and seven islets. You can only access this remote island via plane or boat.
It's known for its turquoise waters, beautiful coral reefs, vast marine life, spectacular Fort Jefferson, and wide selection of bird species frequenting the island.
The seven islets become a famous layover of various bird species migrating from South America to the U.S. Almost 300 bird species reside here, including:
The hummingbird
Yellow-billed cuckoo
Peregrine falcon
White-Eyed Vireo
If you've tried snorkeling in Key West, you will also love what Dry Tortugas has to offer. It features one of the best skin diving and snorkeling in North America.
The shallow turquoise waters make snorkeling one of the best things to do at Dry Tortugas. You can also picnic at some of the tables positioned outside Fort Jefferson.
No trip to Key West is complete without going to the best beach destination in the Florida Keys. Whether you want to swim, snorkel, sunbathe, or just relax, you will surely enjoy its powdery sand beaches and clear waters.
Florida Destinations for Families
Everyone loves Mickey. However, Florida isn't all about theme parks. It's also great to try something new.
While it's true that family vacations in Florida aren't complete without a quick Disney tour, you may want to consider one or two of the best family vacations in Florida that aren't Disney.
Whether you're up for a quick visit or a week-long trip, Florida is packed with many beautiful destinations that surely make the entire family enjoy that dream vacation.
If you need help planning for the next trip, contact us today, and we'll help you discover the best destinations for the whole family.
More about our TFVG Author
A seasoned traveller, Dad, and avid sports tourist, James foundered The Family Vacation Guide to share his expert vacation experiences- especially when it comes to being a travelling family man.
Featured in Travel articles such as Travel + Leisure, TripSavvy and SFGate, you know you're reading some of the best vacation tips online.