Walt Disney World Resort in Florida is a dream vacation destination for many families, but with all of the parks and attractions, it can be a lot to take in and coordinate.
To help, we have put together a comprehensive guide on how many Disney parks there are in Florida, and how to make the most of all the attractions available. 
Overview
In total, the Walt Disney World Resort has six parks, including four theme parks and two water parks. The parks are:
Magic Kingdom
Disney's Animal Kingdom
Disney's Typhoon Lagoon
Each of these parks has its theme and style, as well as notable attractions that are worth experiencing during your visit to Walt Disney World.
Disney Parks in Florida
The Walt Disney World Resort in Florida has some of the most beloved theme parks and attractions, so it's useful to have a good understanding of each park when planning your trip.
Magic Kingdom
Magic Kingdom was the first Disney theme park built in Florida and opened in 1971. Complete with an iconic fairytale castle, Magic Kingdom takes the original ideas of the Disneyland Resort in California and expands them into an even bigger creative vision.
This 107-acre park consists of several different subsections called Lands, which each offer their own unique experience of a particular "region" of the Magic Kingdom. The Lands include:
Main Street, U.S.A.
Adventureland
Frontierland
Liberty Square
Fantasyland
Tomorrowland
Main Street, U.S.A.
When you enter the park you will find yourself on Main Street, U.S.A., a representation of the American town that features architectural styles from throughout the U.S. Main Street has plenty of shops with food and merchandise, as well as the Town Square Theater.
Adventureland and Frontierland
Adventureland and Frontierland neighbor each other, both representing the spirit of adventure and exploration. Adventureland is devoted to international exploration and is influenced by the Caribbean, South America, Africa, the Middle East, and Asia. Frontierland symbolizes the American Old West.
Liberty Square
Nearby Frontierland is Liberty Square, a town set during the American Revolution. One of the most popular rides in this area is the Haunted Mansion.
Fantasyland
Fantasyland is an area that is most strongly associated with Magic Kingdom and acts as a fairytale village that pays homage to your favorite Disney princesses. It is broken down into three different areas:
Castle Courtyard
Storybook Circus
Enchanted Forest
The castle courtyard consists of all of the original Fantasyland rides and is located inside the castle walls. The Storybook Circus, formally the location of Mickey's Toontown Fair, is influenced by elements of Dumbo and the Mickey Mouse universe. The Enchanted Forest features attractions based on classic fairytale Disney films such as The Little Mermaid and Beauty and the Beast.
Tomorrowland
Finally, Magic Kingdom also features Tomorrowland, an intergalactic city influenced by 1950s futurism and centered around the popular ride Space Mountain.
Notable Attractions
Magic Kingdom has some of the most iconic Disney World Attractions. Be sure to visit Magic Kingdom to experience rides like the Seven Dwarfs Mine Train, Pirates of the Caribbean, Peter Pan's Flight, It's A Small World, Big Thunder Mountain Railroad, and Space Mountain.
Other Magic Kingdom attractions worth checking out include Mickey's PhilharMagic, Walt Disney's Carousel of Progress, and Walt Disney's Enchanted Tiki Room.
EPCOT
Epcot, an acronym for Experimental Prototype Community of Tomorrow, is inspired by Walt Disney's idea for a planned residential community. Epcot is themed around the celebration of technological innovation and international culture.
The park can be broken down into four areas:
World Celebration
World Discovery
World Nature
World Showcase
World Celebration
World Celebration is the first area you enter at Epcot and is devoted to new experiences and connections with others. The most famous attraction in this area is Spaceship Earth, a dark ride housed inside a large geodesic sphere that narrates the history of human communication.
World Discovery
World Discovery is one of the newest areas in Epcot and focuses on science, technology, and intergalactic adventure. This section features rides such as Mission: Space and Test Track.
World Nature
Opening alongside World Discovery, World Nature celebrates the beauty and balance of the natural environment. This section features two pavilions that house various environment-themed attractions: The Land and The Sea with Nemo & Friends.
World Showcase
World Showcase takes up a significant portion of Epcot and acts as a permanent World's Fair. Walk around the World Showcase Lagoon and discover an array of pavilions representing different nations.
Notable Attractions
Aside from Spaceship Earth, which is a must-have experience while in Epcot, there are plenty of other special attractions located in this futuristic prototype city. When in Epcot be sure to visit the flight simulation ride Soarin', the racing ride Test Track, and the musical water ride Frozen Ever After (located in the Norway pavilion).
Disney's Hollywood Studios
Opened in 1989, Disney's Hollywood Studios is inspired by the Golden Age of Hollywood. The park has several different sections to represent various elements of Hollywood:
Hollywood Boulevard
Echo Lake
Grand Avenue
Star Wars: Galaxy's Edge
Toy Story Land
Animation Courtyard
Sunset Boulevard
Hollywood Boulevard
Similar to Main Street, U.S.A. in Magic Kingdom, Hollywood Boulevard serves as an entrance area for Hollywood Studios and is lined with themed shops and restaurants. The street is modeled after the real Hollywood Boulevard and is filled with visually stunning building facades.
Echo Lake
This section, named as a nod to the real California neighborhood Echo Park, is designed to evoke the architectural style of the California suburbs during the Golden Age of Hollywood. Many of the attractions in this area are based on films by George Lucas, including Star Wars and Indiana Jones.
Grand Avenue
Grand Avenue is a recreation of a historic district of Los Angeles and features plenty of fun and quirky attractions amidst a vintage city environment. Major attractions in this section include Muppet*Vision 3D and the PizzeRizzo restaurant.
Star Wars: Galaxy's Edge
This new section of Hollywood Studios is an homage to the Star Wars universe and allows guests to feel like they are really in Star Wars. The area feels remarkably authentic and features plenty of Star Wars-themed attractions and rides.
Toy Story Land
Enter into Toy Story Land, where you will feel like a toy playing in Andy's backyard. The area is inspired by classic carnival games and brings the classic Pixar series to life.
Animation Courtyard
Animation Courtyard focuses on all of the beloved characters made by Walt Disney Animation Studios. This is a great area for movie fans to discover behind-the-scenes artifacts from their favorite animated films.
Sunset Boulevard
Based on the real Sunset Boulevard, this area captures the luxurious and dramatic essence of Los Angeles. The street ends with the infamous Tower of Terror, and there are plenty of theaters through this theme park section for a variety of special Disney shows and attractions.
Notable Attractions
Disney's Hollywood Studios offers fantastic experiences for the movie geeks and Disney nerds in your life. While visiting, be sure to check out popular attractions such as Star Wars: Rise of the Resistance, the Twilight Zone Tower of Terror, Slinky Dog Dash, and the Rock 'n' Roller Coaster.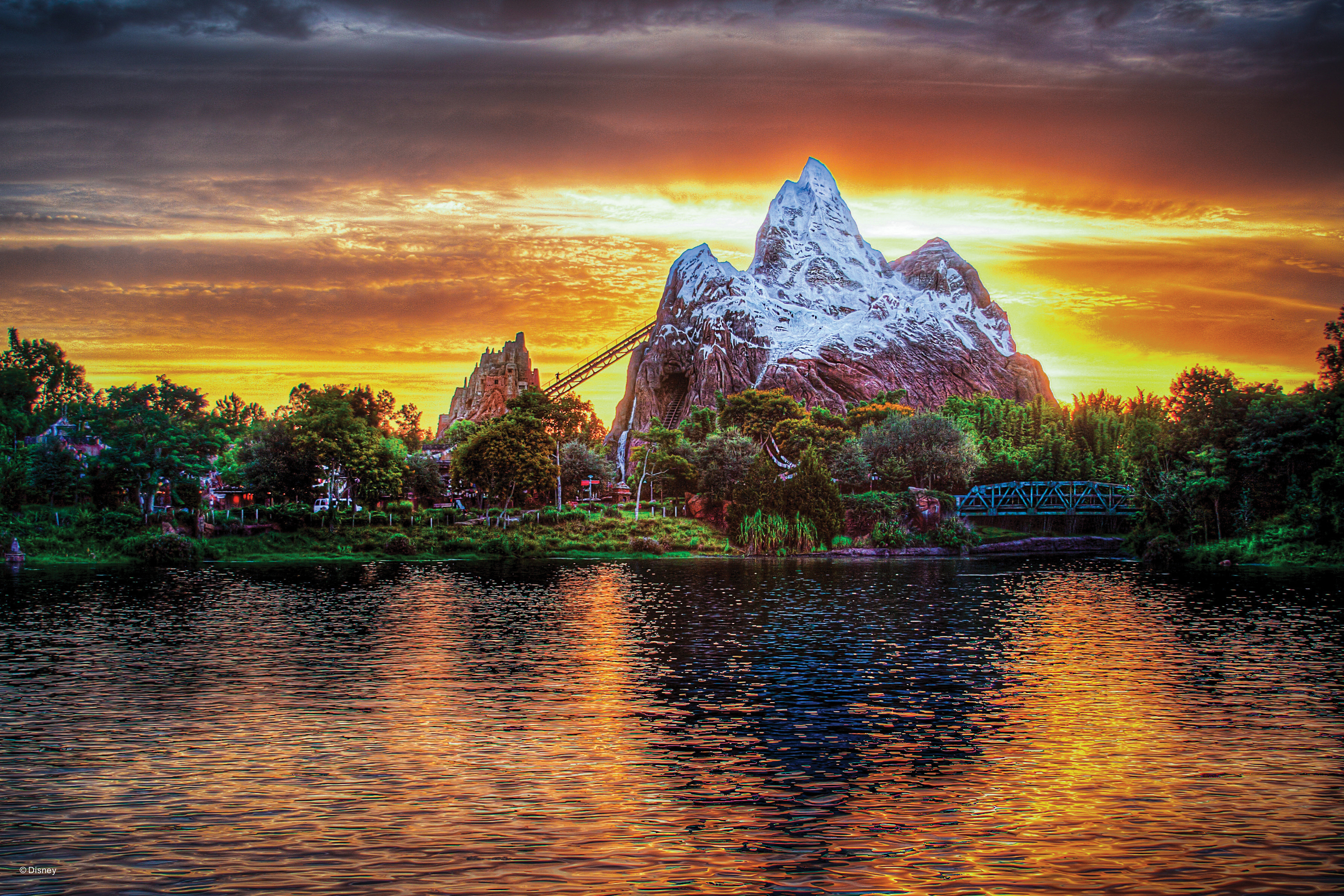 Disney's Animal Kingdom
Disney's Animal Kingdom honors the beauty of the natural world and is dedicated to environmental and animal conservation. In addition to having rides and entertainment attractions, Animal Kingdom is a committed animal conservatory and takes care of hundreds of species of animals.
Animal Kingdom is divided into several areas:
Oasis
Discovery Island
Pandora – The World of Avatar
Africa
Rafiki's Planet Watch
Asia
DinoLand U.S.A.
Oasis
The Oasis serves as the entrance area of Animal Kingdom and is filled with vibrant flora and fauna. This area gets you acquainted with the world of animals and also features a Rainforest Cafe.
Discovery Island
Discovery Island is located in the Discovery River at the center of Animal Kingdom. This island is home to the Tree of Life, the iconic symbol of Animal Kingdom.
Pandora – The World of Avatar
Pandora is a new section that serves as a recreation of the world in the film Avatar. This area is designed beautifully and features the strange and exotic terrain of Pandora, as well as some very fun rides and attractions.
Africa
One of the original sections of Animal Kingdom, the Africa section is devoted to the study and conservation of wildlife indigenous to sub-Saharan Africa. Visit here to learn about hippopotamuses, zebras, chimpanzees, and more.
Rafiki's Planet Watch
Rafiki's Planet Watch is an educational experience that provides guests with an in-depth look at the animal care and conservation efforts taking place at Animal Kingdom. Visitors to this area will learn about cotton-top tamarins, get a behind-the-scenes tour of a veterinary clinic, and bond with the animals at a petting zoo.
Asia
Similar to the Africa section, the Asia section focuses on the study and conservation of wildlife native to the continent of Asia. Visit this area to learn more about animals such as orangutans, Komodo dragons, and Sumatran tigers.
DinoLand U.S.A.
As the name suggests, DinoLand U.S.A. is devoted to the study of paleontology. Alongside some thrilling dinosaur rides are animals such as crocodiles and tortoises, which have evolutionary links to dinosaurs.
Notable Attractions
Animal Kingdom is a lovely park to visit to take in the natural beauty of our planet's wildlife, while also enjoying some thrilling rides and dazzling theatrical shows. Some of the popular attractions include Kilimanjaro Safaris, Expedition Everest, Kali River Rapids, and the Festival of the Lion King.
Disney's Blizzard Beach
Disney's Blizzard Beach is a water park with a playful mountain resort theme. Opened in 1995, this large water park is divided into several sections of different types of attractions.
The green slope area is designed for all of the single-track slides and is not meant for racing. This section features Teamboat Springs, which Disney claims is the world's longest family white-water raft ride.
Meanwhile, the purple slope area has all of the two-track slides, which are designed for racing. Finally, the red slope is home to one particular ride: Runoff Rapids. This complex ride features multiple slides twisting and turning around each other.
For a relaxing time, you can head to the ground level for soothing lazy river rides and short body slides. This area of the water park is also ideal for entertaining younger children.
Notable Attractions
All of Blizzard Beach's water rides are excellent, but some stand out. When you visit, be sure to check out rides such as Summit Plummet, Cross Country Creek, and Runoff Rapids.
Disney's Typhoon Lagoon
Disney's Typhoon Lagoon is the other Disney water park in Florida. Perhaps most famous for having one of the world's largest wave pools, this tropical storm-themed water park has plenty of attractions to enjoy.
At the center is Mount Mayday, which is a manmade mountain with a shrimp boat named "Miss Tilly" impaled at the top. Not only does Mount Mayday serve as a key launching area for many of the park's water slides, but the structure contains some of the most important mechanics and pipes controlling the water park.
Other key areas include Hideaway Bay and the Typhoon Lagoon. Hideaway Bay is a sandy beach area that is perfect for having a beach vacation experience while at Disney World. Typhoon Lagoon is a massive wave pool that has 6 foot high waves every 90 seconds. This area also has other tidal pools for guests looking for a more relaxing experience.
For a chiller time, visit Castaway Creek, which is the park's lazy river ride and is 2,100 feet long. This relaxing river ride circles the entire park and is a fabulous tropical-themed ride.
Notable Attractions
If you visit Typhoon Lagoon, you should make time to experience some of the most popular attractions, including the Crush 'N' Gusher water roller coaster, the Typhoon Lagoon surf pool, and Mayday Falls.
Final Thoughts
Walt Disney World Resort in Florida is a massive vacation destination with seemingly endless options. Each of the parks has its own unique experience to offer, and your family will be sure to find the ideal spots to experience the Disney magic. Best of luck on your trip to The Happiest Place on Earth!
More about our TFVG Author
A seasoned traveller, Dad, and avid sports tourist, James foundered The Family Vacation Guide to share his expert vacation experiences- especially when it comes to being a travelling family man.
Featured in Travel articles such as Travel + Leisure, TripSavvy and SFGate, you know you're reading some of the best vacation tips online.