If you visit EPCOT theme park in Walt Disney World in central Florida, you might hear about an activity called drinking around the world.
While not officially sanctioned by the Walt Disney Company, it's very popular among adult visitors. It entails enjoying an alcoholic beverage in each of the 11 countries in the park's World Showcase.
As fun as it can be for those who like to imbibe, it isn't cheap.
Disney charges a lot for beverages, especially the ones containing alcohol.
Below, read about what it costs to drink around the world at EPCOT, from parking to admission to the drinks themselves. That way, you can budget appropriately and not worry about your bank account during your day in EPCOT!
Quick Look: Your Budget for Drinking Around the World in EPCOT
Let's break it down for some speedy information on the per-person cost of drinking around the world:
Park admission: $109+
Drinks: $135+
Food: $50+
Tips: $20+
Therefore, your grand total before souvenirs and other incidentals is $314, or about $335, including taxes.
Still, these numbers can change, and might not be enough money. Let's take a look at how it breaks down.
How Much Does It Cost to Drink Around the World at EPCOT?
Drinking around the world can be an expensive endeavor. You should budget at least $135 for drinks alone.
On top of that, a one-day, one-theme park ticket starts at $109. Including park admission, the drink around EPCOT costs at least $250 per person.
As you can see below, there are other incidental expenses on top of that. Keep reading for more information.
Getting into EPCOT
As we said above, park admission starts at $109 per person, but several factors can drive that number higher.
Disney bases ticket prices on availability and demand, so if you plan to visit during peak season, be prepared to pay over $150 to get in the gates.
Remember that your daily ticket price drops the more days you buy. But once you include taxes and other add-ons (park hopping option, Genie+ service, paid Lightning Lanes, and more), the price goes right back up.
Drinks
Above, we recommended budgeting at least $135 for beverages for drinking around the world. That breaks down to about $12 per drink. While that might sound steep, it's on the cheaper end for drinks at Disney.
Prices for everything in Walt Disney World are subject to change (and frequently do), but beers typically start around $10. Glasses of wine and mixed drinks start at $12 or $13. There are specialty drinks that cost over $15.
There is an exception, which can be crucial if you need to save some money. During some of the park's many festivals, several kiosks serve small plates and drinks to accompany them. Those drinks are often less expensive (between $7 and $10), but you get less to enjoy.
Food
If you plan to drink around the world, you absolutely need to have food in your stomach. Nearly all people who have completed this challenge recommend eating plenty along the way.
Luckily, Disney provides many options. There are snacks, small plates, quick-service dining, and table-service restaurants in each of the 11 countries.
How much does food cost at Walt Disney World? Like most things, it depends.
You can bring food into the Disney theme parks, and that's one way to save money. Otherwise, budget at least $50 for food per person for the afternoon and evening.
Tips
Don't forget to tip your bartender! Some kiosks–especially those serving only beer and wine–don't even allow you to tip.
But if you plan to have mixed drinks from any of the bars, you can and should tip. After all, bartenders rely on the money from their tips to make a living!
In the United States, standard tipping is between 15% and 20% of your total bill. Budget at least an additional $20 for tipping.
Other Expenses
Several other aspects of an EPCOT visit cost money.
If you plan to drive to the theme park and aren't staying at a Disney-owned hotel, standard parking costs $25 per day.
Of course, Disney is masterful at merchandising. Hundreds of guests swear they won't purchase souvenirs or other items in the parks and then end up bringing home a whole bunch.
Be aware that, as you consume alcohol, your ability to resist the shopping temptation may break down. Moreover, many guests take their drinks and browse the shops in each pavilion, so you'll be inundated with things to buy.
Getting souvenirs may be unavoidable if you have kids. The chances are that they'll get impatient with your sipping and strolling, and keeping them entertained can cost money.
It's always a good idea to budget additional money for each day of your vacation. That way, no matter what happens, you're prepared.
What Is Drinking Around the World at EPCOT?
That's a great question! After all, you want to know what you're getting for this money.
EPCOT theme park is separated into two sections: Future World, at the front of the park, and the World Showcase.
The World Showcase was initially imagined to resemble a World's Fair-style exhibition of nations. It's a collection of pavilions from countries around the world that showcase their unique culture, history, and food and drink.
The 11 countries are laid out in a semi-circle around World Showcase Lagoon. Guests begin in either Mexico or Canada and enjoy an alcoholic beverage in each country as they make their way around the lagoon.
As you sip, you can wander through the shops and take in some of each pavilion's entertainment. Or, find a shady seat and do some people-watching. Just be sure to finish your drink before moving on to the next!
You can opt to order only beers or sample each country's signature drink. We'll go into more detail about those below.
How To Drink Around the World at EPCOT
Are you feeling thirsty? Let's take a country-by-country tour of EPCOT's World Showcase and the delicious drinks each one offers in our guide to the cost to do drink around the world at EPCOT.
Mexico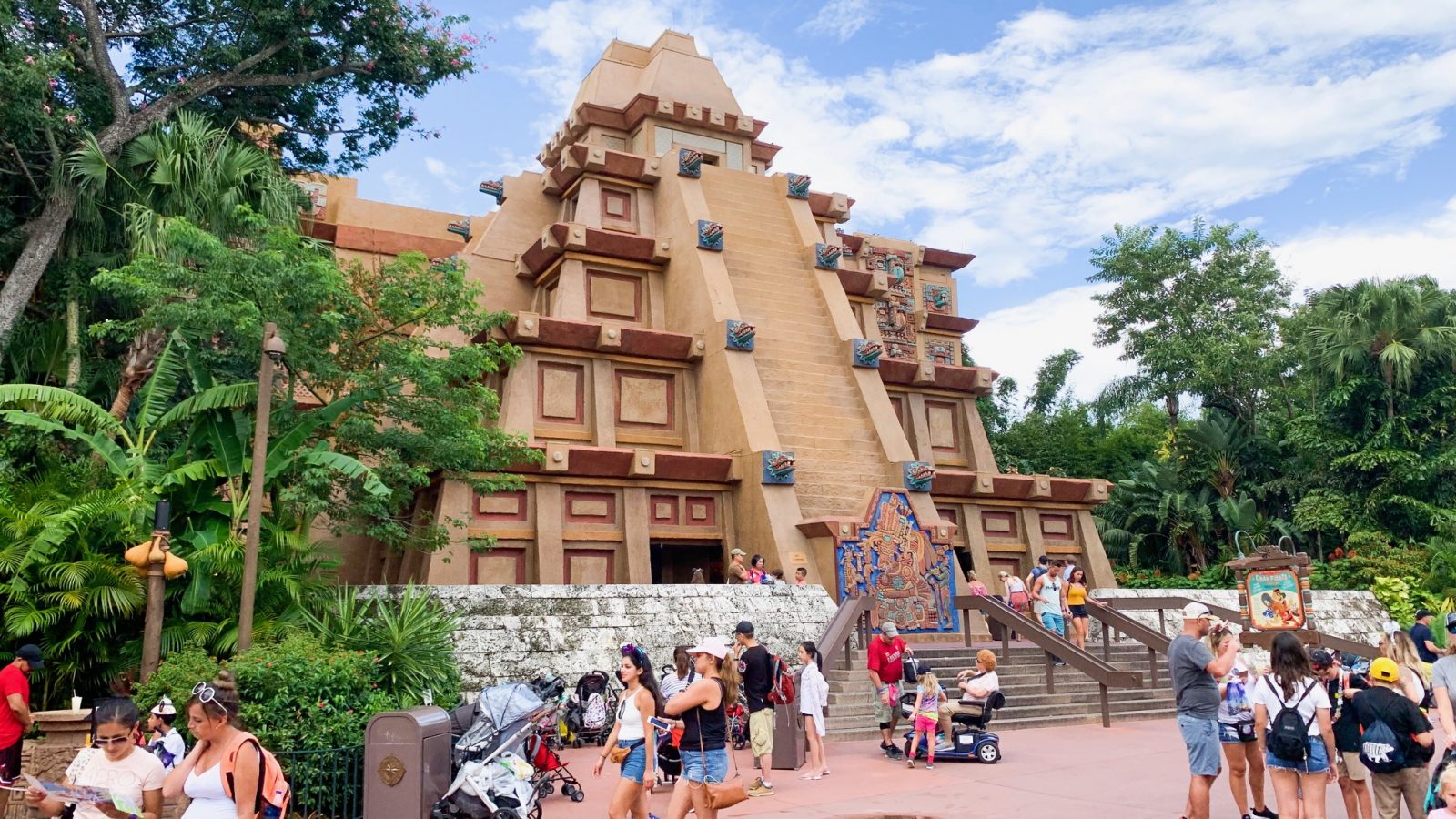 As you make your way through the Port of Entry from Future World, head to the left and find yourself in the Mexico Pavilion. You have several places where you can find drinks at varying price points.
In Mexico, most world drinkers choose tequila, a margarita, or a local beer. The easiest and least expensive places to get these are Cantina de San Angel and Choza de Margarita, which are both outside.
They serve classic frozen and on-ice margaritas and popular beers like Dos Equis and Modelo, priced about $10-$15.
If you want to get out of the heat and off your feet, you can get a table at La Cava del Tequila, which is located inside the pre-Columbian pyramid. They have an extensive tequila-tasting menu, tequila flights, and specialty margaritas.
Tequila shots start around $12, and most margaritas at La Cava cost $15 or more. If you're in the mood to splurge, there are high-end, rare tequila samples for over $50 per shot.
If you're looking for some free entertainment in Mexico, check showtimes for Mariachi Cobre, a traditional mariachi band that typically plays daily.
Norway
Thanks to the Florida heat and humidity, you may not feel like you're in Norway, but you can still enjoy some of the country's best beverages anyway.
Norwegians drink beer and a liquor called aquavit. You can buy real imported Norwegian beer in the Kringla Bakeri og Kafe, which offers sweets and sips to go. They serve Aass Pilsner, Einstok White Ale, and spiked Viking Coffee, hot or frozen, all around the $10 mark.
If you want aquavit, get it outside the Stave Church at the kiosk. Here, you can drink Linie Aquavit by the shot, but buyers be warned: it's 80-proof and has a powerful, almost licorice-like flavor.
Lots of parents appreciate the availability of these libations because even though you can't take them on the Frozen Ever After attraction, you can sip on them in line to meet Anna and Elsa.
China
The China Pavilion is one of the park's most beautiful, with a stunning replica of the Temple of Heaven and lush greenery. There's plenty to drink, too!
You can choose beer, wine, or specialty mixed drinks in China. The easiest places to get your beverages are the Joy of Tea stand outside or the quick-service restaurant, the Lotus Blossom Cafe.
Traditional Chinese alcoholic offerings include plum wine, T-Cha Jasmine beer, and Foo beer at the Lotus Blossom. At Joy of Tea, try Dragon Blossom or Tsing Tao beers. Your least expensive drink is the plum wine, which costs less than $10.
In addition, this kiosk has a fun selection of mixed drinks. Die-hard Disney fans love Tipsy Ducks in Love, which contains an irresistible combination of bourbon, coffee, tea, cream, and chocolate.
If you want to avoid shopping, cast members are pretty lax about guests bringing their beverages inside to watch "Reflections of China," a 12-minute film in Circle-Vision 360.
Germany
Prost! Not only can you buy authentic German beer in this pavilion, but you can find colorful, traditional steins from which to drink it.
There are several places to slake your thirst here. Inside the shops, there's a wine and liqueur bar called Weinkeller. During the park's several festivals, there's sometimes a large beer tent set up outside.
Elsewhere, you can find a quick-service window near the Biergarten restaurant called Sommerfest that serves several types of German beer and wine.
Outside, you'll find another stand and a cart selling libations. There's a Bier stand and Bier und Brezeln, which also serves pretzels. Beers at all locations are usually priced around $10, and wine is a little pricier but still typically under $15.
Italy
Italy is practically synonymous with wine, and you can find several fine Italian varietals for sale in the pavilion with prices comparable to wine elsewhere in the parks.
One of the best spots to drink in Italy is Tutto Gusto Wine Cellar. Grab a spot at the bar or a coveted table to order from the impressive wine list, but be aware it's a bit pricer than the kiosks outside. If you decide to stay, you'll have the chance to enjoy small plates.
If wine isn't your thing, don't worry. You can get a cold Peroni beer or a frozen drink from the cart outside. If your kiddos are hungry, get them a slice of some of the most delicious pizzas in the world at the Pizza al Taglia window.
United States
Congratulations, you're more than halfway around the world! As the host country, the USA gets the prime position at the center of the World Showcase.
What's more, with the opening of the Regal Eagle Smokehouse in 2020, Disney drastically improved the dining and drinking options in this host country pavilion.
Head inside the quick-service restaurant to order food or stop at the outdoor bar if you only need drinks. They have creative concoctions like a Frozen Mint Julep, Moonshine Sour, and a Texas Mule.
Of course, you can find classic Budweiser beers as well as selections from craft breweries and wineries across the country. Beers cost around $10, while mixed drinks cost over $13.
Japan
Sake is the traditional Japanese beverage of choice, and you'll find an entire sake bar inside the stores in the Japan Pavilion.
You can also buy food and Japanese beer at Katsura Grill, a quick-service restaurant. During the festivals, there's always an additional kiosk that serves different types of sake and sometimes mixed drinks made with this quintessential Japanese libation.
Disney primarily sells sake in small, three-ounce pours, partly because it's strong. That makes it a little cheaper, with some selections under $10.
Morocco
Morocco isn't known for producing alcohol since many of its inhabitants abstain. However, there is a fantastic bar located in this pavilion with some incredible drinks.
Stop into the Spice Road Table Lounge for air conditioning and a cold drink. They serve many cocktails, including a refreshing Sahara Spritz made with cucumber and mint vodkas.
Or, try a Medina Mixer with African rum, tangerine liqueur, and cranberry juice. They cost a bit more than a beer or glass of wine, but they're well worth it.
France
You might be surprised to learn that wine isn't the only popular alcoholic drink in the France pavilion. The Les Vins des Chefs de France kiosk serves several regional wine and beer selections, but that's not all.
They also have frozen drinks which are a delicious treat. The most popular is the Grand Marnier Slush, but they're all excellent. Be prepared to pay a little extra for it, though.
If you're hungry, head to Les Halles Boulangerie and Patisserie for fabulous meal options and baked goods. This establishment also has wine, beer, and champagne selections priced from under $10 to almost $20.
United Kingdom
If you started your day in Mexico, it will probably be night by the time you get to the UK. Even though it'll likely be crowded, head to the Rose and Crown Pub for one of your last drinks of the night. It's an energetic, rowdy spot with a live piano player.
They have a full bar with plenty of English selections, including fun shots and mixed drinks. If crowds aren't your thing, there's a cart directly outside the pub with Guinness and other beers from around the United Kingdom.
Canada
Oh, Canada! You've finally made it around the world for your last drink of the day. The pavilion serves several cocktails and drinks with quintessentially Canuck flavors like maple syrup and apples.
You can also find Canadian beers, liqueurs, and super-sweet ice wine at a bar inside the shops. There's even a Circle-Vision 360 movie you can watch while you wait for the fireworks display.
How Can Kids Have Fun, Too?
You might be wondering what parents do with their children while drinking around the world. There are ways to make their day enjoyable, too.
Disney long ago recognized that EPCOT's World Showcase isn't the most kid-friendly section of its theme parks. Because of that fact, they've worked to create fun kids' activities throughout the World Showcase.
You'll find KidCot Fun Stops in each of the countries. In addition, most of them have some kind of show, performance, ride, or other attraction to keep kids excited. Remind them they'll get to see the spectacular EPCOT fireworks display at the end of the night.
Finally, don't forget about snacks and non-alcoholic beverages! There's no better way to expose your kids to something new.
Travel the World Without Leaving Florida
The cost to do drink around the world at EPCOT is manageable with the right approach. No matter what, it's a terrific way for adult visitors to let loose and have some grown-up fun on their family vacation to Disney World.
Whatever you do in EPCOT, the important thing is that you have a wonderful time spent with your family. That way, you can return home refreshed and revived (and hopefully hangover-free!) with many beautiful memories.
More about our TFVG Author
A seasoned traveller, Dad, and avid sports tourist, James foundered The Family Vacation Guide to share his expert vacation experiences- especially when it comes to being a travelling family man.
Featured in Travel articles such as Travel + Leisure, TripSavvy and SFGate, you know you're reading some of the best vacation tips online.