Florida is one of the most popular tourist destinations in the world, with nearly 118 million visitors in 2021 alone. Of all the reasons to visit, Walt Disney World is arguably the most popular one. With millions of visitors annually and tens of thousands daily, Disney property is always busy.
If you're visiting Disney property, you may want to shop at Disney Springs. Read on for all the information you need to park effectively at Disney Springs.
Why Visit Disney Springs?
Originally called Downtown Disney, Disney Springs has been a core of Disney property nightlife for decades. Containing some of the most iconic Disney attractions, the property attracts customers from around the world, as well as local consumers.
Disney Springs has a wide variety of shopping options for any occasion. With holiday shops, clothing outlets, toy stores, and more, it serves as a Disney-sanctioned outdoor mall of sorts.
Another significant attraction is the concert venue, the House of Blues. Many music fans gather here throughout the week for live music, food, and drinks.
Finally, many enjoy the area for its soothing atmosphere. Many locals will go to Disney Springs for friendly hangouts or date nights. You can enjoy the atmosphere and live music without spending a dime!
How To Park in the Orange Parking Garage
Disney Springs has three main parking options: Orange, Grapefruit and Lime. They have comparable capacities, often making which one you park in a question of convenience.
So what makes Orange more or less convenient than Lime or Grapefruit? Here are some of the factors to consider:
What's Nearby?
Once you've parked in either garage, the first step is to walk to the outlet into Disney Springs. In both garages, you'll find this outlet on the second floor.
The Orange garage will let you out on the Western half of Disney Springs. This location puts you closer to some of the more popular attractions. It is also the best place to park if you intend to use the Disney Buses.
When exiting, you'll be on either side of the AMC Disney movie theater. You'll also be close to the Coca-Cola Store, the Aerophile hot air balloon ride, the House of Blues, Cirque du Soleil, and other entertainment options. You'll also be near a candy shop, a cigar shop, a Star Wars store, several quick-service food options, and the Splitsville Luxury Lanes bowling alley.
Hours of Operation
The Orange Garage has the same hours of operation as Disney Springs. Both garages will operate until the area closes. Check the daily hours of Disney Springs to see when the parking garages will close.
However, you can still reach your vehicle after closing. You don't have to worry about being stranded at Disney Springs after having your car locked in the garage.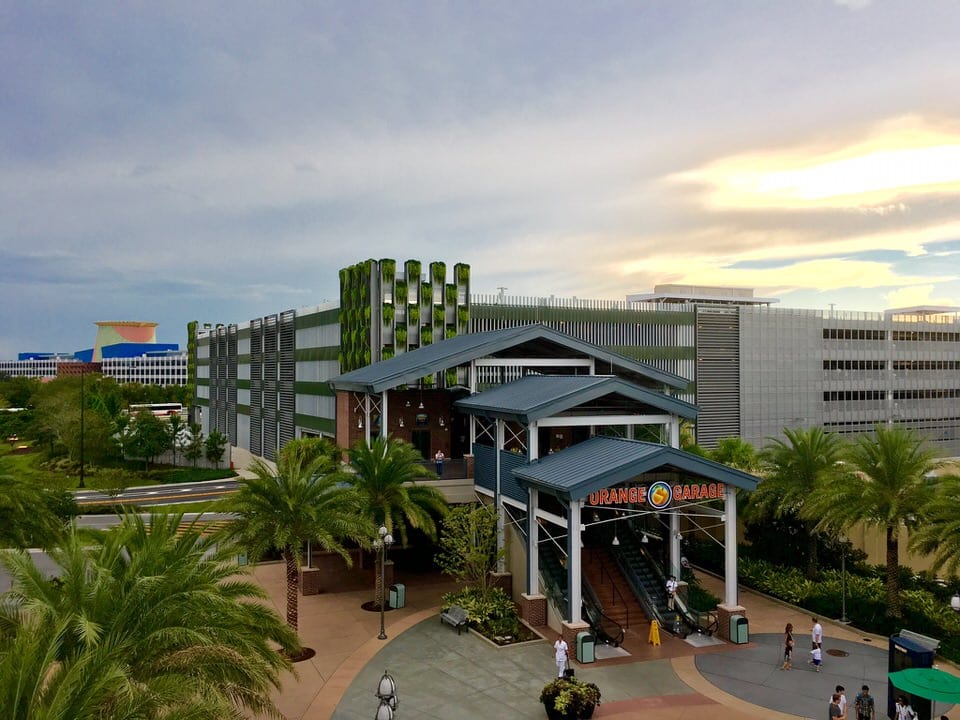 Ease of Use
Another thing to consider is how easy it is to reach the Orange Garage. A core factor is which direction you're arriving from.
If you're coming from Hotel Boulevard, you may find Lime Garage easier to park in. Both garages are on your right side from this direction, though Lime Garage is closer.
For the same reason, you may prefer the Orange Garage. More people choose Lime because the garage is the first one they see. Orange is often easier to park in and has ample space.
There are five levels, and the entrance to each one has a digital indicator to let you know how many spaces are available.
Tips and Tricks
Now that you know why to park in the Orange Garage, there are a few tips for parking in the Orange Garage.
Pick Your Approach
One important matter is how you're approaching the garage. East Buena Vista Drive is a daunting road, with two four-lane roads flanking a two-lane bus route. Those driving the road for the first time are easily disoriented.
If approaching the garage from the east, take the on-ramp on your right. This ramp will directly cross East Buena Vista Drive and feed into the garage.
If approaching from the east, be careful not to slip into a turn-only lane next to the Lime Garage. The road turning into the Orange Garage will be on your right, just before a stop light.
Prepare for Traffic
Disney Springs is immensely popular. On its slowest day, you can expect a high amount of traffic. The traffic is due not only to Disney Springs but also because the road the attraction is located on leads directly to all of the Disney World parks.
You should always travel here with the expectation of traffic. Furthermore, leave for your destination with the intention of being early. If you're traveling to the House of Blues or AMC for a show with a specific start time, you may find yourself late otherwise.
Drive Defensively
One recurring theme when discussing Florida–and Orlando in particular–is the erratic and often reckless behavior of drivers. A large factor in this is the high number of tourists that aren't used to crowded, busy, large roads.
Tourists are easily panicked when suddenly placed on an eight-lane road with locals honking at them. Locals often drive aggressively to avoid being trapped behind tourists.
Keep an eye out for aggressive drivers, and keep your guard up. It's better to drive slowly and reach your destination than have your day ruined by a crash!
Watch for Pedestrians
The most important tip for Disney Springs is to watch for pedestrians. There are several other lots and crosswalks that you should be mindful of. The foot traffic inside the garage is higher than the vehicle traffic!
Keep an eye out for pedestrians and drive slowly. On the busiest days, you may find a Disney Springs employee helping to direct traffic.
Parking at Disney Springs
Disney Springs is popular all year and contains some of Disney's most iconic attractions. If you're visiting the area, ensure you know about the parking options. Knowing where you can park will help get you to the fun quicker and reduce stress.
More about our TFVG Author
A seasoned traveller, Dad, and avid sports tourist, James foundered The Family Vacation Guide to share his expert vacation experiences- especially when it comes to being a travelling family man.
Featured in Travel articles such as Travel + Leisure, TripSavvy and SFGate, you know you're reading some of the best vacation tips online.