The Disney Skyliner is a high-speed gondola system that transports guests between select Disney resorts and theme parks at Disney World Resort in Florida. The system debuted on September 29, 2019, and consists of three routes.
One connects Disney's Riviera Resort to Disney's Hollywood Studios and Epcot, while another connects Disney's Caribbean Resort to both Epcot and Hollywood Studios. The third connects Disney's Pop Century Resort, Disney's Art of Animation Resort, and Disney's Hollywood Studios.
The Skyliner runs daily from early morning to late evening, providing guests a convenient and efficient way to move between their hotels and the parks. In addition to its practical benefits, the Skyliner offers breathtaking views of the Disney World Resort, making it a popular attraction in its own right.
The gondolas provide stunning views of Walt World Resort, making the Skyliner an enjoyable ride for all. The gondolas are big enough to hold eight people and their luggage, and they have a clear glass bottom so you can see the action below.
The Skyliner is a great way to get around the resort and see the sights, especially at night when the lights are sparkling. You can also use the Skyliner to get to your hotel room after a long park day. The ride is smooth and relaxing, and it's a great way to end your day.
The Skyliner is one of the best ways to see the sights at Disney World Resort. The gondolas are large and can hold up to 10 people, so it's great for groups. And they're air-conditioned, so you can enjoy the views even on hot days.
The best time to ride the Skyliner is at night when the gondolas are lit with sparkling lights. You'll get beautiful views of the resort, including Cinderella Castle and Spaceship Earth. And if you're lucky, you might even see some fireworks!
How Will the Disney Skyliner Improve Your Vacation Experience at Disney World Resort?
The Disney Skyliner is a fast and convenient way to get around and also offers stunning views of the Walt Resort. Imagine gliding above the treetops as you travel to your next destination.
You'll be able to see the magic of Disney World in a whole new way!
The Skyliner will make your vacation more enjoyable by giving you more time to enjoy the attractions and experiences you love. And, of course, it's always nice to avoid the crowds and lines for transportation. So, if you're planning a Disney World trip, check out the Disney Skyliner!
Are there Charges for the Skyliner?
While the Walt Resort offers a variety of transportation options, the Skyliner stands out among the rest. Guests can take in views of the parks while they travel to their destination, making it a popular choice for many visitors.
However, some guests may wonder if they can ride the Skyliner for free. The answer is no – there is a charge to ride the Skyliner, just as there is a charge for other forms of transportation at Disney World.
However, guests can save money by opting for a multi-day ticket, including unlimited Skyliner rides. It can be an excellent option for guests planning to visit multiple parks during their stay. So while you can't ride the Skyliner for free, there are ways to save on your transportation costs while enjoying this unique experience.
How Does a Ride on Disney's Skyliner Feel?
When you first step onto Disney's Skyliner, you'll notice the beautiful views of the Orlando skyline. But as the ride starts to move, you'll quickly realize that this is unlike any other gondola ride you've been on.
The smooth, quiet journey will make you feel like you're floating on air as you take in the stunning scenery. And as you glide past some of your favorite Disney destinations, you'll be able to Wave hello to some of your favorite Characters. Whether you're enjoying the ride during the day or at night, it's a memorable experience that you'll want to return to.
What Destinations are Connected to the Skyliner?
The Skyliner connects four Disney hotels to Disney's Hollywood Studios, including Disney's Riviera Resort, Art of Animation Resort, Disney's Pop Century Resort, and Disney's Caribbean Resort. The Skyliner opened on September 29, 2019.
The gondolas are themed after classic Disney World attractions and are named after the following:
The Barnstormer at Goofy's Wiseacre Farm
Cinderella Castle
Disney's Hollywood Studios
Disneyland Railroad
Epcot
Fantasyland Forest
Golden Dreams
Grand Floridian Resort & Spa
Hollywood Boulevard
Main Street
Mickey Mouse
Sunshine Pavilion
The Twilight Zone Tower of Terror
Each gondola can hold up to 10 people, and there are three gondolas: wheelchair-accessible gondolas, standard gondolas, and cabins. The cabins are larger than the standard gondolas and can hold up to 12 people. Each cabin has two bench seats that face each other and a large window. Plus, there are two A.D.A. Compliant cabins for guests with disabilities.
All of the gondolas are air-conditioned and have restrooms onboard. Guests can board the Skyliner at any five stations: Art of Animation/Pop Century station, Caribbean Beach station, Riviera station, Hollywood Studios station, or Epcot station.
The stations are themed to their respective resorts and play music themed to the spa or area when guests arrive or depart from the station. For example, guests will hear Caribbean music playing when they arrive at the Caribbean Beach station.
Is the Skyliner Affected by Bad Weather?
The Skyliner can be affected by bad weather conditions such as high winds and thunderstorms. In these cases, the Skyliner automatically shuts down for safety reasons. Guests on the Skyliner will be safely transported to their destination by bus when it shuts down.
However, guests should be aware that they may experience delays if they are trying to travel during adverse weather conditions.
The Skyliner's Schedule Intervals
The Skyliner currently has three routes; EPCOT, Disney's Hollywood Studios, and Disney's Caribbean Beach Resort. Its operation hours vary by route and day of the week, but generally, it starts running around 30 minutes before park opening and closes 2 hours after park closing. A rope drop is used when the parks open, and guests are allowed to enter the parks.
The Skyliner typically starts running before rope drop, so you can use it to get to the parks early if you want to. However, keep in mind that the line for the Skyliner can get long during peak times, so it's always best to give yourself plenty of time to catch a ride.
Is the Skyliner Crowded at Night?
It depends on several factors, including the month or the day of the week. But generally, the cabin is not as crowded at night as it is during the day. That's because many people prefer traveling during the daytime when they can see the sights and enjoy the sunshine. Of course, a few people travel at night to avoid the crowds.
But overall, the gondola is usually less crowded at night. So if you yearn for a more peaceful journey, you might want to consider traveling after sunset.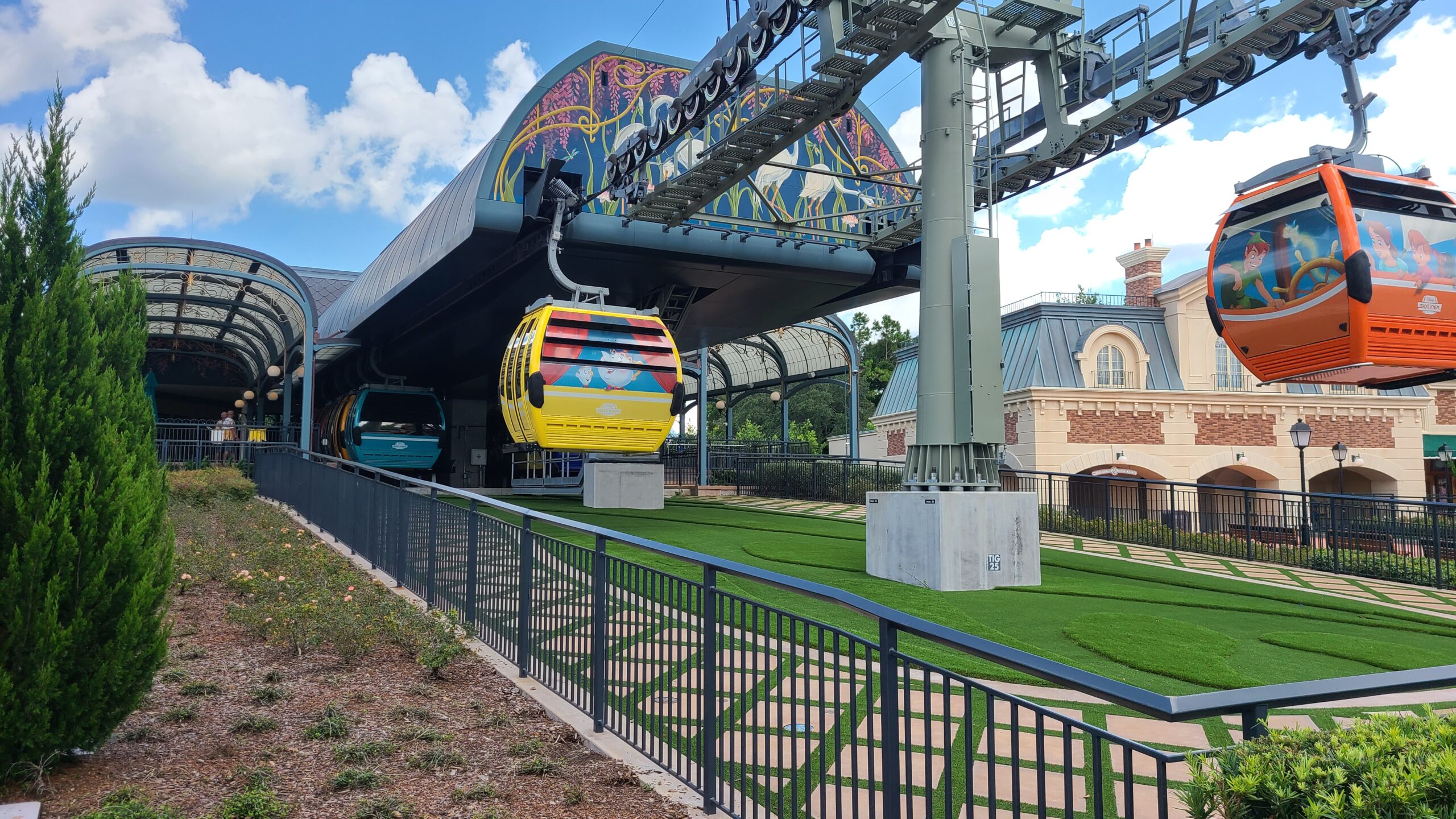 What is the Difference Between a Regular and Wrapped Skyliner Car?
Two types of cars run throughout Disney World, regular and wrapped cars. Regular cars are open-air, while wrapped cars are enclosed and air-conditioned. Both types of cars offer views of the parks, but wrapped cars may be more comfortable during hot weather.
When deciding which car to take, consider the weather conditions and whether you want to enjoy views of the parks or stay cool and comfortable.
Does Riding on a Disney Skyliner Cause Motion Sickness?
If you're planning a Disney World trip, you may wonder whether the new Disney Skyliner gondola system is right for you. Some guests are concerned about whether riding on the Skyliner could cause motion sickness. While it's certainly possible to feel sick while riding in any transportation, you can do a few things to help reduce your risk of motion sickness on the Skyliner.
First, try to choose a seat near the center of the gondola. This will help you feel less movement as the gondola goes around corners. Secondly, avoid looking down at the ground below and focus on the horizon or the back of the seat in front of you. And finally, take some preventative measures before boarding the Skyliner by eating a light meal and drinking plenty of water.
Are there E.C.V., Stroller, and Wheelchair Friendly Disney Skyliner Cabins?
The Skyliner cabins are indeed accessible for guests in wheelchairs or E.C.V.s. There are designated areas in each cabin where guests can park their wheelchair or E.C.V., and the cabin doors are wide enough to accommodate larger devices.
Each cabin has an intercom system so guests can communicate with the operator if needed. However, strollers are not allowed on the Skyliner, so guests must fold them before boarding. The same no stroller rule applies on the Disney bus system, so be prepared to fold up your stroller regardless of what transportation method you take.
Each station has a stroller parking area for those traveling with small children. A gondola is a great option for those looking for an accessible way to get around Disney World.
Disney Skyliner Lines and Transfers
The Skyliner has two boarding points: Hollywood Studios station and Riviera station. Guests transferring between lines or routes will need to do so at one of these two points. When the line is fully operational, it can transport approximately 10,000 guests per hour.
The high-capacity lines can be a great asset during busy times at the parks and help reduce wait times for transportation. The cabins are a popular addition to the Disney World resort and provide guests with a unique and convenient way to travel around the park.
Can Anyone Ride the Skyliner?
While it is technically possible for any guest to ride the Skyliner, it is not always practical. TheSkyliner only goes to a handful of locations, so unless you are staying at one of the connected hotels or visiting one of the connected parks, it may not be worth your time to ride.
The Skyliner does not run late into the evening, so if you want to stay out late at the parks, you will need to take alternative transportation.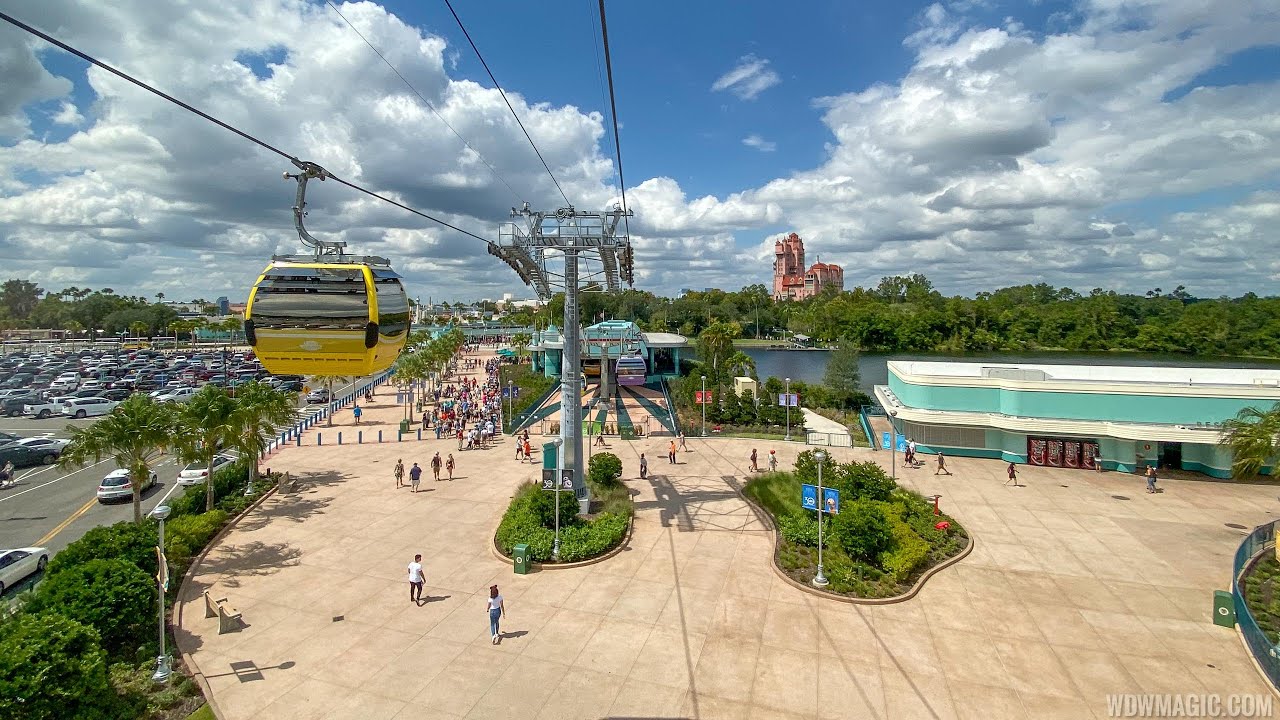 Tips on Using the Skyliner
There's no doubt that the gondola is a convenient way to get around Walt World Resort. But if you've never used it before, the process can seem a little daunting. Here are a few tips to help you make the most of your experience.
The system is typically operational from early morning until late night, but the hours vary by day and season. For example, the Skyliner may stay open later during the busy summer months to accommodate guests enjoying extended park hours. Likewise, the system may close earlier in the evening during quieter periods.
Check with a Cast Member or someone at the front desk of your Disney resort and hotel to get the most up to date information about when the Skyliner is running.
As a result, it's important to check the operating hours for the Skyliner on the day you plan to use it. That way, you can be sure to make the most of your time at Disney World.
While there are plenty of maps and signage to help you get around, it's still a good idea to familiarize yourself with the layout before you arrive.
The resort is divided into four main areas – the Magic Kingdom, Epcot, Hollywood Studios, and the Animal Kingdom – each has its own set of theme parks, hotels, and attractions.
Luckily, the transportation system is just as well-designed as the rest of the resort, and it's easy to get around once you know where you're going. The three main lines – Epcot, Hollywood Studios, and Caribbean Resort – have their stations, so look for the signs directing you to the correct line.
With some planning and help from Disney's magical transportation system, you'll be sure to make the most of your visit to the Walt Resort.
As you board the gondola, take a quick inventory of your belongings. Are any loose items secure? The last thing you want is something to fall out as you soar above Disney World! If you have a bag, make sure it's closed and secured. And if you're carrying loose items, like a hat or sunscreen, hold onto them tightly. Once you're all set, enjoy the ride! We promise it'll be worth it.
How much does it cost to ride the Skyliner?
The cabins are free for all guests spending their time at the Disney resort hotel or with an annual pass. The Skyliner takes you from your resort to any of the following parks: Epcot, Hollywood Studios, and the Caribbean Resort. It's a great way to avoid crowded buses and save time.
The gondola is operational from early morning until midnight, so you can always find a time that works for you. Check the schedule before you go to know when the Skyliner operates. And enjoy your ride!
What are the hours of operation?
The Skyliner operates from 10 am to 10 pm daily. It is closed for maintenance from 10 pm to 10 am. The hours of operation are subject to change without notice. Please check back often for updates.
How long does it take to ride from one resort to another?
Disney's bus system is one of the most efficient ways to get around the Walt Resort. Depending on which resort you are traveling to/from, the ride will take anywhere from 5-15 minutes. The buses run every 20 minutes, so you won't have to wait long for the next one.
And, if you're staying at a Disney Resort hotel, you can opt for the complimentary shuttle service. So, the bus system is a great way to get around, whether you're headed to the parks or just looking to explore all Disney offers.
Are there any special places to eat or shop at the Skyliner stations?
The Skyliner offers unique dining and shopping opportunities. Quick-service dining options are available at each Skyliner station, perfect for grabbing a bite before boarding your gondola. There are also merchandise locations where you can pick up souvenirs or last-minute supplies. So whether you want a quick snack or a unique souvenir, check out the Skyliner station before boarding your gondola.
Is there an age limit for riding the Skyliner?
For those who want a unique experience, the Skyliner gondola system offers a bird's eye view of the parks. But is there an age limit for riding the Skyliner? Children under three years old are not permitted to ride. All other guests must be able to board and disembark the gondola unassisted.
This means that guests must be able to bridge the gap between the gondola and the loading platform.
For safety reasons, strollers are not permitted on the Skyliner. However, there is a stroller parking area near the entrance of each station. With its stunning views and convenient location, a cabin is a popular option for everyone regardless of age.
Can someone with a disability still ride the Skyliner?
Yes! While the Skyliner has some physical requirements, accommodations can be made to ensure that everyone can enjoy this unique experience. For example, guests who cannot stand for long periods can request a wheelchair-accessible gondola.
In addition, guests who are deaf or hard of hearing can request special communications packets that include a visual schedule of stops and other important information. So whether you're looking to take in the sights of Disney World from above or want to relax and enjoy the journey, the gondola is open to all.
Is the Skyliner faster than a bus?
The Disney World Resort in Florida is home to two gondola systems- the Skyliner and the Epcot L.E.V. The Skyliner connects Disney's Hollywood Studios and Epcot to a handful of Disney Resort hotels. At the same time, the L.E.V. only runs between Future World and World Showcase in Epcot. Both forms of transportation are popular among guests, but which is faster?
The Skyliner has proven it is faster than the Disney World bus system. The gondolas can travel up to 10 miles per hour, while buses max out at around 7 miles per hour. Additionally, the Skyliner often has its dedicated lane on highways, allowing it to bypass traffic congestion.
Of course, there are always exceptions to the rule. During heavy traffic periods, or when making multiple stops, a bus may be faster than a gondola. Ultimately, it depends on the circumstances. However, in most cases, guests will find the Skyliner as a quicker form of transportation between Disney Parks and Resort hotels.
Disadvantages of using the Skyliner
Orlando's new Skyliner gondola system has been getting much attention since it opened earlier this year. The state-of-the-art system transports guests to and from their Disney Resort hotels and offers stunning views of the surrounding area. However, the Skyliner has also had its share of problems. Several of the gondolas have broken down, leaving passengers stranded for hours.
In addition, the system has been plagued by long lines and lengthy wait times. As a result, many visitors have been left frustrated and disappointed with the Skyliner experience. While the system offers a unique way to travel around Disney World, its reliability issues are something potential users should keep in mind.
After months of anticipation, the Skyliner opened to the public earlier in 2019. The new gondola system is a welcome addition to Disney World, providing guests with a unique and efficient way to travel between resorts.
While the Disney cabins are still in their infancy, it has already proven to be a popular transportation option, with long wait times for many popular routes. Given its success so far, it seems likely that the Skyliner will continue to be a valuable transportation option for Disney World guests.
More about our TFVG Author
A seasoned traveller, Dad, and avid sports tourist, James foundered The Family Vacation Guide to share his expert vacation experiences- especially when it comes to being a travelling family man.
Featured in Travel articles such as Travel + Leisure, TripSavvy and SFGate, you know you're reading some of the best vacation tips online.