Are you starting to feel like a tropical vacation is in order? There's nothing like a trip somewhere warm and exotic to help you release your everyday stresses and get yourself back on track. Hawaii tops the list of dream beach destinations, and it's easy to get there when you choose the right airline. 
There are many airline choices when planning a family trip to Hawaii, but today we'll be focusing on Hawaiian Airlines.  Hawaiian Airlines offers trips to Hawaii – many of which are direct – from many major cities in the U.S., as well as inter-island flights between the Hawaiian islands. In addition, it also runs flights to destinations in Australia, New Zealand, Asia, and American Samoa.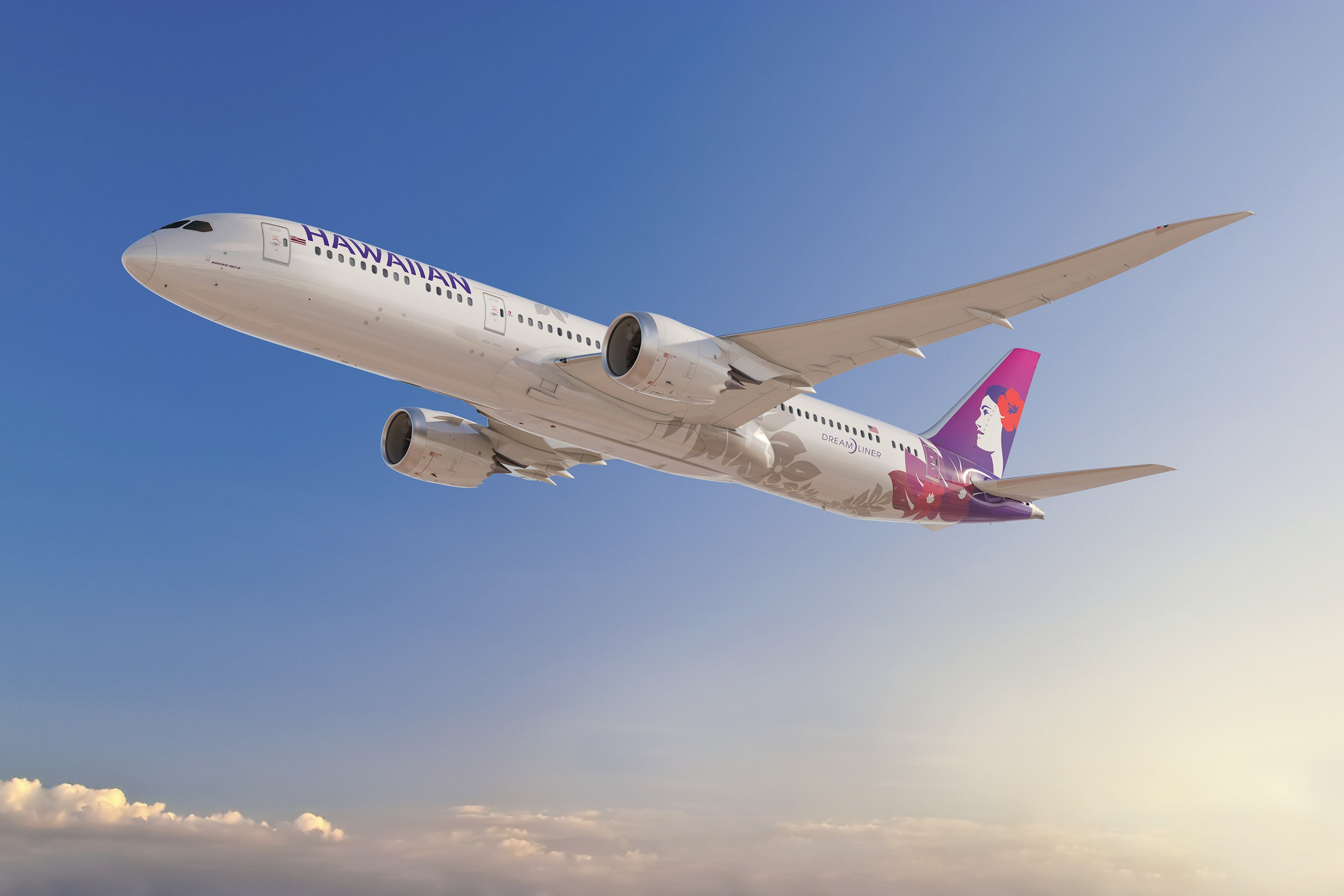 Hawaiian Airlines, a Brief History 
The history of Hawaiian airlines goes back to 1929 when it was founded as Inter-Islands Airways. In its early days, it provided convenient access between islands and quick sight-seeing tours of Oahu.
As the years went by and more mainland Americans became entranced by the magic of the Hawaiian Islands, the airline expanded its service and updated its fleet to accommodate the increasing demand for inter-island service.
It hasn't always been an easy road for the airline. They went through bankruptcy more than once, and reinvented themselves several times with new planes and new areas of service, eventually expanding outside of Hawaii.
Today, Hawaiian Airlines is the tenth latest commercial airline in the U.S. and has one of the best safety records of any major airline. Hawaiian Airlines is a great choice for those who want to save money and time on their vacation. It offers economically-priced flights and vacation packages for singles, couples, and families.  Customers love their punctuality, friendly flight attendants, and their recognizable logo featuring stunning tropical colors and imagery.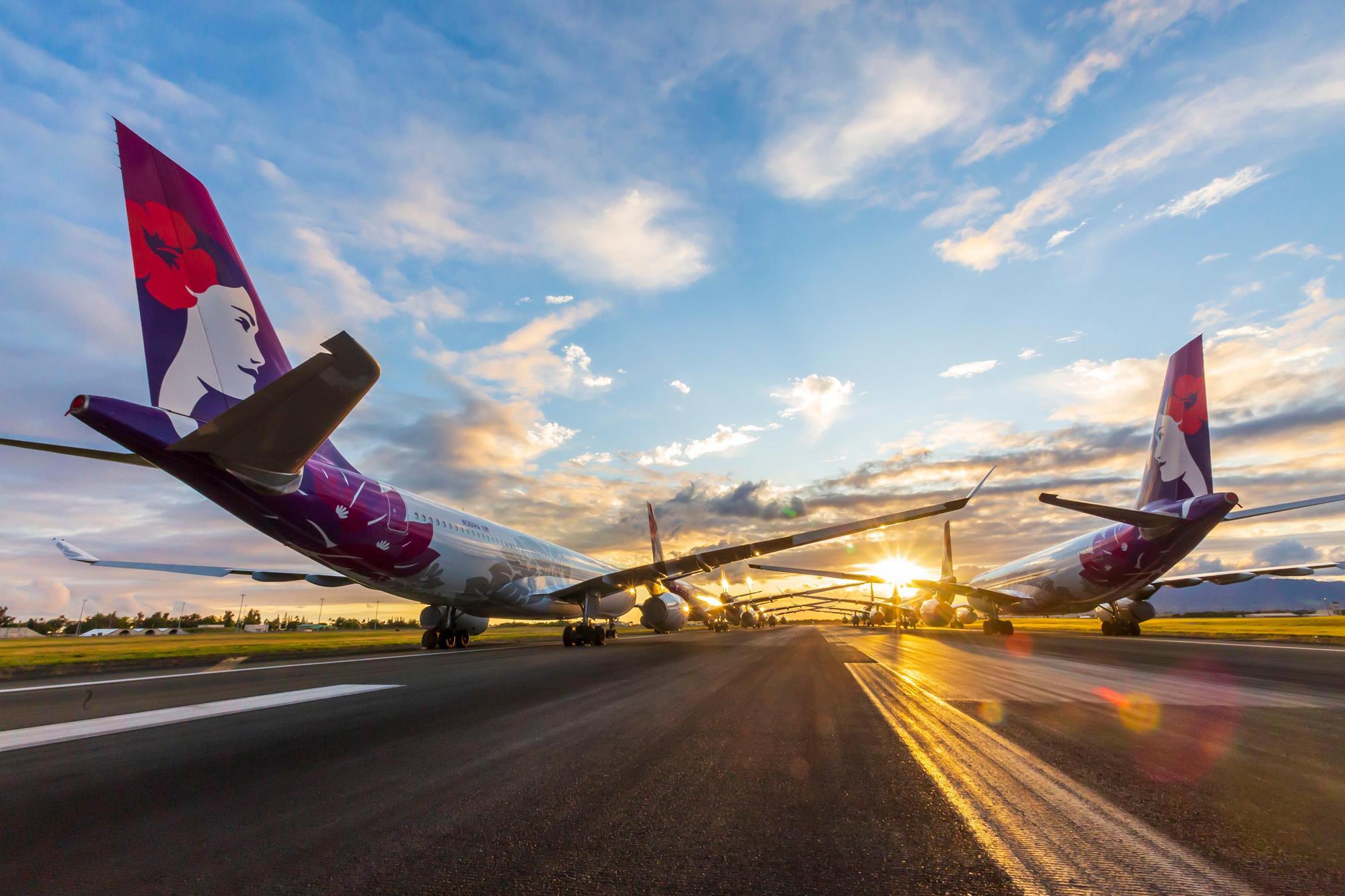 Hawaiian Airlines Destinations: Mainland US Cities
East Coast
Boston
The flight from Boston to Honolulu holds the distinction of being the longest domestic flight in the United States. At 5,095 miles and over 11 hours long, this non-stop flight makes passengers appreciate the fully reclining seats on the Hawaiian Airlines Airbus 330.
New York
The excitement of New York City is undeniable. The museums, shows, world-class shops, and amazing food draw millions of people from around the world. Whether you're going to the city that never sleeps, or leaving it for the peaceful warmth of an island vacation, Hawaiian Airlines has several routes, including direct ones, to get you where you want to be.
Orlando
Travel non-stop between one world-renowned resort location and another. Orlando, one of America's top family destinations, is home to Disney World, Sea World, and a slew of amazing hotels and attractions. Fly out of Orlando Airport for a relaxing 10-hour flight to Honolulu.
South West
Las Vegas
Hit it big at the casino and want to take your celebratory tropical vacay right now? Or are you a Hawaii resident looking to visit this popular destination? Either way, it is an easy trip between the city of sin and Honolulu with Hawaiian Airlines.
Phoenix
Desert sunsets, city culture, and Native American history come together in the beautiful city of Phoenix Arizona. Hawaiian Airlines can have you to or from this well-known destination in about 7 hours.
Austin
Texas isn't just for cowboys. Austin is a truly unique and quirky city in America's Lone Star state. Here, you can enjoy live music at any number of the city's cafes, bars, and theaters. Explore one-of-a-kind thrift shops or antique stores, or check out a number of historical sites like the Lyndon Baines Johnson Library or the state Capitol. Whether you're looking to visit or leave the city, Hawaiian Airlines flights have you covered, with flights coming and going throughout any calendar week. 
California
Los Angeles
What's to say about LA that hasn't already been said? The entertainment capital is one of the most popular vacation and sightseeing locations in the United States. You can take in the history of the film industry, tour the mansion-lines streets of the Hollywood Hills, and dine at many exclusive restaurants. It's easy to travel between Hawaii and LAX, with daily departing direct flights that are only around 6 hours long.
San Jose
Do you know the way to San Jose? Hawaiian Airlines does, and it will take just under 6 hours to get you there on a non-stop flight out of SJC! As a center for silicon valley businesses, this city has a lot to see in the way of technological exhibits and hosts many business travelers all year round. Whether you're there on business or pleasure or are looking for an escape from the daily grind, you can feel good about flying Hawaiian!
Sacramento
The capital of California has so much to offer. Historical sites, outdoor fun, and wonderful shops and restaurants are here for visitors and residents to enjoy. Hawaiian Airlines can bridge the gap between Sacramento and Honolulu via flights out of SMF. 
Long Beach
This southern California city is home to the Aquarium of the Pacific, where you can see hundreds of water-dwelling species in impressive exhibits all under one roof. You can also check out the local club scene for live music and drinks. But when you want to get away, there's always a flight on Hawaiian Airlines departing LGB for Honolulu.
Ontario
Southern California isn't all glitz and traffic jams. Ontario, California, and its surrounding areas offer a breathtaking glimpse at the natural beauty of the Golden State. From Big Bear Mountain to the Cucamonga Wilderness Trails, There's so much to see and do in this area. It's also a great choice to fly into or out of with Hawaiian Airlines. The airport in Ontario is less busy than LAX so you can stop and smell the roses while you travel.
San Diego
San Diego is an exciting combination of the old and the new. It's home to the oldest European settlement on the West Coast, Point Loma, as well as hip new boutiques, restaurants, and bars. You can also check out classic attractions like the San Diego Zoo and Seaport Village. On Hawaiian Airlines you can easily travel from San Diego to Kauai in comfort.
Oakland
Oakland is a revived city that's still evolving into its full potential. It's establishing itself as a center for arts and culture, as well as a hub for hip restaurants. There's a lot to do in Oakland if you're visiting from Hawaii. Or if you're looking to go from Oakland to the Hawaiian Islands, you have lots of options too. Flights depart OAK to Honolulu, Lihue, and Kauai.
San Francisco
San Francisco holds so much history. From Chinese immigration to the social revolutionaries of Haight St, there are stories in every neighborhood and street. You can be awed by views from Golden Gate Park, dine on marvelous ethnic cuisines, and shop in trendy Union Square. And whether you're going to or from Honolulu or Kahului, Hawaiian Airlines has a convenient flight for you.
Pacific Northwest
Seattle
Seattle is a paradise for forward-thinking folks and those who love unique entertainment. Crawl the bars and cafes, or check out art walks. Gaze at Puget Sound and – if you're not afraid of heights – take a ride to the top of the Space Needle. From Seattle Airport, you can be in Honolulu in about 6 hours on Hawaiian Airlines.
Portland
Coffee, books, bikes, and bars….the four pillars of Portland!  You're invited to explore this trendy city and learn how it made its mark as one of the US's most eco-friendly locations. Portland is known for its street food, so it's perfect for those who like to stroll, shop and munch. Or if you're more the athletic type, take a hike along over 70 miles of trails at Forest Park. And when it's time to go home – or on to your next vacation destination – you can travel to Honolulu or Kahului via Hawaiian airlines.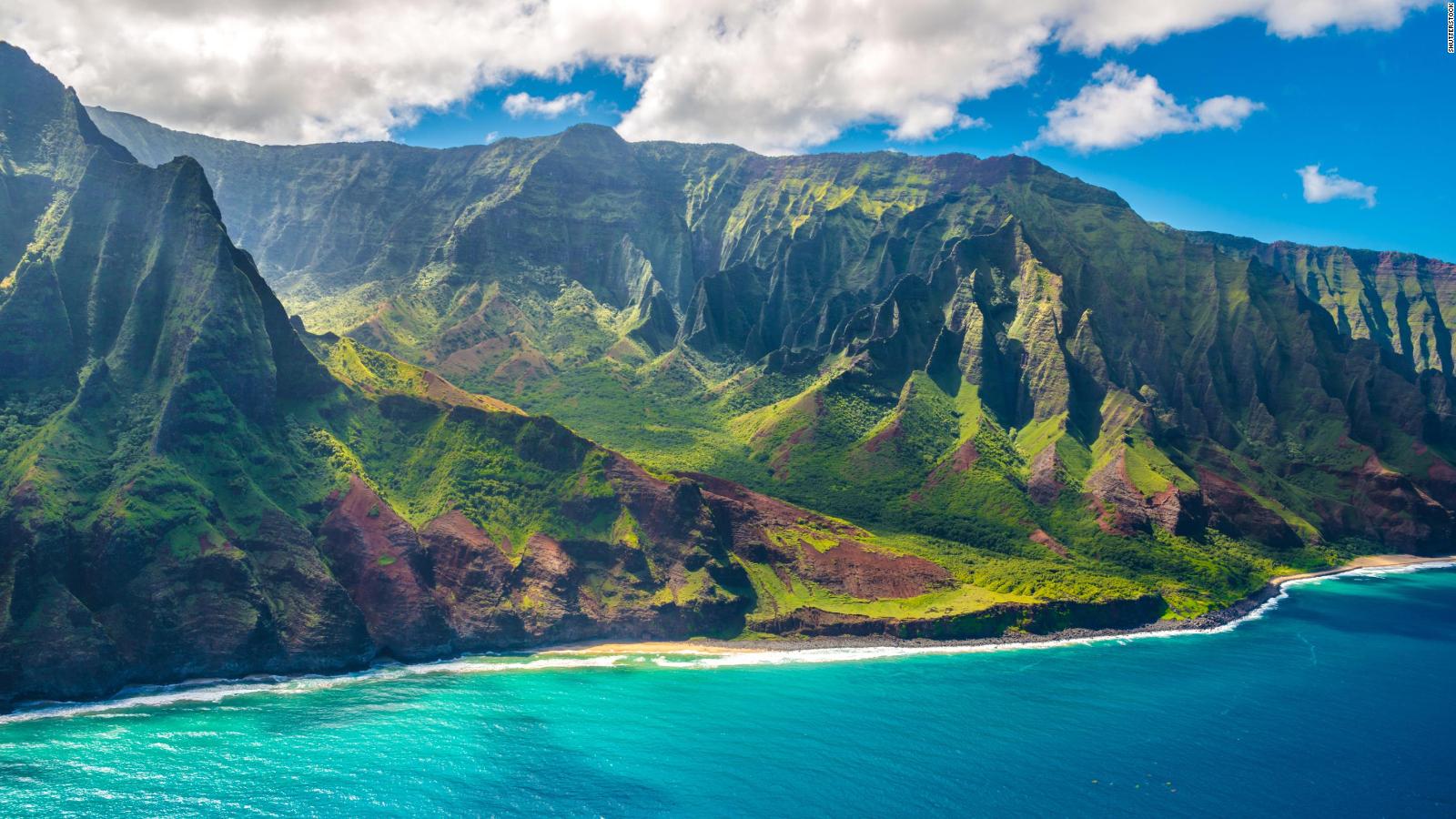 A Glimpse at Hawaii
Hawaii has been one of America's top vacation spots since the 1950s, and it's easy to see why. Hawaii boasts some of the most beautiful natural wonders, including unspoiled shorelines, sparkling ocean, dazzling sunsets, and of course their world-famous volcanoes.
For families, Hawaii is a great opportunity to enjoy a vacation that has plenty of options. Most areas of Hawaii are not as commercialized as many other popular American tourist spots, so you can enjoy a quieter stay if that's what you desire. Sunbathe on the beach and go for a dip in the ocean. If you're the active type, Hawaii has plenty to offer. You can hike, swim, surf, parasail, or kayak to your heart's content.
Kids and adults alike will enjoy spotting dolphins and other sea creatures, beachcombing, and learning all about Hawaii's unique ecological attributes. The state of Hawaii has been working hard over the years to protect its unmatched natural resources and to make sure that they will still be around to enjoy for many years into the future.
If you're a foodie, you'll find Hawaii to be a culinary paradise as well. In a place as diverse as Hawaii, cultural influences – from indigenous Polynesian to Japanese to Portuguese and more- meld together to create a rainbow of taste experiences. You can also enjoy standard "American" fare that's cooked to perfection. Whether you're looking for a high-end modern gourmet eatery or a cute fish-and-chips place by the water, you can be sure you'll find it in the Aloha State.
Hawaii: Island Snapshots
While Honolulu is the city center of Oahu and the location of the main airport used by Hawaiian Airlines, you can take the airline inter-islands to visit the other islands as well.
The Big Island of Hawaii has many opportunities for nature adventures like diving, as well as some amazing all-inclusive resorts
Lanai is an easygoing paradise where you can take advantage of gorgeous views to get the perfect vacation photos.
Maui offers both modern lodging and an ancient landscape. Enjoy bars and restaurants or delight in the natural wonder of volcanic cliffs.
Kauai's dazzling white sands and crystal waters make it a favorite destination island for people around the world. If you want a true Pacific Island experience, it's the place to be.
Molokai is a small island with big charm. Ride across its hilly landscape and visit the local shops in the small towns along the way. The relaxing scenery is just what the doctor ordered.  
Final Thoughts
Hawaiian Airlines offers flights from over a dozen major U.S. cities as well as flights between the Hawaiian Islands. Shop flights today and start your journey to the vacation of your dreams.