Located on the beautiful west coast of Mexico, Cancun is a widely popular tourist destination for solo travelers, couples, groups of friends, and even families. While you may not think Cancun is a great family vacation destination at first glance, it caters to all travelers. 
There are several fantastic all-inclusive resorts in Cancun that people of all ages will love. Whether you're traveling to Cancun withy teenagers, young kids, or a mix of all ages, finding a great all-inclusive resort will make your trip ten times more memorable, especially if it has a water park!
It can get overwhelming as you browse Cancun's many beautiful resorts. So here are 11 of the best Cancun all-inclusive family resorts with water parks.
Hyatt Ziva Cancun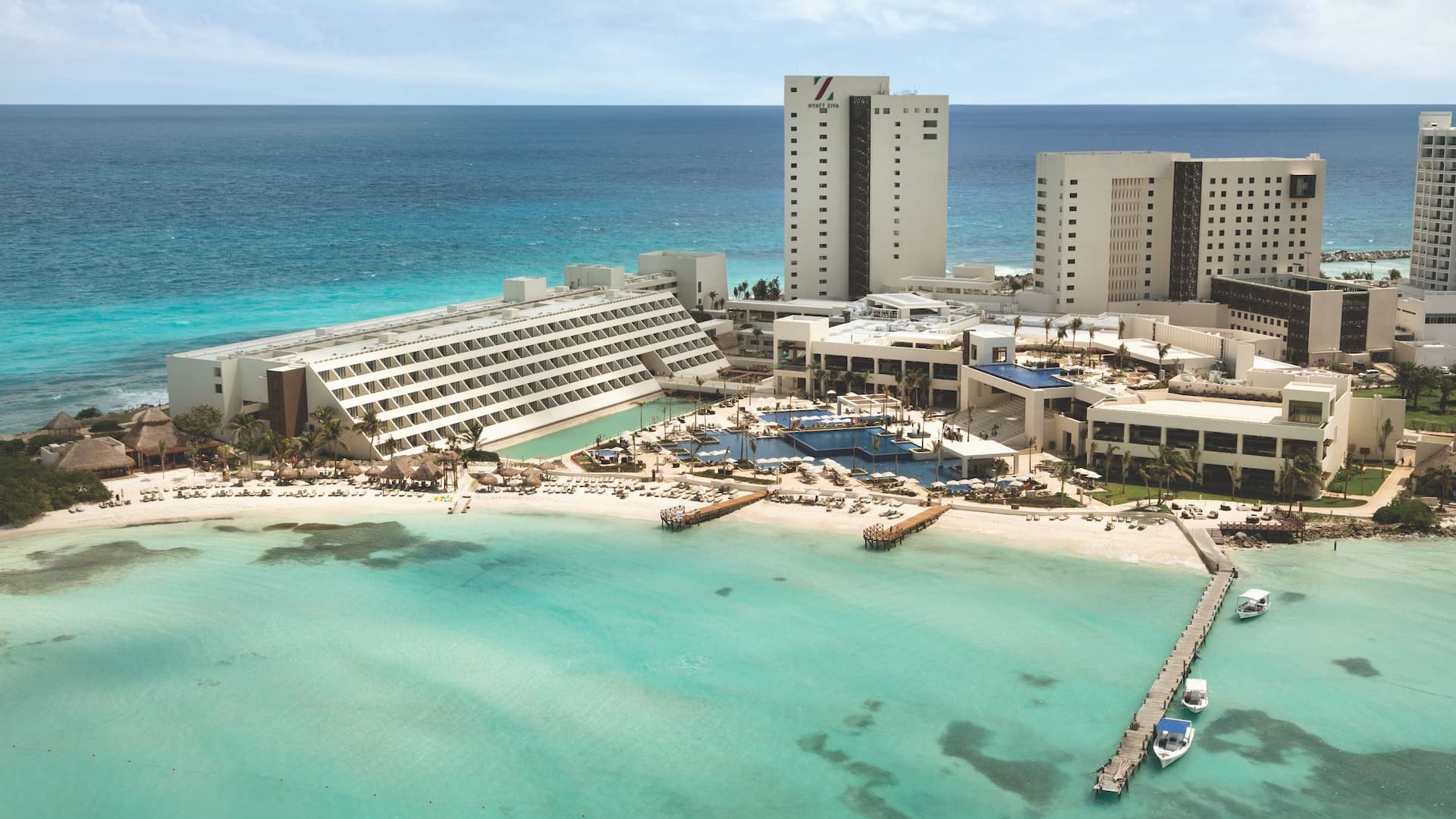 You'll find the Hyatt Ziva Cancun in the Hotel Zone. It's on the north side of the barrier island, and it's a stunning property perfect for families. The Hyatt Ziva Cancun offers something for everyone to enjoy, plus it's all-inclusive.
You and your family will love that you can eat all you want during your stay. There are eight great restaurants for you to sample, and there are kid-friendly options everywhere you turn. There are more refined plates for the less picky eaters and older travelers to experience.
The pools are always a popular activity at resorts. This hotel has a pool dedicated to all guests, one for adults only, and one specifically for the littlest guests. You'll love watching them play in the water, meet other kids their age, and make friends.
Kids aged four to 12 can take advantage of the KidZ Club, which has activities for this age group. There is staff supervision at all times, so you can hit the bars, the beach, or another activity while your kids make memories that will last a lifetime.
Panama Jack Resorts Cancun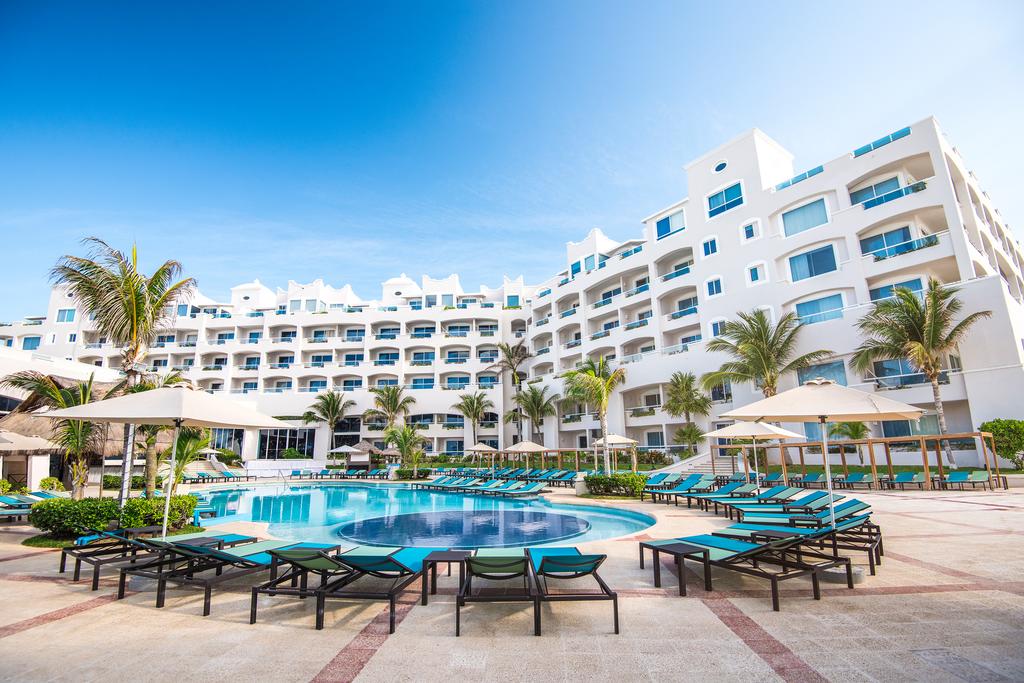 Panama Jack in Cancun is a large resort with over 450 rooms right in the heart of the Hotel Zone. Mexico is a tropical place already. But Panama Jack, with an island-style lifestyle company running the joint, is one of Cancun's most fun, family-friendly resorts.
One of the most popular places in the entire resort is the family pool. It has splash pads, water slides, and other fun water features that everyone will enjoy. Kids especially love the pirate theme.
There are 13 restaurants and bars that you can take advantage of with their all-inclusive package. This resort takes pride in helping families eat somewhere different every day and experience delicious food from Mexico and other parts of the world.
There are designated kid activities if you want adult time to hit the spa or have a date night. You and your family can:
Go mini-golfing
Watch live shows
Learn to scuba dive
Kayak
Snorkel
All these and more are included in your all-inclusive price, so you'll never be bored here.
Finest Playa Mujeres
Cancun's Hotel Zone is a highly sought-after spot in town, but if you're looking for an all-inclusive getaway for your family in a quieter area, Finest Playa Mujeres is the perfect option. Finest Playa Mujeres is just north of the city center of Cancun, but it's close enough that you have the option to travel into town.
This beachfront resort has some of the best views of Cancun and offers something for everyone in the family to enjoy. It's perfect when you want a combination of an exciting and relaxing vacation. This massive resort features ten swimming pools and an excellent water park that the kids will love.
Your all-inclusive package includes nine restaurant choices. These restaurants have traditional Mexican cuisine, American cuisine, and a taste of other international flavors. You can spend your days on the beach sipping cocktails while your kids try to windsurf, build sandcastles, and do other beach activities.
There's also a kids club on the property where you can let your kids play and make new friends while you go golfing, hit the spa, or have a parents' night out. If you need babysitting services, they're available for an additional charge.
Moon Palace Cancun
South of the Hotel Zone is one of Cancun's largest and most exciting all-inclusive resorts. Moon Palace has eight beautiful swimming pools. This stunning resort also has a water park and is right on the beach, so you can choose how to spend your day in the sun.
The water park has several slides and other features. For those who want to try their hand at surfing without getting into the ocean, you can try the FlowRider, which is very popular. It's fun to do and even more fun to watch your family members try to surf.
There are several on-site restaurants, 24-hour room service, and plenty of bars and clubs for the adults to enjoy. You and your family can do other activities here, such as:
Hitting a golf course
Relaxing at the spa
Participating in water sports
Renting bikes for free
The best part about staying at Moon Palace for families is that anyone under 17 years old stays completely free! What better way to have a luxurious family vacation where your kids can experience everything without costing you a dime? Well, besides the airfare.
Royal Solaris Cancun
The Royal Solaris is another fabulous option and is one of the best Cancun all-inclusive family resorts with water parks. The best part? You'll love the view from your room. Depending on which room you have, you'll have a spectacular view of the ocean or the Nichupte Lagoon.
The animal-themed water park is a real hit with the kids. They can splash around with other kids, slide down the slides, and embrace everything it has to offer. You can join them or relax by the pool, read a book, or sip your favorite drink.
There's a kids' club that's perfect for young children and toddlers. And whether the kids choose to go there or you need them to have supervision while you hang out at one of the clubs on the property, they'll love meeting new friends and participating in age-appropriate activities.
There are excellent restaurants to try, shows to watch, play volleyball, go kayaking, and more during your stay here. The kids will love the pizza and burger joint, but there are also high-end restaurants for nights you want to get dressed up. The Royal Solaris even offers complimentary airport transport, so you don't have to worry about a thing during your stay in Cancun.
All Ritmo Cancun Resort & Waterpark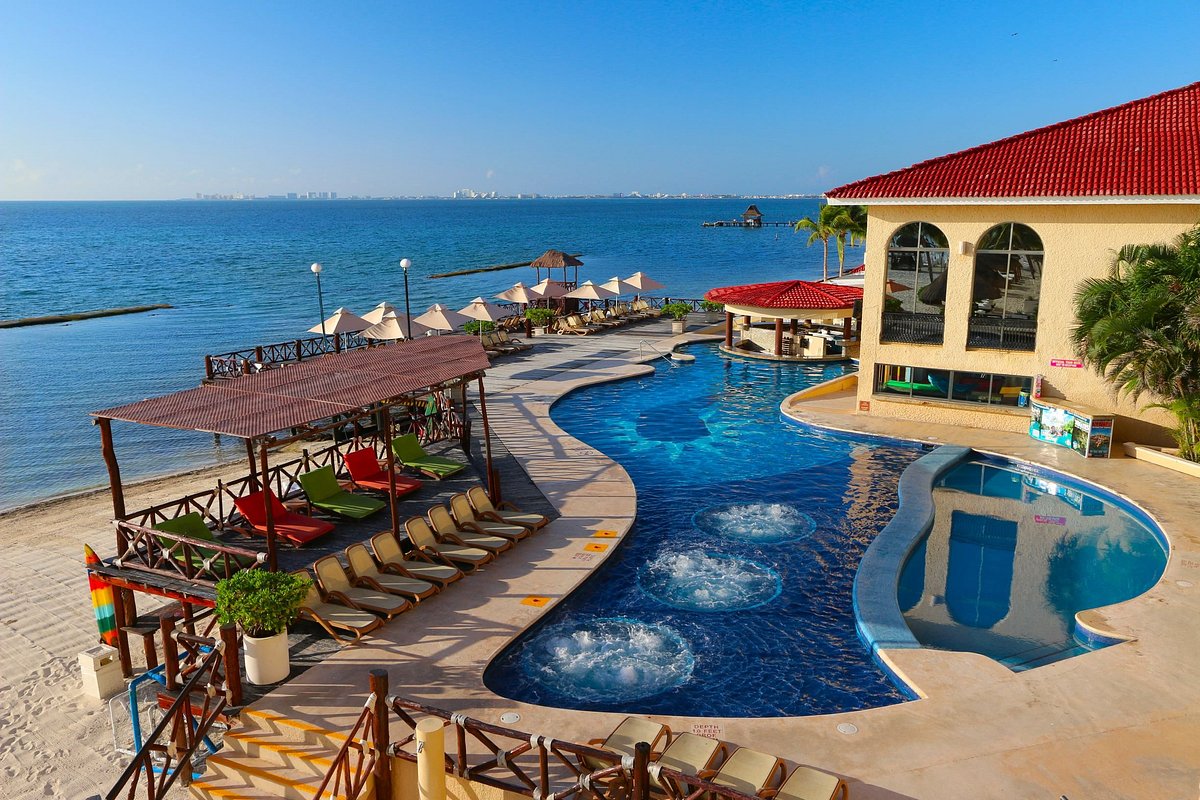 While Cancun has plenty of things for you to do, you won't feel like going anywhere else when you stay at All Ritmo Resort and Waterpark. Besides the water park that's included in the cost, you'll have more than enough to do for days on end.
The water park is where you'll probably see your kids spending all their time, or at least wanting to. The park features four water slides and several waterfalls that will put a smile on everyone's face. There's a beach right next to the resort so that you can split your time between their stunning pools and the beautiful beach.
When you're not soaking up the sun and frolicking around the water park, you can:
Play mini-golf
Play ping pong
Take tennis classes
There's a game room with pool tables, a kid's club for the young ones, and theme parties that adults will love.
There's a combination of nine bars and restaurants on the property. Adults love the swim-up bars, and the cuisine at their several restaurants has tons of options.
Crown Paradise Club Cancun
The Crown Paradise Club in Cancun is a widely popular family resort. It's a water-lovers dream with a fantastic water park that features slides, dump buckets, and smaller splash pads for the smaller visitors. You'll never tire of swimming options because there are four swimming pools on the property.
You can choose your lounge chair and kick back and relax while your kids play under the mushrooms that rain down on them, or join them! If you want to spend time at the beach, the resort offers cabanas and chairs included in your all-inclusive price.
They have different programs with appropriate activities for kids of every age. There's a baby's club, kid's club, and teen's club. Teenagers will love meeting new friends and having some freedom while still staying safe on the property.
You and your family can spend time mini-golfing, playing games in the game room, and sampling the divine food at several excellent restaurants. The cuisine you can eat here includes:
French
American
Italian
Mexican
Being close to the beach means you'll also have the freshest seafood available! Don't forget to check out their spa services while the kids play at their respective clubs.
IBEROSTAR Cancun
All the resorts in Cancun are a traveler's dream, but one of the most luxurious options you can take your family to is the IBEROSTAR Cancun. While the hotel focuses on providing a luxury experience for everyone, they strongly focus on families with kids, ensuring there's more than enough for them to do during their stay.
You'll find seven pools on the property and a water park that kids will adore. You may find it hard to drag your kids away from the water park to try other activities; it's that fun! The whole family can spend time at their private beach and enjoy:
Kayaking
Snorkeling
Swimming
Sailing
The resort provides snorkeling classes so you and your family can safely learn how to see the beautiful marine life.
You'll never go hungry at this resort. Your all-inclusive package gives you and your family access to six buffets and several a la carte restaurants that you need to make time to try.
Other activities you can participate in include playing golf, relaxing at the spa, taking Zumba classes, and cooking classes.
Seadust Cancun Family Resort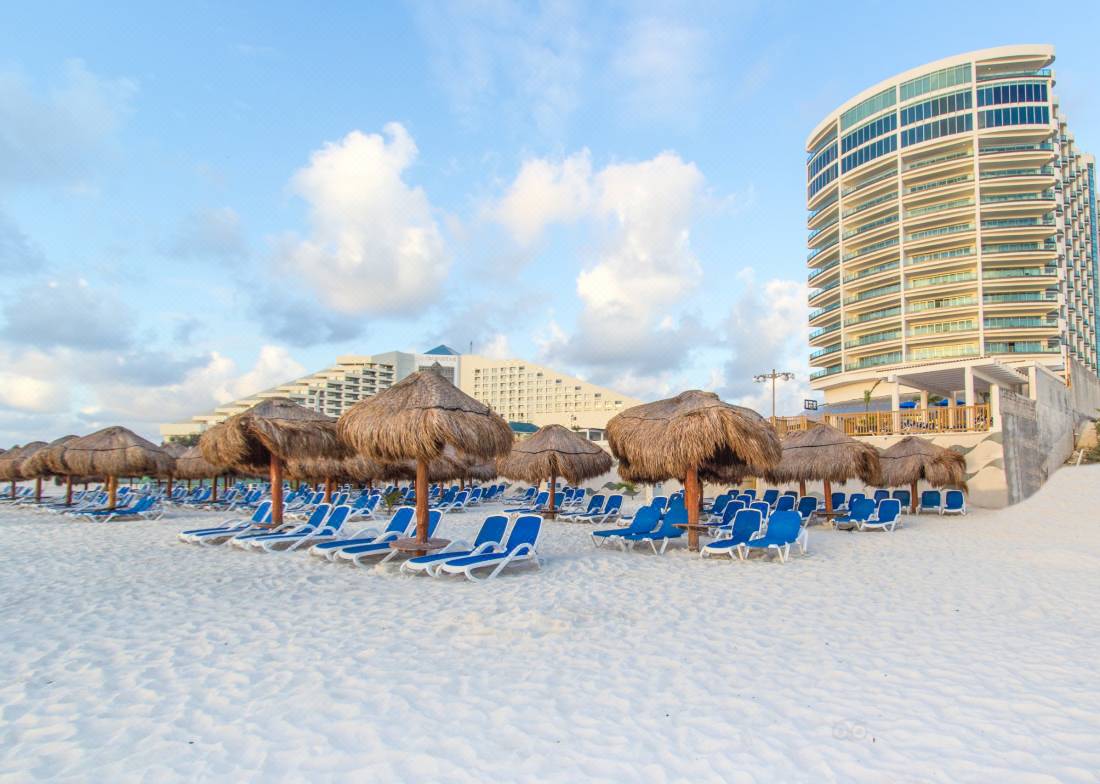 One of Cancun's most interesting all-inclusive family resorts is the Seadust Family Resort. If you've wanted to take your family on a cruise, but you prefer to stay on land, this resort looks like a cruise ship! Its design makes you feel like you're out at sea but safely on the ground.
This resort is extensive, with 505 rooms that range in size. One of the best features of this resort is its several pools and water park that the younger travelers will love. The water park features slides for older kids and splash pads for smaller ones.
While staying here, you can go mini-golfing, visit the three swimming pools, rock climbing, zip-lining, and more. They have several daily shows and plays if you need a break from your adventures in the sun.
The baby club is perfect for enjoying some time away from the kids. It has professional caretakers who will ensure your little one is safe, happy, and taken care of while you enjoy time to yourself.
Royalton Riviera Cancun
The Royalton Riviera Cancun is a massive resort with over 800 rooms that feels like a small town. If you want to know how large the resort is, there are 11 pools. If you're only there for a few days, you probably won't make it to every pool.
There are adults-only pools, kids-only pools, and a fun water park for the kids to play at. Near the water park, there are pool chairs for you to relax while supervising your kids, but you can still enjoy your vacation.
Besides the water park, your kids will love the kid's club, playing games, seeing shows, and making new friends. There are 11 bars, a casino, a spa, and other adult parties that you might want to check out during your stay.
There are ten delicious restaurants to try during your stay, so you never have to eat at the same place once unless you want to. You'll want to check out the water sports on their private beach before heading home.
Dreams Vista Cancun Golf & Spa Resort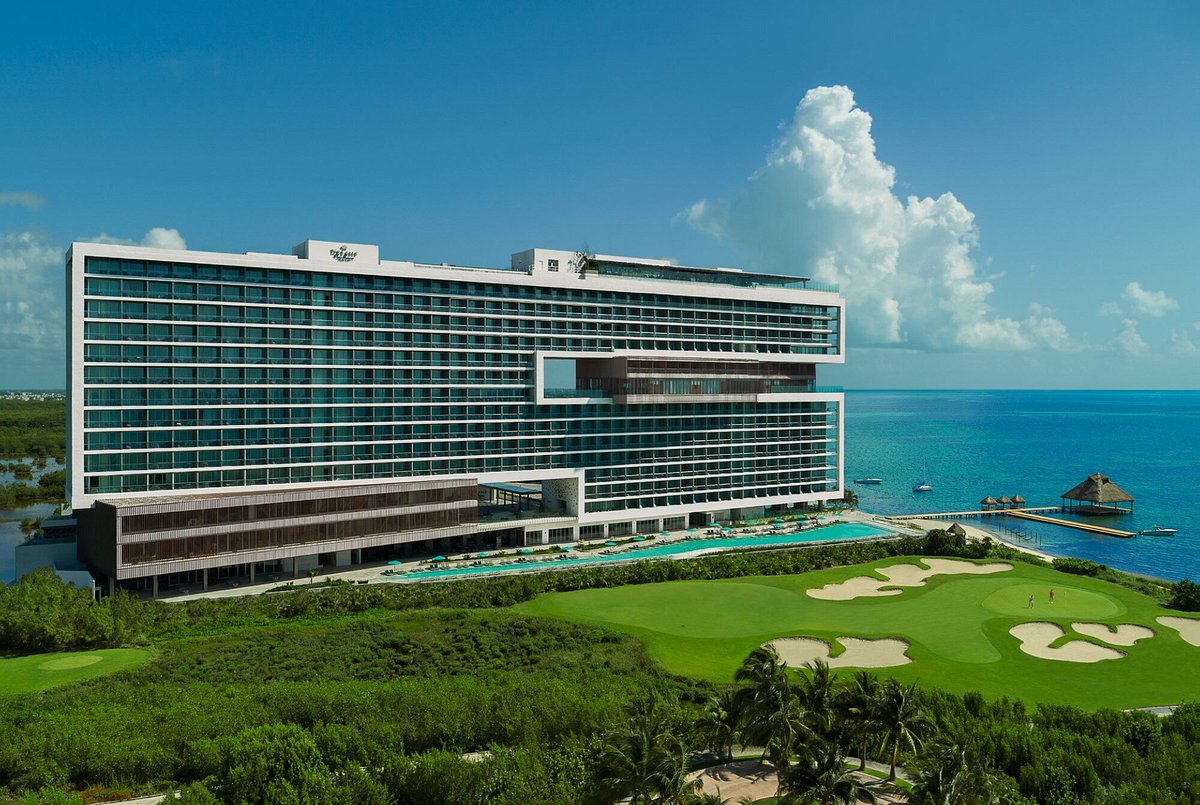 A tremendous 5-star resort is the Dreams Vista Cancun Golf and Spa Resort. Many of the rooms at the hotel have stunning ocean views. But you won't be spending much time in your suite as there's so much to do at this resort.
Adults love spending time in the world-class spa and soaking in the rooftop pool. The kids will be obsessed with the water park, surfing pools, and the splash pad. There's also a golf course on the property where you can easily schedule a tee time.
There are live performances at their outdoor theater that are worth looking into at least one night when you're there. As for their dining options, there are eight on the property. The gourmet food is luxurious, but they also have plenty of kid-approved options for even the pickiest eaters.
If there's a night you don't want to get ready for dinner or prefer breakfast in bed, they offer 24-hour room service. Staying here is the perfect combination of adventurous and relaxing, making it the ultimate family vacation.
Final Thoughts
Cancun is a beautiful town with plenty of activities for people of all ages. Whether you want to go zip lining, swim in the ocean, or spend hours at an all-inclusive resort's restaurants and activities, you'll be glad you visited.
These are 11 of the best Cancun all-inclusive family resorts with water parks that are perfect for all ages. What could be better than making lasting family memories under the sun? No matter how you choose to spend your Cancun getaway, you won't be disappointed in any of these family-friend, all-inclusive resorts.
More about our TFVG Author
A seasoned traveller, Dad, and avid sports tourist, James foundered The Family Vacation Guide to share his expert vacation experiences- especially when it comes to being a travelling family man.
Featured in Travel articles such as Travel + Leisure, TripSavvy and SFGate, you know you're reading some of the best vacation tips online.