With majestic resorts, picturesque white-sand beaches, and brilliantly blue oceans, Cancun, Mexico ranks among the premier tourist destinations in the world.
Planning a trip with teenagers can be a bit challenging as you look for fun and creative ways to keep them entertained and engaged. Fortunately, this isn't an issue when it comes to Cancun.
While it is often seen as a party capital, it also provides plenty of family-friendly fun. It makes for the perfect vacation getaway with activities and amenities for all ages.
Whether it's lounging around on the beach, hitting up one of several theme parks, or exploring ancient ruins, there is no shortage of teen-friendly events/activities. Here is a look at some of the top things to do in Cancun with teenagers.
Take a Boat to Isla Mujeres
Isla Mujeres ranks among the best things to do in Cancun with teenagers simply for its vast diversity of offerings. The islands are about eight miles off the coast, and there are also sorts of fun routes you can take out there, including the standard ferry, sightseeing tours, and catamarans. Among the most fun aspects of this day trip is the boat ride itself.
The ride offers stunning coastline views of Cancun and the surrounding area and provides an opportunity to encounter wild sealife while gliding across pristine blue waters. Depending on what option you pick, you can get out and swim or snorkel or possibly try your hand at some water sports.
Isla Mujeres is a must if you are looking for a fun day out of Cancun. There are plenty of attractions on the island itself (which will be discussed in detail later on), but this is a case where the journey can be just as much fun as the destination.
Hit Up Ventura Park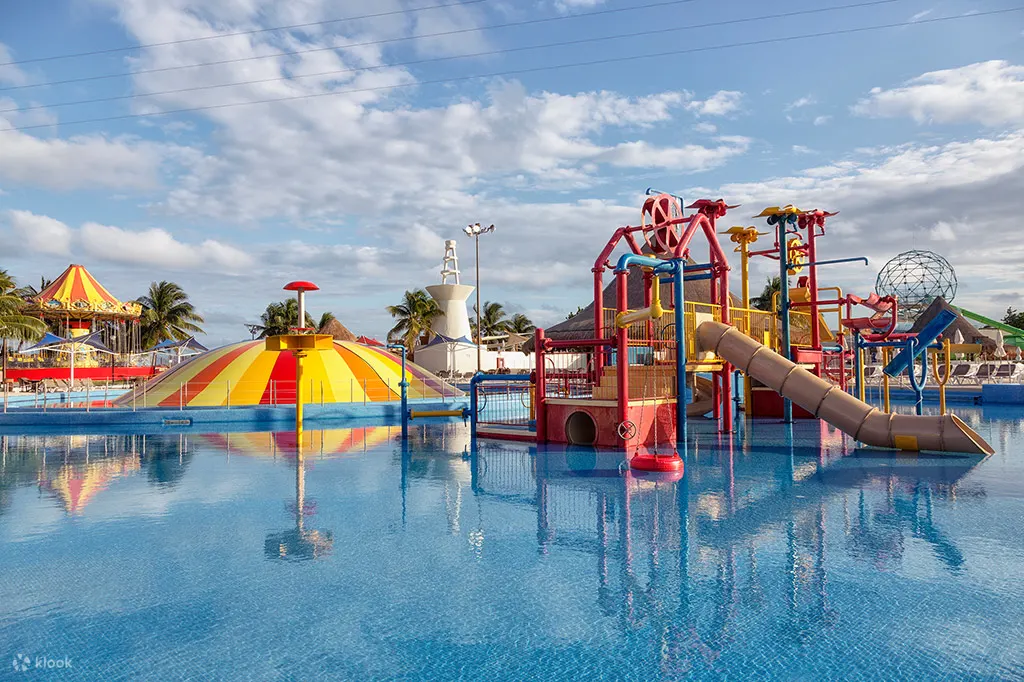 Ventura Park is an amusement Park in Cancun that offers attractions for all age groups, including teenagers. The park includes a fun assortment of rides and games customized to match your interests, whether you want to relax or are a thrill-seeker.
Other cool standout features include arcade games with virtual reality and Wet N' Wild Waterpark, which features an array of fun waterslides and a lazy river for those looking just to chill out. Ventura Park also offers go-karts with advanced-level courses for racing if you've got the need for speed. If your teen is seeking more thrill, the park also includes a zipline course featuring an aerial skywalk.
With so many attractions in one place, the park is an excellent way to spend the day. Teenagers can roam the grounds by themselves before reconvening with the family at one of the delicious on-site dining options. Depending on where you are staying in Cancun, the park is accessible by both boat and taxi.
Explore Garrafon Eco Park
Remember how we mentioned all the attractions on Isla De Mujeres? The Gerrafon Eco Park is exhibit A. The eco-park is an outdoor paradise offering sensational ocean and coastline views while providing an eclectic range of water sports options, including swimming, snorkelling, and kayaking.
Garrafon is well known for its breathtaking reefs and natural ocean wildlife, making all water-related activities a must. It's also an excellent spot for you teen to come and kick back and relax with a Mayan Sauna, panoramic pool, and comfortable lounge chairs. If you or your teen are looking for something truly unique, a zip line runs right over the ocean, providing spectacular aerial views.
As mentioned, Isla de Mujeres is easily accessible by boat and can be reached from Cancun in under 30 minutes. Consider making the trek out for a day of outdoor fun. The views both in and out of the water and the diverse range of activities make Garrafon Eco Park one of the top things in Cancun to do with teenagers.
Head Out to Xcaret Park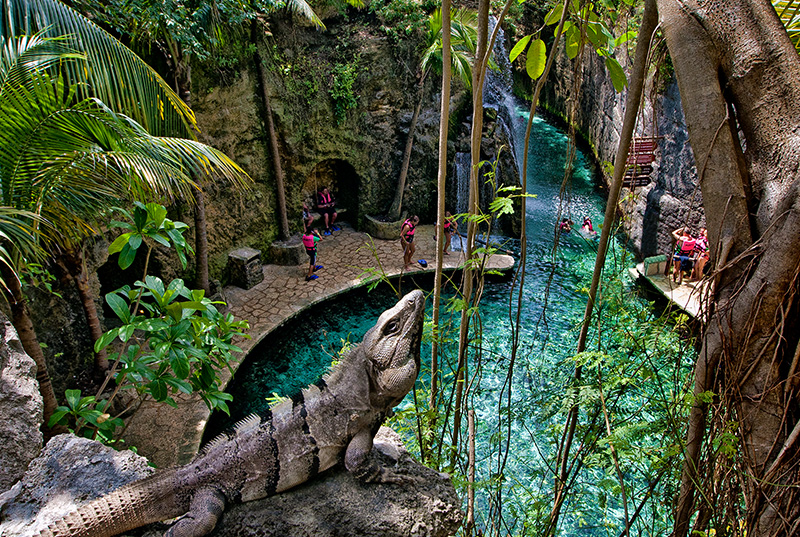 If you like the sound of Garrafon Eco Park, then you might also be intrigued by a trip south down the coastline to Xcaret Park. With over 50 natural and cultural attractions, the park provides a nice change of scenery from Cancun while offering its own compelling entertainment.
Some top draws at Xcaret Park include an aviary, ancient Mayan ruins, and an assortment of excellent restaurants featuring delicious local Mexican cuisine. The Coral Reef Aquarium is better for smaller children but is still suitable for teens.
Another gem of the park is the option to explore a network of underground rivers. Choose between the Blue River, Mayan River, and Manatee river, or scope out all three. Each is home to exotic local wildlife and offers a unique vantage point.
The journey is roughly an hour from Cancun and is accessible by boat, car, or taxi.
Trek to Xel-Há Park
If you don't mind straying from the friendly confines of Cancun, you can also head even a little further down the coastline to Xel-Ha Park in Tulum. This is a lengthier trip of closer to two hours, meaning a day trip might be pushing it, but it can be a fun addition to your stay in Cancun or even a brief night away.
Xel-Ha park offers some of the best water-related activities, including exceptional snorkelling in crystal clear water. You can also rent motor jets that allow you to glide through the water and book lazy river/ocean tours where you can float along at your leisure, taking in the views.
Xel-Ha offers excellent hiking options, including scenic jungle trails, if you want a break from the water. Visitors can also explore the Meliponary and learn about ancient Mayan traditions. Chacha's Garden also provides a lovely quiet sanctuary with gorgeous greenery.
If you have a teen that loves the outdoors, Xel-Ha Park is a great destination to consider, with an excellent range of fun activities and breathtaking views.
Explore Ruinas Del Ray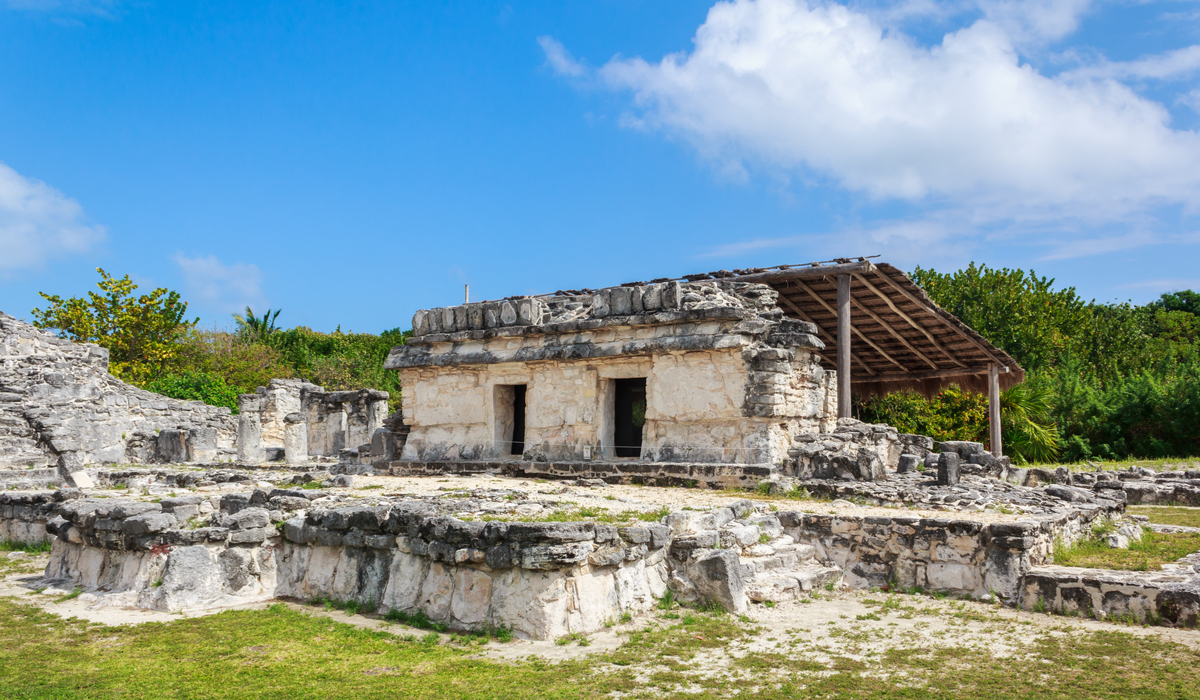 When you think of Cancun, most people think of parties, resorts, and lounging on the beach. While those are significant draws, the region is also rich with fascinating Mayan history. Ruinas Del Ray is one such example of this.
The ruins are one of the oldest and most significant archaeological sites on Cancun Island and date as far back as the 13th century. The site consists of several ancient pyramids, places, and flat-roofed galleries that make for fascinating exploration and insight.
It may not be the first thing on your radar when you begin mapping out your Cancun trip, but the Ruinas Del Ray is a must for any history-loving teens, and an exciting way to learn about some of the indigenous cultures within the region. At less than eight to ten miles from the Hotel Zone and downtown, taking the short trip over is well worth the memorable experience.
Visit Chichen Itza
If the Ruinas Del Ray piques your curiosity, you may consider making the trek out to Chichen Itza, a much larger site that attracts over 250,000 visitors per year. It is a modern marvel and one of the Seven Wonders of the World.
These incredible ancient structures are a sign you will never forget, providing even more insight into the lives of the Mayans. The area is divided into six distinct sections with around 20 different structures. Notable standouts include the Chichen Itza Pyramid, the El Caracol (observatory), and the temple of warriors.
So why isn't this the first thing listed? Unfortunately, it's not particularly close to Cancun and is a nearly three-hour-long drive. With that being said, if you are on the fence, rest assured, knowing that you will not regret making the journey out. Consider taking a break from the beach and heading inland for an unforgettable cultural experience.
Check Out Croco Cun Zoo
For those passionate about nature and wildlife, the Croco Cun Zoo provides just that, with fun interactions with local wildlife. While it's the perfect event for smaller children, the range of exotic wildlife and fun activities will also appeal to teenagers.
Visitors are led on a guided tour that lasts roughly 60-75 minutes and showcases a range of animals such as crocodiles, snakes, and spider monkeys. Guest have the opportunity to hold, touch and feed animals if they wish (under close supervision), creating an intimate up-close experience.
Croco Cun Zoo proudly helps support local wildlife conservation, and proceeds go to caring for the animals and supporting local ecological endeavours that benefit nearby natural ecosystems. This is an enjoyable outing for all ages and can be as interactive as you want it to be. If your teen loves animals, this is another fun thing to do in Cancun with teens.
Splurge at La Isla Shopping Village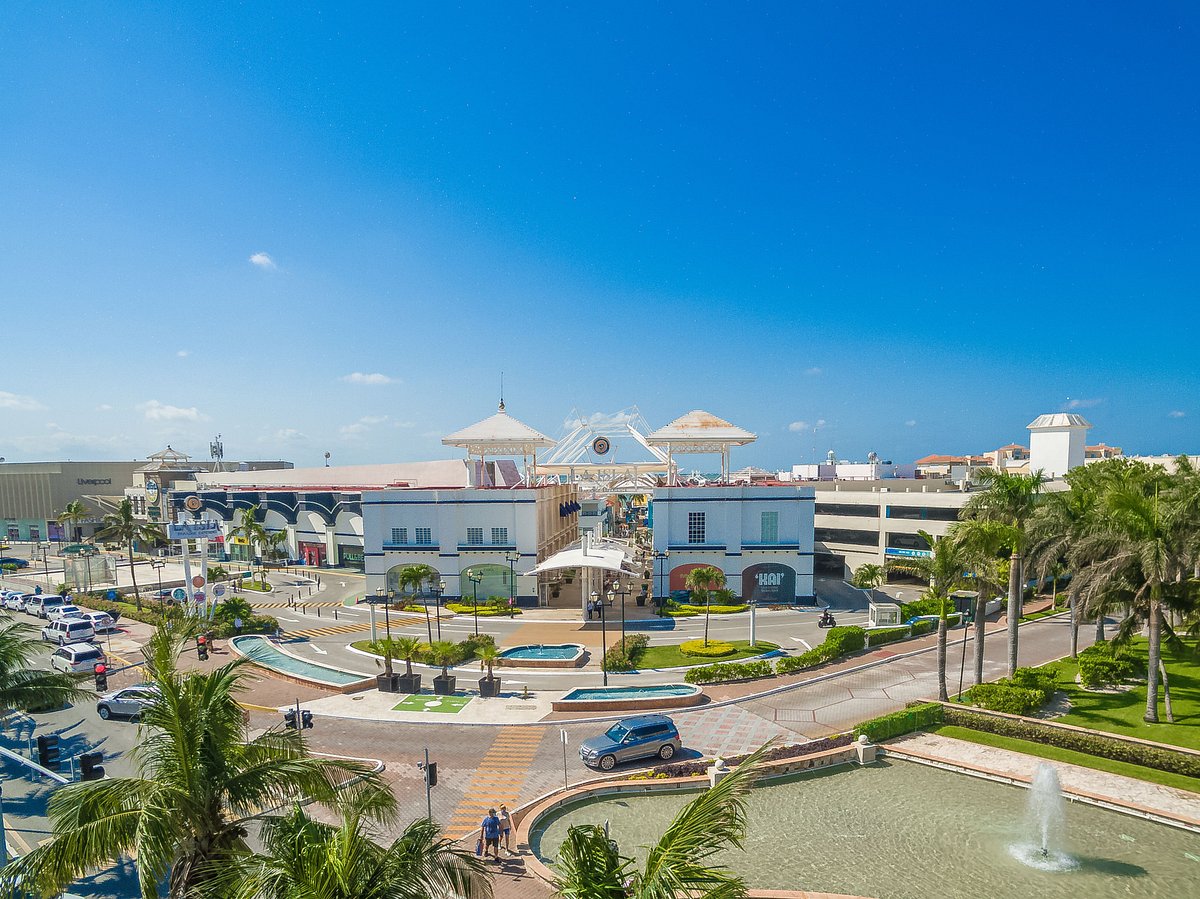 Suppose you are looking for a fun place to go in the evenings or are just trying to find an alternative to the beach and water, La Isla Shopping Village offers a variety of fun activities, great stores, and bustling nightlife. It is widely regarded as the best mall in the Hotel Zone.
Standout options to consider include a Cinema, Tequila Museum, Laser Maze, and Ripley's Marvellous, but teens may also enjoy exploring the shops by themselves or socializing with friends. The diverse range of dining options also makes it a fantastic destination for a family night out.
With its ideal central location and easy access, La Isla Shopping Village stands out as a pinnacle within the Hotel Zone. While it is probably not the place you will be spending most of your time during the day, it's a nice alternate option and a great place to head in the evenings.
Take in the Views at Torre Escencia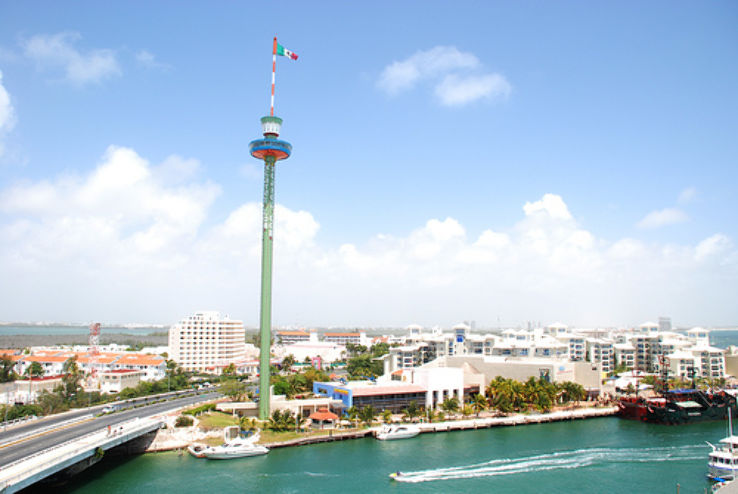 Torre Escenia is a scenic rotating tower that provides spectacular aerial views of the entire Cancun area. It is the tallest viewpoint, with panoramic ocean blue views and a gorgeous coastline.
Due to its convenient location in the Cancun Hotel Zone, most visitors can easily access the tower. The ride up itself takes just ten minutes, making it a fun option to consider if you are looking to get out of the sun for a few hours. Given the breathtaking backdrop, it's also a spectacular spot for a family photo.
If you're a sucker for a good view, Torre Escencia is a must.
Swim With Dolphins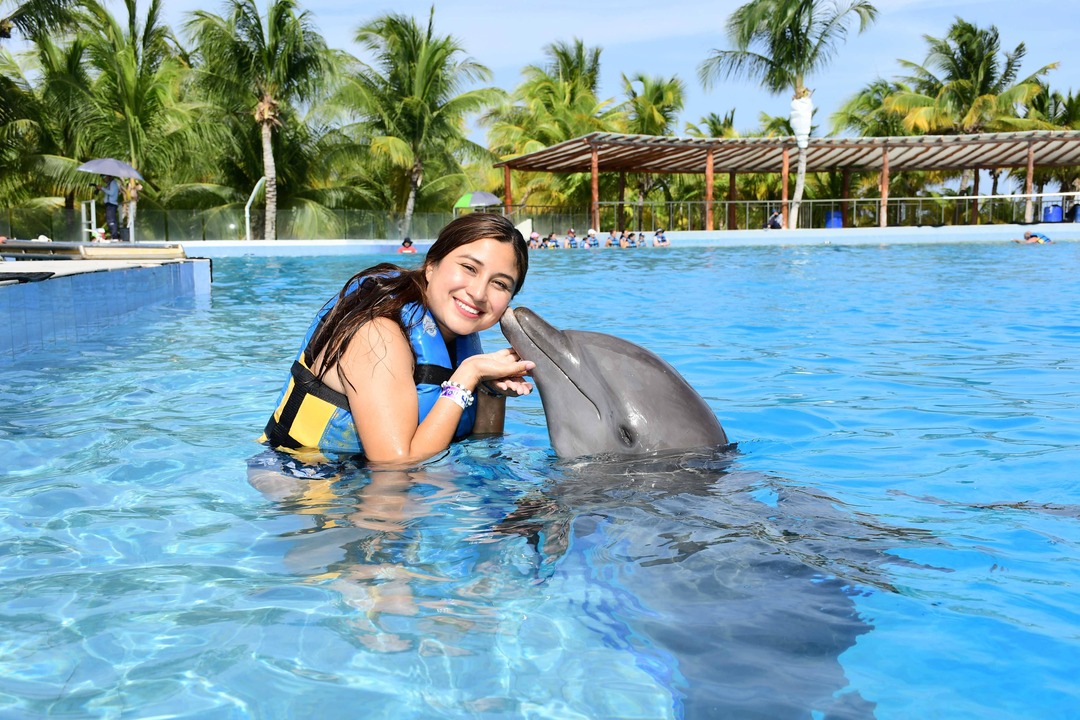 Moving on to more general activities (as opposed to physical locations), swimming with the dolphins is a unique Cancun experience that is something you and your teenagers will never forget. The rare opportunity to get up close with some of the brightest and friendliest sea life species is nothing short of incredible.
The best location for swimming with dolphins is on the Isla de Mujeres, where you can swim out to open water. Apart from dolphins, other creatures you might encounter include manatees and sea lions.
This isn't only one of the best things to do in Cancun for teenagers; it is an incredible experience that people of all ages will treasure.
Plan a Beach Day
Without a doubt, Cancun's most compelling feature is its magnificent beaches. The region is home to some of the most gorgeous beaches in the world and as such, pencilling in a few days in the sand is a must during any Cancun trip.
Cancun offers a great assortment of beach options ranging from the more crowded and vibrant locations to more remote and quiet. If you are with a teenager, they may enjoy the amenities offered at a busier beach with a plethora of delicious dining options and no shortage of water sports activities. However, you should also consider the more tranquil options to kick back into a state of total relaxation.
Some of the top beaches include Playa Delfines, Isla Blanca, Playa Marlin, and Playa Longosta. Consider what you and your teen are looking for, and start planning your perfect beach day.
Go Snorkelling
Going along with the aquatic theme, another quintessential Cancun experience is strapping on the goggles and peering down at the marvels below. The best part about Cancun is its natural beauty, and that includes what's beneath the surface.
Snorkelling is an entertaining activity for teens to bask in their own adventures, exploring the famous local reefs and identifying different sea life swimming down below. The perfectly clear blue waters create the ideal ambience.
Some of the best places to snorkel in Cancun include Isla de Mujeres, Punta Nizuc, Cozumel, and Akumal for those willing to venture out a bit further.
Take a Surfing Lesson
Has your teen ever talked about wanting to learn how to surf? If so, there are few places in the world better to learn than the pristine clear waters of Cancun. There are several surf lesson companies, most notable the 360 Surf School, which showcases some basic techniques and moves before heading out to open water.
Most lessons last around 90-minutes with careful and close guidance from expert instructors. Your teen will be eager to show off their new moves and keep at it long after the class has ended.
Try Extreme Water Sports
If you are looking for an alternative to surfing or snorkelling, rest assured that there is no shortage of fun water sports activities at the Cancun shoreline. While some might enjoy kayaking or paddleboarding, there are plenty of other options for teens looking for more of a thrill.
You can always check for the latest water sports offerings and see what appeals to your teen. One popular water sport activity is parasailing, which provides thrilling views of the shoreline at high speeds. Other popular options include flyboards, wave runners, and wakeboarding.
While sitting on the beach or poolside is always an appealing option, Cancun is the quintessential ocean sports paradise. Looking into fun/creative water activities is one of the best things to do in Cancun with teenagers.
Take a Cruise/Boat Tour
There is no better way to cap your Cancun experience than by taking a water cruise and revelling in the stunning natural beauty as far as the eye can see. What's really cool about this activity is that it is very customizable to match your needs and interests.
Whether you are looking to kick back in luxury, mix in water sport adventures/snorkelling, or capture stunning sunset views, you can consider a vast range of options/experiences when choosing the package you want. Teens will love taking in the sights and spotting the natural wildlife out on the water.
Some of the most notable boat tours/cruises include Cancun Glass Boat Sightseeing Cruise, Catamaran Sunset Cruise, Cancun Luxury Sailing & Snorkeling, and Symphonies of the Sea.
Get Started Planning Today
As you can see, there is no shortage of options when it comes to things to do in Cancun with teenagers. Choose from a vast range of fun daily activities and think about local landmarks your teen might find interesting.
Beach paradise is at the tip of your fingertips. Get started planning the perfect Cancun getaway today and enjoy the most refined luxury, stunning views, and outdoor adventures.
To learn more about Cancun, why not have a read of the articles linked below!
More about our TFVG Author
Karly is a The Family Vacation Guide guest travel contributor.