Cancun, Mexico is a stunning place to visit if you and your family are in the mood for some sun and sea. Whether you're looking forward to the tacos and margaritas or soft sunsets over the ocean, your kids are probably excited to get in the water and splash around.
To ensure everyone gets the most out of their Cancun vacation, consider one of these fabulous all-inclusive Cancun hotels with water parks!
1. Seadust Cancun Family Resort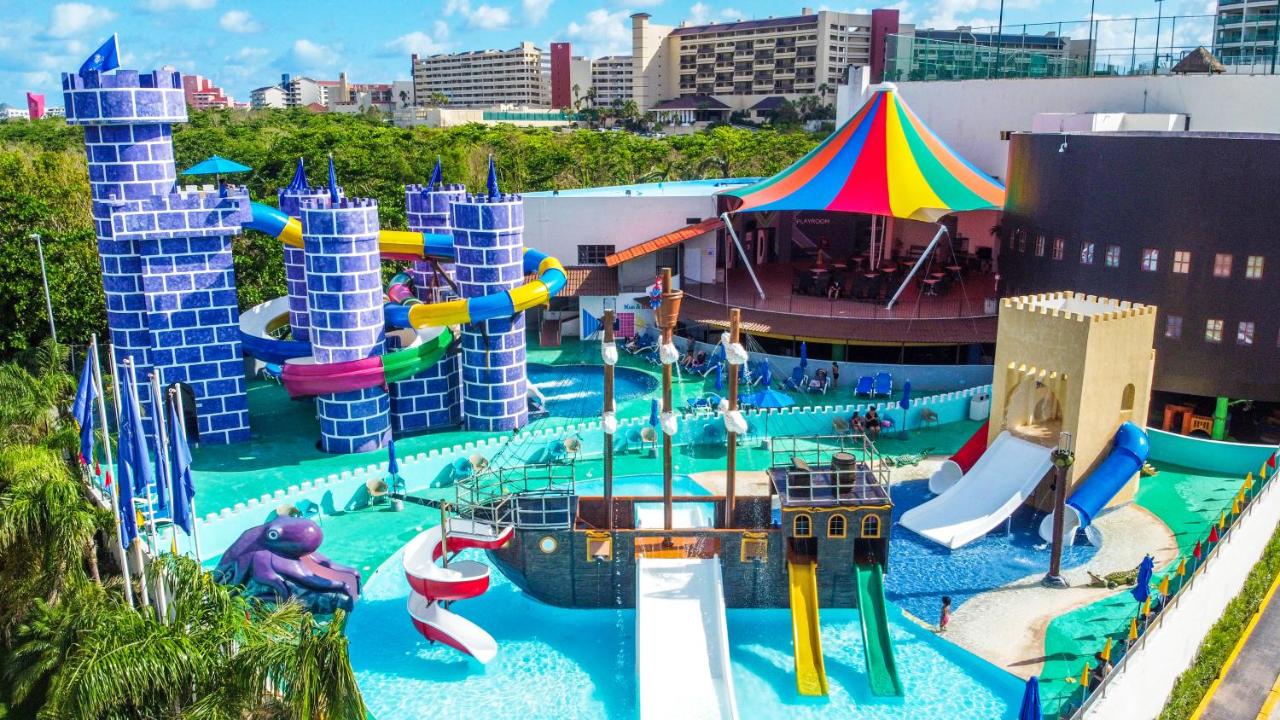 Seadust Cancun Family Resort makes the top of our list for the best Cancun hotels with water parks because it has not one, but two splash parks for kids and families to enjoy together. To add to the whimsy of this resort, one of their water parks has a pirate theme, while the other has a medieval castle theme, so your kids can play pirates or knights as they swim around. 
The Seadust is excellent for families with small children looking for a fun adventure. But there are also plenty of amenities that will appeal to adults and teenagers on the trip.
There are an array of waterslides that you can fly down for a fun adrenaline rush or pools you can lounge in all day long. The resort also features a zip-line course and a mini-golf arena. So if not everyone in your family loves the water, there are still plenty of fun options for them. 
2. Royalton Riviera Cancun Resort and Spa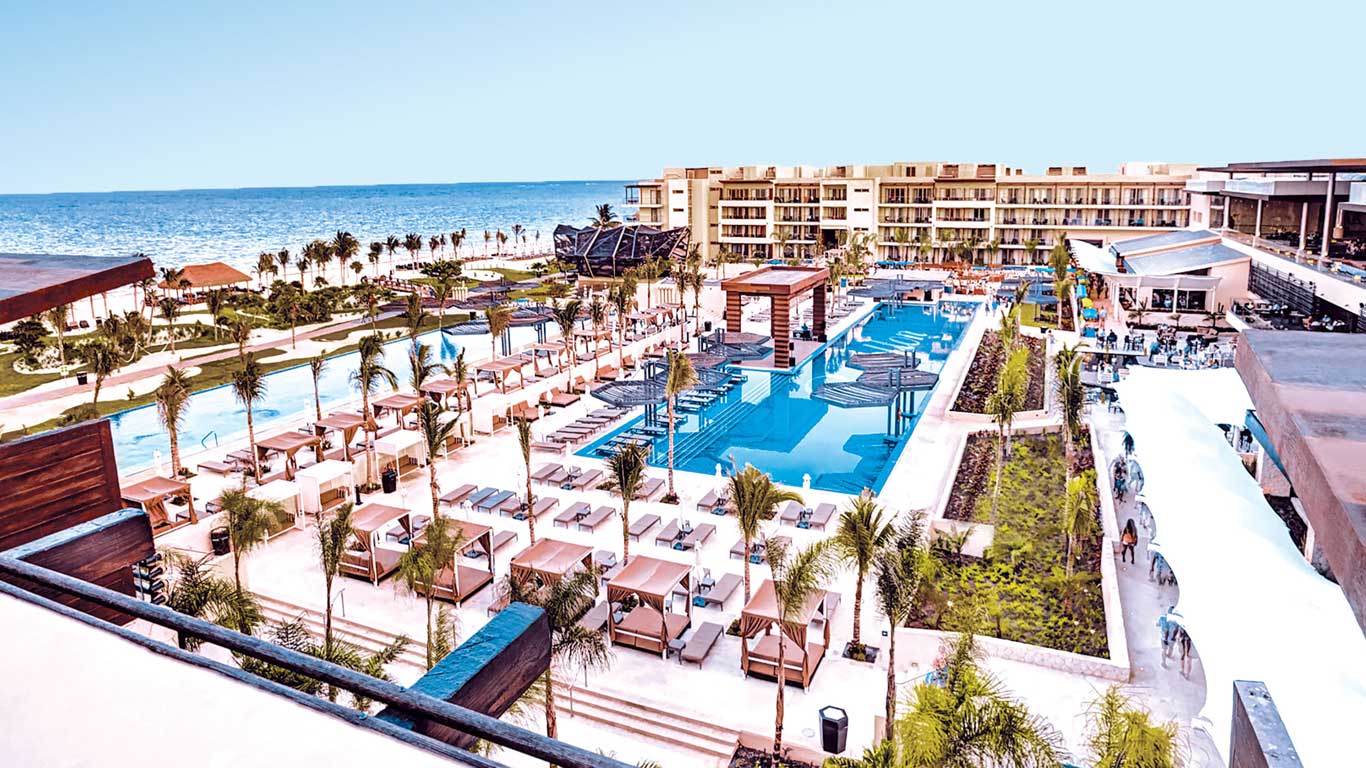 The Royalton Rivirie Resort in Cancun is an exciting place to stay as it features plenty of fun activities for adults and kids. There are eleven different swimming pools on the property, so you can check out a new pool every day and feel like you're at a new hotel.
Plus, there are nine fabulous restaurants in the hotel, so you never have to leave the resort to experience some incredible food and drink. The resort's splash park is not super intense, so it's ideal for younger children that aren't necessarily thrill-seeking. You and your kids will love the magical water park that has mushroom tops and giant sea snakes as decorations throughout the water.
Don't worry, though; the snakes are plastic, but the fun is real. If you know your kids will want to spend every minute they can swimming around, the Royalton is a great choice because the water park is a comfortable place to lounge for the day while your kids splash about. 
3. Royal Solaris Cancun
The Royal Solaris is close to the top of our list because it is an exquisite resort for families to stay at. It has a whimsical yet stunning waterpark with medium-sized slides that are safe but still thrilling for kids.
You'll love watching the sunset over the adorable animal statues placed in the kids' pool, as you enjoy a delicious cocktail. Both kids and adults can enjoy this resort together.
Rather than separating to enjoy different activities, you can relax in a lounge chair with a drink watching the ocean just feet away from where your kids are splashing around and sliding into the water. Plus, the resort offers fabulous restaurants so you can fill your belly after a long day enjoying the Mexican sun and sea. 
4. Crown Paradise Club Cancun
The Crown Paradise Club in Cancun is a stunning resort, with a water park literally next to the ocean. So you can enjoy the seaside views while your kids play safely in the guarded water park. The resort is massive, so there is plenty of room for large families with children of all ages, and adults can relax in the kid-free zone when they need a break.
The water park at this resort is exciting enough to entice teenagers and even playful adults alike. With towering water slides that let you look over the ocean as you zip down, it's hard not to have a good time at this resort.
When it comes to ocean views, it's hard to beat the Crown Paradise Club. The balcony views from the rooms and the top of the water park are incredible and breathtaking. So if you want to enjoy the beauty of Cancun, Mexico, from the comfort of an all-inclusive resort, this is one of the best options. 
5. Dreams Playa Mujeres Golf and Spa Resort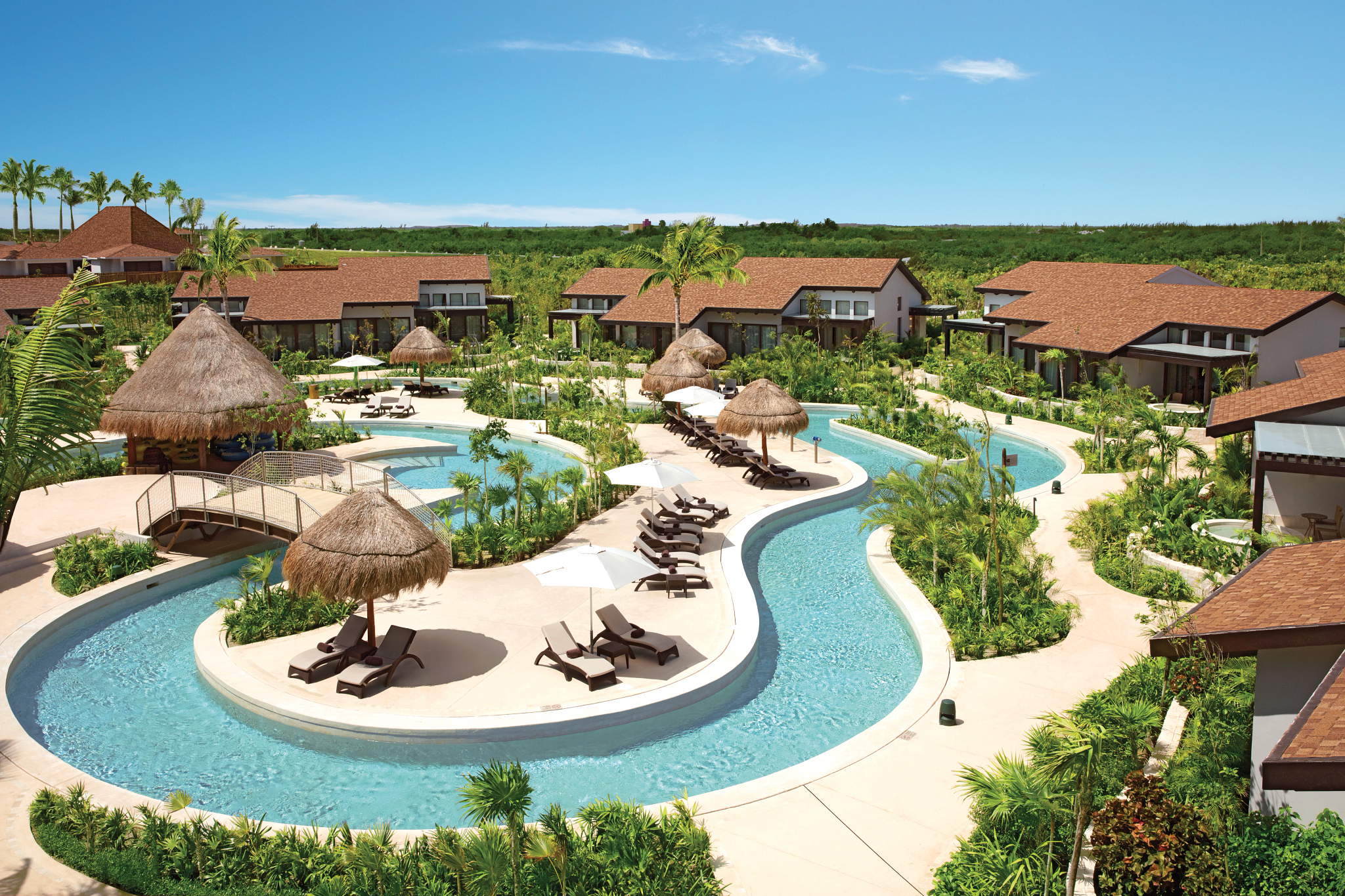 If you want an all-inclusive resort that will keep you endlessly entertained, the Dreams Playa Mujeres Golf and Spa Resort has everything you could want on a luxurious vacation. There is an impressive water park, a fun mini-golf course, a dreamy spa, and even an on-site Dolphin Habitat!
Many parents choose this resort because it has plenty to offer kids of all ages, but also does not look like a goofy kids resort. The interior and exterior design are impeccable and stylish, so you can feel like you're on a luxurious vacation, even with the kids in tow.
The Dreams Playa resort is all about keeping you entertained. You'll never run out of activities to try or places to go when you stay at this resort. Whether you want a tranquil and relaxing vacation or a fast-paced, exciting one, this resort will satisfy your vacation dreams. 
6. All Ritmo Cancun Resort and Water Park
The All Ritmo resort is a four-star hotel with plenty for children and adults. The fun waterpark features giant buckets of water that tip out on top of you and other adorable water features. This water park is geared toward the kiddos, so your tweens and teens might not be super impressed.
But for families with young kids, this resort is a dream. And you can keep an eye on your babies while you relax at the Oasis bar with a cocktail. The resort is vibrant and colorful, so you'll feel like you're on vacation every second of the day.
As far as all-inclusive Cancun resorts go, this one is peaceful. Yes, there will likely be screaming children getting water splashed on by the giant bucket, but the resort is smaller than some of the other ones. It focuses on providing a calming environment for adults while keeping kids entertained. 
7. Moon Palace Cancun
Located in the Quintana Roo Region of Cancun, the Moon Palace is a true treat for visitors of all ages. They have gentle kiddie pools for the little ones to splash around in as well as giant water slides that will have your bravest teens screaming at the top of their lungs.
When you're ready to dry off, you can play a round of mini-golf on the hotel's course or play some exciting arcade games as a family. For families with picky-eaters, there are many cuisines served on the property, from Mexican to Italian to Chinese. The Moon Palace is one of the best resorts if you travel with a wide range of ages.
The Moon Palace is ideal for a family that wants to stay at the resort for their entire trip. There really is no reason to leave as there are plenty of cuisine options and activities both indoors and outdoors. Plus, many sites at the resort have stunning views of the ocean and surrounding nature. 
8. Panama Jack Resorts Cancun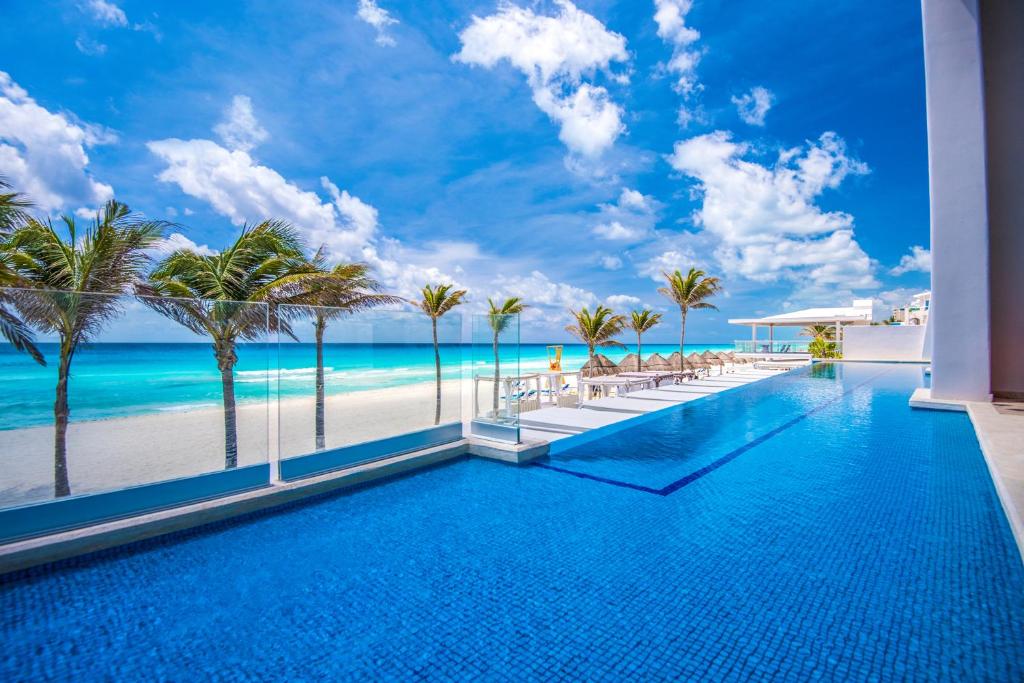 Many families love staying at the Panama Jack Resorts because they are massive and have so much to offer. There are waterslides, a waterpark, and pirate-themed adventures for kids to enjoy. Plus, there is a Captain Jack Program that will entertain your kids for hours with beach games and arts and crafts.
The resort caters to children and families, so if you want a kid-friendly resort, this one will check off all your boxes. And adults can enjoy the soothing services the spa has to offer, as well as Zumba and Aqua Aerobics classes to stay moving even on your relaxing vacation.
At Panama Jack, the children are not an afterthought, but instead, the focus of the experience. There will be many other children around, and the staff is excellent with kids of all ages. So if you want your children to have a super time in Cancun, take them to Panama Jack!
9. Hyatt Ziva Cancun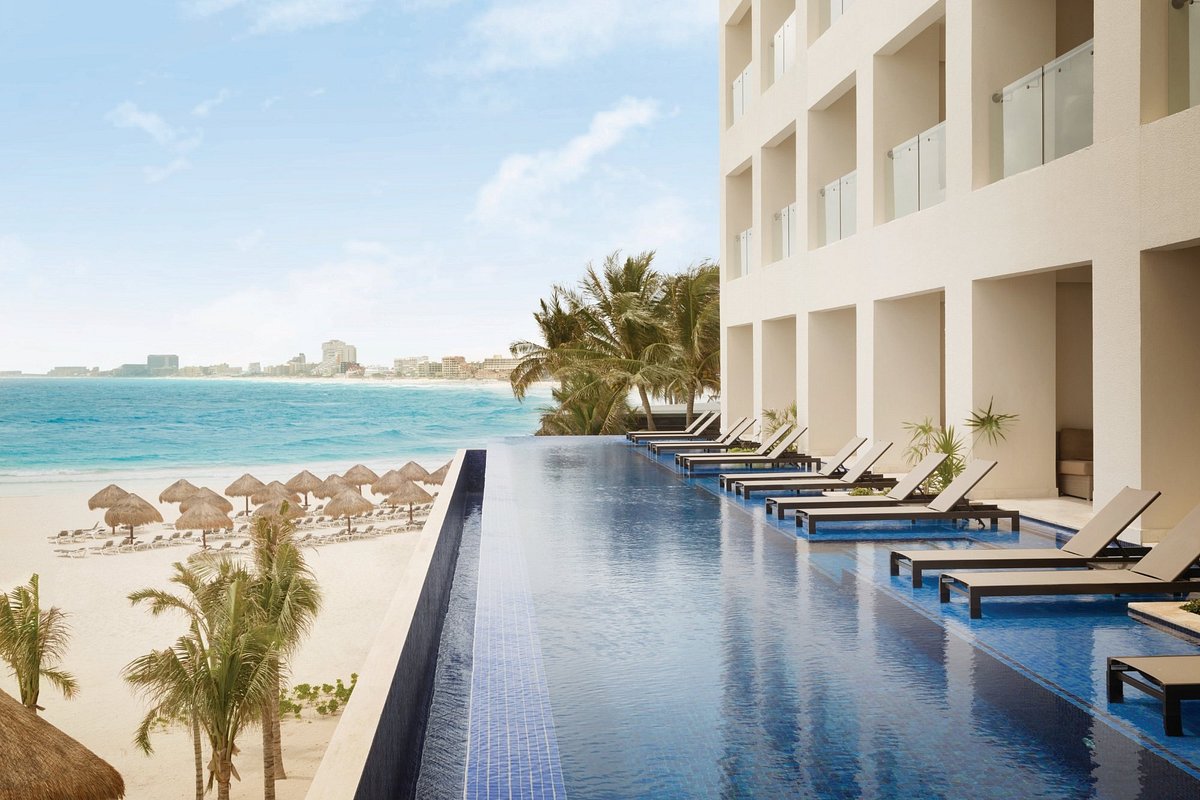 The Hyatt Ziva is the best resort for people that want to enjoy the all-inclusive amenities, but also leave the resort and experience Cancun for themselves. The resort is just a few minutes away from the ocean on foot, so you can lay on a real beach and enjoy the saltwater.
But while you're still at the resort, you can take advantage of their small waterpark that will keep the kiddos entertained for hours. However, there are no exhilarating water slides at the Hyatt Ziva, so if you want a more thrilling water park, you should opt for a different resort on this list.
Families with small children love this resort because there are very few visitors that are not families looking to enjoy the resorts' amenities. So if you want to avoid parties and the nightclub scene, this is the resort for you. 
10. Dreams Vista Cancun Golf and Spa Resort
The Dreams Vista resort has everything you could want for adults and children. The water park is moderately sized, so it won't ever be too crowded, and it features some fun slides for older kids. However, the waterpark is by no means the best feature at this hotel. If you want to go to a resort specifically for the waterpark, the Dreams Vista is not the right one for you.
But if golf, a relaxing spa, live concerts on-site, and a rock-climbing wall all interest you, consider staying at Dreams Vista. They have all of these amenities and more! The resort is massive, so there's plenty of space to explore the property and enjoy the stunning ocean views.
The resort is right on the ocean, so if you decide to leave the beach is just a short walk away. The resort is stylish and contemporary, so adults will not feel like they are on a kids' vacation because the resort caters to all ages. 
11. Iberostar Selection Cancun
The Iberostar Selection resort in Cancun is ideal for a large family where everyone has their own interests. The property is huge and offers so many amenities that everyone in your family can have the vacation they always wanted in Mexico.
This property is a five-star resort that offers delicious cuisine and stunning views of the ocean. If you have a hyperactive member of your family, they can get their energy out playing one of the various sports available on the property, like tennis and volleyball.
You can even go on a family diving excursion in their dive exhibit right on the property. And, of course, they have an exciting waterpark geared toward smaller children. It features small waterslides and a giant pirate ship that kids can climb and play on.
12. The Hilton Cancun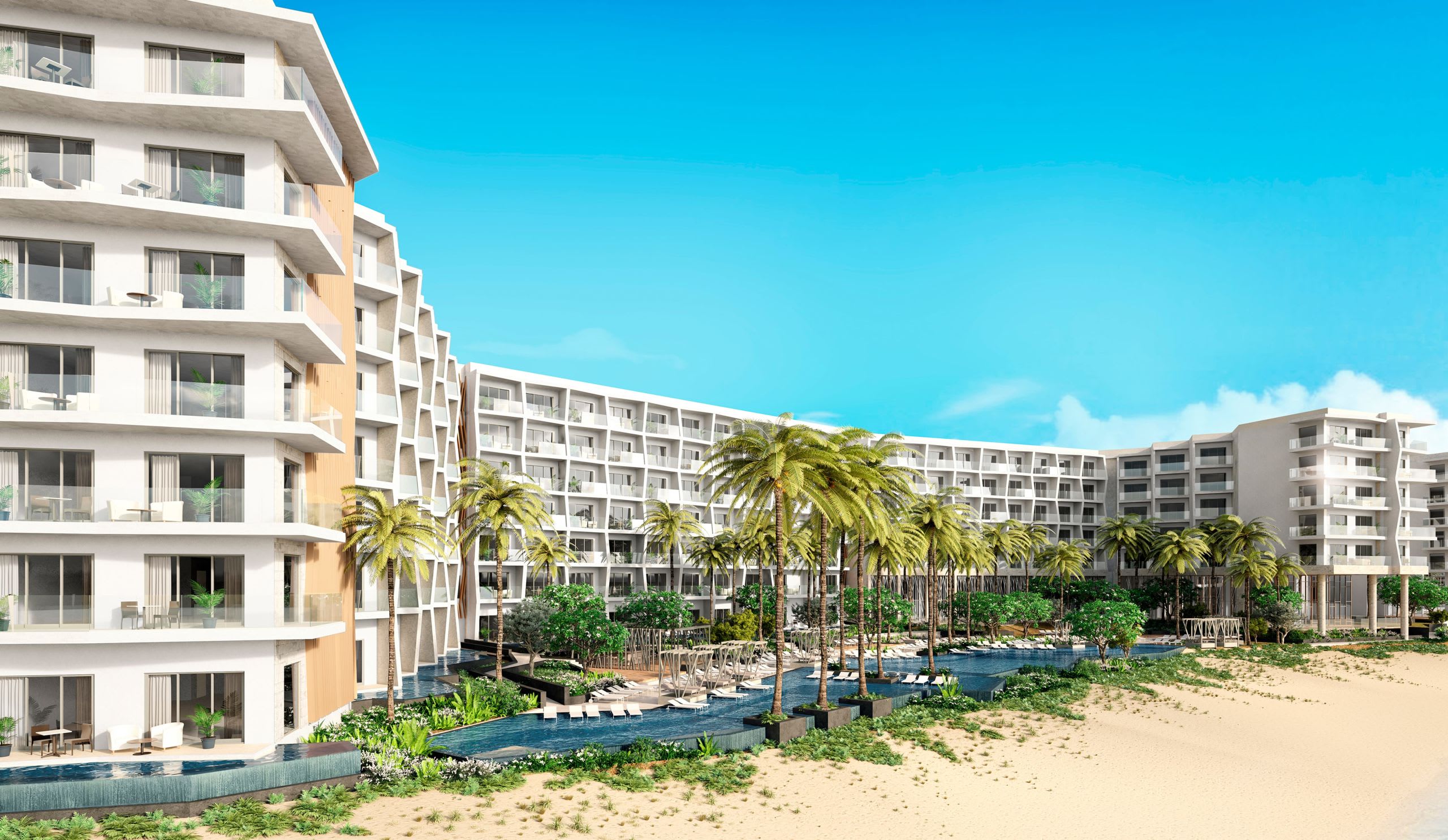 The Hilton Cancun is a gorgeous resort that seems to split up the kids' activities from the adult activities. Some areas of the resort are clearly for children, with bright green waterslides and fun decorations. But other lounge areas and pools are clearly meant for sophisticated adults on a luxury vacation.
If you want the perfect mix of adult vacation and kid fun, the Hilton is one of the best options because they try to have something to offer every person that stays with them. While the amenities are fabulous, the real treat is the incredible rooms you stay in. The rooms are spacious and pristine, making the start to your vacation perfect.
But once you leave your room, you'll find you won't want to go back anytime soon. Enjoy authentic Mexican cuisine at one of the restaurants in the resort so you can get a taste of the local culture. And reviews all report that the staff treats you like royalty when you stay there.
Final Thoughts
You can't go wrong with any of these gorgeous Cancun hotels with water parks. Both you and your kids will have a blast in Cancun if you stay at one of these incredible resorts. From food to fun, you'll be well taken care of. Choose one of these lovely Cancun resorts with water parks and plan a family vacation no one will ever forget. 
Want to find out more about vacationing in Mexico? Check these out:
More about our TFVG Author
Karly is a The Family Vacation Guide guest travel contributor.