If you're planning your trip to Cancun, you already know that there are a million things to do. Figuring out what you want to scratch off your bucket list can be tricky. But how many chances will you have to take a swim with a dolphin? It's an incredible adventure that you won't soon forget.
Whether you're on a mission to explore the world on your own or planning a family vacation in Mexico, there's a dolphin experience that is perfect for you.
So, where can you swim with dolphins in Cancun? Keep reading to find out! And if you've not yet booked accommodation, why not check out our guide to the best all-inclusive resorts for families in Cancun?
Xcaret Mexico: Best Experience for the Whole Family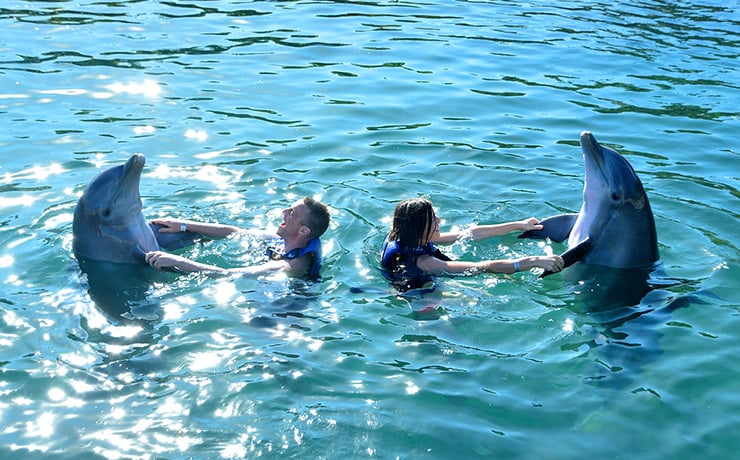 At Xcaret Mexico, book a 45-minute interactive, family-friendly dolphin experience! This educational activity will let up to six people enjoy learning about dolphins and their anatomy. You'll also get to do various activities with them while swimming, like exchange kisses.
Pricing and What's Included
The cost per person varies for anyone over the age of 11 and children between the ages of five and 11. Kids under five get free access. No matter their age, they will get 30 minutes in the water, with lots of activities. As well, you can expect:
15-minute briefing
A life jacket and access to locker rooms
Interactions that include hugs, claps, kisses, jumps, and a ride
Opportunity to hear dolphin singing
You can add photos and videos for a fee.
Dolphin Discovery – Isla Mujeres: Best for People That Like Options
If you're ready to make the most of your sea life experience in Cancun, you'll love the options these packages offer you!
Pricing and What's Included
The Dolphin Encounter package is the least expensive. Its prices vary for children that are between six and 12 (as well as 13 and over). However, it is free for kids under six. This package includes a round trip via ferry from Cancun to Isla Mujeres and back. You will get 40 minutes in the water with multiple interactions. In addition, you get:
A 15-minute briefing
40 min in the water
One meal and soft drinks
Access to lounge chairs, a swimming pool, lockers, and showers
Interactions feature a foot push, handshake, dorsal tow, and hand target
The Dolphin Swim Adventure package also has varying prices and free access for children under six. It includes everything from the Dolphin encounter package as well as a:
15-minute manatee interaction
National open bar
As with the earlier package, the Dolphin Royal Swim offer has different price stages and free access for young children. It includes everything from the last two packages with an additional 20 minutes in the water, and:
Buffet lunch
Bicycle tour
Access to the VIP area
Last but not least, the Sea Life Discovery Plus incorporates everything from the previous packages and an interactive sea lion experience!
There is an additional transportation fee. You can add a photo package for an extra cost.
Dolphinaris Cancun: Most Interactive and Educational Experience
If you're looking to learn while you have the experience of a lifetime, this is where you want to swim with dolphins! Dolphinaris Cancun is an interactive museum dedicated to teaching about ocean life while offering visitors an incredible experience.
Pricing and What's Included
You'll want the Dolphin Friendly Encounter package for a fantastic one-on-one experience in shallow waters. Besides 40 minutes in the water, you will also get:
20-minute briefing
Introduction to dolphin behaviors & physiology
An adorable fin shake
An unforgettable hug and additional interaction
The Dolphin Swim Fintastic package involves an introduction to the dolphins and then a unique experience where you get to see the dolphins express their creativity. This package includes everything from the Dolphin Friendly Encounter package and:
A VR expedition
Foot push or dorsal ride
The next package is the Dolphin Swim Ocean Secrets package, which educates you on the importance of protecting the ocean. You get everything included in the Dolphin Friendly Encounter package, plus:
A VR expedition
Belly ride
Mask underwater viewing
Bear in mind that none of these packages include photographs.
If you're looking for a truly transformative experience, you'll want the Trainer for a Day package. That will get you 135 minutes of interaction (including three activities) and an orientation session. On top of that, you will have access to a:
Backstage tour
Introduction to dolphin behavior and physiology
Training behaviors
Behavior training session
Dolphin swim program
Trainer-for-a-day certificate
Two pre-selected printed photographs
Delphinus – Best One-On-One Experience
Delphinus offers one of the most exclusive swimming with dolphins experiences in the world. Picture this: you, a trainer, and a dolphin interacting and swimming together for nearly an hour. While other programs will have you in mid-sized groups, Delphinus lets you get to know one of these beautiful creatures in a way you can't anywhere else.
Pricing and What's Included
With Delphinus, you will have access to an incredibly exclusive experience. Their package features a unique one-on-one experience with 45 minutes of interaction. These include jumps, kisses, and hugs:
A one-on-one experience
15-minute brief
A medical introduction to dolphins with talk about anatomy and physiology
Free interaction time, such as a foot push, bubbles, signals, and swirls
Chance to hear dolphin sing
Access to bathrooms, lockers, dressing room, showers, and disabled facilities
A diploma
There is an additional cost for transportation and photos.
Things to Remember
Policies and fees vary from one facility to the next. Remember to review cancellation and rescheduling policies, height and age restrictions, and additional costs before you make your purchase.
Bring With You
Extra money (preferably in pesos) for souvenirs, food, and any additional fees
Towels
Swimsuits
Biodegradable sunscreen
Wrap Up
So, now you have the answer to the question, "where can you swim with dolphins in Cancun?" With so many options, it may be hard to pick just one. Do your research and consider the offerings carefully before you make your decision. You may only get one trip to Cancun, so make it count! Whether you're in it for a uniquely exclusive one-on-one interaction or want your kids to learn about the environment, there's a swimming with dolphins experience for everyone.
More about our TFVG Author
A seasoned traveller, Dad, and avid sports tourist, James foundered The Family Vacation Guide to share his expert vacation experiences- especially when it comes to being a travelling family man.
Featured in Travel articles such as Travel + Leisure, TripSavvy and SFGate, you know you're reading some of the best vacation tips online.