What do you see when you close your eyes and imagine getting away from it all? If you picture bright blue ocean waters, gorgeous white sand beaches, and remote landscapes far from the hustle and bustle of the city, a vacation to Baja California might be a dream come true!
But apart from your bathing suit and snorkeling gear, what other items will you need to bring? For example, will you need a passport to enjoy a vacation in Baja California? 
This guide will answer that question, ensuring that you're entirely prepared to relax and soak up some sunshine while visiting beautiful Baja California.
Visiting Baja California: A Brief Overview
Like the United States, Mexico is divided into several states. The most northwestern of these states is Baja California, the uppermost part of the Baja California Sur peninsula. It borders the U.S. states of California and Arizona.
Tijuana is the biggest and most popular city in Baja California, with an average of 50 million visitors each year. This city is known for its party atmosphere, and many visitors spend time exploring its bars and nightclubs.
However, Baja California is much more than a party destination. For example, those hoping to sip delicate Mexican wines can visit Guadalupe. If you're hoping to enjoy some peaceful beachcombing, Ensenada could be an even better vacation spot.
But like most international destinations, visitors from the United States will need a valid passport to visit Baja California. This rule applies to all visitors, regardless of age or mode of transport. You'll likely also need a tourist entry permit. 
Traveling to Baja California by Car
One of the simplest ways to visit Baja California is by car. A trip to this Mexican state could make for an excellent road trip, no matter where in the United States you live.
Still, this option is best suited to those living on the West Coast or in the Midwest. After all, Tijuana is only about 20 miles south of San Diego!
When you reach the border between the United States and Mexico, you'll see a multi-lane border stop. When you get to the front of the line, you'll need to present:
A valid driver's license
Current proof of vehicle insurance
Valid vehicle registration in your name
A valid passport for each person in your vehicle
You might also need a visitor's permit. However, you won't need an entry permit if you're only staying in Baja California for a few days (less than one week).
But if you're staying for more than seven days, you'll need to fill out the Forma Migratoria Múltiple (FMM) paperwork and pay a small fee. Every member of your group will need an entry permit if you're staying for a week or longer.
You might also want to consider opting for Mexican car insurance. Though border crossing guards and personnel don't always check to see if your car will be insured during your stay in Mexico, some may ask for proof of international automobile insurance.
As always, it's best to be prepared for this situation. Be sure to contact your car insurance company to inquire about short-term coverage during your stay in Baja California.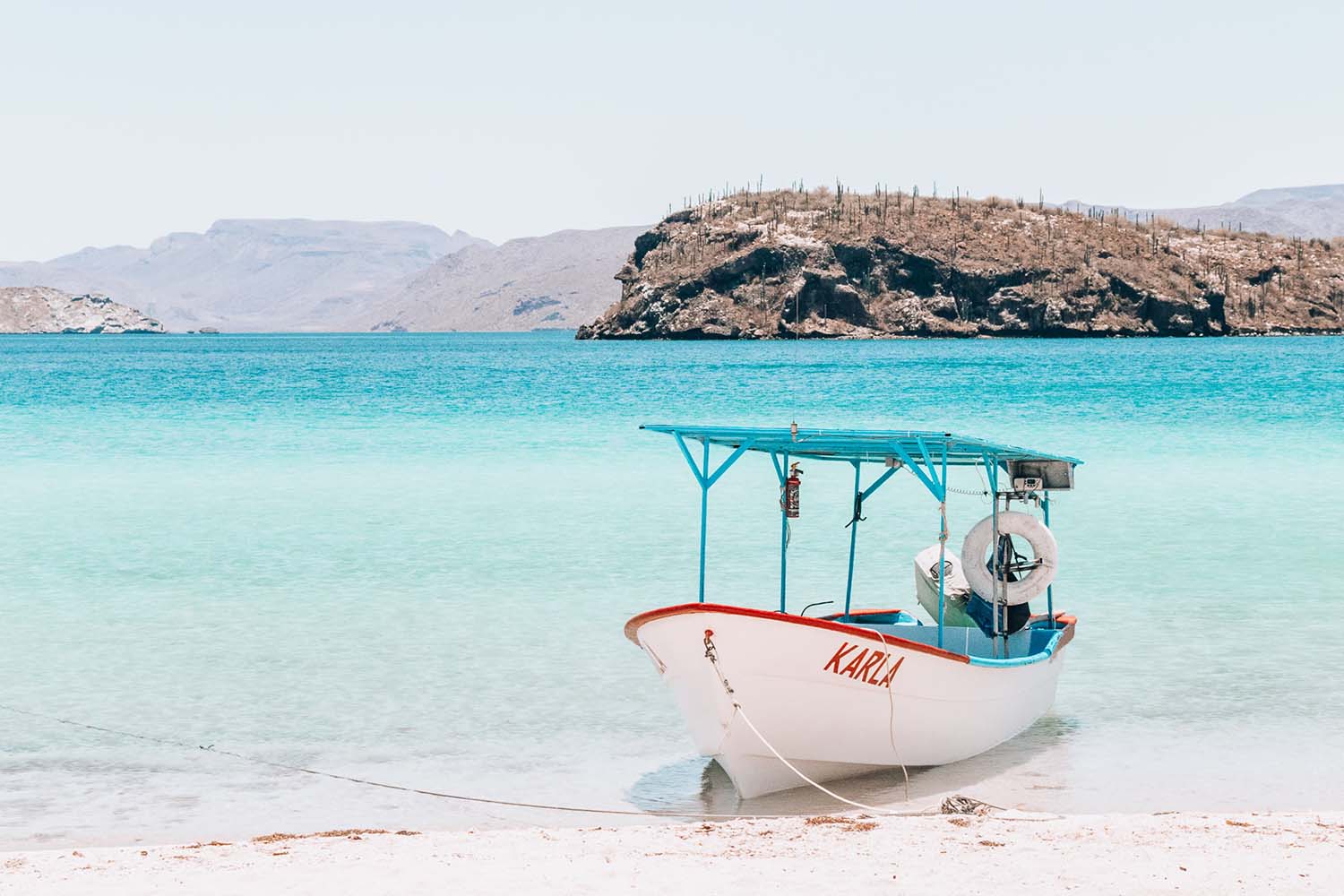 Traveling to Baja California by Air
Traveling to Baja California by air may be the more convenient option, especially if you don't live near California or Arizona. It might also be the better option in terms of paperwork, as the only document you'll need to bring with you is your passport.
After arriving in Baja California, you'll pass through Mexico's Customs and Immigration checkpoint. The staff working in these areas will check your passport, as you about the nature of your visit to Mexico, and ask you to fill out an entry permit.
In most cases, you'll have the opportunity to fill out the permit paperwork before you get off the airplane.
Traveling by Bus, Train, or Boat
If you'd prefer to travel to Baja California by bus, Greyhound might be your best option, though you can also choose to utilize multiple bus lines that run through the Otay Mesa Transit Center.
However, traveling by train or boat is virtually impossible unless you're traveling to Baja California from another part of Mexico.
Baja Ferries operates boat rides between mainland Mexico and the Baja California Sur peninsula. Rail lines throughout Baja California are virtually non-existent, with the only stop sitting at the top of the state in the capital city of Mexicali.
If traveling from the United States to Baja California, your best bet (aside from driving a personal vehicle or taking a plane) is to utilize public buses. Naturally, you'll need to bring your passport along for the ride.
After all, entering Mexico via a bus is similar to entering via a personal vehicle. You'll need to pass through an immigration checkpoint when entering and leaving Baja California, and officials will check your passport during these stops. 
Things To Know About Your Passport
Your passport is an essential travel tool, and you'll want to ensure it's valid before you book an international vacation. This means double-checking your passport's expiration date. If your passport expires during your holiday, you may have trouble re-entering the United States.
If you don't have a passport, you'll need to fill out the passport application right away. After submitting your passport application, it could take 11 weeks to receive the document!
Expedited processing is available for an extra charge, but it still might take about two months to receive your new passport. For that reason, it's crucial to have your passport (and other relevant documentation) in order before booking hotels, flights, or bus rides to Baja California.
Final Thoughts
Though Baja California has 'California' in its name, it's not a part of the United States. For that reason, those hoping to travel to Baja California from the United States will need a passport.
If you don't have a passport, you'll want to begin the application process right away. After all, it can take approximately three months to receive a passport after submitting your application.
Are you thinking of traveling in the opposite direction and heading north to Canada? If so, check out this related article about whether you'll need a passport!
More about our TFVG Author
A seasoned traveller, Dad, and avid sports tourist, James foundered The Family Vacation Guide to share his expert vacation experiences- especially when it comes to being a travelling family man.
Featured in Travel articles such as Travel + Leisure, TripSavvy and SFGate, you know you're reading some of the best vacation tips online.