Both Tulum and Cancun are on the Yucatan Peninsula in Mexico, but they offer many different things for traveling families. If you've narrowed your vacation options down to these two cities, you might wonder what makes one better than the other.
These cities are on beautiful beaches and are just 80 miles apart. The airport, however, is in Cancun; there is no separate airport in Tulum. So, regardless of which city you pick, you'll fly into Cancun. The airport has shuttle buses making regular trips to Tulum. If you book them in advance, you can get dropped off right at your hotel.
Even if you plan to visit both cities, you'll want to choose one as your home away from home. For families with kids, you need to know which is better, Tulum or Cancun?
Here at The Family Vacation Guide, we know both destinations well and can help you make this choice.
Tulum: The Big Picture
Tulum is a beautiful city to visit because it has breathtaking beaches, clear water, and plenty of history to explore. There's beauty in the natural surroundings, but also plenty to keep your family occupied.
Whether your family wants to relax and soak up the sun or spend time learning about the Mayan culture, Tulum has something for everyone.
Accommodations
Tulum has plenty of hotels to best suit your family. Staying at a beachfront hotel automatically grants you access to the beach, so you'll want to consider this when you're booking your stay.
Posada Margherita is a boutique hotel with non-smoking rooms and an on-site restaurant. This convenience means you don't have to leave the hotel and surrounding beach some days, so your family can enjoy all it has to offer. There's no loud music or late-night events, either, so you'll be able to get the kids in bed with no distractions.
Another wonderful hotel is Villa Las Estrellas. You can book a room or if you want more privacy, an entire villa. An on-site restaurant serves fresh breakfast, lunch, and dinner. If you're spending time at the beach, you can take advantage of the sun loungers and outdoor showers to prevent the kids from tracking sand back into the room.
Of course, you're not restricted to on-site restaurants when you're in Tulum. There are delicious options throughout the town, such as Casa Banana. This restaurant is open for dinner and drinks, so you might want to book a table early in the evening to bring the kids. The fine-dining menu offers fresh seafood and vegan options.
Hartwood is a trendy restaurant in Tulum. Like Casa Banana, it's only open for dinner, but it doesn't stay open as late. Therefore, this might be a better choice for dinner with your kids. The menu changes daily according to what seafood they get, ensuring you'll have a fresh meal.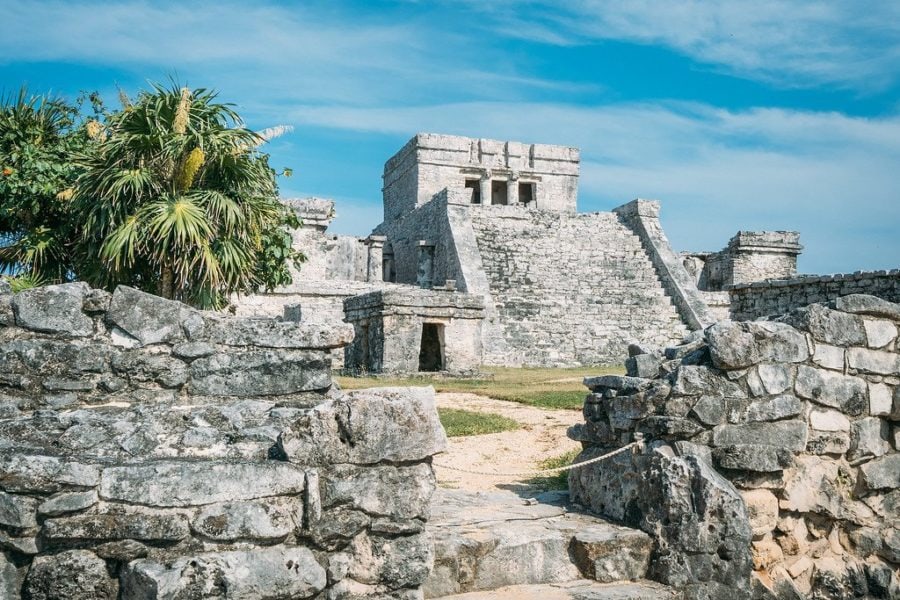 Attractions
For days when you want to get out and about instead of relaxing on the beach, you'll want to experience Tulum's attractions. Tulum has plenty for families with kids to see and do, from fun activities to awe-inspiring ruins.
Tulum Ruins
The Tulum Ruins are on the site of the last known Mayan city. Once a popular seaport, Tulum traders had excessive amounts of jade and turquoise on hand. A thick limestone wall preserved the ruins so well that tourists will feel like they're transported back in time.
The Castillo, a castle on the coast, is one location sure to grab your kids' attention. You'll want to climb the steep stairs carefully, but the view from the ruins is worth the effort.
The Temple of the Frescoes is incredibly well-preserved, with a large mural intact inside. Carved figures decorate the temple doorways. It's fun to ask your kids what animals these chiseled creatures resemble, with wings and tails. These questions are a great way to learn about the Mayan deities represented in the temple.
Coba Archeological Site
While you're exploring ruins, the Coba Archeological Site is a must-see. It's thought to have over 6,500 structures on the land, but archeologists have only uncovered a few. You can see the Nohoc Mul pyramid, which is the tallest on the Yucatan Peninsula, and climb the stairs to the Grand Pyramid.
The site is in the jungle, so you'll get to experience nature while you see the ruins. Keep your eyes peeled for monkeys, birds, and butterflies that make the jungle their home. Even if you don't spot any animals, your kids will love the wild noises of the jungle.
You can explore the Coba Archeological Site on your own by foot or bike. If you'd like a guided tour, you can even choose to ride in a rickshaw.
Sian Ka'an Biosphere Reserve
Sian Ka'an Biosphere Reserve has a little bit of everything, from Mayan ruins to beautiful plants and wild animals. When you visit, you can choose different packages to ensure you don't miss a thing. There are nature encounters where a guide helps you see many animals in their natural habitat. You can also snorkel and spot dolphins, turtles, and fish that live in the Mesoamerican Reef.
The reserve has saltwater lagoons that are home to fish like bonefish, tarpon, and triggerfish. You can book a morning or full-day fly fishing excursion that your kids won't forget. You can rent fishing gear and learn from a guide who's been fishing for their whole life.
This insider knowledge means you'll go to the spots only the locals know and have access to great fish.
Water Parks
Even though you're in a town with access to beautiful beaches, sometimes kids want the fun of a water park. For parents, it can be nice to visit an enclosed area and know your kids can entertain themselves for hours. There are three major water parks close to Tulum that you can visit for a day to please the kids.
Xel-Ha is one park that adults will love just as much as kids. The 98.5-foot tall lighthouse not only provides a breathtaking view of clear blue waters but also has a huge water slide wrapped around it. You can relax in an innertube, zipline across the water, or snorkel in caves.
Admission to Xplor Park includes all of the activities, so your family can zipline as many times as you want, as well as swim in every pool. There are hikes to the caves where you can spelunk and then explore the underground world.
Outdoor Activities
There are plenty of outdoor activities that don't require a day at the beach. Exploring Tulum by bike is a great way to get outside and stay active while seeing the sights. Bike paths criss-cross the city so you can find your own way or book a guided tour.
Cenotes are sinkholes formed when limestone collapses. This hole exposes the groundwater, which is fresh and beautiful. The water is so clear you'll be able to spot the fish and plants that live there. The unique experience of swimming in a cenote is something your family won't want to miss.
There are cenotes all over the Yucatan Peninsula, including near the Coba Archeological Site and Tulum Ruins. Plan ahead to bring bathing suits when you explore those sites and take a refreshing dip after you get sweaty climbing the pyramids.
Whether you're hiking, biking, or swimming, it's always fun to try and spot iguanas. The black iguana is native to Tulum and roams the city freely. Baby iguanas are bright green and easy to find, but adults are gray and can better camouflage themselves.
Pros
Less popular than Cancun
More family-friendly than Cancun
Lots of natural attractions to explore
Great hotels and restaurants to provide beach access
Easy access to Cancun and other Yucatan attractions
Cons
No local airport, so you must travel from Cancun
Not as many family-friendly attractions as in bigger cities
No sidewalks, so keep your kids close when you're walking around
Cancun: The Big Picture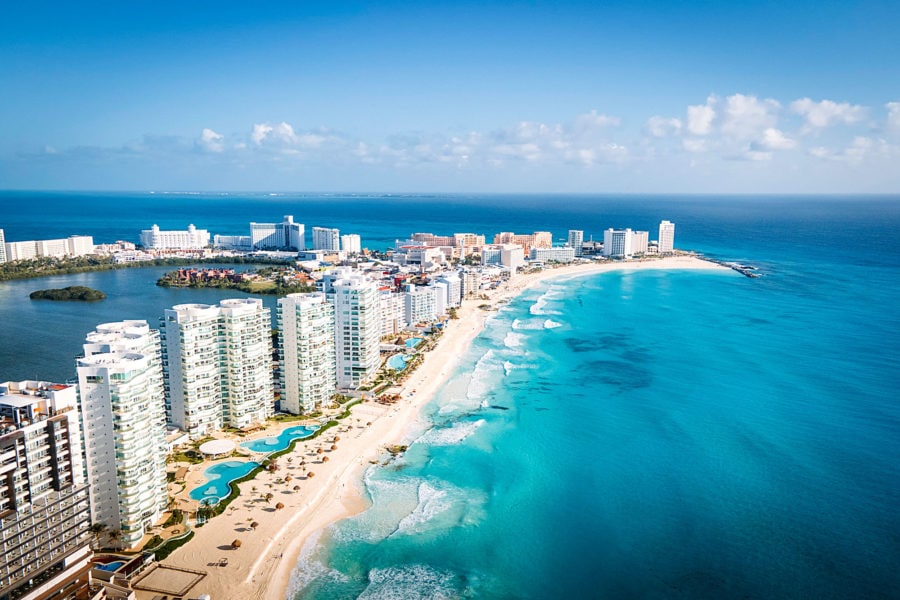 Cancun has a reputation for being an exciting beach town, but that doesn't necessarily mean it's ideal for families with kids. Cancun is a party city, with nightclubs open all hours and people always on the street.
If you're traveling with kids and aren't interested in the drinking culture, you might wonder what Cancun has to offer. Our list gives you a good idea about this wonderful city.
Accommodations
Cancun is such a tourist hotspot that you'll have no trouble finding accommodations for your family. The biggest problem will be booking the rooms you want when you want them. With that in mind, it's best to avoid Spring Break in Cancun. Anytime colleges are out, you'll be competing with countless other tourists for hotel rooms and restaurant tables.
If you have a big budget for your vacation or are willing to splurge, Moon Palace Cancun has you covered. This all-inclusive resort is incredibly family-friendly. There's a water park on-site so your kids will always have entertainment available. There are many restaurants on the property as well.
Fiesta Americana Condesa Cancun is a good choice if you want to experience some local culture while keeping your kids in their comfort zone. In addition to traditional Mexican cuisine, your kids can choose pizza and snack foods they're familiar with. There are special play areas for kids and a Teens Club for older kids, as well as pools and live shows for all ages.
While it's true there are Hard Rock Hotels in the United States and all over the world, staying in the Cancun resort is fun for you and your little rockstars. The Hard Rock Roxity Kids Club gives your children a chance to make music and crafts while parents get a break. For kids 12 and up, the Music Lab gives them a chance to make music with others or learn to DJ.
There are plenty of amazing restaurants in Cancun, from fresh local cuisine, like El Oasis Mariscos and La Casa de Los Abuelos, to the American favorites you know your kids will eat, like Johnny Rockets and Hard Rock Cafe.
But one of the options you need to take advantage of is Picnic a la Playa. This picnic delivery service will bring a delicious lunch to your family on the beach. Choose from classic, Mexican, or brunch options for a unique dining experience.
Why not check out our guide to the best all-inclusive family resorts in Cancun for more ideas?
Attractions
Cancun has beautiful beaches, just like Tulum. However, since it's a popular tourist destination, you're going to encounter more people on those beaches. You can still find a spot in the sand and swim the day away, but it's not as relaxing as it is in Tulum. Therefore, you might look for other things to do in Cancun, especially since you're traveling with kids.
Because Cancun is so tourist-friendly, there is always so much to do, from fun entertainment to delicious restaurants and unique shopping boutiques. A large audience of American tourists means that many of the restaurants are chains, which can be a good thing if you're traveling with picky kids.
Playa Delfines
Playa Delfines, or Dolphin Beach, is one stretch of beach in Cancun that isn't spoiled by hotels and restaurants. It's also known as El Mirador, which means The Lookout. You'll get an impressive view of the Caribbean Sea from the beach, and there are great photo backdrops along the way.
This beach is definitely family-friendly – you can rent chairs and umbrellas on site instead of hauling your own, along with your kids and everything they need. There's also a playground at the beach so they can have something else to do if they get tired of the sand and water.
Food carts and vendors are set up along the beach so you can stay all day without needing to pack a picnic or leave and find your way back. It's also a great spot to play seek and find with your kids – they might spot dolphins in the water, and iguanas love to sun themselves on the sand.
Playa Ballenas
While Playa Delfines is a beautiful spot for relaxing, Playa Ballenas offers a different spin on a beach day. This beach is near big resorts like the Hard Rock Hotel, Secrets, and Marriott. Each hotel has a section of the beach roped off for their guests, so the public access areas draw a crowd.
Once you find a spot on the beach, you might want to venture out for some fun excursions. You can rent jet skis on-site and have a family race in the sea. You can also ride horses along the waterfront, which is sure to be a memorable experience.
La Isla Cancun Shopping Village
La Isla is more than a mall; it's a shopping village with stores lining the streets and channels. Therefore you won't be stuck inside when you stroll along La Isla – you're outside enjoying the weather. There are many well-known stores like Calvin Klein, Diesel, Lacoste, and Louis Vuitton.
But La Isla offers more than stores. There is a large interactive aquarium your children will love. Aquarium tours include the chance to swim with dolphins and sharks. If your children don't want to swim, they'll love the fountain they can splash in.
There are plenty of places to eat or grab a snack, like Starbucks and Ben and Jerry's. Since it's on a canal, you can stop for a meal at a waterfront restaurant. But if nothing catches your eye, La Isla is close enough to the city center that you're not far from countless other restaurant options.
Dolphin Discovery Cancun
Dolphin Discovery Cancun is an interactive experience your family will never forget. When you book a chance to swim with the dolphins, you get so much more. You get to shake fins, give kisses, and have them push your feet while you ride a boogie board. Lunch is included, and there are pools and showers so you can make an entire day of this experience.
In addition to dolphins, you can interact with other water mammals like sharks, stingrays, sea lions, and manatees. Don't forget the camera when you book an excursion at Dolphin Discovery Cancun.
Captain Hook Cancun
Captain Hook Cancun is a fun adventure everyone in the family will love. You'll have the chance to live like a pirate for a night. A pirate ship takes you out to the sea for several hours for dinner and a show. Your kids can interact with the pirates in the show, ensuring they'll never forget this night. There are also games the kids can play if they get bored.
Pros
Airport is located in Cancun
Plenty of different attractions due to popularity
Countless accommodations in terms of hotels and restaurants
Beautiful beaches for relaxing days outside
Unique experiences to help your children enjoy the trip
Cons
Area is too built-up to have much culture or personality
Big party town that can get overcrowded when college is out
Can have trouble finding rooms in certain seasons
Tulum vs Cancun: Which is Better for Families with Kids, Bottom Line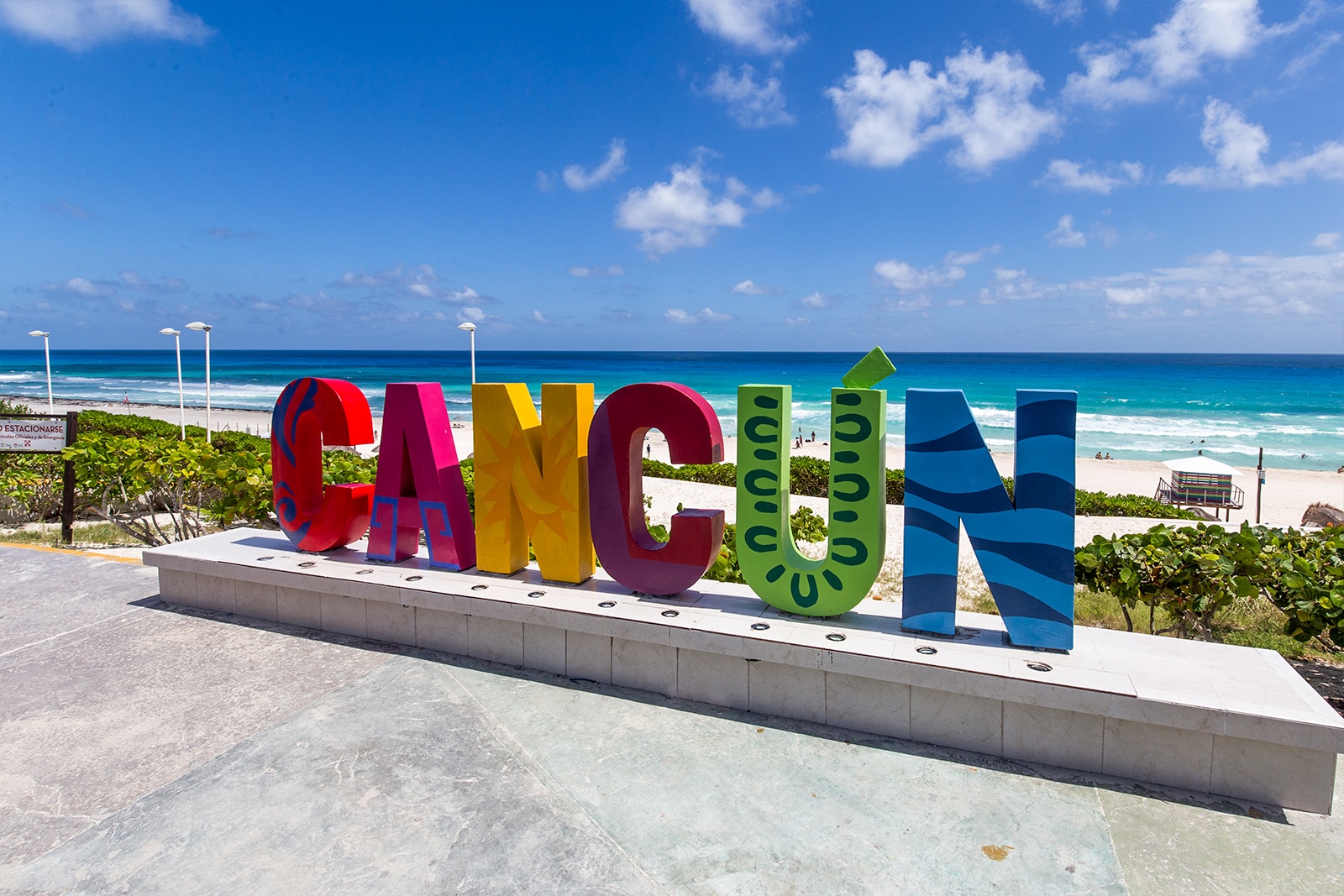 Choosing a vacation destination is tough when you're accommodating a family with kids. There are pros and cons to choosing a location that is more developed and has a lot of entertainment to offer. However, finding a secluded place and taking in natural beauty is also a relaxing time.
Both Tulum and Cancun are beachfront cities in Mexico, but that's about where their commonalities end. If you're trying to decide which is better for families with kids, Tulum is the overwhelming winner.
Cancun is beautiful and has a lot to offer, but it's the more popular destination of the two. The beaches are more crowded and it can be difficult to keep up with kids in that environment. Cancun is also known for its nightlife. If you want to spend time as a family, the extensive clubs won't be appealing to you.
Tulum has amazing beaches that aren't as crowded as Cancun's, so your family can relax away from others. There are plenty of restaurants for meals out, and even a few nightclubs if you want to steal away from the kids one evening. But overall, the city closes down late at night. Families with kids are used to these earlier bedtimes, so you can rest and get up early to hit the beach.
Keep in mind that Tulum and Cancun are just over an hour's drive apart. Your family can get a hotel in Tulum for a peaceful vacation and take day trips to Cancun to enjoy the best of both worlds.
More about our TFVG Author
A seasoned traveller, Dad, and avid sports tourist, James foundered The Family Vacation Guide to share his expert vacation experiences- especially when it comes to being a travelling family man.
Featured in Travel articles such as Travel + Leisure, TripSavvy and SFGate, you know you're reading some of the best vacation tips online.