Who doesn't love an exhilarating day flying down the side of a majestic mountain? If this sounds like your perfect vacation, you should plan your next trip at one of Colorado's incredible ski-in and ski-out resorts.
From hot tubs to restaurants to luxury service, we've rounded up the 12 best ski-in ski-out resorts in Colorado so you can plan the perfect ski trip.
What Is a Ski-In and Ski-Out Resort?
A ski-in/ski-out resort or hotel is a place you can stay adjacent to ski lifts or directly on the mountain slopes. This positioning means visitors don't need to get in a car and travel to a mountain to ski but can enjoy zooming down a white mountain without leaving the property.
These resorts are ideal for people that want to get in as much time on the mountain as possible. Skiing is an entire day; between getting into the gear, getting to the mountain, and getting up the ski lift, you waste a lot of time that could be spent flying through the snow. With ski-in/ski-out resorts and hotels, you can step right outside of your hotel and hop on a ski lift, saving you loads of time.
The Top 12 Colorado Ski In Ski Out Resorts
Because skiing is not something you can do just anywhere, these hotels have successfully capitalized on their convenient location for skiing. If you love to ski and wish you could spend your entire vacation with skis on your feet, check out the top 12 ski-in ski-out resorts in Colorado!
St. Regis Aspen Resort
Aspen is one of the most popular places to ski in the world, and this five-star luxury hotel is the perfect place to stay when you want to hit the slopes. This resort has everything you could want, from ski lifts right beside the hotel to an award-winning spa and fancy places to dine out.
St. Regis is in the middle of Aspen, giving you access to plenty of beautiful views and stellar restaurants and shopping centers. If you want to enjoy plenty of time on the mountain but also want to explore lovely Aspen, St. Regis is a great choice.
The staff at this resort go above and beyond to make their guests' stay enjoyable and hassle-free. The luxury hotel often gives guests complimentary treats like luscious chocolate or a bubbling glass of champagne in the evening. If you want to be treated like royalty and only walk a few steps to hit the slopes, St. Regis is for you.
Amenities at this hotel include, of course, proximity to skiing, a pool, a high-end gym, babysitting services so you can enjoy a romantic evening, a lounge with a bar, and available bike rentals.
One Ski Hill Place
For the ideal skiing vacation, you can stay at the magical One Ski Hill Place, a massive resort that has plenty offer skiers. This resort features a pool, hot tub, gym, bar, spa, restaurants, and a complimentary breakfast. Guests that stay here experience a luxury experience that is also laidback and comfortable.
The resort is in Breckenridge, Colorado, and is right next to Peak 8 in the mountains, making it easy and hassle-free to go skiing at any time. If you aren't an early riser, you don't need to worry about getting up and skiing at the crack of dawn to make it to the mountain by a reasonable hour.
They even offer a ski valet to take your equipment off your hands after a long day on the slopes. One Ski Hill Place is one of the best locations for skiers because they make it easy for you to spend as much time on the mountain during the day as possible.
The Lodge at Breckenridge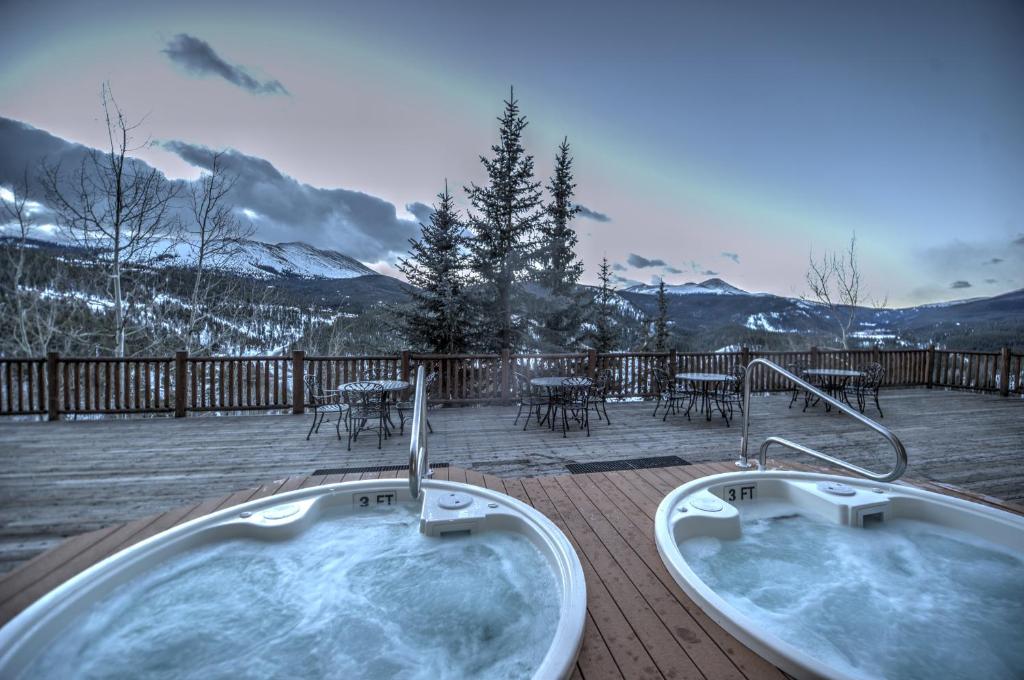 The Lodge at Breckenridge is what you may imagine when planning your ideal skiing vacation. The immense resort has natural wood counters, log pillars, and a beautiful rustic feel. If you want an authentic, immersive Breckenridge experience, the Lodge is one of the best spots for you to stay.
There are massive fireplaces scattered throughout the resort with cozy leather chairs to sit in and couches to relax on. The resort fosters a welcoming and tranquil experience out in the nature of beautiful Breckenridge.
One of the most attractive aspects of the Lodge is that it is pet-friendly! So you can bring your four-legged friend on your vacation so they can frolic in the snow and have a wonderful time. The Lodge is a three-star hotel but feels like a five-star. The views are amazing, the rooms are fabulous, and the skiing is out of this world.
The only area where the Lodge is lacking is in customer service. Their staff are friendly and accommodating but not the most prompt or available. So don't expect to have employees wait on you hand and foot.
The Inn at Lost Creek
The Inn at Lost Creek is in the quaint town of Mountain Village, Colorado. You can also bring your furry friend to this resort and enjoy your vacation with them. This hotel is intimate and comfortable, making it a great location for a honeymoon or romantic trip. There are restaurants and bars on the premises as well as a pool and hot tub. So you can soak your sore muscles after hitting the slopes all day.
The range of rooms they offer accommodates many different travelers, from stunning suites to cozy solo rooms to whole condos complete with kitchens. The views from every area of the hotel are to die for and make it hard to look away from the skyline.
A distinct aspect of this resort is the layout that makes it feel like a mini town or small community. If you enjoy making vacation friends and having friendly chats with fellow skiers, the Inn has a convivial and welcoming environment for all.
The only downside of staying at the Inn at Lost Creek is the beds are on the smaller side. The bed size is a deal-breaker for some, as many people expect a massive, cozy king bed when they stay at a hotel.
Grand Lodge on Peak 7
The Grand Lodge on Peak 7 is an impressive hotel with lots of activities for its guests. The property has a stunning design, featuring beautiful indoor fountains, a mysterious indoor pool with rock walls, plus a superb outdoor pool that looks like a magical lagoon.
The Grand Lodge is super kid-friendly, featuring an in-house movie theater, game room, mini-golf, kids club, playground, and more. So if you have young kids that won't want to ski for hours and hours on end, there is still plenty to keep them entertained right at the hotel. Despite the kid-friendly environment, the hotel is not hectic or full of screaming children and is quiet most of the time.
For the adults, the Grand Lodge has a luxury spa, restaurants and bars on location, BBQ facilities, and 24-hour concierge service, so you're never on your own. The staff offer five-star service with a smile and aim to make your stay in Breckenridge as perfect as possible.
Beaver Run Resort
Beaver Run Resort is a stellar spot to stay if you want to hit the slopes while also having access to the surrounding area. The Beaver Run Resort in Breckenridge is close to several incredible restaurants and fun places to shop, so you can leave the hotel and find something to do other than ski.
Unlike many other resorts on this list, you can walk off the hotel property and quickly find something to do, so you don't even need to hop in your car to find an adventure! But the resort itself is full of adventures, both relaxing and exciting.
Beaver Run has a plethora of hot tubs, ski lifts, and fireplaces, so you don't need to feel crowded by other guests on your intimate vacation. All of the rooms feature a kitchenette, so you can throw on some soup after a day on the mountain and relax. But if that sounds like too much, they also have room service!
Many ski fanatics love to stay here because the staff is very knowledgeable about skiing and snowboarding, helping you experience the mountain to the fullest. You also can't beat the ski-in/ski-out location as it is literally paces from the hotel doors.
Arrabelle at Vail Square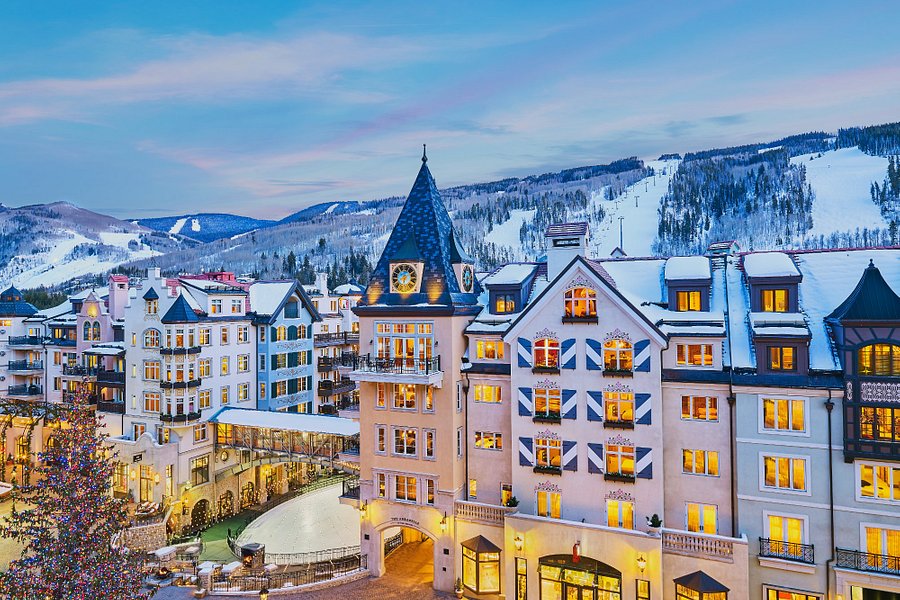 One of the most luxurious resorts on our list, the Arrabelle at Vail Square is a splendid four-star hotel with a beautiful interior and convenient amenities. With rooftop hot tubs and ski valet, it's hard to have a disappointing time at the Arrabelle. 
Dine at their mountainside patio restaurant and soak in the enchanting views of Vail. There is a lap pool in addition to a recreational swimming pool for people just looking to swim around. And despite how up-scale this spot is, your four-legged friends are welcome to join you on your stay.
If you want a laidback and subdued vacation, the Arrabelle is not for you, as it offers an impeccable and phenomenal stay in the heart of Lionshead in Vail. Stay at the Arrabelle for a truly magical Christmas holiday, or take your honeymoon in a winter wonderland. 
Grand Timber Lodge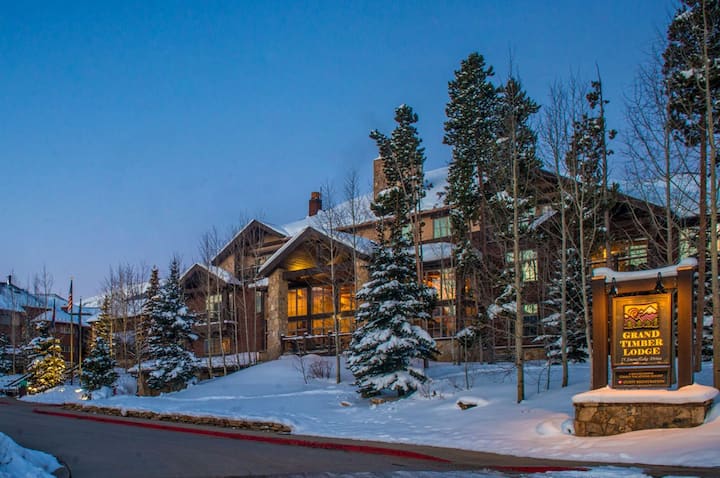 The Grand Timber Lodge is ideal for a casual but exciting vacation on the mountain. There are warm pools, bubbling hot tubs, and even a game room for the kiddos. If you want to stay at a resort that will never give you a reason to venture off the property, this is one of the best options.
The Grand Timber Lodge is a short drive from downtown Breckenridge if you decide to wander around the area. There, you can find yummy restaurants and lively bars to have a fun night out.
They offer a wide range of accommodations, from full suites complete with kitchens and a bar to smaller rooms with only the expected necessities. The resort features a spa, a gym, conference rooms, and yoga classes so you can relax or get ready for a physical day on the mountain.
The Grand Timber Lodge is right between Peak 7 and Peak 8, giving you two mountains to ski on, which most hotels can't offer you. In the end, the Grand Timber is ideal for someone that wants a wonderful ski trip on a moderate budget.
Grand Hyatt Vail
Nestled at the base of Vail mountain, the Grand Hyatt Vail is a massive resort with loads of amenities and friendly staff. This resort is one of the best for families because there are so many activities available, and, of course, the ski culture is fantastic. You'll be around by many other skiers that share your passion and enjoy flying down a mountain.
The Grand Hyatt features an indoor pool, an outdoor pool, and a freshwater pool! So if you have a family member that's more about those summer activities than the winter ones, they can hang at one of the many pools while you enjoy the snow.
There are simply too many amenities and available activities at the Grand Hyatt to list them all, but some highlights include bicycle tours, a game room, yoga classes, a hot tub, offsite bowling, fishing, and so much more.
We highly recommend this location if one or more of your group are not super into skiing. Going to a ski-in ski-out resort is often not fun for people that don't love to ski, but the Grand Hyatt offers enough to keep everyone satisfied.
Gravity Haus
First off, the name of this resort is super cool and intriguing. So you can feel fancy telling your friends you're staying at Gravity Haus, and you won't be lying because this place is a magical experience. When driving up to the resort, you'll be in awe of how beautiful it is and the proximity to the slopes.
This hotel is one of the smaller ones on our list, making it ideal if you want a quiet getaway with few people bustling around. The decor is cozy yet modern, finding a beautiful balance between a rustic and contemporary design. Using earth colors and muted patterns, the hotel creates a vacation atmosphere ideal for a ski trip.
Notably, Gravity Haus does not have a pool like most of these resorts. But it does have a hot tub, many gorgeous fireplaces, a massive gym, and a luxury spa to help you relax after a long day on the slopes. Vail is one of the best places to ski, and it's hard to find something wrong with the delightful aura of Gravity Haus.
The Little Nell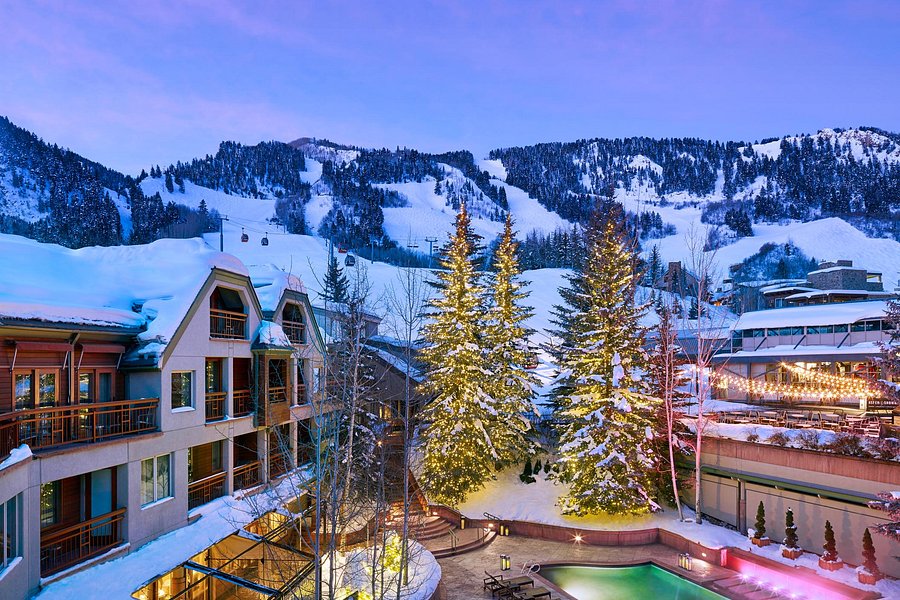 A picturesque hotel with enchanting views and plenty of privacy, the Little Nell in Aspen, Colorado, is the ideal spot for a romantic getaway or honeymoon. The inside and the outside of this hotel are gorgeous, offering incredible views of the mountains and easy access to skiing.
You can relax in the pool or soak in the hot tub while gazing at Aspen Mountain and sipping on a stellar cocktail. The Little Nell places a heavy emphasis on customer service and privacy. The hotel has a very calm environment while still being fun.
The location of Little Nell is right in the middle of Aspen beside the mountain, making skiing and exploring the town super easy. If you want to see the cuisine Aspen has to offer, you can so right at the Little Nell or take a short drive to Aspen center and experience the delicious restaurants in town.
Iron Horse Resort
If you care about skiing more than anything else, this is a charming hotel to stay at. This resort is not a five-star location but offers amenities, comfort, and service.
If you want a super modern skiing resort, the Iron Horse Resort is not for you. The rooms are quaint and endearingly dated, so your ski vacation feels very laidback but super cozy.
The resort itself is not as stunning as some of the hotels and resorts discussed above, nevertheless, it is a fantastic spot to stay for solo skiers, couples, or families. They have many condos you can reserve so you can have a kitchen, sitting room, and even a charming fireplace as opposed to just a room with beds.
Iron Horse is our favorite pick for a casual family vacation with an emphasis on outdoor winter fun in the center of Winter Park, Colorado. The views from the pool are beautiful, and the atmosphere is very kid-friendly and relaxed.
Final Note
There is no shortage of ski-in ski-out resorts in Colorado. As our list exemplifies, there are family-friendly resorts as well as romantic hotels ideal for newlyweds or anniversaries.
When choosing the best spot for your ski trip, consider what interests your group has such as gaming, going out, or enjoying a pool.
At the end of the day, you can't pick wrong when you choose from this list. So enjoy the slopes and stay warm!
More about our TFVG Author
A seasoned traveller, Dad, and avid sports tourist, James foundered The Family Vacation Guide to share his expert vacation experiences- especially when it comes to being a travelling family man.
Featured in Travel articles such as Travel + Leisure, TripSavvy and SFGate, you know you're reading some of the best vacation tips online.