Are you visiting Dallas, Texas with your kids and wondering where to stay for a little luxury?
Dallas offers endless options. Whether you're looking for luxury hotels within walking distance to top attractions in Dallas or those equipped with kid-friendly amenities, there are many hotels to choose from.
We understand that finding the right hotel for your family can be exhausting without adequate information. So we've prepared a guide highlighting the best luxury hotels in Dallas for families to kickstart your journey.
Why not also check out our guides to the best family hotels in Dallas and the best family weekend getaways in Texas?
Ritz-Carlton Hotel
Located near Dallas World Aquarium and Cowboys Stadium, off Highway 35E, the Ritz-Carlton Hotel is the epitome of luxury, class, and sophistication. Upon entry, you'll notice the large lobby with art displays, columns, and chandeliers that add to the hotel's elegance.
Notable onsite amenities include an outdoor gym, pool, spa, luxurious rooms equipped with a flat-screen, a study desk, and complimentary tea and coffee. The spa offers quite the experience. Guests enjoy relaxation therapies like facials, the 8-hand massage, pedicures, and body scrubs.
Besides adult-friendly relaxation facilities, the hotel has programs for kids too. A Ritz Kids program makes this hotel rank among the best luxury hotels in Dallas for families. Kids also enjoy special treatment from the time of arrival and are encouraged to explore the hotel's unique features.
In addition, there are special packages tailored to accommodate families visiting the hotel with kids. They include:
An entry for two adults and children to choose between visiting the Dallas World Aquarium, Nasher Sculpture Center, or the Perot Museum of Nature and Science
Special gifts including an activity guide folder and Very Important Kid check-in
An entry of four to the Dallas Museum of Art using a partners' programs
The rooms are spacious and elegantly decorated to compliment the hotel's sophisticated decor. One-bedroom suites are a favorite choice for many guests, but larger units are also available, accommodating up to 16 people.
Hyatt Regency Dallas
Dallas is one of the cities with the most beautiful skylines in the country, and finding a hotel that offers the best views of this iconic feature is a bonus. Hyatt Regency Dallas is one such hotel, thanks to its strategic location.
The hotel is next to Reunion Tower and is within walking distance of many tourist attractions, including the Historic West End. Before sunset, visit the landmarks to get the best city views.
Hyatt Regency Dallas doesn't have a dedicated kids' program, but the environment is exceptionally kid-friendly. Its proximity to other attractions like the Dallas Museum of Art means your kids have plenty of places to explore during your stay.
Also, less than a mile away are tours to the John F. Kennedy Memorial Plaza and the Sixth Floor Museum at Dealey Plaza.
The hotel's rooms are quite spacious and equipped with all the amenities you would use at home. Each room has an iPod docking station, a work desk, flat-screen TV, a safety deposit box, and a private bathroom. There's also a fitness center open 24/7, so you don't have to lag on your workout routine.
Hyatt Regency offers a great dining experience, but if you want to dine while enjoying the stunning city views, head to the Five Sixty by Wolfgang Puck restaurant. It sits atop Reunion Tower and has a revolving dining room that creates a 360-degree view of Dallas City.
Four Seasons Resort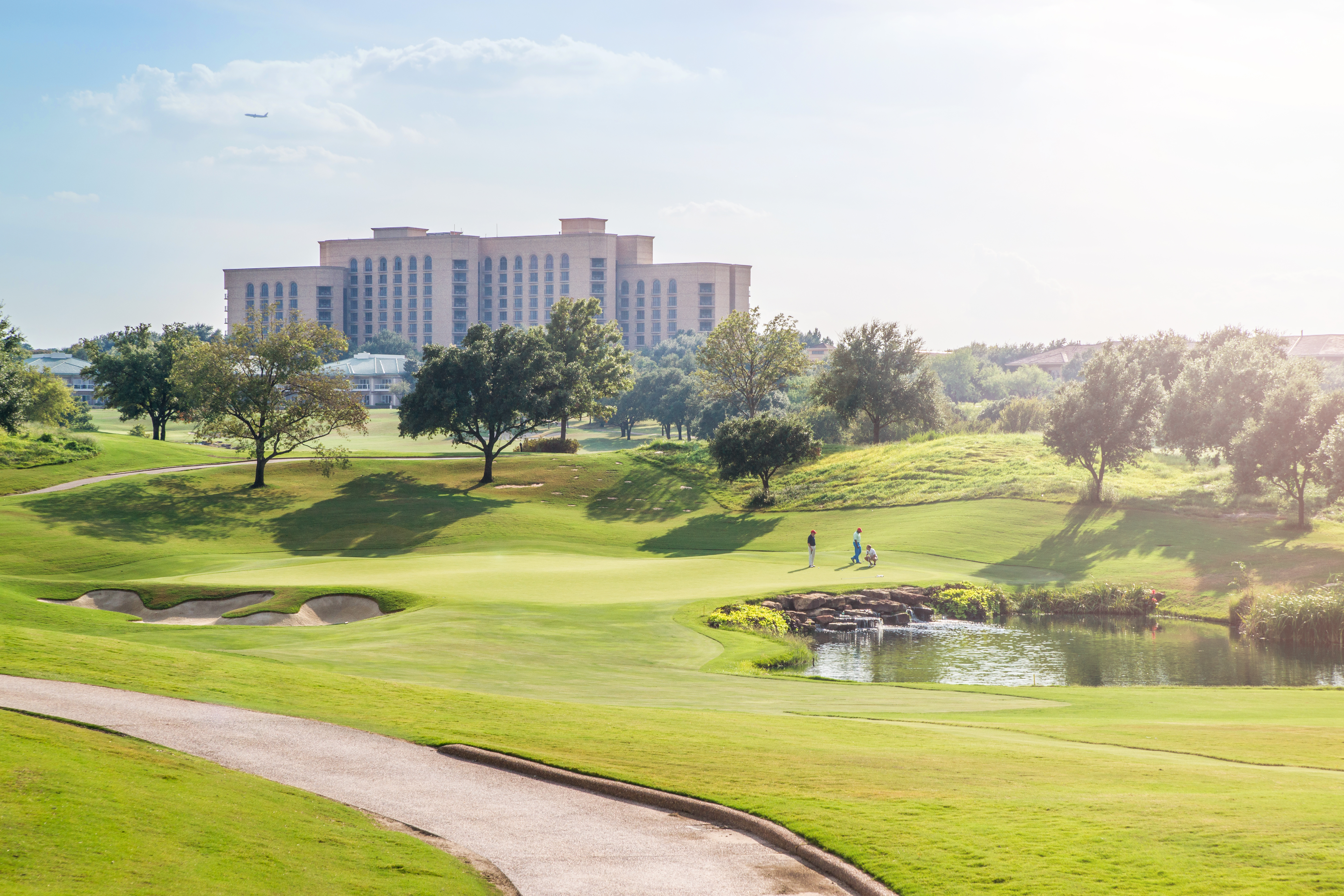 Although the resort is relatively new, it has managed to carve out a name in the city's high-end resort market. From its posh amenities to the Mediterranean villa-inspired buildings to the vast range of activities for kids and adults, Four Seasons Resort is an excellent place to stay for families visiting Dallas.
The resort is located between Fort Worth and Dallas, 13 miles away from downtown Dallas. It sits on a vast 400-acre land and is equipped with facilities to keep parents and kids entertained.
The highlight of this luxury hotel is the kids' club called Kids for All Seasons. It has a complimentary program for kids aged 5-13 years. They participate in various activities, including scavenger hunts, sports, crafts, and watching movies.
The hotel also holds a Kids' Night every Friday and Saturday during summer for kids aged 3-13 years to enjoy themed activities, dinner, and games. If visiting a little later in the weekend, your kids have an opportunity to indulge in the kid's Sunday buffet at the restaurant.
Parents aren't left out either; there's plenty for them to do. You can play golf on the hotel's 18-hole golf course or relax in one of the three outdoor swimming pools. And if you're a fitness enthusiast, check out the well-equipped fitness center with personal trainers.
Your vacation isn't complete without getting pampered at the resort's full-service spa and dining at LAW Restaurant. Another worthy mention is the one-bedroom suites with separate seating areas, parlors, and work desks. They are a popular choice for couples, but the larger units complete with secure entrances and staff quarters are a better pick if visiting with kids.
Omni Dallas Hotel at Park West

This is another favorite hotel for families visiting Dallas primarily due to its convenient location and kid-centered activities. A sky bridge connects Omni Hotel to the Dallas Convention Center, and it's within walking distance of the Historic West End District. This District hosts the Sixth Floor Museum at Dealey Plaza and the famous Dallas World Aquarium.
On to the kid-friendly activities, and we must say your kids will have a blast here. Upon arrival, they receive backpacks filled with card games, crayons, sticker books, and binoculars. What's more, kids get red-carpet treatment with cookies and milk on the first night.
The hotel's stunning features also draw many people here. The hotel has a light show every night showcasing the LED lights stretching across its facade. You'll also love the dramatic skyline that forms from the infinity pool on the roof.
On-site amenities are high-end, evident from the posh coffee and gift shops, heated swimming pool, fitness center, and round-the-city shuttle service. Standard rooms are equipped with spacious bathrooms and seating areas, pillow-top mattresses, working areas, and HDTVs.
If your family needs more space, choose the deluxe suites with king or two queen beds or the 1400-square-feet luxury King Suite. It has a dining area, two furnished walkout balconies, and a main bedroom with an ensuite bathroom.
Fairmont Dallas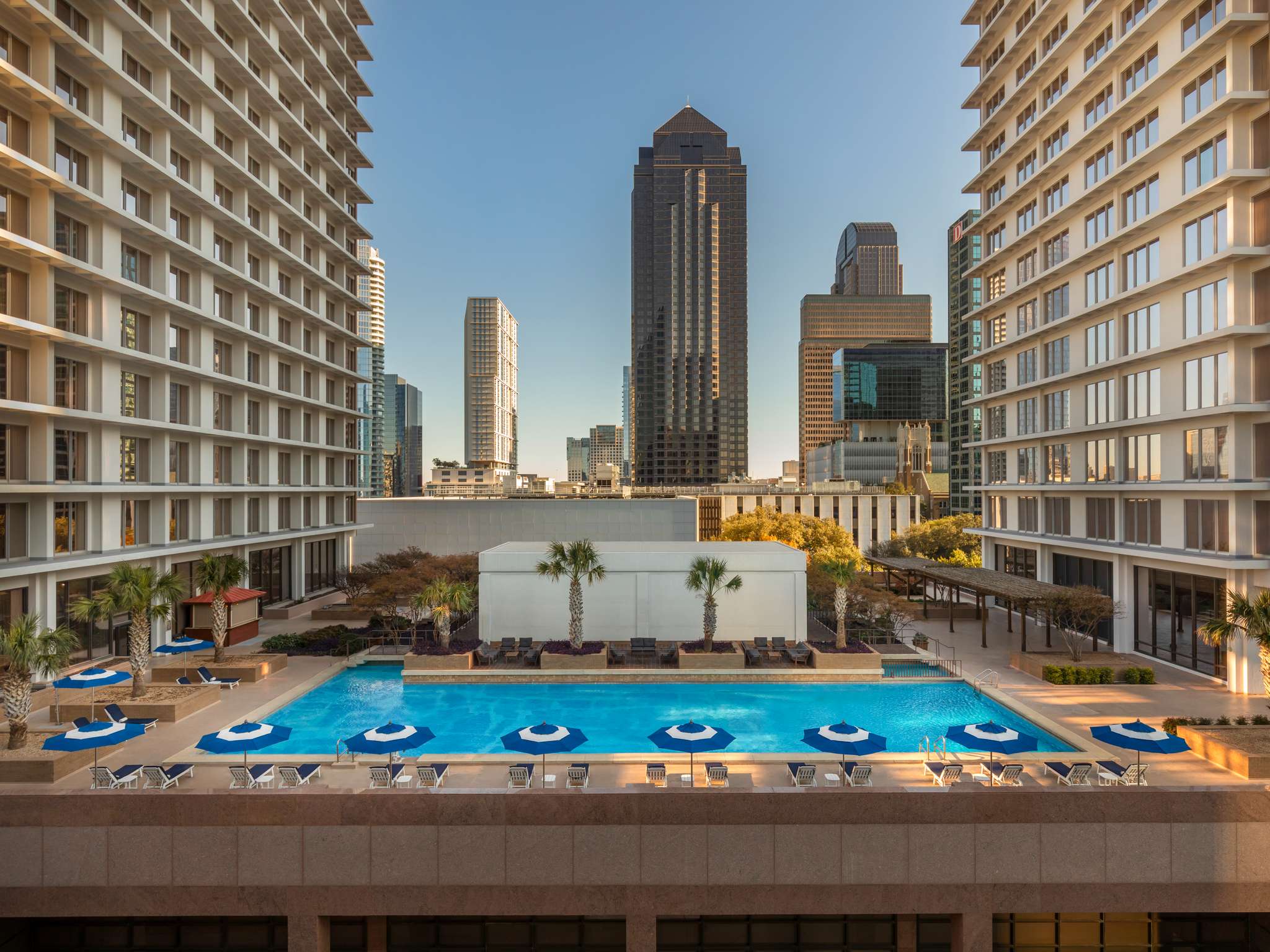 Located a few miles away from Dallas Arts District, the Fairmont Dallas hotel is another excellent option for families. Its proximity to the Art District provides your family with exciting dining, shopping, and entertainment experience.
The highlight of this luxury hotel is the on-site Starbucks eatery. You can always pop in here for one if you can't do without morning coffee. The dining experience is exquisite as guests can choose between eating at Fairmont restaurant and the rooftop terrace. The latter is a favorite option because you enjoy the stunning city views.
The rooms and suites are well-furnished and decorated, offering superb city views. You can choose from 545 rooms and suites or upgrade to the large deluxe rooms. If you still need to work while on vacation, you can always set up your equipment on the marble desks and sit on the comfy Herma Miller chairs.
Fairmont Dallas doesn't have a dedicated kid's program. However, with attractions like the Conspiracy Museum and Victory Park nearby, you don't have to worry about keeping them occupied.
Hilton Anatole
The hotel offers a balanced mix of kid-friendly and adult-friendly activities. Spread out over a 45-acre piece of land north of downtown Dallas, Hilton Anatole hotel is jam-packed with facilities. The 15-million dollar resort pool equipped with 180-foot water slides, a 630-foot lazy river, and splash zones is the most notable.
The hotel also offers dive-in movies and lawn games during summer and special holidays. They also enjoy cookie turn-downs and coloring books upon request. You don't want to pass up the Geppetto's Marionette Theater in the basement. Kids enjoy listening to classic children's stories and watching puppet performances while enjoying delectable treats from the concession stand.
Another worthy mention is the nine dining options for guests. Parents have an easy time choosing kid-friendly options because the hotel has a kid's menu, and with high chairs available upon request, you can easily feed toddlers. Families are entitled to hotel packages.
If you're worried about picking up extra calories, you shouldn't. The hotel is equipped with an award-winning fitness facility called Verandah Club, basketball, squash, and racquetball courts to help you burn them.
The Highlands Hotel Dallas, Curio Collection by Hilton
Not all luxury hotels allow guests to bring pets, but Hilton's Highlands Hotel, Curio Collection is an exception. Guests can carry two pets with a weight of up to 80lbs. Your kids won't be grumpy during the vacation because they couldn't carry their furry friend.
Another feature that makes this luxury hotel stand out is its convenient location. The Highlands Hotel, Curio Collection by Hilton, is located near the plush Highland Park and its neighborhoods. This means visitors can easily access the area's dining places, shopping malls, and entertainment facilities. What's more, the hotel is a short walk from a football stadium and within a ten-minute drive to various attractions.
The hotel's recent renovations were re-imagined to feature upscale rooms equipped with high-end amenities. The rooms have marble floors at the entrance, comfortable king beds, spacious bathrooms with bathrobes, and a seating area with a work desk.
Unfortunately, Highlands Hotel, Curio Collection by Hilton doesn't have much in the way of kid-friendly programs. However, it's close enough (a 10-minute drive) to The Children's Aquarium and other attractions.
Hotel ZaZa Dallas Uptown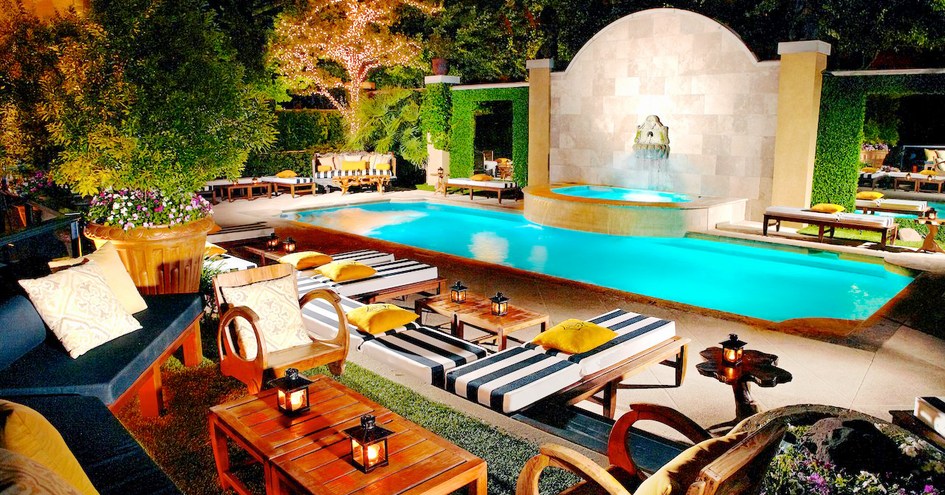 This hotel is another excellent pick for families and couples on a romantic getaway. Its distinct decor, characterized by contemporary art, makes Hotel ZaZa Dallas Uptown stand out. Each guest room has different decor and name, the most notable being "Shag-a-delic" which is reminiscent of the retro-style carpet used in the room.
You'll also notice a 60s-inspired theme in one of the rooms with features like a king bed, beanbags, and lava lamps. If you love French-inspired decor, there's a room for you too. It has comfortable king-sized beds, velvet-clad furniture, and larger gilded mirrors.
Try the gold-dipped suite showcasing Venice-themed decor and the vibrant rock too, designed to the highest standards.
Guests can choose between spacious one-bedroom suites and larger units equipped with private terraces and kitchens. The hotel's public spaces are just as interesting as the indoors. There's some great local artwork outdoors, a heated outdoor swimming pool, a full-service spa, and lots of quiet space to relax.
If looking for a more intimate experience with your spouse, check out the hotel's poolside. There's plenty of entertainment every night, accompanied by cocktails. You may also head to the Art House and Social Gallery for more private dining.
Hotel ZaZa Dallas Uptown is just a stone's throw from the Nasher Sculpture Center and Dallas Museum of Art, so you don't have to worry about keeping kids busy during the day.
Westin Galleria Hotel, Dallas
Westin Galleria Hotel, Dallas, is an excellent pick for families looking for a luxurious hotel but working on a budget. It has all the pleasantries you would find in a high-end luxury hotel, aside from its affordable rates.
The hotel's highlight is the large heated pool equipped with lounge chairs and a flagstone deck for sunbathing. It also has a 24-hour fitness facility, a private dining area, and several restaurants.
Another worthy mention is the pleasantry decorated units offering stunning city views. Cumulatively, the Westin Galleria Hotel has 448 guest rooms, 12 of which are suites. Each unit features excellent artwork, custom furniture, comfy beds, work desks, and large bathrooms.
There are Club Room level units available for an extra fee. The units here are way classier as they have an exclusive lounge area with complimentary snacks and breakfast.
The hotel doesn't have much to entertain kids, but its proximity to kid-friendly amenities may come in handy. It's located near the Galleria shopping complex, which has an ice-skating rink, an American Girl Store, and a rainforest-themed play area. All such facilities should keep the kids thoroughly entertained during your stay at the hotel.
Rosewood Mansion on Turtle Creek
Although the Rosewood Mansion on Turtle Creek hotel is a little dated, it still measures up to other five-star hotels in Dallas. It's located in the city's downtown area and was recently renovated to provide the luxurious stay every guest wants.
The hotel has king or double queen suites furnished with spacious bathrooms, a private balcony, a comfortable seating area, and a work desk. It has a modern Mansion Restaurant that serves American cuisines and world-class delicacies.
You may opt for in-room service for a more intimate dining experience. However, if you want to unwind after a long day, order your favorite cocktail at the Mansion Bar.
Final Thoughts
Dallas is a true gem worth exploring, and having a reliable luxury hotel for your family to rest after a long day is critical. We hope this guide gives you a glimpse of what to expect when looking for the best luxury hotels in Dallas for families.
Be sure to look out for hotels with dedicated kids' programs and, if not, proximity to popular attractions in Dallas. Ritz-Carlton Hotel was our first pick due to the dedicated kid's program. However, if the hotel doesn't have one, check out nearby attractions. Hotel ZaZa Dallas Uptown, for example, is near Dallas Museum of Art, while Fairmont Dallas is close to Dallas Arts District.
More about our TFVG Author
A seasoned traveller, Dad, and avid sports tourist, James foundered The Family Vacation Guide to share his expert vacation experiences- especially when it comes to being a travelling family man.
Featured in Travel articles such as Travel + Leisure, TripSavvy and SFGate, you know you're reading some of the best vacation tips online.