Family getaways are the best for reducing stress, but more importantly, they are an excellent opportunity to create fond memories with your loved ones.
With an abundance of fun and exciting attractions, Texas has indeed become a second home for families. Home to a variety of affordable attractions, Texas lacks nothing in the areas of shopping, history, nature, and even science.
Below are the top family getaway locations in Texas that are sure to make your trip an unforgettable one!
Houston, Texas Area
Houston is a bustling city that's ideal for weekend travel with the family. A range of museums offer educational and recreational pursuits, and outdoor activities and seasonal festivals are another highlight in the area. You'll also find outdoor adventures fit for every family.
Accommodations are easy to find (take a look at our guide to the best family hotels in Houston), but you may want to plan your home base somewhere close to your top attractions. After all, Houston is a big city, and you don't want to waste time getting from point A to B when you could be joining in the fun instead.
Learn the history behind American Space Travel while viewing original full-sized rockets brought back from NASA's missions.
Don't forget to visit the astronaut suit gallery and schedule a tram tour of the outside to step foot inside shuttle replicas. Even the smallest of space enthusiasts will enjoy this destination, and the whole family will get a dose of inspiration.
The Houston Museum of Natural Science has an impressive exhibition on site. Kids can learn about dinosaur fossil skeletons or visit the planetarium and Butterfly Center.
Equipped with an IMAX theater, families can experience a film on a wide-spanned screen with the highest resolution and audio.
The Museum of Fine Arts is a cultural destination. With over 70,000 artifacts representing cultures from all over the world, this museum is truly a melting pot.
Tours of the Calder Picasso paintings and the Obama portraits are some of the most popular exhibitions attracting tourists. Forget about the stuffy atmosphere of most art museums. Houston's offers families memorable experiences and workshops so kids can dive into the art.
This museum has a ton of interactive play exhibits for children from ages two and above. From challenge courses to power science labs for kids, this museum even has a parent resource library to foster and encourage literacy in children.
If you have little ones who get antsy on car rides, the Children's Museum might be the perfect place to decompress when you arrive.
The Texas Renaissance Festival is where you'll find folks dressed up as Kings and Queens as they did in the 16th century. Families can join the fun and enjoy eating giant turkey legs and drinking beer out of steins as they did back in those days. Kids can join mock sword fights and enjoy face paintings by talented artists.
The Galleria is the largest shopping center in the state of Texas. It has an aesthetic of luxury and well over 400 stores and restaurants. Dolce & Gabbana, Hugo Boss, and Chanel are just some of the few high-end stores you can visit.
Sure, you can shop from home online, but seeing the Galleria in person is something of an adventure for everyone.
Gaido's (Galveston, TX)
Bringing you the freshest seafood from the Gulf Coast, Gaido's commits to bringing elegance when serving you food. Their menu is expansive to include red meat dishes, but their prized winning Atlantic Salmon and Oysters are some of the best dishes on site.
Though this may cater more to parents and older kids, it's one of the best choices for an indulgent meal if your family loves seafood.
Moody Gardens is the ultimate educational and entertaining pitstop for families. Visit their 1.5-million-gallon aquarium and see their tuxedo penguins taking a dive or their rainforest pyramid to learn about endangered species. Catch the latest film by immersing yourself in their state-of-the-art 3D & 4D theaters.
LaCenterra at Cinco Ranch is the ultimate shop and dine destination. This shopping center has everything you need, a blend of uptown style and old town charm, including hosted events like the Farmers Market and fitness classes for the public.
Blue Bell is an ice cream staple in the creamery industry. Families can sample from various flavors and see firsthand how the product is made and packaged on a commercial level. The younger set will especially love this attraction, but who doesn't love ice cream?
Fort Worth Area
It may neighbor an even larger metropolis (Dallas), but Fort Worth has a lot to offer on its own. You'll find a variety of outdoor adventures (cowboys are always a hit with kids) and smaller local haunts to explore.
Fort Worth might be ideal if you're looking for a bit slower pace than the other cities nearby. Many more prominent attractions require more travel. Yet there's plenty to enjoy off the beaten path, too.
This mom-and-pop café gives comfort food a whole new meaning. Even your kids will love it. Mary's Café is known for its mammoth-sized chicken fried steaks as their meat is tender, crispy, and battered to perfection.
Fortworth Stockyards takes you back in a time machine where the wild west and western heritage is thriving. Your kids will enjoy the cattle walk guided by cowboys as they tread on the original brick walkways and back to their corrals.
Shop from over 200 booths and showcases filled with hidden gems and authentic antique artifacts. If you're tired from all the shopping, grab a quick bite inside their Tin Tulip Tea Room, where they serve fresh food and delicious desserts.
This wildlife center brings Africa's excursions to you. Adventure and excitement are what you'll get on a 7.2-mile guided tour of breathtaking scenery. Witness and interact with exotic and endangered species while learning about the center's conservation efforts.
Austin, Texas Area
Austin, Texas, is about music, food, and outdoor activities. There's a ton to see, even if you only visit local parks, but Austin is also home to Texas' capitol building. This area might be the perfect place to adventure on your weekend getaway if you have older kids.
Seasonally speaking, you'll want to plan accordingly, depending on the weather. However, walking tours of the area could be a perfect place to start your adventure if you can get outside.
Why not check out our guides to the best family hotels in Austin to help you find accommodation or the best family things to do in Austin for inspiration on how to keep the kids entertained?
Serving a classic BBQ joint on their world-famous BBQ pit, this establishment has a kids ranch on-site with a playground. You can enjoy the scenery picnic-style while sinking your teeth into perfectly seasoned tender ribs.
Come see the beautiful Texas State Capitol building and take in all the Texas-sized designer details. You can catch a quick and informative guided tour of the grounds and even take a stroll outside and enjoy the lovely landscaping features.
The Lyndon Baines Johnson Museum and Library is one of the 14th presidential libraries that exists today. Dedicated to archiving over 45 million pages and other audiovisual collections, this is the place to go for an eye-opening historical experience (even if it's not on your kids' course of study this school year).
Who said you couldn't see sea life in the middle of Texas? The Austin Aquarium has everything from marine life exhibits to reptiles, mammals, and birds. Your family can get up close and personal with everything from kinkajous to jellyfish to lemurs.
Waco, Texas
Waco is worth a visit whether you're in Austin or Dallas; it's centered between the two. Or, you could also hunker down in Waco for the entirety of your weekend getaway. Though it's relatively smaller than other top getaways in Texas, there's plenty to see and do.
Plus, you can take a day to travel a bit farther if desired or stop by the more prominent attractions on the way there or the way home.
Bring the kids on exciting horseback riding adventures. Guided by real cowboys on the trails, you can enjoy the spectacular farmland and Brazos River scenery.
Built across the Brazos River in 1870, the Waco Suspension Bridge is the oldest bridge in Texas still standing strong. What was once used as a road for vehicles is now utilized by pedestrians as a tourist attraction.
Come learn about the history and discovery of the Waco Mammoth. You can experience what an archaeological digging site looks like and see all the other fossil and bone discoveries on display. Kids who like dinosaurs may learn to love mammoths, too.
A museum dedicated to the soft drink Dr. Pepper, this museum gives families hands-on interactive fun. Kids can make their own soda in the Liquid Lab and even pretend to be sensory scientists by sampling different kinds of soda flavors.
For Dr. Pepper superfans, you can be a part of the Extreme Pepper Experience, where you'll get a private tour of the historic museum buildings and have access to the best photo ops as you come across historical collections.
Jacob's Well is a world marvel and a popular tourist site worth taking the family to see. The underwater cave system is so intricate and dangerous that only professional divers are allowed access. Surrounded by limestone cliffs, this spring is open for swimming from May thru September.
El Paso, Texas Area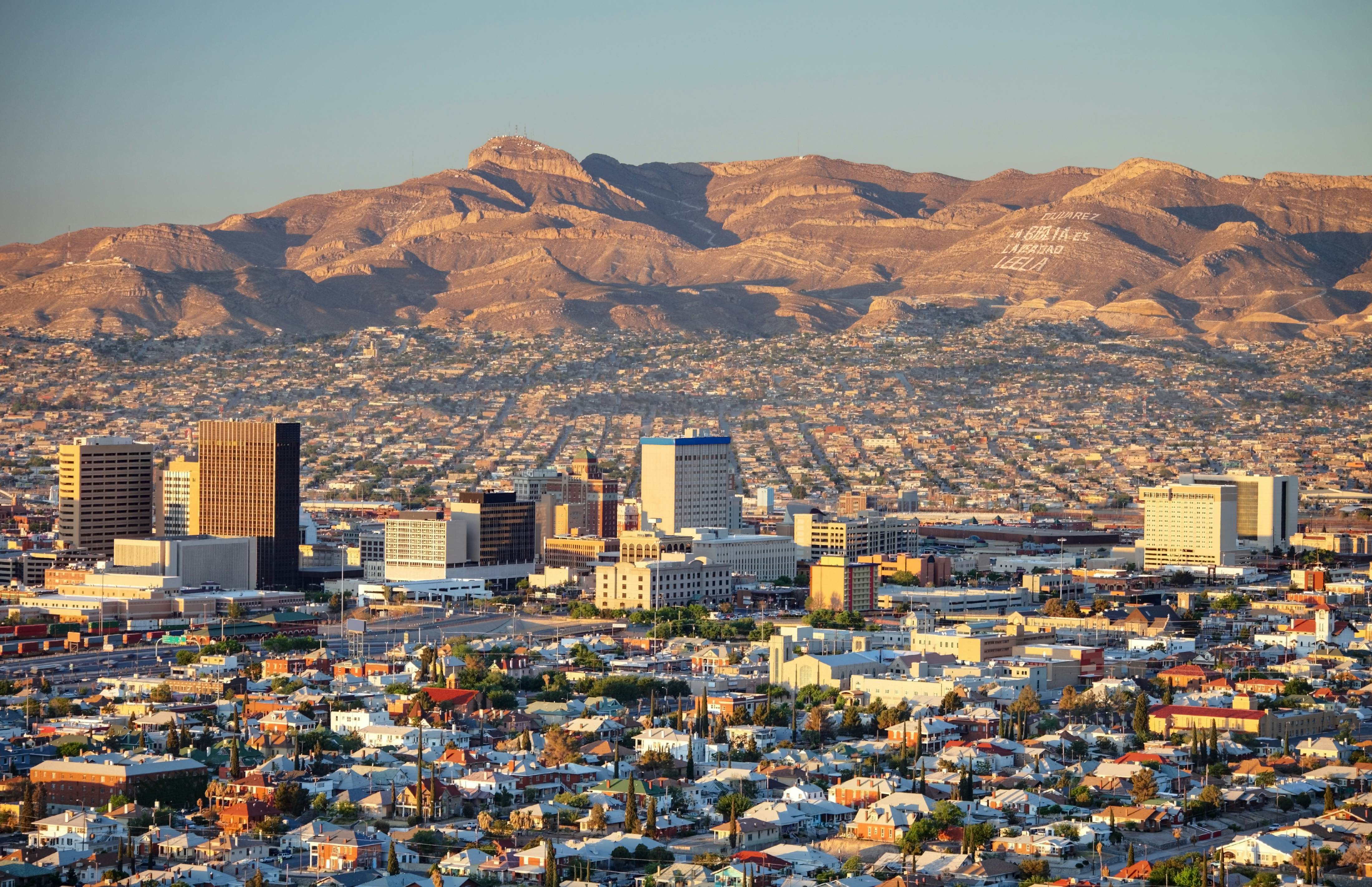 El Paso, Texas, is another culturally rich destination with outdoor adventures and historic destinations to visit. Families that enjoy getting outside will love exploring the state parks and trails.
El Paso definitely has a college-town vibe, which also caters to the younger set in many ways. You'll also find artist and farmer's markets, scenic drives, and sporting events here.
Hueco Tanks is a Desert Sanctuary where you'll find some of the best outdoor cliffs for rock climbing. Depending on your comfort level and expertise, you can opt for a self-guided climb or a guided climb.
El Paso Mission Trail is home to three historic churches known as San Elizario Presidio Chapel, Ysleta Mission, and Socorro Mission.
The walking tours can be self-guided and range from two to six miles. Bring your camera as the inside of these churches has been restored to reflect their original beauty.
What's the great outdoors without a few animal sightings? At the El Paso Zoo, families can see animals from all over the world. Watch sea lion shows, hear expert facts on orangutans, and even feed giraffes.
Looking for other zoos for the family to enjoy in Texas? Our list of the best zoos and aquariums in Texas should be helpful in planning your next trip.
San Antonio, Texas Area
The San Antonio area has a little bit of everything, from historical sights to natural wonders and even Wurstfest, a local yet internationally-inspired tradition.
You can do everything in San Antonio, from strolling along the promenade (shopping for those so inclined) to wandering through underground caverns.
Check out our guide to the best family hotels in San Antonio for ideas on where to stay.
The Alamo is the location of the 1836 Battle of the Alamo. It is a Texas symbol for battling both resistance and tyranny.
Visitors can enjoy a guided tour of the battlefield and even participate in a historical demonstration narrated by an Alamo interpreter. The Alamo is an especially attractive spot to visit for families with kids learning about Texas history.
A popular tourist attraction, the Historic Market Square is a celebration of culture. The atmosphere is vibrant with live music and delicious ethnic food. With over 100 local vendors to choose from, artisans set up shop outside the plaza and create paintings, leather goods, jewelry, and pottery.
Natural Bridge Caverns is the largest underground attraction in Texas. You can see the large rocks, minerals, and gems that have naturally formed over the years. If you're looking for something more thrilling, this site offers ziplining and other obstacle courses that will put you to the challenge.
The San Antonio Riverwalk is by far the #1 attraction in Texas as it's jam-packed with cultural, shopping, and dining experiences. Grab some drinks, take a stroll down the Riverwalk, enjoy the beautiful lights during the holidays, or take a scenic boat ride down the river.
Wurstfest (New Braunfels, TX)
Wurstfest is a cultural experience you won't want to miss. Celebrating the German culture, here you'll find German, Texan, and Domestic beer of all sorts. Bring the kids and enjoy watching the yodelers perform and dance to Polka music. Don't forget to sample the authentic fare, too.
Many Texan families spend the summer at Garner State Park swimming on the Frio River while others go canoeing and miniature golfing. With over 1,000 acres of Country-like hill scenery, Garner State Park makes for a perfect relaxing weekend. Or, turn up the adrenaline a bit, whatever you prefer.
Dedicated to making the finest wines, the Blue Lotus Winery has a wine tasting room shaped like a wine barrel with an unforgettable view of hilltops.
Parents can enjoy wine tasting with other adults while the children get lost in the entertainment of oversized Jenga and a wide selection of board games.
Dallas, Texas
Every destination in Texas is unique, but Dallas is a highlight for families who like a faster pace during their weekends away.
Art, culture, and nature appreciation are plenty here, but Dallas (and its surrounding area) is also home to attractions like an indoor waterpark and video game museum. You can't go wrong with Dallas, no matter what your family is interested in.
Check out our guide on the best family hotels in Dallas for ideas on where to stay.
The Dallas Museum of Art is home to one of the most significant art districts in downtown Dallas. Built in 1903, this museum is a venue for distinct art collections from Contemporary art to Classical art. This museum also offers families classes and workshops to bring out your creative and artistic side.
With over 11 exhibits for kids of all ages, the Perot Museum of Nature and Science fosters an environment of learning and growth. Here you'll learn everything there is to know about endangered species and those that disappeared into extinction.
The Sixth Floor Museum is the most famous museum in Texas as it commemorates John F. Kennedy's legacy in life and death. The historical displays are interactive, making it a fun learning experience.
Don't miss out on the collection of artifacts from letters to wedding rings and even learning about the events that led up to the assassination of John F. Kennedy and its aftermath.
Enjoy and learn all there is to know about horticulture. Soak up the yearlong beautiful floral exhibits. In the summer, you can catch an indoor concert, while in the fall, the garden transforms into a pumpkin village showcasing over 90,000 types of pumpkins.
Bring the kids down to the Annual State Fair full of carnival rides ranging from the Carousel to the giant Ferris Wheel. The State Fair has craft demonstrations on-site like cake decorating and stain-glass making.
Families can enjoy the old country traditions like hog-calling and square dancing while listening to some of the most prominent artists performing.
If you're a fish enthusiast, don't pass up on Lake Whitney, as this lake is known for its top-grade bass and catfish. You can enroll your kids in their annual youth fishing tournament for some competitive fun and a chance to improve their fishing skills.
Pack your bathing suits and get ready to set foot on what's referred to as 'A Cruise Ship on Land.' This indoor water park is fitted with 11 waterslides, a wave pool, and a lazy river. Are you visiting in the winter? No problem, this park is open all year round! It's the ideal destination if your family is craving beach frolicking in the off-season.
Come visit America's only video game museum and learn about the gaming industry's history. This museum will have you taking a trip down memory lane as it is equipped with 80's-themed arcades and over 100,000 video games and consoles from the past and present. The kids might be horrified at the games of yesteryear, but the nostalgia is a nice touch for parents.
First Monday's is the world's largest vendor and flea market spread over 450 acres. Hosting over 5,000 vendors, antiques, vintage clothing, and home furnishings are some of the extraordinary purchases you can take home with you. If you want to get out of the big city for a bit, this day's drive destination fits the bill.
Final Thoughts
The state of Texas is so big that it's hard to imagine what kinds of adventures lie in wait. These family getaways are a small sampling of what you can find throughout Texas, whether your interests are a slow, relaxing vacation or a fast-paced taste of Texas life.
You'll find the perfect places to spend quality time with your family in Texas, creating memories that will last well into their adult years. Plus, with so many things to see throughout Texas, you'll want to start planning your next weekend trip before this one even ends.
Hoping to have some sandy beach fun with the kids during your stay in Texas? Our list of the best beaches in Texas for families should come in useful.
Other places to consider for your family weekend getaway
If you're considering other destinations for your weekend away with the kids, take inspiration from our other handy guides below!
More about our TFVG Author
A seasoned traveller, Dad, and avid sports tourist, James foundered The Family Vacation Guide to share his expert vacation experiences- especially when it comes to being a travelling family man.
Featured in Travel articles such as Travel + Leisure, TripSavvy and SFGate, you know you're reading some of the best vacation tips online.