If you're planning a vacation, you might have your eye on a couple of destinations. For many who want to experience a taste of an island vacation, the choice comes down to Aruba vs. Hawaii. But which is better for families with kids?
The last thing any parent wants is to get someplace and have to deal with grumpy kids who suffer from a lack of options at a place that doesn't accommodate their needs. It's fair to say that most parents traveling with their kids are looking for a hybrid experience, where the adults and their children have plenty of options for entertainment, adventure, and fun.
Let's look at the factors parents should consider before booking their trip with their kids.
Then you'll know the winner of Aruba vs. Hawaii and which is better for families with kids. 
Why not also check out our guides to: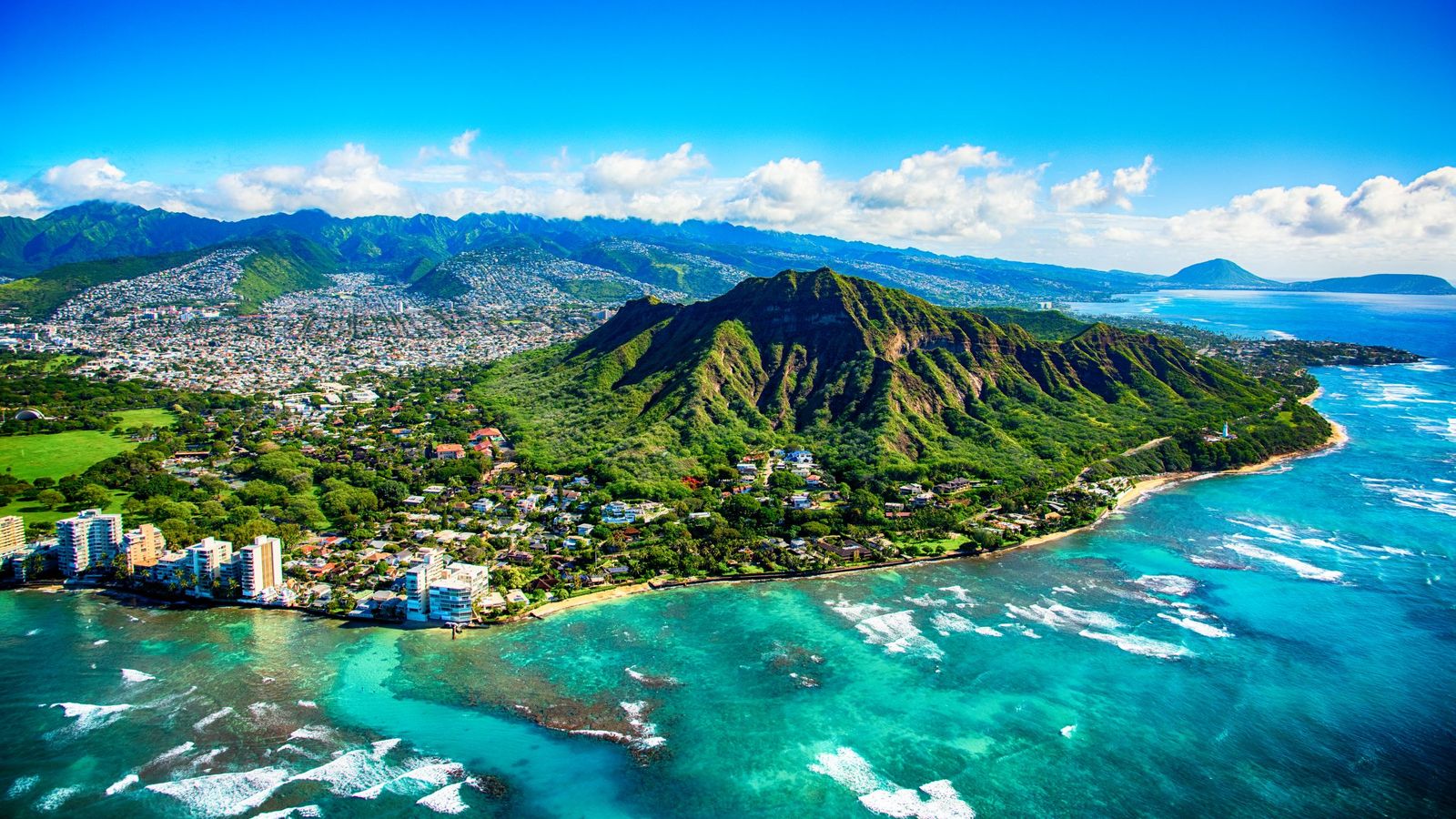 The Weather
Aruba is in the Caribbean Sea, and the island is known for beautiful sandy beaches and consistently tropical weather. The average temperature is in the low eighties, so you can pretty much expect ideal beach weather at any time of the year. 
You have to be aware of possible disruptions from July to November each year during hurricane season. But there are only an average of six hurricanes that affect the region in a given year, so your odds of experiencing one that directly impacts your trip are relatively low. However, they can add uncertainty when you're watching a weather map in anticipation of a long-awaited trip.
If you're traveling to Hawaii in the vast Pacific Ocean, you should realize that the weather there is semi-tropical. There is a rainy season, and the temperatures are not always comfortable for beach and pool lounging. However, even in the colder part of the year, it's often still in the mid-seventies and reasonably warm. 
So while warm weather isn't the only factor in a family's decision about where to travel, anyone who loves tropical heat for their vacation should probably look toward Aruba. Hawaii's weather is more of a toss-up.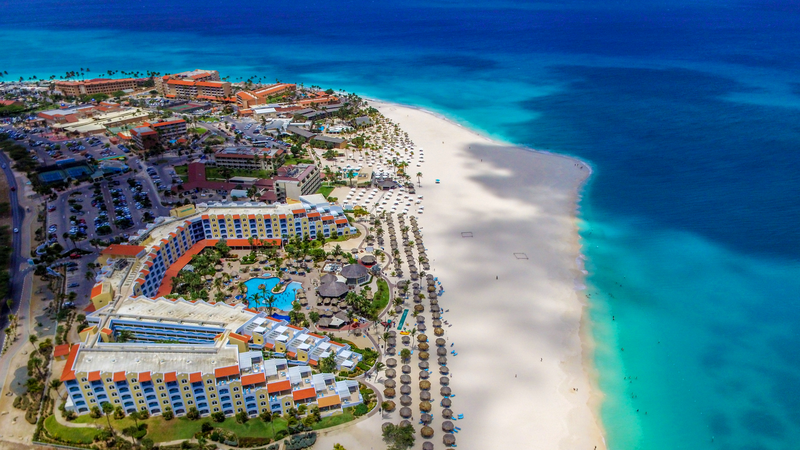 Travel Preparation
A trip to Aruba isn't necessarily much farther than one to other islands in the Caribbean. But for US travelers, a visit to Aruba requires a passport. That can add to the chaos that typically builds as you prepare for a vacation with your kids. 
If you already have a passport for all the children and adults in your family, it's not as big of a concern. But, if you don't have all the documents you need or are on a tight timeline, obtaining a passport might become another speed bump you have to negotiate. It is also another expense. Passport fees for a big family can add up quickly to high costs, and if you need to expedite delivery, it will be even more expensive. 
Hawaii doesn't require a passport for US citizens, so you don't have to worry about that complicating factor. 
However, Hawaii has strict travel rules due to the COVID-19 pandemic. The Hawaii Department of Health says that people traveling to and from Hawaii need to be aware that they will be subjected to a quarantine period of 10 days when they arrive. Travelers should also monitor their health for COVID-19 signs and symptoms unless they've already gone through the Safe Travels Pre-Testing Program.
These factors aren't necessarily barriers to traveling to either Aruba or Hawaii. But, they are an added complication that can add to the stress of preparation. And, since both destinations have a few hoops to jump through, neither Aruba nor Hawaii get a leg up on the other when it comes to traveling with kids. 
The Cost
For any family, the cost of a trip has to be a significant factor in deciding where to go on vacation. Neither Aruba nor Hawaii are exactly cheap. Whether you travel by cruise ship or airline, there's no getting around the expense of traveling to the island. And when you need to account for travel documents, like passports, it gets even more expensive.
Then you'll need a place to stay and probably a means of transportation while you're on the island. Since Hawaii features much more diverse landscapes and multiple islands, it's easy to take a bigger hit to your wallet on rental cars and other expenses related to getting around. 
There are also ways to cut costs at both destinations. For instance, if you travel to Hawaii during their off-peak months from September to November, you can find discounted air travel and lodging rates. Hawaii's best resorts and hotels can cost as much as $1,000 per night, so you might want to look for more modest hotel accommodations or even an Airbnb rental to cut costs.
You can also do the same cost-cutting on Aruba. The best resorts can cost $600 per night, but there are alternatives in the range of only a couple of hundred dollars. Airbnb is also an option, as well as hotels that are outside of the resorts where costs are much lower.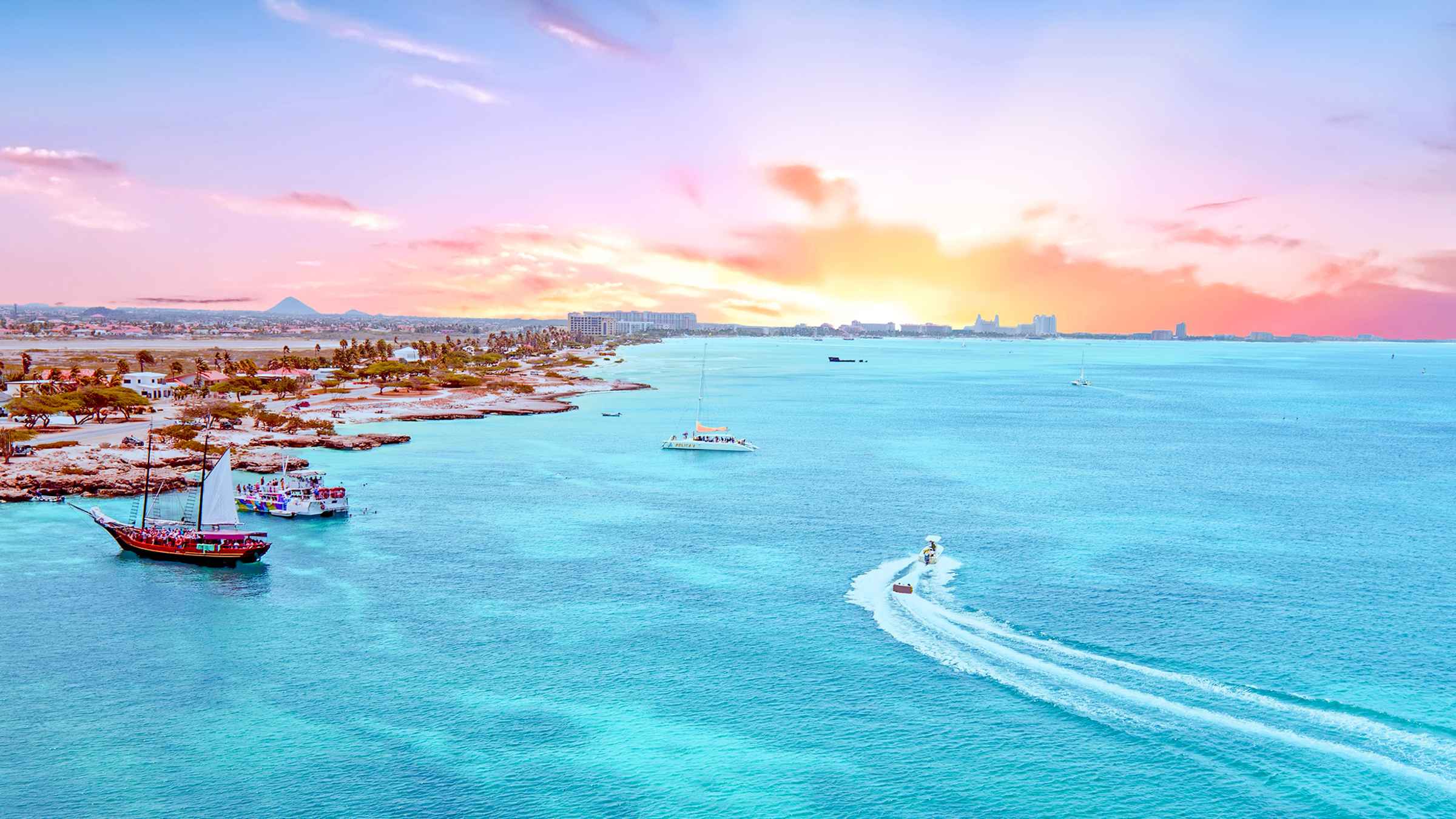 One of the most significant issues families must contend with is the cost of eating out for every meal. Whether you're staying at an all-inclusive resort or going to different restaurants around the island for your meals, you're going to end up paying quite a bit for meals.
So, it might make sense for any family with kids to find a place to stay that has its own kitchen. Whether it's a short-term condo rental, an Airbnb, or a hotel with a kitchenette, being able to make your own meals is a big cost-saver. A quick trip to a local supermarket, and you can stock up on provisions.
Sure, you'll have to do a bit more work to prepare a few meals, but you can save significantly. And you can also opt to go out for any meals you want, so you can still feel like you're on vacation. And with even a small kitchenette, you don't have to worry about dragging the kids (or yourself) out of bed, so you don't miss the complimentary continental breakfast at your hotel.
Unfortunately, neither Hawaii nor Aruba is an inexpensive choice. You should anticipate that it will cost between $1500 and $2000 per person, per week at either destination. Those figures are an approximation, so eating at the best restaurants or taking a helicopter for a sightseeing trip will obviously make things more costly.
Attractions
Aruba is a solid choice for a vacation destination for beach lovers who want to enjoy sandy beaches and rolling surf. It's a hotspot for all manner of watersports. The winds are reliable and predictable, so kitesurfing and sailing are also available and accessible year-round.
Where Aruba lacks a bit is in the diversity of attractions. If you think your kids will get tired of the beach and the activities on offer there, there isn't much else to do. Sure, there is ample nightlife and plenty of shopping, but kids get bored quickly. So consider checking out the natural landscapes, the diverse tropical wildlife, Arikok National Park, and the cave systems at the water's edge. 
Where Aruba is beach-centric, without too many other attractions to offer, Hawaii has it all. The big island of Maui offers plenty of beach and sea activities. But, there is also an opportunity to explore the rest of the volcanic island with zip-lines, hiking, horseback riding, cycling, and other adventures on tap for reasonable costs.
If you're a nature lover, you can explore the incredible Haleakala National Park, vibrant greenery, massive waterfalls, and the extraordinary bio-diversity you might expect on a semi-tropical island.
If you have the inclination and the funds, you can even explore Maui and the other islands of Hawaii by helicopter. You can take day trips out on the water via boat, and when the weather is at its warmest, there are plenty of opportunities for snorkeling, swimming, and beach adventures. Even when the weather and the water are cooler, it's easy to rent a wetsuit, jetski, or boat and enjoy the surroundings.
Geography
Your travel time to either destination depends on where you live, so that is undoubtedly a prominent factor in figuring out whether Hawaii or Aruba is the better choice for families with kids. The last thing you want to do is spend any more time than necessary on a plane with fussy children who get bored quickly.
Where adults might brush off an extra couple of hours in the air, or even an extra day on a cruise ship, children probably won't be very tolerant of more time stuck in travel mode. So, if you're on the eastern seaboard of the US, you can travel to Aruba in just a few hours, often via a direct flight. 
Hawaii is a bit more complicated for those coming from the East. But, for families in the Western states, Hawaii is about the same flight time as Aruba. So, where you live might play a factor in determining your best choice for where you'll be vacationing with children.
Hawaii also has a bit of an ace up its sleeve when it comes to geography. Aruba is pretty small, and you could drive across the whole island in no time. Hawaii is a sprawling destination with four separate islands to explore. So, there is more to see, more to do, and more adventure to experience in Hawaii than in Aruba.
Activities for Kids
Once you consider cost, accommodations, travel, and general attractions for the whole family, it's probably a good idea to focus a bit on the activities targeted at kids. Keeping them occupied is key to not only them having a good time, but you as well. Because if they're miserable, you will be too!
Both Hawaii and Aruba offer activities that kids will enjoy. But when it comes to the diversity of opportunities to explore and play, Hawaii is the hands-down winner.
To be clear, Aruba has plenty of resorts with kiddie pools, slides, games, and even arcade rooms for kids. The island is pretty tiny, so it's easy to travel to the Butterfly Farm, a bowling alley, or even one of the museums on the island. But, it's also easy to run out of things to do pretty quickly, especially if your kids are bored of the beach.
That's where Hawaii leaps ahead. Since the weather is more fickle, there are a lot more opportunities for kids to have fun, explore, and even learn about American and Hawaiian history.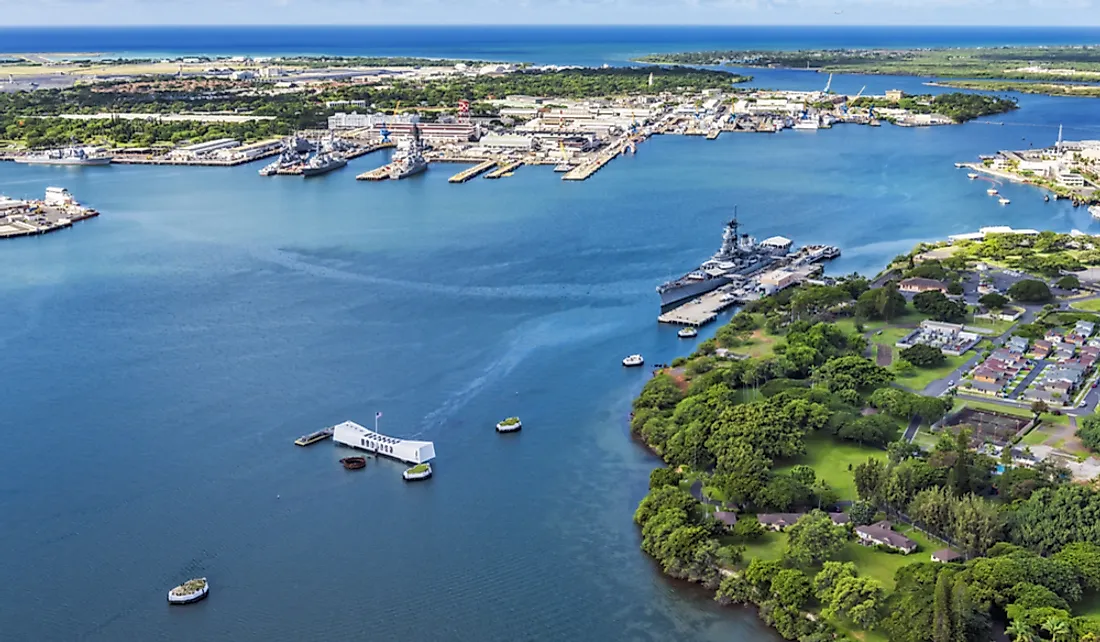 For any patriotic or history-loving family, you should consider visiting Pearl Harbor. The site of the infamous Japanese surprise attack is a living memorial to the events of that day. Visiting the USS Arizona Memorial is an emotional and informative experience that all but the youngest kids will remember for the rest of their lives.
Since multiple islands make up the whole of Hawaii, you also have the opportunity to explore them and their diversity a bit. Take in a Luau on the big island, and enjoy a tasty buffet dinner and dessert. Then, take a whale and turtle watching cruise around Kailua-Kona the next day. Snorkeling, driving tours, stargazing, bird watching, and surfing lessons are all on offer.
And when you get tired of all that, take a hike to the top of a volcano for breathtaking views and dramatic scenery.
Food
Aruba isn't really considered a destination for food lovers. But, it does have plenty of high-end restaurants, ample nightlife, and all types of seafood for visitors to enjoy during their stay. And, since Aruba has a lot of history and many cultural influences, it's easy to find classic German food, french cuisine, island-style dishes, and even Italian, Chinese, and American-style pub grub. 
Hawaii is known for its cultural richness, which comes out in its authentic Hawaiian food experiences. But, since it's also a major international and American tourist destination, there is a wide variety of food and restaurants to choose from.
You can enjoy luaus with traditional dishes, but you don't have to eat every meal on the beach! Instead, you can explore a variety of restaurants, from fast food to high-end dining and everything in between, with your family.
Hawaii offers kids a bit more to choose from, which is especially helpful if you have picky eaters in the family.
Hawaii with Kids
Let's look at what a trip to Hawaii might look like as a family adventure with kids. There will undoubtedly be some pluses and minuses to consider.
Pros
Lots of opportunities for adventure
Multiple islands to choose from
Diverse habitats and experiences to explore
Volcanic islands offer epic scenery and hiking opportunities
No passport requirements
Cons
Weather isn't consistent year-round, and there is a rainy season
The busy season means some crowded locations
The flight is quite long from some areas
Travel expenses between the islands can add up
Strict COVID-19 restrictions can potentially ruin a trip
Aruba with Kids
Aruba will also have some pluses and minuses when it comes to keeping kids entertained and happy. Understanding what they are can have a positive influence on your decisions.
Pros
Reliable tropical weather and warm temperatures
Plenty of sun, surf games, and adventures
A wealth of beach and ocean-going activities
Some attractions and adventures for the whole family
Lots of shopping
Cons
Each US traveler requires a passport
The island itself is relatively small and has limited options for offshore exploration.
The landscape is not very dramatic 
Not as much scenery 
Hurricane season can be rough and stormy
Aruba vs. Hawaii: Head-to-Head
Families have to consider their options, usually relative to the cost of their trip. For many, the expense of a vacation with their kids limits their choices quite a bit. So the first thing to compare between Aruba vs. Hawaii is the amount of money it will take to enjoy a vacation in these island locations.
In general, Aruba's accommodations are less expensive than those in Hawaii. But, when you factor in the total cost of a trip to either island, they end up being very similar. There are similar cost-cutting measures you can take at either destination. For example, the fees for cruising or flying to either place are comparable. There is also not much difference between the prices for various tours and adventures when deciding whether to go to Aruba vs. Hawaii.
So, from a cost perspective, it's pretty much a toss-up between Aruba vs. Hawaii when traveling with kids.
In terms of accommodations, you can opt for a top-dollar resort stay in either Hawaii or Aruba. This type of vacation will cost the most but offers the most pleasant surroundings. If you'd prefer to scale down a bit, there are fewer exclusive resorts, hotels, and even condos or Airbnbs to choose from at either location.
Hawaii is a bigger place, but the level of service and the type of accommodations available are consistent in both locations.
When it comes to weather, Aruba is more predictable and consistently warm. So, if heat and surf are your priorities, Aruba is probably at the top of your list. But, kids get bored quickly, and they're less likely to enjoy the relaxation of lying on a beach and reading a good book in the sun. So, even though the temperature is often cooler than in Aruba, the diversity of the Hawaiian landscape and weather patterns are actually a plus when it comes to traveling with kids.
That's because a trip to Hawaii doesn't have to focus on sand and surf. Sure, a semi-tropical adventure to Hawaii should have some beach time and probably a snorkeling or SCUBA diving trip, but it doesn't have to. There are many opportunities to explore both inland and on the water without necessarily going swimming.
So, for many families, it's in the diversity of activities and opportunities for fun that Hawaii starts to edge out Aruba as a destination for a trip with the whole family.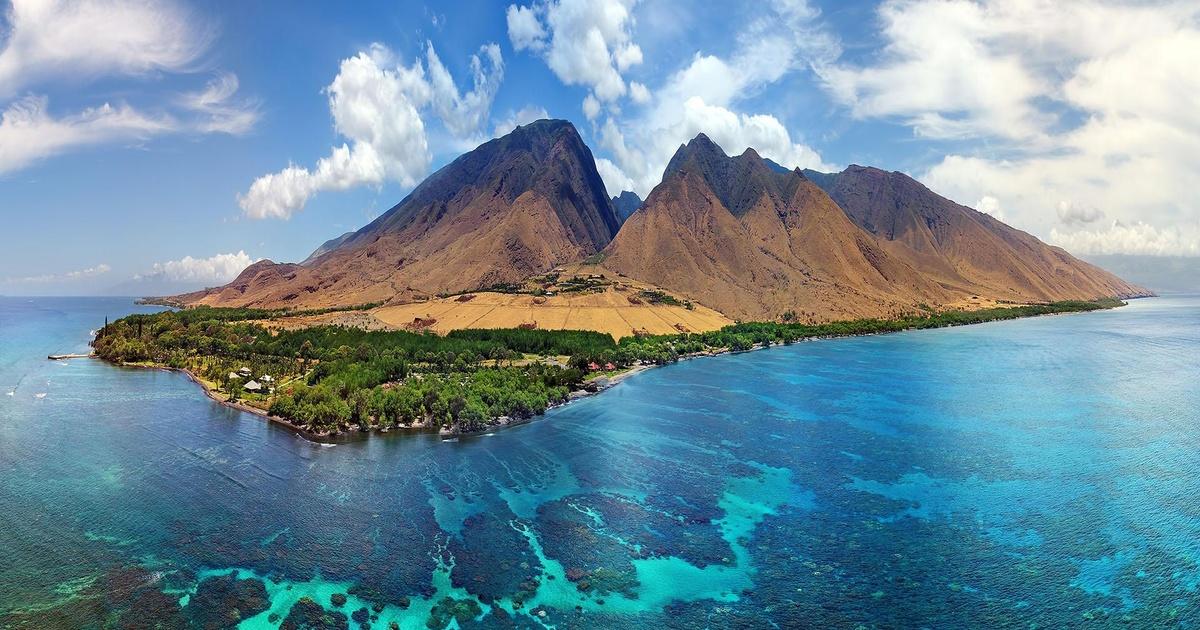 Aruba vs. Hawaii: Final Considerations
Deciding where to take your family on vacation is not an easy choice. It's very easy for things to upset your careful planning.
You need to consider your finances and everyone's work and school schedules. With COVID-19 complicating almost every aspect of life, you might also have to deal with curveballs that affect your plans. Once you factor in travel costs related to flying or cruising with your kids, it might seem like you're ready to pack your bags and go.
But that's not really how things work. You might need a passport, you need to understand the quarantine rules in light of the pandemic, and you should have a pretty thorough outline of all your planned excursions and adventures.
Even after finalizing your plans and determining your budget for essential items and all the extras you want to enjoy, you can still fall victim to bad weather.
Even when everything goes perfectly, there are factors outside of your control that could affect your carefully laid plans. So, going into your preparation with your eyes wide open about the pros and cons of the destination you're choosing is the best way to make sure you're ready for what comes.
While you can't prevent your kid from catching a cold or an errant storm from ruining your day trip, you can minimize the impacts of things you can't control by choosing a destination with more options for keeping the kids entertained. You can also make it easier on yourself by choosing to go someplace with minimum hassles to deal with and fewer hoops to jump through.
Aruba vs. Hawaii: Which One Should Families with Kids Choose?
Since Hawaii is part of the USA and doesn't require a passport for travelers from the continental states, it's a simpler choice, despite their draconian COVID-19 policies. And, it offers a much more diverse variety of options for recreational activities. And, unlike Aruba, there are a lot more options for inland and off the beach adventures for you and your kids.
When all the factors stack up next to each other, and you weigh the choice carefully, Hawaii wins the contest of Aruba vs. Hawaii. It's better for families with kids.
More about our TFVG Author
A seasoned traveller, Dad, and avid sports tourist, James foundered The Family Vacation Guide to share his expert vacation experiences- especially when it comes to being a travelling family man.
Featured in Travel articles such as Travel + Leisure, TripSavvy and SFGate, you know you're reading some of the best vacation tips online.