The United States has some of the most beautiful places to vacation—from white sand beaches to bustling cities and quaint mountain towns. Planning a trip to the mountains with your family is exciting, and you're bound to have the time of your lives.
Deciding which town to take your family to is the first step in planning an epic getaway. There are several mountain ranges in the US, three major ones. Even states that aren't considered "mountain states" can offer amazing mountain vacations. 
To help you narrow down where to go, we've compiled a list of 12 of the best spots for a family mountain vacation in the US. 
Gatlinburg, Tennessee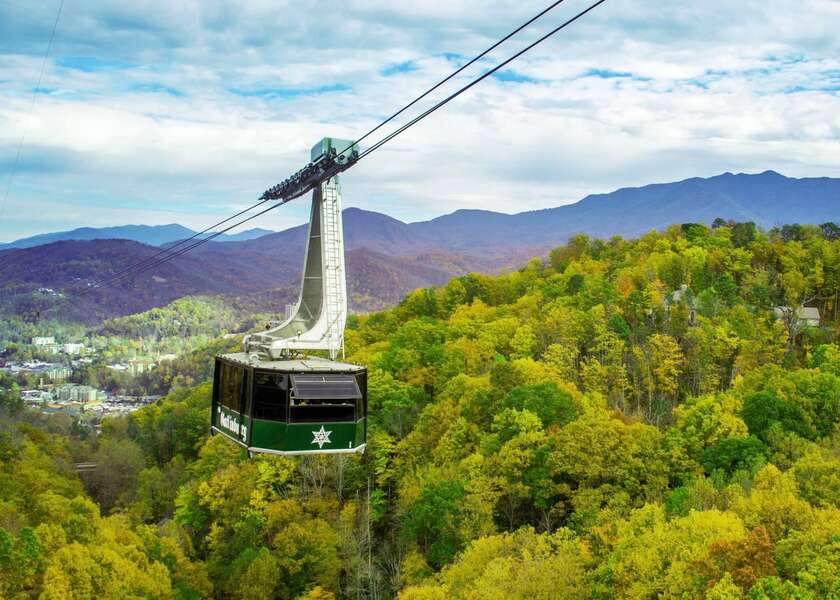 One of the most famous mountain towns is Gatlinburg, Tennessee. It's a beautiful town nestled near the Smoky Mountains and serves as an optimal entrance for Great Smoky National Park. Even if you don't want to spend all your time hiking, there's plenty to do here. 
This gateway to the Smokies offers fun for the entire family. For the adults, there are several wineries and distilleries worth checking out. Tour companies offer you a great way to experience several within a specified time frame. Even those under 21 will love some of them due to their fun atmosphere and plenty of food.
As long as you and your family aren't afraid of heights, the Gatlinburg SkyLift is a great attraction. You'll get to see the beautiful Smokies and town from new heights in this open-air chair.
Other popular attractions in Gatlinburg include Ripley's Aquarium of the Smokies, the Gatlinburg Scenic Lookout, and the Rowdy Bear Mountain Coaster.
Jackson, Wyoming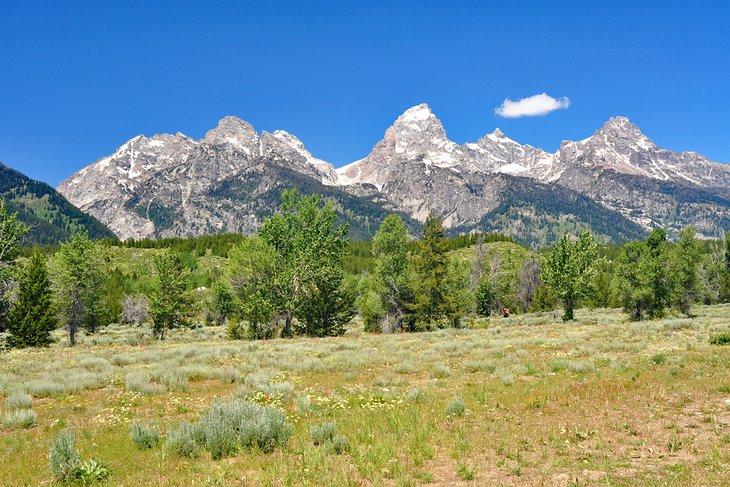 In the Jackson Hole Valley of Wyoming is the mountain town called Jackson. This beautiful town is just south of Grand Teton National Park and within a few hours of Yellowstone National Park. For national park enthusiasts, Jackson is a great town to visit. 
If you fly into Jackson, you'll be landing at one of the only airports that sit within a national park's boundaries. Exploring Grand Teton is one of the main reasons to visit Jackson. Several hiking trails are great for people of all ages, and kids will love the junior ranger program.
Jackson has one of the best ski resorts in the country, Jackson Hole Mountain Resort. You and your family can ski 2,500 acres on two separate mountains. Even if you don't stay at the resort, taking some time to visit is a must-see while in town. 
Some other popular things to do in Jackson are to walk around the town square and tour the National Museum of Wildlife Art.
Bar Harbor, Maine
Bar Harbor is on Mount Desert Island in Maine and is a popular town during the summer months. You can visit here any time of the year, though. It's a unique mountain town because you get the glorious mountains while being on the coast, taking in the Atlantic Ocean breeze.
People flock to Bar Harbor to experience the beauty of Acadia National Park. There are several hiking trails through the mountains where you can then see stunning views of the ocean or crystal clear lakes. You and your family will love the views and accomplish a hike together.
You and your family can spend your time wandering through the quaint downtown area of Bar Harbor, hitting the beach in the summer, and eating some of the freshest seafood you'll ever have.
Besides spending all your time outdoors, there are other things to do here. You can visit the George B. Dorr Museum of Natural History, the Abbe Museum, or the Jesup Memorial Library.
Juneau, Alaska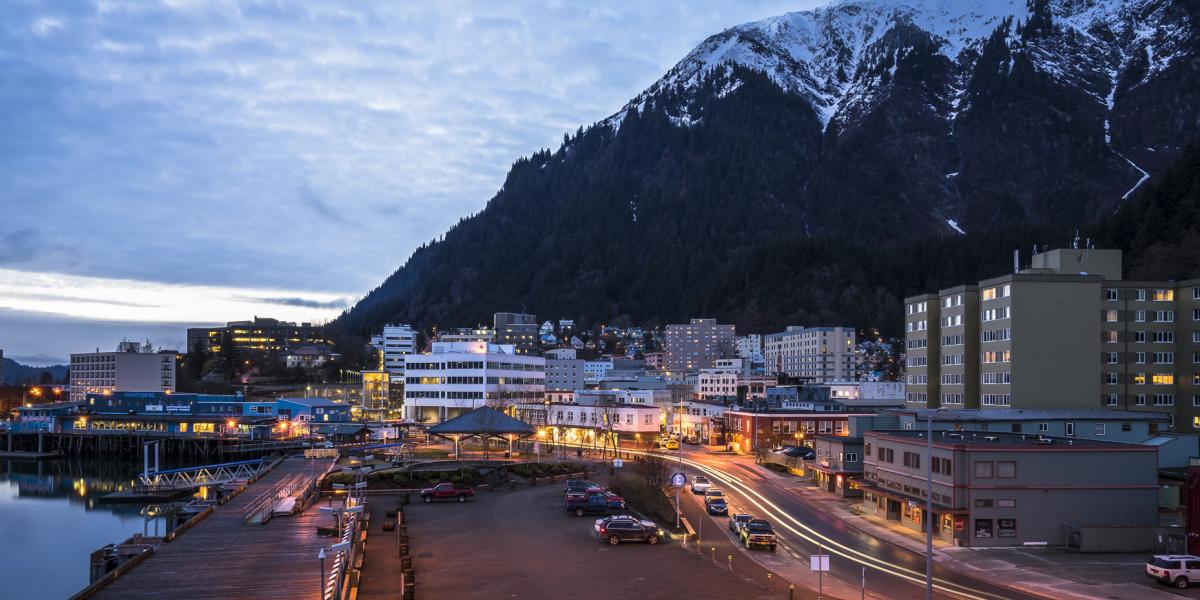 Alaska is famous for its wilderness, and if you want to visit with your family, one of the best mountain vacation towns is Juneau. As the capital city of Alaska, you'll find more than enough things to do to keep you and your family busy and, most importantly, happy. 
While you're in Juneau, a great family-friendly activity to do is to go whale watching. Several tour companies will take you into the Gulf of Alaska, where you'll most likely get to see these magnificent creatures swimming, socializing, and breaching.
If you and your family are an adventurous bunch, you can go kayaking in the cold waters via tour guides, ziplining, or ride the slopes at the Eaglecrest Ski Area.
Most people love Juneau because of the outdoor activities, but there are still things for you to do when you need a break from those or the cold. You can tour the Alaska State Museum and the Last Chance Mining Museum.
Telluride, Colorado 
Colorado has more than its fair share of towns where you can enjoy a mountain vacation. One of the best ones to bring your family to is Telluride. Telluride is more of a ski resort than just a traditional town, so this is an excellent option for you and your family if you want to go skiing.
Of course, skiing is a popular activity in Telluride, but there's so much more to this little town than just skiing or snowboarding. For some of the best views the city has to offer, you and your family can ride the Telluride Mountain Village Gondola. The best part? It's free!
Some of the other things your family can do here include walking along Main Street, hiking the Jud Wiebe Memorial Trail, and seeing the Telluride Gallery of Fine Art. Main Street has beautiful shops for you to browse and plenty of tasty restaurants to try while you're visiting.
Asheville, North Carolina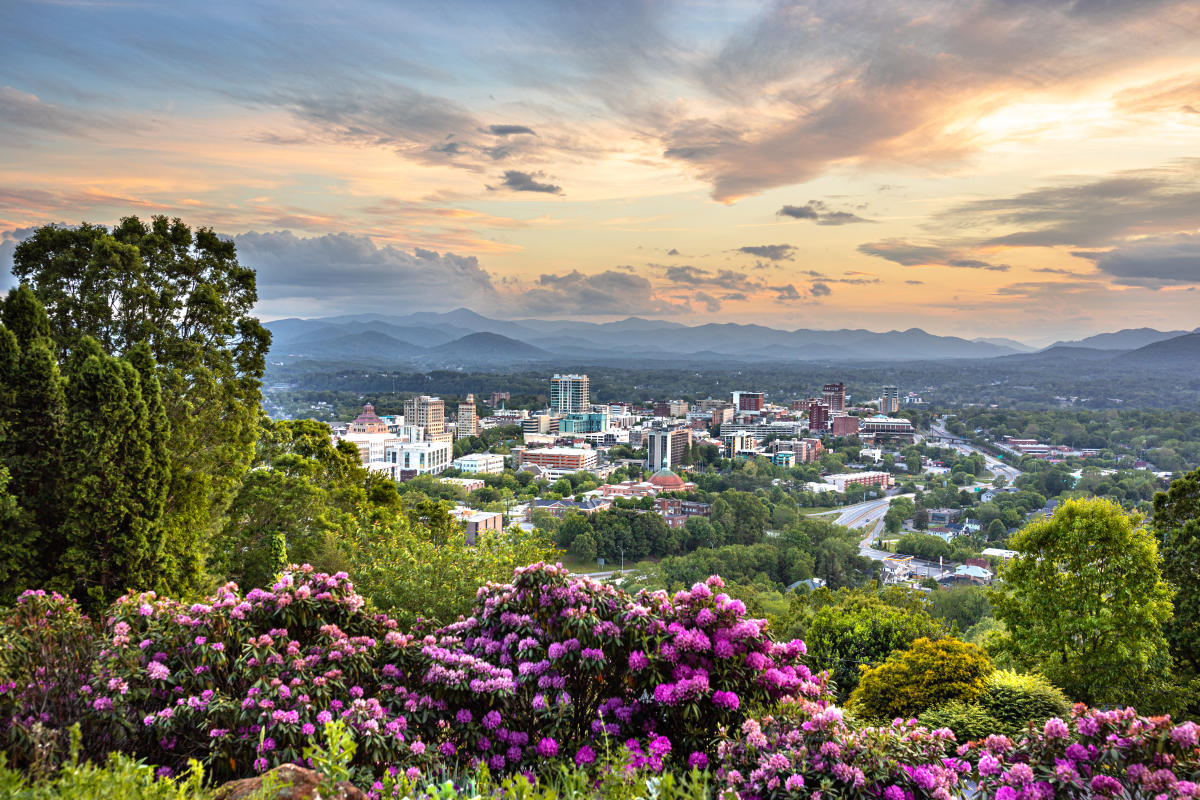 North Carolina isn't technically considered a mountain state, but that doesn't mean it's without beautiful mountain towns. Asheville is a prime location for people of all ages if you're craving a cozy town nestled in the Blue Ridge Mountains.
Asheville is known as the craft brewing capital of the east coast, but that doesn't mean there aren't activities people of all ages can't enjoy here. Even if you're craving craft beer while on vacation with your family, there are several family-friendly breweries with games and great food for those under 21.
While in this mountain town, you'll want to make time for at least one hike. A popular one not far from the city center is walking to the Haw Creek Valley Overlook. This offers excellent views of the surrounding mountains and the city below.
Other things to keep you and your family occupied are touring the Biltmore Estate, seeing the Asheville Art Museum, and visiting the Western North Carolina Nature Center.
Park City, Utah
Park City, Utah, is East of Salt Lake City, surrounded by the Wasatch Mountain Range. The town is filled with ski and mountain resorts. Park City is gorgeous in the winter with a fresh blanket of snow, but it's a beautiful town to visit any time of the year. 
You don't have to stay at a resort while you're here, but it's a great experience that you and your family will love. Even spending a day skiing, snowboarding, or exploring the area is worth it. The two most popular in town are Deer Valley Resort and Park City Mountain.
You and your family can spend hours on the slopes before returning to town to sip hot chocolate and enjoy dinner under the stars. If you're looking for a museum to help round out your mountain getaway, the Park City Museum is the best.
Don't forget to check out one of the best attractions. The Park City Alpine Slide takes you down the mountain with a spectacular view.
Burlington, Vermont
Burlington, Vermont, is a great vacation spot for families. Half the city faces Lake Champlain, which it shares with New York, and the other half has towering mountains. It's the perfect mountain getaway if you want the combination of a small coastal town, too. 
While you're in town, rent some bikes and hit the Burlington Bike Path. It's a stunning path along the shores of the lake that spans about 7.6 miles total. You can also walk the course if you don't want to use a bike. There are several great hiking trails and nature areas to explore, too. Derway Valley Nature Trail and Ethan Allen Park are two of the best for families.
While you're in town, you have to wander around Church Street Marketplace. It's a quaint area in the city with various restaurants and shops to explore. They even host festivals along the street throughout the year. It's common to see street performers, whether it's magic or music. It's fun for the whole family.
Taos, New Mexico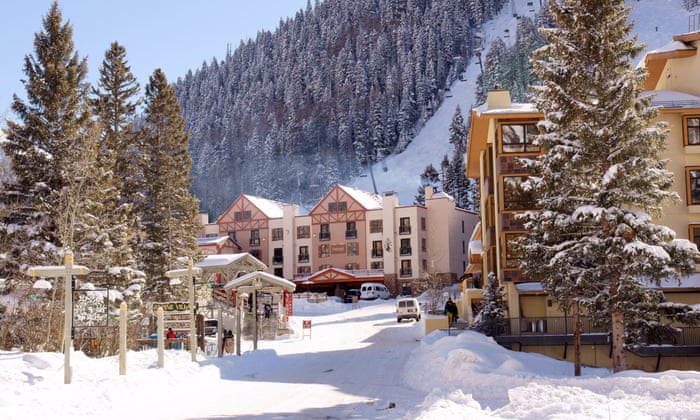 In the northern part of New Mexico is Taos. The desert town is surrounded by the Sangre de Cristo Mountains and is famous for adobe buildings and artwork. On this mountain vacation, you can experience some of the best outdoor activities while seeing great works of art.
First on your list while in Taos should be to see the Rio Grande Gorge Bridge. It's the 10th highest bridge in the country and a sight to see. It's the perfect place to snap photos with your family to frame when you get home or post on social media.
The ancient city of Taos Pueblo is a must-see while you're here. It's about a mile north of the current town of Taos and showcases the incredible architecture of the Puebloan people.
Other popular attractions in Taos are visiting the Harwood Museum of Art, Martinez Hacienda, and the Taos Art Museum.
South Lake Tahoe, California
Lake Tahoe in California is a large alpine lake situated near the Sierra Nevada Mountains. South Lake Tahoe is a famous town on the lake's south shore that's perfect for a mountain getaway any time of the year. 
During the summer, you and your family can hit the hiking trails with the sun on your back. The lake's south shore also provides a great beach area for you guys to swim, sunbathe, and participate in other water activities.
If you're heading to South Lake Tahoe in the winter, going to a ski resort is a great idea. You and your family will have access to the lifts where you can, then, ski or snowboard your heart out all day. Heavenly Mountain Resort is a popular one in the area to visit.
Leavenworth, Washington
Nestled in the Cascade Mountains is Leavenworth, Washington. If you're looking for a mountain vacation in the United States that will make you forget you're not somewhere in Germany or Switzerland, this is it. 
Leavenworth is a Barvarian-style village that looks like something straight from Germany. The architecture is enough to make your jaw drop while you're here. Add in the fact that the Cascade Mountains are beautiful, and you're ready for a great getaway.
You have to sample the German beer they have at almost every restaurant in town for the adults. While you're enjoying your beer, you and the young ones can munch on German pretzels and other snacks.
Besides walking around and taking in the beauty of the area, popular things to do here are to visit the Nutcracker Museum, visit any of the parks, and pet the reindeer at the Reindeer Farm.
Coeur d'Alene, Idaho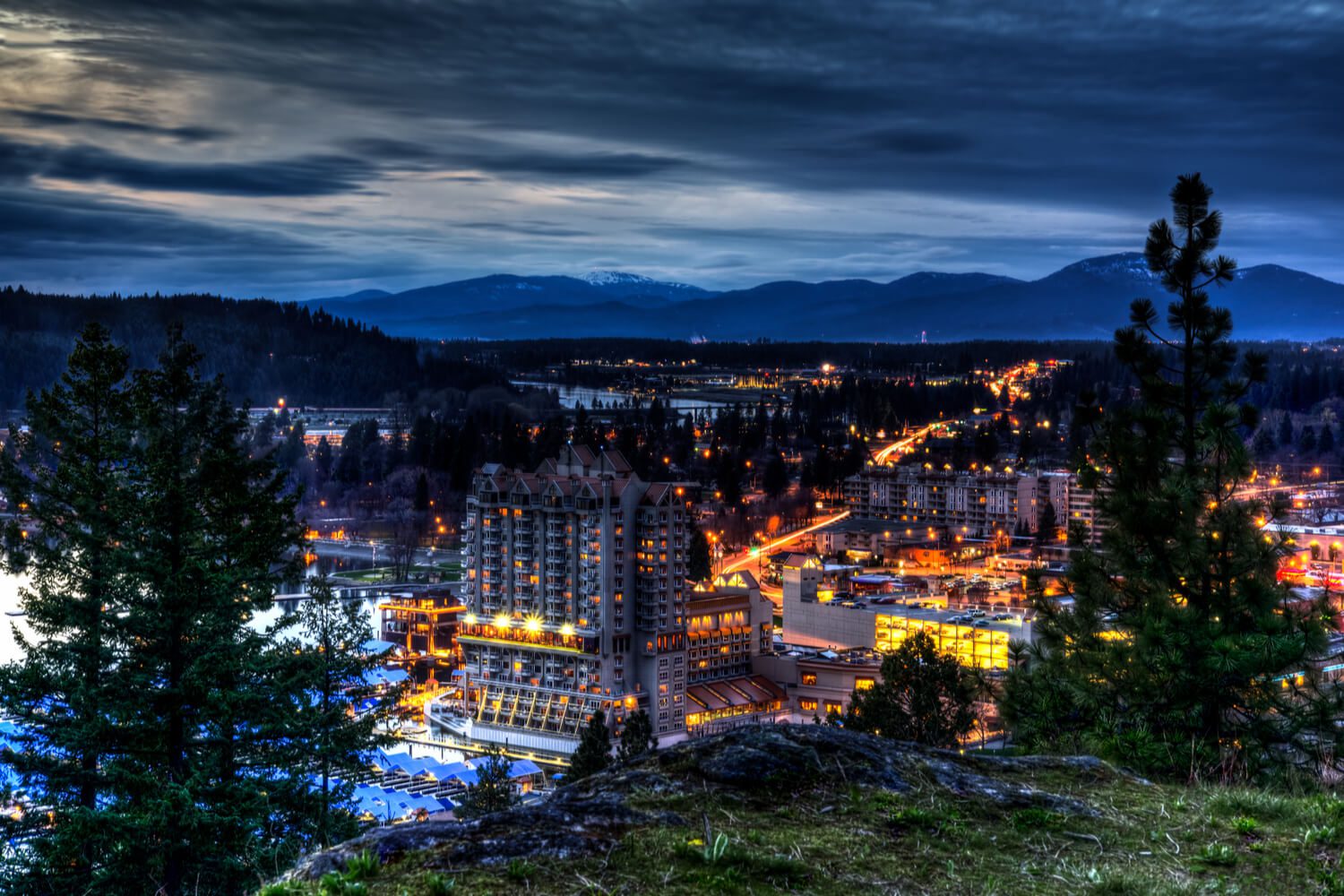 In northwest Idaho is Coeur d'Alene. It's a great mountain getaway with Lake Coeur d'Alene and the Coeur d'Alene National Forest as main attractions for the area. During the summer, people flock to the shore of the lake to watch water sports, swim and sunbathe.
Renting boats, kayaks, or paddleboards is an excellent and exciting way to explore the lake and soak up the sunshine. There are several rental companies in the area for you to look into if you want to do this.
Hiking in the forest is also popular here. Several trails are doable for families with people of all ages and skill levels. Higgins Point is a beautiful spot along the lake that gives you one of the best views of the water and mountains.
Final Thoughts
The perfect mountain vacation is waiting for you and your family in the United States. Whether you're looking for a southern mountain city like Asheville, a desert mountain escape in New Mexico, or somewhere in between, you won't be disappointed with any of the destinations on this list.
More about our TFVG Author
A seasoned traveller, Dad, and avid sports tourist, James foundered The Family Vacation Guide to share his expert vacation experiences- especially when it comes to being a travelling family man.
Featured in Travel articles such as Travel + Leisure, TripSavvy and SFGate, you know you're reading some of the best vacation tips online.