Planning a vacation with your kids can be daunting. Children don't have the same vacation ideas as you likely do, so you want to make sure there is something for everyone to enjoy on the trip.
If you're deciding between the beautiful beachside city of Miami and the glittering city of Las Vegas, we've got some great advice for you. You can pick the better location for you and your kids and check out the environment, food, and activities offered in each city. 
Of course, safety is the number one priority when it comes to your kids. We've also provided the safety level of each city, so you can feel secure bringing your family to each spot.
Both Miami and Las Vegas are incredible vacation spots, but we've made this guide to help you determine the ideal city for you and your family to enjoy and relax in.
What to Look for on a Family Vacation
Every family vacation is different. But there are some key vacation features to be on the lookout for that can make a family vacation a lot easier. Kids can get bored and aren't easily entertained by cocktails and a night out.
When booking hotels and choosing the right city for your family trip, try to gravitate toward these amenities:
Hotel pools
Museums
Water parks
Casual restaurants
Shops and stores
Family-friendly excursions
Beaches
Not every child likes the beach or shopping, but having these places nearby can help keep things going if you run out of planned activities. 
Miami
A bustling and lovely city at the bottom of the US, Miami has perfect weather and lots to offer tourists. Families can experience an exciting culture and appreciate the distinct wildlife in Florida.
Environment
The environment in Miami caters to partygoers, but mostly when the sun goes down. Miami is known for its exciting and vibrant nightlife, especially when the weather is almost always perfectly warm.
Places stay open late, but there is still plenty to do throughout the day for kids. The city is surrounded by water and filled with pools perfect for parties and lazy mornings. If you're a family that loves enjoying the water, Miami is likely the best spot for your vacation.
There is a huge population of Spanish-speaking people in Miami, so if you happen to know Spanish, this is a great benefit. You'll be able to communicate more easily with the locals and probably get tips on how to maximize your Miami vacation. 
Miami also has a buzzing art scene, from galleries to street artists. If you're a family that appreciates creativity and loves soaking up some new art, Miami is one of the best cities to do so. 
Food
The food in Miami is super exciting if you love spice and Latin flavors. Because of its proximity to Cuba, Miami is full of authentic eateries and distinct local cuisines. From greasy empanadas to meaty Cuban sandwiches, it's hard to be disappointed when you get food in the Miami area.
If you have picky eaters in your family, you may be concerned about satisfying everyone. But Miami has plenty of familiar restaurants like McDonald's, Applebee's, and other chain locations.
But, before you cave and go to Wendy's for the hundredth time, give the local mom and pop spots a try, as the food is made with passion and fresh ingredients throughout the city.
The Mexican-inspired pastries and plethora of sandwiches are sure to convince even your most discerning eater that Miami food is to die for. In general, food for your family will not be a dilemma in Miami. There are too many great options to leave anyone wanting.
Activities
There is no shortage of things to do in Miami. From museums to Miami tours to, of course, the beautiful beaches, you won't be bored. Everyone knows how fabulous the Miami beaches are, with soft sand and salty water.
If you aren't a beach family or looking for other activities, here are some of the most fun things to do in Miami with kids. 
Zoo Miami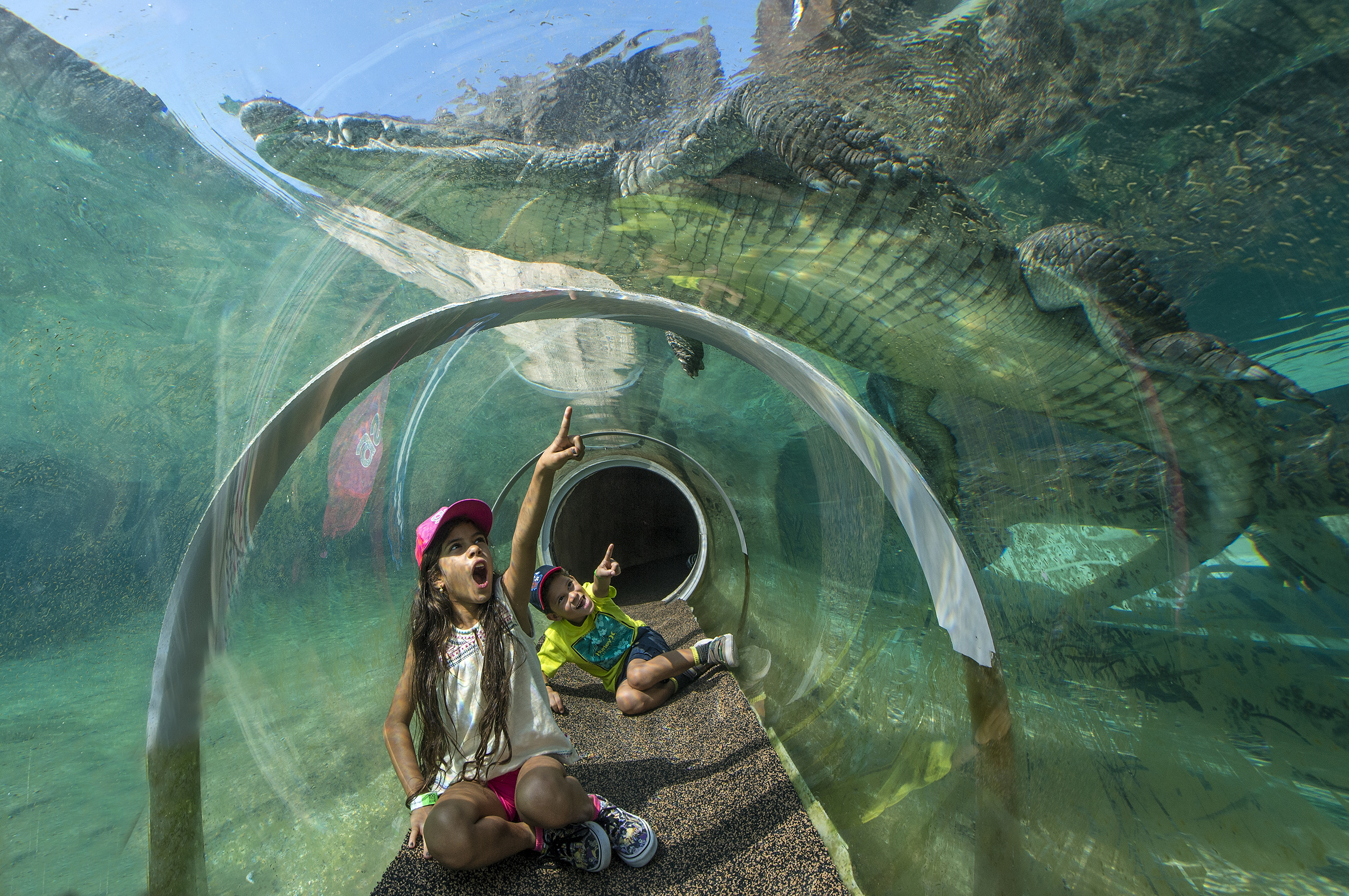 It can be tough to find activities to keep younger kids entertained, but the Zoo Miami is a no-brainer. The zoo is massive, and it can easily take an entire day to explore and enjoy the zoo fully. 
The giant property houses more than 500 species of animals, from local alligators to African elephants to tropical birds. The zoo has many interactive exhibits where kids can learn about the wildlife in Miami and even pet a giant tortoise!
The beauty of activities like the zoo is you can spend the entire day there or you can roam around for a few hours before heading to the beach or dinner.
Everglades Tour
The Everglades is the swampland in Florida protected as a national park. It is brimming with gators and other wildlife that is unique to Florida. On this excursion, you can soak up the beauty and mystery of these swamps while getting some beautiful Miami sun.
The tour takes between three and four hours, leaving time for other adventures that day if you want. You'll learn some history about the swamps and how the distinct ecosystems function in harmony on the tour.
Kids will get to see colorful, exotic birds in their natural habitat and funny frogs and massive turtles. The Everglades tour is one of the best activities to experience the nature Florida has to offer away from the nightclubs. 
Wynwood Walls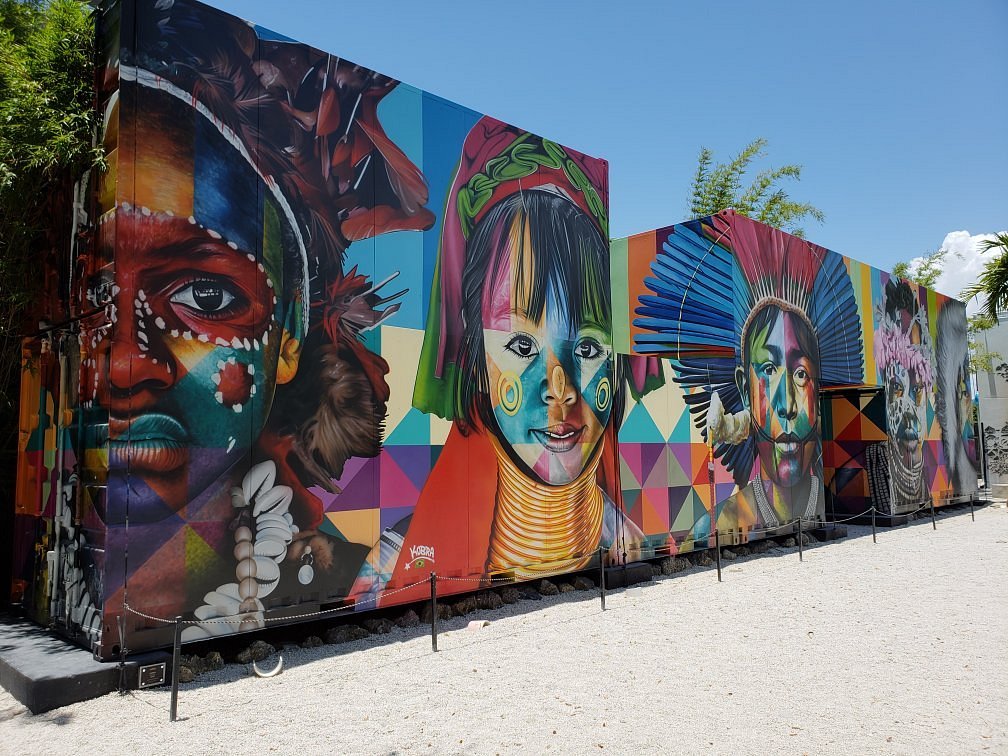 For teenagers and older kids that maybe don't care about zoos or the swamplands, the Wynwood Walls is a massive street art display that is constantly changing.
You can walk along these walls for hours, experiencing the free-of-charge outdoor museum created by Tony Goldman. If someone in your family loves art, especially contemporary street art, they'll be head over heels for this adventure.
Grab a sandwich and enjoy lunch as you explore the colorful artwork. If you're lucky, you might see an artist working on their masterpiece. Grab a seat on the grass and watch their creation come to life while you enjoy a delicious smoothie from a local shop.
Safety
Miami is a generally safe environment. Like all places, there are sketchy parts that you and your family will want to avoid. Overall, the city is considered to have a moderate safety level, which is a good thing. The biggest thing to watch out for is pickpockets when you visit tourist hotspots. 
But you'll find most locals in Miami are lovely and inviting, happy to have tourists patronizing their city. Families can feel secure when traveling to Miami as long as they take standard precautions to protect themselves on their belongings on vacation.
Las Vegas
Las Vegas, Nevada, has a lot to offer tourists, from the infamous casinos to the numerous shows and concerts. The city is known for its partying ways and scorching desert heat. But can it be a good family vacation spot? It depends on the vacation you imagine, but read up on the city's vibe and what to expect when you visit. 
Environment
The number one thing in Las Vegas is gambling. If you don't want your family exposed to a world of betting, Las Vegas is not the right place for your next vacation.
But if gambling isn't a dealbreaker for you, Las Vegas can be super fun. The bright lights, street performers, and constant party vibe is exhilarating, and there is always something to do. Be warned: some street performers walk around topless or half-naked, but what a great opportunity to teach body positivity!
Undoubtedly, the city can be racy, but that doesn't mean families should avoid it completely. As mentioned, the activities and spots to visit are endless, and you'll never run out of things to do.
Keep in mind Las Vegas is landlocked, and getting access to a pool can be expensive. If your family loves to swim and lay on the beach, Vegas may disappoint. Look for hotels with pools if this is a priority for you. In general, a Las Vegas vacation is expensive.
One of the most popular experiences in Vegas is one of their incredible acrobatic or comedy shows, so look into what's happening while you're there and get tickets for everyone.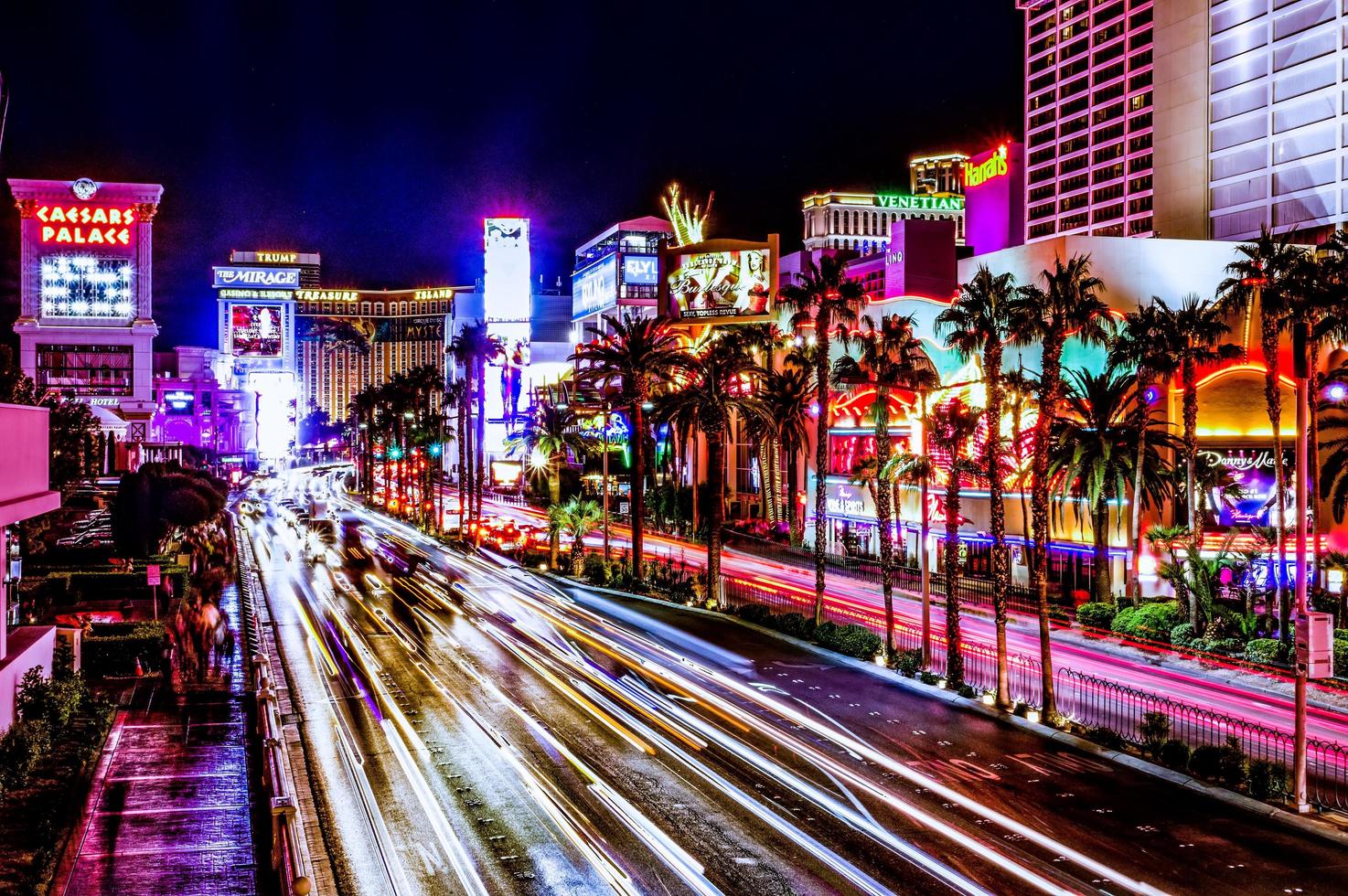 Food
Las Vegas is a hodgepodge of cuisines and restaurants. You'll find a Mcdonald's next to the finest steakhouse on the strip. The only thing to know about the Las Vegas food scene is that most are expensive.
You can find a $2 burger out of a food truck but then get charged $23 for a Caesar salad at a restaurant a block away. Make sure you consider your food budget before planning your trip. It's easy to spend hundreds at a family dinner, especially inside the hotels and casinos.
But don't worry about the picky eaters in your family because Vegas has every type of food and restaurant you could ever want.
Activities
It's hard to narrow down the best things to do in Las Vegas; the options are infinite. The casinos are a wonderful attraction for adults but not so fun for kids. Luckily, there are a million other options, from the famous Bellagio fountains to the vintage "Welcome to Las Vegas" sign; the classic tourist spots are incredible.
People love these spots, and we highly recommend them, but we want to highlight some lesser-known but equally fun excursions for families in Las Vegas.
Pinball Hall of Fame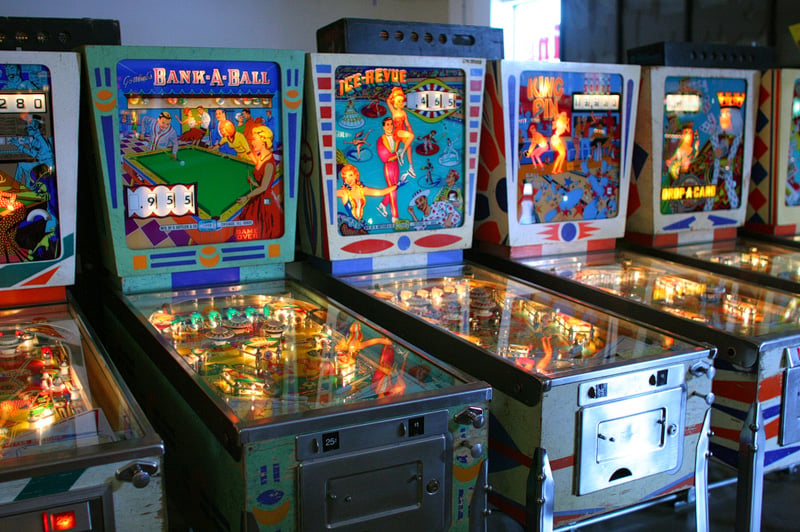 This location is a total blast for kids of all ages and adults. The Pinball Hall of Fame combines bright, pinging noises and old-school arcade games. Show your kids what gaming looked like before Xbox and Fortnite. 
Every machine you can play has a brief history on it, so you know where it started and how old it is. These vintage games are a delight for adults that once lived at pinball arcades and can now introduce this outdated activity to their children.
Depending on your plans, the Pinball Hall of Fame can entertain you for a whole day or just an hour or two. It's the perfect activity for a big family looking for some time to kill between meals or before an event!
Madame Tussauds
Madame Tussauds isn't unique to Vegas, but they do have one of the trippiest wax museums in the world. With famous fictional and real figures like Nicki Minaj, Tupac, Fergie, Michael Jackson, and Captain Jack Sparrow, the kids will go crazy for these wax figures.
The museum is the perfect spot if you're a movie and film-loving family that will gush at seeing a replica of Meryl Streep or Ariana Grande. The museum can be rushed through in an hour if you have other plans, or you can meander slowly and spend closer to three or four hours. The museum can be a bit creepy but still a blast to walk through.
Shark Reef Aquarium
The Shark Reef Aquarium takes aquariums to a new level with the chilling and thrilling shark exhibit. You get to walk through a hallway while sharks swim above you and weave in out of the coral reef.
This Las Vegas aquarium also houses giant rays, endangered green sea turtles, piranha, and a Komodo dragon, so you can experience a range of wild sea life. If your little ones love fish, they'll go bananas for this exhibit.
The aquarium only costs $20 for adult entry, and you can walk the whole exhibit in less than two hours. It is the perfect activity for toddlers that don't want to be indoors for five or more hours when the sun is shining outside.
Safety
Despite what you may think, Las Vegas is considered safer for tourists than Miami. The biggest threat is muggings, especially at nighttime. So be vigilant if you walk in secluded areas late at night, but other than that, the risk is low.
The local police department is active in the community and on the strip, often performing preventative measures to avoid incidents. The increased police presence has lowered crime rates in recent years and discouraged criminals from setting up shop in the strip.
Another safety feature of Vegas is the infinite amount of cameras in every building. Casinos are some of the safest places with intense security and complete property monitoring. You can expect the same kind of security from your hotels.
There are, of course, areas to avoid, so be aware of the sketchy neighborhoods. For the most part, the new and old strips are safe and densely populated and fun for families!
Other Factors to Consider
Not every family is the same or enjoys the same things. When planning your trip and choosing the ideal location, consider these factors as well.
Family Size
If you have a large family of five or more people, it may not be fun to go to a theater show or something where you can't all interact. Places like zoos and aquariums are ideal for larger families because everyone can participate.
Las Vegas is also a very crowded city. It can be easy to lose people and have big groups broken up. Losing a family member, no matter their age, is a stressful experience that you'll want to avoid.
Family Age
Do you have toddlers or teenagers? A toddler will love an aquarium but maybe not a wax museum. Teenagers might get bored on a long-winded tour, while it keeps younger kids engaged for hours. Consider the age of your family members and what activities will appeal to them.
Duration of Visit
Consider what you want to prioritize on your vacation. Is relaxation or experiences more important to you? If you plan a weekend vacation, you'll have to compromise on what you will and won't have time to do. If you stay for a week or two, you have a more flexible schedule to relax and do more excursions.
Personal Preferences
As mentioned, gear your vacation towards your family's interests. Miami might be the better choice if your kids love swimming or art. If your kids want to do lots of sightseeing and dining, Vegas is the better option. No matter what we say, you know your family best!
Which Location Is Ideal for You?
Both cities host plenty of tourist families that have a wonderful vacation. The biggest difference is the presence of beaches, so if you want a beach vacation rather than a sightseeing one, Miami is the place for you.
Despite what many think, the cities are generally safe and inviting to visitors, likely because they are massive tourist spots. Our research recommends Miami for family vacations because there is a vibrant city life geared toward adults and children.
Vegas during the day can be a fun time for kids, but at night the city caters to adults. We recommend taking a couples or solo vacation trip to enjoy the Vegas nightlife and head to sunny Miami when the kids are in tow.
No matter which vibrant city you choose, make sure to plan activities your kids can look forward to and make time for laidback family activities like dinners!
More about our TFVG Author
A seasoned traveller, Dad, and avid sports tourist, James foundered The Family Vacation Guide to share his expert vacation experiences- especially when it comes to being a travelling family man.
Featured in Travel articles such as Travel + Leisure, TripSavvy and SFGate, you know you're reading some of the best vacation tips online.